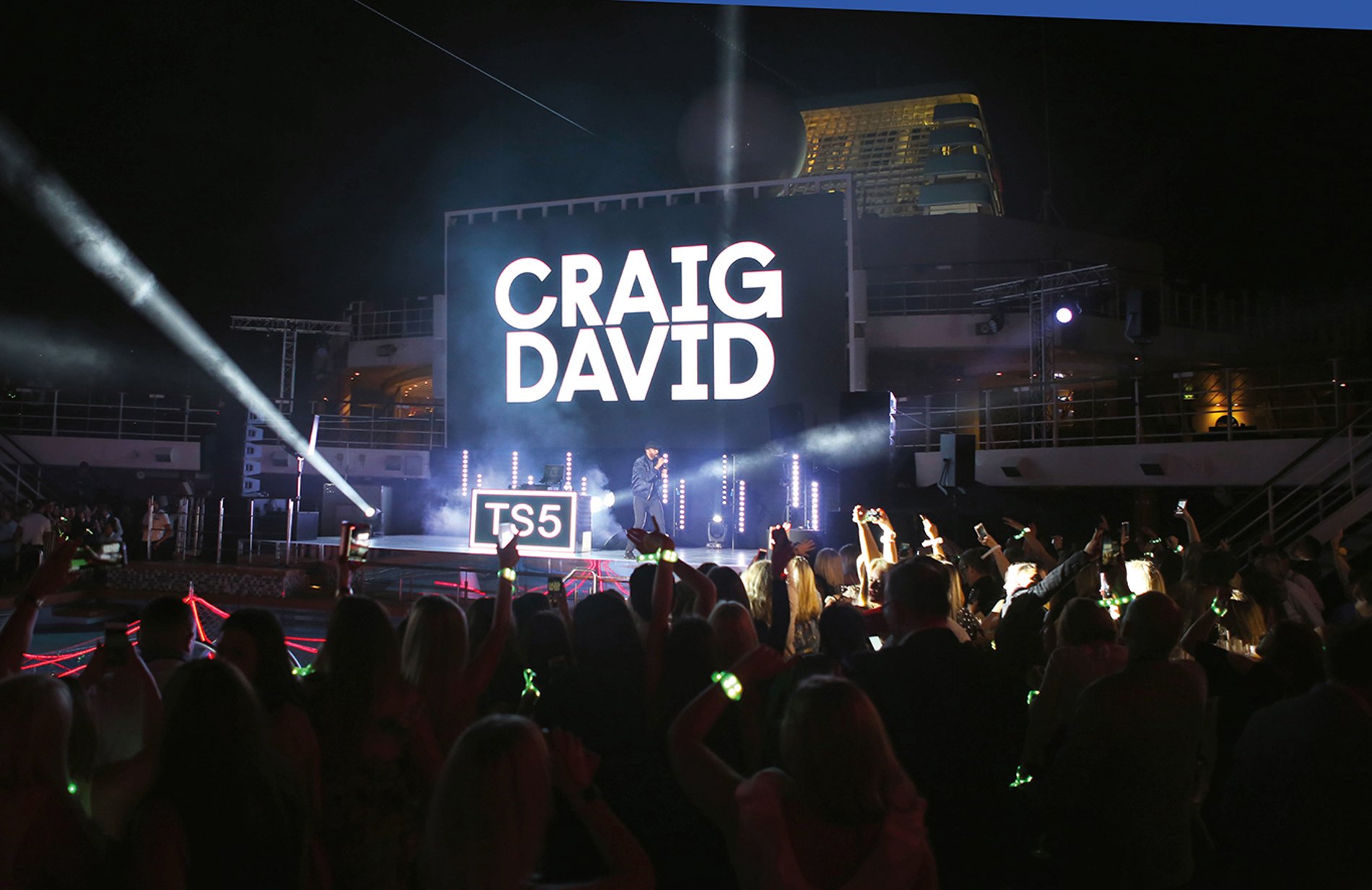 SHIP REVIEW: Marella Explorer Rocks!
Award-winning pop star Craig David got the party started at an explosive launch party for Marella Explorer
Award-winning pop star Craig David got the party started at an explosive launch party for Marella Explorer
The top deck is shaking, everyone around me is jumping and some women are even screaming. I'm dazzled by a rainbow of flashing lights, and all I can hear is one voice, above the crowds, issuing instructions: "Marella Explorer, make some noooooise!"
The sun set hours ago here in Palma, Mallorca, but the temperature is still in the mid 20s and this ceremony is the hottest ticket around. Why? Because the man on the mic is Craig David, the multiple platinum-selling singer, and he's taking to the stage for the launch of Marella Cruises' newest and biggest ship.
In a former life as Celebrity Galaxy, the ship featured in TV's The Cruise, making a star of Jane McDonald. But now, following a multi-million pound makeover, it's ready to take a bow as Marella Explorer. Almost.
With just moments to go before the christening, workmen are still frantically painting, sawing and hammering to get the ship ready for her shakedown voyage from Palma to Barcelona.
But the transformation is impressive and this is now a modern, family-friendly ship with the wow factor: think shimmer walls, a bright pink piano in The Lounge and a lavishly equipped, state-of-the-art Champneys spa.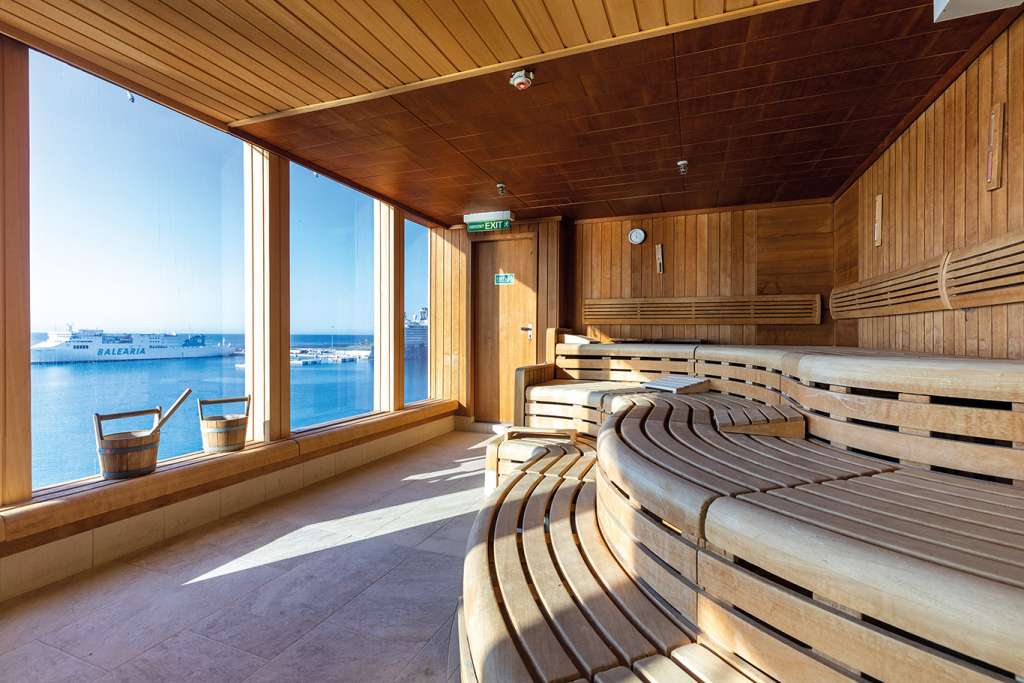 Everything from the cabins and the entertainment to the kids' club and the 10 restaurants and 10 bars on board has been refreshed, rethought and refurbished to make this mid-size, 1,924 guest vessel seem bigger and more accommodating.
There are new family balcony cabins that sleep up to five, offered with Premier Service that includes priority check-in, free pressing of up to three garments each (useful on Dress to Impress nights) and a complementary continental breakfast in bed (bliss!)
FOOD, GLORIOUS FOOD
From the Market Place buffet restaurant to The Mediterranean – which offers everything from pizza and pasta to paella and Portuguese meat-and-veg skewers known as espetadas – there is a restaurant to suit every palate. And on Deck 11 there's the Snack Shack, with brightly coloured beach huts and oversized deckchairs, where you can grab burgers and casual lunches to go.
We dine at Kora La and Surf & Turf on Deck 7. Two separate restaurants – one pan-Asian, the other a steakhouse offering every cut including tomahawk – these are flexible spaces that can be made bigger or smaller according to bookings. There's a supplement to pay – £22.95 for Kora La and £28.95 for the steakhouse – but the food is sublime in both.
The main waiter-service restaurants, Latitude 53 and Vista on Deck 5, are oases of gold and grey with floor-to-ceiling windows. For die(t)-hard foodies there's The Dining Club, where a sophisticated French menu includes such delicacies as foie gras and truffle crème brulée, confit duck breast, sautéed lobster medallions and morel-and-chicken mousse (here the supplement is £34.95 per person, or £45 with drinks pairings on Dress to Impress nights). And if you're hungry for entertainment with your food, there's Umi Sushi, where theatre cooking is all part of the experience.
SO MUCH TO DO…
Marella Explorer is expecting a lively crowd, judging by the nightlife and the number of bars on board. Fancy pre-dinner drinks? You could head to Bar 53 on Deck 5, where a buzzer will tell you when your table is ready, so you don't have to queue for dinner. Or perhaps you'd prefer frozen cocktails at The Shack on Deck 12, or maybe a Cosmopolitan or two at Aperitif on Deck 7.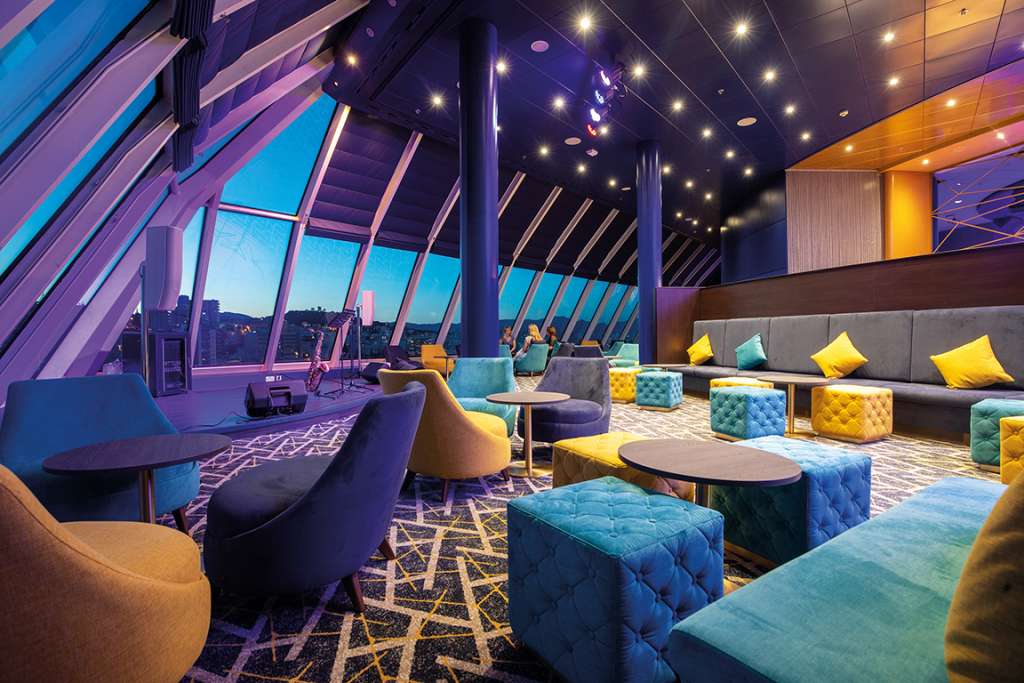 Alternatively there's Marella's first pub at sea, The Squid and Anchor, where you'll find draught beers and an extensive gin menu – 10 from the UK alone – as well as a wide choice of whiskies.
At the end of the night, Indigo is the place to be. A brilliant combination of bar, club and casino, it hosts mixology masterclasses, has an interactive DJ deck called The Emulator, and an LED-illuminated roulette table. Oh, and there's a dance floor if you simply want to throw some shapes.
But this being a Marella ship, the entertainment is multi-generational and there's plenty to keep younger cruisers occupied too. As well as the pool and Gamer Zone, Deck 12 is the Sports & Family deck, with table tennis, basketball, mini-football and mini golf, so there's no danger that kids (big or small) will ever get bored. And when parents decide they need a little downtime, or the children want to make new friends, simply head to the kids' clubs.
M Club is specially for 3 to 11-year-olds, who have the M Crew – Captain Mac, Miss Maintenance and Melody Mermaid – to entertain and educate them. Older tweens and teens can hang out at the uber-cool Hideout on Deck 8 – and with games, virtual reality experiences and an al fresco terrace with colourful hammocks, parents will be asking if they can stay too!
Personally though, I always think sea days are the perfect time to sunbathe, relax… and shop. Marella Explorer boasts its own mall – Broad Street Shops – where you can buy everything from Apple products to Tissot watches, and from September all products will be on Marella's free Navigate app, so you can splurge from the comfort of your sun lounger.
When it comes to pampering, Marella Explorer's Champneys spa is the biggest in the fleet, with no fewer than 12 treatment rooms, a beauty salon, two couples' suites with hot tubs, a thermal garden, hammam and ice room.
There's also an adults-only sauna with floor-to-ceiling windows, a fully equipped gym with sea views, and an innovative "Blue Room" where vibrating heated loungers play relaxing music through built-in speakers.

A NIGHT TO REMEMBER
It's all shiny, new and amazing, but there's no time to linger – I must dash back to get changed for the christening and sailaway party. Luckily I can't get lost (the carpets are colour-coded so you always know where you are) and I'm soon back in my cabin.
Furnished like a boutique hotel room – modern, elegant and compact – this even has a tempting looking hammock on the balcony. But that will have to wait for another day, because I have a VIP dinner to get to.
Four delicious courses and a cheese platter later, I'm on the top deck, sporting the bracelet that was left for me in my room. It came with a simple instruction – "Wear Me" – and I soon find out why.
The moment Craig David starts singing his hits, including Fill Me In, I Know You and his latest, The Time Is Now, LEDs on everyone's wristbands light up and begin flashing a kaleidoscope of colours in time to the music.
Suddenly we're part of the show, and the crowd erupts as lasers and floating pool lights pulsate across the ship. The champagne bottle is released, fireworks explode above us as Craig finishes his mesmerising set – and then we set sail.
It's an incredible moment, and the best party at sea (or on land, for that matter) I've ever been to. We stay up late, celebrating until the early hours, and I leave the next morning vowing to return for a longer stay on Marella Explorer. Because, as thousands of happy guests will soon find out, this ship rocks.