Search for your ideal Cruise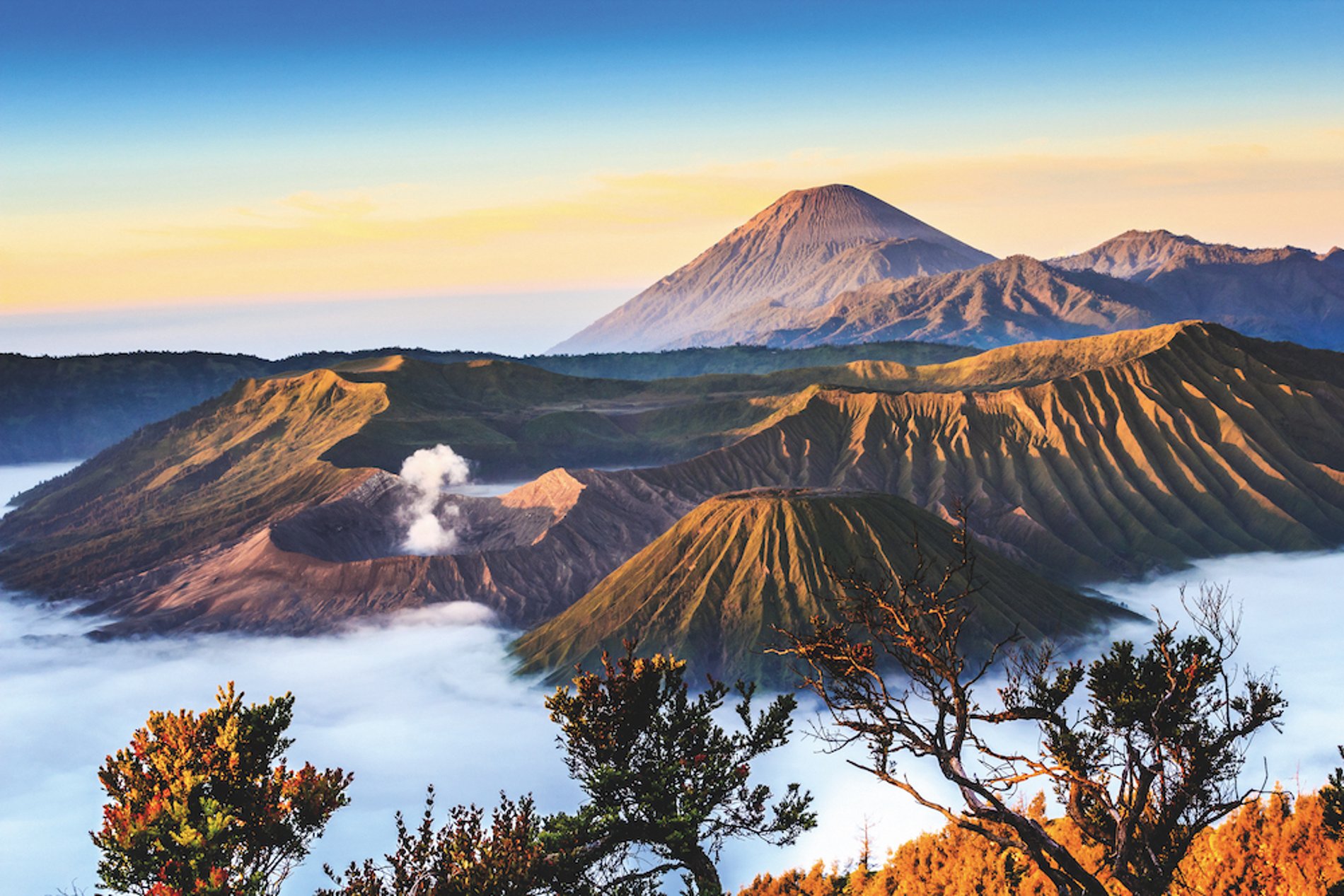 Star Clipper Cruise Ship Review: A Family Cruise Around the Far East
There were plenty of laughs and sailing adventures when Sue Bryant took her children for a swashbuckling cruise on tall ship Star Clipper
"Who's been on a cruise before?" asked Peter Kissner, our cruise director, at lifeboat drill. Hands shot up. "Oh dear," he said, shaking his head. "Forget all you know about cruising. We don't have casinos and shopping malls. This is a sailing voyage. We are going to show you the real Indonesia."
Fine by me. With a fair wind filling the sails, calm seas and sunsets that streak the sky with scarlet every night, who needs anything else? I'd joined the 170-passenger tall ship Star Clipper with my children, Lauren, 21, and Joel, 19, for a swashbuckling family adventure around Java, Bali and Lombok.
Captain Sergej Tunikov strutted around the foredeck, gesturing expansively. :Stay sails out! Square sails out!" he cried. Muscled riggers hauled an impossible assortment of lines, raising 36,000 square feet of sail up the ship's four masts. The line's signature sailing music, Vangelis' 1492: Conquest of Paradise, boomed across the deck as we slipped out of the Balinese port of Benoa into the night.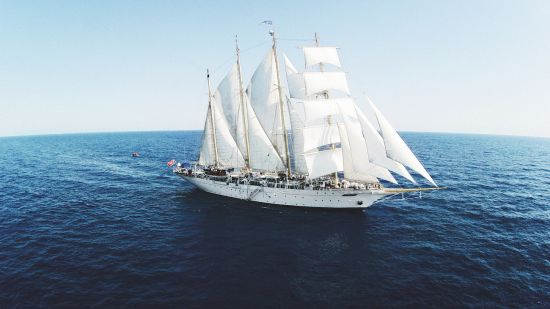 We sized up our fellow passengers. They were a surprisingly young and glamorous crowd, mainly American, Canadian and German, ranging from 20 and 30-something couples and families with small kids to retirees. I'd lured Lauren and Joel on board with the promise of exotic Bali. We'd had a couple of fantastic holidays with Star Clippers in the Mediterranean so they already knew they'd love the ship, but I was relieved to see other young adults on board.
Our first day was a sea day, with a chance to try out nautical activities such as knot-tying, navigation lessons and – my nemesis – climbing the mast, which my kids wanted to do as a family-bonding activity. This involved being strapped into a harness and clambering 65 feet up a metal and rope ladder to the first crow's nest, a narrow platform high above the deck. All very well unless, like me, you're afraid of heights. I edged my way up the ladder, shaking like a leaf as I squeezed through the narrow gap in the floor of the platform. The views, though: 360 degrees of glittering sea and, far below, through criss-crossed lines, sunbathers sprawled over the teak decks.
Peter was certainly right about the 'real' Indonesia. Giligenteng, our first stop, was a long way from the swish resorts of Bali. It struck me as odd that our first port of call was a beach on which we'd been told not to wear bikinis, but Hindu Bali aside, Indonesia is a conservative Muslim country.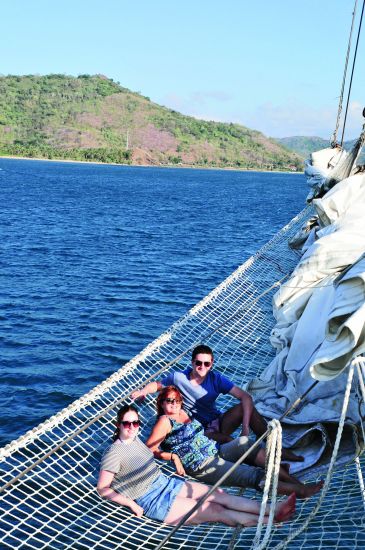 There's little to Giligenteng; it's essentially four fishing villages, strung along a powdery white beach. Plenty of Indonesian holidaymakers were relaxing under the trees, although nobody was swimming. Even covered up in shorts and T-shirts, we attracted attention, one polite young man after another approaching and asking for selfies with Lauren and Joel.
On Java, the fishing port of Probolinggo is the gateway to Mount Bromo, a highly active volcano, 7,641 feet above sea level and one of Indonesia's most popular attractions.
Volcano tourism is big business here. Some 600 jeeps bump thrill-seekers up rutted tracks to the caldera, 10 miles across, where 500 ponies ferry those unwilling to walk over a grey expanse of fine dust and grit known as the Sea of Sand. The last stretch is a staircase of 250 steps, straight up the side of the cone. We gave the ponies a miss as they looked malnourished and stressed, and hauled ourselves to the top.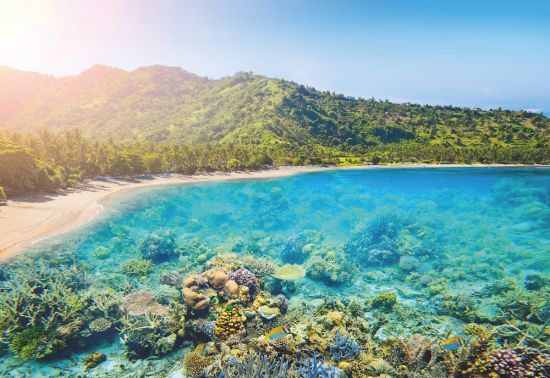 Sulphurous gases billowed out of the crater, but this was a quiet day; the last big eruption was in 2016. "The local people wouldn't leave," said our guide, Udin. "They were worried about their crops." I can see why; outside the grey caldera, the fertile, sheer-sided hills are green with garlic, cabbages and potato plants.
Not all the ports were a success. I'd been looking forward to Lovina Beach on the north coast of Bali. Most passengers took off on a tour to look at temples and waterfalls but we wanted to snorkel. Bad idea, it turned out, as the water was depressingly dirty, with oil on the surface and plastic floating everywhere. Instead of swimming, we mooched around the pretty little town and tucked into a deliciously spicy lunch and ice-cold Bintang beers in a local café.
Lombok is Bali's next-door neighbour but quite different – quieter, more conservative, less developed, but strikingly beautiful, with steep mountains, dense rainforest and long ribbons of waterfall. Last summer, tragedy struck Lombok and the Gili Islands off its coast when a series of devastating earthquakes left at least 500 dead and 220,000 displaced. Thousands of tourists were evacuated. 'We were here just afterwards,' Captain Sergej told me. 'It looked as though a nuclear bomb had fallen.'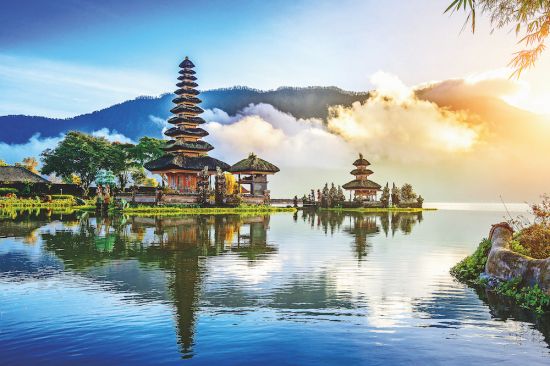 Lombok, which depends heavily on tourism, has repaired itself quickly. Around Senggigi Beach, one of its bigger resorts, there were a few collapsed roofs when we visited but most places are open for business. "You will still see damage but mainly in the villages in the north," Peter told me. "The effects were very localised, although tourism in Lombok died overnight." Star Clippers has made a comeback this season, which pleased me, as this lovely place deserves success.
Our final port of call was tiny Gili Sudak off Lombok's southwest coast, no more than a speck of sand in an aquamarine sea. Roosters scratched in the bush, and the beach café did a roaring trade in green coconuts, the tops lopped off so we could drink the water through bamboo straws. The crew set up a barbecue and we sat under feathery pine trees, tucking into grilled chicken, ribs and burgers.
We snorkelled here off the shore of Gili Kedis, a sandbar fringed by extraordinary corals and absolutely teeming with fish. Orange and white clownfish bustled around their anemone homes, while brilliant yellow tangs and decorative butterfly fish flitted around the coral.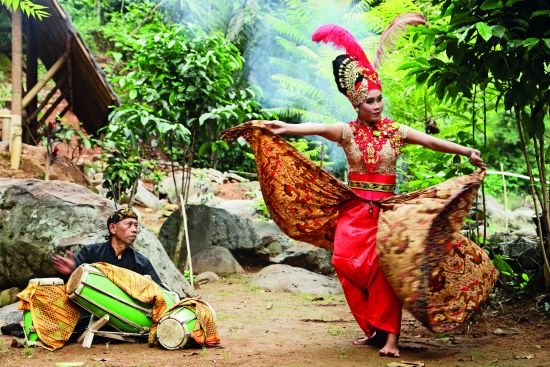 Evenings on Star Clipper were low-key, with the highlight of the week being the passenger and crew talent show. Captain Sergej wowed us with Russian folk songs, while one of the passengers – a professional opera singer, as it happened – blew everybody away with Habanera from Carmen. Apart from that, we played a lot of cards and Lauren and Joel hung out with their new friends at the bar.
But to me, nothing could be better than lying on a lounger in the darkness, gazing up through the cat's cradle of rigging and sails at the Milky Way. The simple pleasures are the best.
What's the verdict?
Two travellers tell us what they thought of their cruise adventure
I'd challenge anybody not to be stirred by the romance of a Star Clipper voyage, and we met a wide variety of people on board. Axel, a 23-year-old teacher from Switzerland, said, "I've always wanted to sail on a ship like this. I love it, although the hiking excursion on Bali was not adventurous enough for me. In Lombok, I hired a motorbike from a local guy and drove all around the island, which was fantastic."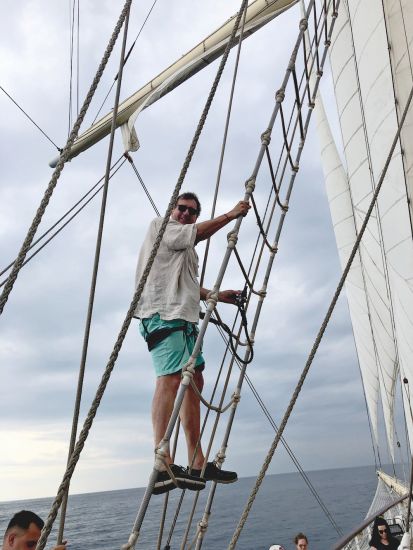 David, from Hampshire, said, "I tried everything – hauling on the ropes at sailaway, lying in the bowsprit nets and climbing the mast. I even danced the Macarena in the Tropical Bar. I've cruised a lot but nothing has ever evoked such emotion in me as the sight of the sails going up as we left port."
Get on Board
7-night 'Westbound Bali- Bali' cruise aboard Star Clipper, round trip from Benoa, departing 27 June 2020, from £1,480, starclippers.co.uk