Search for your ideal Cruise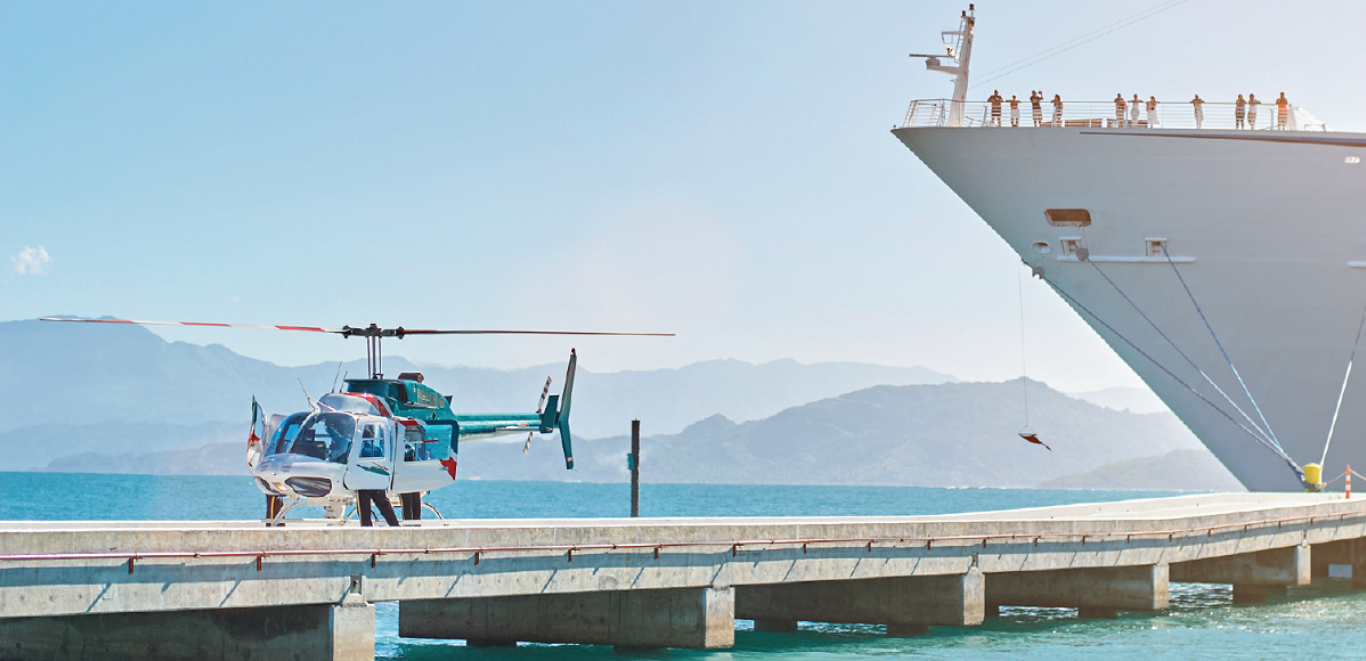 Take cover!
If you want to sleep soundly in your stateroom, choose your travel insurance as carefully as your cruise. No one likes to think their dream vacation could turn into a nightmare. And yet, as we've seen from the recent devastating hurricanes in the Caribbean, holiday hotspots can be dangerous places. What's more, illness or injury
If you want to sleep soundly in your stateroom, choose your travel insurance as carefully as your cruise.
No one likes to think their dream vacation could turn into a nightmare. And yet, as we've seen from the recent devastating hurricanes in the Caribbean, holiday hotspots can be dangerous places. What's more, illness or injury can strike at any time – especially when we're away from our familiar surroundings and routines.
For all these reasons, none of us would think of setting off on holiday without travel insurance. But don't make the mistake of thinking that all policies are basically the same and any one will do – especially if you're cruising.
A cruise is a special kind of holiday that requires a special kind of cover. With multiple means of transport involved, and umpteen transfers and disembarkations, sometimes in many different countries, there is extra scope for mishaps that can ruin both your holiday and your bank balance. Factor in the potentially huge medical bills if you fall ill – especially if you need to be flown ashore – and you'll see why it's vital that your insurance policy is up to the job.
"People should always check the details of their cover carefully, as many policies do not cover cruising as standard," says Amber Moon, Brand Manager at insurers Holidaysafe.
Fortunately though, there are specialised cruise policies that provide protection over and above standard comprehensive insurance. "Many will offer cover for missed shore or port visits that may arise when scheduled trips are cancelled due to bad weather or timetable limitations," says Emma Grimster, spokesperson at TravelSupermarket. "Cover would ensure you were compensated if you missed a port stop that you had particularly been looking forward to."
As with any insurance policy, it is vital that you provide comprehensive information when you sign up, otherwise the cover may not pay out. And if your ship stops in multiple countries, you must ensure that your insurance covers each one of them. "Be wary," says Naomi Thornton of Saga. "For the right cover, you must declare every port of call."
A cruise may also last much longer than a land-based holiday, which means you're likely to need extended baggage cover for all those cases full of clothes (especially on no-fly cruises without a luggage restriction). "We offer tailored cover for cruise passengers that can be added to travel insurance," says Melanie Corfield from Post Office Money. "It's designed for the fact that cruising holidays are typically more expensive and longer than most holidays, and issues such as misplaced luggage can be more difficult to resolve while aboard ship, constantly on the move. It also offers compensation for delays in reaching the ship, for example because of train cancellations."
If you have to travel to your port of embarkation, you will often be at the mercy of an airline – and, as the recent collapse of Monarch reminds us, that brings risks of its own. If your flight is cancelled or delayed you may miss the boat – not only spoiling the start of your holiday but letting you in for extra travel and accommodation costs. "Always make sure that your policy includes missed departures," says Tom Bishop, head of travel for Churchill. "Then, if you miss your flight, train or cruise due to delays in public transport, a connecting flight, or a vehicle you are travelling in being involved in an accident, stuck in traffic or breaking down, you will be covered for the costs incurred."
Another potential mishap unique to cruising is cabin confinement. Illness or rough weather might keep you in your stateroom, missing out on expensive shore expeditions that you have already paid for. Again, this can be insured against. Karen Hogg, Head of Insurance at Sainsbury's Bank says: "We recommend shopping around for cover, making sure you secure all the elements you need for your individual circumstances. But we offer good quality travel insurance with benefits including cabin confinement and emergency airlift to hospital if required."
That brings us to the most expensive and potentially worrying issue that cruisers need to insure against. Sudden illness is unfortunate on any holiday, but doubly so on a ship. "Doctors on board are like private GPs, so you will probably have to pay to see them," says Amber Moon. "And they won't be equipped to deal with anything serious – though we did have one customer who was charged for drips and so on, after just complaining of sea sickness."
If the illness is acute and you need airlifting from the ship to the nearest hospital, or even back to the UK, the cost – hopefully picked up by your insurer – could be massive. "You're looking at an alternative flight, extra seats, a medical escort, a stretcher or in some cases a private air ambulance, which can cost as much as £72,000," says Tom Bishop. "Repatriation for holidaymakers on a cruise can be hugely more expensive than the average holiday, with boat transfers to the mainland costing approximately £1,000 and a helicopter transfer costing £5,000 on average."
If the crisis passes and you recover in time to resume your holiday, you will still want to be compensated for the days you've missed, and the costs involved in catching up with your ship. So make sure your policy provides cover for all these eventualities, because you could pay dearly if it doesn't.
Once again, the importance cannot be overstated of giving comprehensive answers when you take the policy out. "Always declare any pre-existing medical conditions, and make sure your policy covers them. If you have not declared your conditions you will not be covered for any subsequent bills," says Amber Moon. "The cancellation cover should be enough to cover the pre-paid costs of your trip, and make sure the insurance includes at least £2 million of emergency medical cover and repatriation (£5 million if travelling worldwide).
This may seem extreme but medical treatment abroad can become terrifyingly expensive."
If you're an older traveller, you may find that insurance is difficult to get, or that the premiums are prohibitive. Saga are specialists in this market – though do make sure any policy you take out covers cruises. "We have no upper age limit on any of our products, although premiums do increase as people get older," says Naomi Thornton. "But it also depends on the destination, any existing medical conditions and the length of the holiday."
Finally, there is one consideration that is totally unique to a trip on the water: dining at the Captain's table. Formal evening wear is required on these occasions, with not only an extra suitcase needed to hoick it all on board – you'll need the extended baggage cover mentioned above – but also the worry that your finery might get lost or ruined in the ship's laundry. Here again, insurance can help. "Post Office Money travel insurance can provide cover for evening dress being lost, stolen or damaged, with £150 worth of cover for dress hire," says Melanie Corfield.
Of course, we all hope that none of the above will happen, and that our holiday will go without a hitch – as it usually does. But it's so much more relaxing to know that you have exactly the cover you need, so your insurer will pick up the pieces – and the bill – if the worst does occur.
To that end, the last word goes to Amber Moon: "Once you have purchased your policy, you will usually be given 14 days to read it through. Take advantage of this, and study the wording carefully to make sure that it exactly meets your needs."