Search for your ideal Cruise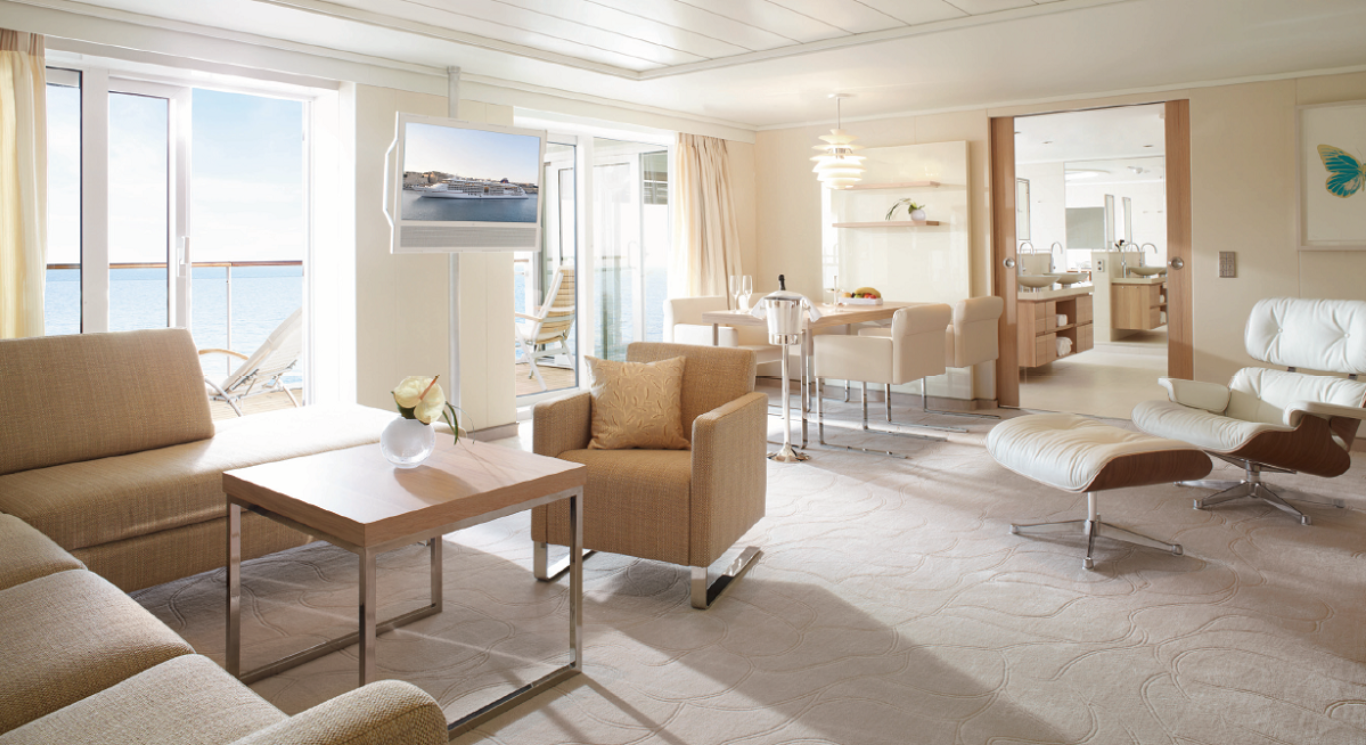 The best cruise ship owner's suites
Somewhere on your favourite cruise ship, there's one very special cabin for one very special passenger. It might even be you. No self-respecting cruise ship is built these days without an "owner's suite". For these truly palatial affairs, all the stops are pulled out, no expense is spared and every possible luxury is built in.
Somewhere on your favourite cruise ship, there's one very special cabin for one very special passenger. It might even be you.
No self-respecting cruise ship is built these days without an "owner's suite". For these truly palatial affairs, all the stops are pulled out, no expense is spared and every possible luxury is built in. Private wine cellar? Tick. Sauna, steam room, your very own spa? Tick, tick, tick. Works by Damien Hirst or Picasso on the walls? Tick.
Accommodating at most a small family– often just a couple – these ultimate staterooms can be booked by anyone. OK, only a very few are willing and able to pay the fare, but all of us can dream – so purely in the interests of research, I recently travelled in the Owner's Suite aboard Viking Sky.
What was it like? Well, the special treatment began even before I boarded, with an individual greeting at the quayside, followed by a one-to-one check-in with the Guest Services Manager. Then a retinue of managers, housekeeping staff, even the chef, accompanied me to my suite, ready to satisfy my every whim.
Cabin stewardess Daisy gave me a guided tour, from the huge living and dining area to the double bedroom with its walk-in wardrobe, and from the sauna to the three "powder rooms" (as she called them) and the boardroom (yes, really).
Awaiting my attention was a personal letter from the owner himself –Viking's Tor Hagen – wishing me a pleasant stay and inviting me to "browse the library, with physics and business books from my university days, biographies of famous Scandinavians, and thought-provoking works by Danish scientist Piet Hein."
Giving the thought-provoking works a miss, I nosied around Mr Hagen's family photos on the bookshelves, rifled through his CD collection and poured myself a glass of his Nicky Hahn Cabernet Sauvignon 2013 (very drinkable, and ideally complemented by a bag of crisps).
Before dinner there was just time to for a quick bask in my own private sauna. It did feel a bit strange to be sitting naked on the pine bench looking out through the floor-to-ceiling windows – but we were at sea by then, and I was prepared to take on trust the assurance that the glass was mirrored on the other side. "Hmm," I thought to myself. "I could get used to this."
Viking are just one among many cruise lines to offer this level of exclusive luxury, so if you fancy sampling the billionaire lifestyle on a pay-as-you-go basis, here's our guide to what's out there…
VIKING SKY
HOW BIG? 1,448sq ft with one bedroom and three bathrooms.
HOW MUCH? £16,790 per person for a 14-night Viking Homelands cruise from Stockholm to Bergen, departing May 1, 2018 (Veranda Suite: £3,190pp including gratuities, flights, WiFi, shore excursions, wine and beer at lunch and dinner, speciality restaurants). See vikingcruises.co.uk, 0800 298 9700.
CRYSTAL ESPRIT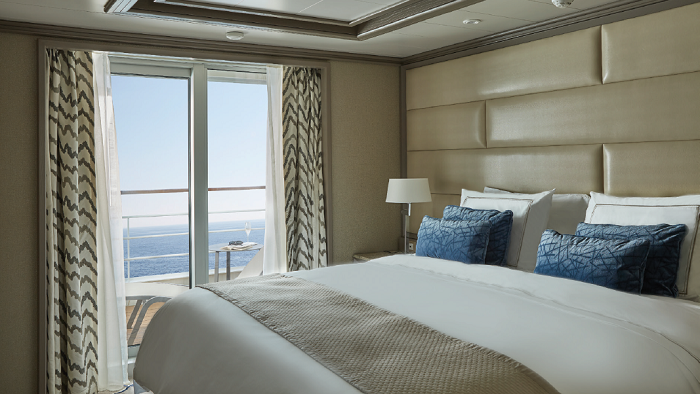 Every passenger on Crystal's luxury explorer yacht Esprit gets special treatment, whether it's butler service, the finest food imaginable or the chance to play with water toys including two jet skis and a mini-submarine. The Owner's Suite just happens to be twice the size of every other stateroom, with separate living and dining areas. For your further convenience the bathroom is fitted a Toto Washlet toilet – and if you've never experienced one of these, you'll be thinking "where have I been all my life?".
HOW BIG? 515sq ft including a full bar and dining table for four, a king-sized bed plus optional pull-out sofa bed.
HOW MUCH? £8,195 per person (two sharing, cruise-only) for a 7-night West Indies cruise, round-trip from Marigot Bay, St Martin, departing March 4, 2018 (Yacht Suite: £3,790 per person). See crystalcruises.co.uk, 020 7399 7603.
REGENT SEVEN SEAS EXPLORER
On a ship that claims to be the most luxurious ever built, the Master Suite has to be something special. And so, it is. Occupying the full width of the ship, it is four or five times larger than the average three-bedroomed house. The Explorer Suite sits directly above the bridge, so you get an even better view than the captain (and a telescope with which to enjoy it). Rising from your £112,000 bed, you can saunter into your own private spa, complete with whirlpool bath and sauna. If the panoramic views and the garden-sized veranda aren't enough to keep you entertained, you can practise your scales on the Steinway grand piano or watch TV on the oversized 4k UHD flat-screen. You'll also have a limo and driver at your disposal in every port of call, and additional privileges including a luxury one-night pre- cruise hotel package.
HOW BIG? 4,443sq ft with two bedrooms, three bathrooms and a 1,417sq ft balcony with heated mini-pool.
HOW MUCH? £28,399 per person for a 7-night cruise from Rome to Monte Carlo, departing May 1, 2018 (Veranda Suite: £3,879pp including flights, shore excursions, gratuities, WiFi, speciality dining and unlimited drinks). See rssc. com, 02380 682 280.
SILVER MUSE
The Owner's Suite on Silversea's newest ship is named after the owner himself – though "Manfredi Lefebvre d'Ovidio di Balsorano di Clunieres" wouldn't fit on the door, so they settled for the name of his ancestral castle.
The Balsorano Suite, says the man himself, "superbly encapsulates my family's Italian heritage and taste." Just like his great friend Tor Hagen of Viking, Lefebvre has donated some of his own artefacts and family photographs to adorn the suite. There's furniture from his former family home in Rome, and books from his library, while the drinks cabinet is stocked with his favourite tipple, vintage port.
HOW BIG? 1,389sq ft with two bedrooms and two bathrooms.
HOW MUCH? £11,650 per person for a 7-day cruise from Rome to Venice, calling at Sorrento, Taormina, Katakolon, Sarande, Dubrovnik and Split, departing May 29, 2018 (Classic Veranda: £3,850). See silversea.com, 0844 251 0837.
EUROPA 2
Hapag-Lloyd's über-cool Europa 2 has not one but two Owner's Suites (and not because of the company's double-barrelled name). H-L brochures boast of "separate living and sleeping areas"– though to most people that's simply the definition of a suite. More to the point, the bathroom contains a day bed (ideal if your private sauna session has tired you out) and there is a genuine Damien Hirst butterfly painting (value about £34,000) on the wall.
HOW BIG? 1,227sq ft including a 161sq ft balcony.
HOW MUCH? £15,362 per person for an 8-night cruise from Abu Dhabi to Dubai, departing May 14, 2018 (Ocean Suite: £4,156). See hl-cruises. com, 0800 0513 829.
MSC DIVINA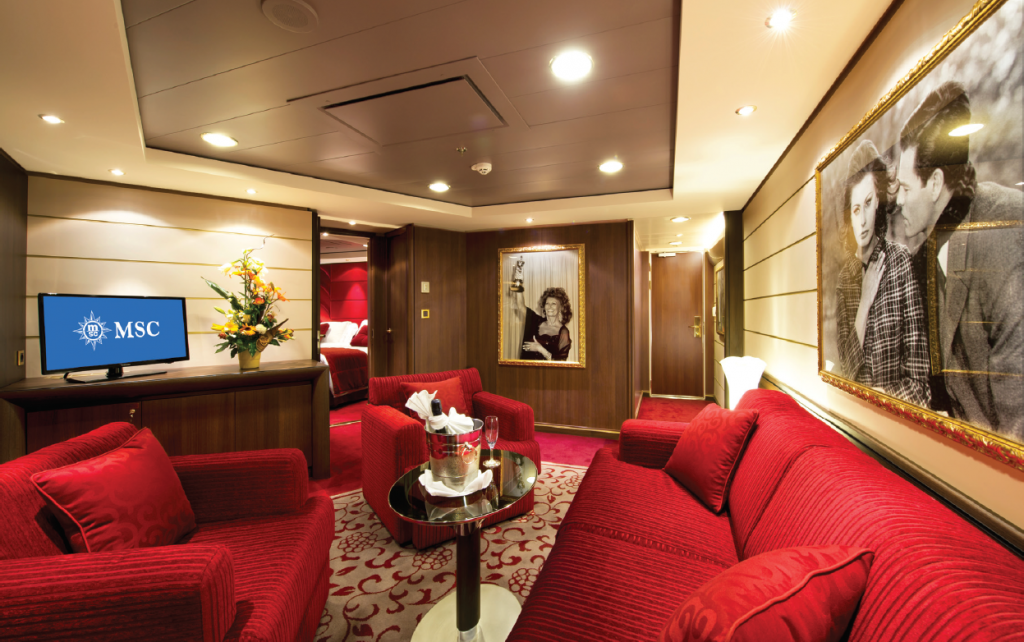 Screen goddess Sophia Loren is not the owner of MSC Divina, but she is the face that launched more than a dozen ships, being the godmother to every MSC vessel afloat.
Divina's Yacht Club, a gated enclave of butler-attended suites, has one very special cabin. Room 16007 is the Sophia Loren Suite, with décor – much of it in voluptuous shades of red – inspired by the lady herself. The walls are hung with photographs charting her glittering film career, and the dressing table is a replica of the one in the screen legend's own home.
HOW BIG? 560sq ft including a 172sq ft balcony.
HOW MUCH? £2,669 per person for two sharing (including flights) for a 7-night cruise from Genoa to Civitavecchia (for Rome), Palermo, Cagliari, Palma de Mallorca, Valencia and Marseille, departing April 21, 2018 (Balcony Cabin from £899pp). See msccruises.co.uk, 020 3426 3010.
CELEBRITY REFLECTION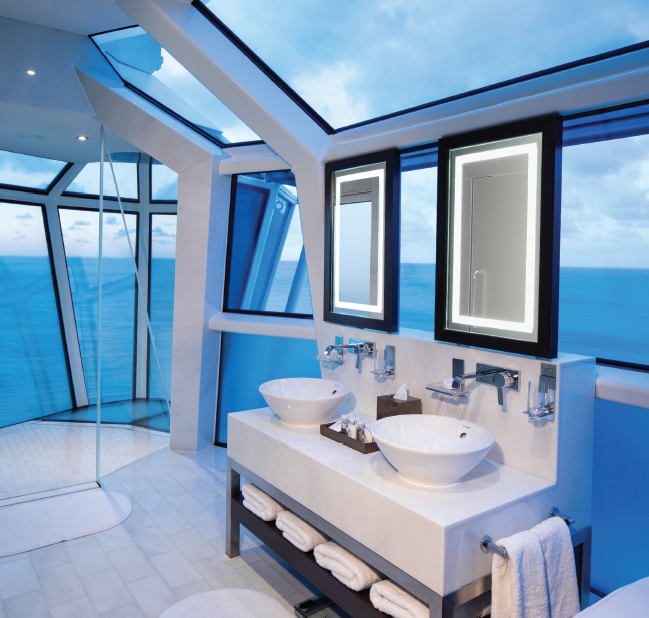 The Reflection Suite on Celebrity Reflection has one literally outstanding feature – an all-glass shower that actually projects over the side of the ship. Scary! This first-of-a-kind feature was designed by New York's BG Studio International, and users could be forgiven for wondering if the rest of the world is ready for the big close-up. Fortunately, though, although the occupants can see out, no one can see in, even at night. The suite's sea-view bathroom also incorporates a balcony tub complete with rain shower.
HOW BIG? 1,636sq ft with two bedrooms and a 194sq ft balcony.
HOW MUCH? £12,369 per person (two sharing, flights included) for a 10-night Italy and Greek Islands fly-cruise from Rome to Sicily, Malta, Mykonos, Rhodes, Santorini, Athens and Naples, departing August 31, 2018 (Interior Stateroom: £2,109pp). See celebritycruises.co.uk, 0800 441 4054.
JOIE DE VIVRE
When it comes to sheer size, river cruisers can never match ocean ships. But the Presidential Suite on Uniworld's latest addition, Joie de Vivre, lacks nothing in terms of luxury. With separate living and sleeping areas and a full balcony, it has silk-lined walls hung with historic aquatints. Occupants can call on butler service to help with everything from packing to serving breakfast, and there's a fully stocked mini-bar.
HOW BIG? 410sq ft.
HOW MUCH? £6,999 per person for an 8-day Paris and Normandy cruise, round-trip from Paris, departing March 18, 2018 (River View Stateroom: £2,399pp). See uniworld.com, 0808 252 5137.