Search for your ideal Cruise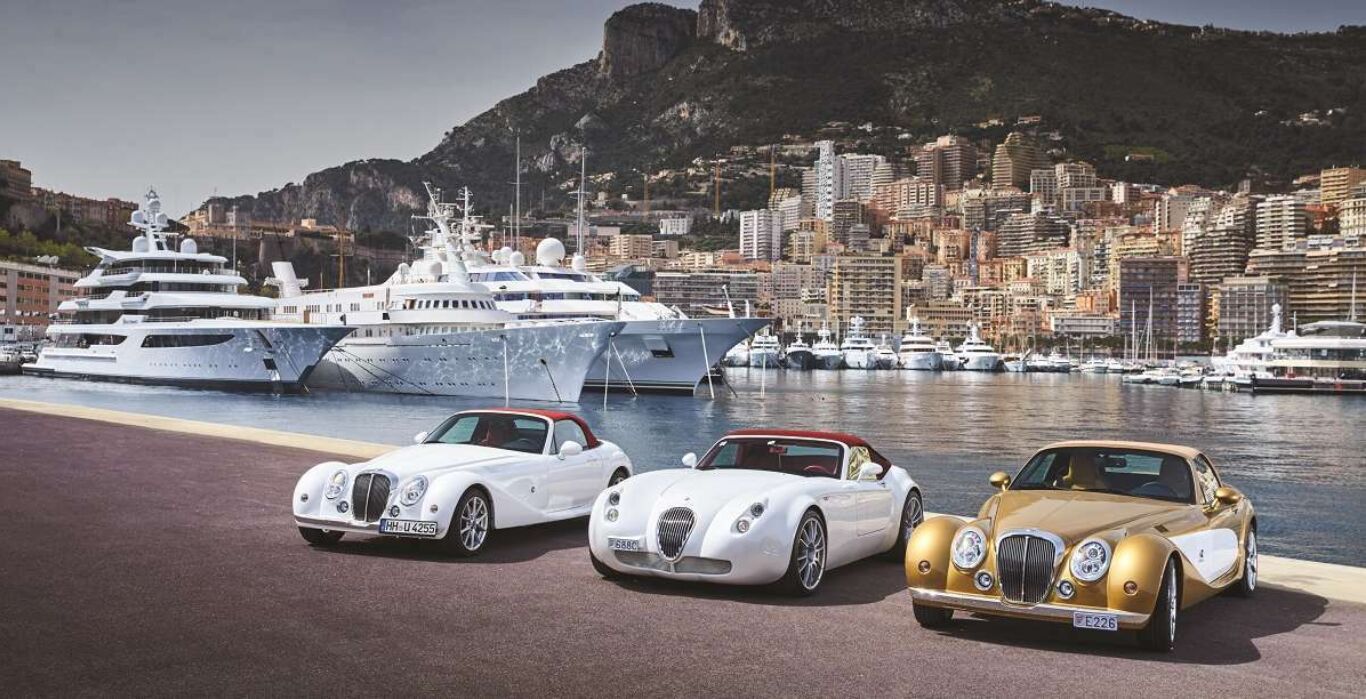 Top ten cruises for thrill seekers
A cruise can be the perfect opportunity to relax and unwind. But it can also be the gateway to some of life's most adrenaline-fuelled adventures. Crunching up a muddy track in a 4×4; gliding through a fish-filled coral reef; hovering above an active volcano; zipping across the water on a speedboat – whatever thrill you're
A cruise can be the perfect opportunity to relax and unwind. But it can also be the gateway to some of life's most adrenaline-fuelled adventures.
Crunching up a muddy track in a 4×4; gliding through a fish-filled coral reef; hovering above an active volcano; zipping across the water on a speedboat – whatever thrill you're seeking, there's a cruise where you can find it.
Most lines now offer a selection of adrenaline-pumping activities in their excursions portfolios, and although some are in suitably exotic locations, you don't need to travel far to get a piece of the action.
Here are ten suggestions for truly memorable experiences – but do check with each cruise line before booking, as shore excursions can change regularly.
1 DIVE! DIVE! DIVE!
The waters of Mexico, the Caribbean islands, the South Pacific and Australia are rich with coral reefs and the multitude of fish and other aquatic species they attract – perfect territory for scuba diving.
A five-star PADI diving school is not what you'd expect to find on a cruise ship but Royal Caribbean has several among its fleet. When sailing in warmer waters, that means novices can gain a qualification using the school's classroom and pool before descending beneath the waves with an instructor on a first dive. Then within minutes you could be swimming among iridescent parrotfish, gliding rays and beautifully shaped corals.
Try-dives without doing a course are another option, while those already qualified will find two-tank dive days on offer through the cruise line at a variety of destinations.
A six-night Western Caribbean itinerary on Freedom of the Seas from Fort Lauderdale costs from £592pp excluding flights. Departs April 22, 2018; other dates available (royalcaribbean.co.uk)
2 RED HOT LAVA
Kilauea on Hawaii's Big Island is said to be the world's most active volcano, and it's a rare example where bright orange molten lava can often be seen churning in the crater.
It's too dangerous for tourists to get close on the ground, but a helicopter flight affords an amazing birds-eye view of this awesome demonstration of nature's power.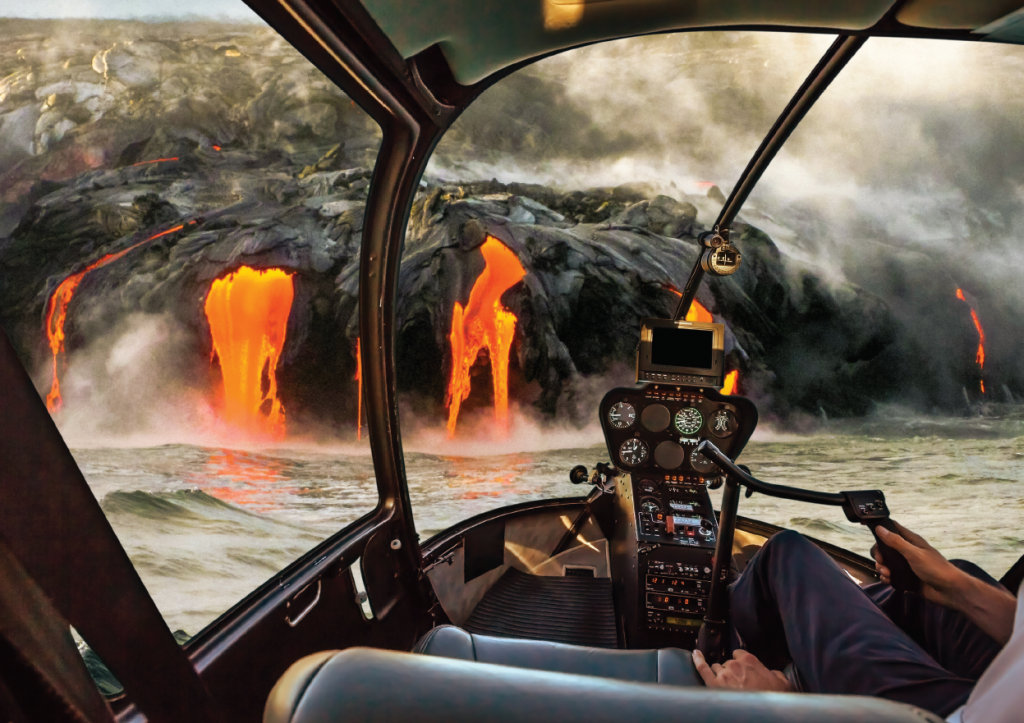 From your lofty vantage point you'll be able to see how almost constant volcanic action has shaped the landscape, while close-up sights of the steaming vents and glowing lava offer a dramatic contrast to the lush rainforests and surging waterfalls below.
Norwegian Cruise Line offers three different heli-tours on its regular Hawaii cruises aboard the refurbished Pride of America. One even involves flying without doors so you can feel the heat rising from the volcano.
A seven-night round trip from Honolulu costs from £1,439pp excluding flights. Many dates available in 2018 (ncl.com)
3 ZIPPING ALONG
Whizzing through the treetops in the rainforest, you will be among the many birds and animals that make this high canopy their home.
A zipline is the most exciting way to encounter the exotic jungle and copious wildlife of Costa Rica, and at the Jungle Breeze nature centre you'll find a series of lines that get more daring as you scoot between the 13 platforms. There's a real adrenaline rush towards the end, with cables up to 900ft long and 250ft above the ground – though if that sounds a little too exciting, you can choose to opt out half-way.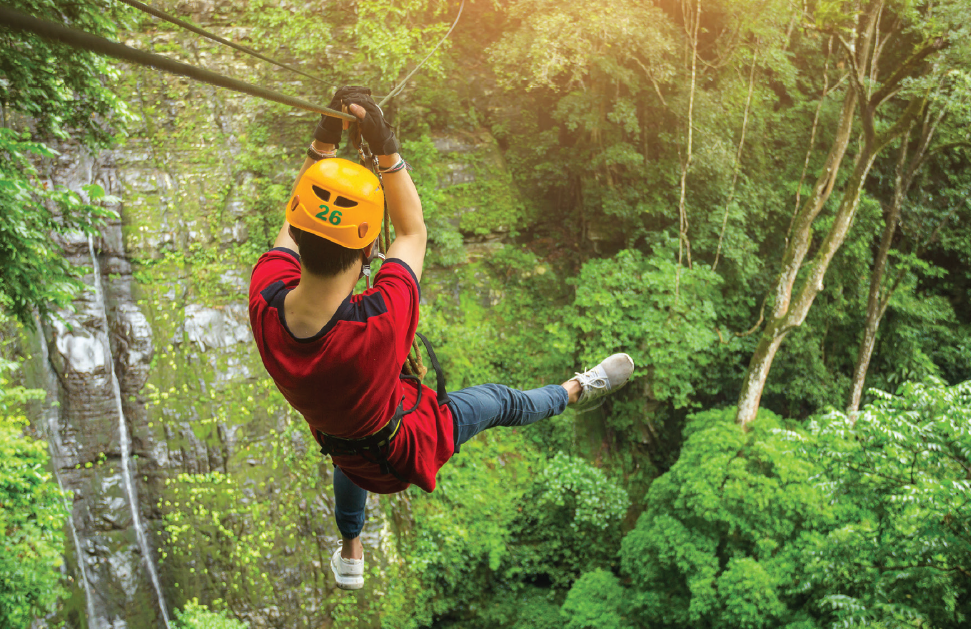 When you're not moving so fast, you might see some of the hundreds of species of birds for which Costa Rica is famous, along with beasts such as tiny tree frogs and monkeys.
Thomson offers the chance to ride the wires on its Pride of Panama cruise, with the bonus of a riverboat tour of the Tortuguero National Park before you arrive at the centre.
A seven-night cruise on TUI Discovery 2 costs from £1,210pp including flights; four departures January to March 2018 (thomson.co.uk)
4 TRULY, MADLY, DEEPLY
In the great southern ice fields of Patagonia and Antarctica, giant glaciers tower over the frozen landscape, periodically shattering the silence as they "calve" great chunks of ice into the sea. It's an incredible sight – but just imagine witnessing it from underwater.
Take Scenic's Ultimate Chilean Fjords & Antarctica voyage and you can do exactly that, thanks to their amazing sightseeing submarine (see artist's impression above), which can dive up to 200 metres below the waves.
On the same trip, which takes you from Chile to Argentina via the Falklands and the Antarctic peninsula, you can explore by Zodiac, kayak and even helicopter. And at the end of each day you'll return to the comfort of your 200-guest luxury yacht, Scenic Eclipse (launching next February).
The Ultimate Chilean Fjords & Antarctica Voyage, 29 days from Valparaiso, Chile to Buenos Aires, Argentina, costs from £13,865pp including flights. Departs Nov 21, 2018 (scenic.co.uk)
5 BRAVE AS A LION
Stroking a full-grown lion may seem like asking for trouble but it's a remarkable experience on offer in Mauritius.
At the Casela Nature Park, lions and other animals roam free in their own reserve. Under the guidance of an experienced handler, you will walk among the big cats for an hour, watching them play and relax along the banks of a river and no doubt taking plenty of photos.
Under close supervision, it is possible to stroke the beasts while learning about the safari park's conservation programmes. Fred Olsen offers this encounter on its Indian Ocean voyages.
Elsewhere in the park you can see pygmy hippos, tigers, giraffes, elephants, camels, monkeys and many different birds in an extensive walk-through aviary.
A 14-night voyage on Boudicca, round-trip from Mauritius, costs from £1,799pp excluding flights, departing November 1, 2018 (fredolsencruises.com)
6 SUPERCAR SENSATION
A glamorous sports car and one of Europe's great roads make a fabulous combination.
The winding corniche routes between Nice and Monaco in the south of France have long been a favourite drive for film stars (and 007), and now you can follow in their tyre tracks at the wheel of a gleaming Ferrari or Lamborghini.
With such a powerful car, concentration will be needed – although the vistas over the coast may make that difficult, especially when you reach the glitzy playground of Monaco.
An expert co-driver/guide in the passenger seat will help ensure your safety and suggest you stop at the best viewpoints to take in the panorama (while posing for selfies with your supercar, naturally).
It's a special experience offered by Celebrity Cruises from the beautiful port of Villefranche near Nice.
Eleven-night Western Mediterranean cruise, round-trip from Rome on Celebrity Reflection, from £919pp excluding flights. Departs May 7, 2018 (celebritycruises.co.uk)
7 LIGHTS, CAMERA, ACTION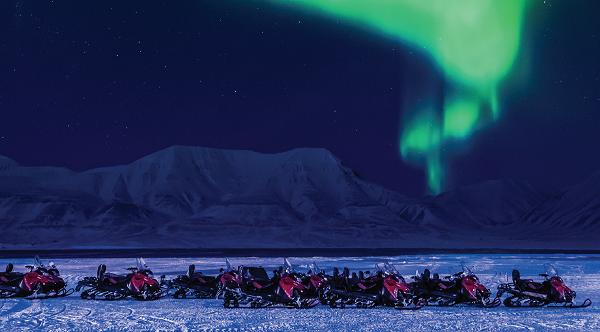 Who wouldn't love zooming across a wild white landscape on a snowmobile? Like a cross between a motorbike and a jetski, these must be one of the most exhilarating forms of transport yet devised. And just imagine taking a thrill-ride into the polar night with the snow lit up by the eerie glow of the Northern Lights.
Hurtigruten offers the chance of this amazing experience on its regular voyages up the coast of Norway. You'll need to take your driving licence but won't need any experience to jump aboard these machines. An instructor will demonstrate the controls before leading you from Mehamn to Kjølleford, through valleys and over mountains.
The convoy pauses so you can make a bonfire and admire the starry sky – and possibly the Aurora Borealis– while learning about the geography and the indigenous Samí people.
An 11-night round-trip from Bergen costs from £1,105pp excluding flights, with regular departures from January to April 2018 (hurtigruten.co.uk)
8 BEAR ESSENTIALS
Late in the Alaskan summer, countless salmon return from the sea to the streams where they were born. And waiting for them are hungry black bears, fishing for their supper.
You can witness this natural spectacle from a viewing platform in the pristine Tongass National Forest near Ketchikan – and the best way to get there is via a scenic flight on a floatplane.
Your pilot will give a commentary as you fly over this stunning landscape, and after landing on the water you'll be met by a local guide who will walk you to the platform.
This Alaska Bear Adventure excursion is offered by Silversea on its regular small-ship itineraries from Vancouver to Seward, during which you can also spot bald eagles and humpback whales.
Seven nights on Silver Shadow, departing August 23, 2018, costs from £2,970pp excluding flights. Other dates available (silversea.com)
9 RIB-TICKLING
Off the coast of Helsinki, thousands of small islands form a serene maritime environment – at least until you speed past them at more than 40mph on a high-powered RIB boat.
These craft are manoeuvrable and stable yet provide an electrifying experience as they skim across the waves, through open channels and under bridges as well as among the isles.
It's an activity offered on some of Cunard's Baltic cruises, though you may have to decide between a RIB excursion and exploring the islands on a two-seater Bat Max boat that you get to drive yourself (these little speedboats don't go particularly fast but their size makes them most enjoyable).
Cunard also offers guided sea kayaking and trips on a sailing yacht at this appealing Finnish city.
A 14-night St Petersburg and Baltic Explorer voyage on Queen Elizabeth, round-trip from Southampton, costs from £1,606pp, departing June 10, 2018 (cunard.co.uk)
10 NO WORRIES?
Sydney Harbour is one of the most recognisable sights on earth – and what better way to admire it than from a precarious viewpoint atop the iconic Harbour Bridge?
Those nervous about heights should not apply for the bridge climb, which involves traversing the world-famous "coat hanger" with a guide.
You'll wear a safety harness and be clipped on to the giant structure as you make your way over the arch. Half-way through your three-and-a-half hour climb you'll reach the apex, a giddy 440ft above the water, from where you can look down at your ship and the unmistakable shape of the Opera House far below.
Then, once back on terra firma, it's obligatory to call in at a friendly Sydney pub to toast your achievement (and as you look back at the arch from ground level, you'll definitely feel like a drink).
Holland America offers the climb on its 29-night New Zealand and Southern Ocean cruise, from £3,899pp excluding flights. Departs December 8, 2018 (hollandamerica.com)