Search for your ideal Cruise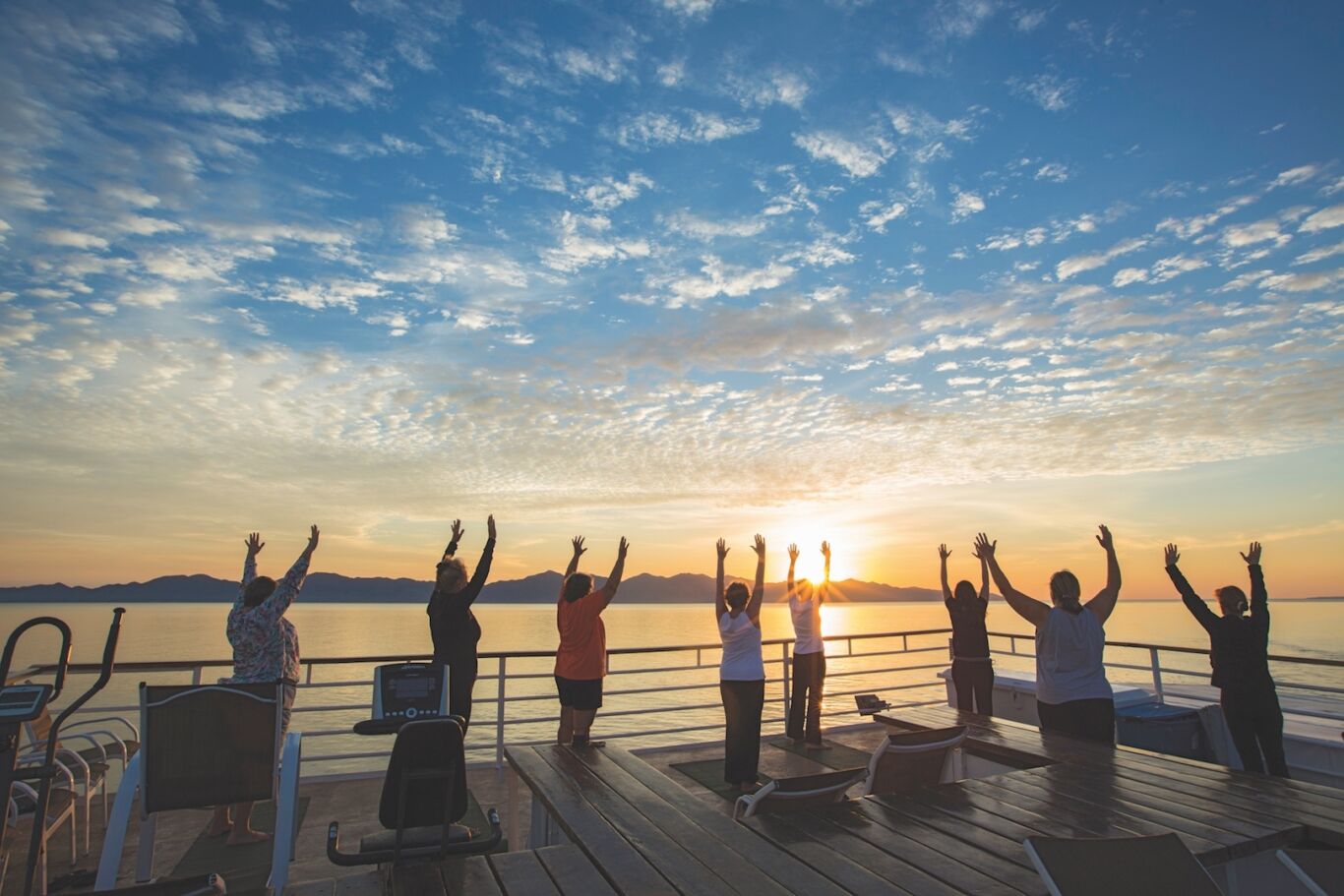 Top Ten Wellness Cruises
With the recent trend of wellness cruises getting fit while cruising has never been simpler. Here's our top ten favourite wellness getaways… 1) Doctor's Orders Seabourn guests expect to be spoiled rotten – but there's no reason why the experience shouldn't be healthy as well as happy. Whether you want to relax, rejuvenate or just feel
With the recent trend of wellness cruises getting fit while cruising has never been simpler. Here's our top ten favourite wellness getaways…
1) Doctor's Orders
Seabourn guests expect to be spoiled rotten – but there's no reason why the experience shouldn't be healthy as well as happy.
Whether you want to relax, rejuvenate or just feel good, Seabourn reckons it can help, and their health programme – offered on all cruises including the new Seabourn Ovation, launching in May – has been devised by celebrated US alternative therapist Dr Andrew Weil.
He uses meditation and yoga to beat joint pain, back pain and headaches, and the man himself will join one cruise per year, while on other sailings his trained therapists will hold daily sessions.
It's all free but there is a charge for one-on-one treatment.
✪ From £4,799 per person cruise-only for a 10-night Mediterranean Islands cruise from Civitavecchia (Rome) to Barcelona, departing 16th June 2018 (see seabourn.com)
2) The Wind In Your Sails
Why practice yoga in a dark and airless gym when you could be out on the deck of a clipper ship, feeling the sea breeze on your face and listening to the gentle "swoosh" of the hull cutting through the waves?
Enter Star Clippers, which has nine yoga-themed cruises across its three tall ships in the Mediterranean, Caribbean and Thailand this year, with onboard experts including Helen Noviello, who runs yoga retreats around the world.
She will be holding classes morning and evening on two Royal Clipper cruises next September; all levels, whether beginners or experts, are welcome to join and there is no charge.
✪ From £2,149 per person for a one-week sailing from Civitavecchia (Rome) to Cannes, departing 15th September 2018, including flights and transfers (see starclippers.co.uk)
3) A River Runs Through It
Were you thinking a river cruise means life in the slow lane? Think again.
AmaWaterways is installing "wellness hosts" (aka fitness instructors) on six river vessels to encourage passengers to get shipshape while enjoying the scenery. The hosts will hold free stretching, jogging and resistance workouts every morning and afternoon, lead discussion groups on healthy eating and relaxation techniques, and lay on complimentary classes such as yoga, Pilates, tai chi and circuit training.
The wellness programme kicks in from spring 2018 on the Rhine, Danube, Main, Moselle and Seine rivers, as well as Taste of Bordeaux voyages in France.
✪ From £2,311 per person cruise-only for a seven-night Blue Danube Discovery cruise from Budapest to Nuremberg, departing 8th July 2018 (see amawaterways.co.uk)
4) It's All In The Mind
Learn to relax, refresh and recharge with the help of experts in yoga, Pilates and tai chi on a mind, body and spirit-themed cruise with luxury line Crystal Cruises next October.
Health and wellness experts will be joining Crystal Symphony to host talks about nutrition and diet – and if that only makes you hungry, you can join your fellow fitness fans in "walking on water".
Simply strap on a WalkVest, add weights to suit (anything from two to 16lbs) and set out for a 360-degree spin around the promenade deck. There are three-and-a-half laps per mile, and you'd be hard pushed to find a pleasanter way to get those feelgood endorphins pumping.
✪ From £3,702 per person cruise-only for a 14-night Colonial Charms cruise from New York to Port Everglades, Florida, departing 25th October (see crystalcruises.co.uk)
5) Let's Go Deutsch
It used to be downhill all the way for Germany's Olympic ski champ Maria Höfl-Riesch – but then she hung up her boots and created BE.YOU, a fitness programme available on Hapag-Lloyd Cruises' luxury ship Europa 2.
It's all about exercise – aerobic stretching, floor work, pumping those thighs on the exercise bikes and more – but tailored to each individual's abilities and needs based on a body analysis test.
There's no charge if you cruise when Maria is taking the classes (she'll be joining four sailings in March, May and November 2018, and January 2019).
At other times the programme is offered by personal trainers for a fee.
✪ From £4,160 per person cruise-only for an eight- day cruise from Abu Dhabi to Dubai, departing 14th May 2018 (see hl-cruises.com)
6) Paddle Power
If you've come across Uncruise Adventures before, you'll know they do things a little differently (the clue is in the name).
Their wellness-themed voyage in Alaska next September runs true to form, so you'll go kayaking around Glacier Bay and the Keku Islands, and step out on fast-paced hikes into the wilderness.
On board, Pilates and yoga trainers Anna Winton and Tracy Jennings-Hill will host power yoga and deep core sessions morning and evening.
Your ship is Safari Endeavour, a small vessel that can squeeze into harbours and bays well away from the traditional cruise ship routes – so you can expect some amazing views while you work on those abs.
✪ From $4,945 per person cruise-only for a one-week Glacier Bay cruise, round-trip from Juneau, departing 2nd September 2018 (see uncruise.com)

7) Everybody Say Yeah!
A Saga cruise is all sherry, slippers and cakes in the afternoon, right?
Wrong – because the popular over-50s specialist has recruited none other than Mr Motivator of GMTV fame (aka fitness trainer Derrick Evans) to pick up the pace on its 17-night Mediterranean cruise next April. Don't worry – you won't have to wear Mr M's outrageously colourful gear, but you will have to be ready for a seriously fun work out.
If you need to catch your breath after all that activity, there are also yoga and Pilates classes, while celebrity chef Kevin Woodford will be on hand to cook up some favourite healthy Mediterranean dishes.
✪ From £2,571 per person for a 17-night Mediterranean Adventure cruise from Portsmouth to Dover, departing 28th April 2018 (see travel.saga.co.uk)
8) Welcome To Wellness
MSC Cruises has jumped eagerly aboard the bandwagon, offering a package of perks on all cruises including a wellness welcome kit with t-shirts, shorts and a sports towel; free laundry for gym gear; a health check with the ship's doctor; a free body composition analysis with a personal trainer and – saving the best until last – half-price fitness classes.
Book the deluxe wellness suite in the Yacht Club on MSC Meraviglia and you'll even have your own Technogym Kinesis equipment.
✪ From £1,269 per person for an 11-night Baltic cruise, round-trip from Hamburg on MSC Meraviglia, departing 2nd September 2018 (see msccruises.co.uk)

9) It's A Shore Thing
The spas and gyms on the newest ships leave most hotels far behind; pair them with wellness tours on land – as Oceania Cruises has done – and you get a feelgood holiday that's hard to beat.
Pick the Portraits of Europe cruise next June and you can spend a morning steaming out those toxins in a hammam in Grenada, then chill out with tai chi on a beach in Palma de Mallorca.
The tours cost extra – as do the Canyon Ranch spa treatments that Oceania suggests you pair with them (respectively a hydration facial and reiki) but on the plus side the company has dispensed with extra charges for yoga, Pilates, Boot Camp and other fitness classes on board, and you can eat healthily from a well thought-out vegan menu.
✪ From £3,759 per person including flights for a 10-night Portraits of Europe cruise from Lisbon to Civitavecchia (Rome), departing 16th June (see oceaniacruises.com)
10) Dial O For Ophra
We all need a little encouragement to do the right thing, and there's nothing like a touch of celebrity to get folk in the mood for working out.
So hats off to Holland America Line for tying up with O, The Oprah Magazine to spread a little health and happiness (for free!) on more than 300 cruises in Alaska, Bermuda, the Caribbean, Mexico, Canada and Hawaii.
There will be meditation to start the day, followed by movement and tai chi classes to set you on the road to wellbeing, plus tips on healthy eating (which might just mean having to say no to some of the choc-tastic desserts on board).
✪ From £1,249 per person cruise-only for a seven-night Alaskan Explorer cruise, round-trip from Seattle, departing 2nd June 2018 (see hollandamerica.com).