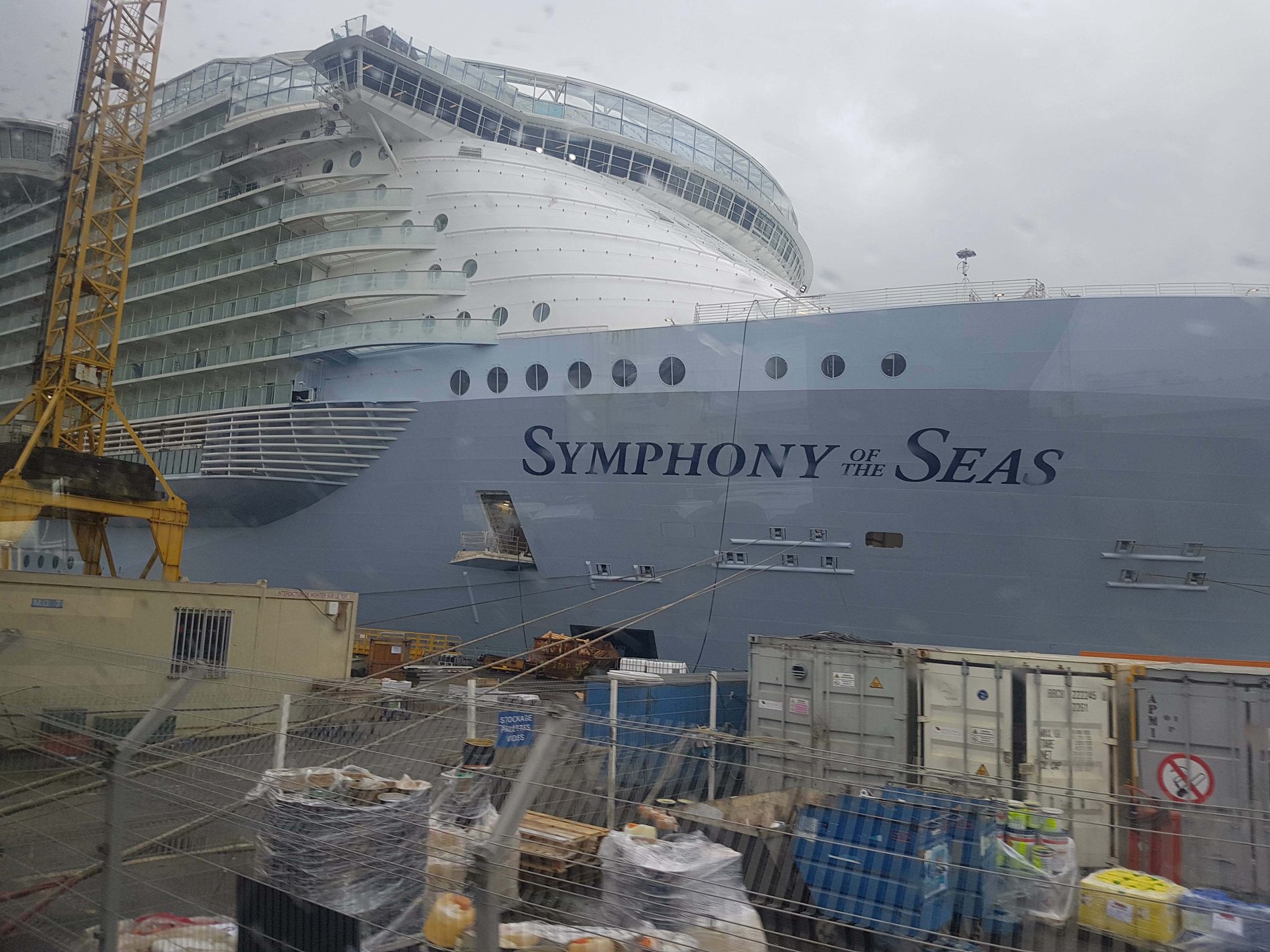 Unfinished Symphony: Six reasons we love the world's biggest ship
The countdown to Royal Caribbean's new ship has begun but with just 39 days to go, and Symphony of the Seas less than ship-shape, World of Cruising's Josh Stephenson still finds plenty to impress With just 39 days until Royal Caribbean's Symphony of the Seas ­– which will be the world's biggest ship ­­– makes
The countdown to Royal Caribbean's new ship has begun but with just 39 days to go, and Symphony of the Seas less than ship-shape, World of Cruising's Josh Stephenson still finds plenty to impress
With just 39 days until Royal Caribbean's Symphony of the Seas ­– which will be the world's biggest ship ­­– makes her grand debut in Barcelona for her maiden voyage in the Mediterranean, it's gleaming exterior belies an interior that is far from finished.
But walking round the 228,081-gross tonne, £962,536,500 ship for her final press visit in the STX shipyard at St Nazaire, France, it's clear that bigger really is better.
Even in its unfinished state – Royal Caribbean estimates put it at 94% complete – replete with dangling cables and the frantic scurry of French tradesmen cheerfully stopping to say 'Bonjour' before getting back to hitting large sheets of metal with an equally large hammer, there's still a cavalcade of new features to get excited about.
Between having the longest slide at sea in Ultimate Abyss, which has an astonishing ten-storey, 100ft drop, and the introduction of sweets and ice cream shop Sugar Beach, where kids can indulge their sweet tooth on all manner of treats; there's almost too many features to mention.
Here are six reasons we're already in love with Symphony of the Seas…
THE FAMILY SUITE IS A KID'S PARADISE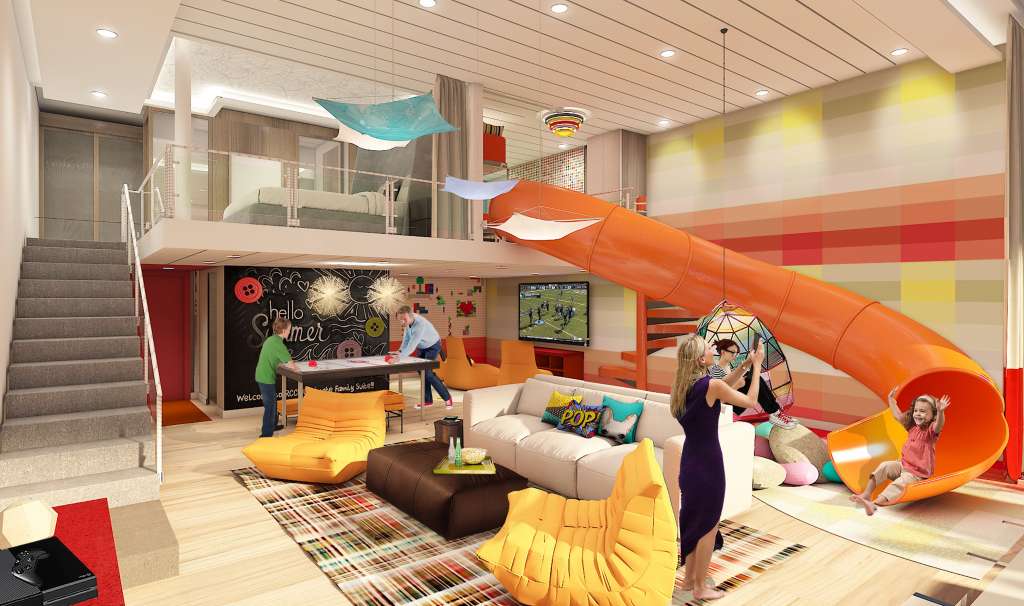 Forget a roll out bed, or bunk beds in the corner of the cabin ­– Symphony's The Ultimate Family Suite is large enough to cover two levels of the ship and has enough activities to keep the whole family entertained onboard.
It wasn't anywhere near finished at the time of our visit, although the scaffolding supporting the roof would still make a fun climbing frame for the children, but that hasn't stopped the public from snapping them up for the entire year.
The suite is sold out for 2018 – even selling for a whopping $90,000 over the Christmas season for just one week! – and is filling up rapidly for 2019. Royal Caribbean has been so taken aback with the success of the suite that they plan to include it in all future Oasis-class ships. Perhaps even retrofitting it to past ships.
And with its wonderful collection of features: chalk room, LEGO wall, gaming tables and a slide that connects the kids' bedroom to the living area, it's really no surprise to see them take off in such a big way.
YOU DON'T NEED TO WORRY ABOUT MISSING THE WORLD CUP
Watching live sport on a cruise ship can often be a hassle. At best the ship will try to put on a feed on a big screen but with spotty reception at sea, sometimes that means huddling round a computer screen or spending a fortune on WiFi.
Royal Caribbean promises to solve this problem with their Playmakers Sports Bar where you'll always be able to catch the big game. Teaming with live streaming sports provider, Sport24, they promise a strong, reliable signal thanks to the feed being beamed down directly onto the ship from a dedicated satellite overhead, rather than hoping to pick up a standard signal in the middle of the ocean. If it works (and that's always a big if) it will certainly be a popular addition.
WE'RE READY TO TAKE FLIGHT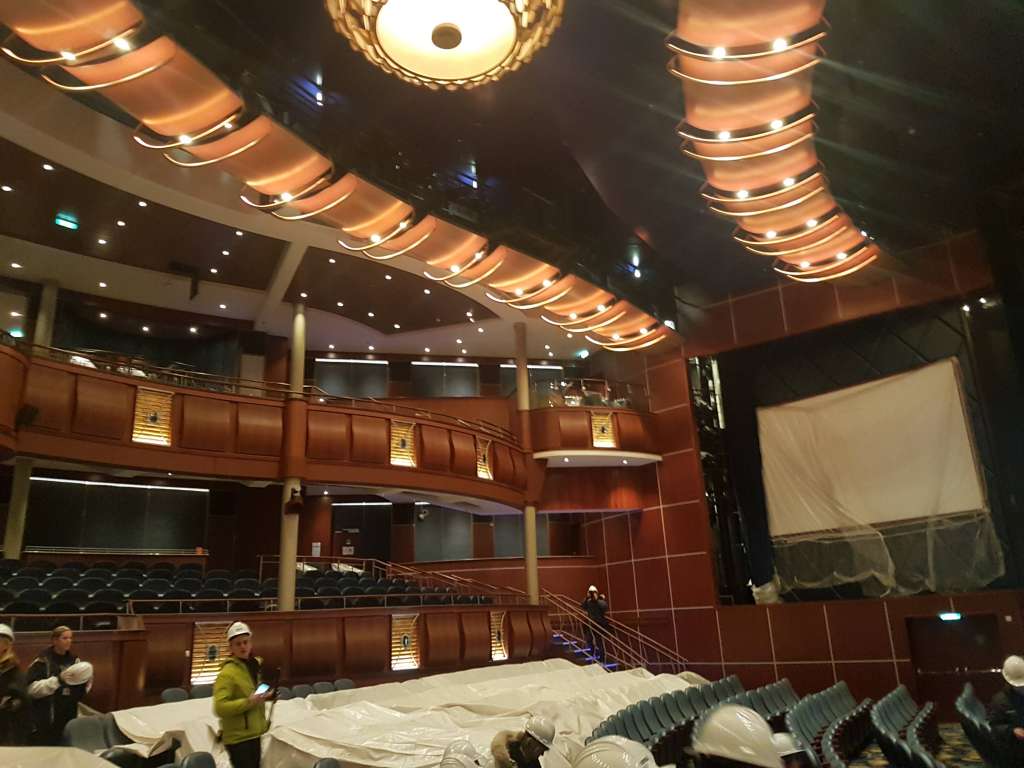 Bar a few rows of missing chairs, the Royal Theatre was looking pretty ship-shape, and its line-up of shows is impressive too. We've heard plenty about Hairspray – returning to Royal Caribbean after originally debuting on Oasis of the Seas back in 2009 – but it was Royal Caribbean's new production Flight which took centre stage during our visit.
Nick Weir, vice president of entertainment at Royal Caribbean, explained how the show tells the history of flight and comes with a life-sized version of the Wright Brothers' famous plane. Saying that 'we're all nerds nowadays' and how 'the audience knows if it doesn't make any sense' they enlisted the help of retired astronaut, Clayton Anderson, to make sure there won't be any sarcastic comments clogging up their Twitter feed.
THE ROYAL PROMENADE GIVES PLENTY OF BANG FOR YOUR (STAR)BUCK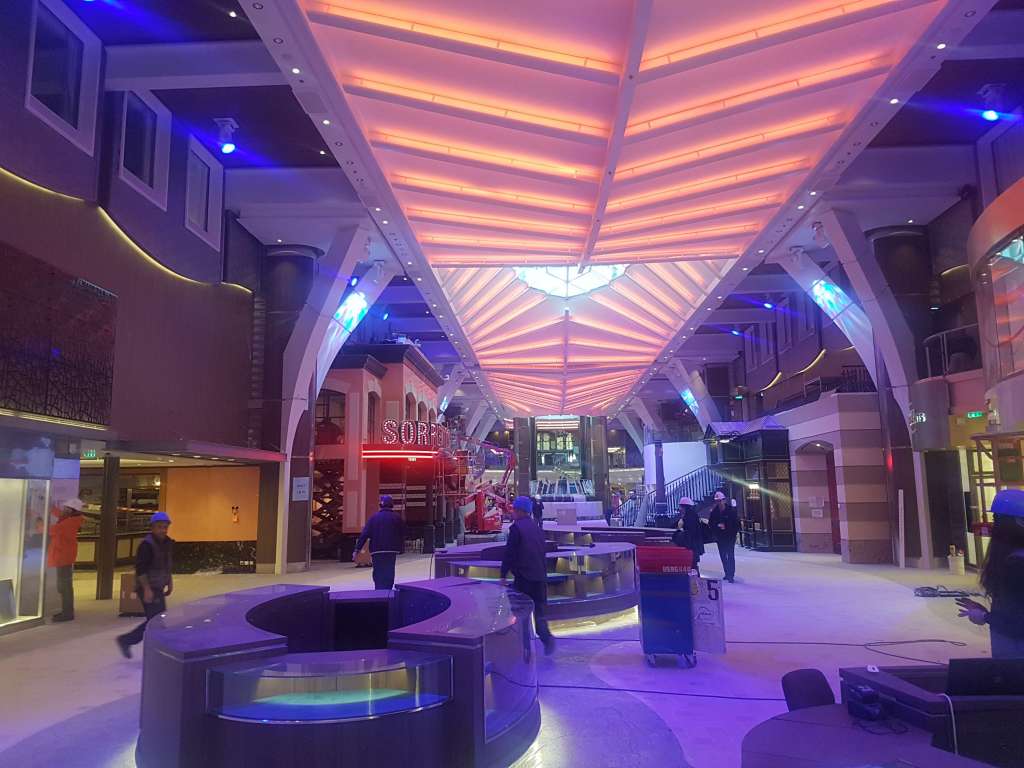 The first thing you'll see when you come aboard Symphony of the Seas is the stunning Royal Promenade: the hub area of the ship lined with shops, bars and, in Royal Caribbean tradition, a classic car. Practically finished when we visited, the promenade is already filling up with all the shops and bars we know and love, including the ever-popular Bionic Bar where robotic barmen will pour you a cocktail and lend an (artificial) ear. There will be a Starbucks kiosk as well to satisfy even the most ardent caffeine-addict.
The big new addition comes in the form of the Paradox Void – a staggeringly large art sculpture by Auckland-based artist, Gregor Kregar, situated right in the middle of the promenade – made up from over 1,200 stainless steel triangles, weighing over 3 tonnes and 6 metres tall. We spy a prime selfie opportunity.
WE WANT TO SPEND EVERY WAKING MOMENT IN THE SOLARIUM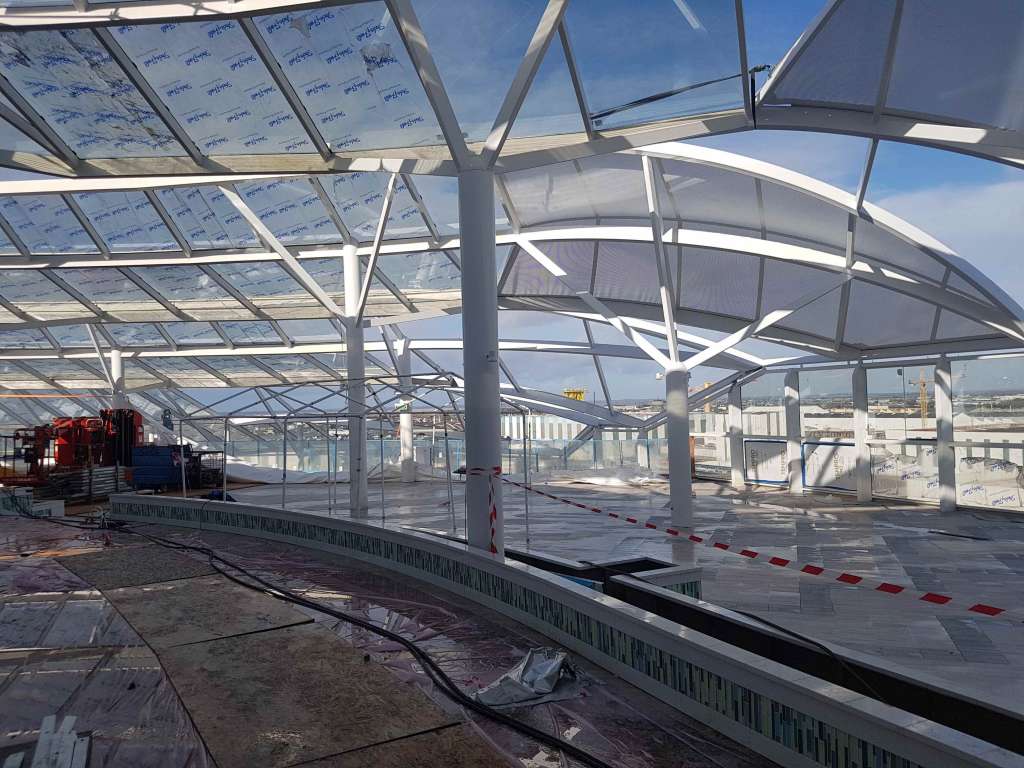 The best part of any Oasis-class ship is always the solarium – an adult-only haven that brings with it a welcome dose of tranquillity – and Symphony will be no exception. The big news is that after the passenger outcry over the removal of the swimming pool from it on Harmony, it's back aboard Symphony, meaning adults can take that relaxing dip in peace once again!
The solarium has the most work to be done to it in the next couple of weeks and was a long way off finished, but it already feels like the place to be for those who want to relax; thanks to the warm rays of light that beam in through the super-sized glass windows and the stunning ocean views it promises on those long, relaxing sea days.
THE CATCH OF THE DAY, EVERY DAY!
And in Symphony's new, dedicated fish restaurant, Hooked, they've got a fantastic new restaurant to please the crowds. Intended to have the look-and-feel of a New England fish restaurant, it is located just above the solarium and is the ideal place to catch a bite after a long day relaxing by the pool. And we should know as they served up a sample menu for us at lunch to enjoy. Delicious, naturally. But we wouldn't expect anything less from Royal Caribbean at this point.