Search for your ideal Cruise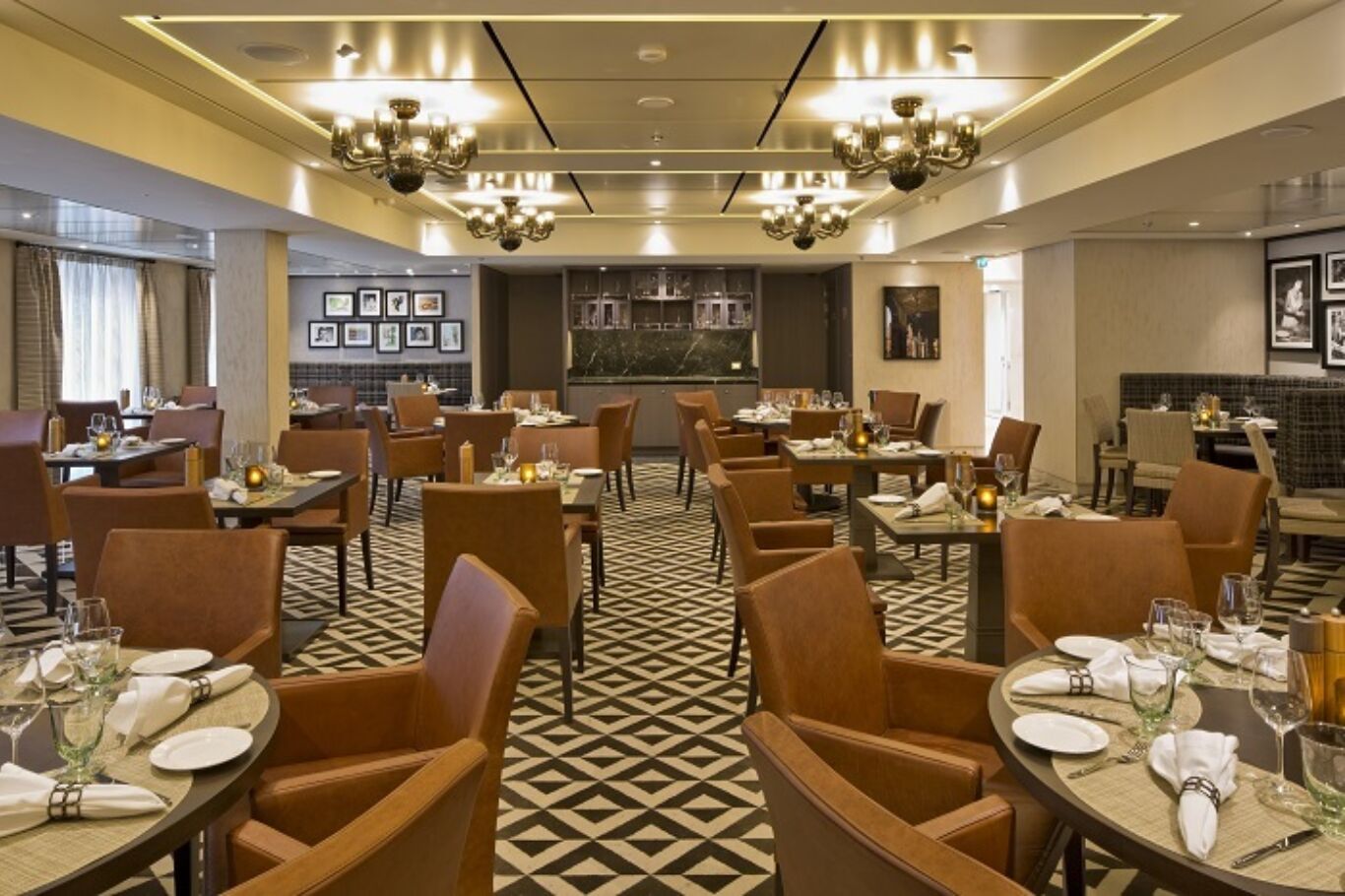 Viking Cruise Line's Vision for Great Food
A bright star appeared in May. It had nothing to do with the summer's 'Star of Bethlehem' phenomenon as Jupiter and Venus danced in the night sky; this was the first ship from Viking Ocean Cruises sailing on her pre-christening voyage from Istanbul. Viking Star exudes a healthy blend of meticulous design, peerless material quality
A bright star appeared in May. It had nothing to do with the summer's 'Star of Bethlehem' phenomenon as Jupiter and Venus danced in the night sky; this was the first ship from Viking Ocean Cruises sailing on her pre-christening voyage from Istanbul.
Viking Star exudes a healthy blend of meticulous design, peerless material quality and oodles of shipboard sensitivity, as well as Viking River Cruises flair. In an assured Scandinavian way the subtle, eye-catching design is more about restraint and simplicity than decorative flourishes – it's simple, not minimal.
In many ways these qualities also apply to the cuisine served on board this first of a trio of similar ships offering destination focussed ocean cruising designed for experienced travellers with an interest in geography, culture and history.
The ebullient chairman and CEO of Viking Cruises, Torstein Hagen is known for his forthright views. Nowhere is he more candid than when discussing cuisine.
"Our vision for the culinary experience onboard our ships is to offer great food that is locally inspired," boasts Hagen. "We do not like to use the word 'gourmet' for the same reason we do not like to use 'luxury;' we want to surpass our guests' expectations. We offer multiple restaurants and food choices onboard Viking Star. The Restaurant and the World Café serve a variety of global cuisines and regional specialties. Mamsen's, named for my mother, serves Norwegian deli-style fare based on her recipes, and the casual Pool Grill features classic favourites."
Hagen was at one time CEO of Royal Viking Line, a paragon of the cruise industry from 1972 to 1998, so he has experience of up-market cruising. Continuing his philosophy he adds, "Intimate dining experiences can be found in our specialty restaurants, including The Chef's Table, Manfredi's Italian Restaurant and The Kitchen Table, all of which serve meals prepared with fresh, local ingredients. In keeping with our commitment to no nickeland-diming, we do not charge guests a fee to dine in our specialty restaurants."
The man appointed to deliver this exacting cuisine is 35-year-old Anthony Mauboussin, director of culinary development. Based in the Viking's operational headquarters in Basle, Mauboussin – from the Charante Maritime region of France – he is no stranger to prestigious cruise lines. He started his seagoing career as chef de cuisine in the Michel Roux signature restaurant with Celebrity Cruises before moving to Azamara as executive chef. In 2010 he moved to Oceania Cruises as executive chef before joining The World in the same capacity.
The modest Mauboussin told me: "I was part of the culinary launch team for Viking Ocean Cruises along with Frederic Camonin – who spent five years with Celebrity and seven with Azamara – and Hugo Saldana who trained at the Paul Bocuse Hospitality and Culinary Arts Management Centre in Lyon.
"We took the best dishes we had conceived for each menu and put them through rigorous tests during the month-long, pre-launch training sessions with our on-board galley team."
Discussing Viking Ocean's approach to cuisine Mauboussin points out, "Our vision is simple: 'no fusion and without confusion'. The 14 menus that cycle in The Restaurant offer Mediterranean and regional food, along with American favourites and a sprinkling of Asian influenced dishes. We have 50 different destination menus according to our European ports of call throughout the year. Incorporating fresh fish and seafood where possible, these appear on every dinner menu in The Restaurant under the 'Regional Specialities Tasting Menu'. There's also a 'Classics: Always Available' section which includes Mr Hagen's mother's recipe for Poached Norwegian Salmon with fresh picked cucumber and boiled potatoes – one of our signature dishes."
One element of Viking Star's dining experience proving popular among passengers is the Chef's Table, with set menus based on the history of food. Taking guests on a culinary journey they are 'A Gastronomic Journey through Time'; 'Asian Panorama'; 'La Route Des Indes'; 'Venice Carnival'; and 'Sweet and Salty'.
I was particularly impressed with Star's quality of cuisine, nowhere more so that in Manfredi's, which recreates a traditional Italian restaurant. Fresh fish from reliable suppliers features daily, as does freshly-made pasta. "We serve the finest US Black Angus prime beef; mozzarella di buffalo; prosciutto; and olive oils; as well as '00' flour for our authentic breads," said Mauboussin.
I had one reservation, however – the restricted choice in the World Café, which is open for breakfast, lunch and dinner. Mouboussin was quick to defend this approach to buffet-style dining.
Mauboussin explained: "The slightly limited selection reflects our ethos of quality rather than quantity. We believe an upscale product in the World Café is better appreciated by our guests. The lunch and dinner buffets have the same selection as The Restaurant with the addition of fresh sushi as well as seafood, pasta, steaks and Asian wok dishes – all cooked to order."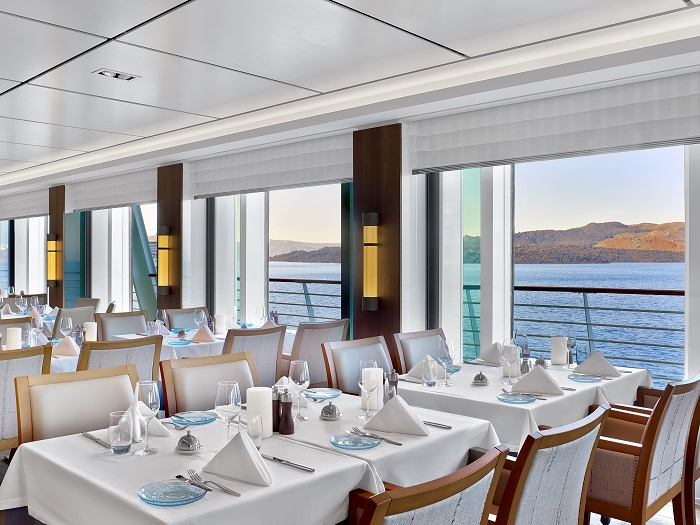 Like many discoveries on Viking Star, my encounter with Mamsen's was fortuitous. I arrived at the World Café for breakfast just as it was closing; fortunately an obliging steward pointed me towards the starboard side of the Explorer's Lounge on Deck 7. Here I found I could indulge in a Norwegian breakfast until 10am and I could have made a day of it as there was a small Nordic buffet from 11.30am until 2pm; coffee and cake between 4pm and 5pm; and midnight snacks from 10pm until midnight.
Tor Hagen's daughter Karine enlightened me: "My grandmother's kitchen celebrated traditional and healthy, home-cooked food. In the winter, when the sun hardly rose, she made hearty soups and stews from scratch. In the summer, when the sun hardly set, we ate lighter fare of cured meats and fish, and open-faced sandwiches which we call smǿrbrǿd.
"Year-round, the special treats were her heart-shaped waffles, for which every grandmother in Norway has her own fiercely-protected recipe, served with jam or typical brown goat cheese." The waffles were a highlight of my breakfasts– the recipe was instilled in the chefs by none other than Tor's sister in the run-up to the ship's christening in Bergen.
To ensure tastes in Mamsen's fare are authentic, Anthony Mauboussin spent three weeks studying under Walter Kielijer in his renowned Frognerseteren Restaurant near Oslo. I savoured many fruits of his labours including Atlantic shrimp, Steak Tartare and Gravlax.
Another popular facet of Viking Ocean's approach to cuisine is the enriching culinary immersion that is 'The Kitchen Table'. For $299 each, up to 12 guests accompany the executive chef on a visit to a local market to handpick ingredients which are prepared and cooked later that day. The meal is served in the evening and paired with Champagne, wine and port in a convivial dinner party environment.
The Kitchen Table is also the venue for the themed French and Italian menus that are prepared in the Cookery School. During my cruise I joined nine fellow passengers under the tutelage of Chef Hugo Saldana who swapped his homeland of Mexico for France to pursue a culinary career. We spent an informative and enjoyable three hours learning the intricacies of preparing Duck Confit and Wild Mushroom Risotto and Truffle Oil; Saltimbocca Romana Style; and the king of Italian desserts, Tiramisu.
While Tor Hagen might not like to use the word 'gourmet' when referring to the array of culinary treats on offer aboard Viking Star, I found meals and snacks to be unalloyed delights. Not only did I appreciate the pareddown, neutral Zen elegance that permeates all nine decks of Viking Star, I admired the spectrum of cuisine which boasts contemporary nuances while at the same time is tempered with a classical approach. In the footsteps of the Vikings, this culinary journey was an appetising quest.
Exclusive! Get Mr Hagen's mother's recipe for Poached Norwegian Salmon with fresh picked cucumber and boiled potatoes