Search for your ideal Cruise
Why cruise on this ship?
Enjoy breathtaking scenery as you cruise Russia's beautiful and unique waterways.
find your perfect cruise
Dining
On board, you'll enjoy a range of traditional European, Ukrainian and Russian cuisine, as well as other specialities from the surrounding regions. Served in the stylish main dining room, relax and savour authentic food, paired with a warm and welcoming ambience. Throughout the day, complimentary tea and coffee is always available to enjoy as you wish. Upon arrival, you will also attend a Captain's Welcome Reception, as well as a Farewell Dinner on the last night of your cruise.
Entertaining
With onboard games, dancing and nightly local entertainment, your Russia cruise will certainly be a memorable one. You'll also have the opportunity to attend lectures provided by the onboard guides, as well as Russian language and culture tutorials.
Enrichment
Take part in a riveting Russian language lesson where you'll learn the essentials of this beautiful language.

Enjoy a tour of Russia's most iconic places including Red Square and St Basil's Cathedral.

Explore St Petersburg including Peter and Paul Fortress, Peterhof Park and the Hermitage Museum.

Health and fitness
You'll become quickly immersed in holiday paradise as you relax on the ship's Sun Deck, watching the stunning landscapes and quaint villages pass by. Step inside and enjoy the onboard bars and comfortable lounge areas, which offer an excellent selection of drinks and snacks, as well as impeccable views of the world outside. In addition, our ship's attentive staff will be on hand and happy to assist you throughout your journey.
Kids and teens
There are no dedicated kids/teens facilities onboard MS Rossia.
Accommodation
Delight in a Deluxe Suite that exudes a true Asian ambience. Each one is designed with your absolute convenience and comfort in mind. Featuring French Colonial-inspired decor and state-of-the-art appointments, every suite offers the feel of a luxury retreat.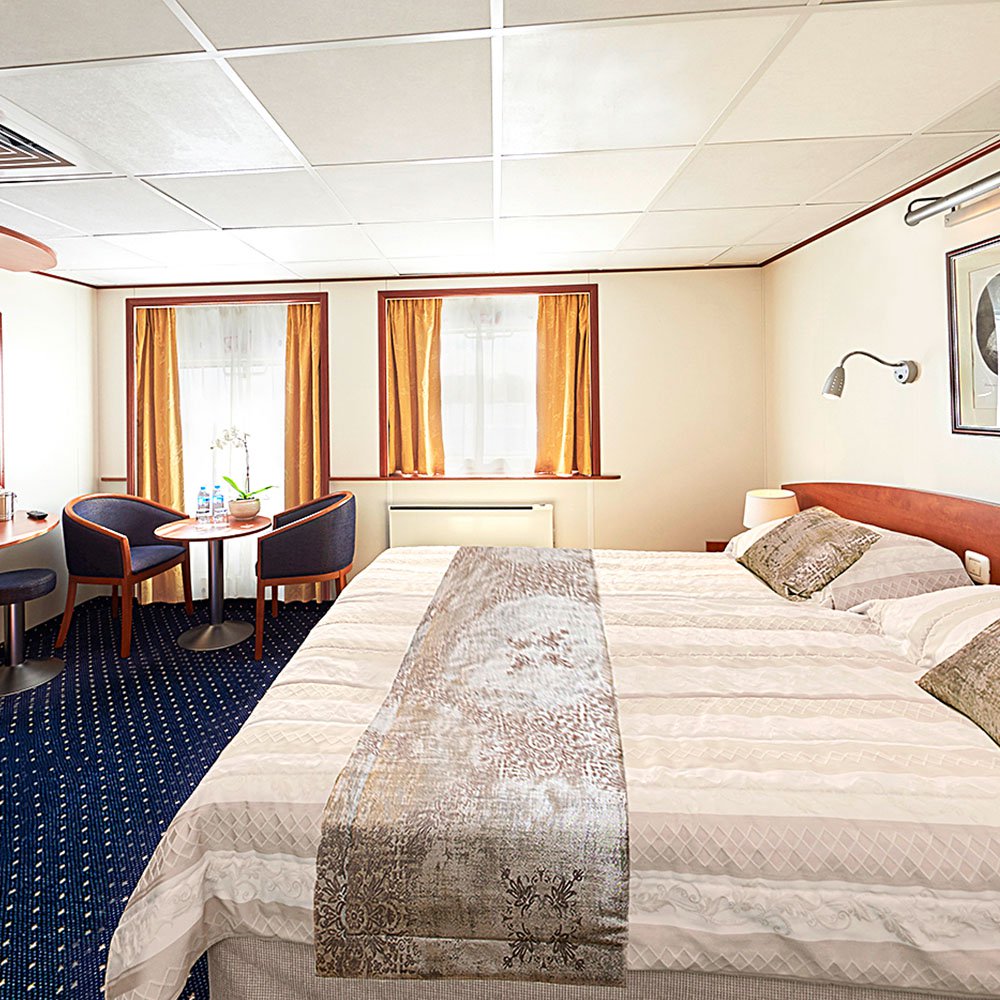 Boat Suite and Upper Suite
Measuring approximately 16.3 square metres (175 square feet) on the Upper Deck, offer additional living space, plus an additional window and fully glazed French doors that open on to a private balcony with a table and two chairs.
Features
Double or Twin Configuration
Lounge Area
Shower
Toiletries Provided
TV
Free Wi-Fi
Safe
Hair Dryer
Telephone
Desk
Category C and D
Measuring approximately 14.6 square metres (157 square feet) on the Boat and Upper Decks.
Features
Double or Twin Configuration
Shower
Toiletries Provided
TV
Free Wi-Fi
Safe
Hair Dryer
Telephone
Desk
Category E and F Stateroom
Measuring approximately 12.4 square metres (133 square feet) on the Main Deck, come with a fixed window.
Features
Double or Twin Configuration
Shower
Toiletries Provided
TV
Free Wi-Fi
Safe
Hair Dryer
Telephone
Desk
Deck plans
Sun Deck
Sun Deck

President Bar

Conference Hall
Boat Deck
Tsar Bar

Superior Balcony Suite

Balcony Cabin
Upper Deck
Main Deck
Medical Centre

Library

Reception

Comfort Cabin

Coffee Bar