Search for your ideal Cruise
Why cruise on this ship?
From the very first moment of your river cruise, as you're welcomed aboard by your highly trained crew, you'll know you're travelling in true four or five star luxury on your very own home from home, state-of-the-art floating hotel.
find your perfect cruise
Dining
High quality dining is an integral part of any river cruise experience, as exemplified aboard MS William Shakespeare. Guests will find five-star dishes awaiting in the two restaurants onboard, prepared by a team of dedicated and highly professional chefs, all served up by an attentive waitstaff.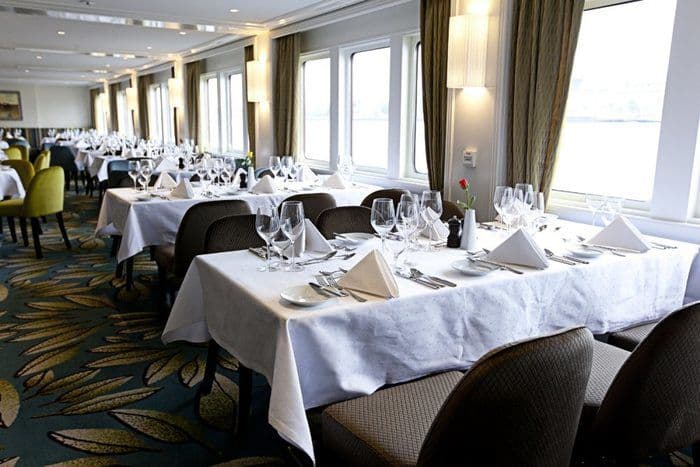 Main Restaurant
Here the ships' outstanding chefs will amaze you with superb fine dining of the highest order, using freshly prepared seasonal produce to create very best of European cuisine. The sumptuous breakfast buffet, with omelettes and fresh eggs prepared to order, guarantees a great start to the day and a lunchtime buffet ensures you can eat a full meal or something as simple as a fresh crunchy salad – just as you desire. Each evening's dinner features excellently executed dishes with silver service, plus a relaxed atmosphere and our 'open seating' policy that ensures your dining experience is one you will always look forward to.
Wonderfully illustrating the extraordinary attention to detail focussed on the ships' design is the use of special 'sound absorbent' paint on the restaurant ceiling to reduce noise levels whilst dining– remarkable! Another outstanding restaurant feature are the large tinted panoramic windows, so as you enjoy your epicurean adventure you will also be able to enjoy the scenery as it glides past – you miss nothing.
Features
Experience: Complimentary
Food type: Varies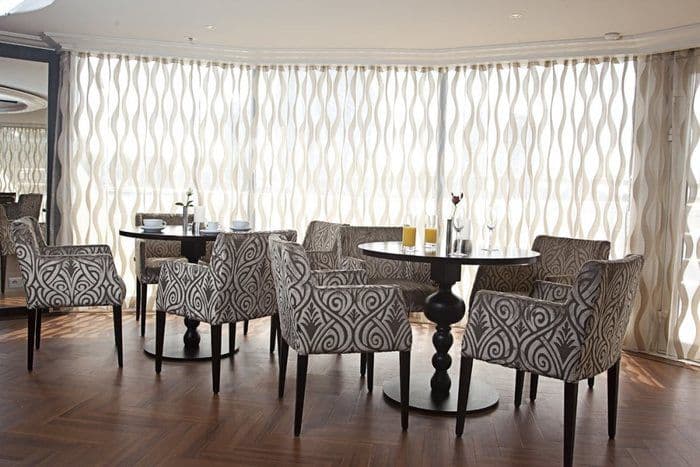 Midsummer Bar & Restaurant
The Midsummer bar is fitted with large tinted windows and outside seating arrangements. This provides an intimate dining experience for only 24 diners with a fixed menu from the chef's favourite signature dishes- guests will have booked in advance at no extra charge.
Features
Experience: Complimentary
Food type: Fine
Entertaining
The Sun Deck is the hub for entertainment onboard. The forward viewing area is perfect for watching the historic riverside villages, steep vine-clad valley sides and other scenic wonders glide serenely by. It's well equipped with plenty of comfortable outdoor chairs and sun-loungers, deck games including shuffleboard and giant chess, a small splash pool where you can cool off, and a full bar service. Sometimes barbecues are held here too, weather dependent of course – a great way to meet new people over a glass of wine.
Then, as the evening progresses into darkness, subtle lighting evolves down on the Hamlet Deck, through colour and intensity accompanied by gentle piano background music, creating a very special ambience. However should you prefer a good book to read you can always visit the library, which, with its leather-effect wall linings, offers a genteel environment reminiscent of the golden age of cruising.
Enrichment
For centuries people have travelled Europe's mighty rivers to trade, explore and, sometimes, conquer. Steeped in history and culture, flowing through stunning scenery they form natural links connecting the continent's greatest and most beautiful towns and cities, from the medieval to the modern.
Tours and Excursions
Riviera Travel cruise on the majestic Rhine and Danube - Europe's essential arteries studded by atmospheric cities like Koblenz and Vienna. Standing guard, guests will see astonishing 'fairytale' castles whilst learning about mystical legends, historic strife and triumph. Plus there is the magical, meandering Moselle with its impossibly steep riverside vineyards and the lesser known, yet equally beautiful River Main, twisting through Germany's rural heart. The Elbe, meandering though 'Saxon Switzerland', connects historic Berlin and baroque Dresden. In France, the Rhone flows majestically from almost the Burgundy vineyards to Avignon and Van Gogh's Arles, in the heart of sun-kissed Provence. Finally there is the Seine, from iconic Paris through countryside beloved by impressionist painters to medieval Rouen and historic Bayeux. Guests will see it all.
Health and fitness
Whilst onboard the MS William Shakespeare, why not take advantage of the Wellness area with its Sauna, Steam room and Whirlpool, or go up deck and visit the splash pool, the putting green and giant chess set- all great ways to spend an afternoon.
Wellness Area
Purpose-built and extensive, the onboard spa can be reserved for private use, enabling guests to relax in the sauna, use the steam-room, or even visit the hairdresser
Kids and teens
Please note: MS William Shakespeare does not provide facilities to accommodate Kids/Teens.
Accommodation
Aboard the MS William Shakespeare, the interior was designed by the same team that fashioned the 5 star Antonio Bellucci. Expect rich finishes with plenty of wood and chrome giving a feeling of elegance and style throughout.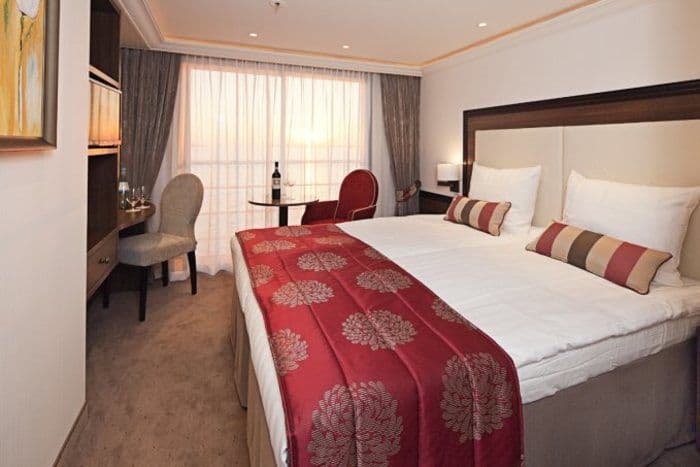 Standard Cabin (Hamlet & Othello Decks)
The cabins are very tastefully appointed, featuring a wealth of mahogany, leather, marble and Italian soft furnishings, which blend together to create an ambience of true quality and elegance. In keeping with this theme, spacious marble bathrooms have a washbasin with plenty of space for cosmetics, a WC and a glazed shower with fittings by 'Grohe'.
The cabins have "French Balconies" with full floor to ceiling glazed doors, a unique and innovative feature aboard the MS William Shakespeare, the doors slide completely away against the ships side, effectively disappearing from view (excepting the safety barrier of course!), thus creating a true panoramic extension to your already large cabin area. From here you can enjoy the delights of fresh air and magnificent views whilst retaining your own privacy. At 15 square metres cabins are spacious (amongst the largest on European rivers) and well appointed with hotel standard beds (not bunks or berths), safe, telephone, hair dryer, tea and coffee making facilities plus individually controlled air-conditioning.
They have flat screen TV with satellite channels and also receive images from a bow-mounted camera, so you can see exactly where you are cruising from the comfort of your own bed! Two chairs and a small table are provided for your convenience plus an umbrella for those hopefully rare, showery days. Tasteful lighting, subtly changing in harmony with the time of day is again a unique feature, whilst high quality bathrobes and slippers add the final elegant touch.
Features
Queen or Twin Configuration
Shower
Toiletries Provided
Room Service Available
TV
Free Wi-Fi
Coffee Machine
Safe
Hair Dryer
Desk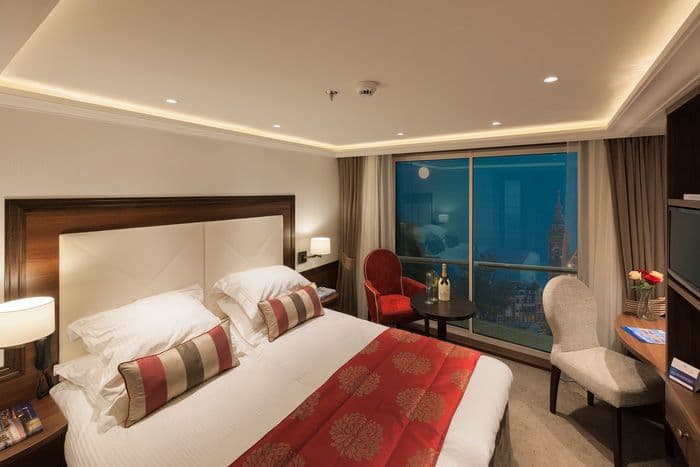 Riviera Travel MS William Shakespeare Accommodation Standard Cabin _Romeo Deck_ 2.jpg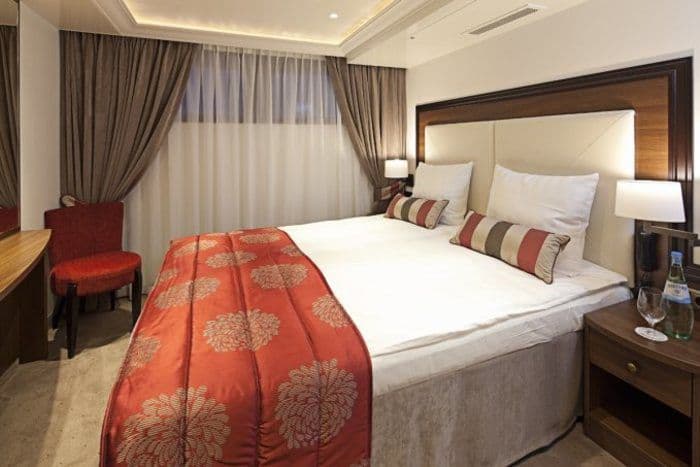 Riviera Travel MS William Shakespeare Accommodation Standard Cabin _Romeo Deck_ 1.jpg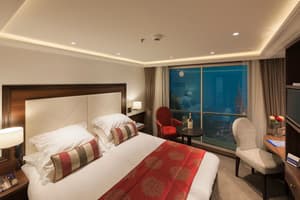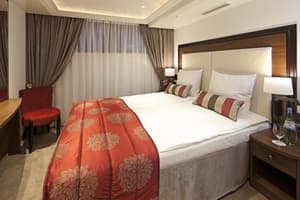 Standard Cabin (Romeo Deck)
Cabins on the Romeo deck are slightly smaller at 14 square metres, but feature the same amenities apart from one armchair and table and have smaller, fixed windows. Cabins for sole occupancy are available on this deck at no supplement (subject to availability).
Features
Queen or Twin Configuration
Shower
Toiletries Provided
Room Service Available
TV
Free Wi-Fi
Coffee Machine
Safe
Hair Dryer
Desk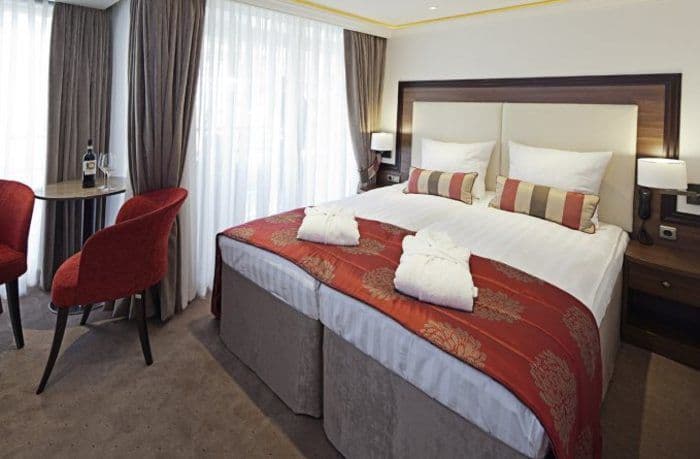 Deluxe Suite
Why not treat yourself to an upgrade? On the Hamlet deck there are four unique deluxe suites, featuring sliding glass doors leading to an outside balcony with table and chairs. With almost all the extra space being devoted to the living area, these suites represent exceptional comfort and luxury - taking your cruise to another level.
Features
Queen or Twin Configuration
Lounge Area
Shower
Toiletries Provided
Room Service Available
TV
Free Wi-Fi
Safe
Hair Dryer
Desk
Deck plans
Sun Deck

Upper (Hamlet) Deck
Globe Lounge

Deluxe Suite

Hamlet Deck Cabins

Midsummer Bar


Middle (Othello) Deck
Main Restaurant

Middle Deck Cabins


Lower (Romeo) Deck
Wellness Area

Lower Deck Cabins