Search for your ideal Cruise
Ocean Cruising in Skagway, Alaska
Located at the northern terminus of the Inside Passage, Skagway is a one-hour ferry ride from Haines. By road, however, the distance is 359 miles, as you have to take the Haines Highway up to Haines Junction, Yukon, then take the Alaska Highway 100 miles south to Whitehorse, and then drive a final 100 miles south on the Klondike Highway to Skagway. North-country folk call this sightseeing route the Golden Horseshoe or Golden Circle tour, because it passes a lot of gold-rush country in addition to spectacular lake, forest, and mountain scenery.The town is an amazingly preserved artifact from North America's biggest, most-storied gold rush. Most of the downtown district forms part of the Klondike Gold Rush National Historical Park, a unit of the National Park System dedicated to commemorating and interpreting the frenzied stampede of 1897 that extended to Dawson City in Canada's Yukon.Nearly all the historic sights are within a few blocks of the cruise-ship and ferry dock, allowing visitors to meander through the town's attractions at whatever pace they choose. Whether you're disembarking from a cruise ship, a ferry, or a dusty automobile fresh from the Golden Circle, you'll quickly discover that tourism is the lifeblood of this town. Unless you're visiting in winter or hiking into the backcountry on the Chilkoot Trail, you aren't likely to find a quiet Alaska experience around Skagway.


Why cruise Skagway
The small town of Skagway is a popular port of call on an Alaska cruise, set along the Inside Passage and home to many important gold rush-era buildings and structures. Cruise passengers stopping off in Skagway can either choose to explore the town or venture further afield to see the region's magnificent scenery. Along with the highly in-demand WP&YR rail journey (make sure to book in advance), other popular excursions offered by many cruise lines that sail to Skagway include flightseeing tours, rafting, floatplanes and helicopter tours. Leading cruise lines including Princess, Norwegian Cruise Line, Celebrity Cruises, Carnival, P&O Cruises and Holland America Line include Skagway as a port of call on their Alaska itineraries.
find your perfect cruise
What to see and do in Skagway
Gold Rush Cemetery
There are three cemeteries in Skagway, but the most famous is undoubtedly the Gold Rush Cemetery. A 35-minute walk or a short ride on the local SMART bus shuttle from the downtown area, this cemetery – the oldest in Skagway – is where many famous gold rush figures are interred, including local kingpin Jefferson 'Soapy' Smith and early tourism promoter Martin Itjen and next to him, the "world's largest gold nugget" – a huge granite boulder painted in gold.
White Pass & Yukon Route Railroad (WP&YR)
Built in 1898 during the Klondike Gold Rush, the White Pass & Yukon Route is considered a marvel of engineering, along with being one of the most rail journeys in the world. Travellers will enjoy a spectacular panorama of mountains, glaciers, gorges, waterfalls, tunnels and trestles as they climb nearly 3,000 feet in elevation. Depending on how much time you have in Skagway, you can either choose the standard White Pass Summit Excursion, a 40-mile round trip excursion which climbs from tidewater at Skagway to the Summit of the White Pass – an elevation of 2,888 feet. This costs $130 ($65 for children) and takes two hours and 45 minutes. Alternatively, should you have more time, there's also the Bennett Scenic Journey, which goes to Carcross in Canada, along the same route that the Klondike stampeders traversed in 1898. This 120-mile, eight-hour round trip excursion includes a coach tour and you will require your passport when in Canada.
Check out Skagway's historic buildings
Skagway is home to many historic buildings that are well worth seeing. The Klondike Gold Rush National Historic Park visitor centre, located close to the cruise terminals at Broadway and 2nd Avenue, is a good place to start your tour, having served as the WP&YR Broadway Depot from 1898 until the 1950s. Other notable buildings include Martin Itjen's House, which today serves as the NPS and Parks Canada Trail Centre, and is one of the first structures visitors to the park arriving by ship see; Jeff. Smith's Parlor, which was most famously used as a base of operations by con man and outlaw Jefferson "Soapy" Smith; Mascot Saloon, which unlike few others survived as bar through prohibition in Skagway in 1916 and later became a drugstore before reopening as an exhibit in 1990; Moore House, the first homestead in Skagway predating the gold rush era; and the Red Onion brothel, which today stands as a bar and grill.
Skagway Museum
To learn more about the region's history, pay a visit to the Skagway Museum. Located in the city's town hall, the first stone building in Alaska, the museum showcases the history of the city as an essential transportation corridor and gateway to interior Alaska and the Yukon through artefacts, photographs and historical records collated over the past century. Along with gold rush displays, it also features fascinating exhibits on the region's indigenous peoples.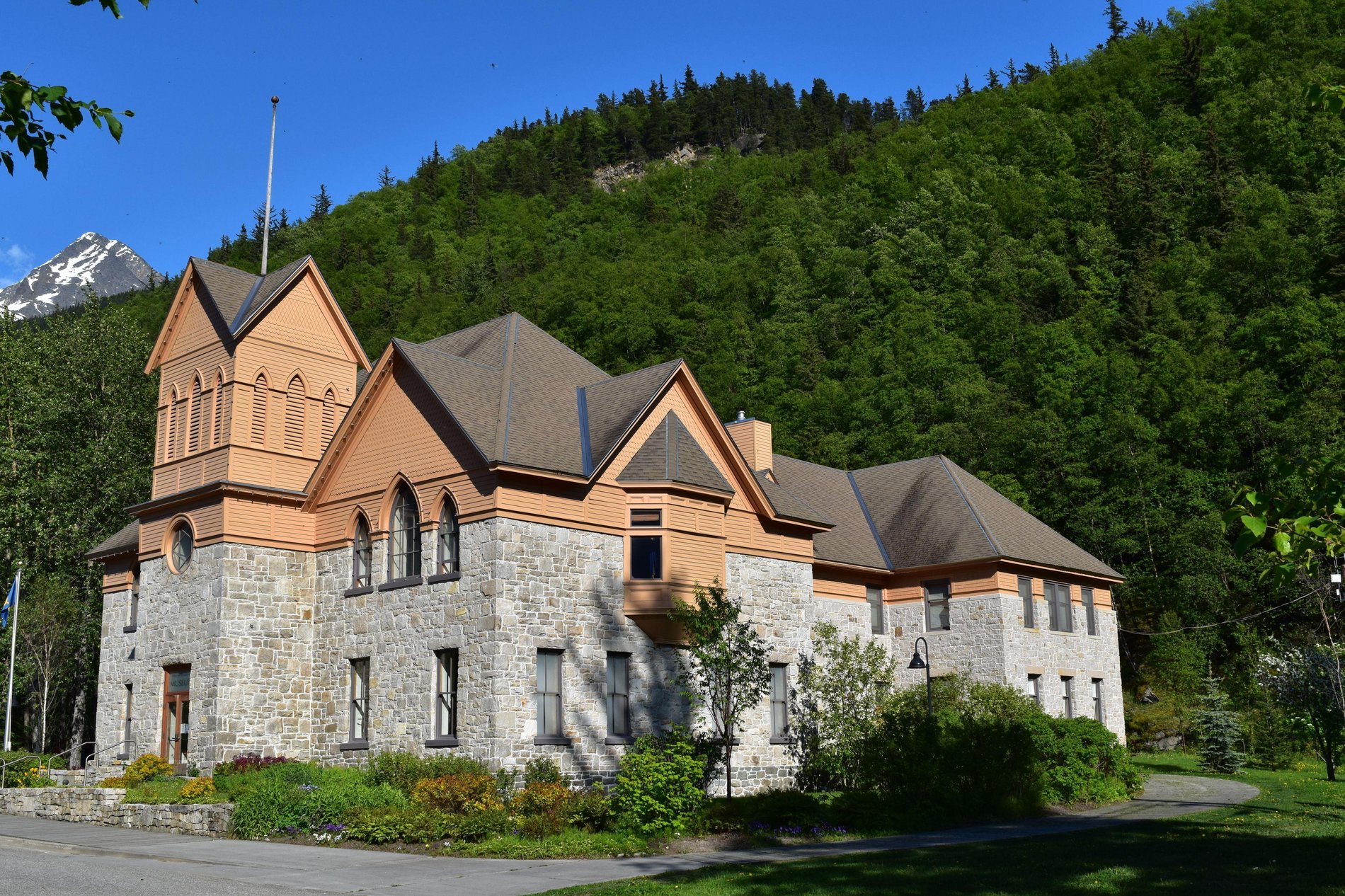 Need to know when travelling to Skagway
Getting around in Skagway
There are three berths in Skagway where cruise ships dock. These include Ore and Broadway, which sit adjacent to each other and are a three-minute walk away from Skagway's downtown. The third berth, Railroad, is slightly further away. The compact city can easily be explored on foot, but there's also the SMART bus shuttle that takes visitors to some of the most popular attractions, including the Gold Rush Cemetery and nearby Lower Reid waterfall.
When to go to Skagway
Most cruise ships will sail to Skagway between May and September as part of the Alaska cruising season. May, June, July and August are the warmest and driest months. July is typically the most popular and therefore the busiest time of the season. It starts to get wetter in Skagway from August.
Currency
Alaska uses American dollars.
Visas
A valid passport is required for all non-US and non-Canadian citizens for all Alaska cruise itineraries. The Visa Waiver Programme allows UK citizens to enter the US for 90 days without a visa. You'll need to register online with the Electronic System for Travel Authorisation (ESTA) before travelling, as well as showing proof of a return trip, or an onward ticket.