Tromsø
Tromsø is a small coastal city in the far northerly reaches of Norway, located 217 miles north of the Arctic Circle and surrounded by snow-capped mountains, icy fjords and valleys. The port was once a centre for seal hunting, Arctic expeditions and fishing, but has transformed into a tourist hotspot – being the gateway to the Arctic and icy wilds of Svalbard and also a spot to watch the northern lights. People come to Tromsø to wander its traditionally Norwegian streets of wooden houses, experience its thriving nightlife (thanks to a large university), drink in its many bars, breathe in ultra-clean air and enjoy bucket-list sights like the northern lights or midnight sun.
Why cruise Tromsø
Cruising to Tromsø is a magical experience, lying north of the Arctic Circle and a world away from Norway's southern cities such as Oslo. For starters, cruisers have the opportunity to see the skies light up with the northern lights or the sun never set with the almost eerie midnight sun. The town itself is buzzing and quirky, a mix between old Norwegian expedition lodges, design-led hotels and new Nordic restaurants serving up foraged produce. Many cruise lines sail to Tromsø, from expedition lines like Hurtigruten to luxury lines like Silversea, through to classic ocean lines like P&O Cruises, Princess Cruises and Royal Caribbean.
find your perfect cruise
What to see and do
Arctic Cathedral
Designed by Jan Inge Hovig and built in 1965, the Arctic Cathedral (or Ishavskatedralen) dominates the skyline of Tromsø, located in the Tromsdalen valley across the Tromsø Bridge. The church is a modern masterpiece of design with a distinctive peaked roof, stained glass windows and a body made of 11 rectangular aluminium frames – its glass facade bearing a huge cross. The cathedral's exterior evokes feelings of traditional Sami tents and icebergs, while the inside is dominated by the 'Return of Christ' stained glass window – by artist Victor Sparre. The church is open to visitors and even hosts special midnight sun concerts with professional musicians during the summer.
Polaria
Polaria is Tromsø's city aquarium, the world's most northerly aquarium. Polaria has been designed to be a fun and education day out, mainly for children, and features displays on the northerly island of Svalbard, housing animals like bearded seals and local marine life. Visitors can see a five-screen panoramic cinema, known as the 'Arctic Walkway', displaying clips from Polar exploration, and explore open tanks and display tanks containing rock-shore animals and baby fish. The aquarium's bearded seals are trained and take part in regular shows, while one of Norway's most famous seal hunting ships, the Polstjerna (T-80-T), is housed in a separate museum a short distance away from Polaria.
Fjellheisen (Tromsø Cable Car)
For unrivalled views over the charming city and surrounding Arctic landscape, there's no better place to head than the Fjellheisen – otherwise known as the Tromsø Cable Car. Located across the bridge in Tromsdalen, an aerial tramway takes you up the Storsteinen mountain ledge – 420 metres above sea level. While the entire journey takes just four minutes, the views are spectacular, across the city and even stretching to its islands and fjords. Once at the top, there's a viewing platform for even more spectacular and panoramic views of the city and strait and a Fjellstua restaurant serving up delicious, warming local fare. In winter, it's one of the best places to get close to the northern lights.
The Polar Museum
Today it's a lively tourist city and university town, but Tromsø was once a hunting and fishing destination, along with the base for many intrepid Arctic expeditions. Learn all about Tromsø's history in the Polar Museum, where travellers can learn about risky Arctic trapping, sea mammal hunting and the famous explorers. Permanent exhibitions include sealing, overwintering trapping, stories behind famous trappers like Henry Rudi and Wanny Wolstad, and an exhibition dedicated to the world-famous polar expeditions of Fridtjof Nansen and Roald Amundsen. The charming museum is housed in an 1830s warehouse right on the waterfront, and there's also a museum shop.
Dog sledding
Dog sledding is one of the most thrilling and exciting things you can do in Tromsø, and if you're cruise line doesn't offer it as an excursion there are countless private companies offering the experience. Be pulled by barking huskies as you travel out of the city and into white landscapes of beautiful icy wilderness, whizzing through an uninhabited land of mountains and thick pine forests. Lots of tours include extras like a meal in a traditional Sami herdsmen's tent and even the chance to drive your own sledge and navigate a team of dogs.
Northern lights and midnight sun
Come winter and the skies of Tromsø illuminate with the dancing colourful light show known as the aurora borealis – or northern lights. In the darker months (the best time being between November and January), Tromsø is one of the best places to spot the lights thanks to its northerly position above the Arctic Circle and plenty of vantage spots. Come in the summer and you'll experience another phenomenon, the midnight sun, where the sun never truly sets on the city. With perma-light nights, the city puts on special events, like concerts at the Tromsø Cathedral.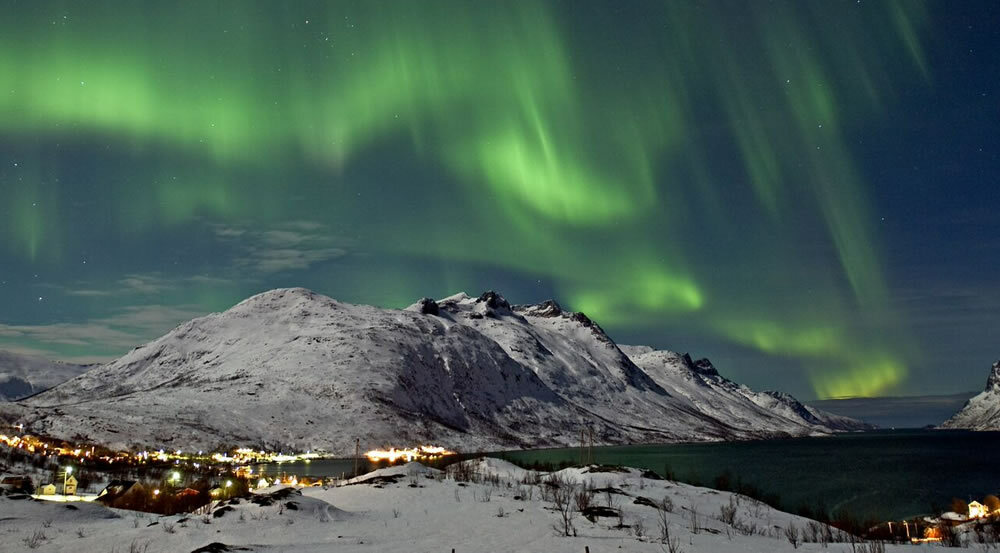 What to expect when travelling to Tromsø
Getting around in Tromsø
Norway's national cruise line Hurtigruten and other small-ship cruise lines are able to dock right in the city centre of Tromsø at Prostneset, just a quick walk from the main streets and museums and right on the waterfront overlooking the mountains and bridge. Larger ships dock at Breivika harbour, just under three miles north of the city centre, where the cruise line will usually put on a shuttle but there is also a bus you can catch. Many ships stay in Tromsø overnight during the winter.
When to go to Tromsø
Tromsø is a location you can visit all year round, transforming into an icy winter wonderland over the colder months and fresh, crisp lively destination during the summer. For the best chance of spotting the northern lights it's best to come when the skies are at their darkest (November to January) and the midnight sun runs from May until the end of July.
Currency
Tromsø uses the Norwegian krone.
Visas
Any UK citizen who holds either a full UK passport or a BOTC, BOC, BPP or BS passport can travel to Norway visa-free.