Search for your ideal Cruise
Ocean cruising in Kiritimati (Christmas Island)
The gentle island of Kiritimati, or Christmas Island, is located in the cerulean waters of the North Pacific Ocean and is a member of the northern Line Islands of the Republic of Kiribati. Christmas Island is surrounded by a collection of atolls including Tarawa, Kiribati's capital, Fanning Island and the Phoenix Islands. Kiritimati boasts the largest land area of any coral atoll in the world, despite roughly 82% of the island being covered with a shimmering azure lagoon. This spectacular body of water is a crucial lifeline for the island's population, which lives in five separate villages along the perimeter of the lagoon – Banana, Tabwakea, London and Poland. Christmas Island's local population has rural lifestyles, living on breadfruit, fish and coconuts and sleeping in thatched-roofed huts. The Republic of Kiribati itself has a complex and violent history. The Battle of Tarawa in World War II saw more bloodshed than any other, and in the latter part of the 20th century Christmas Island became the testing site for UK and US nuclear weapons.
Why choose Christmas Island cruises
Christmas Island ripples with beauty, its glistening lakes and ponds brimming with diverse species of fish and its glorious cloudless skies graced with some of the world's largest bird colonies. Cruisers have the opportunity to discover not only the hidden wonders of this dazzling island, but also to explore a number of Kiribati's atolls via a short boat or plane ride. Tourism in Kiribati and Kiritimati is still very much in its infancy and therefore much of the country's natural landscape remains unspoiled by swathes of tourists. This does however mean that only a select few cruise lines call at Kiritimati, including Holland America Line, Princess Cruises and Regent Seven Seas.
find your perfect cruise
Find your ideal South Pacific cruises
Showing 10 of 549 results
Christmas Island cruises: Best places to visit on Christmas Island
Kiritimati Christmas Island
The entirety of Christmas Island is a wildlife sanctuary protected by the Kiribati Ministry for Wildlife and Conservation. This biodiverse paradise is home to 18 different species of birds, including the native Christmas Island warbler, and to a variety of shearwaters, Polynesian storm petrels, red-tailed tropicbirds, boobies, frigate birds, noddies and terns. Embark on a personalised bird tour of the atoll and watch in wonder as these majestic, feathered friends scuttle around the island gathering tools for nest building and breeding. Kiritimati's waters also have abundant schools of exotic fish which dart between colourful corals in the island's crystalline lagoon. Expect to gaze down at marlin, wahoo, barracuda and shoals of tuna while snorkelling in these turquoise waters, and in the seas surrounding the atoll you will find stunning vast coral reefs for which the Republic of Kiribati is globally renowned. Between London village and Paris point there is a five kilometre stretch of channels and reefs which have fantastic swells for surfing, particularly between October and March on a Christmas Island cruise.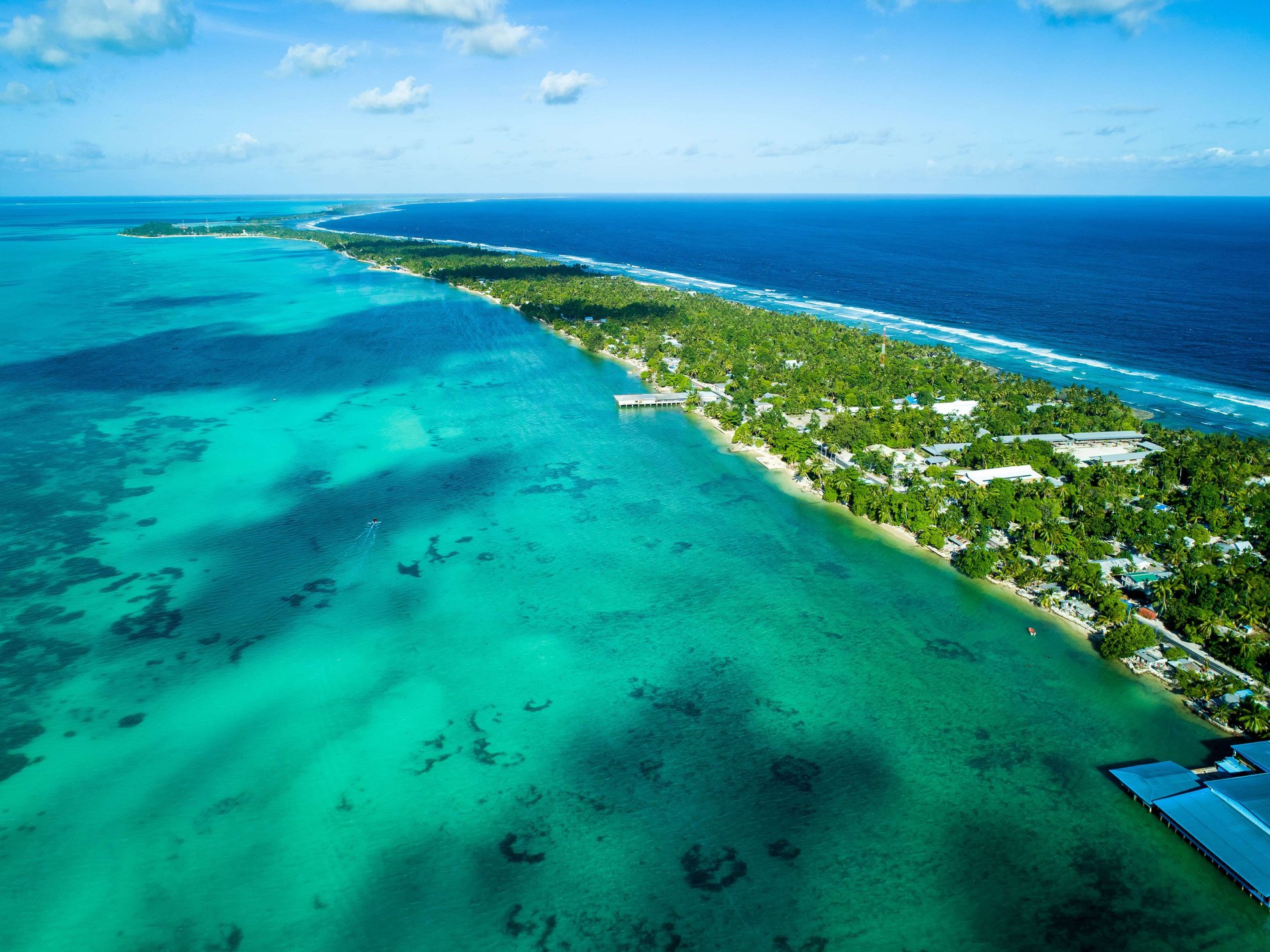 Tarawa
The bustling atoll of Tarawa is Kiribati's charming capital and was once the site of one of World War II's bloodiest battles between Japanese and US forces. Reminders of this historical event can be found dotted around the island, from the intimidating anti-ship guns which point out towards the sea on the south coast of Tarawa to the ramshackle former Japanese Command bunker which is now situated inside a Mormon Church complex. Take a tour of these fascinating battle sites with a local expert and learn more about Kiribati's role in the war and its lasting impact on the country. To catch a glimpse of contemporary Kiribati, seek out Tarawa's copra factory where the flesh of coconuts is processed and used for beauty products and animal feed. Copra is an important export for Kiribati and its production keeps the country's islanders employed, as many locals make their living by collecting coconuts. Kiribati's wacky Parliament Building is also located on Tarawa atoll and visitors are welcome to wander around the futuristic looking complex.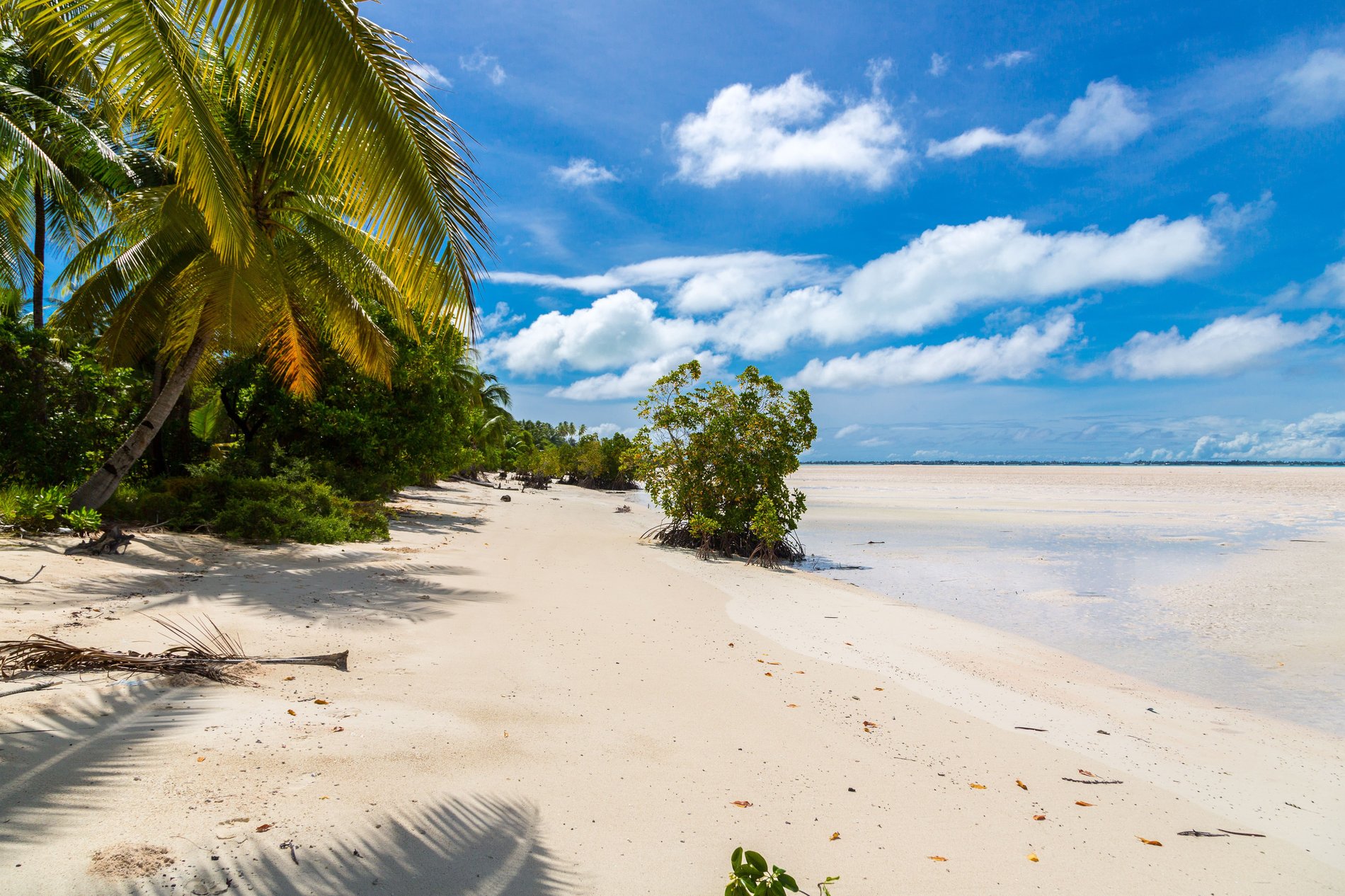 Tabuaeran Fanning Island
If you're looking for somewhere truly off the beaten track look no further than Fanning Island, known as Tabuarean to the locals. This serene tropical paradise is a feast for the eyes with its pristine lagoons and glades of luscious vegetation. Here, you can see the lifestyles of local Kiribati residents at their most authentic at the quaint village of Paelau, where cruise ships dock. Visitors are welcomed warmly by friendly islanders and groups of schoolchildren who serenade tourists as they disembark their vessels. Wander through one of Fanning Island's pop-up markets where you can browse local handicrafts and traditional island keepsakes such as seashell necklaces and intricate wood carvings. Vendors in traditional dress complete the authentic atmosphere of these markets, along with the noisy roosters and chickens which weave around your legs. Spend the afternoon on Fanning Island basking in the warmth of the dazzling sun at one of the atoll's beautiful beaches and take a dip in the glistening waters that lap against the shore's sugary sands. The island is also a prime location for surfing as a result of its range of waves created by summer swells from the south and winter swells from the north.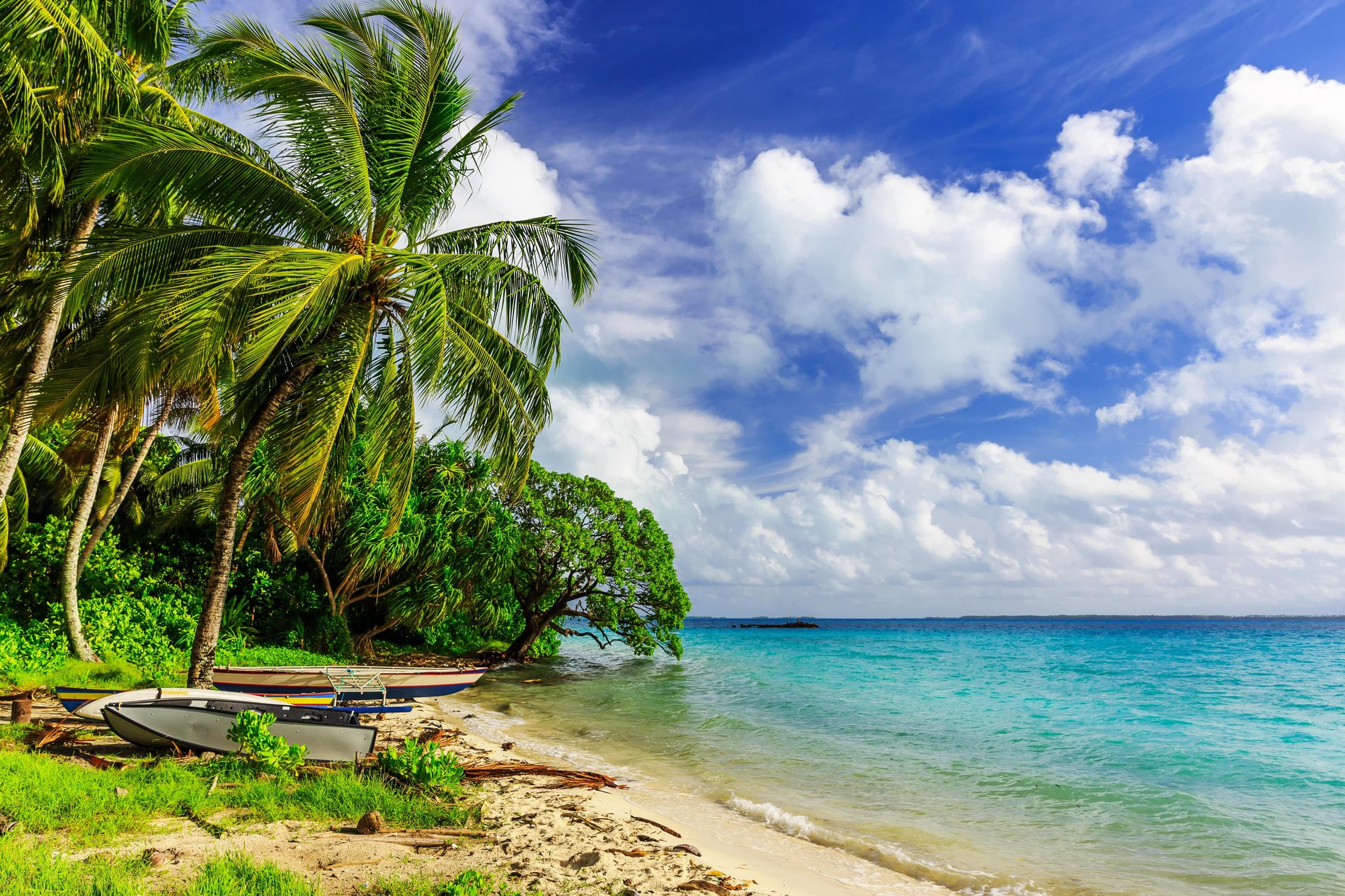 Makin Island
Makin is the second smallest and northernmost atoll in the Gilbert Islands of Kiribati and is divided into five tiny islets by shallow ocean streams. The island is extremely fertile thanks to its vast swamplands, and swathes of this land are used by local villages to grow important food and export crops such as bwabwai, banana, coconut, giant taro, breadfruit and pandanus. Makin Island is also steeped in wartime history as the battleground for the infamous Battle of Makin, when United States troops raided the island in an attempt to secure it from the Japanese. Makin's most spectacular manmade attraction is the Tenginteaira bridge and at one end visitors will come across a maneaba which is a local community centre constructed using coconut wood and pandanus leaves. Travellers will find it impossible to resist bathing in the island's gentle waters of Nakaa beach at the atoll's northern tip from where, according to traditional mythology, spirits of the dead depart to the underworld. The beach's striking landscapes also make the area a fantastic spot to stop for a scenic bite to eat.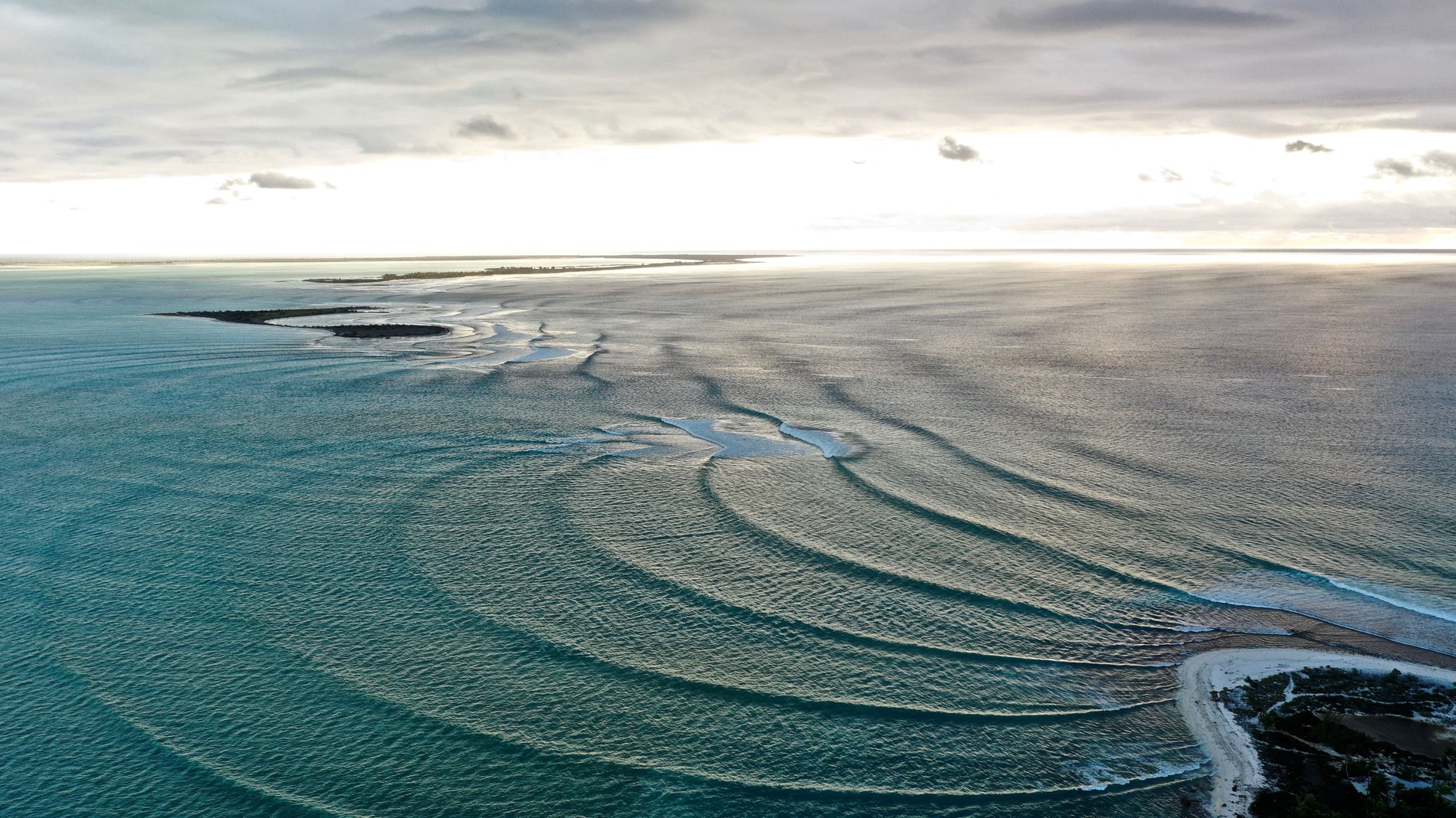 Aranuka Island
Just a short plane ride from Tarawa Island is the wonderful island of Aranuka. The atoll is famous for its unique Rhyzophora Stylosa mangroves which grow as tall as 15 metres and are breeding grounds for the island's exquisite birds. Aranuka's villages are located on the lagoon side of the island, connected by one long road. A crisscross of smaller roads weave their way across the rest of the island which visitors can explore by renting a pushbike or motorbike. The main beach on Aranuka is an unspoiled natural sanctuary, covered with ivory sands which slope into the glistening sea. This is an excellent location for snorkelling, swimming and sunbathing and visitors are also able to board a small boat to one of the smaller uninhabited islets off the coast of the island.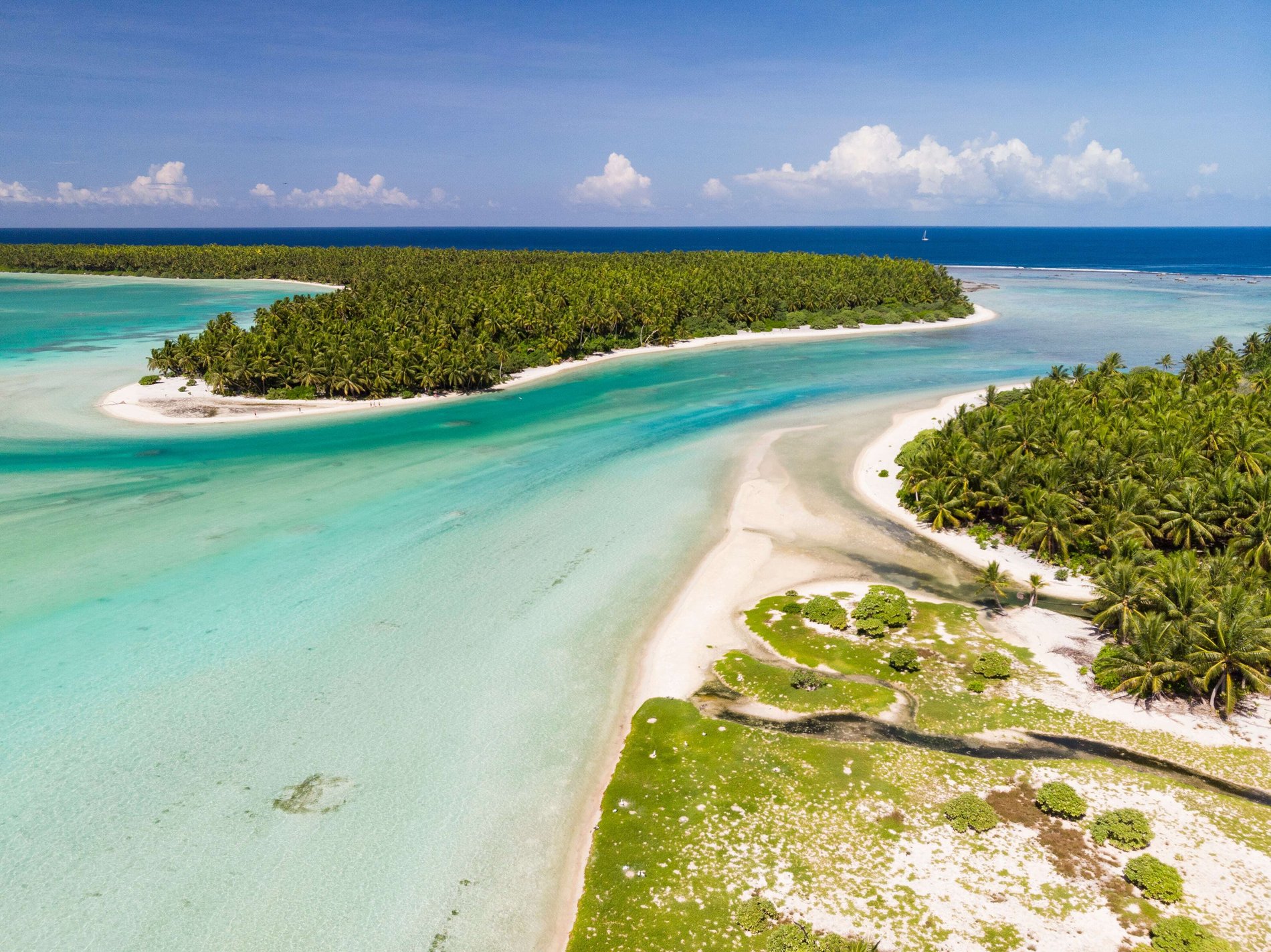 Iconic ports
Christmas Island cruises: Best things to do in Christmas Island
Discover the local culture
Kiribati's fledgling tourism industry has not yet fully developed and as a result the local culture of the islands is not yet overly commodified. Christmas Islanders are known for their unwavering hospitality and visitors can learn more about their traditional lifestyles while visiting a Kiribati village or maneaba. Maneaba are meeting houses where community decisions are made and where local people meet and socialise. Here, you can enjoy performances of local dances and music, as well as storytelling sessions about old Kiribati legends. You can also pick up new skills in weaving and coconut husking and purchase handmade trinkets along a cruise to Christmas Island.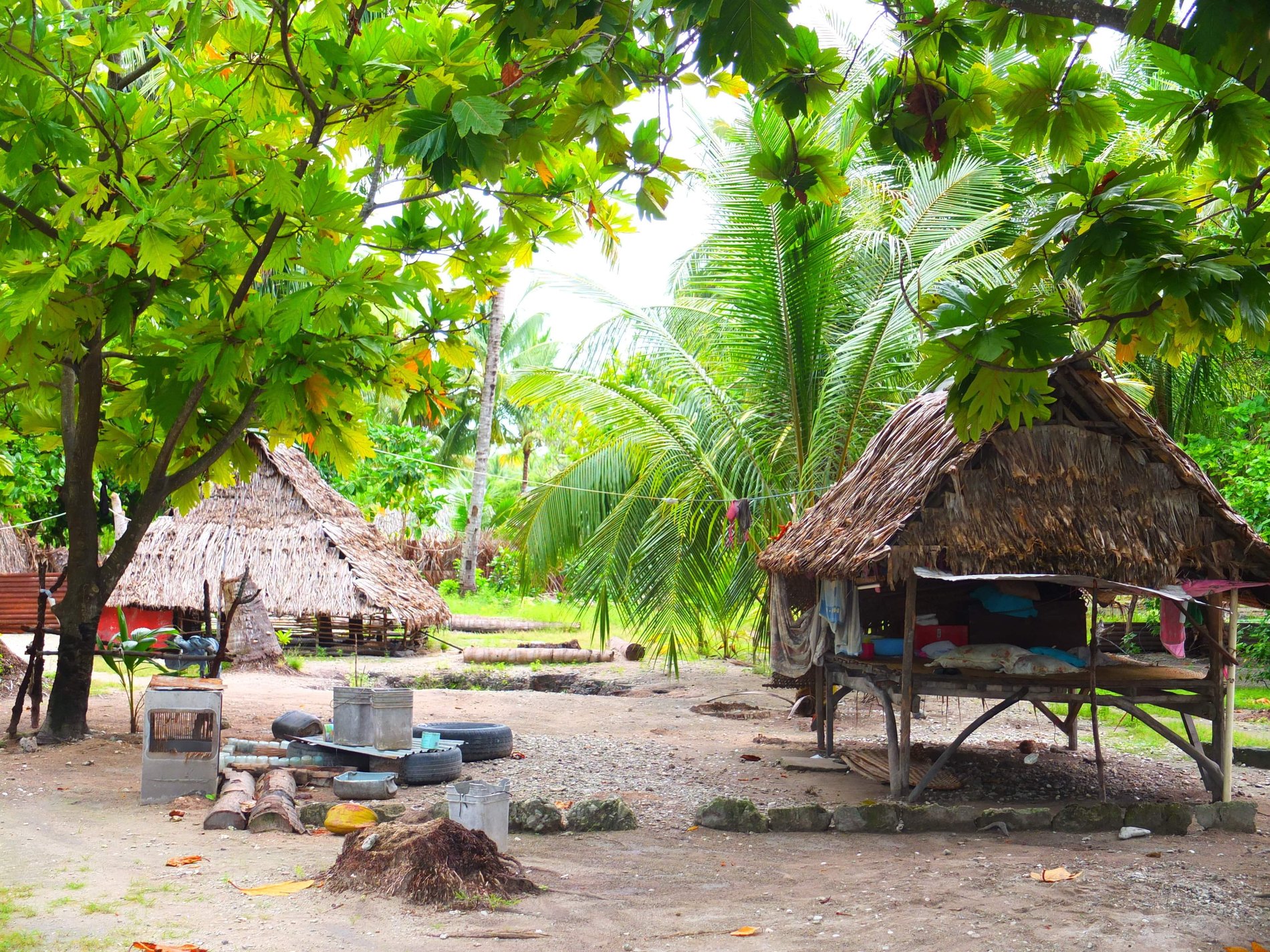 Go snorkelling and diving
The diving and snorkelling opportunities in Kiribati and Christmas Island are truly out of this world. As the world's largest coral atoll, Kiritimati's waters are brimming with a rich variety of marine life nestling in the area's enormous barrier reefs. Sail out from the shores of Christmas Island and dive down to coral mounds and underwater caves and look out for manta rays and bottlenose dolphins. Professional scuba diving schools and guides are available on Christmas Island, Fanning Island and Tarawa.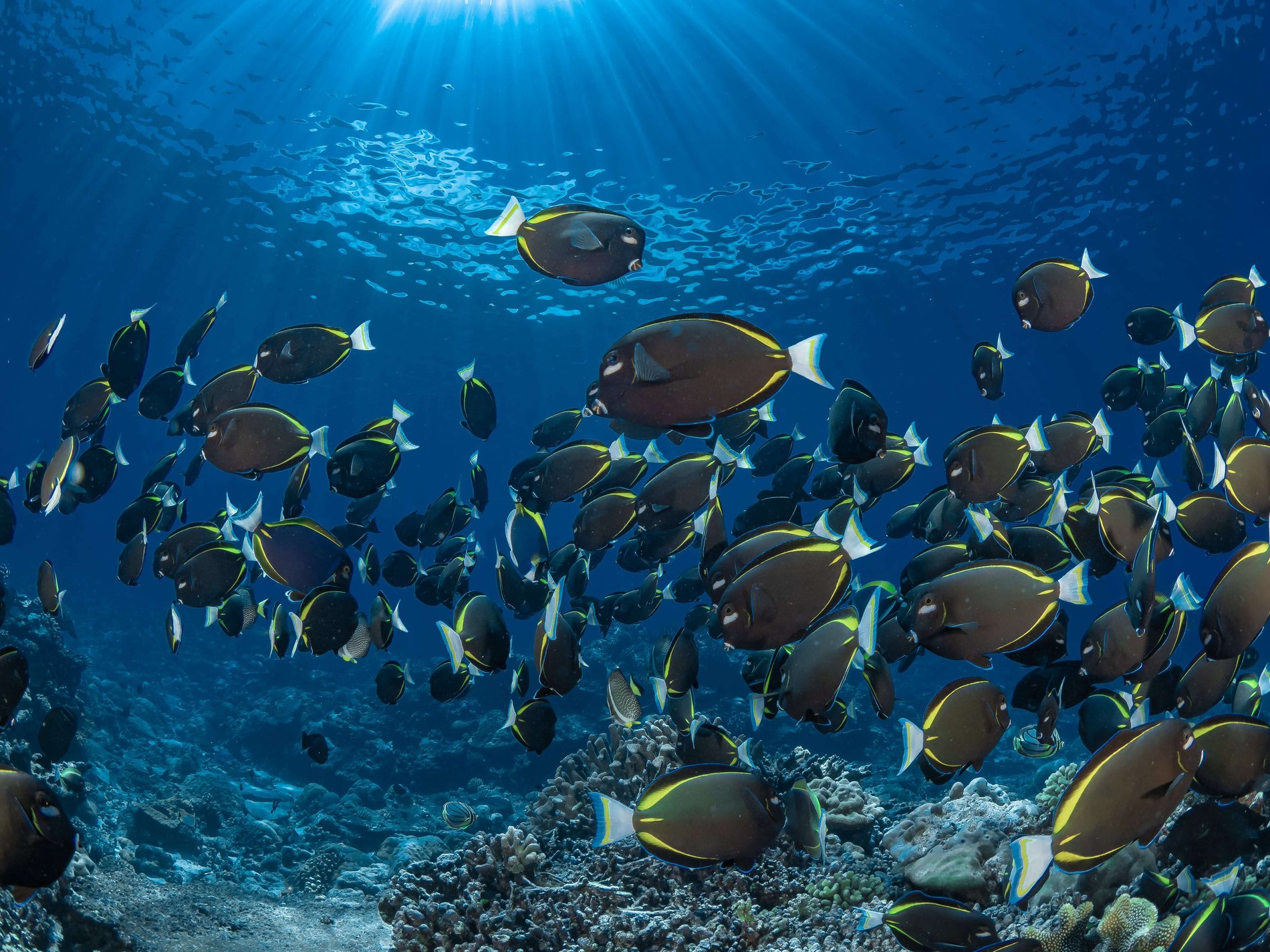 Take a 'flight-seeing' trip
One of the best ways to see Kiribati's atolls is to board a small plane and go on a 'flight-seeing' trip. Generally, tours fly above the islands of Abaiang, Abemama, Maiana and Tarawa, offering spectacular aerial views of the atolls in all their splendid natural glory. Flight-seeing visits to other islands, including Christmas Island, are available on request.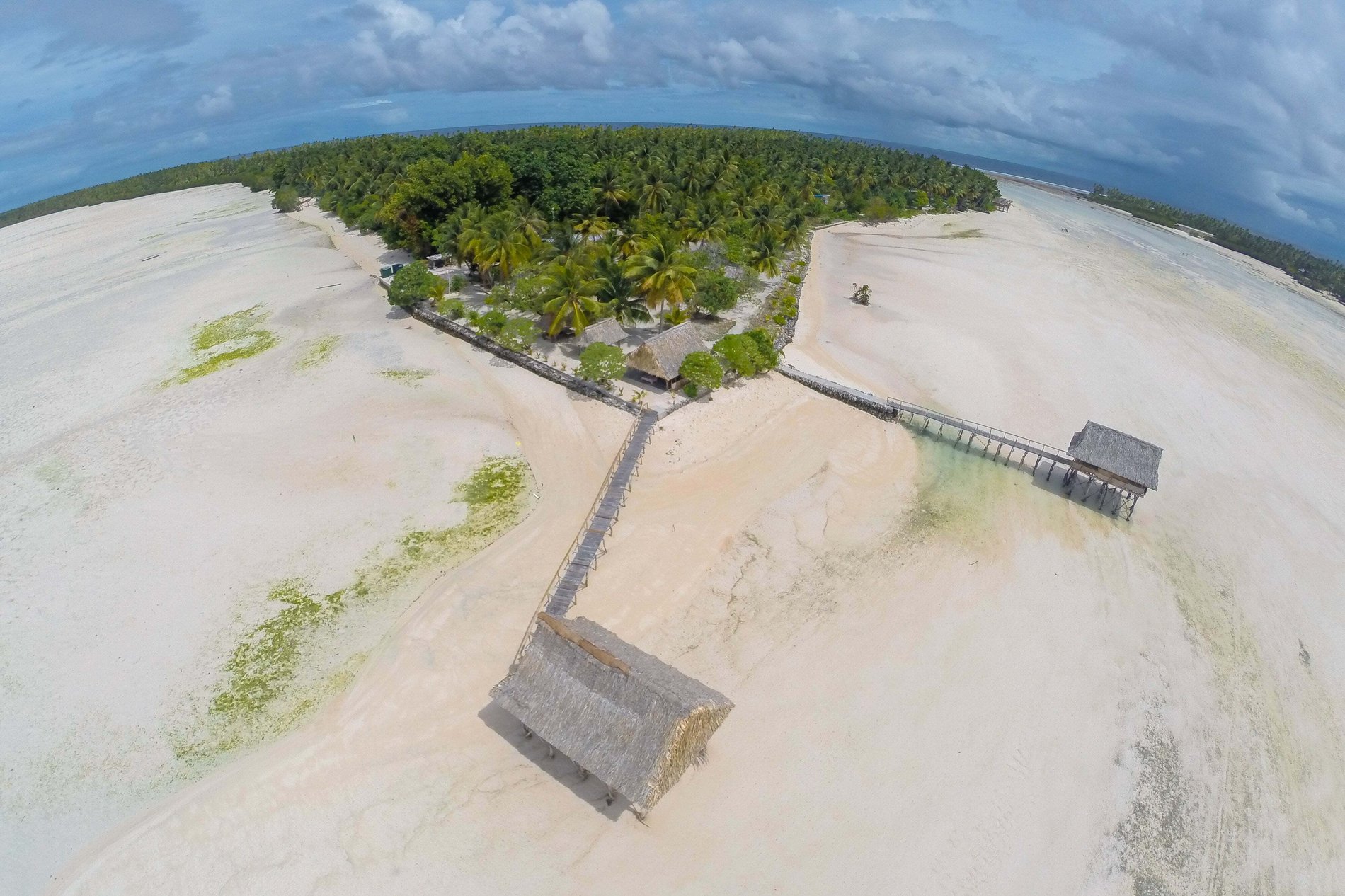 Try some local cuisine
Unsurprisingly, the main cuisine of Christmas Island is fish-based, although there is also a prevalence of coconut, breadfruit, pandanus, papaya and banana. Fish is typically served raw and marinated in coconut milk and lime juice with a side of rice. A regional speciality is palu sami – a curry dish made from coconut cream, curry powder, taro leaves, seaweed and an optional choice of protein. Wash down your meal with a palm wine known as karewe, made from the fermentation of pam tree sap.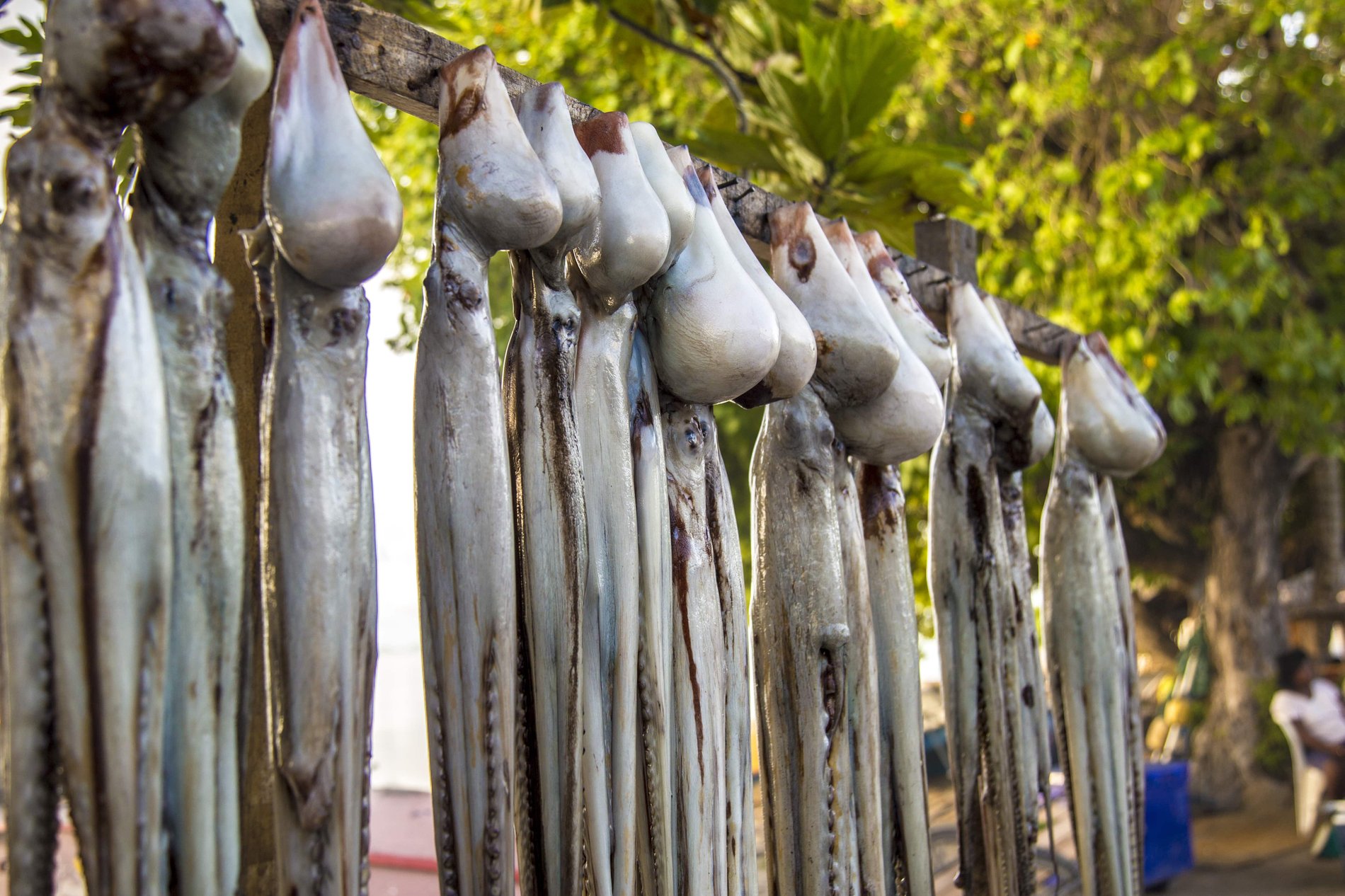 Go fishing
Saltwater fly-fishing is hugely popular on Kiritimati and Fanning islands due to the prevalence of the bonefish. Many of the anglers who visit the island are world-class and Christmas Island has been the site of many international game fishing world records, thanks to its many sections of deep water. Try your hand at saltwater fishing and if you're lucky you might even catch a large triggerfish or milkfish.