Search for your ideal Cruise
Ocean Cruising in Barcelona, Spain
The infinite variety of street life, the nooks and crannies of the medieval Barri Gòtic, the ceramic tile and stained glass of Art Nouveau facades, the art and music, the throb of street life, the food (ah, the food!)—one way or another, Barcelona will find a way to get your full attention. The capital of Catalonia is a banquet for the senses, with its beguiling mix of ancient and modern architecture, tempting cafés and markets, and sun-drenched Mediterranean beaches. A stroll along La Rambla and through waterfront Barceloneta, as well as a tour of Gaudí's majestic Sagrada Famíliaand his other unique creations, are part of a visit to Spain's second-largest city. Modern art museums and chic shops call for attention, too. Barcelona's vibe stays lively well into the night, when you can linger over regional wine and cuisine at buzzing tapas bars.
Why cruise Barcelona
Catalan fire and Spanish flair combine to delightful effect in the famous city of Barcelona. One of the busiest cruise ports in the world (the 7th busiest according to 2017 figures) and a staple of any Mediterranean cruise, Barcelona has the power to enchant, whether it's your first or seventh visit. A heavyweight cultural and commercial destination, there is plenty to see and do whether your interests lie in culture, shopping or food. Barcelona offers all three with aplomb.
find your perfect cruise
What to see and do in Barcelona
Sagrada Familia
The most spectacular (and controversial) of architect Antoni Gaudí's masterpieces, the Sagrada Familia cathedral has been under construction for more than 100 years. In fact, it's not expected to be completed until 2026. There is no more jaw-dropping site anywhere in Europe, which is why three million tourists flock here each year to marvel at the way architecture, light and faith combine in one stunning ensemble. It's simply a must-see.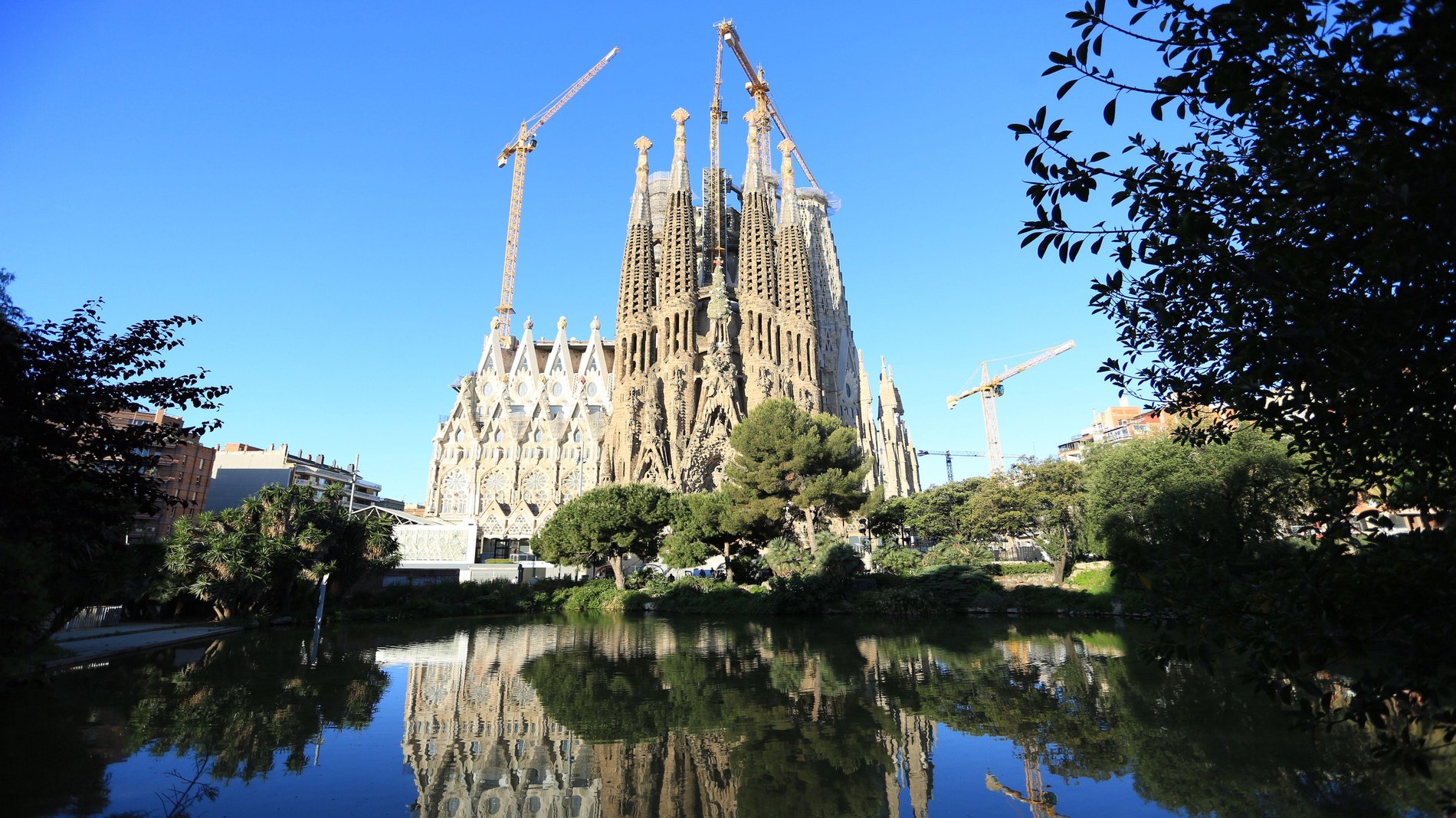 Picasso Museum
The Picasso Museum houses one of the most extensive collections of artworks by the eponymous 20th-century Spanish artist, who spent many years living in Barcelona and had a deep connection with the city, as revealed by the museum. With 4,251 works exhibited by the painter, the museum has one of the most complete permanent collections of works and is a must-visit.
Casa Mila
This is another of Gaudí's most photo-worthy creations, and you'll immediately recognise its roof. The colourful tiles resemble the scales of a great dragon and, like all of his work, it oozes sinuous physicality in its dazzling attention to detail and characteristic wavy masonry. Audio tours are available, offering fascinating insights into the building's design and upkeep, as well as the man who created it.
Camp Nou
Home to FC Barcelona since 1957, this historic 99,000-seater stadium is a must-visit. It's one of Europe's greatest footballing cathedrals, and even if you have no affinity with the team, the dizzying scale of the arena is a wondrous sight. Try booking on to the Camp Nou Experience, which offers a peek into various players-only areas, as well as a guided tour of the stadium. Tickets start at €26 and go up to €149.
Park Güell
Want more Gaudí? The famous Park Güell in the north of the city is an absolute must. A playground for the famous Spanish architect, this is what happens when you ask an eccentric genius to landscape your garden. Make your way uphill past fairy-tale houses – and that iconic mosaic dragon – and you'll be treated to a panoramic view of the city as good as you'll find anywhere else.
Las Ramblas
Yes, it's touristy and yes, it's crowded, but if you've never visited Barcelona before, you must not miss this popular street, which runs from the port area to Placa de Catalunya. Here you'll find numerous tapas bars and restaurants plus the Insta-friendly market La Boqueria, a great place to grab a bocadillo and a café crème. If you've got time, check out the Colon Monument – dedicated to the explorer Christopher Columbus. A lift takes you up a viewing tower for a great prospect of the city.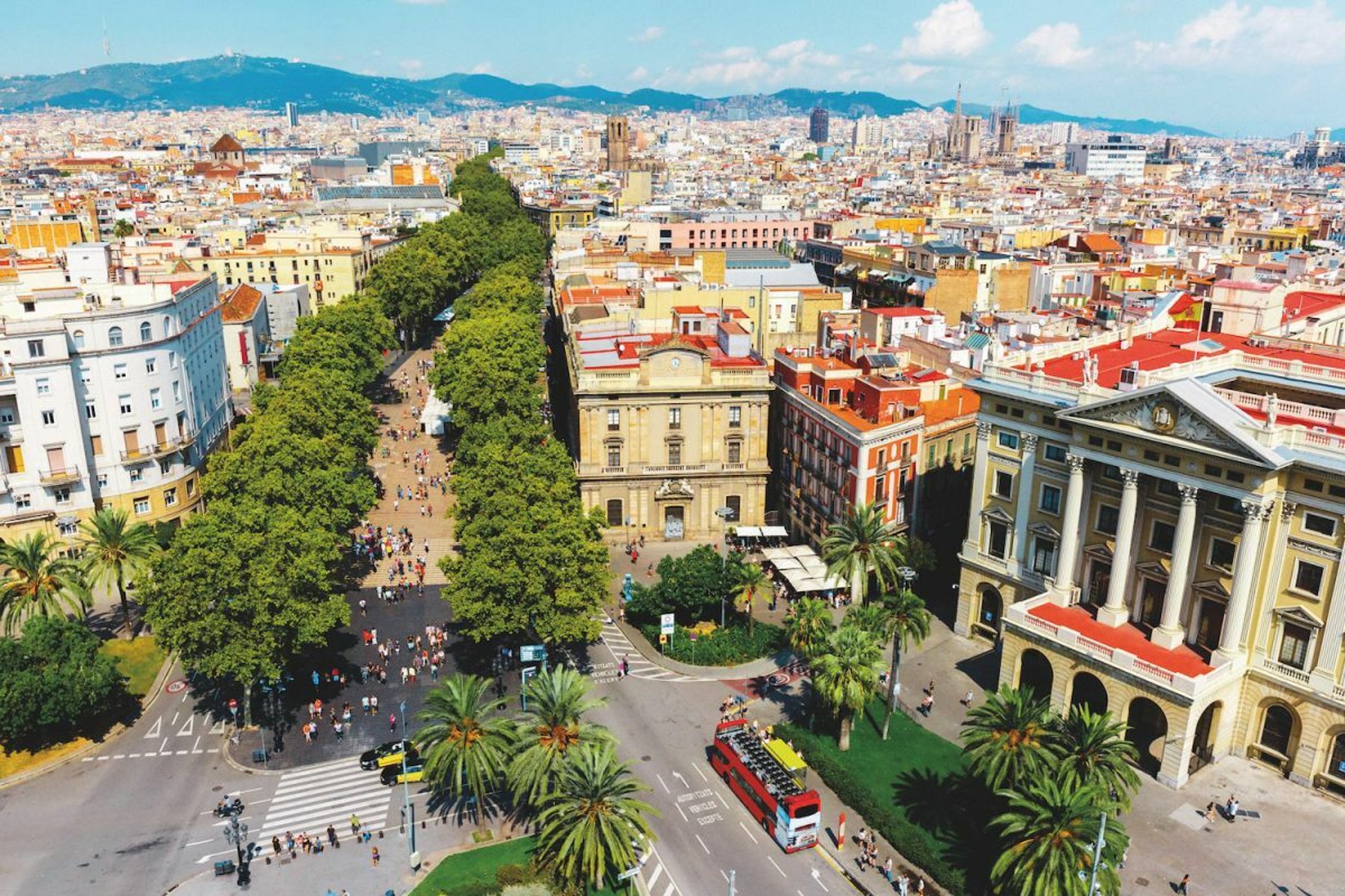 Barcelona's best restaurants and bars

Bicnic

From the team behind the hugely successful Betlem restaurant next door, Bicnic is a new spot in Dreta de l'Eixample that has quickly established itself as a neighbourhood favourite. This food truck-turned-restaurant has a clean, modern design and is divided into two sections, 'fast' and 'slow'. Stand-out dishes include ravioli in shiitake broth; eel tartare served on roasted bone marrow; and monkfish with grilled green onions and lemon broth.



Aguelo 013

If you're wandering through the Gothic Quarter, there's a chance you'll stumble across
this hotspot. Once a haunt of university students, it has been transformed into a fantastic restaurant for lunch and dinner, with wine tastings, cookery workshops and social events too. The salmon sashimi marinated in soy sauce and ginger, with freeze-dried wild violet and strawberry is all you could wish for.



Solange

Located in the pulsing Sant Antoni district, this premium cocktail bar feels like a place where James Bond himself might order a martini while planning one of his conquests. Vintage sofas, a stately wooden bar and exquisite taste in decor are what make this spot such a winner for after-dark drinks. Tantalising cocktail titles such as See You in Heaven, Cataratas de Iguazu, Spanish Purityni and Cadillac Blindée make it quite hard to choose, too.



Ohla Barcelona

As the name implies, this rooftop bar is the perfect spot to grab a drink and lap up the Spanish sun while admiring a stunning city view. Whether it's a draught beer by the pool or a glass of wine at sunset, this lovely terrace offers an escape from the bustle below. Ohla Hotel also boasts an array of divine restaurants, like Michelin-starred Caelis and La Plassohla. Prices are steep but the experience is well worth it.
Barcelona's best buys

Artisan Turron
This nutty confectionery – also known as nougat – is widely enjoyed here. There are two types: a soft kind that's smooth and easy on the teeth, and a harder, brittle alternative, with chunks of nut, usually almonds. Most shops sell a selection box containing both varieties.
Espardenyes
These traditional cloth shoes, also called espadrilles, have been worn by people around Catalunya for centuries. Find a number of different styles, closed or open, as well as myriad shades, at La Manual Alpargatera.
Ceramics
If you're inspired by the psychedelic, modernist shapes and colours of Gaudí's masterpieces, ceramics are the perfect souvenir. The Gothic district is a maze of small workshops.
Need to know when travelling to Barcelona
Getting around Barcelona
There's a frequent bus shuttle that leaves from the port and drops you off at the Christopher Columbus Monument in the city centre for €4 return. Alternatively, you can take a taxi from the port into the centre for roughly €10-15 – both journeys take approximately 10-15 minutes. Depending on the dock you are ported in you could potentially walk into the city centre – but expect a good 20-minute walk at best. Once in the city, you will find it's very walkable, although there is also a metro and buses should you prefer.
When to go to Barcelona
Queues to enter the city's most popular sights are longest in summer, but as the weather is fairly comfortable all year round, visit in March, May or September to avoid the tourist surge. As long as the Covid-19 situation continues, keep an eye on the news for any travel restrictions.
Currency
Catalans use the euro, which you can withdraw from ATMs throughout the city. As for all foreign travel, we also strongly recommend taking a no-transaction-fee debit card to avoid unnecessary withdrawal fees.
Visas
If you hold a British passport it's unlikely that you'll need a visa to enter Spain for less than 90 days.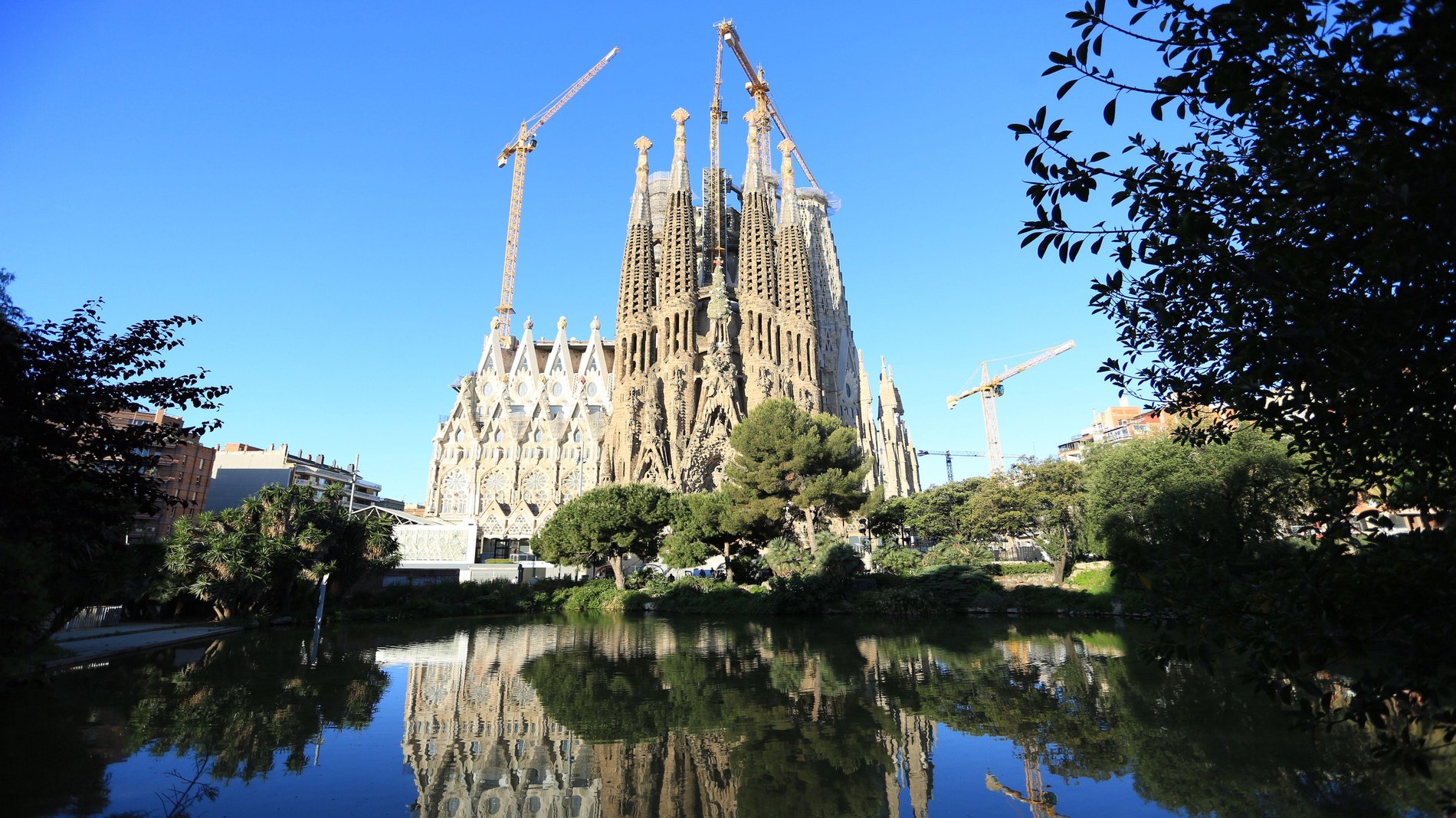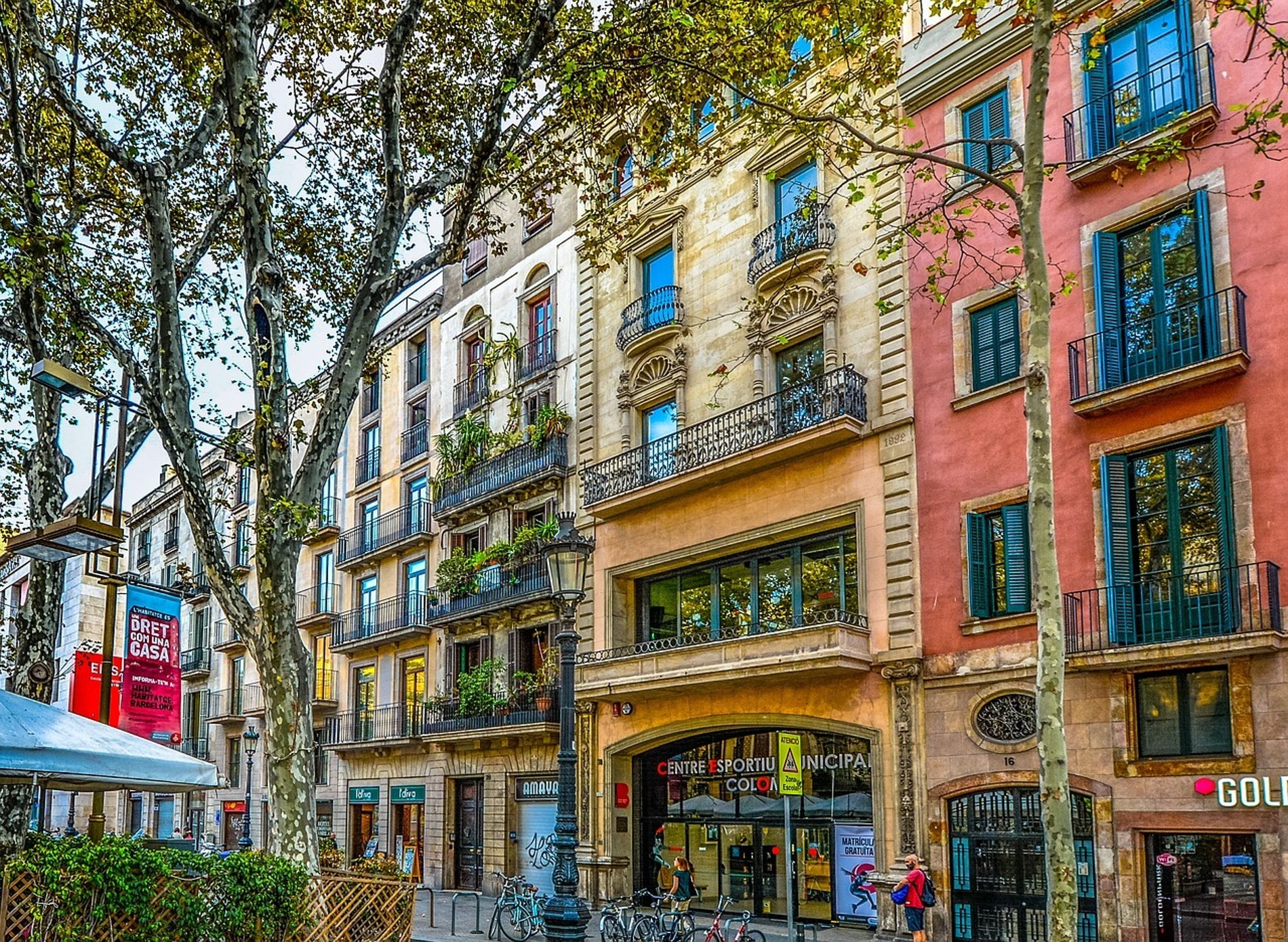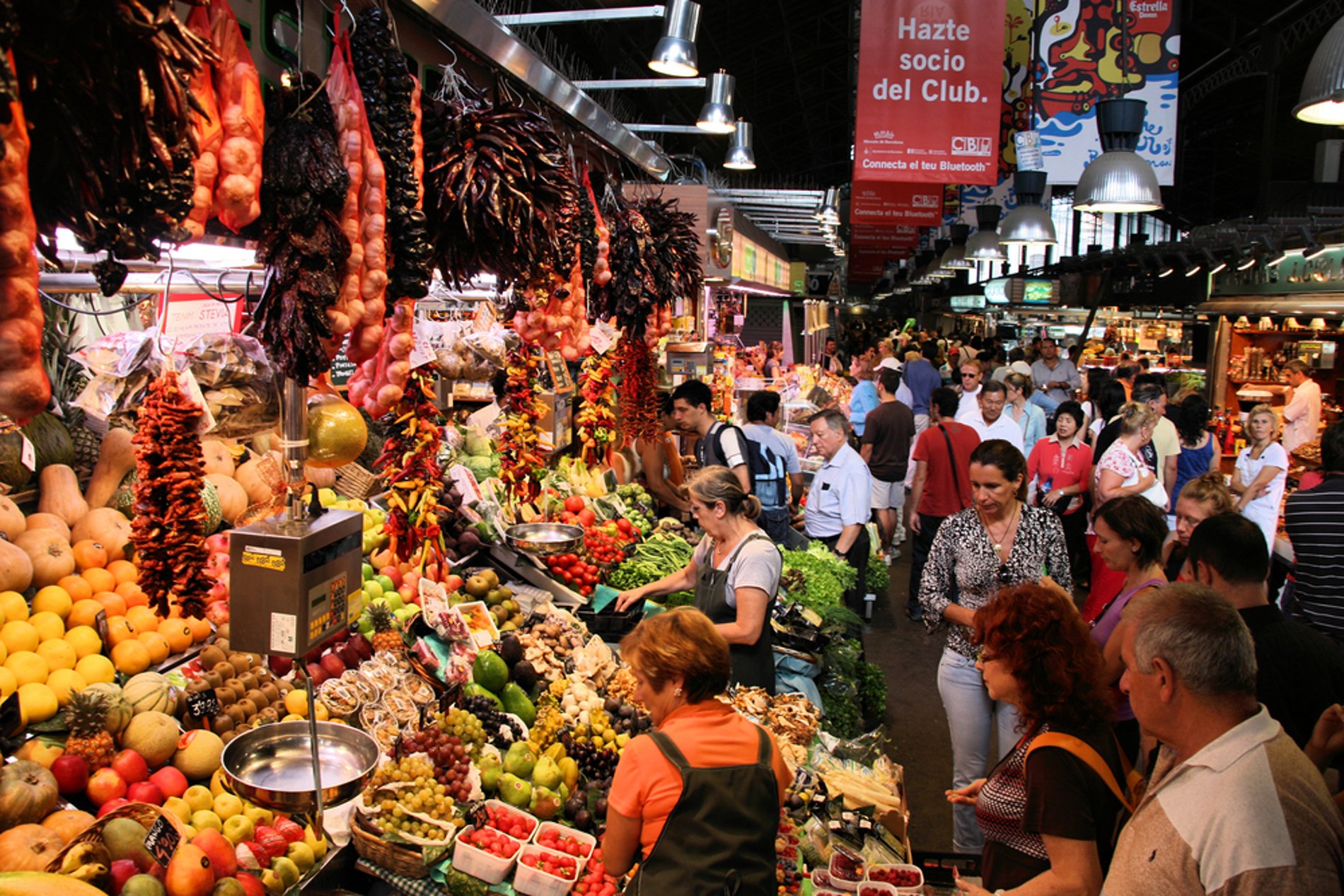 Barcelona – La boqueria, Food market