Why cruise on this ship?
Family friendly - There's always something happening on Ventura, enjoy delicious fine dining, a tranquil spa, many quiet spaces to unwind, great sports facilities and four pools. Evenings are particularly memorable, with the lavish two-deck theatre where you'll witness elaborate shows and stand-up comedy.

Dining
Enjoy three main restaurants offering a choice of Club Dining - the same table at the same time each evening - or Freedom Dining with no fixed seating or dining times.
There's also the opportunity to visit the Select Dining venues of Sindhu, the first restaurant at sea from master of spices Atul Kochhar; The Epicurean, where a sense of occasion is always on the menu; and The Glass House, a wine bar and restaurant created in partnership with award-winning wine guru Olly Smith.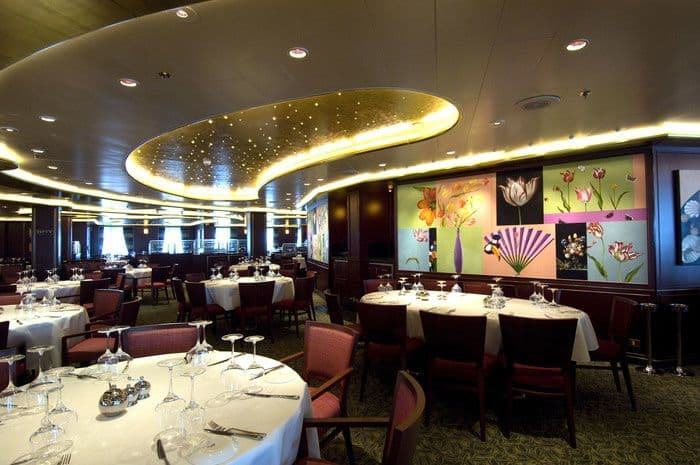 The Bay Tree
Club Dining in the Bay Tree Restaurant. Choose a particular Club Dining seating and you'll dine at the same time and table each night and enjoy the same company. It's the way many a friendship has been made on board.

Features
Experience: Cover
Food type: Classic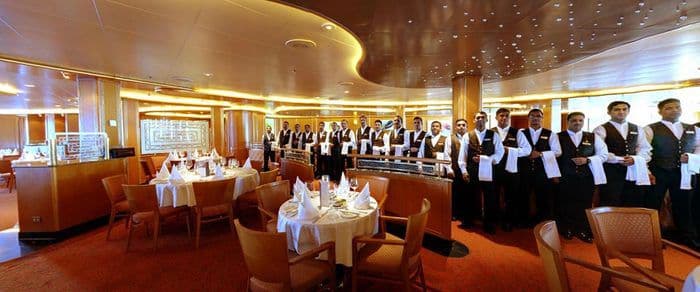 Cinnamon
Freedom Dining at the Cinnamon Restaurant. Enjoy the special ambience and sociable atmosphere of a main dining room, with a five-course menu. You can the flexibility to turn up anytime you choose between 6pm and 9.30pm, with whom you like, and every effort will be made to accommodate you.

Features
Experience: Complimentary
Food type: Varies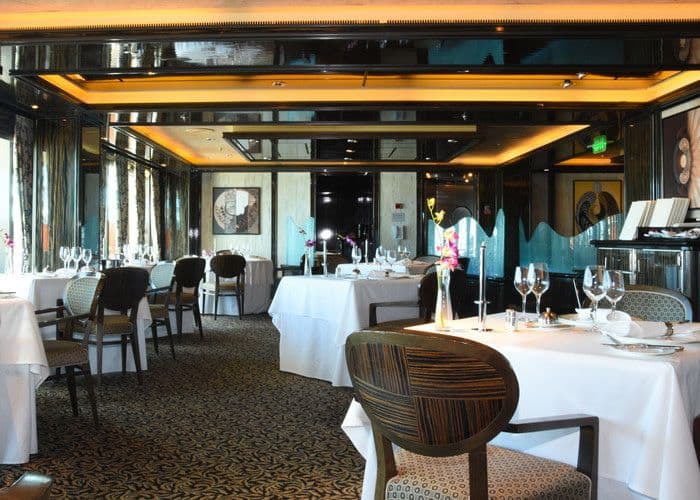 The Epicurean
A sense of occasion is permanently on the menu at The Epicurean. Here you will find a selection of much loved classic dishes. It's all about taking the finest British ingredients - fresh, seasonal and all thoughtfully sourced by our team of Executive Chefs - and presenting them with great skill to achieve maximum flavour. Expect the finest cuts of organically-reared meat, and the best seafood and fish British shores have to offer.
Features
Experience: Cover
Food type: Pacific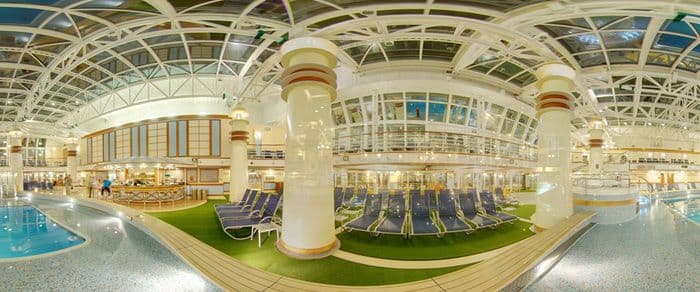 The Beach House
The Beach House offers an experience that can't be found anywhere else on board. The menu features ingredients from across the globe alongside regional speciality dishes such as Cuban Pulled Pork and American Baby Back Ribs. You can even cook your own Fillet of Beef on our speciality Lava Rocks. With only a small cover charge, dining here represents exceptional value for money (and your taste buds will definitely thank you!). An additional supplement applies to selected items.

Features
Experience: Cover
Food type: Caribbean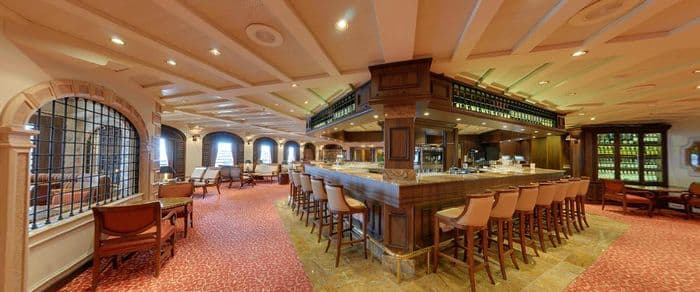 The Glass House
Headed up by the irrepressible, award-winning wine expert and passionate foodie, Olly Smith, The Glass House is the perfect location for a light bite, lunchtime tipple, afternoon apéritif or a tastefully informal evening out. You'll be treated to a choice of around 40 wines handpicked by Olly, accompanied by a menu of delicious food options. What's not to like?

Features
Experience: Cover
Food type: Wine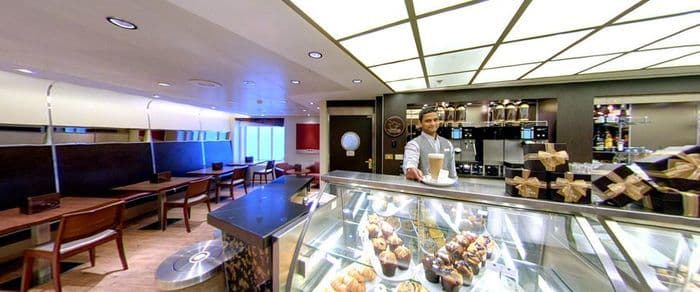 Tazzine
If you're seeking rich coffee and conversation, Tazzine, is just the thing. Serving speciality Costa coffees, cookies, pastries and savoury snacks, Tazzine will make a great option for a mid-morning coffee, a light lunch or an afternoon snack. Located just off of Ventura's atrium on Deck 5, in the ship's hub, you will be able to linger here over a magazine or people-watch to your heart's content.

Features
Experience: Cover
Food type: Cafe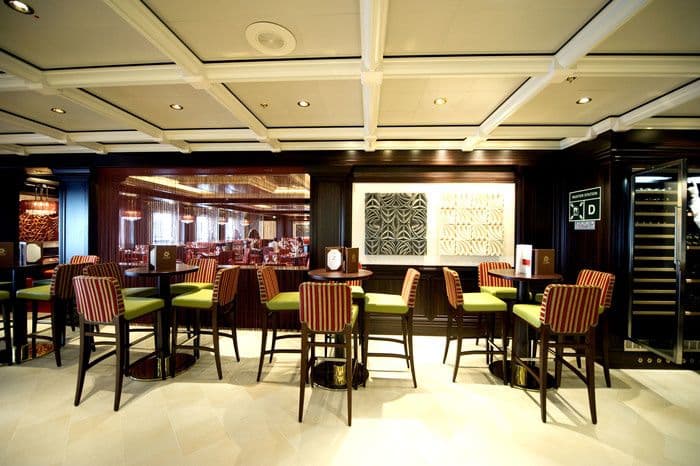 Sindhu
Visit Sindhu and you'll be treated to authentic Indian cuisine with a British twist. Showcasing a menu which is a triumph of perfectly balanced spices, delicate flavours and wonderful aromas, this restaurant has become a firm favourite with many. So why not take a seat amidst its sumptuous fabrics and opulent décor to experience a treat for your senses?
Features
Experience: Cover
Food type: Indian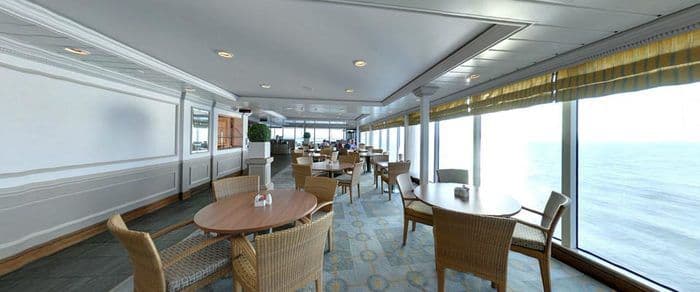 Waterside
No matter what time of day it is, if you fancy a good meal you'll always get one on board Ventura. Our main self-service restaurant offers high quality dining throughout the day in a relaxed, informal environment. A designated children's tea is also provided in Waterside restaurant from 5-6.30pm, parental supervision is required.

Features
Experience: Complimentary
Food type: Buffet
Room Service
Morning, noon, and through the night, if you fancy a bite to eat in your cabin, you've a mouth-watering room service menu to choose from… meals, desserts, snacks and drinks, all prepared with care and delivered with a smile. A small supplement applies to each item, apart from breakfast, which is included in the price of your holiday.
Features
Experience: Cover
Food type: Room
Entertainment
When it comes to entertainment and things to do we've something for everyone on Ventura.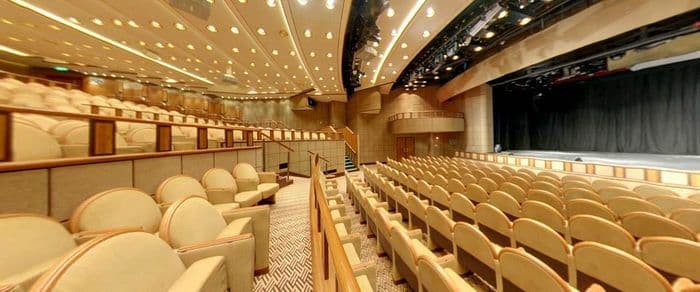 The Arena Theatre
Ventura's two-tier theatre is located forward on Deck 7. West End-style shows and cabaret light up her technologically advanced stage, but you can also enjoy talks and watch films on the big screen in this venue.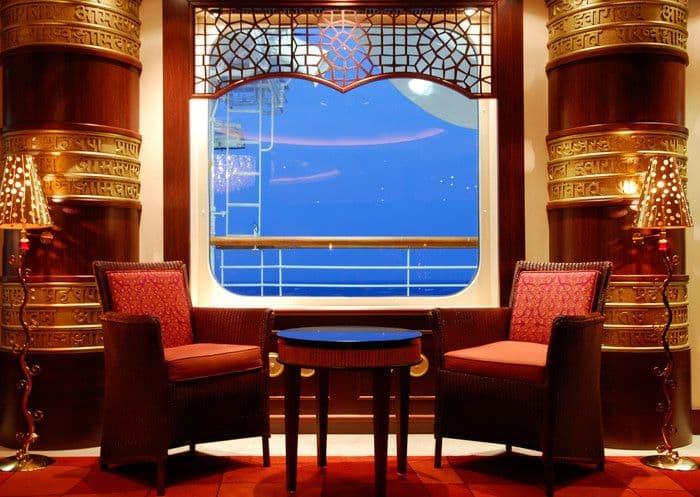 The Tamarind Club
The rich fabrics and colours of the Indian subcontinent provide the inspiration for Ventura's Tamarind Club on Deck 7. Imperial and exotic touches will combine to create an element of escapism and opulence. A wonderful setting for comedy and live music, this venue will provide a memorable night. Listening to the comedians centre stage, you can soak up the jovial atmosphere and revel in great company and entertainment. During the day in this venue you can enjoy enrichment lectures and port lectures.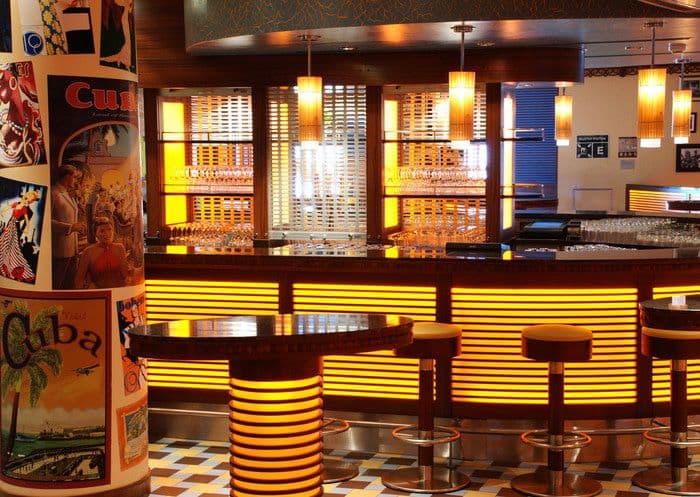 Havana Show Lounge
Visit Havana, Ventura's Cuban themed nightclub, for all the passion and exuberance of Latin America. This venue will be found on Deck 7 aft. This will be the place to party into the night. With a stage and dance floor you might dance to a live band or DJ, take part in some karaoke, or enjoy some late night cabaret. This vibrant venue will get livelier as the night progresses. Order a mojito, let your hair down and get your feet moving to those salsa rhythms.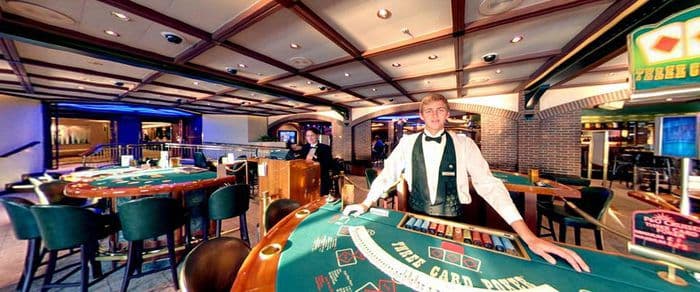 Fortunes
Love the sense of excitement as the roulette wheel spins? If so, pay Fortunes Casino a visit. The flashing lights of the slot machines and the suspense of blackjack beckons, as does a great night out. The Exchange bar has been integrated into the area to create a lively entertainment venue that's perfect whether you simply want to soak up the atmosphere over a drink or enjoy the casino.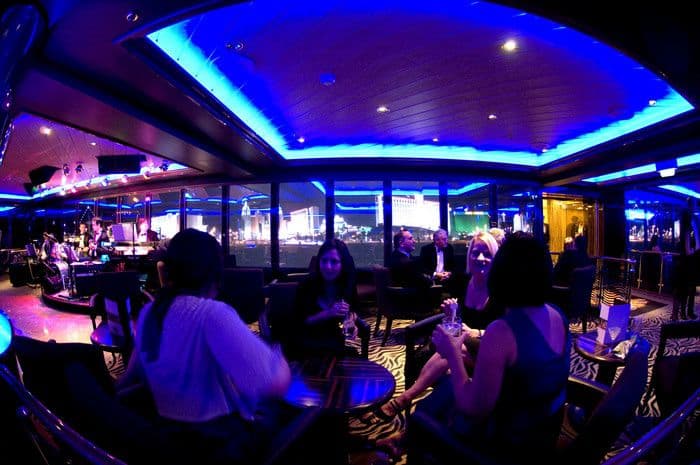 Metropolis
This unique venue brings you all the excitement of the world's coolest destinations. An innovative 20 metre floor-to-ceiling video wall displays dramatic cityscapes, so you might gaze 'out' upon Paris, New York or Sydney as you sip your favourite apéritif. Grouped seating and soft lighting create the feel of a sophisticated jazz bar. And as you take in your surroundings, you can listen to the mellow sounds of a jazz combo or pianist.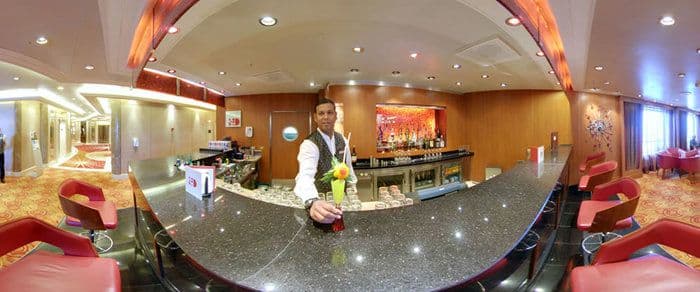 Red Bar
As vibrant as its name suggests, the Red Bar will offer cocktails and champagne in a sophisticated setting. Located on Deck 7, close to the 31 foot high atrium, this bar will provide a wonderful setting for a pre-dinner drink or after dinner socialising. The sound of tinkling ivories provides a special ambience, while the décor is warm, inviting and vivid.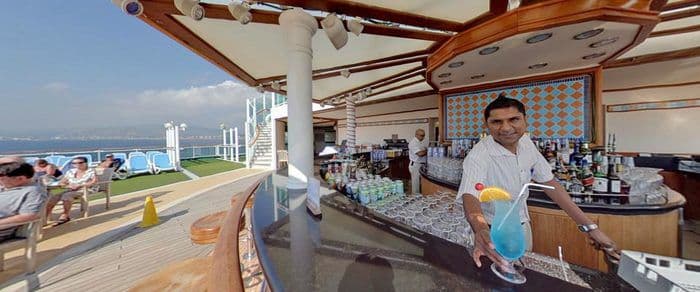 Pool Bars
Situated forward on Deck 16, Breakers Bar is the place to go for a refreshing smoothie. Packed full of fruit, they make for a delicious and healthy treat. From here, guests can admire the view from on high as Ventura glides you toward your next port of call. And if in the mood for something not quite so virtuous, there is also a full deck bar menu.
The Terrace bar, located on deck 15, caters for guests using the Terrace Pool below on the Riviera deck and is a great place to socialise and soak up the sun.
Protected by the skydome the Beachcomber bar has steward service so no need to leave your sun lounger. Located on deck 15 it is ideally situated for guests using the Beachcomber Pool.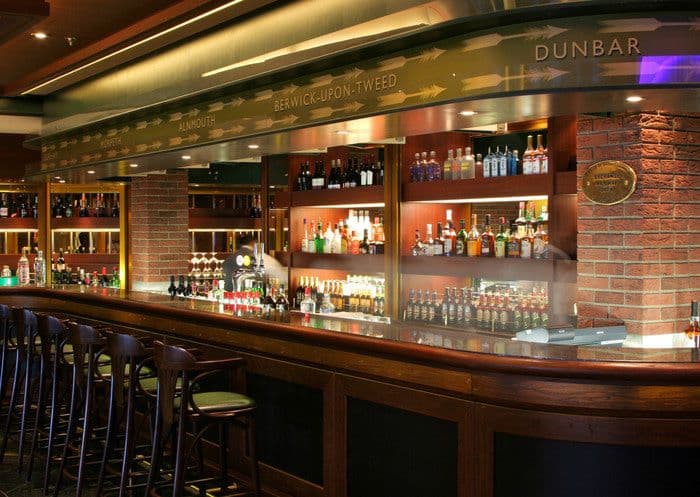 The Exchange
There are some things only a visit to the pub can satisfy. Catching up with friends for some quick wit and repartee. Watching unmissable sporting events on the big screen and celebrating – or commiserating – the outcome together. Assembling a team and putting your communal grey matter to the test in a good, old-fashioned pub quiz. So, welcome to the Exchange.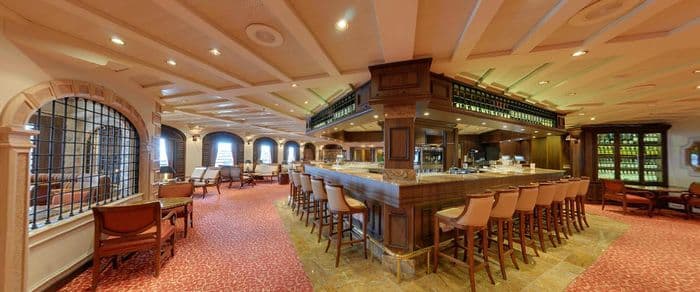 The Glass House
In The Glass House on board Ventura, we bring the world of wine to you… varieties from all four corners of the globe, by the glass, by the bottle and, if you fancy, right by a plate of fabulous food. Headed up by the irrepressible, award-winning wine expert and passionate foodie, Olly Smith, The Glass House is the perfect location for a light bite, lunchtime tipple, afternoon apéritif or a tastefully informal evening out.

Breakers Bar
For a refreshing cocktail out on deck, Breakers Bar is the perfect spot to enjoy the views surrounding you.
Enrichment
The ship's fantastic New Horizons programme offers to passengers the chance to leave their cruise with a new hobby, skill or passion. With classes ranging from cookery, and ballroom dancing, to feng shui and tai chi, passengers can search for true enlightenment.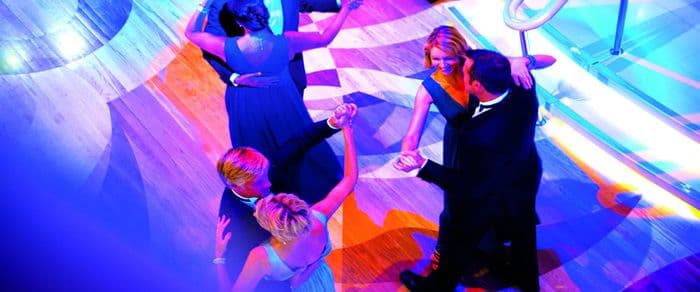 Dance Classes
There are coupled dance instructors onboard who offer a variety of dance lessons. The main types of dance offered are ballroom and Latin. As well a group lessons, it is also possible to arrange 1 to 1 tuition. On some occasions, there are celebrity dance instructors on board too. Everyone is welcome regardless of experience.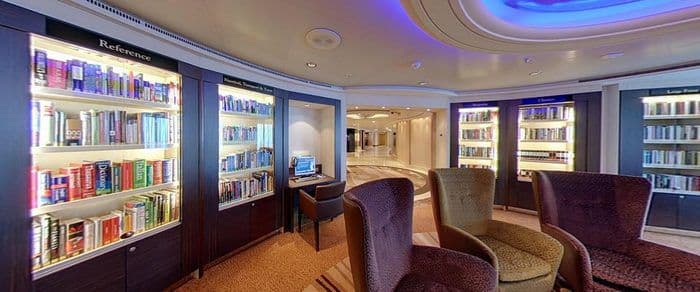 Library
The ship's well-stocked library is perfect for finding a great book to enjoy by the pool. Choose from an extensive range of fiction and non-fiction books, or browse through the tempting selection of books which are available for purchase, in an area operated by Waterstones book shop.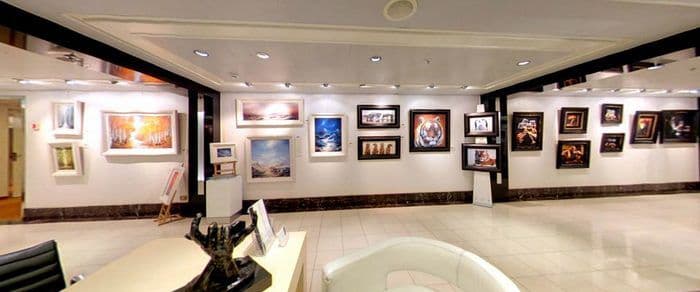 Art Gallery
Take in beautiful paintings, prints and sculptures by artists around the world.
Oceana's art gallery features works by both famous and up and coming artists, and many of the works are for sale if something catches your eye.
Health and fitness
From the revitalising hydrotherapy pool, to the state of the art gymnasium, there's plenty of facilities onboard to refresh your mind, body and soul. Passengers can enjoy luxury massages and treatments in the Oasis Spa, or head out to the top deck sports court for a spot of tennis.
Sports Court
Whether you enjoy the friendly competition of an organised tournament or prefer to play casually with your own party, short tennis, football, volleyball, basketball and cricket are just some of the options available in the Sports Court. And just aft of the Sports Court you will find the golf nets, where you can perfect your swing, using your own clubs or those provided.
The Retreat
The Retreat is a luxurious open-air spa terrace, offering the ultimate in sophisticated pampering. Here guests will find luxury sun loungers, airy cabanas for al fresco spa treatments, personal waiter service and of course, gorgeous panoramic views. What's more, because it's a paid-for, child-free service, guests are guaranteed an exclusive experience.
Oasis Spa
With superb ocean views and relaxing cream décor, the tranquil Oasis Spa is the perfect place to relax and be pampered. In the treatment rooms you can enjoy private ocean views as you succumb to a relaxing massage.

Also linked to the Oasis Spa is the hydrotherapy pool, which offers a hydromassage; a type of treatment that increases circulation, eases tension and aids restful sleep. Flooded with light via a pyramid skylight, the hydropool lies in the centre of several tiled columns. Alternatively passengers can head for Arcadia's thermal suite on the starboard side where they'll find three steam rooms, a sauna and a heated swimming pool.
Oasis Salon
The fully equipped salon is the perfect place for those who want to look their best. Located in the spa, passengers can try a new colour or style in the hands of fully trained stylists.
Swimming Pools
There's nothing more relaxing than splashing around in a pool or reclining in the sunshine. From a paddling pool for tots to a pool sited beneath a sky dome, finding your favourite spot will be easy. You might be entertained by a live band as you enjoy the view. Waiters will be on hand to fetch you a refreshing drink, while there are plenty of options for a tempting poolside snack. Days by the pool will be wonderfully leisurely. While later, these expansive deck areas provide just the meeting place for deck parties and shows.

The endless pool, with its current offering resistance as you swim forward, the endless pool is a great way to enjoy an uninterrupted swim. After a long swim, why not relax in the whirlpool spa next door or the saunas and steam rooms that can be found nearby?
Terrace pool- on Deck 14 aft will be just the place for splashing around in the sunshine. A fun area, ideally located for the children's clubs and The Beach House, this area will appeal particularly to families. With views over the aft of the ship, it's just the place for Mum and Dad to relax and let their worries unfurl along with the ship's wake.
Gym and Fitness
It's easy to keep active on Ventura. Work out in the gym, take a fitness class, get active in the sports court or take a nice walk on deck.
We offer a range of fitness classes such as indoor cycling, pilates, yoga, body sculpt boot camp and push 'n' lift which are assisted by a fitness instructor.
The gym is typically open from 8am - 8pm every day and use of the on-board gym equipment is complimentary: Equipment on board includes:
Bikes

Treadmills

Cross-trainers

Steppers

Rowing machines

Free weights

Kids and teens
Ventura offers freedom for families with age-specific kids' clubs, night nursery for under 4s and dedicated family restaurants and early eating times, creating the perfect balance for families. So you can enjoy quality time together as well as time separately.
Free age-specific children's clubs ranging from 2-17 years and night nursery for under 4s

Family-friendly swimming pools

Dedicated family restaurants & early eating times for children

Shore excursions designed for families

Accommodation
From inside cabins to balcony cabins and luxurious suites, you will find a room for every budget and taste.
All cabins are air-conditioned and well designed, to give you as much space as possible and to help you relax into your surroundings. Many feature balconies to give you additional outside space. All feature Egyptian cotton sheets, free tea & coffee making facilities, refrigerator, hairdryer, safe, in-cabin television and good sized en-suite bathrooms with toiletries pack. You will also enjoy the services of a personal cabin steward who will look after your every need, and can enjoy room service from early morning until late evening at no extra cost.
Suites
The ultimate in luxury, our butler-serviced Suites offer the extra space of a lounge area (perfect for entertaining), a superior bathroom, dressing area and a broad balcony to take in the sights.

Features
Queen or Twin Configuration
Lounge Area
Vanity Area
Shower
Toiletries Provided
Room Service Available
Suite Benefits
Butler Service
TV
Safe
Hair Dryer
Telephone
Desk
Exclusive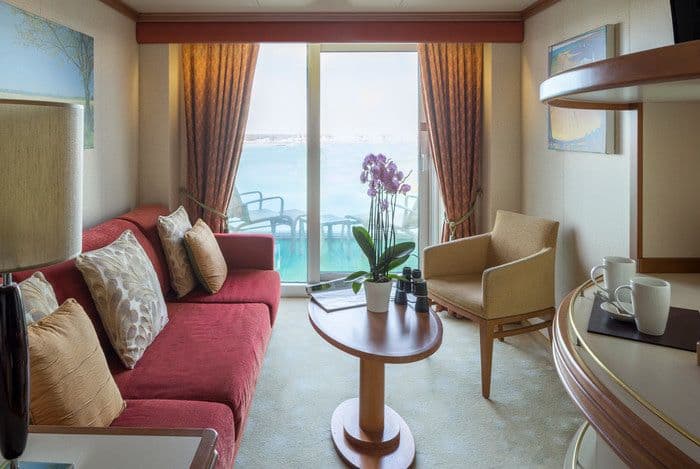 Balcony Cabins
There's nothing quite like opening your patio style doors onto your own private balcony, especially to take in the fresh morning air or to enjoy a spectacular sail in to your next destination.
Features
King or Twin Configuration
Lounge Area
Vanity Area
Shower
Toiletries Provided
Room Service Available
TV
Safe
Hair Dryer
Telephone
Desk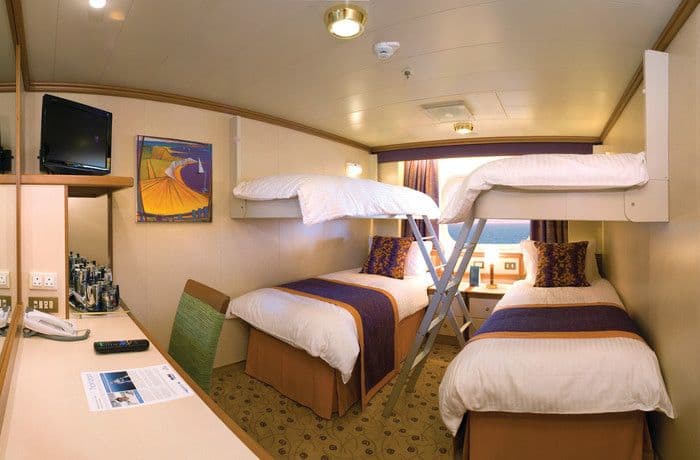 Sea View
If a balcony is not top of your list, but you're seeking great value and a sea view, then our Sea view cabins are ideal. Well designed and with all those little extras.
Features
Queen or Twin Configuration
Shower
TV
Vanity Area
Toiletries Provided
Room Service Available
Safe
Hair Dryer
Telephone
Desk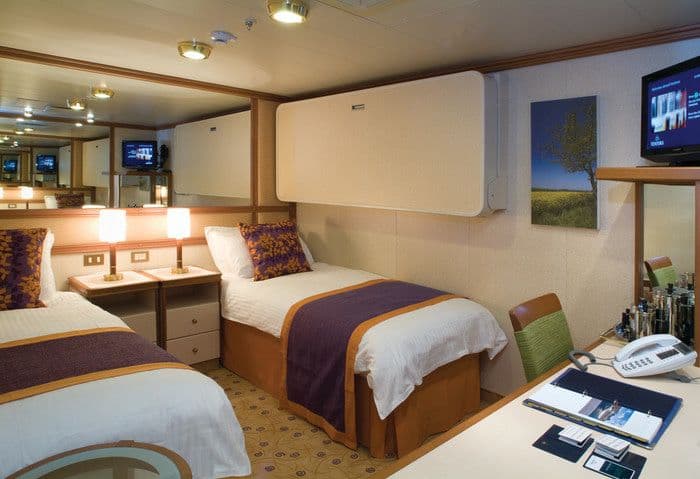 Inside Cabins
These spacious cabins are perfect if you want a more economical way to travel and prefer to be out and about experiencing the ship or reclining up on deck by the pools.
Features
Queen or Twin Configuration
TV
Vanity Area
Shower
Toiletries Provided
Room Service Available
Safe
Hair Dryer
Telephone
Desk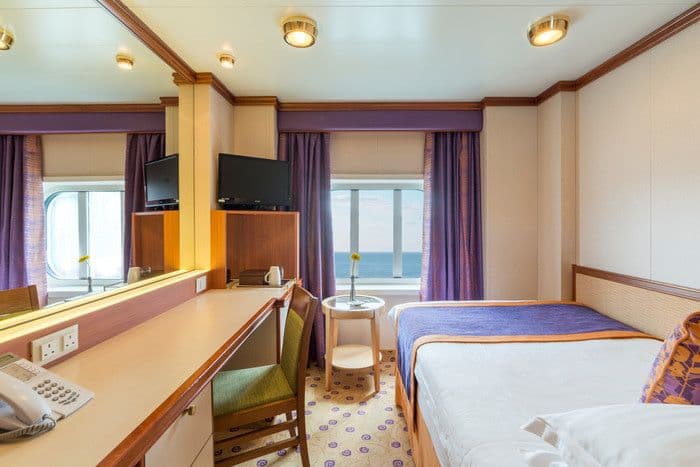 Single Cabins
With the choice of either an inside or outside location, these cabins are perfect for the single traveller.

These beautifully designed cabins feature a single bed, shower, sink, and WC. Outside cabins will have a window or porthole. Inside cabins will have a mirror.
Features
One Single Bed
Vanity Area
Shower
Toiletries Provided
Room Service Available
TV
Safe
Hair Dryer
Telephone
Desk
Deck plans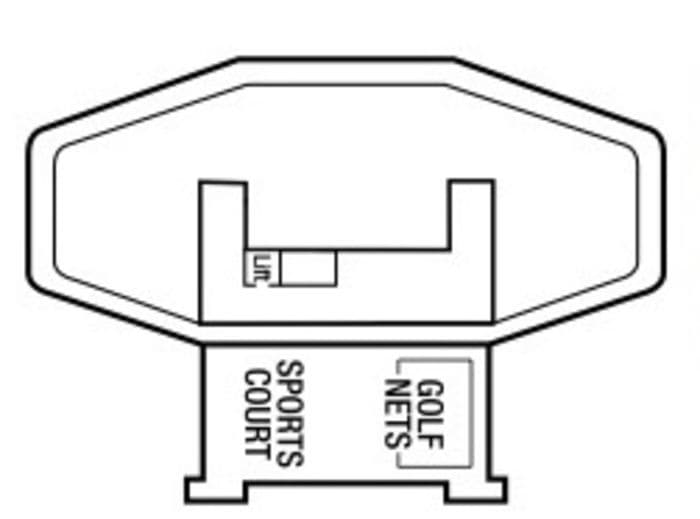 Ocean Deck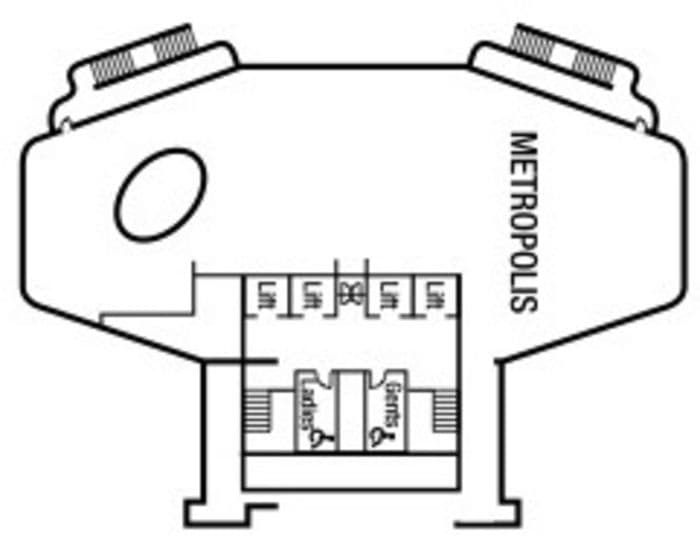 Sky Deck

Sports Deck
The Retreat

Skydome

The Epicurean


Sun Deck
Oasis Spa

Aerobics

Gymnasium

Endless Pool

Whirlpool Spa

Treatment Rooms

Oasis Salon

Saunas

Steam Rooms

Ivory Suite

Breakers Bar

Skydome

Shuffleboard

Quoits

The Den (The Reef)

Decibels (The Reef)

Tumblers Nursery

Toybox (The Reef)

Jumping Jacks (The Reef)

Plunge Pool


Lido Deck
Inside Cabins

Outside Cabins

Balcony Cabins

Suites

Thermal Suite

Laguna Bar

Poolside Grill

Laguna Pool

Whirlpool Spa

Poolside Pizzas/Ice Cream

Beachcomber Pool

Beachcomber Bar

Waterside

The Beach House Area

Terrace Bar


A Deck
Inside Cabins

Balcony Cabins

Suites

Penthouse Suites


Riviera Deck
Inside Cabins with Shower
Balcony Cabins with Shower
Suite with Bath/Shower

B Deck
Inside Cabins

Balcony Cabins


C Deck
Inside Cabins

Balcony Cabins

Suites


Deck D
Inside Cabins

Balcony Cabins

Superior Deluxe Balcony Cabins

Suites


E Deck
Inside Cabins

Outside Cabins

Balcony Cabins

Superior Deluxe Balcony Cabins

Suites


Prom Deck
Arena Theatre

Celebrations

The Glass House

Shopping

The Red Bar

Atrium

The Tamarind Club

Sindhu

Photo Gallery

Havana


F Deck
Single Inside Cabins

Single Outside Cabins

Arena Theatre

The Penninsular Room

The Exchange

Fortunes

Reception

Shopping

Atrium

Saffron Restaurant

Bay Tree Restaurant


P Deck
Launderette

Art Gallery

Atrium

Tazzine

Shopping

Library

Cinnamon Restaurant

Outside Cabins

Inside Cabins