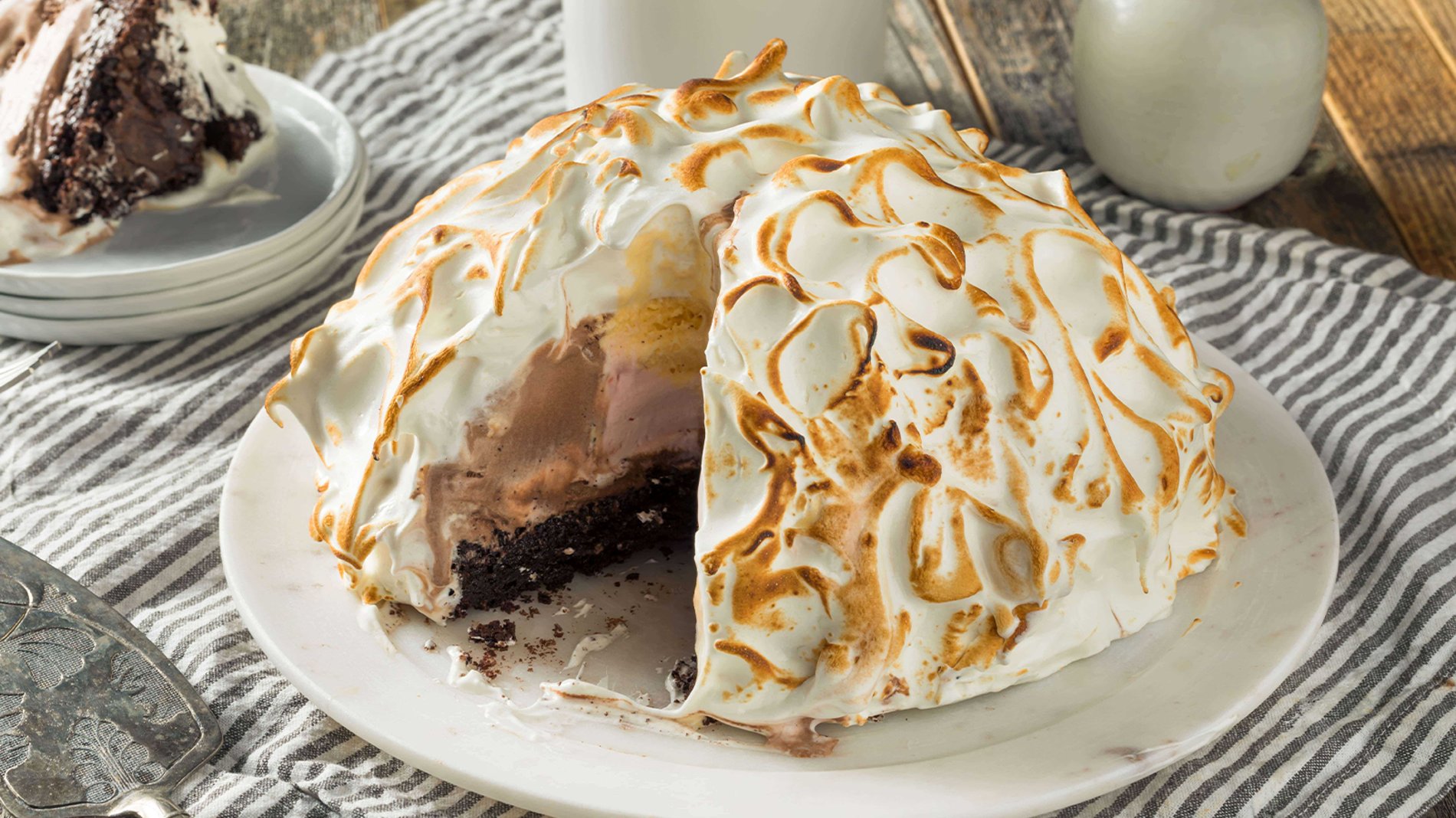 Baked Alaska parade: Everything you need to know (and more)
What is a Baked Alaska? And why is the Baked Alaska parade such a celebrated icon of the cruising world? We've undertaken the research, so you don't have to
A bit like the work of Charles Dickens and Edgar Allan Poe, the culinary Baked Alaska (sponge, ice cream and meringue) has transcended through our ages as a direct link to our cruising heritage.

Except, unlike the work of Dickens, Baked Alaska doesn't subject you to an almost irreversible coma.

Also known as a Bombe Alaska, Norwegian Omelette or Omelette Sibérienne, the Victorian dessert has long enjoyed its home-from-home aboard cruise ships – not that you can simply order the quirky hot-meets-cold masterpiece while aboard. Haha, no.

Rather, in line with an age-old tradition, devout serving staff parade the dessert – while it is literally on fire – around the dining room as guests wave their silky napkins, until a piece of edible magnificence gracefully materialises between the oh-so-fancy cutlery.

This onboard event is no retro-infused fad fashion, either. The marching of the dessert is here to stay, courtesy of origins lodged firmly within the annuls of history. Plus, who doesn't enjoy such a unique novelty as the Baked Alaska parade when experiencing a cruise?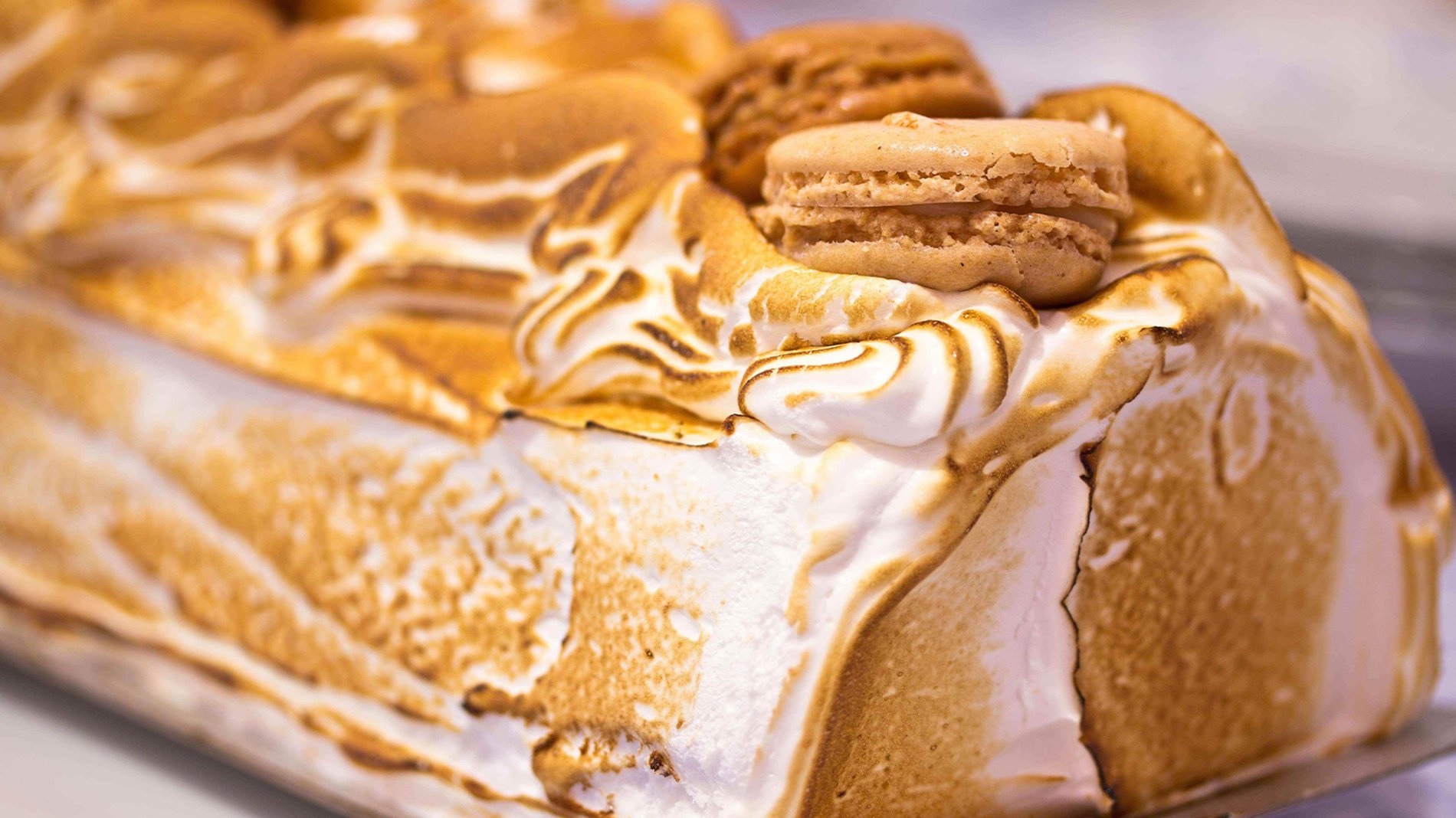 What exactly is a Baked Alaska?
The short answer to that question is: "Delicious."However, don't just take our word for it. The list of main Baked Alaska ingredients is enough to kick-start your salivary glands from a hundred paces.

Consisting of a sponge (or pound cake) base that supports an ice cream centre with a topping of meringue; the pudding holds enough textures, temperatures and flavours to propel your senses into the stratospheric heights of foodie bliss.

However, preparing Baked Alaska is no easy feat. Anyone who has tried their hand at constructing the dessert can tell you that.

Sure, making a sponge base and meringue topping doesn't require a degree from Mary Berry, but keeping that frozen centre intact – especially when alight and being showcased during the traditional parade – requires tactful skill and a steady hand. People would die, should I be tasked with leading the procession.

Just to defy science and annoy the Gods, Baked Alaska has to briefly enter a hot oven to brown the meringue and seal everything up.

Keeping that ice cream filling from dissolving while at 200 degrees (or aflame, which most of my cooking efforts usually are) sounds like witchcraft. However it's actually the delicious, delicious meringue which acts as insulation between the heat (often initiated with a blowtorch) and the icy dairy product beneath.

It's not just the holy trinity of food groups – sugar, dairy, fat – that you can taste, either. There's a hefty dollop of history within each spoonful. As we shall now demonstrate.

Who invented Baked Alaska?
Although some historians claim to have cracked the origin story, the pudding's inception remains murky. Contrary to what the desert's title may insinuate, Baked Alaska has nothing to do with drugs (even if the pudding is cocaine-like in its addictiveness).

Certain strands of research point to culinary inventor Charles Ranhofer, a chef in New York's famous Delmonico's (now a steakhouse under the same name), around the 1850s.

Ranhofer may have been the author of The Epicurean, an encyclopaedic cookbook from 1894 consisting of over 1,000 pages, but his magnum opus does not mention anything in relation to Baked Alaska, or even his own Alaska,Florida (the term Ranhofer used for his similar desert) to mark the combination of cold and heat.

The majority of researchers contest Ranhofer as the supposed creator, but do believe the title originated at Delmonico's in March 1876; to honour the acquisition by the U.S.A of Alaska from the Russian empire.

The first mention that we can find of Baked Alaska comes from Fannie Farmer's Boston Cooking – School Cook Book of 1896.

However, simply to complicate matters, a similar dish (known in France as a 'Norwegian Omelette') became credited to British physicist Benjamin Thompson, while others attribute the dessert to Antoine Alciatore – head chef at Antoine's of New Orleans (still owned and operated by fifth generation relatives as of 2023).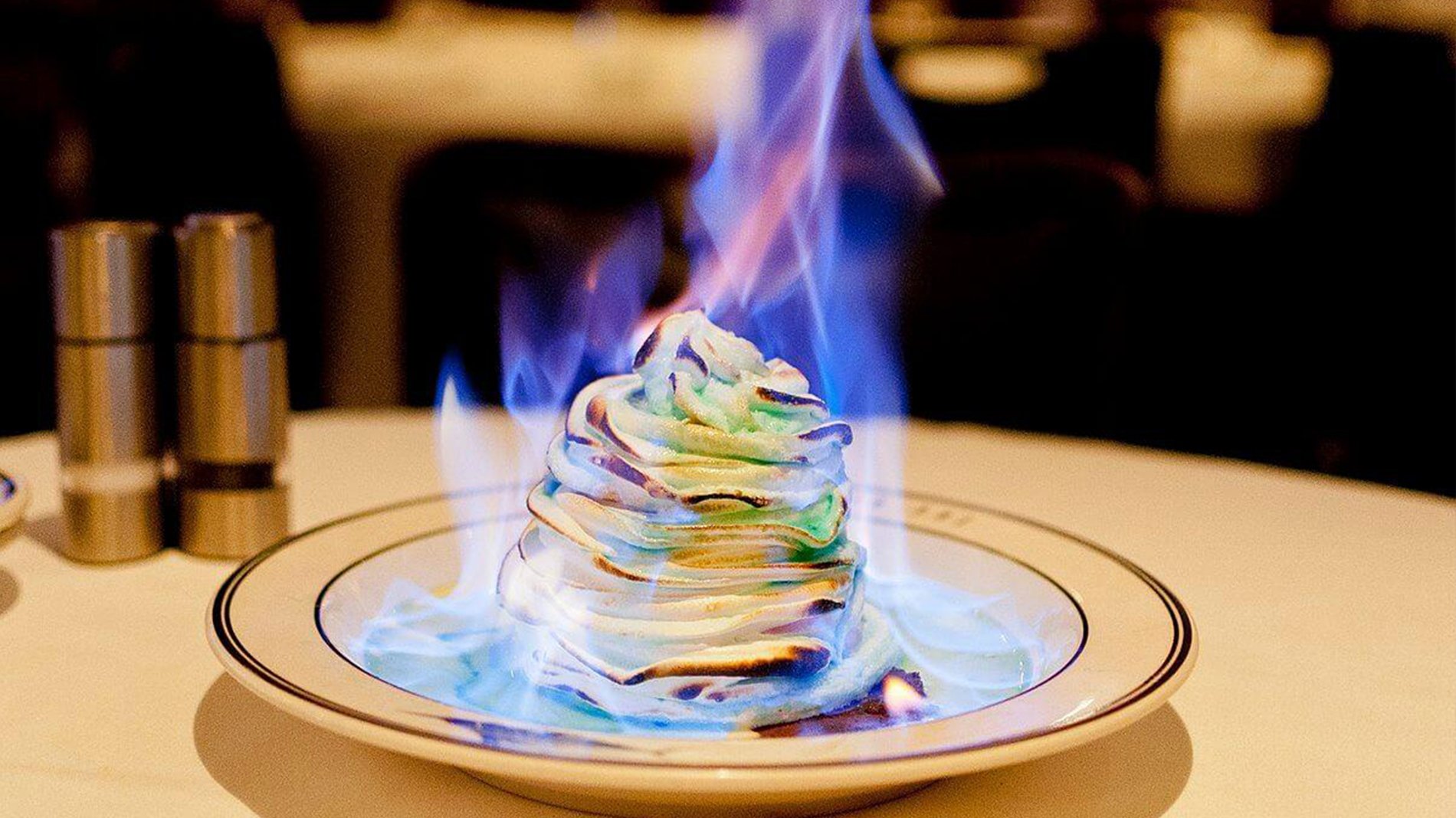 Baked Alaska parade: A history

All that backstory is great, but where does the cruise line association begin? Unsurprisingly, that question remains feverishly contested between historians.
As pointed out by CruiseMummy, the earliest potential mention relating to the Baked Alaska Parade comes from John Maxton-Graham's 1972 publication The Only Way To Cross.

Documenting the opulent grandeur of the bygone Transatlantic golden age, Maxton-Graham mentions a parade carrying combinations of ice and fire aboard the lucrative German steamship SS Amerika in 1905.

However, it wasn't until post-WWII years that the Baked Alaska parade became a firm staple of cruise-line tradition. The trail eventually goes cold when delving back into the history books, making it almost impossible to pinpoint the exact origins of the Baked Alaska parade.

With time's onward march, regular cruise passengers from the golden era are, sadly, no longer around to offer their experiences, but what we can ascertain proves the traditional parade continued through the retro eras of free love, flared trousers, bouffant hair, grunge music and into the modern day. Not that you'll find the Baked Alaska parade on every cruise.

A number of cruise lines felt the need to phase this tradition out as the 1990s progressed towards a new millennium, following a mantra of modernisation, spearheaded by the cruise industry's necessity for a younger demographic.

Traditional dining was largely scrapped and replaced with casual buffet-style arrangements, but also there was another factor at play. During the uprising of health and safety, there's evidence to suggest that blood-sucking lawyers and red-tape enthusiasts were keen to move away from parading flaming material between packed tables in a crowded dining area.
Let's be honest, in the eyes of those who want to get rich quickly, the lawsuits for receiving third-degree burns from an ice-cream desert (of all things) could be plentiful. Not that scouring the web has brought any such cases to the surface.

Although certain media outlets proclaim the Baked Alaska parade as an element best left in the past, most people disagree. Popular demand keeps the event alive onboard Ambassador, Cunard, Carnival, Princess and Holland-America Line cruises – to name only a few.

Throughout a dip in popularity, the likes of Carnival took the Parade off their schedule. Then, in 2017, the spectacle returned (to moans from some, and cheers from the likes of us) and has remained a primary fixture ever since.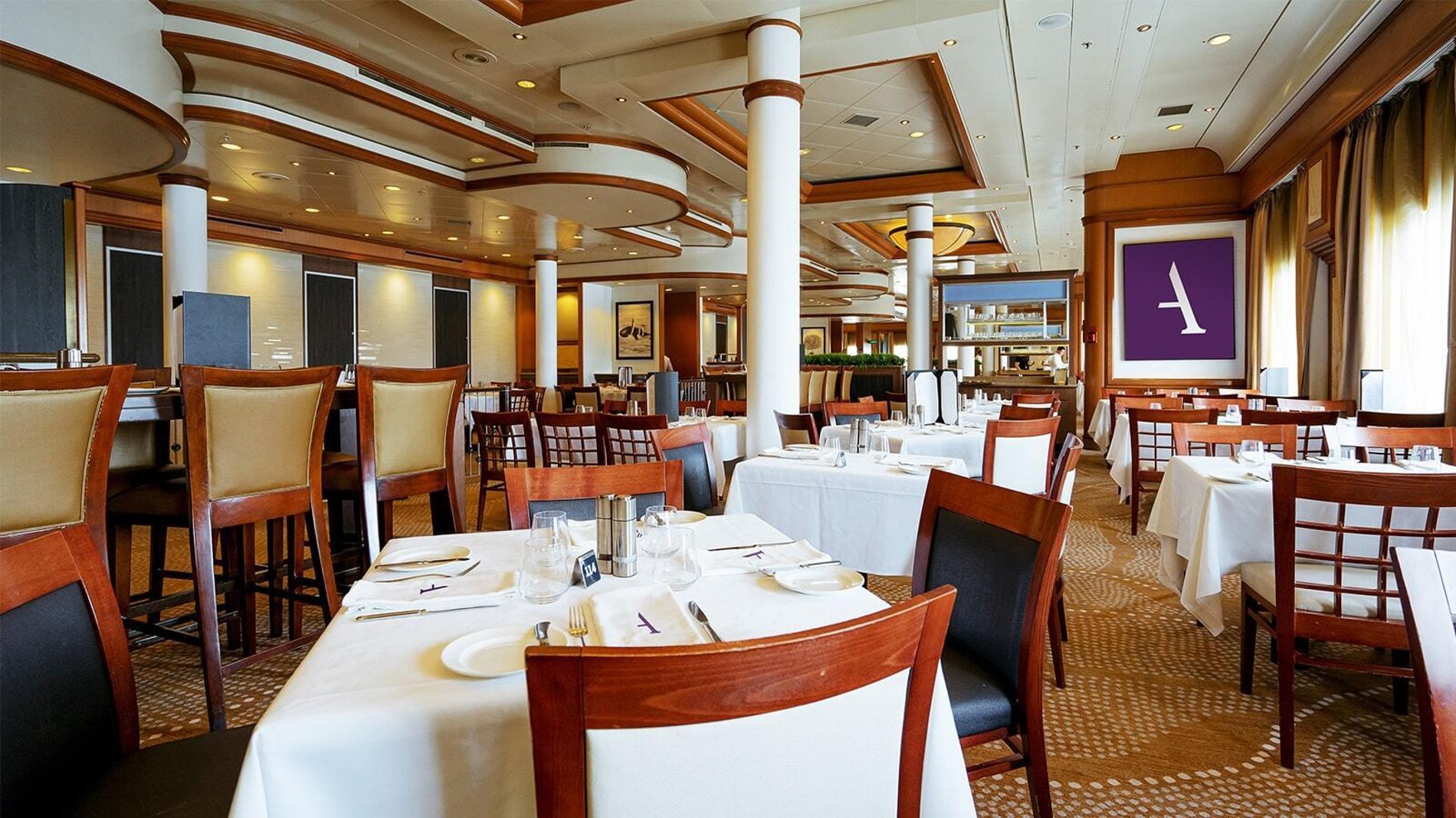 Why is the Baked Alaska parade on cruise ships?
The short answer is 'extravagance and spectacle'!

Baked Alaska gained popularity among the wealthy and the nouveau-riche alike, offering an impressive display to accompany the extravagance of Transatlantic travel. The dessert symbolised everything that high-class society yearned for – luxury, celebration, amazement, a sense of occasion; sentiments that still hang today.
As such, it was only a matter of time before the decadent pudding found a natural home-from-home aboard society's celebrated liners, especially in first-class and during Gala dinner events. That's the historical angle, but there's more to it than only that.

The Baked Alaska parade as it currently stands also serves as an opportunity for chefs and waiting staff to showcase their talents and expertise, and for diners to demonstrate their appreciation and gratitude through the waving of napkins. Sounds mad on paper, but the spirit of the event is beyond captivating. Seriously, don't knock it until you've tried it.

Not only that – it's pure entertainment! Taking a complex culinary creation and then marching around the dining room, with the dessert held aloft, only adds to the stately performance.

Modern-day Baked Alaska parades
There is one big difference between the contemporary incarnation and the age-old tradition, however, and that's the absence of fire. Modern-day Baked Alaska Parades opt for electric lights or sparklers, rather than the razzle-dazzle offered by fate-taunting méringue infernos.
For the parade that we witnessed aboard Ambassador Ambition, there were no lights atop the Baked Alaska – it was the riotous atmosphere and singing that lit up the room.

You won't find the Baked Alaska Parade every night, though. Almost like a rare (and delicious) Pokémon, you need to be in the right place at the right time – usually a formal gala dinner or the first/last night of a cruise.

As a final note, the soundtrack to accompany the parade can vary. CruiseMummy has identified Feeling Hot Hot Hot (by The Merrymen) as a firm favourite to kick-start the party atmosphere, but it's really down to each individual cruise line and the company's preferences.

For example, Ambassador opt to broadcast their theme – 'Best Value At Sea' (from Enjoy Yourself (It's Later Than You Think) – made famous by Jools Holland and as the theme to Simon Mayo's Drivetime radio show) – as the Baked Alaska parade is showcased to appreciative diners.

We'd heartily encourage finding a cruise where the Baked Alaska parade makes an appearance. Some people may view the event as a cringeworthy addition that should stay firmly in the past, but we disagree. As do the majority of cruisers who are largely aboard to soak up the experience and enjoy a culinary expose unlikely to be found elsewhere.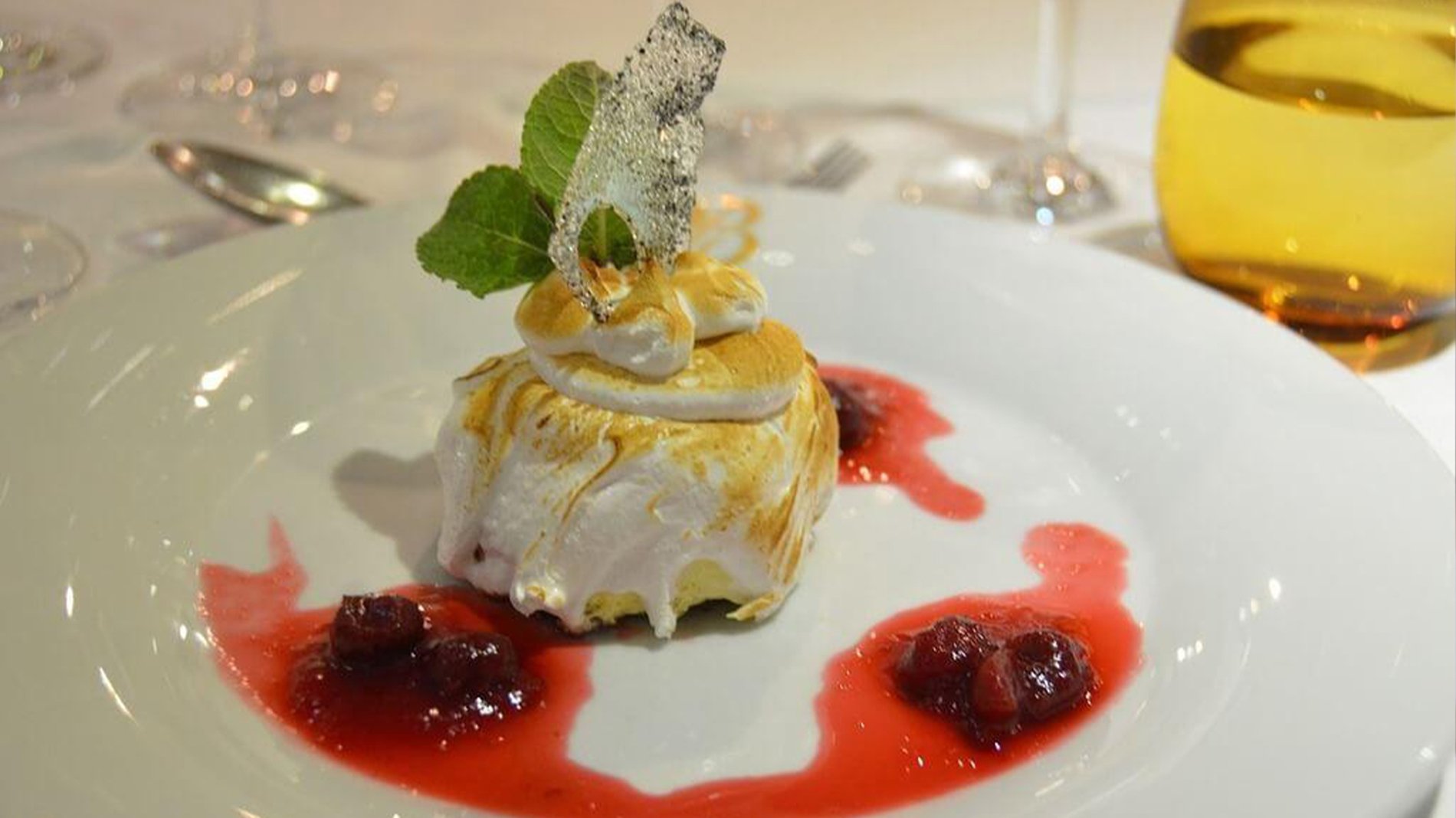 Follow us on socials