Search for your ideal Cruise
What is Tauck?
Tauck is a super-premium river cruise line offering small, intimate sailings on the waterways of Europe. The cruise line launched in 1992, offering luxurious and all-inclusive river cruises on the likes of the Danube, Rhine and Rhone, but also going away from tourist hotspot ports and off the beaten track. With many awards under its belt, the cruise line owns it when it comes to European river cruising, offering the usual sailings on the Rhine, Danube and Seine but also smaller, lesser-known waterways like the Maas, also offering exciting themed sailings to the likes of the Oberammergau Passion Play in Bavaria, wine sailings through the Rhone Valley and a car-themed itinerary – sailing from Budapest to Frankfurt.
Why choose this cruise line?
Tauck has been specialising in European river cruises since 1992 and has built up an enviable array of itineraries across Europe's rivers. These itineraries dive deeper than other cruise lines, offering unique shore excursions and sailings on the Maas – running through Belgium, France and the Netherlands. The cruise line offers a very luxurious experience, with all its ships custom-built and with sumptuous interiors and great facilities. Ships have seven categories of suite to choose from, and three dining options – the main dining room with open, relaxed seating, the speciality dining venue Arthur's and the chance to dine al fresco on the sun deck. Tauck ships typically carry under 100 passengers, so sailings are intimate and there's plenty of space on board.

find your perfect cruise
Cruising with Tauck
Tauck is all about the destination, specialising in offering river cruises in Europe and making sure each itinerary is exciting and unique. The cruise line regularly invites locals aboard the ship to have talks and demonstrations with guests, and offers tailor-made excursions and exclusive access to venues and attractions ashore. Such shore excursions include a private Imperial Evening at a palace in Vienna and a reception and dinner at Normandy's Château de Bizy. On board, Tauck offers a super-premium cruise experience, with all-inclusive fares and traditional, rich interiors – reminiscent of a luxury and traditional ocean cruise ship. While primarily aimed at adults, Tauck also runs special family river sailings, inviting families and multi-gen groups to cruise together.
Who should travel with Tauck?
Tauck appeals most to intrepid explorers, and perhaps cruisers who have done Europe's waterways before, and are now looking to do even deeper and explore even more ashore. Due to its high price point, most travellers are older or retired, with couples and small groups of friends a regular sight on board. The cruise line often runs family-friendly itineraries, which are advertised as such, inviting families with children and multi-gen groups to enjoy a river cruise. Enthusiasts will also love this cruise line, thanks to its themed cruises, and it's also great for passengers who want all-inclusive value – with food, drinks, shore excursions, wi-fi, gratuities and use of cycles to explore ashore all included.
Tauck destinations
Tauck operates on the waterways of Europe, taking travellers to favourites like the Danube, Rhine, Main, Moselle, Rhône and Seine, but also lesser-known waterways like the Maas and Saône. The cruise line also operates on Portugal's golden Douro river – the home of the port wine industry – and offers themed sailings to Christmas markets and special events happening in Europe, such as the Oberammergau Passion Play.

A Rhone cruise takes you to historic Avignon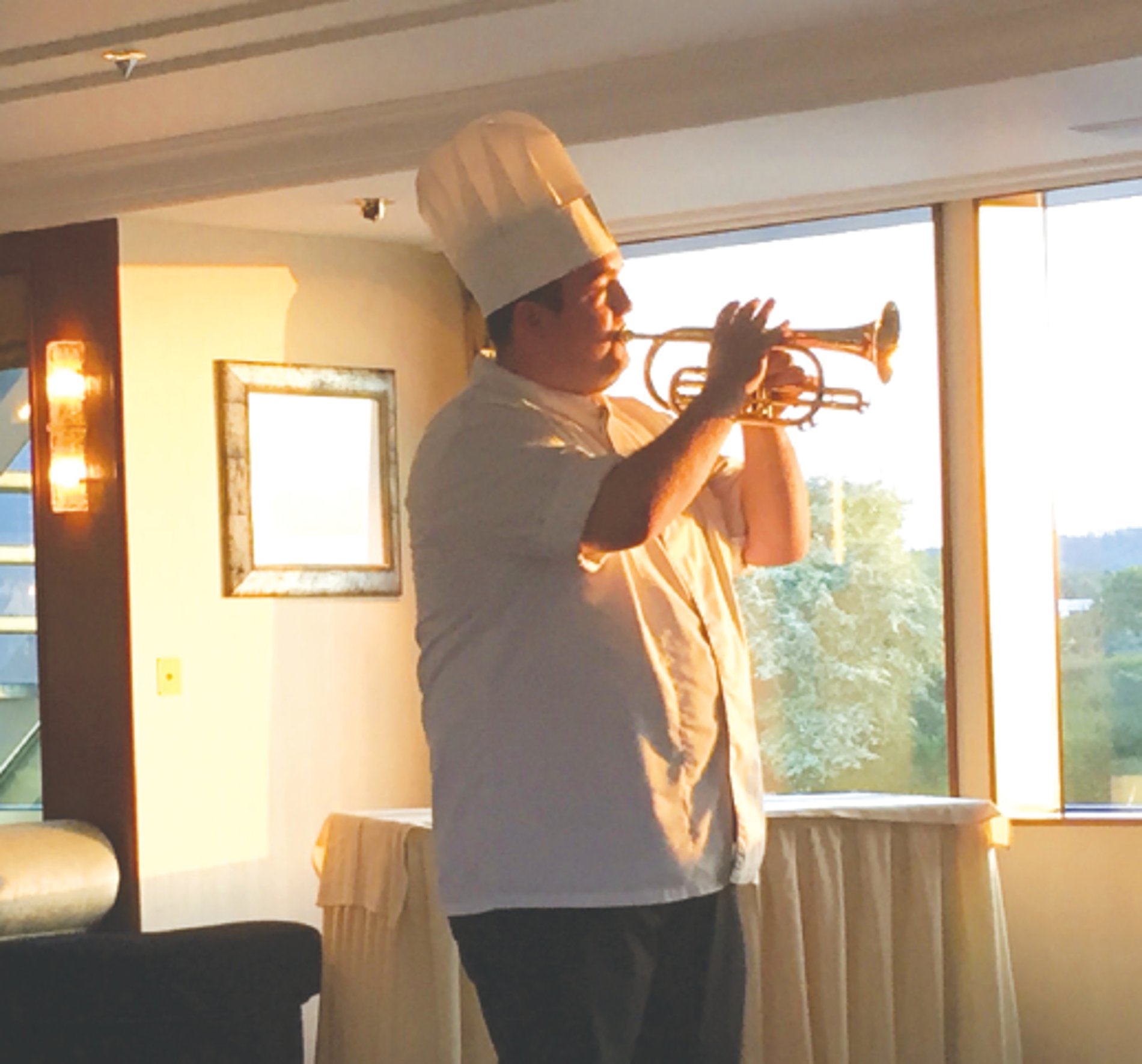 MS Sapphire provides a glamorous setting for Gavin's skills – culinary and musical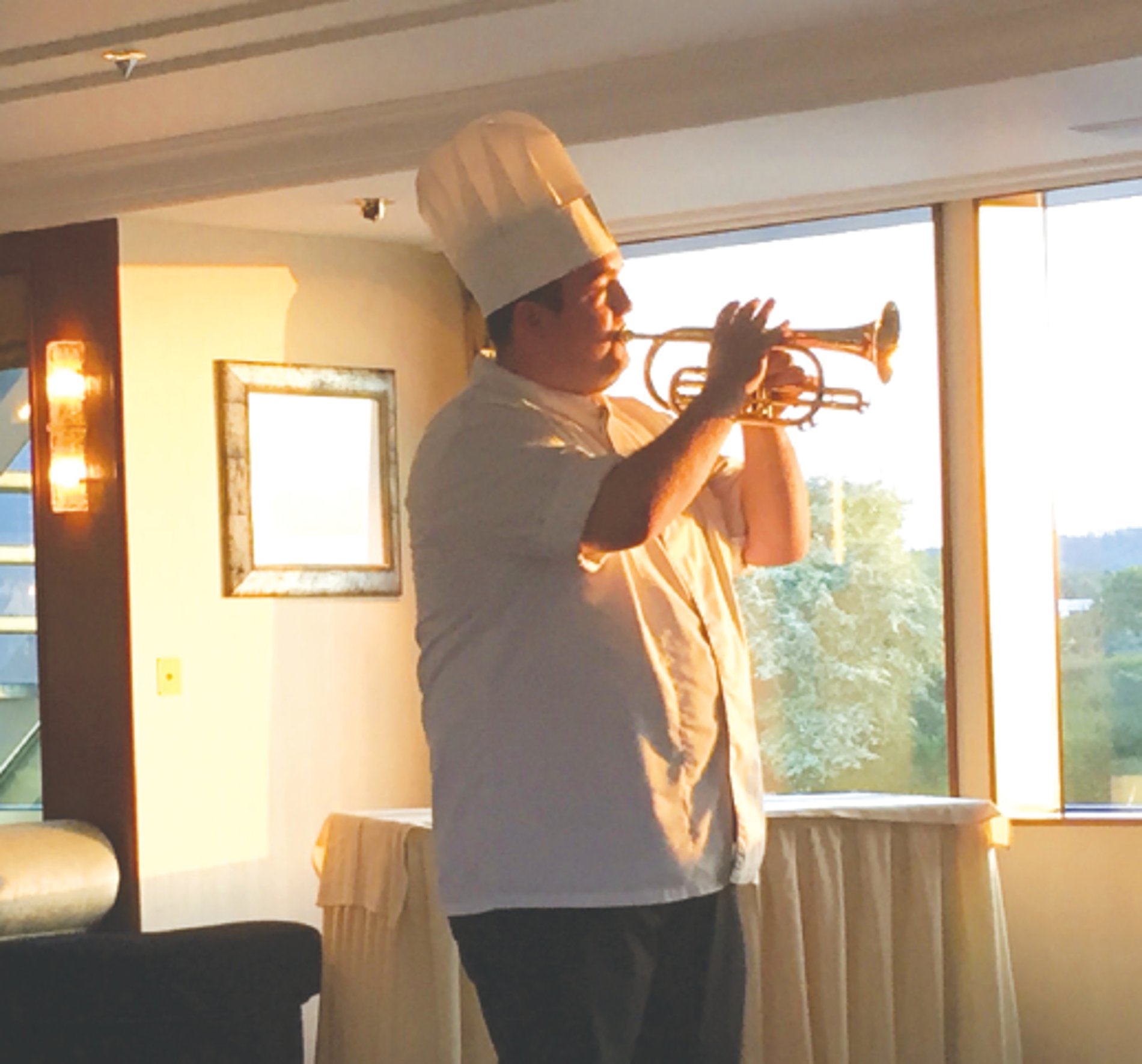 Cruise inclusions
Cruising with Tauck is all-inclusive, and passengers get transfers, full-board dining and drinks (alcoholic, soft and hot) and shore excursions included in their cruise. Other complimentary perks include unlimited wi-fi, gratuities and use of the ship's fleet of bicycles for independent shoreside exploration.
Unique selling points
Uncommon Access
Enjoy exclusive access to behind-the-scenes cultural experiences on included shore excursions. Immerse yourself in each destination, experiencing Europe the way it was meant to be enjoyed.
Personalised Service
With the most staff onboard any European riverboat, and with 118 to 130 guests on board, passengers are treated as individuals, enjoying personalised service and attention throughout their river cruise.
Intimate Guest Experience
Travel with like-minded passengers in a club-like atmosphere; Tauck ships have the most 300 square feet cabins of any European cruise ship, wood and marble fittings, and multiple dining options.
Great Value for Solo Travellers
Solo travellers can enjoy special saving in category one cabins. With no single person supplements on European river cruises, Tauck offers a cost-effective solo river cruise experience.