Search for your ideal Cruise
Why cruise on this ship?
Enjoy luxury cruises on the Nile on board The Oberoi Zahra. On a seven night cruise, guests will discover ancient monuments, magnificent temples and five thousand years of Egyptian culture, in supreme style and comfort. While on board the cruiser, guests can also enjoy traditional dance and music performances.
Those looking for luxury cruise dining on Egypt's River Nile will be delighted by the restaurant and lounge on board The Oberoi Zahra. Large windows frame panoramic River Nile views; the perfect accompaniment to our daily changing, a la carte menu.
find your perfect cruise
Dining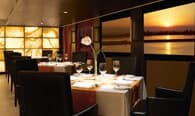 The Resturant
Breakfast and lunch buffets as well as à la carte dinners are served daily.
à la carte lunch is served instead of buffet when the number of guests on board is less than 20 persons
Features
Experience: Cover
Food type: Fusion
Entertaining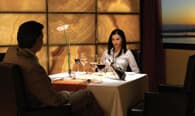 Club Lounge
The Club Lounge serves drinks, high tea and hosts two cocktail receptions with live music and a Nubian performance during each cruise. Guests may also enjoy backgammon, chess, scrabble or cards in the comfortable chairs here.
Health and fitness
Coming Soon
Kids and teens
Coming Soon
Accommodation
With just twenty-seven Luxury Cabins and Luxury Suites, The Oberoi Zahra offers some of the most spacious and private accommodation on the River Nile.
Furnished with king-size or twin beds, topped with 12" mattresses and offered a bespoke pillow menu that caters for personal preferences and sensitivities, our Luxury Cabins and Luxury Suites are supremely comfortable.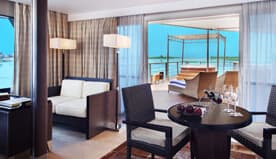 Luxury Suites
Spanning 538 square feet (50 square metres), our Luxury Suites are some of the most expansive residences on the River Nile. They feature a magnificent master bedroom, a living room, a private terrace and a spectacular marble bathroom. Large windows fill this suite with panoramic views of the River Nile.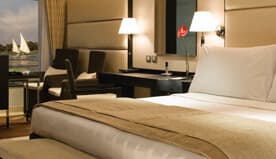 Luxury Cabins
Luxury Cabins span 284 square feet (26.4 square metres) and are furnished with a king or twin size bed, smart writing desks, plush armchairs and a polished wooden coffee table, at which guests can enjoy drinks and snacks from their personal bar. All cabins afford panoramic views of the tranquil River Nile.
Deck plans

Deck A

Deck B

Deck C

Deck D

Deck E