Why cruise on this ship?
Climb aboard the decks of Oberoi Zahra for a cruising experience you'll never forget...


Dining
Those looking for luxury cruise dining on Egypt's River Nile will be delighted by the restaurant and lounge onboard Oberoi Zahra. Large windows frame panoramic River Nile views; the perfect accompaniment to our daily changing, a la carte menu.

The restaurant aboard Oberoi Zahra is a sophisticated, elegant, all-day dining space. Large windows offer natural light and panoramic views of the River Nile during the day. In the evening, it is warmly-lit by a bespoke, backlit alabaster wall panel and glowing orange lamps.

Restaurant
Enjoy international cuisine with views of the passing Nile "The Restaurant." Oberoi Zahra's main dining room for breakfast. lunch and dinner serves quests international cuisine from a daily changing a la carte menu. Offering unparalleled views of the River Nile and an abundance of natural light, "The Restaurant" is an intimate experience both day and night.

Features
Experience: Cover
Food type: Varies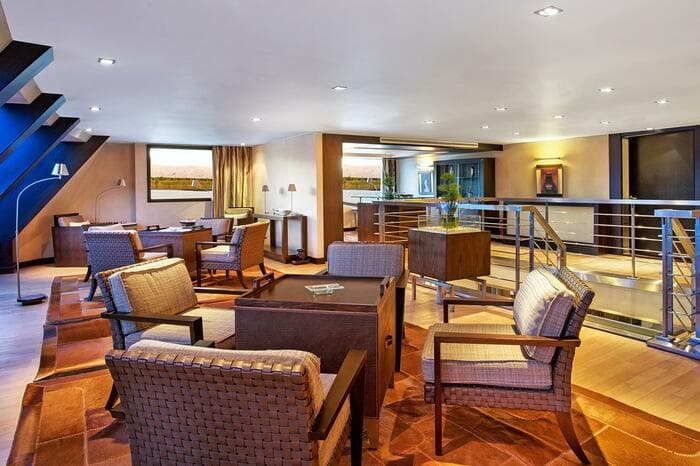 The Library and Cigar Lounge
For your comfort and convenience...
After a long day exploring the wonders found along the banks of the Nile, there is no better place to unwind and relax than Oberoi Zahra's Cigar Room and Library. Open 24 hours a day. this space is perfect to enjoy a drink and some conversation with fellow passengers or bury your nose into a good book.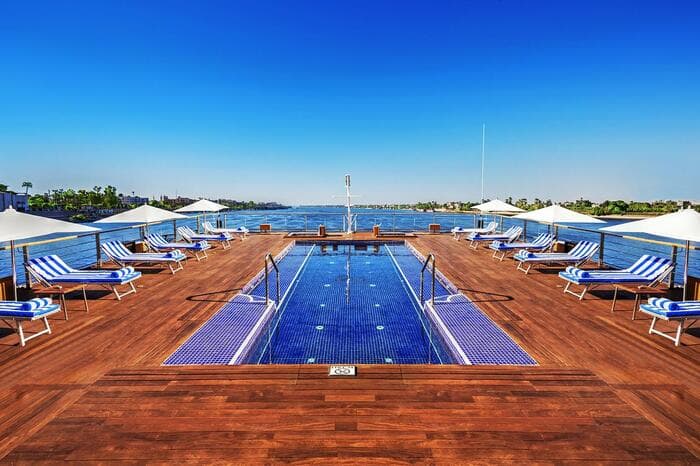 Pool
Take in the sun... or dive in the pool...
Enjoy a swim in the temperature controlled pool or relax with a cool drink and a snack in a lounge chair as surrounding views of the Nile pass you by at every moment
Health and fitness
The Oberoi Spa onboard Oberoi Zahra offers Oberoi signature therapies, Balinese, Thai and Western treatments. The ship also features a fitness center and an open air, temperature controlled swimming pool (36 feet/11 metres long).
Accommodation
With just twenty-seven cabins and suites, Oberoi Zahra offers some of the most spacious, private accommodation on the River Nile. All offer complimentary high speed Internet for up to four devices and Nile views.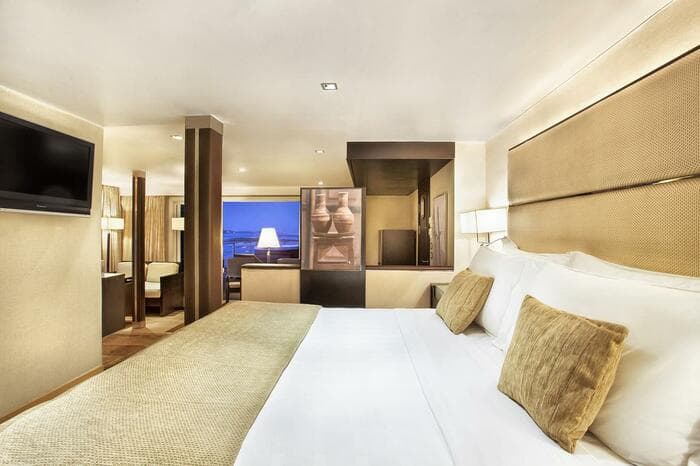 Category D - Luxury Suite | Deck D
Suite Dimensions:
538 square feet (50 square metres)
Private Balcony:
Yes
Stateroom Furnishings:
magnificent master bedroom, a living room, a private terrace and a spectacular marble bathroom
Private Bathroom:
Yes, with shower
Bathroom Amenities:
Egyptian tile mosaics, glass-paneled rainfall shower, speaker connected to TV, hair dryer, panoramic views
Stateroom Amenities:
42" LCD television in the living room, a 32" LCD television in the bedroom, DVD/CD players, in-house movie collection, high speed WiFi, a speaker phone, a data port, a personal bar, electronic safe
Features
King or Twin Configuration
Lounge Area
Room Service Available
TV
Media/Entertainment Station
Safe
Hair Dryer
Telephone
Desk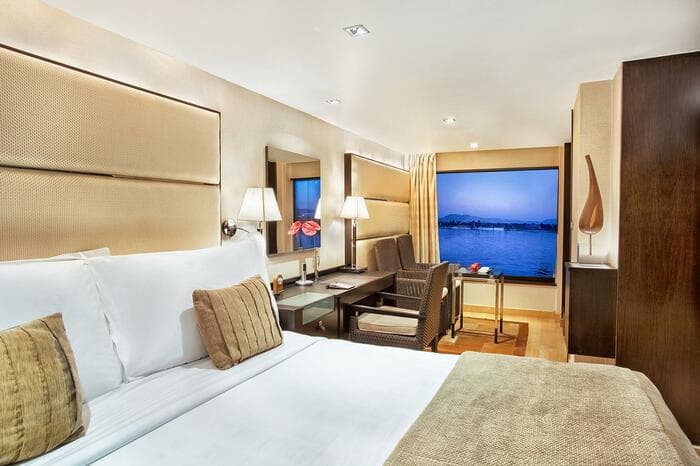 Category C - Luxury Cabin | Deck D
Suite Dimensions:
284 sq. ft. (26.4 sq m.)
Private Balcony:
No
Beds:
King or twin size bed
Stateroom Furnishings:
Smart writing desks, plush armchairs, polished wooden coffee table
Private Bathroom:
Yes, with shower
Bathroom Amenities:
Egyptian tile mosaics, glass-paneled rainfall shower, speaker connected to TV, hair dryer, panoramic views
Stateroom Amenities:
32" high definition, LCD television, a CD/DVD player, high speed WiFi, a dual-line speaker phone, a data port, electronic safe, fully stocked personal bar, tea and coffee making facilities
Features
King or Twin Configuration
Shower
Room Service Available
TV
Media/Entertainment Station
Safe
Hair Dryer
Telephone
Desk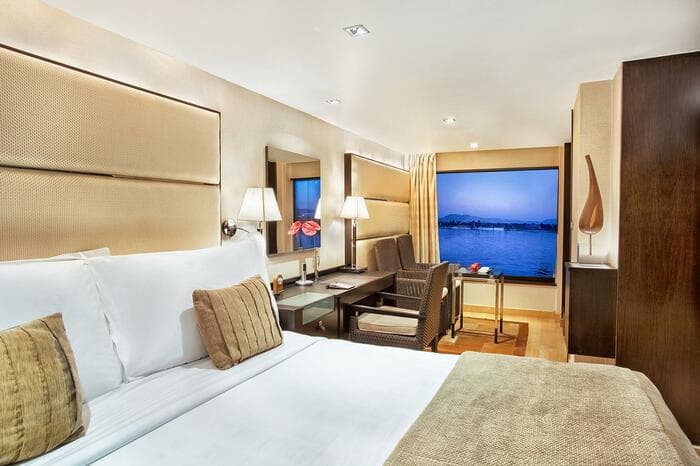 Category B - Luxury Cabin | Deck C
Suite Dimensions:
284 sq. ft. (26.4 sq m.)
Private Balcony:
No
Beds:
King or twin size bed
Stateroom Furnishings:
Smart writing desks, plush armchairs, polished wooden coffee table
Private Bathroom:
Yes, with shower
Bathroom Amenities:
Egyptian tile mosaics, glass-paneled rainfall shower, speaker connected to TV, hair dryer, panoramic views
Stateroom Amenities:
32" high definition, LCD television, a CD/DVD player, high speed WiFi, a dual-line speaker phone, a data port, electronic safe, fully stocked personal bar, tea and coffee making facilities
Features
King or Twin Configuration
Shower
Room Service Available
TV
Media/Entertainment Station
Safe
Hair Dryer
Telephone
Desk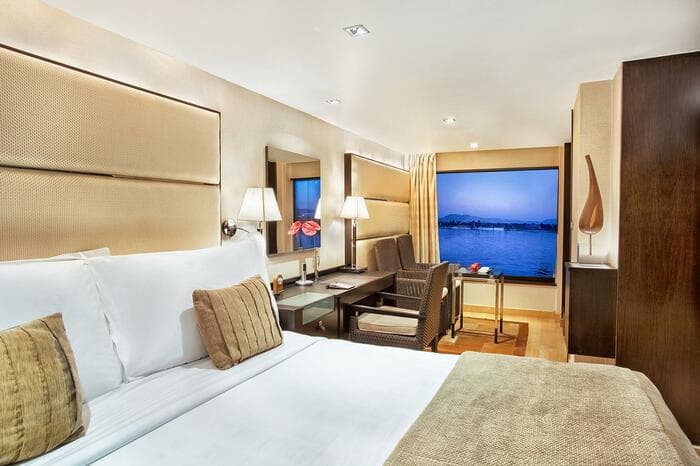 Category A - Luxury Cabin | Deck B
Suite Dimensions:
284 sq. ft. (26.4 sq m.)
Private Balcony:
No
Beds:
King or twin size bed
Stateroom Furnishings:
Smart writing desks, plush armchairs, polished wooden coffee table
Private Bathroom:
Yes, with shower
Bathroom Amenities:
Egyptian tile mosaics, glass-paneled rainfall shower, speaker connected to TV, hair dryer, panoramic views
Stateroom Amenities:
32" high definition, LCD television, a CD/DVD player, high speed WiFi, a dual-line speaker phone, a data port, electronic safe, fully stocked personal bar, tea and coffee making facilities
Features
King or Twin Configuration
Shower
Room Service Available
TV
Media/Entertainment Station
Safe
Hair Dryer
Telephone
Desk
Deck plans

Deck E

Deck D
Category C Luxury Cabin
Category D Luxury Suite
Jacuzzi
Fitness Center
Toilets
Spa
Reception
Shop
Foyer
Lift

Deck C
Category B Luxury Cabin
Foyer
Toilets
Lift
Library
Cigar Lounge

Deck B
Category A Luxury Cabin
Lounge
Reception
Theater

Deck A