Search for your ideal Cruise
Why cruise on this ship?
Custom-designed by our long-time partner Scylla to accommodate no more than 84 guests within an innovative deck plan featuring 12 300-sq. ft. Tauck Suites and 20 225-sq. ft. cabins, this brand-new 80-meter (263-foot) riverboat was specifically built for cruising amidst the historic quintas and picturesque villages along Portugal's golden Douro River.
find your perfect cruise
Dining
Tauck's "free choice" dining allows you to eat many of your meals when you want and with whom you want. Special occasion dinners are held as group functions, and lunches that are included during group sightseeing excursions are often held in a group setting.
Most meals are included on Tauck journeys. Dining is a delightful and integral part of the Tauck experience – and that is why Tauck selects restaurants that offer a true taste of each region you visit. Some meals are full a la carte, some may be limited a la carte, and some may be from a set menu or buffet.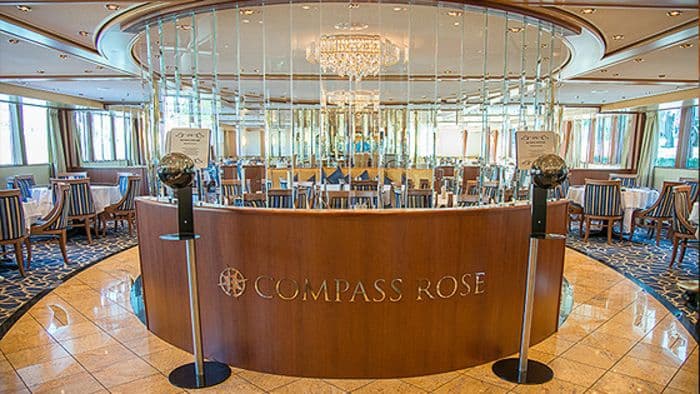 Dining Room
Dine on fine, freshly prepared cuisine with regional wines and beer included at lunch and dinner onboard, with attentive, friendly service – plus regional treats and tastings – as you enjoy great views of the passing scenery in this panoramic main dining room.
Features
Experience: Complimentary
Food type: Regional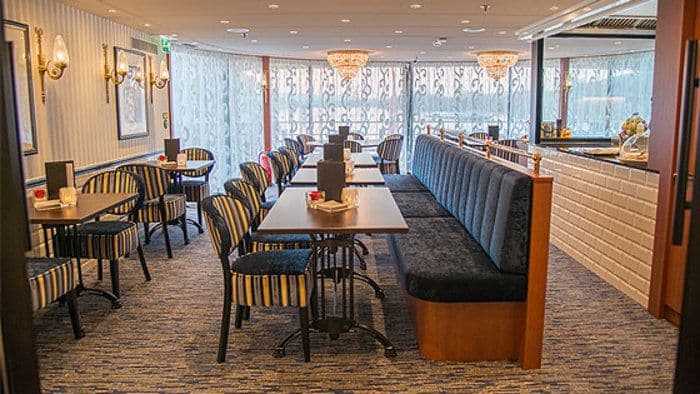 Arthur's Bistro
The gracious aft lounge in the stern of your riverboat sports an innovative 180° curved glass wall that opens to the fresh air (weather permitting) – and doubles as a second dining venue featuring classic favourites and lighter fare.
Features
Experience: Complimentary
Food type: Casual
Entertaining
Onboard entertainment includes enrichment lectures, piano music nightly, in-room movies, culinary demos, local entertainment and "themed" fun.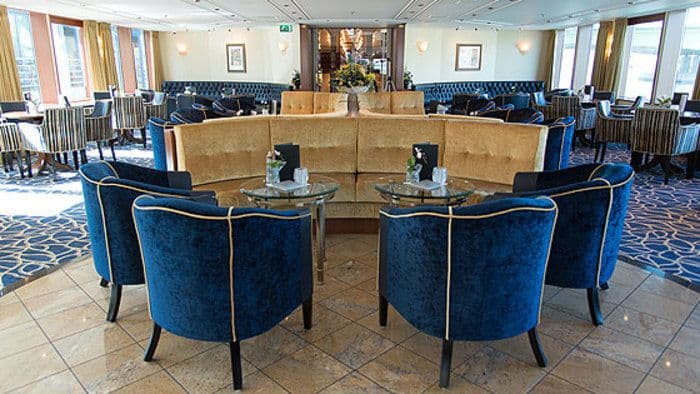 Panorama Lounge
Whether you're looking to make a gala night ashore last just a little longer after your return to the riverboat, swap stories of the day's adventures, or enjoy a nightcap with new friends you just met at dinner, the lounge is a perfect place to kick back and relax.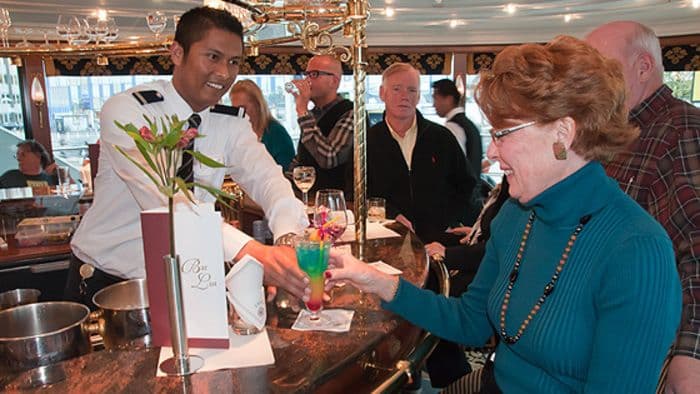 Lido Bar
The gracious aft lounge in the stern of your riverboat sports an innovative 180° curved glass wall that opens to the fresh air (weather permitting).
Enrichment
You will find that the main enrichment onboard will be lectures. However, when you step off the ship, local experts eagerly await to show you around the call-in area.
From spending a morning exploring ruins of Roman amphitheatres, to enjoying a glass of pastis and a game of pétanque with the locals, the local experts will show you the best and most interesting sights arounds.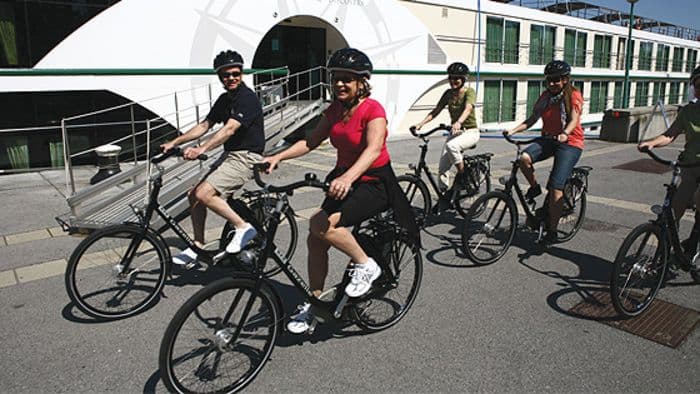 Onboard Bicycles
Looking for something different during free time ashore? Your Tauck riverboat is equipped with bicycles that you and your companions can use for independent exploration along the riverside, past lush vineyards, through a historic village or wherever your heart takes you.
Health and fitness
Facilities include a Fitness centre, massage room, hairdresser, putting green on Sun Deck, whirlpool on Sun Deck – available 24 hours. Bicycles are also available aboard for use ashore.
Fitness Centre
Stay in shape throughout your cruise by making workout sessions in our onboard fitness centre a regular part of your shipboard routine. The riverboat's compact, efficient gym features treadmills, stationary bicycles, weights, stretch bands and yoga mats.
Kids and teens
There are no dedicated Kids & Teens facilities onboard. However, the bond between children and adults as they experience the world together makes for special memories that last lifetimes. It is for that reason that the line created 'Tauck Bridges' – journeys for the whole family to enjoy together. Each of these kid-friendly family oriented journeys has a minimum recommended age rating to encourage comfort and enjoyment for all guests. Tauck Bridges itineraries are not recommended for children under 3 years of age. All children on Tauck journeys must be accompanied by a parent or guardian.
Deck plans

Sun Deck
Putting Green
Whirlpool
Lounge Chairs

Diamond Deck
Arthur's
Category 7 Suites
Category 5 Cabins
Category 3 Cabins
Panorama Lounge
Bar
Boutique

Ruby Deck
The Compass Rose
Kitchen
Engines
Category 6 Cabins
Category 4 Cabins

Emerald Deck
Category 2 Cabin
Category 1 Cabins
Engines
Crew Quarters
Spa
Fitness
Massage