Search for your ideal Cruise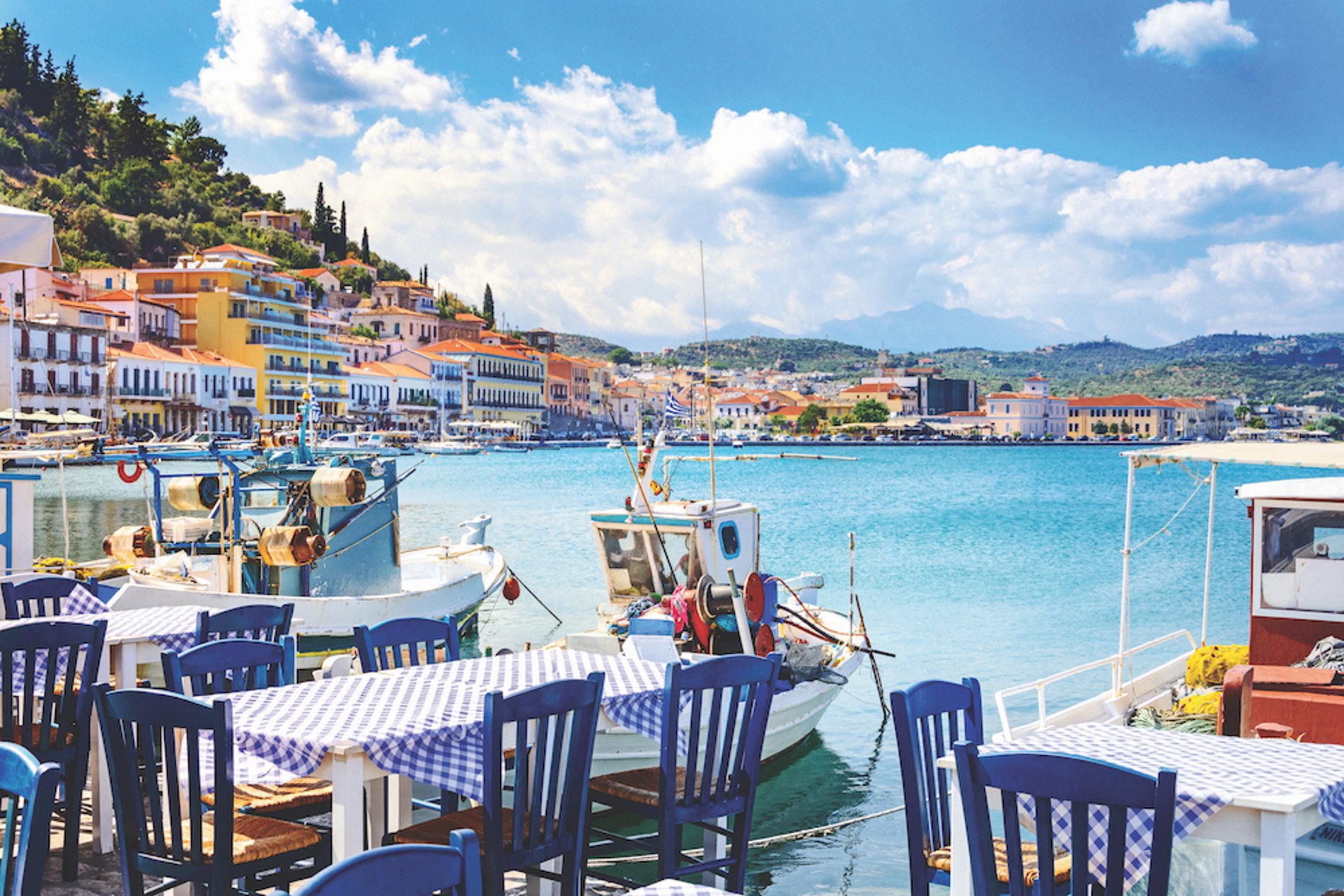 Cruise Review: Sailing On A Greek Islands Cruise Post Covid-19
Variety Cruises was one of the first cruise lines to make a post-Covid comeback, offering idyllic Greek island-hopping sailings this August
For six months I'd been dreaming of the moment that every cruise fan treasures – standing on deck as the ship edges out of port, the wind and waves picking up, a week of adventure stretching ahead. My wish finally came true in late August as I boarded Variety Cruises' three-masted motor yacht, Galileo, for an idyllic Greek islands cruise.
Captain Yiannis set a course for the island of Aegina and sounded the horn. As the sprawl of the Greek capital faded into the distance, I felt liberated from all the misery of the past few months. Privileged, too, because Galileo was the only cruise ship sailing the Aegean.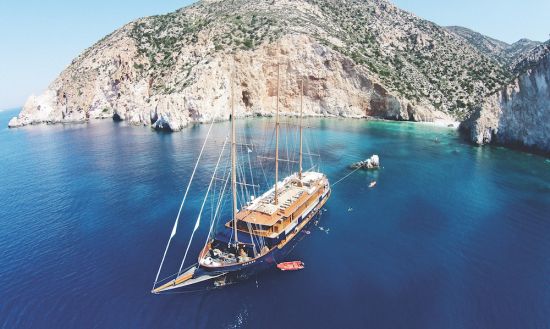 One of the first cruise lines to make a post-Covid comeback, Variety offers week-long Greek islands cruises aboard Galileo to the Cyclades, mixing ever-popular islands such as Santorini and Mykonos with the lesser-known Folegandros, Antiparos and Syros. But on our sailing, strong winds forced a late change of plan: instead of the islands, we were to circle the Peloponnese, that four-fingered peninsula to the west of Athens.
All fine by me. After everything that has happened this year, frankly anywhere in Greece would have filled me with joy. Better still, the Peloponnese is much less touristy than Mykonos, with deserted coves for swimming, and lovely old towns like Nafplion and Pylos to explore, as well as legendary sites like Epidaurus, Olympia and Delphi, the fortress town of Monemvasia and the wild scenery of the Mani peninsula.
Being back at sea felt familiar but different, with new rituals to get used to, even before we stepped on board. There's a strict track-and-trace form for Greece, for a start, which sends you a QR code at midnight on your day of travel. Get anything wrong and you're not even allowed to board the plane, so it's important to be organised.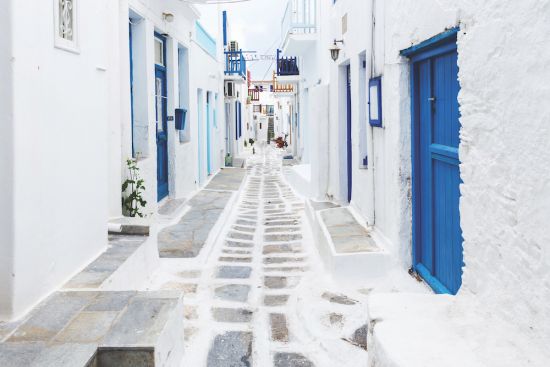 Passengers from each flight are selected at random for Covid testing, and the results take 24 hours, so we all had to arrive a day early. I booked a hotel, the Amarilia in Vouliagmeni, as August is too hot for traipsing round Athens. Nobody from my family was tested, but having time to relax before embarkation was surprisingly pleasant as we swam in the sea, drank cold beers and tucked into fresh fish at a waterfront taverna.
Galileo is an atmospheric little ship, designed for outdoor living, with a spacious sun deck shaded by a large canvas, and an alfresco bar on the aft deck that wouldn't be out of place on a private yacht. There's a dining room large enough for social distancing, and comfortable, wood-panelled cabins with plenty of storage space. Ours opened on to a wraparound deck, and sometimes I'd just sit in my doorway, reading a book and half watching the waves. The crew hoist the sails most days, though I suspect they're more for effect than propulsion
Anti-Covid measures were thorough, but not too irksome. Variety Cruises issued everybody with navy cotton facemasks to wear around the ship, there were hand-sanitisers everywhere, and a cleaning system called Pure Space. The size of a small vacuum cleaner, it disinfects the air and all surfaces using antimicrobial vapour. A second machine treats every space on board with bug-busting ultraviolet light.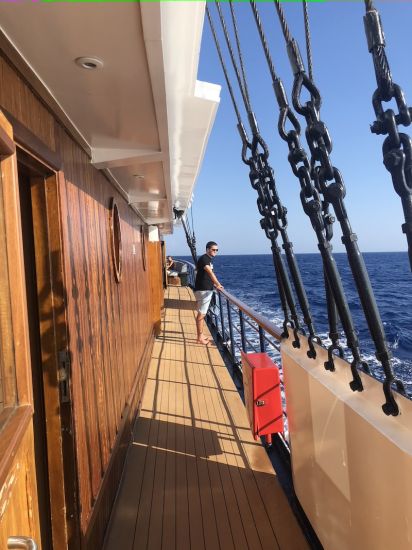 Every day, we were health-checked. I'd be enjoying my morning coffee on deck as first officer Vasso made her rounds with a clipboard. She'd point a digital thermometer at my head, and a quiet bleep would tell her my temperature was fine. I'd then place my finger in a device that checked my blood oxygen. A satisfactory score, a squirt of hand sanitiser and she'd move on to the next passenger.
Social distancing turned out to be easy, as there were only 31 of us on board, instead of a possible 49. Fellow passengers were from Switzerland, Austria, France, Spain and Greece, mainly in their 30s or 40s. We were the only Brits; in fact, the whole time in the Peloponnese, I didn't hear another British accent.
For the most part, our days began with a leisurely breakfast, followed by swimming, snorkelling and paddle-boarding in the morning, then lunch on board and lazing on deck as Galileo sailed into the evening's port, where we would go ashore to explore and find somewhere for dinner.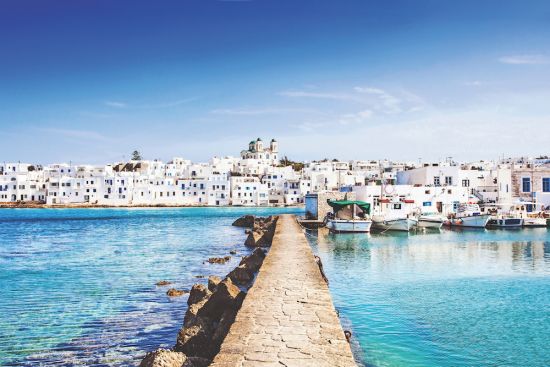 Other times we would jump off the gangway into the indigo water, the shadows of the seabed visible 30 feet below, or whizz ashore in the ship's RIB boat to empty beaches – a half-moon of sun-bleached pebbles at Fokianos; a long strip of pinky-white sand, protected by dunes, on Elafonisos island, the water an astonishing shade of aquamarine.
With so many enticing little ports, each liberally scattered with fabulous tavernas, Greece is perfect for a half-board cruise. The Peloponnese is cheaper than the islands, too: a feast of dips, salads, garlic prawns, stuffed squid and chicken souvlaki, with an unseemly amount of local wine, cost us just £25 each. Most tavernas were busy – weekending Athenians piling off the ferry in Aegina, families out strolling late at night – but not too crowded, with social distancing protocols observed.
Sightseeing highlights were almost too many to list. Nafplion is gorgeous – all polished stone squares and grand old houses with colourful shutters. At Monemvasia, a medieval walled village clinging to a slab of rock, we climbed to the 800-year-old ruins of the upper town, gazing out over a cobalt sea. Gythio brought another chance to burn some calories with a sunset stroll to the marble lighthouse, perched on a pine-wooded islet where, according to Homer, Paris and Helen consummated their relationship before running off to Troy and igniting the Trojan War.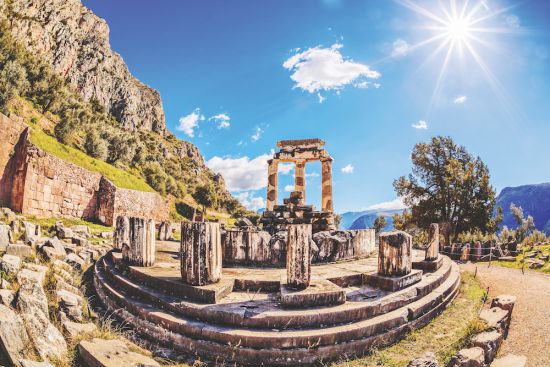 I loved the port of Pylos, guarded by a hulking Venetian castle and built around a pretty square, shaded by plane trees and surrounded by pastel-coloured houses. Our visit here coincided with party night on board, and at sunset the crew produced shots of ouzo and platters of grilled octopus on the top deck, as a local troupe performed folk dances, culminating in the obligatory Zorba the Greek. We were encouraged to join in – easy after a few ouzos – and the dancers were clearly thrilled to be performing for the first time since February, though always diligent about keeping their distance.
While we mostly dined ashore, the meals we did take on board were exceptional. Practically everything was authentically Greek, from flaky spinach pie to fresh sea bass, garlic mussels, prawns cooked in ouzo, fried courgette balls and squid, as well as a splendidly sticky baklava. There's no self-service, of course; waiters in gloves and transparent plastic visors serve for you, far too polite to raise an eyebrow when you ask for thirds.
It was a wonderfully happy week, though we couldn't ignore the evidence of what Covid is doing to the Greek economy. The town of Katakolon exists mainly as a jumping-off point for Olympia, large ships usually lining its jetties. At the time of our visit, almost all the shops had their shutters down. A couple of tavernas were still open but largely empty. It was a depressing scene.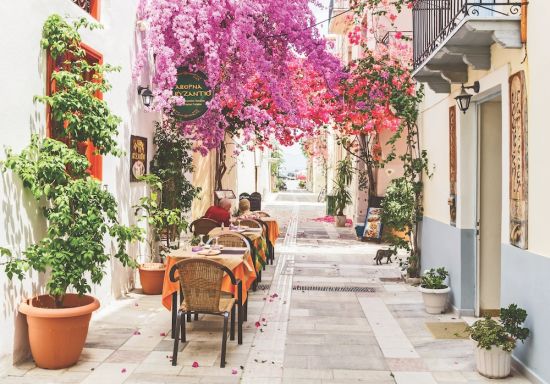 You could argue that the lack of tourists is a bonus. I was certainly delighted to be exploring the ruins of Delphi in the soft light of early morning, with only the breeze in the pine trees and the chirping of cicadas for company, not a selfie stick in sight. But this, of course, isn't going to help the recovery. And with the situation in Europe so volatile, and countries introducing quarantine regulations with little notice, it's hard to see how the travel industry is going to revive with any speed.
To go on this Greek islands cruise at all, my family and I had to disregard the UK government's advice – but then the Foreign Office does not distinguish between a tiny ship like Galileo and a 6,000-passenger behemoth. Insurance, thankfully, wasn't a problem, with several companies offering cover for those travelling against FCO advice (a week's worth for the four of us cost just £73).
Even so, I suppose you could argue that we took a risk. But all travel is risky, and I felt far safer aboard Galileo than I would have done on a packed staycation in Britain. Was it worth it? Absolutely.
Ship facts
49 passengers, 18 crew, 4 decks, 24 cabins, 1 restaurant.
Get on board
Variety Cruises 7-night 'Jewels of the Cyclades' cruise aboard Galileo, round trip from Athens via Folegandros, Santorini, Paros, Delos, Mykonos and Syros, departing 11 June 2021, from £2,004, varietycruises.com