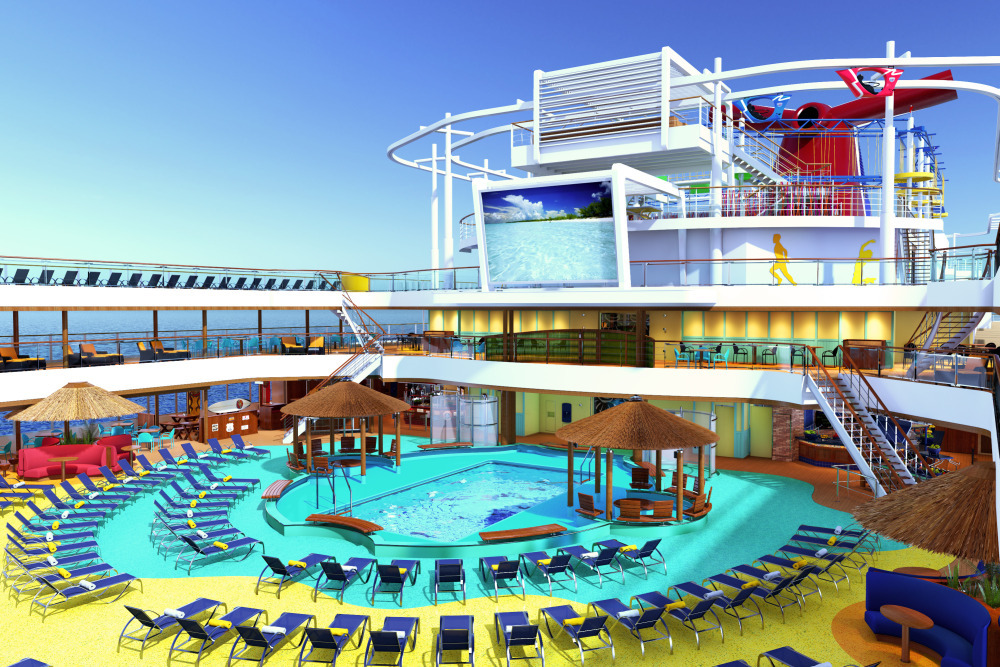 Virtual video tour of Carnival Vista
Carnival Cruise Lines has released a video tour of their upcoming cruise ship Carnival Vista. Carnival has continued the personification of Carnival Vista that was first seen on the ship's own dedicated Twitter account which has the description "What's 133,500 tons, has 15 decks, no thumbs and is setting sail May 2016? Me. Hi, I'm
Carnival Cruise Lines has released a video tour of their upcoming cruise ship Carnival Vista.
Carnival has continued the personification of Carnival Vista that was first seen on the ship's own dedicated Twitter account which has the description "What's 133,500 tons, has 15 decks, no thumbs and is setting sail May 2016? Me. Hi, I'm Vista" and the location currently set as "Italy, not the boot part". In the video the carefree wise-cracking American female voice of Carnival Vista narrates the virtual tour as camera shots show a mixture of bird's-eye overhead views and walk-through shots.
The video opens with a exterior panoramic view of Carnival Vista as the voice-over introduces herself and sets the tone for the remainder of the narration for the five-minute tour. It begins with a fly through the atrium with a closer look at the three-deck-high LED column that displays an underwater scene in the video.
Next is the main pool area where the RedFrog Rum Bar and BlueIguana Tequila Bar will be found on a bright yellow deck filled with blue deck chairs. The video sweeps up to SportSquare, Carnival's top-deck area for physical activities before panning across to SkyRide, a suspended cycling experience. The tour continues with a look at WaterWorks and the colourful Kaleid-O-Slide, the line's first raft-riding water tube slide.
The pace slows down for a look at the relaxing Tides Pool on the aft deck before heading to the Lido dining area with its 24-hour pizzeria, New England–inspired Seafood Shack, and Guy's Burger Joint, designed by celebrity chef Guy Fieri. That is followed by a visit to RedFrog Pub featuring the line's first-ever brewery.
The tour moves onto the Family Harbour staterooms, suites, and Family Harbour Lounge where children and parents can relax and make new friends. The tour continues with the tropical-themed Havana staterooms and suites which feature outdoor sitting areas complete with hammocks.
A quick tour of Carnival Vista's kids' facilities, including the marine-themed Camp Ocean and Dr. Seuss Bookville, a family reading venue that's part of the line's exclusive Seuss at Sea programme, is followed with a zoom through the Serenity adults-only retreat.
Next follows a look at the ship's multiplex featuring the first IMAX Theatre at sea before a whistle-stop tour of the indoor-outdoor dining venues including the Fahrenheit 555 steakhouse, Bonsai Sushi, the Cucina del Capitano family-style Italian restaurant, and the Far East-inspired JiJi Asian Kitchen. The tour concludes with a look at Cherry On Top, a sweet shop and ice cream bar.
Carnival Vista is due to enter service in Europe on 1 May 2016 before repositioning briefly to New York in November 2016. From here she will reposition to Miami and will offer year-round Caribbean itineraries.
(Image credit to Carnival Cruise Lines)