Search for your ideal Cruise
Why cruise on this ship?
The popularity of Portugal and Spain's Douro Valley cannot be ignored—that's why we are pleased to debut our newest Douro River ship, the spectacular AmaDouro, in 2019.
find your perfect cruise
Dining
Savour regionally inspired, exquisite cuisine at a variety of dining venues.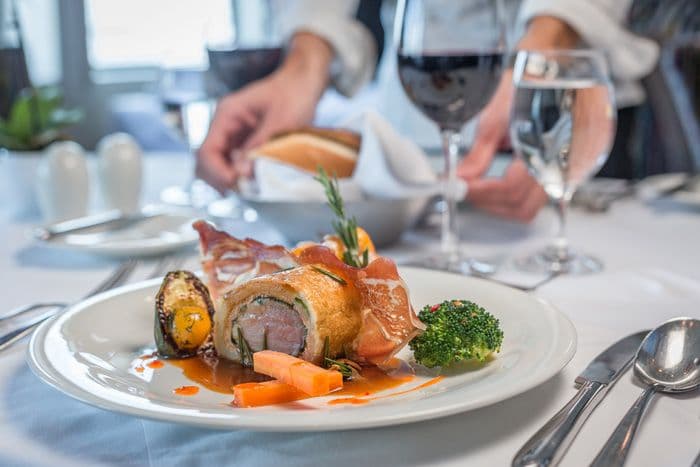 Fine Dining
Our expert chefs craft menus that feature exquisite, locally-inspired cuisine. Try local favourites like goulash while cruising through Hungary, or Camembert cheese while on the Seine, or something more familiar, like a steak. No matter what your preference, your taste buds are sure to be impressed.
Features
Experience: Complimentary
Food type: Fine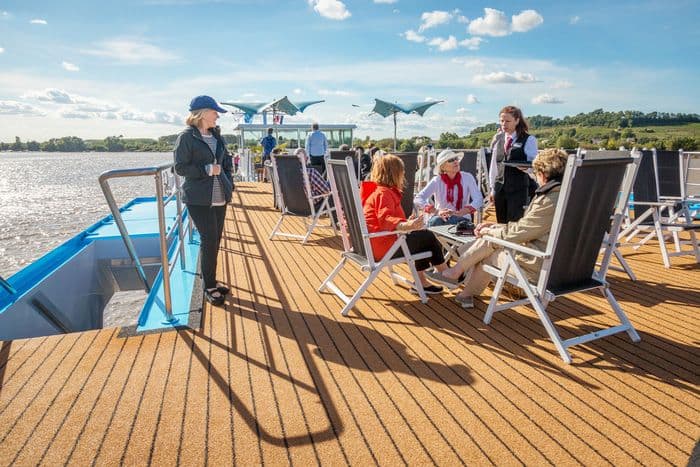 A Variety of Dining Options
Enjoy a wide choice of dining options, with carefully crafted menus offering vegetarian and gluten free options, multi-course tasting menus, early-riser breakfasts and light lunches in the main lounge and on the sun deck. A selection of complimentary tapas, refreshments, tea, coffee and snacks are also available throughout the day.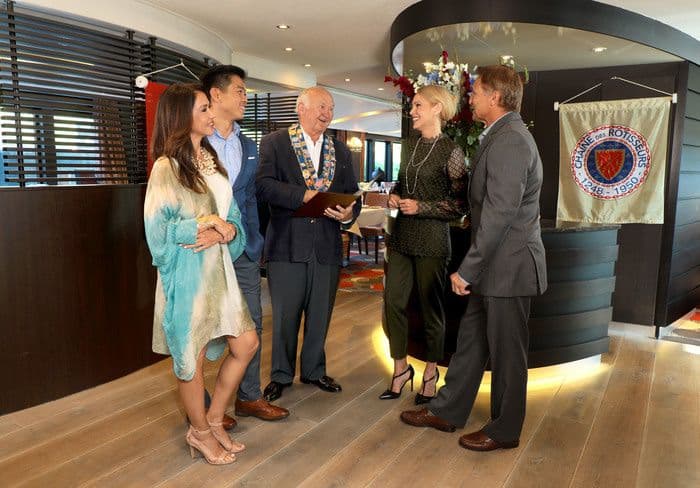 La Chaîne des Rôtisseurs
AmaWaterways and President Rudi Schreiner were inducted into La Confrérie de la Chaîne des Rôtisseurs, a prestigious international gastronomic society dedicated to fine cuisine. Membership is by invitation only and is extended to those possessing world-class culinary acumen. All of our ships in Europe are members.
Features
Experience: Complimentary
Food type: Fine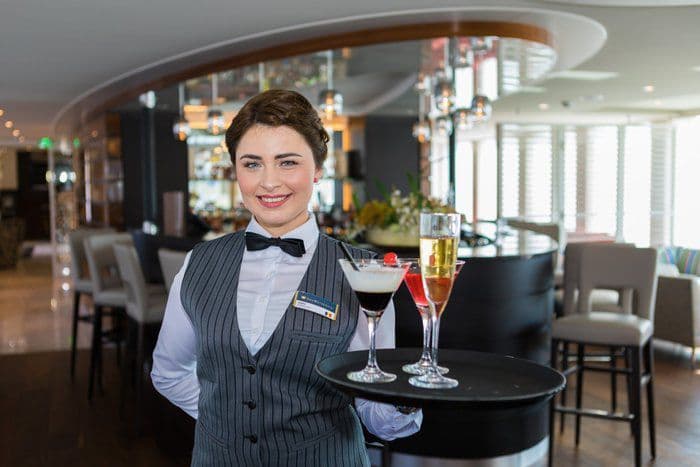 The Drinks Are On Us - Sip & Sail
Enjoy complimentary wine, beer and soft drinks during lunch and dinner, as well as sparkling wine and fresh-squeezed juices during breakfast. You can also enjoy complimentary wines, beer, spirits and soft drinks at our pre-dinner Sip & Sail cocktail hour.
Features
Experience: Complimentary
Food type: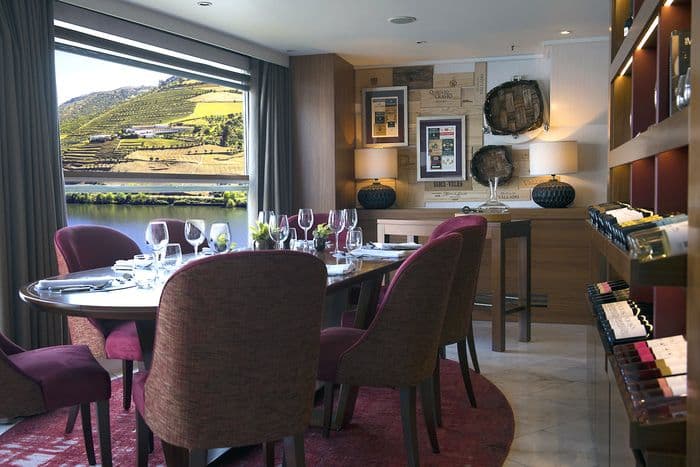 Wine Room
Travelling in a larger group and looking for a more intimate dining experience? Book your group into the Wine Room for a celebratory evening.
Features
Experience: Complimentary
Food type: Wine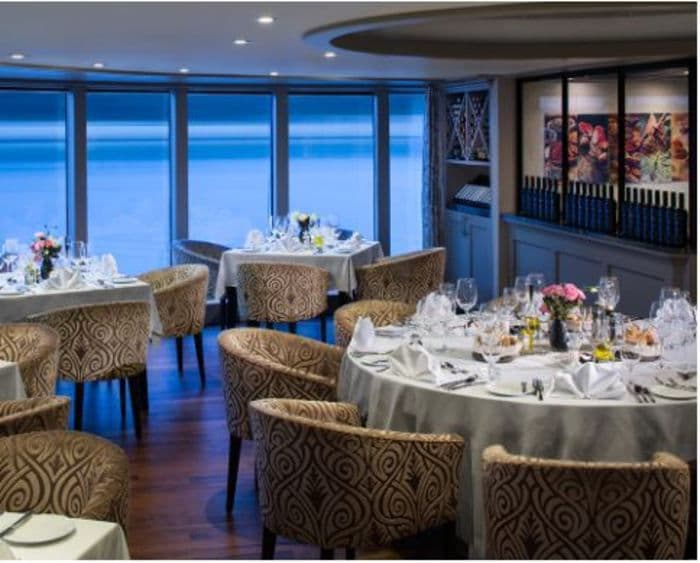 Chef's Table
Join a few of your fellow travellers at The Chef's Table, where the kitchen — usually hidden — becomes part of the entertainment. You'll have the opportunity to watch the chef prepare a special multi-course meal right in front of you. The menu here is unique, making this a truly distinct gastronomic experience. Indulge in delectable dishes served with unlimited fine wines, hand-selected just for this dinner. It is the only venue of its kind on the river.
Features
Experience: Cover
Food type: Chef
Entertaining
Whether it's traditional Bavarian music, a local quartet or modern piano favourites, there is an eclectic schedule of entertainment on board.
With fewer passengers on board, guests can enjoy the luxury of space - out public areas, like lounges and restaurants, are never overcrowded.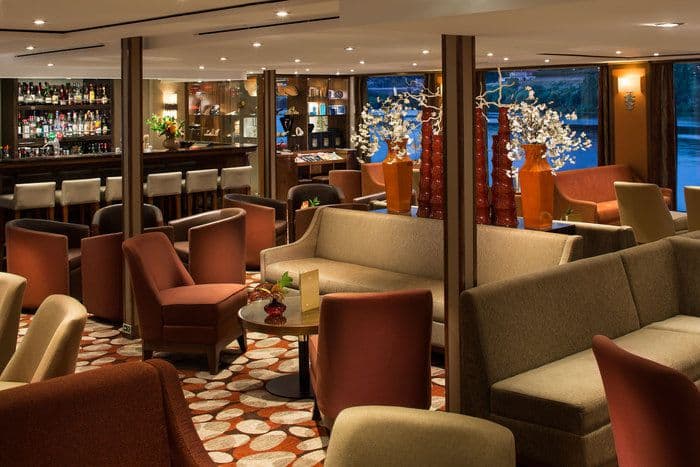 AmaWaterways AmaVida Interior Lounge.jpg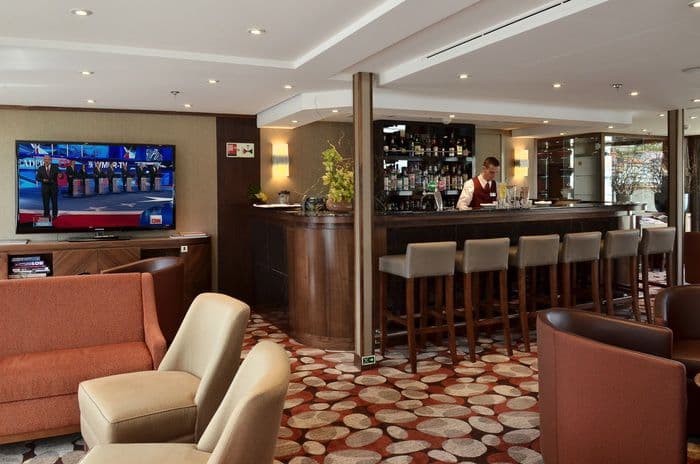 AmaWaterways AmaVida Interior Lounge Bar.jpg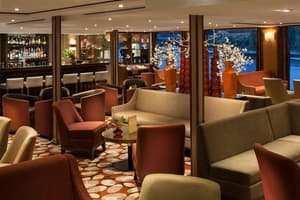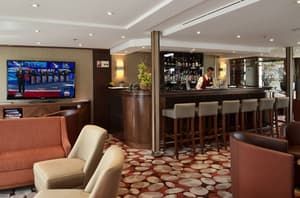 Main Lounge with panoramic views and bar
Whether it's a folkloric performance, local Fado musicians or modern piano favourites, there is an eclectic schedule of entertainment on board.
Entertainment-on-Demand
Entertainment-on-Demand system featuring, movies, TV shows, news and music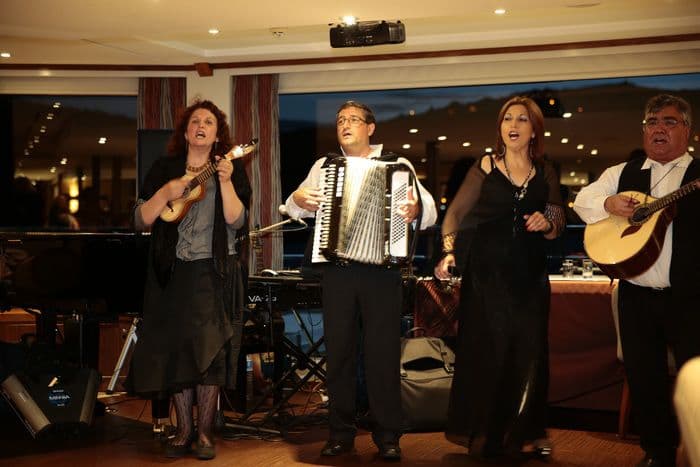 Onboard entertainment
Daily entertainment including cultural performances
Enrichment
Your river cruise with AmaWaterways will be a luxurious experience from start to finish. Customise how you explore Europe with a variety of included shore excursions and flexible tour options.
With a fleet of bicycles on board, guests have the opportunity to explore Europe on our guided bike tours, or go discover on their own.
Fitness Room
Are you looking for a way to stay fit on vacation? Hit the treadmill or lift some weights while cruising from one destination to the next.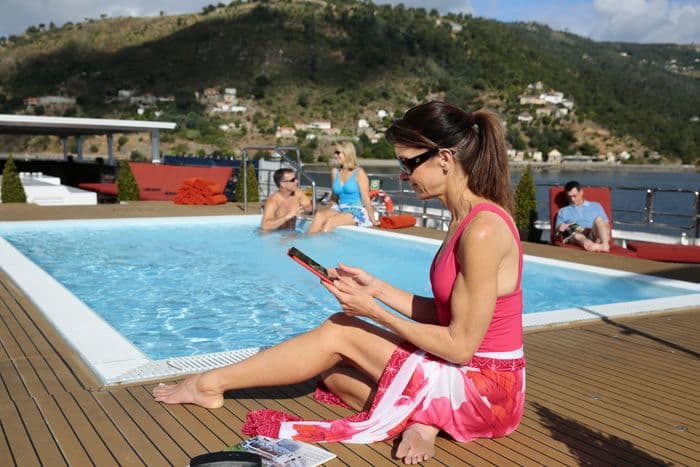 AmaWaterways AmaVida Exterior Pool.jpg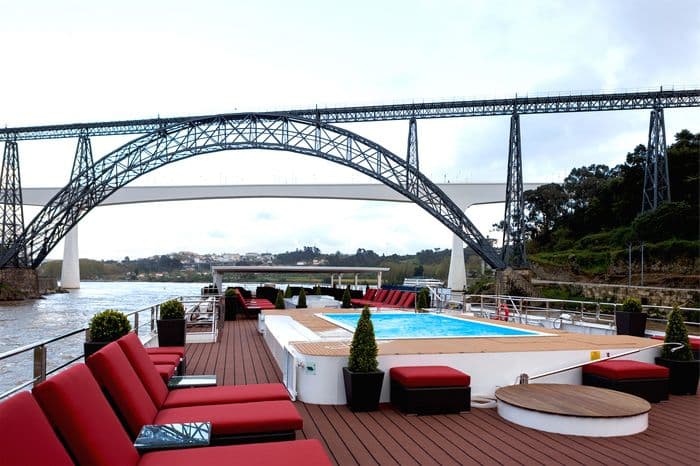 AmaWaterways AmaVida Exterior Sun Deck Pool.jpg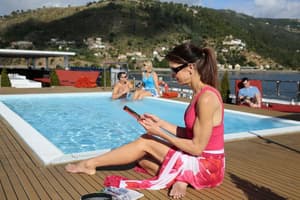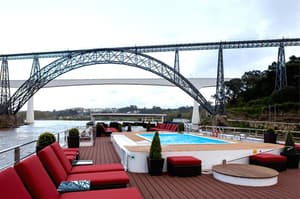 Sun Deck
Soak up some rays or take a dip in our refreshing pool with a swim-up bar as we pass by centuries-old castles, charming villages and other breathtaking scenery.
Spa
After a marvellous day of immersive shore excursions, return to the ship and treat yourself to a bit of pampering with a soothing massage.
Kids and teens
Please note: this ship does not feature any children's facilities.
Accommodation
Relax and rejuvenate in spacious, luxurious staterooms with plenty of amenities. Most feature outside balconies that afford stunning views of the scenery along the river.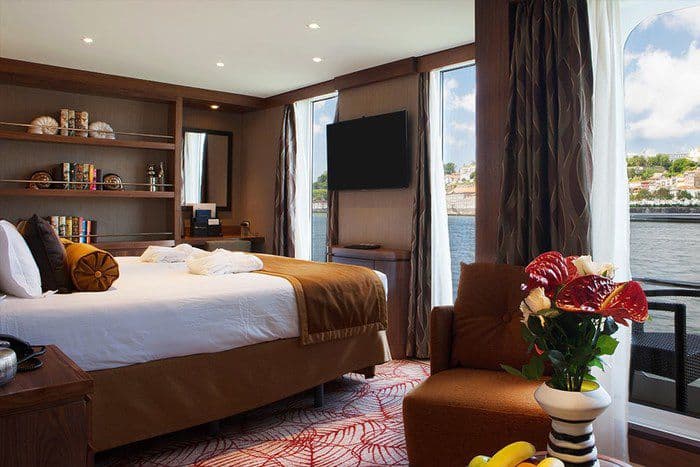 Suite
On Porto Deck
Outside Balcony

Floor-to-Ceiling windows

Separate lounge area

In-room temperature control

Deluxe hotel-style bedding with Egyptian linen, down pillows and duvet

Spacious bathrooms with multi-jet showerheads

Large wardrobe, full-length mirror, hair dryer, safe and direct-dial telephone

Flat-screen TV that also works as a computer

Entertainment on Demand system providing complimentary TV, movies and music library

Complimentary internet and Wi-Fi

Complimentary bottled water replenished daily

Desk and chair

Features
Queen or Twin Configuration
Lounge Area
Shower
Bath
Toiletries Provided
Room Service Available
TV
Free Wi-Fi
Safe
Hair Dryer
Desk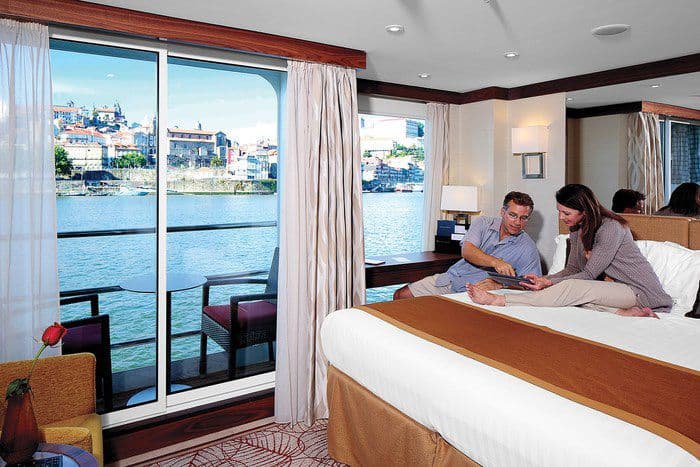 AmaWaterways AmaDouro Accommodation A 1.jpg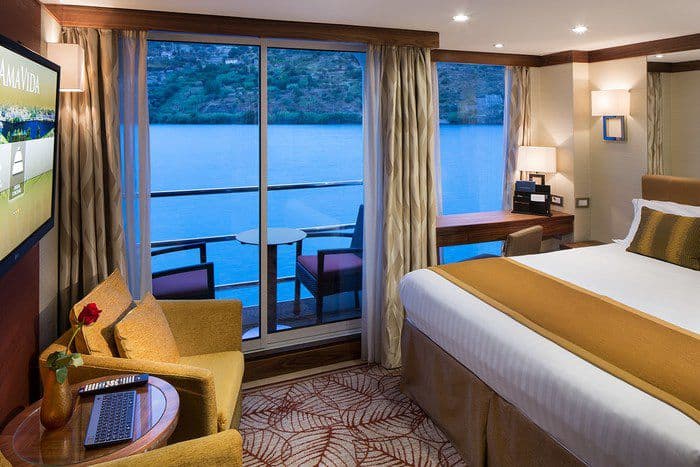 AmaWaterways AmaDouro Accommodation A 2.jpg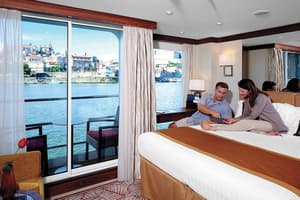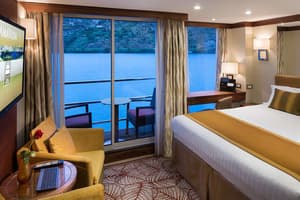 Category A Staterooms
On Porto Deck
Outside Balcony

Floor-to-Ceiling windows

In-room temperature control

Deluxe hotel-style bedding with Egyptian linen, down pillows and duvet

Spacious bathrooms with multi-jet showerheads

Large wardrobe, full-length mirror, hair dryer, safe and direct-dial telephone

Flat-screen TV that also works as a computer

Entertainment on Demand system providing complimentary TV, movies and music library

Complimentary internet and Wi-Fi

Complimentary bottled water replenished daily

Desk and chair

Features
Queen or Twin Configuration
Shower
Toiletries Provided
Room Service Available
TV
Free Wi-Fi
Safe
Hair Dryer
Desk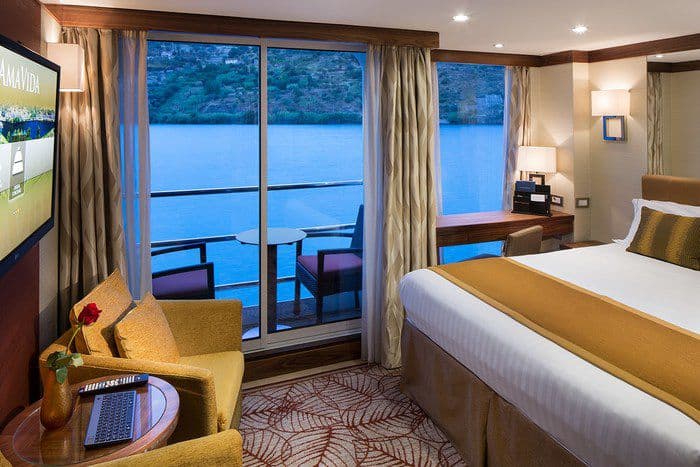 Category B
On Lisbon Deck
Outside Balcony

Floor-to-Ceiling windows

In-room temperature control

Deluxe hotel-style bedding with Egyptian linen, down pillows and duvet

Spacious bathrooms with multi-jet showerheads

Large wardrobe, full-length mirror, hair dryer, safe and direct-dial telephone

Flat-screen TV that also works as a computer

Entertainment on Demand system providing complimentary TV, movies and music library

Complimentary internet and Wi-Fi

Complimentary bottled water replenished daily

Desk and chair

Features
Queen or Twin Configuration
Shower
Toiletries Provided
Room Service Available
TV
Free Wi-Fi
Safe
Hair Dryer
Desk Category C
On Lisbon Deck

French Balcony

In-room temperature control

Deluxe hotel-style bedding with Egyptian linen, down pillows and duvet

Spacious bathrooms with multi-jet showerheads

Large wardrobe, full-length mirror, hair dryer, safe and direct-dial telephone

Flat-screen TV that also works as a computer

Entertainment on Demand system providing complimentary TV, movies and music library

Complimentary internet and Wi-Fi

Complimentary bottled water replenished daily

Desk and chair

Features
Queen or Twin Configuration
Shower
Toiletries Provided
Room Service Available
TV
Free Wi-Fi
Safe
Hair Dryer
Desk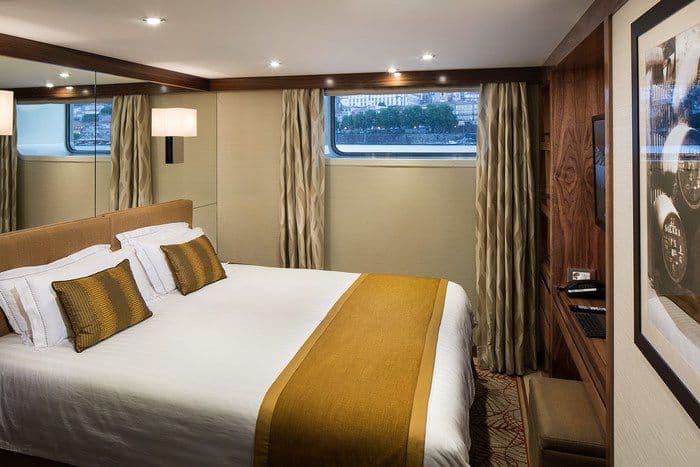 Category D/E
On Douro Deck

Window

In-room temperature control

Deluxe hotel-style bedding with Egyptian linen, down pillows and duvet

Spacious bathrooms with multi-jet showerheads

Large wardrobe, full-length mirror, hair dryer, safe and direct-dial telephone

Flat-screen TV that also works as a computer

Entertainment on Demand system providing complimentary TV, movies and music library

Complimentary internet and Wi-Fi

Complimentary bottled water replenished daily

Desk and chair

Features
Queen or Twin Configuration
Shower
Toiletries Provided
Room Service Available
TV
Free Wi-Fi
Safe
Hair Dryer
Desk
Deck plans

Sun Deck
Pool
Swim-up Bar
Outside Seating

Porto Deck
Main Lounge
Reception
Suites
Cat A Staterooms (No 305-306)
Cat C Staterooms (No 317-320)
Lisbon Deck
Main Restaurant
Fitness Room
Cat B Staterooms (No 201 - 218)
Douro Deck
Spa
Cat D Staterooms (No 101-108)
Cat E Staterooms (No 109-114)