Search for your ideal Cruise
Why cruise on this ship?
Launching in 2018, AmaLea like her sister ship, the 156-passenger AmaKristina, is inspired by luxury yachts and designed specifically to maximize the enjoyment of every guest by providing a distinctive river cruise experience. As you walk on board the AmaLea, you'll be greeted by a warm and welcoming staff with a flute of bubbly.
find your perfect cruise
Dining
Savour exquisite cuisine at a variety of dining venues, like the Main Restaurant and The Chef's Table. You can also order delicious tapas between meals in the Main Lounge.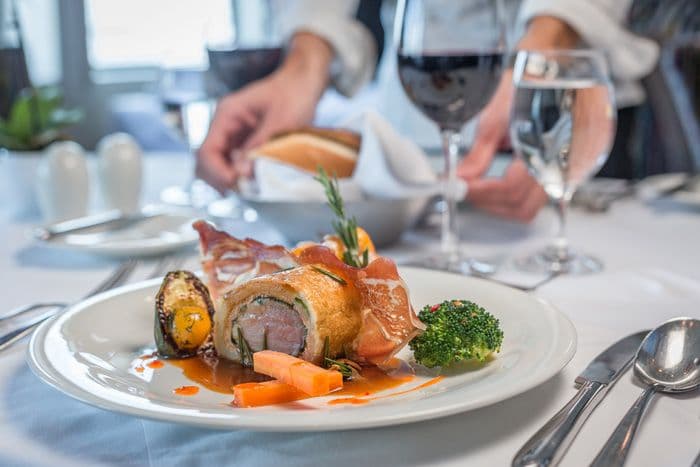 Fine Dining
Our expert chefs craft menus that feature exquisite, locally-inspired cuisine. Try local favourites like goulash while cruising through Hungary, or Camembert cheese while on the Seine, or something more familiar, like a steak. No matter what your preference, your taste buds are sure to be impressed.
Features
Experience: Complimentary
Food type: Classic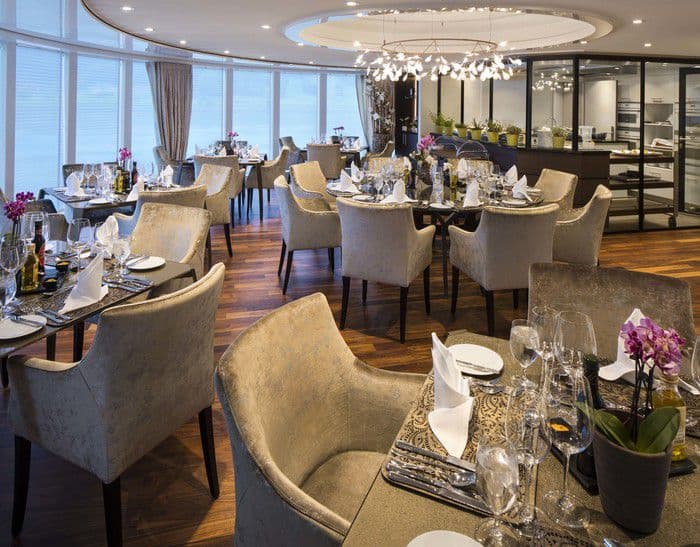 The Chef's Table
Dine at The Chef's Table, where the kitchen becomes part of the entertainment. Watch as the chef prepares a special, multi-course meal right in front of you and indulge in delectable dishes paired with hand-selected unlimited fine wines. The menu here is unique, making this a truly distinct gastronomic experience.
Features
Experience: Complimentary
Food type: Chef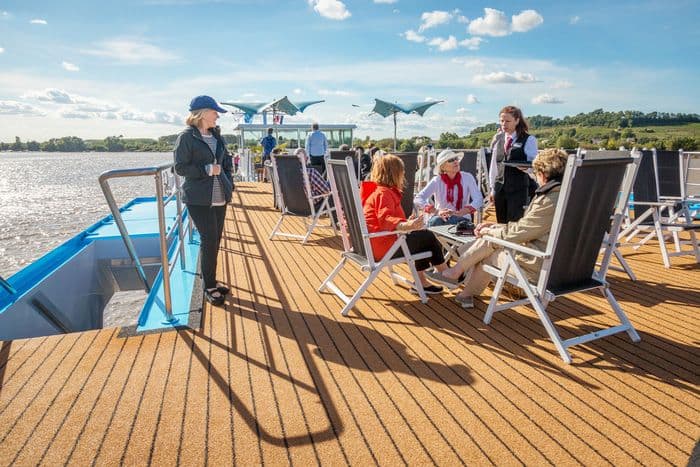 A Variety of Dining Options
Enjoy a wide choice of dining options, with carefully crafted menus offering vegetarian and gluten free options, multi-course tasting menus, early-riser breakfasts and light lunches in the main lounge and on the sun deck. A selection of complimentary tapas, refreshments, tea, coffee and snacks are also available throughout the day.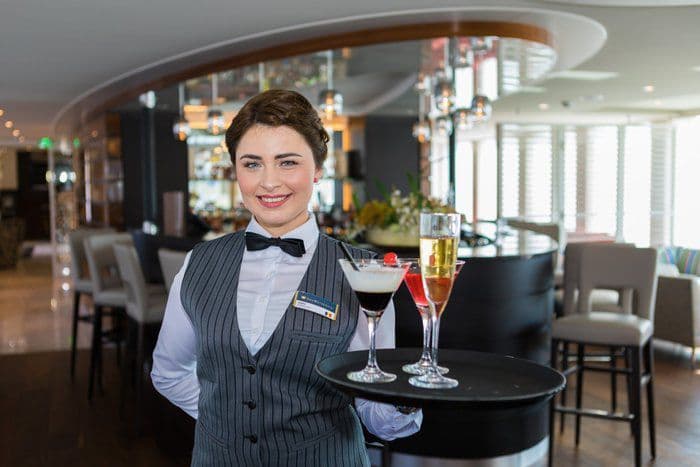 La Chaîne des Rôtisseurs
AmaWaterways and President Rudi Schreiner were inducted into La Confrérie de la Chaîne des Rôtisseurs, a prestigious international gastronomic society dedicated to fine cuisine. Membership is by invitation only and is extended to those possessing world-class culinary acumen. All of our ships in Europe are members.
Features
Experience: Complimentary
Food type: Fine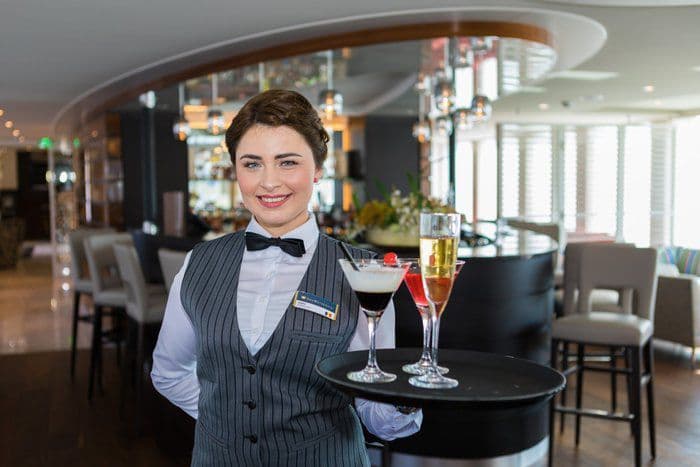 The Drinks Are On Us - Sip & Sail
Enjoy complimentary wine, beer and soft drinks during lunch and dinner, as well as sparkling wine and fresh-squeezed juices during breakfast. You can also enjoy complimentary wines, beer, spirits and soft drinks at our pre-dinner Sip & Sail cocktail hour.
Features
Experience: Complimentary
Food type:
Entertaining
After dinner, you are invited to enjoy engaging evening entertainment. You are sure to be enthralled as different performers come on board each night. It's the perfect complement to your daily discoveries.
There is also the following:
Multiple outdoor decks offering unimpeded panoramic views

Sundecks with lounge chairs and retractable roof

Main Lounge with bar, piano and dance floor

Complimentary Wi-Fi throughout the vessel

24-hour specialty coffee and tea station

"Swim up" pool bar

Gift Shop and Fireside Library
Bicycles onboard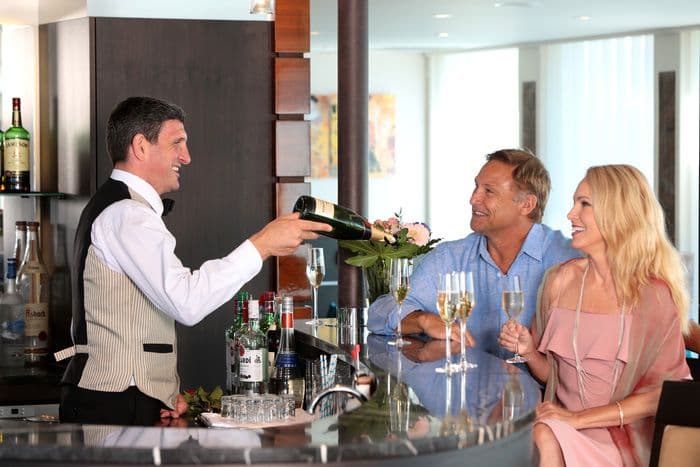 PRIMA_Bar_MV 2-044_2018 sml.jpg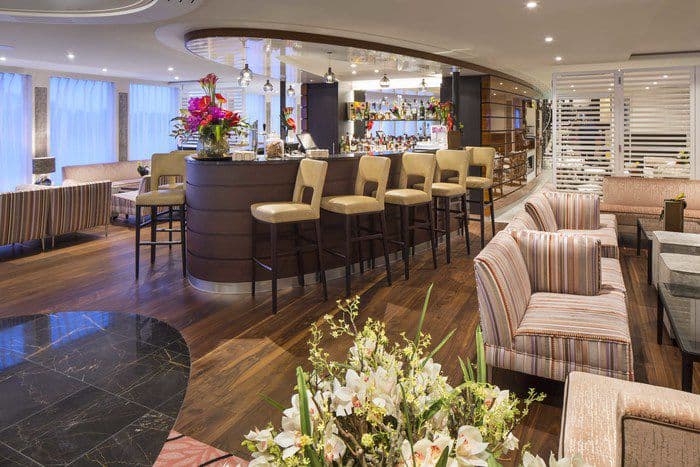 LEA_TheBarR_v1_MV 2018 small.jpg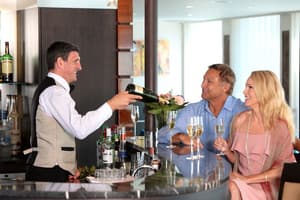 Main Lounge & Bar
This versatile space hosts a bar, dance floor, plenty of comfortable couches and big windows on three sides and is used for everything from the morning port talks, daytime reading and chatting to scenic cruising, afternoon tea and evening entertainment.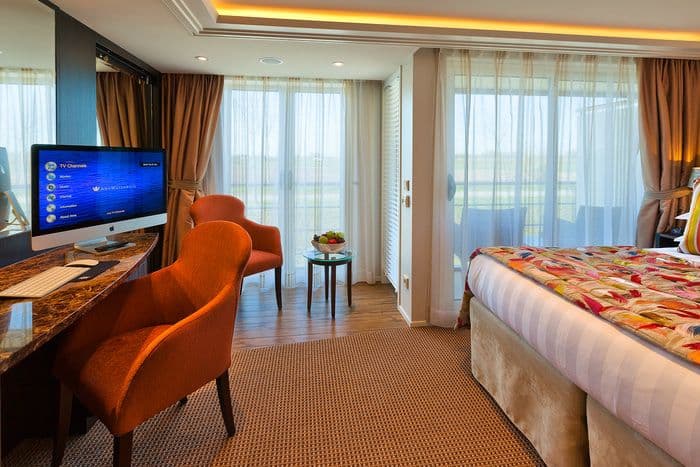 Entertainment-On-Demand
Entertainment-On-Demand in all staterooms, featuring free high-speed internet access, movies, a music library and English language TV stations.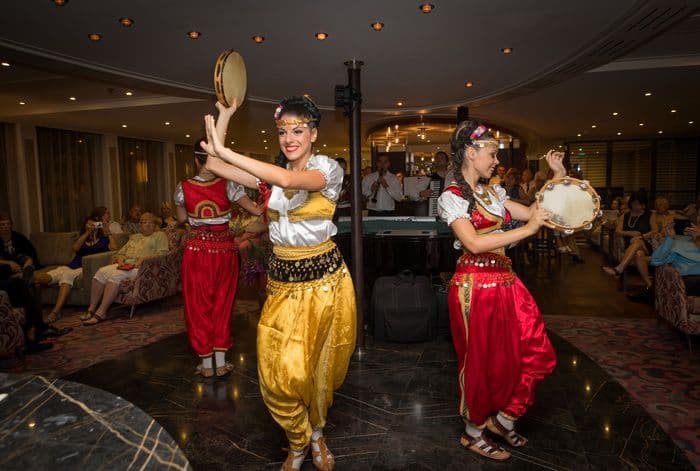 ON BOARD PERFORMANCE_Serbia_MPIMG_1011 sml.jpg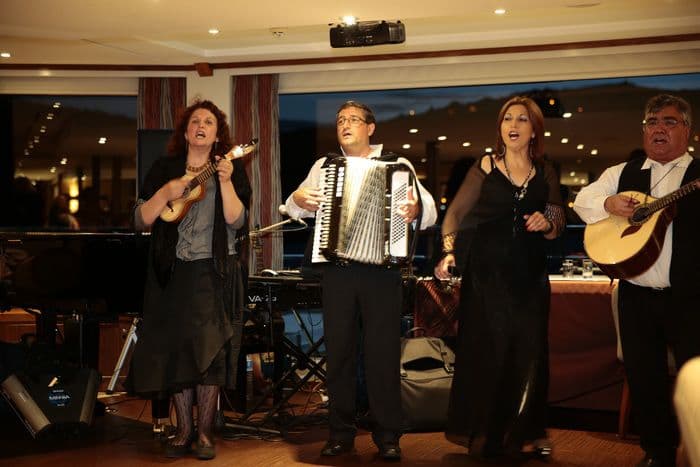 Onboard Entertainment sml.jpg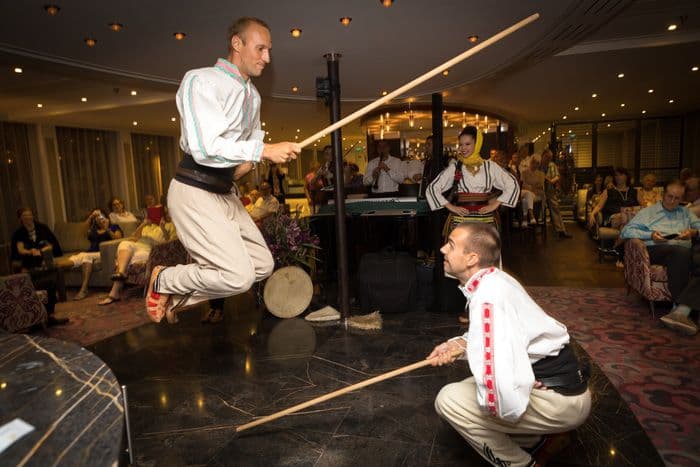 IMG_0995 sml.jpg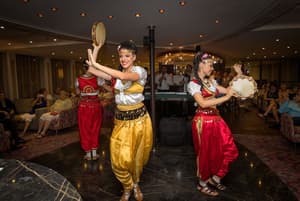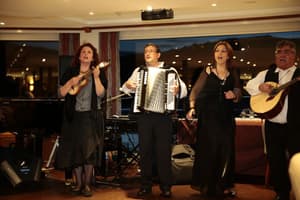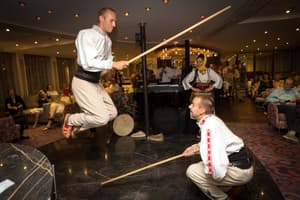 Onboard Entertainment
Whether it's traditional Bavarian music, a local quartet or contemporary piano favourites, you will enjoy an eclectic schedule of onboard entertainment every night.
Enrichment
Your river cruise with AmaWaterways will be a luxurious experience from start to finish. Customise how you explore Europe with a variety of included shore excursions and flexible tour options.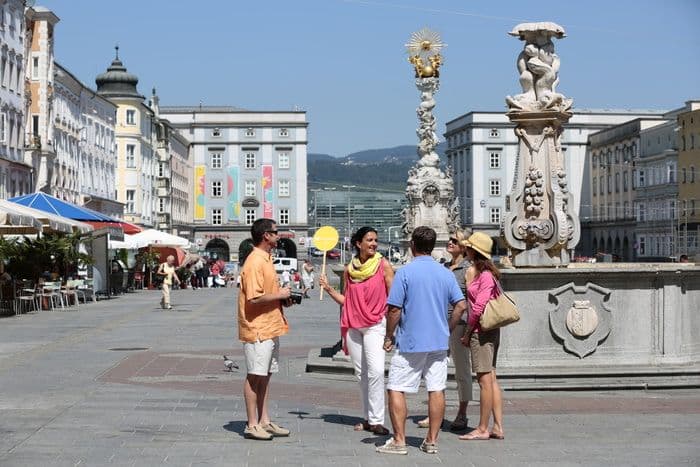 Small Group Excursions
Set your own pace on shore excursions. Enjoy the full attention of your guide. AmaWaterways ensures that you're treated with personalized attention, on land as well as on the river. Their complimentary Small Group Shore Excursions provide a world-class land tour in every destination. They hire the top local guides in every location. They're confident that you'll find no more intensive and immersive introduction to the culture and heritage of the region you're visiting. They offer a "Gentle Walkers" group, for those who'd like to explore at a more leisurely pace. Wherever possible, they offer an "Active Walkers" group, for those interested in covering more ground, and a "Late Starter" group for those who prefer to sleep in.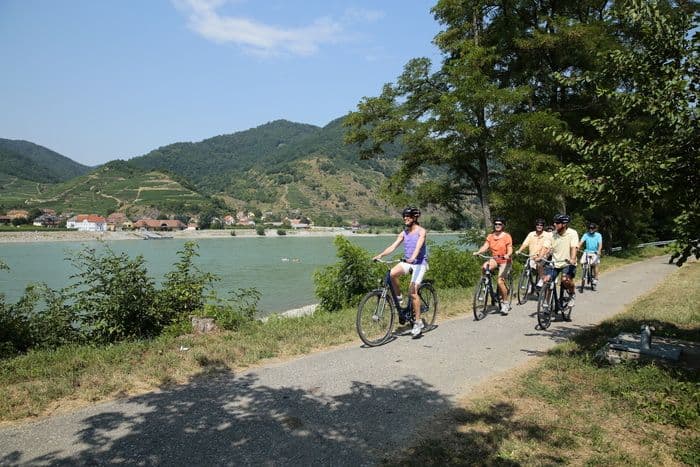 Complimentary Bicycles and Bike Tours
AmaWaterways originated the concept of putting bicycles aboard river cruise ships in Europe. The idea sprung from the fact that so many of Europe's rivers are lined with paths that are perfect for pedalling. They're the only river cruise line that carries more than two dozen bicycles and plenty of safety helmets that are free for you to use. The bicycles give you the freedom to venture out and explore the riverside bikeways. Or, meander through quaint cobblestone streets. The bikes are set up and ready for use as soon as the ship docks.
Health and fitness
With a walking track on the Sun Deck, a fitness room and a fleet of onboard bicycles to use on your own or on one of the many guided bike tours, as well as healthy menu choices, you'll have everything needed to stay active and healthy while sailing Europe's great rivers.

Active Discovery
AmaWaterways was the first river cruise line to offer a complimentary fleet of bicycles onboard for guests who prefer a more active way to explore. In many destinations throughout Europe, guests can join guided bike tours or hiking excursions through cities, along scenic riverfronts or up to hilltop castles.
Onboard Wellness Programme
Professionally trained Wellness Hosts lead a variety of fitness classes onboard our ships, including yoga, core strengthening and circuit training. Free to participate and open to all abilities, our Wellness Programme adds another dimension to our river cruises fleetwide in Europe in 2019 (excluding Douro).
Wellbeing Workshops
Join the onboard Wellness Host for discussions with a focus on healthy eating and relaxation techniques. Take away some useful tools that will help you continue your wellness journey well after you disembark your cruise.
Fitness Room
Enjoy a stroll or go for a jog on our sun-deck walking track and soak up some sunshine as the ships sails. Take a dip in the pool or whirlpool, or pool with a swim-up bar (varies by ship) as you pass by centuries-old castles, charming villages and other breath-taking scenery.
Sun Deck
Enjoy a stroll or go for a jog on our sun-deck walking track and soak up some sunshine as the ships sails. Take a dip in the pool or whirlpool, or pool with a swim-up bar (varies by ship) as you pass by centuries-old castles, charming villages and other breath-taking scenery.
Healthy Options
Lighter options are always available during meals as well as gluten free, vegetarian and low-sodium options. Discover the infused detox and gemstone water at our Hydration Station.
Kids and teens
Please note: this ship does not feature any children's facilities.
Accommodation
Every feature in an AmaWaterways stateroom was thoughtfully conceived with the comfort of their guests in mind. Their staterooms start at 160 square feet, and suites can be as large as 350 square feet, giving you more space to sit back and relax in between meals and explorations. Artfully crafted to a first-class standard, each room is equipped with innovative designs, plush bedding, multi-jet shower-heads, and many other special touches that make you feel like you're getting the royal treatment. Most of the staterooms have a balcony — or two — so you can enjoy stunning views of the magnificent sights along the river's edge.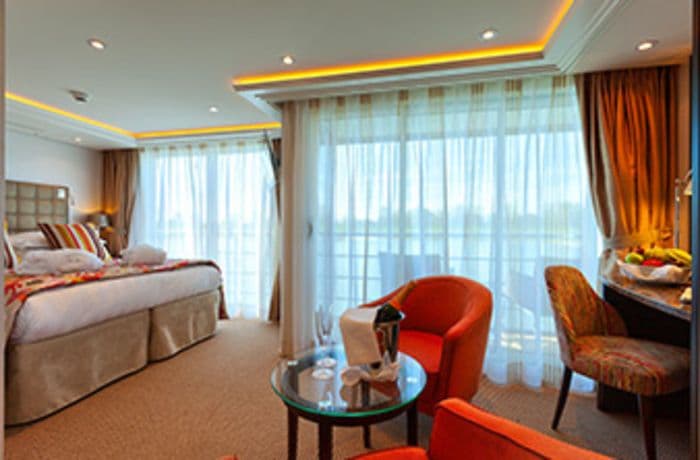 AmaWaterways AmaLea Accommodation Suite.jpg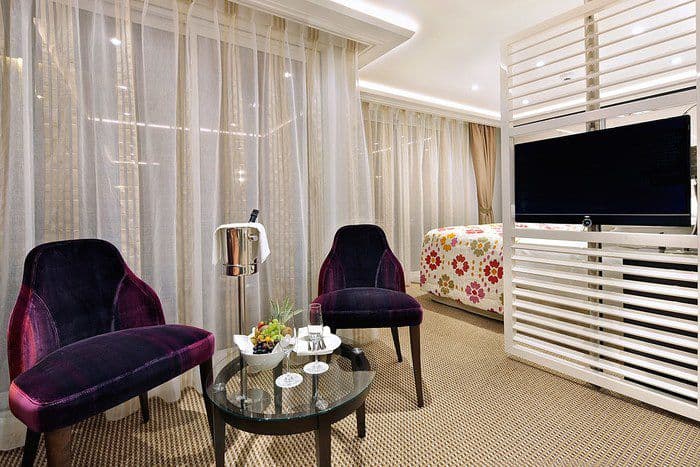 AmaWaterways AmaLea Accommodation Suite 2.jpg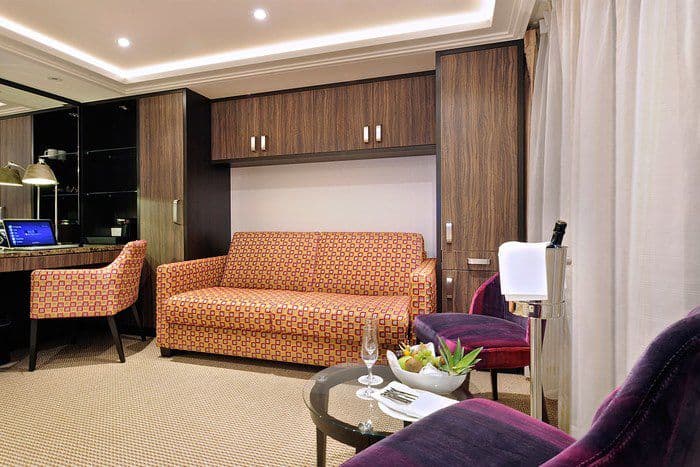 AmaWaterways AmaLea Accommodation Suite 3.jpg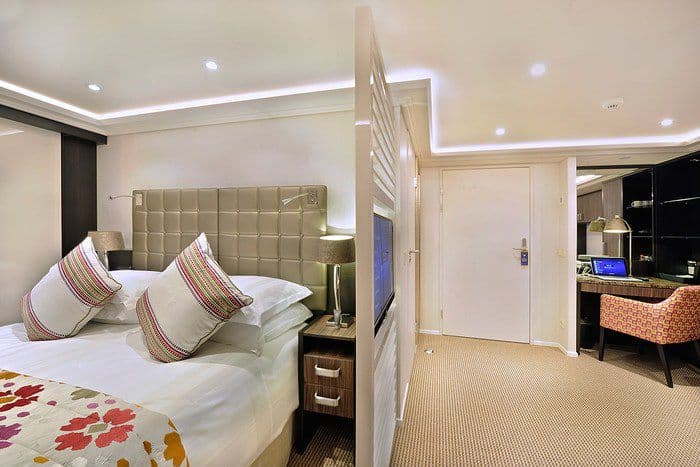 AmaWaterways AmaLea Accommodation Suite 4.jpg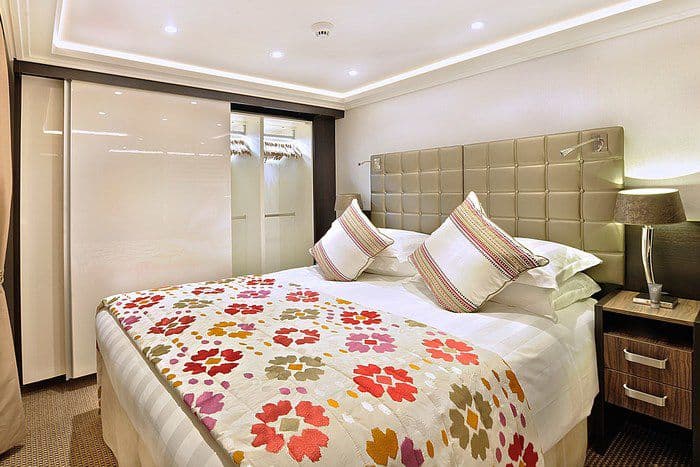 AmaWaterways AmaLea Accommodation Suite 5.jpg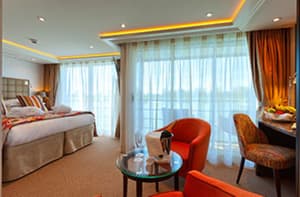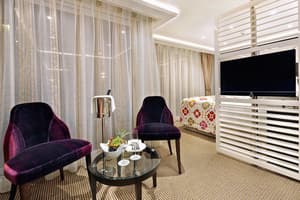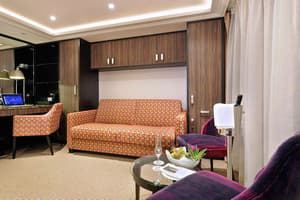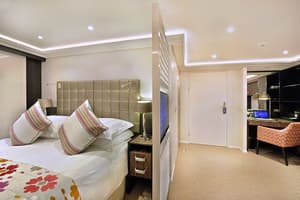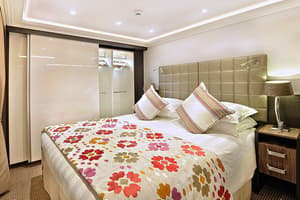 Suite
In-room temperature control
Deluxe hotel-style bedding with Egyptian linen, down pillows and duvet
Spacious bathrooms with multi-jet showerheads
Large wardrobe, full-length mirror, hair dryer, safe and direct-dial telephone
Flat-screen TV that also works as a computer
Entertainment on Demand system providing complimentary TV, movies and music library
Complimentary internet and Wi-Fi
Complimentary bottled water replenished daily
Desk and chair
Features
Queen or Twin Configuration
Lounge Area
Shower
Bath
Toiletries Provided
Room Service Available
Suite Benefits
TV
Free Wi-Fi
Safe
Hair Dryer
Desk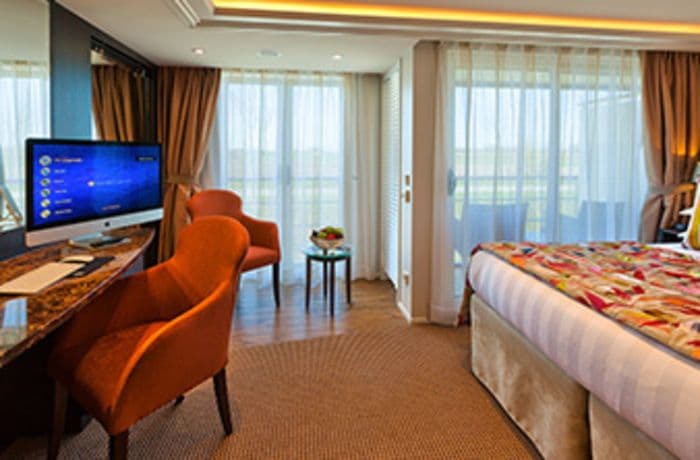 AmaWaterways AmaLea Accommodation Cat AA.jpg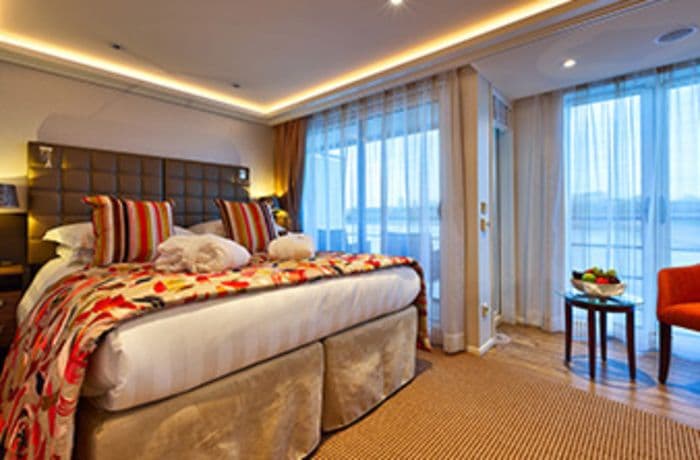 AmaWaterways AmaLea Accommodation Cat AB.jpg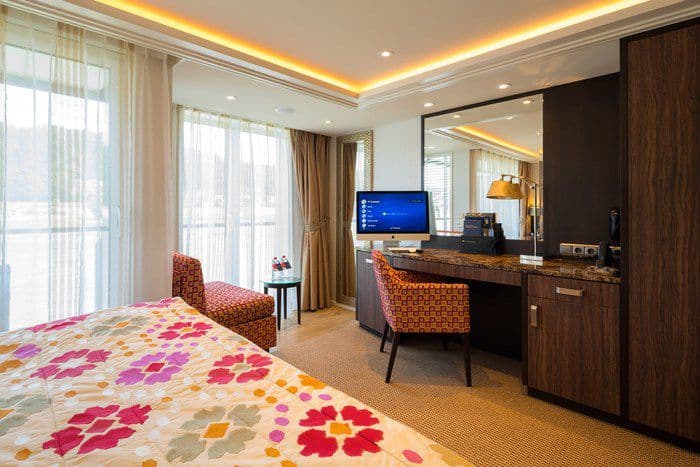 AmaWaterways AmaLea Accommodation Category AA 1.jpg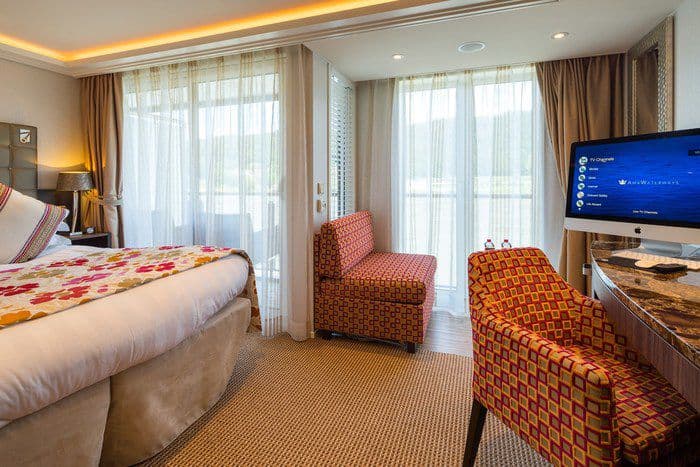 AmaWaterways AmaLea Accommodation Category AA 2.jpg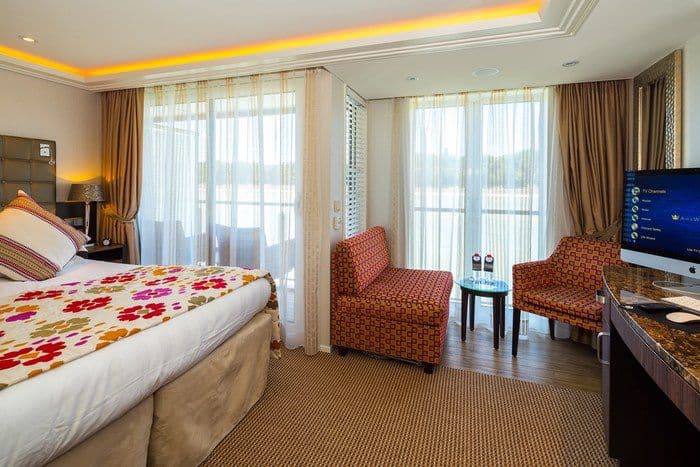 AmaWaterways AmaLea Accommodation Category AA 3.jpg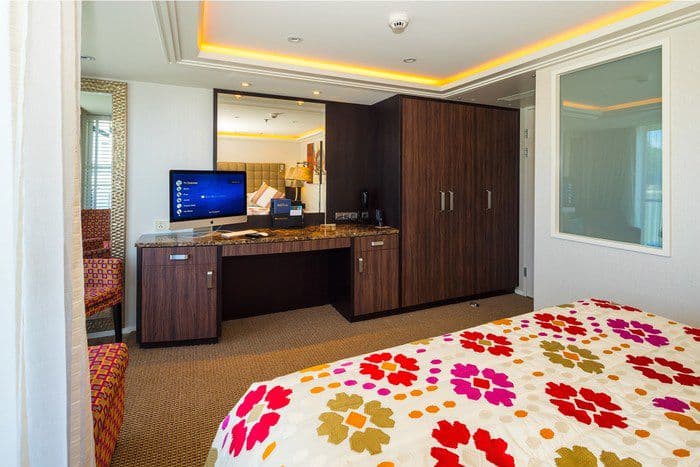 AmaWaterways AmaLea Accommodation Category AA 4.jpg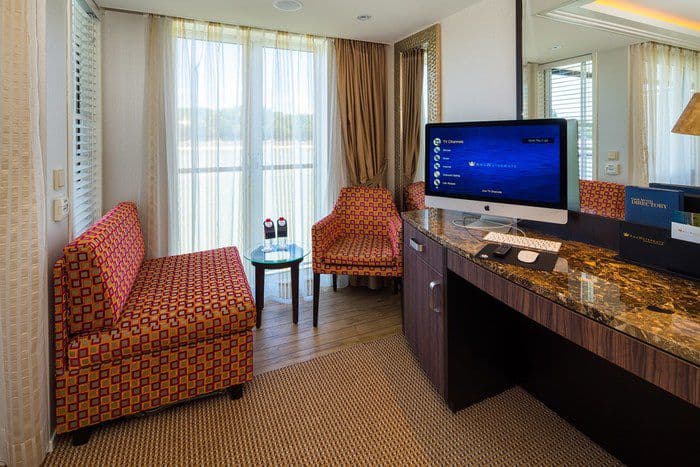 AmaWaterways AmaLea Accommodation Category AA 5.jpg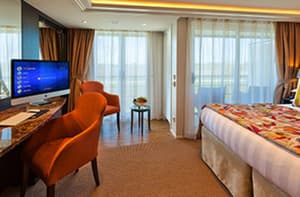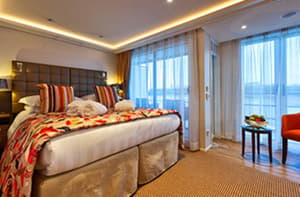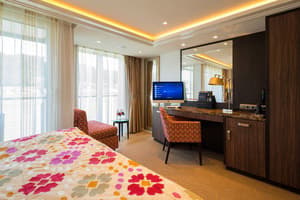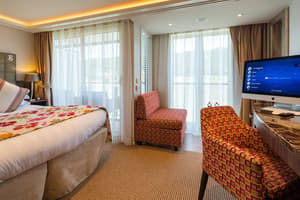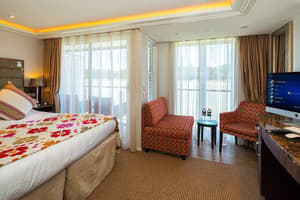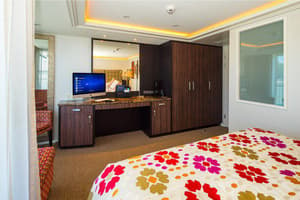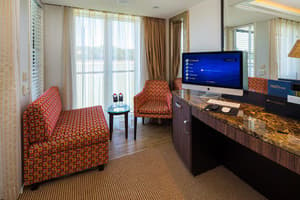 Cat. AA & AB
In-room temperature control
Deluxe hotel-style bedding with Egyptian linen, down pillows and duvet
Spacious bathrooms with multi-jet showerheads
Large wardrobe, full-length mirror, hair dryer, safe and direct-dial telephone
Flat-screen TV that also works as a computer
Entertainment on Demand system providing complimentary TV, movies and music library
Complimentary internet and Wi-Fi
Complimentary bottled water replenished daily
Desk and chair
Features
Queen or Twin Configuration
Shower
Toiletries Provided
Room Service Available
TV
Free Wi-Fi
Safe
Hair Dryer
Desk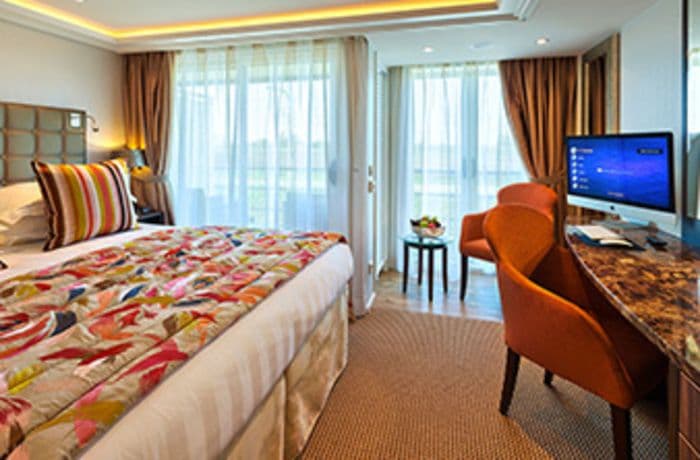 AmaWaterways AmaLea Accommodation Cat BA.jpg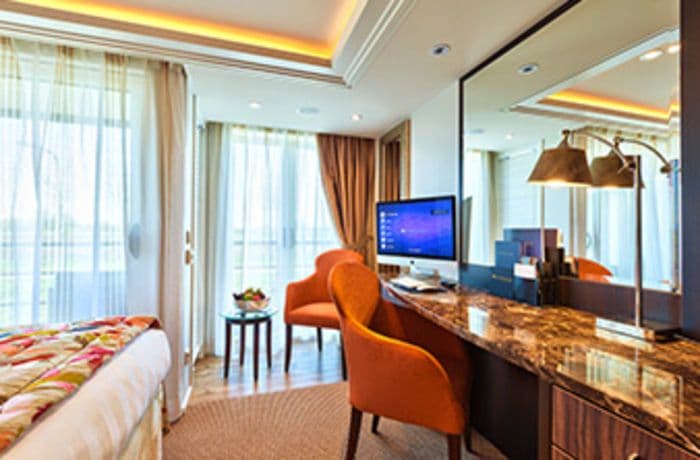 AmaWaterways AmaLea Accommodation Cat BB.jpg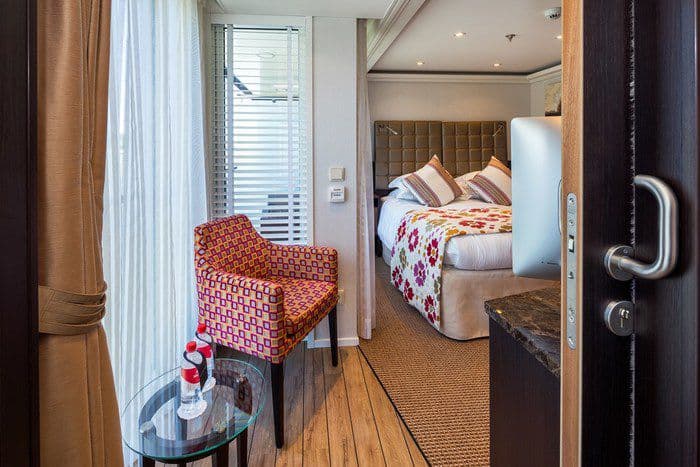 AmaWaterways AmaLea Accommodation Category BA 1.jpg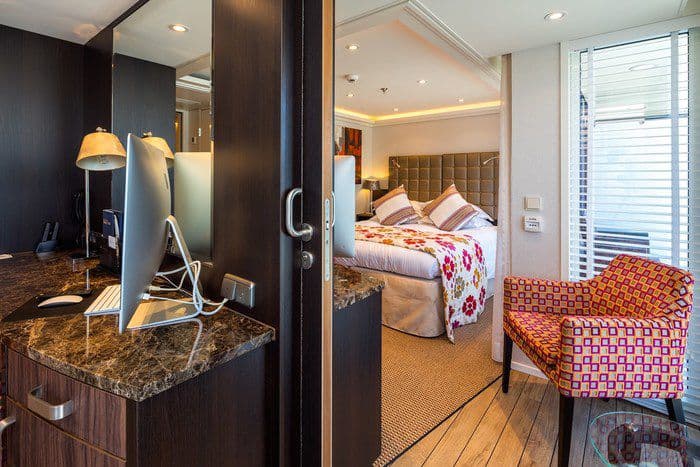 AmaWaterways AmaLea Accommodation Category BA 2.jpg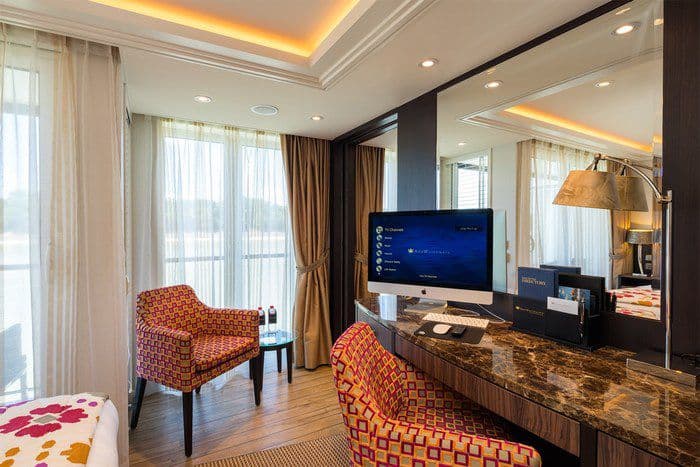 AmaWaterways AmaLea Accommodation Category BA 3.jpg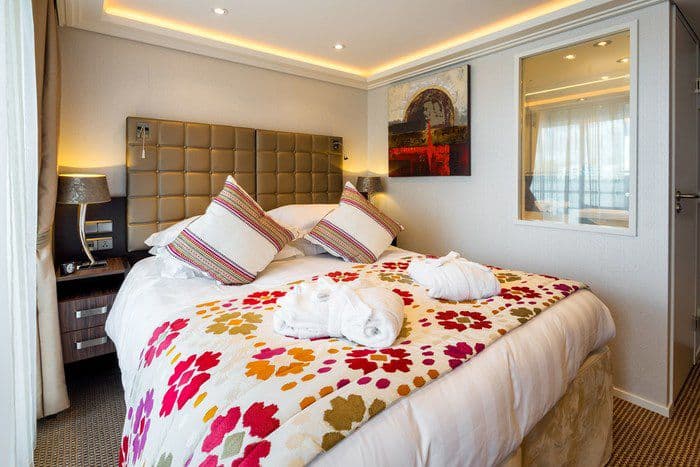 AmaWaterways AmaLea Accommodation Category BB 1.jpg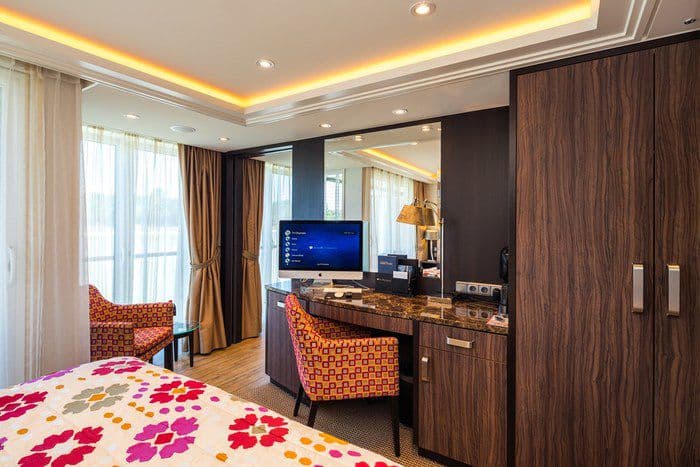 AmaWaterways AmaLea Accommodation Category BB 2.jpg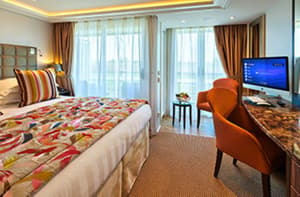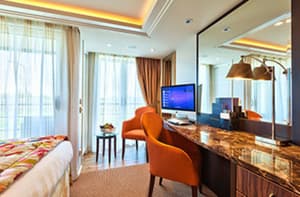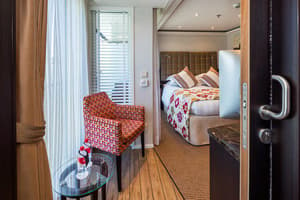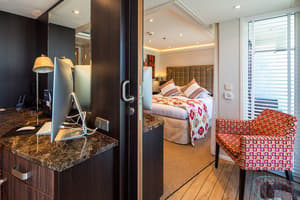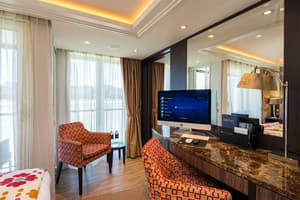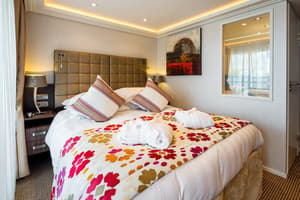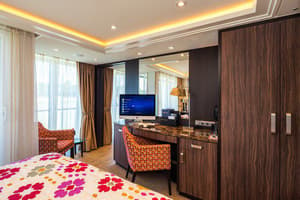 Cat. BA & BB
In-room temperature control
Deluxe hotel-style bedding with Egyptian linen, down pillows and duvet
Spacious bathrooms with multi-jet showerheads
Large wardrobe, full-length mirror, hair dryer, safe and direct-dial telephone
Flat-screen TV that also works as a computer
Entertainment on Demand system providing complimentary TV, movies and music library
Complimentary internet and Wi-Fi
Complimentary bottled water replenished daily
Desk and chair
Features
Queen or Twin Configuration
Shower
Toiletries Provided
Room Service Available
TV
Free Wi-Fi
Safe
Hair Dryer
Desk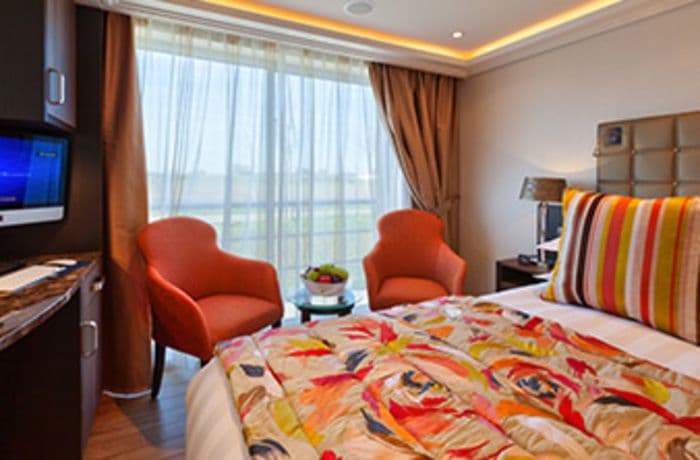 AmaWaterways AmaLea Accommodation Cat CA_CB.jpg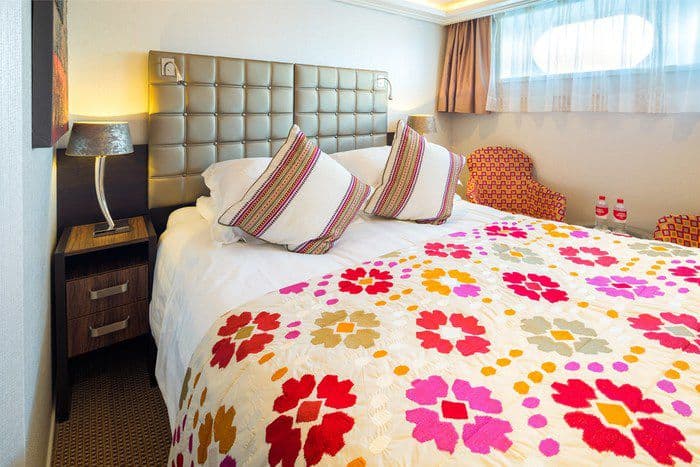 AmaWaterways AmaLea Accommodation Category E 1.jpg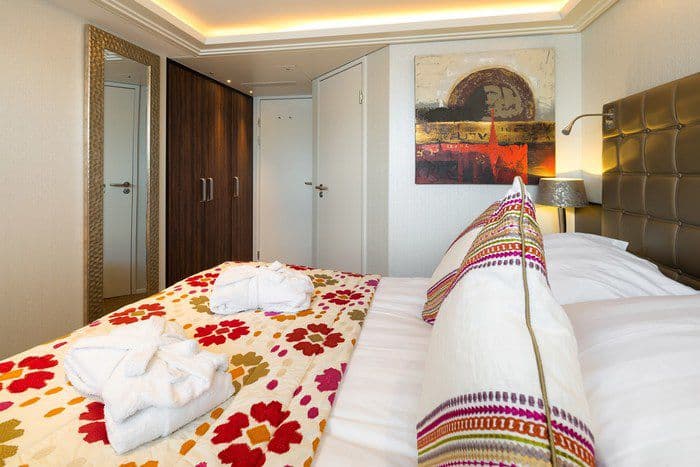 AmaWaterways AmaLea Accommodation Category E 2.jpg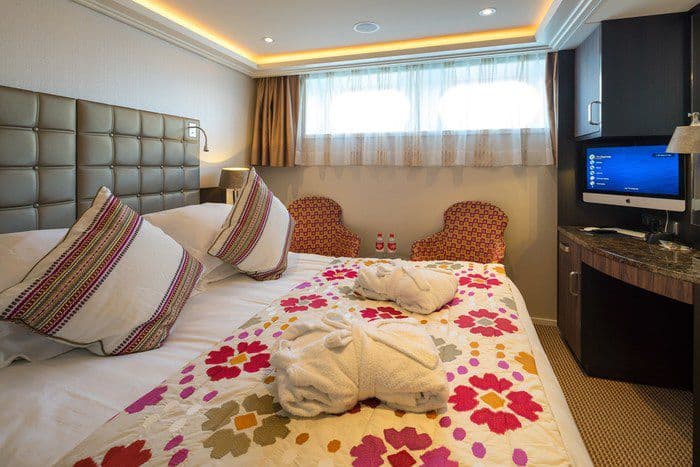 AmaWaterways AmaLea Accommodation Category E 3.jpg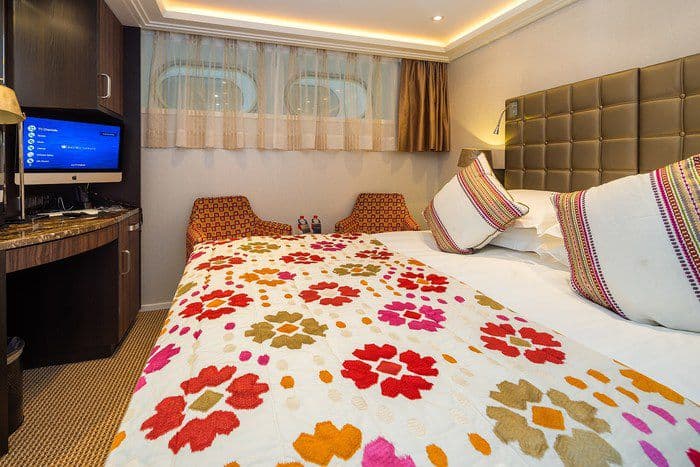 AmaWaterways AmaLea Accommodation Category E 4.jpg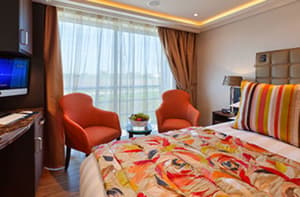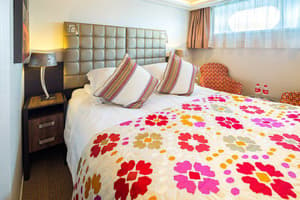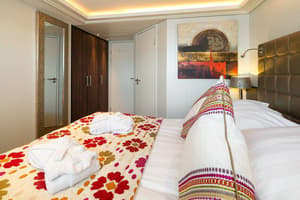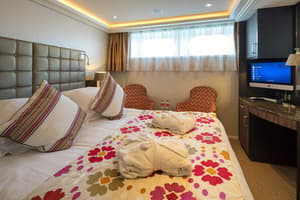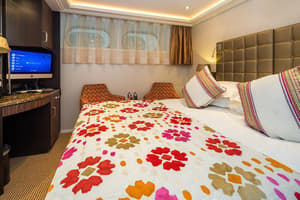 Cat. CA & CB
In-room temperature control
Deluxe hotel-style bedding with Egyptian linen, down pillows and duvet
Spacious bathrooms with multi-jet showerheads
Large wardrobe, full-length mirror, hair dryer, safe and direct-dial telephone
Flat-screen TV that also works as a computer
Entertainment on Demand system providing complimentary TV, movies and music library
Complimentary internet and Wi-Fi
Complimentary bottled water replenished daily
Desk and chair
Features
Queen or Twin Configuration
Shower
Toiletries Provided
Room Service Available
TV
Free Wi-Fi
Safe
Hair Dryer
Desk
AmaWaterways AmaLea Accommodation Cat D_E.jpg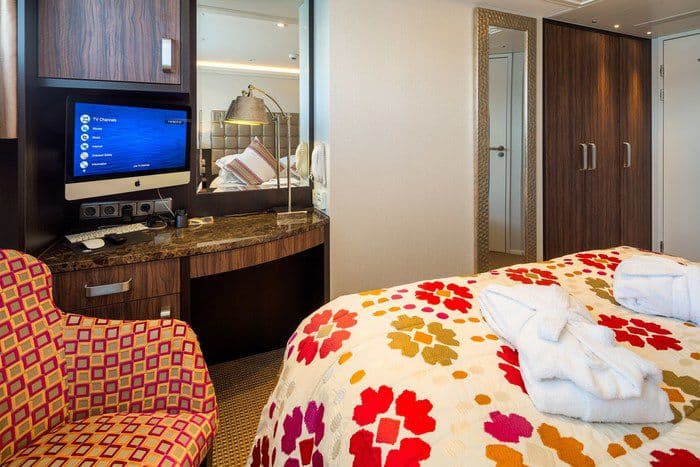 AmaWaterways AmaLea Accommodation Category D 2.jpg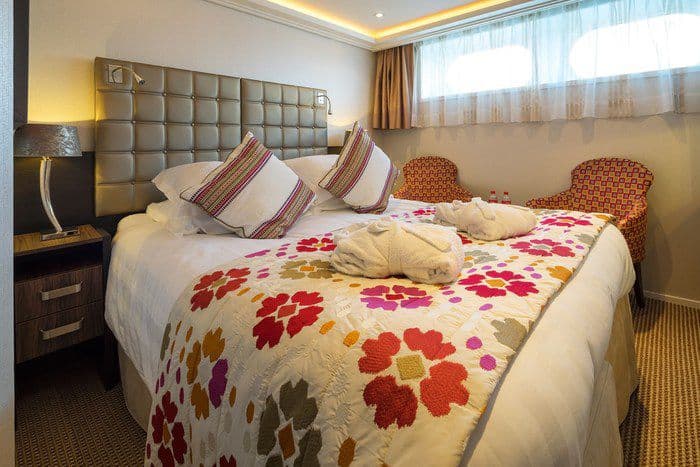 AmaWaterways AmaLea Accommodation Category D 3.jpg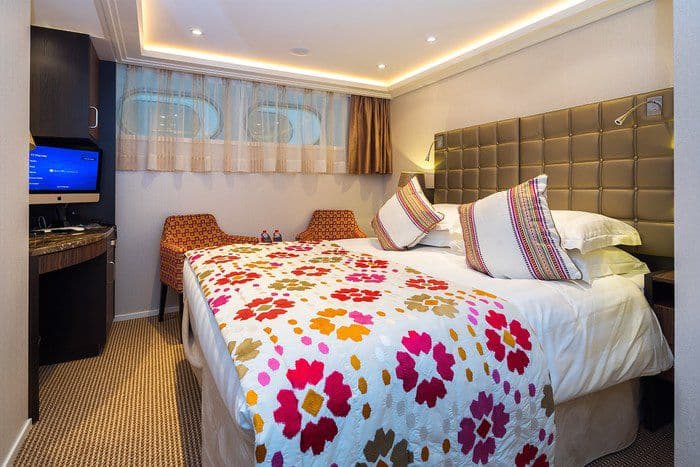 AmaWaterways AmaLea Accommodation Category D 4.jpg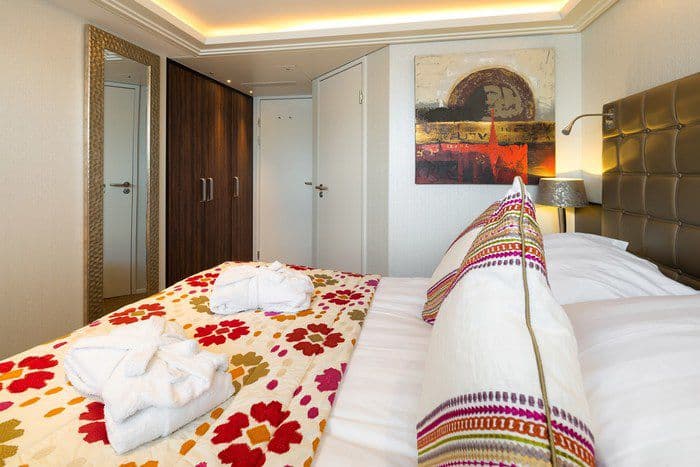 AmaWaterways AmaLea Accommodation Category E 2.jpg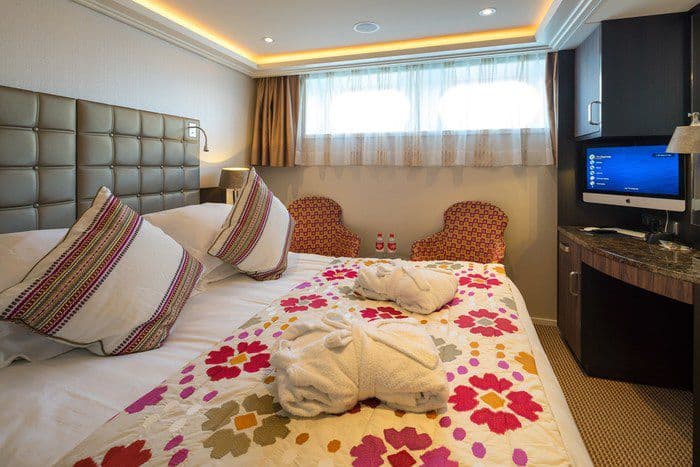 AmaWaterways AmaLea Accommodation Category E 3.jpg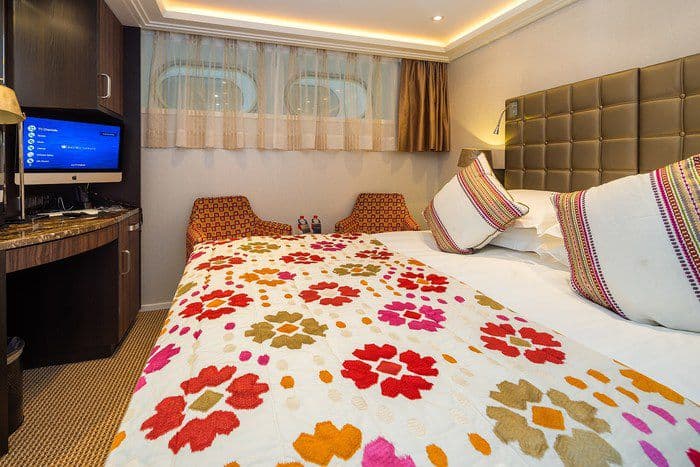 AmaWaterways AmaLea Accommodation Category E 4.jpg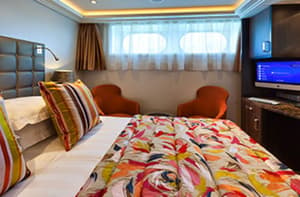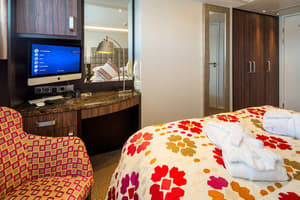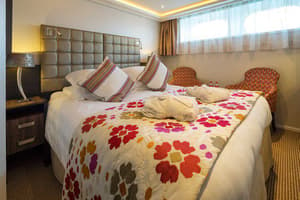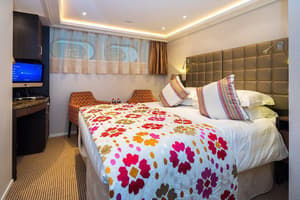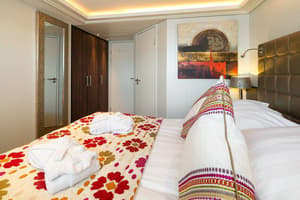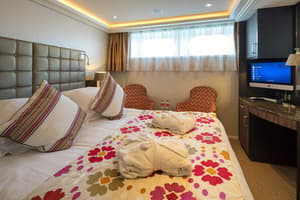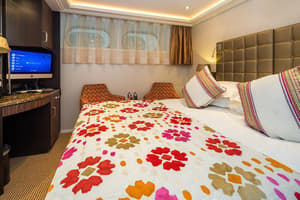 Cat. D & E
In-room temperature control
Deluxe hotel-style bedding with Egyptian linen, down pillows and duvet
Spacious bathrooms with multi-jet showerheads
Large wardrobe, full-length mirror, hair dryer, safe and direct-dial telephone
Flat-screen TV that also works as a computer
Entertainment on Demand system providing complimentary TV, movies and music library
Complimentary internet and Wi-Fi
Complimentary bottled water replenished daily
Desk and chair
Features
Queen or Twin Configuration
Shower
Toiletries Provided
Room Service Available
TV
Free Wi-Fi
Safe
Hair Dryer
Desk
Deck plans

Sun Deck
Lower Sun Deck
Navigation Bridge
Walking Track
Heated Pool
Bicycles
Sun Deck

Violin Deck
The Chef's Table Restaurant

Reception

Gift Shop

Main Lounge & Bar

Al Fresco Dining Terrace
Observation Lounge
Suites
Cat AA Staterooms (No 305 - 312)
Cat BA Staterooms (No 313 - 324)
Cat CA Staterooms (No 325 - 330)
Cat CB Staterooms (No 331 - 334)

Cello Deck
Main Restaurant

Cat AB Staterooms (No 201 - 210)

Cat BB Staterooms (No 211 - 224)

Cat CA Staterooms (No 227 - 232)

Piano Deck
Massage and Hair Salon
Fitness Room
Cat D Staterooms (No 101 - 108)
Cat E Staterooms