Why cruise on this ship?
One of AmaWaterways' remarkable twin-balcony river ships, the newly reimagined AmaVerde, is full of light, love and bold artwork showcasing vibrant, modern designs.

Kathleen
wrote a review in Mar, 2022
An autumn Danube river cruise was a tempting idea, so we chose and booked an AMA waterways river cruise on AMA Verde, especially when we could fly from a regional airport to join this charming ship. ...
Dining
Savour exquisite cuisine at a variety of dining venues, like the Main Restaurant and The Chef's Table. You can also order delicious tapas between meals in the Main Lounge.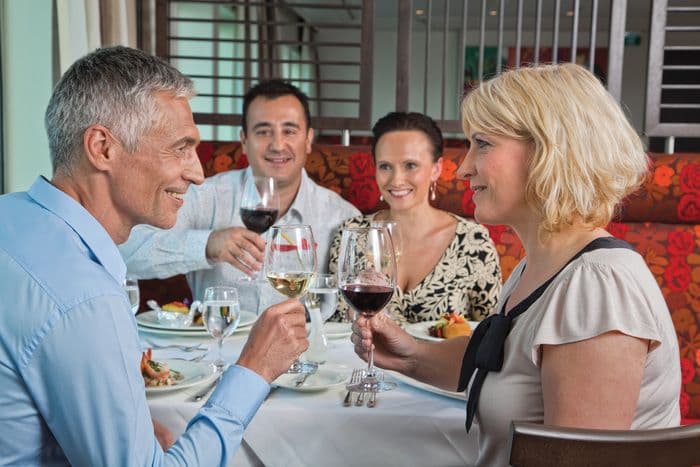 Main Restaurant
AmaWaterways' expert chefs craft menus that feature exquisite, locally-inspired cuisine as well as traditional, Western offerings. At breakfast, sip sparkling wine as you partake fresh pastries, or opt for something made-to-order from the menu. Stop by the Main Lounge for a light lunch, or head to the restaurant for full menu service and high-quality regional wine or beer. Dinner is a delectable, multi-course affair with wine recommendations that accompany visually stunning, delicious dishes. Try local favourites — like goulash while cruising through Hungary, bratwurst and sauerkraut after returning to the ship from Vienna, or Camembert cheese while on the Seine — or something more familiar, like a sandwich. No matter what your preference, your taste buds are sure to be impressed.
Features
Experience: Complimentary
Food type: Varies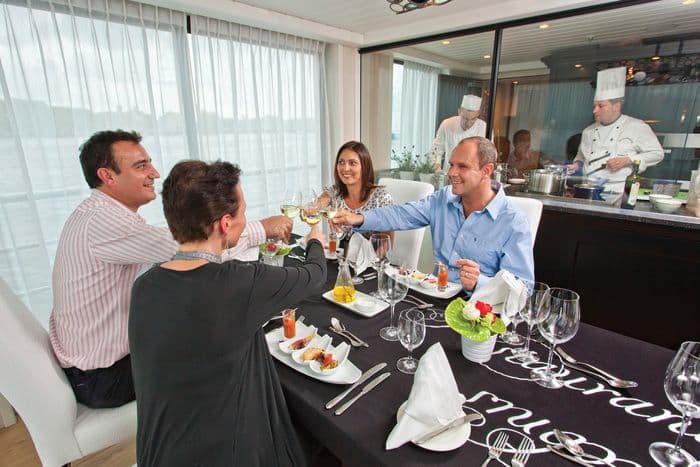 AmaWaterways AmaVerde AmaBella Interior Chefs Table 2.jpg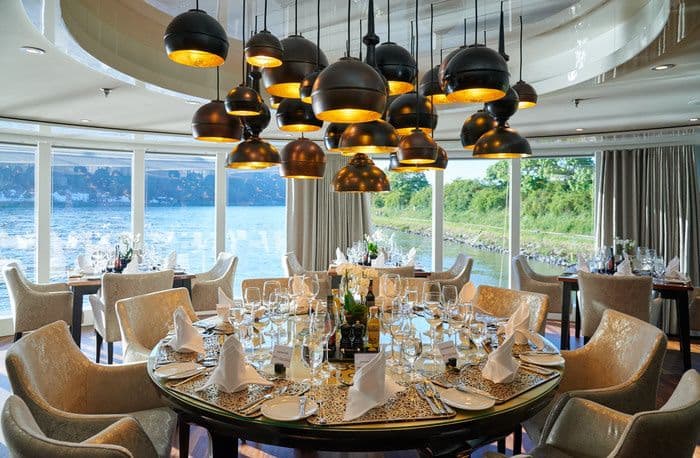 AmaKristina Chef's Table.jpg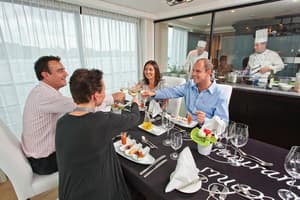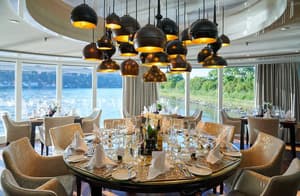 The Chef's Table
Join a few of your fellow travellers at The Chef's Table, where the kitchen — usually hidden — becomes part of the entertainment. You'll have the opportunity to watch the chef prepare a special multi-course meal right in front of you. The menu here is unique, making this a truly distinct gastronomic experience. Indulge in delectable dishes served with unlimited fine wines, hand-selected just for this dinner. It is the only venue of its kind on the river.
Features
Experience: Complimentary
Food type: Chef
Entertainment
Part of the draw of traveling to new destinations is immersing yourself in authentic local culture. We are happy to bring evening entertainment on board that includes musicians, folkloric dancers and storytellers who live and work in the cities we sail to and are happy to share their cultural traditions and talents with you. Whether it's traditional Bavarian music, a local quartet or contemporary piano favourites played by our resident musician, you will enjoy an eclectic schedule of onboard entertainment every night.

Whether it's traditional Bavarian music, a local quartet or modern piano favourites, there is an eclectic schedule of entertainment on board.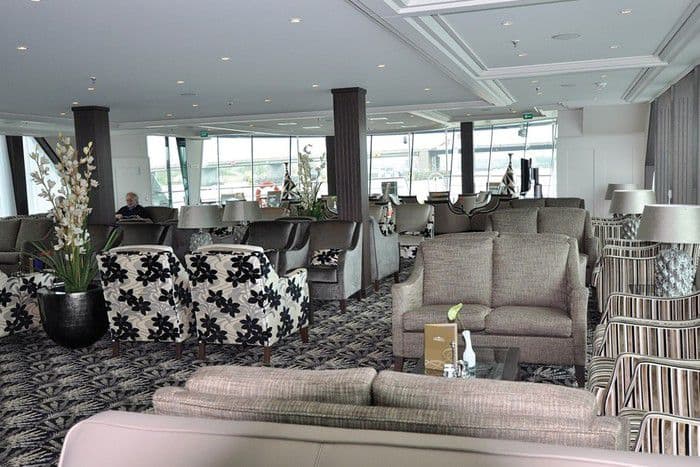 Main Lounge & Bar
With fewer passengers on board, guests can enjoy the luxury of space — our public areas, like lounges and restaurants, are never overcrowded.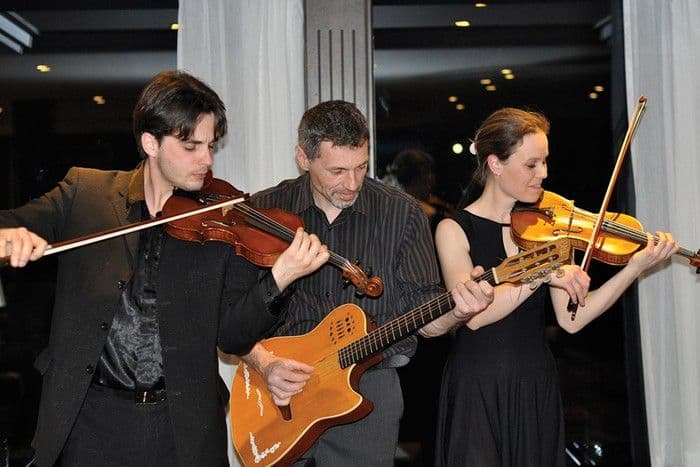 Onboard Entertainment
Whether it's traditional Bavarian music, a local quartet or modern piano favorites, there is an eclectic schedule of entertainment on board.
Enrichment
Your river cruise with AmaWaterways will be a luxurious experience from start to finish. Customise how you explore Europe with a variety of included shore excursions and flexible tour options.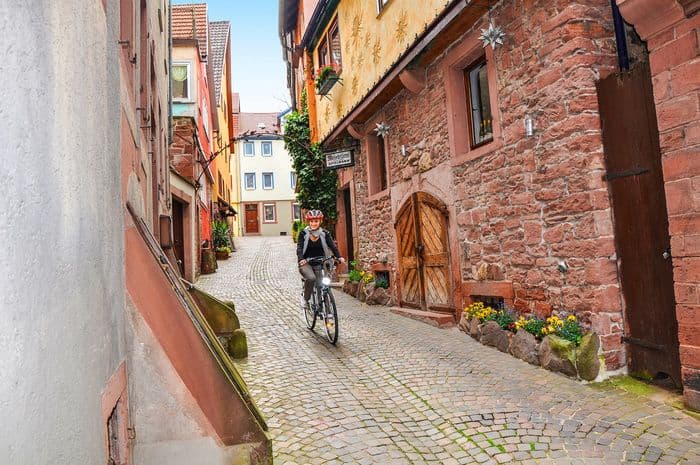 AmaWaterways Enrichment BICYCLE_Bella_Cyclist.jpg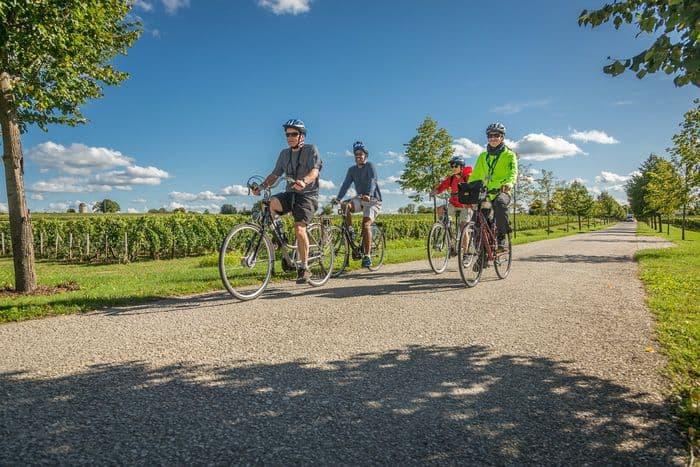 AmaWaterways Enrichment BICYCLE_FR_bluesky.jpg
AmaWaterways Enrichment BICYCLE_FR_citadel.jpg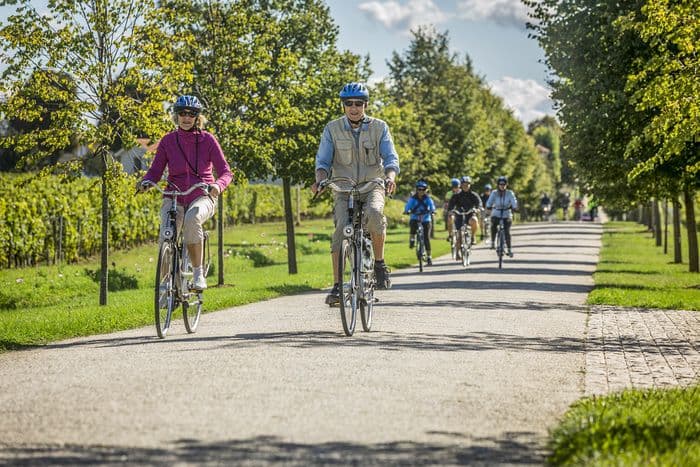 AmaWaterways Enrichment BICYCLE_FR_bordeaux.jpg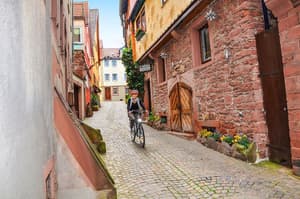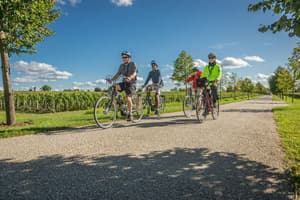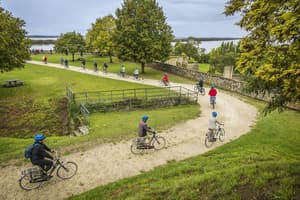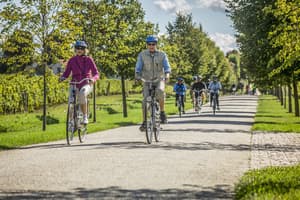 Guided Bike Tours
With AmaWaterways, you have the option of exploring Europe's amazing sights like the locals do. We were the first river cruise line to carry an entire fleet of complimentary bicycles on board, so you can experience biking alongside enchanting riverside pathways and in city centres. Whether you feel like joining one of our exclusive guided bike tours, or want to go discover on your own, there are many ways for you to explore on two wheels during your cruise. Here are a few examples:
Bike along the beautiful Danube River between Dürnstein and Melk in Austria's Wachau Valley
Tour Cologne's Old Town and Cathedral along the Rhine River
See the medieval city of Rouen in France's historic Normandy region, near the Seine River
Take in wooded hills and beaches of poplars along the scenic shores of the Inn River in Passau
Go on a guided bike ride in Vienna, where you'll visit Klosterneuberg Abbey and enjoy cake and coffee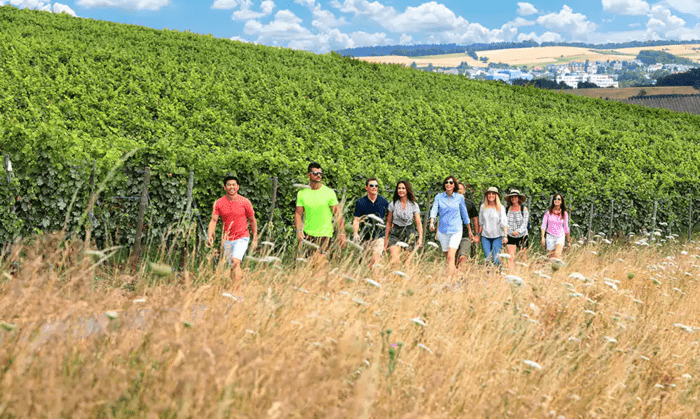 Guided Hiking Tours
The beauty of Europe doesn't just lie in its architecture and landmarks – there are also breath taking things to be seen when you venture out into nature. That's why we've designed special hikes that will take you a bit off the beaten path in some very beautiful destinations.
Trek up to the Veste Oberhaus in Passau, Germany for incredible views over Old Passau
Make your way up to Dürnstein Fortress, where it is said that Richard the Lionheart was once held captive
Hike up the Philosopher's Path to a panoramic view of Heidelberg and the Necker River
Journey from the ship to the Old Town in Strasbourg, France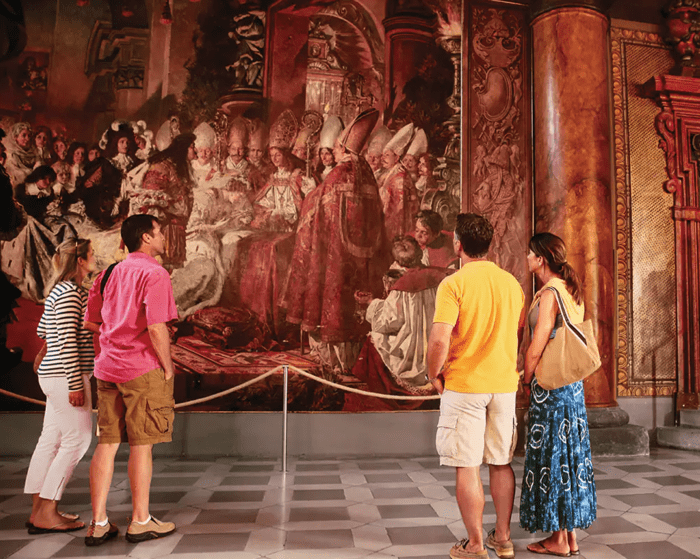 Included Tours
We realise that our guests have different tastes, so we've developed a menu of shore excursions in every port of call. In many destinations, you'll be free to choose from one of several options — all of which are included in your cruise fare. There's always a city tour designed to show you all the renowned highlights and landmarks in grand capitals and charming villages alike. Is it your first time in Vienna? Opt for an unforgettable exploration of the major sights led by a local, English-speaking guide that is well versed in history and culture. Have you already been to Nuremberg? Instead of taking the city tour, indulge in a bratwurst and beer tasting on one of our Special Interest Tours, which are specially designed to place you in the midst of local life. Are you looking for something more active? See the beautiful scenery of Austria's Wachau Valley with a guided bike tour along the Danube. The choice is yours.
Features
Tour
Excursions
Local Experience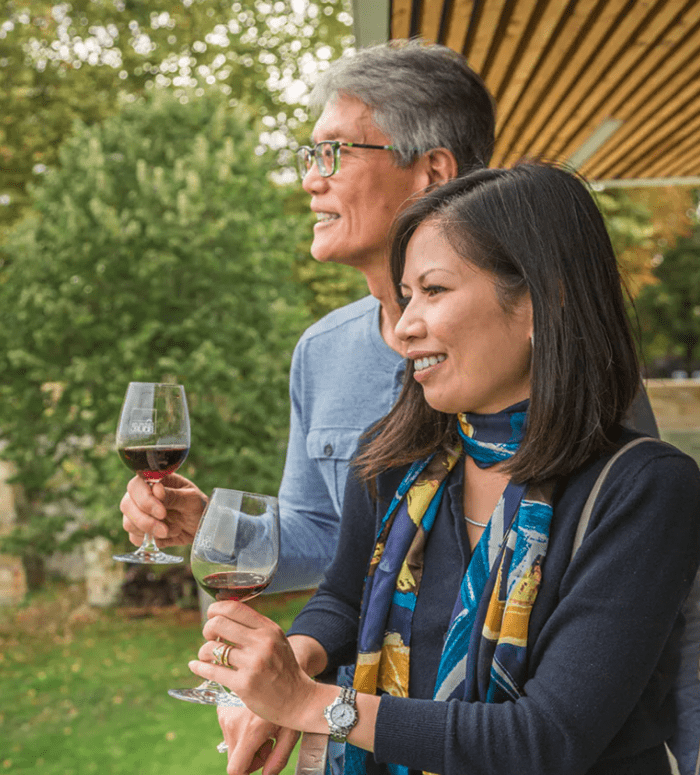 Limited Edition Tours
Every year, we seek out new opportunities for our guests to experience local culture in a unique way. These tours are specially designed to give small groups the chance to be even more immersed in a destination. Here are just a few examples:
Indulge in authentic Belgian waffles and chocolate in Antwerp
Try your hand at knotting a bretzel (German for "pretzel") in Wertheim
Go to a bratwurst and beer tasting at the oldest brewery in Nuremberg
Discover hidden treasures on a tour of Vienna's secret spots and sights
Sample Bavarian specialties like pralines in Regensburg
Features
Local Experience
Food Experience
Workshops
Land Packages
Make the most of your long-awaited vacation by adding our optional land packages before or after your sailing for an all-encompassing river cruise and land journey. Indulge your wanderlust and we'll whisk you away between your ship and hotel, plus take you on specially curated guided tours with just the right amount of leisure time to explore the art, history or culinary delights in sought-after cities around the world.
Why Add a Land Package?
There are many benefits to adding a land package before or after your sailing. One of the simplest reasons is the convenience of making all your future travel plans in one step. Our concierge services allow you to reserve your river cruise, flights, airport transfers and land packages all at once. No need to call and research multiple providers – just contact your travel advisor and we'll take care of it all. But the value of adding a land package doesn't stop there.
World-Class Hotels
Whether you wish to rest and recover from flights or pamper yourself before returning home, you'll find no better respite than the trusted, 4- and 5-star hotels we have carefully selected for you. Each luxurious property is centrally located near the major sights, such as Turkey's Istanbul at Sultanahmet, just steps from the magnificent Blue Mosque. If you should wish to extend your vacation even further, your travel advisor can conveniently arrange extra hotel nights through AmaWaterways as well.
Our land packages include transfers between your hotel and river cruise ship, portage service and daily breakfast at the hotel. In addition, fascinating guided city tours and excursions are included, so you can:
Discover breathtaking Mont St. Michel, France, the artistic inspiration for the movie Tangled
Join a tasting of Czech beer while learning about the beverage's long and illustrious history
Visit Transylvania's infamous Bran Castle, otherwise known as Dracula's Castle
Board a boat for a scenic ride along Italy's Lake Como to the stunning lakeside village of Bellagio
Rise with the sun at Cambodia's UNESCO-designated Angkor Archaeological Complex
What's Included in Your Land Package
Overnight stays at 4- and 5-star hotels conveniently located near the major sites
Daily breakfast at the hotel
Guided city tours
Convenient transfers to and from the ship
The services of a professionally trained Cruise Manager throughout your river cruise and land stay – unique in the industry
Health and fitness
With a walking track on the Sun Deck, a fitness room and a fleet of onboard bicycles to use on your own or on one of the many guided bike tours, as well as healthy menu choices, you'll have everything needed to stay active and healthy while sailing Europe's great rivers.
Fitness Centre & Spa
Are you looking for a way to stay fit on vacation? Hit the treadmill or lift some weights while cruising from one destination to the next.
Massage Services and Hair Salon
After a marvelous day of immersive shore excursions, return to the ship and treat yourself to a bit of pampering with a soothing massage.
Swimming Pool & Whirlpool
Soak up some rays or take a dip in our refreshing pool with a swim-up bar as we pass by centuries-old castles, charming villages and other breathtaking scenery.
Kids and teens
Please note: this ship does not feature any children's facilities.
Accommodation
Every feature in an AmaWaterways stateroom was thoughtfully conceived with the comfort of their guests in mind. The staterooms start at 160 square feet, and suites can be as large as 350 square feet, giving you more space to sit back and relax in between meals and explorations. Artfully crafted to a first-class standard, each room is equipped with innovative designs, plush bedding, multi-jet shower-heads, and many other special touches that make you feel like you're getting the royal treatment. Most of the staterooms have a balcony — or two — so you can enjoy stunning views of the magnificent sights along the river's edge.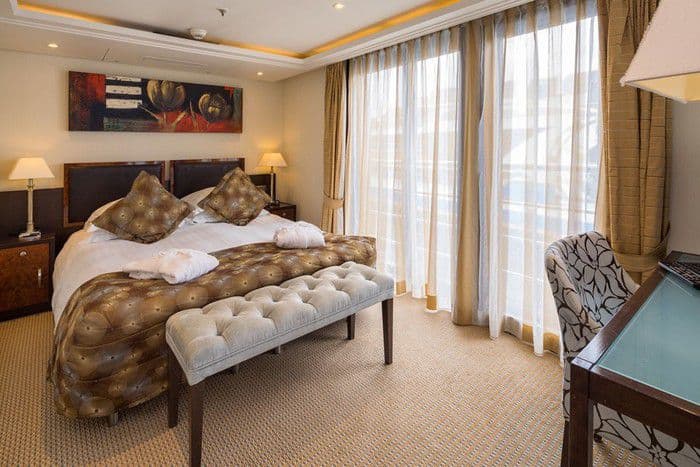 AmaBella Suite.jpg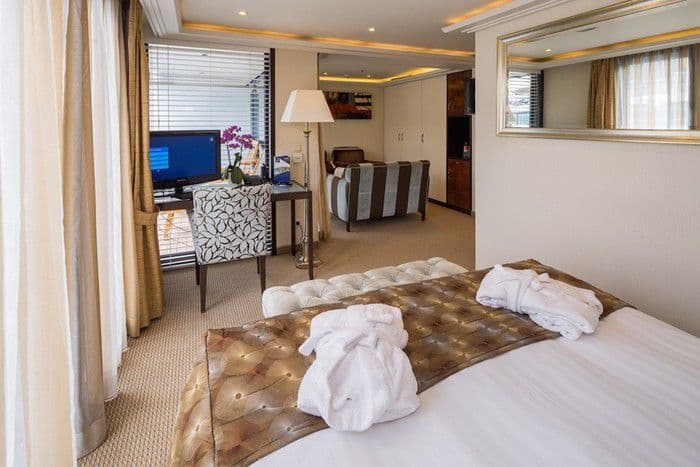 AmaBella Suite 3.jpg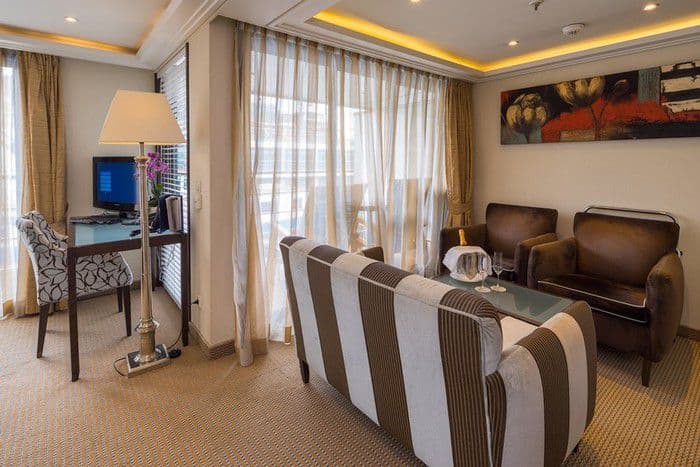 AmaBella Suite2.jpg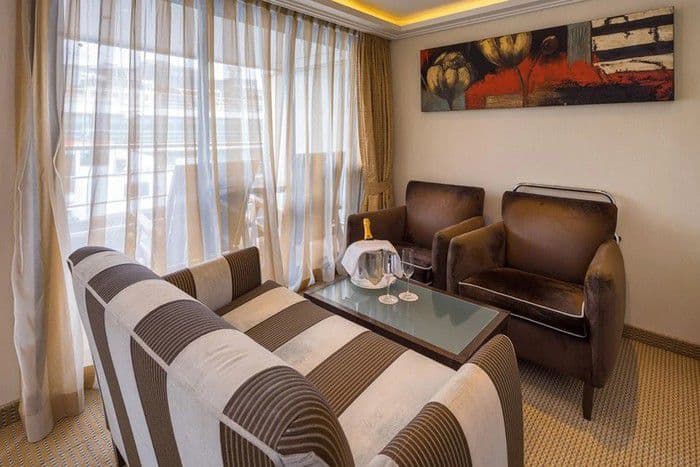 AmaWaterways River Cruises - Amabella - Suite 1.jpg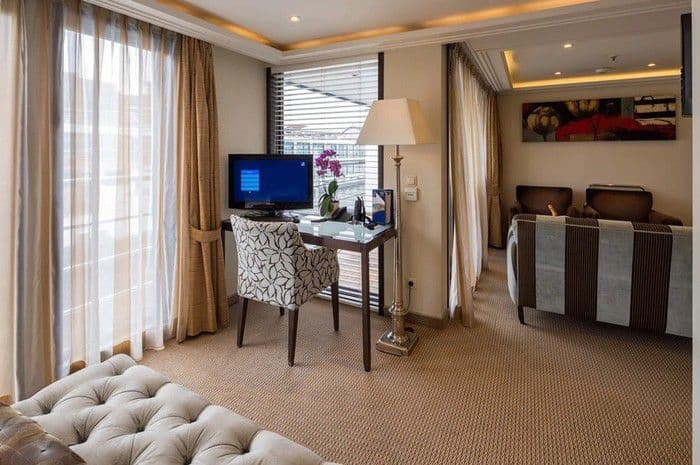 AmaWaterways River Cruises - Amabella - Suite.jpg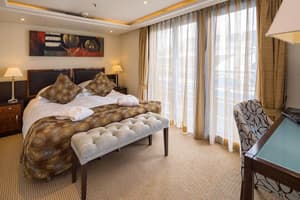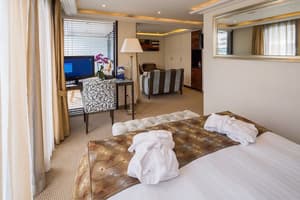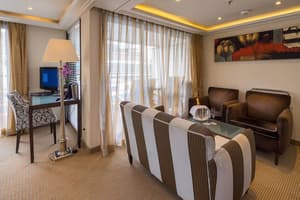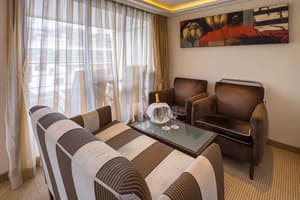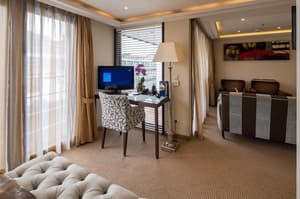 Suite
Suite Features
In-room temperature control
Deluxe hotel-style bedding with Egyptian linen, down pillows and duvet
Spacious bathrooms with multi-jet showerheads
Large wardrobe, full-length mirror, hair dryer, safe and direct-dial telephone
Flat-screen TV
Entertainment on Demand system providing complimentary TV, movies and music library
Complimentary internet and Wi-Fi
Complimentary bottled water replenished daily
Desk and chair
Features
Queen or Twin Configuration
Lounge Area
Vanity Area
Shower
Bath
Toiletries Provided
Room Service Available
Suite Benefits
Paid Mini Bar
Butler Service
TV
Free Wi-Fi
Safe
Hair Dryer
Desk
Media/Entertainment Station
Telephone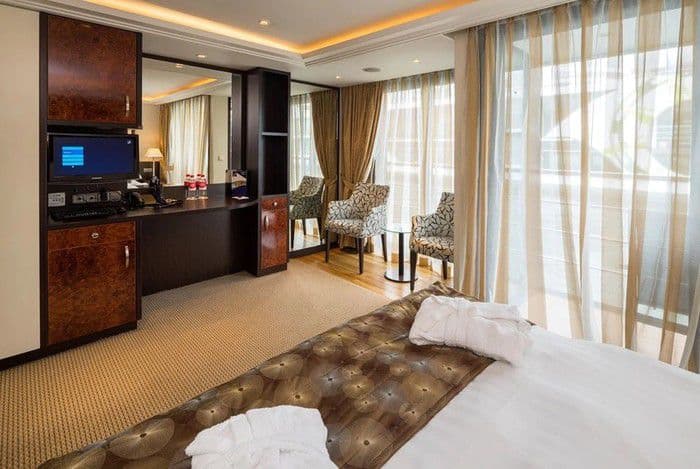 AmaWaterways River Cruises - Amabella - CAT. AA 1.jpg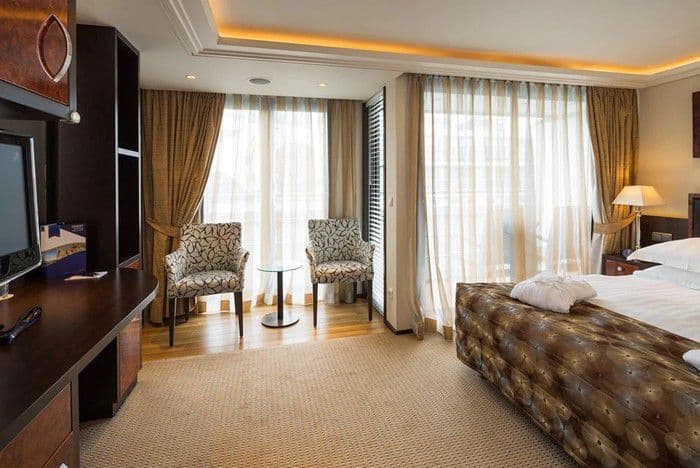 AmaWaterways River Cruises - Amabella - CAT.AA .jpg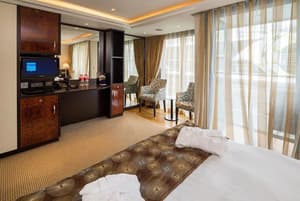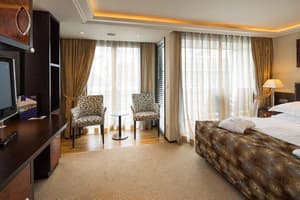 Category AA Stateroom
Suite features include:
In-room temperature control

Deluxe hotel-style bedding with Egyptian linen, down pillows and duvet
Spacious bathrooms with multi-jet showerheads
Large wardrobe, full-length mirror, hair dryer, safe and direct-dial telephone
Flat-screen TV
Entertainment on Demand system providing complimentary TV, movies and music library
Complimentary internet and Wi-Fi
Complimentary bottled water replenished daily
Desk and chair
Features
Queen or Twin Configuration
Lounge Area
Vanity Area
Shower
Bath
Toiletries Provided
Room Service Available
Suite Benefits
Butler Service
TV
Free Wi-Fi
Safe
Hair Dryer
Desk
Media/Entertainment Station
Telephone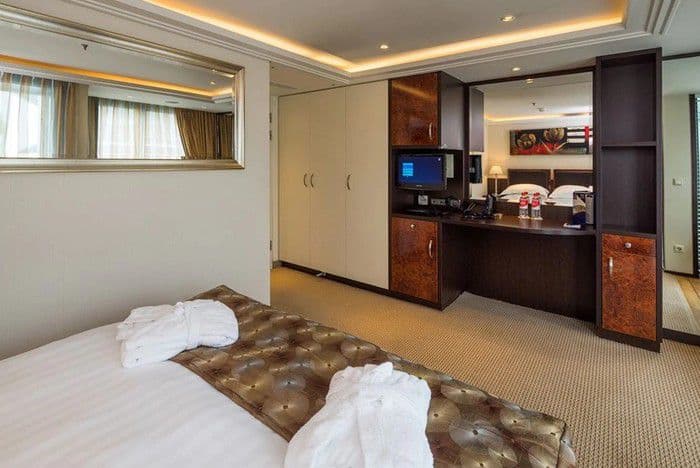 AmaWaterways River Cruises - Amabella - CAT. AB 1.jpg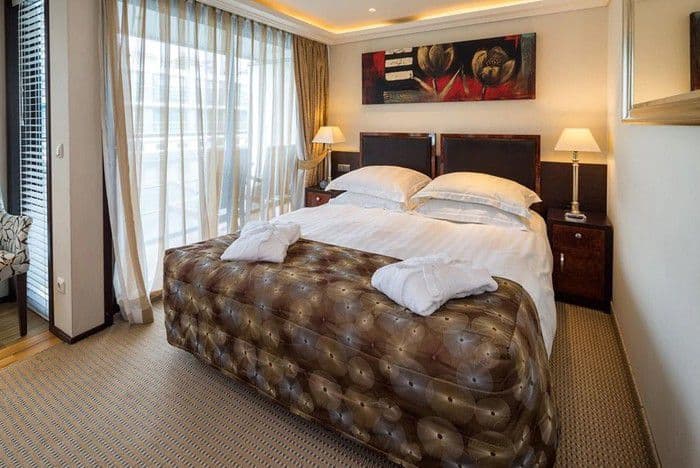 AmaWaterways River Cruises - Amabella - CAT. AB.jpg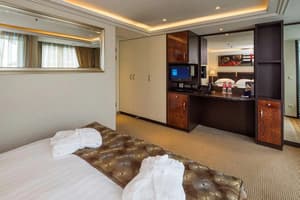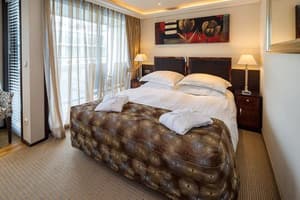 Category AB Stateroom
Suite features include:
In-room temperature control

Deluxe hotel-style bedding with Egyptian linen, down pillows and duvet
Spacious bathrooms with multi-jet showerheads
Large wardrobe, full-length mirror, hair dryer, safe and direct-dial telephone
Flat-screen TV
Entertainment on Demand system providing complimentary TV, movies and music library
Complimentary internet and Wi-Fi
Complimentary bottled water replenished daily
Desk and chair
Features
Double or Twin Configuration
Lounge Area
Shower
Bath
Toiletries Provided
Room Service Available
Butler Service
TV
Free Wi-Fi
Safe
Hair Dryer
Desk
Media/Entertainment Station
Telephone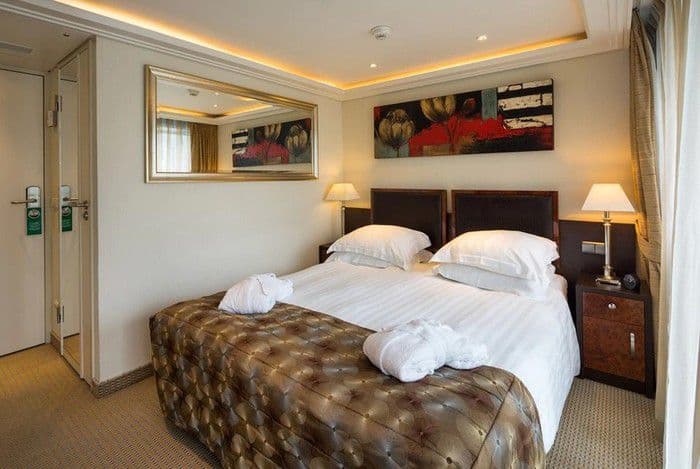 AmaWaterways River Cruises - Amabella - CAT. BA 1.jpg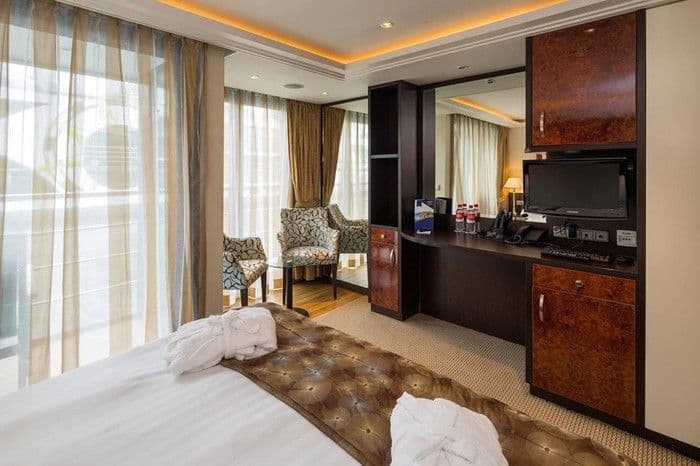 AmaWaterways River Cruises - Amabella - CAT. BA 2.jpg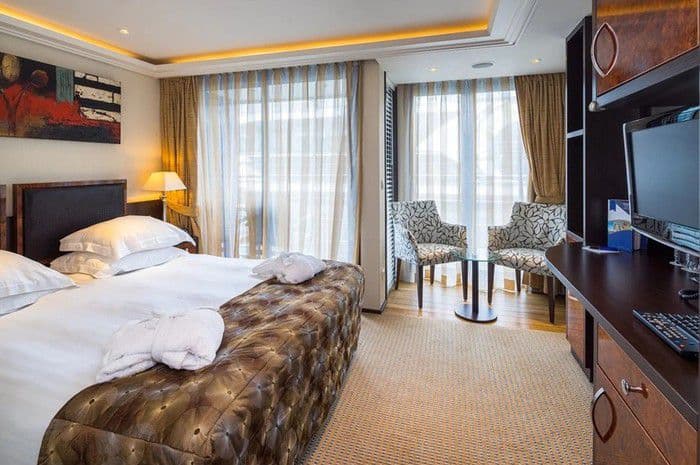 AmaWaterways River Cruises - Amabella - CAT. BA.jpg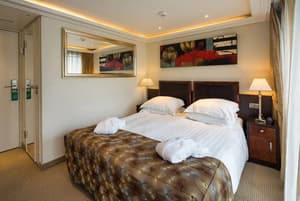 Category BA Stateroom
Stateroom features include:
In-room temperature control

Deluxe hotel-style bedding with Egyptian linen, down pillows and duvet
Spacious bathrooms with multi-jet showerheads
Large wardrobe, full-length mirror, hair dryer, safe and direct-dial telephone
Flat-screen TV
Entertainment on Demand system providing complimentary TV, movies and music library
Complimentary internet and Wi-Fi
Complimentary bottled water replenished daily
Desk and chair
Features
Double or Twin Configuration
Lounge Area
Shower
Bath
Toiletries Provided
Room Service Available
Butler Service
Free Wi-Fi
Safe
Hair Dryer
Telephone
Desk
TV
Media/Entertainment Station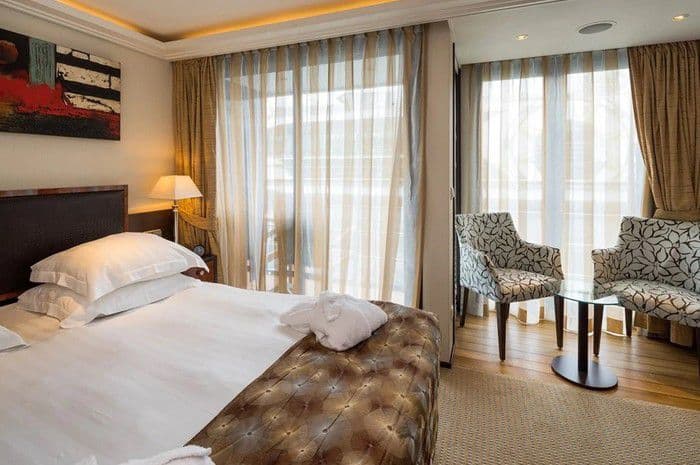 AmaWaterways River Cruises - AmaBella - CAT. BB Suite 1.jpg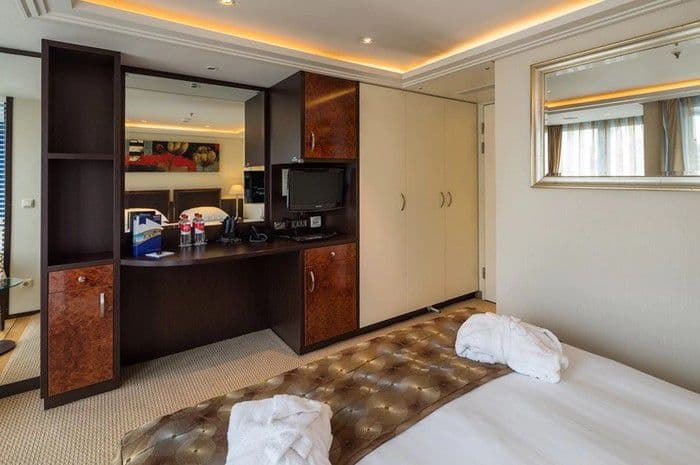 AmaWaterways River Cruises - AmaBella - CAT. BB Suite 2.jpg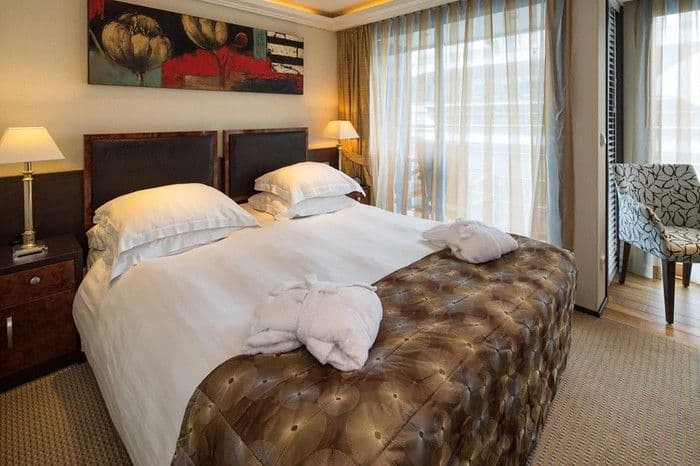 AmaWaterways River Cruises - AmaBella - CAT. BB Suite 3.jpg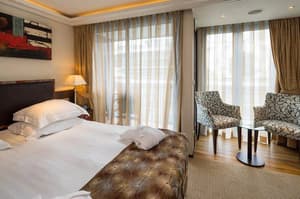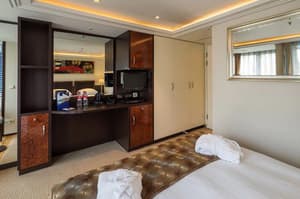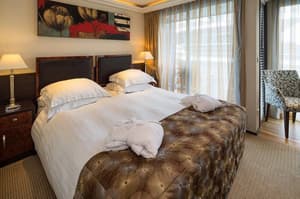 Category BB Stateroom
Stateroom features include:
In-room temperature control

Deluxe hotel-style bedding with Egyptian linen, down pillows and duvet
Spacious bathrooms with multi-jet showerheads
Large wardrobe, full-length mirror, hair dryer, safe and direct-dial telephone
Flat-screen TV
Entertainment on Demand system providing complimentary TV, movies and music library
Complimentary internet and Wi-Fi
Complimentary bottled water replenished daily
Desk and chair
Features
Double or Twin Configuration
Lounge Area
Shower
Bath
Toiletries Provided
Room Service Available
TV
Free Wi-Fi
Safe
Hair Dryer
Telephone
Desk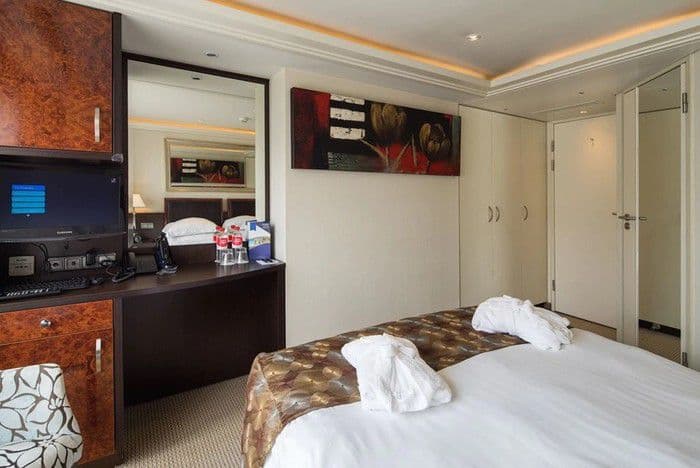 AmaWaterways River Cruises - AmaBella - CAT. C Stateroom 1.jpg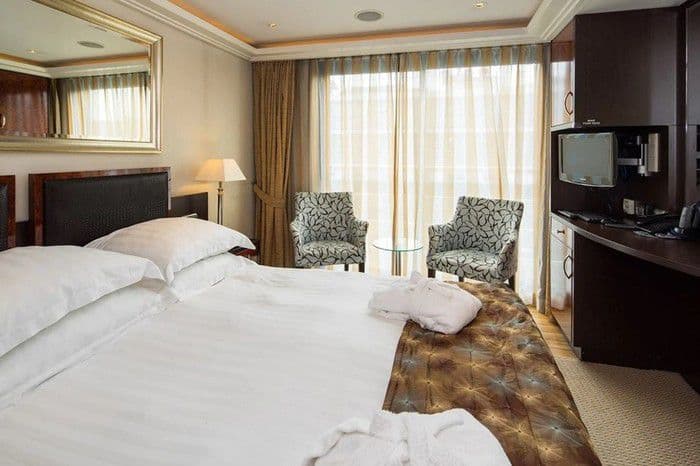 AmaWaterways River Cruises - AmaBella - CAT. C Stateroom 2.jpg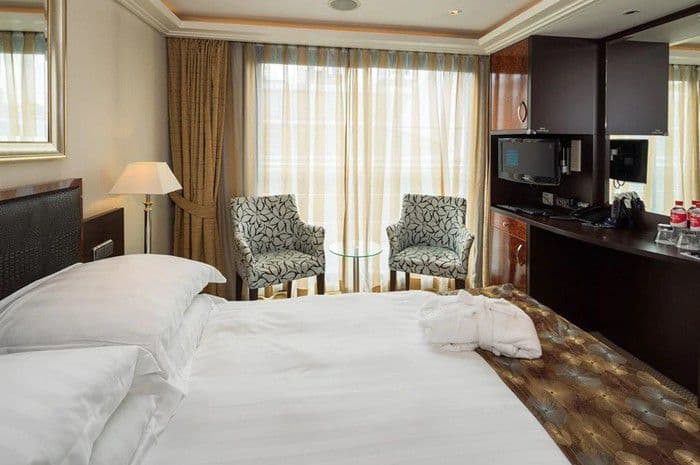 AmaWaterways River Cruises - AmaBella - CAT. C Stateroom 3.jpg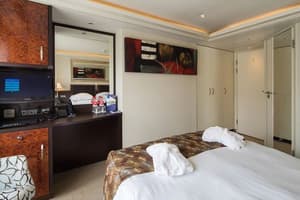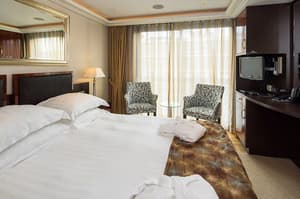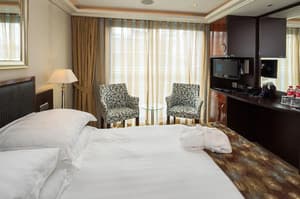 Category C Stateroom
Stateroom features include:
In-room temperature control

Deluxe hotel-style bedding with Egyptian linen, down pillows and duvet
Spacious bathrooms with multi-jet showerheads
Large wardrobe, full-length mirror, hair dryer, safe and direct-dial telephone
Flat-screen TV
Entertainment on Demand system providing complimentary TV, movies and music library
Complimentary internet and Wi-Fi
Complimentary bottled water replenished daily
Desk and chair
Features
Double
Lounge Area
Shower
Bath
Toiletries Provided
Room Service Available
Free Wi-Fi
Safe
Hair Dryer
Telephone
Desk
TV
Media/Entertainment Station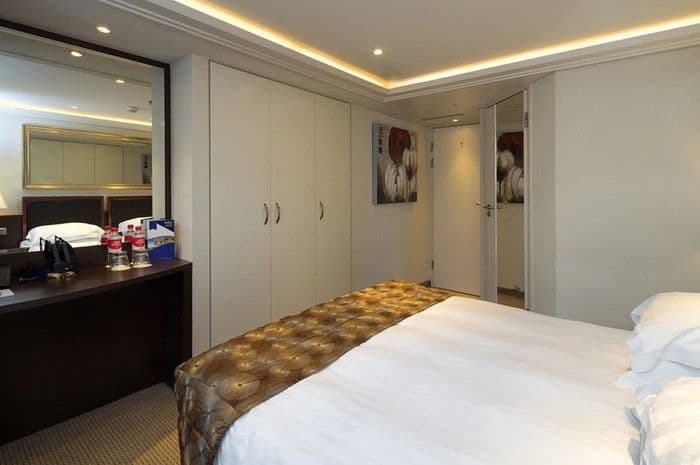 AmaWaterways River Cruises - AmaBella - CAT. D & E Stateroom 1.jpg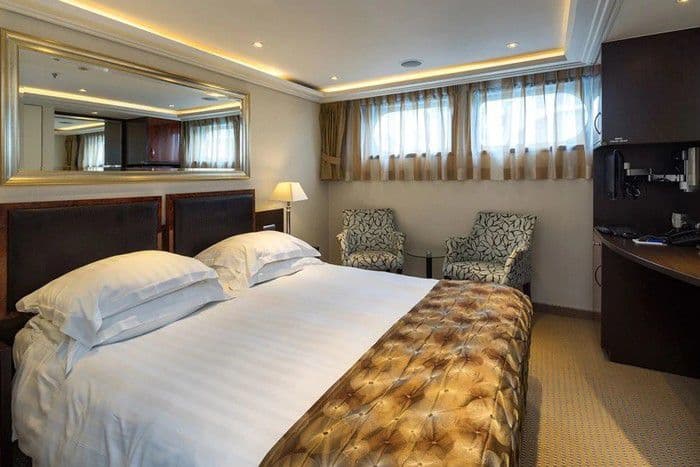 AmaWaterways River Cruises - AmaBella - CAT. D & E Stateroom 2.jpg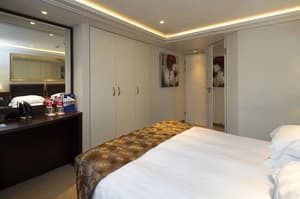 Category D Stateroom
Stateroom features include:
In-room temperature control

Deluxe hotel-style bedding with Egyptian linen, down pillows and duvet
Spacious bathrooms with multi-jet showerheads
Large wardrobe, full-length mirror, hair dryer, safe and direct-dial telephone
Flat-screen TV
Entertainment on Demand system providing complimentary TV, movies and music library
Complimentary internet and Wi-Fi
Complimentary bottled water replenished daily
Desk and chair
Features
Double or Twin Configuration
Lounge Area
Shower
Bath
Toiletries Provided
Room Service Available
TV
Free Wi-Fi
Safe
Hair Dryer
Telephone
Desk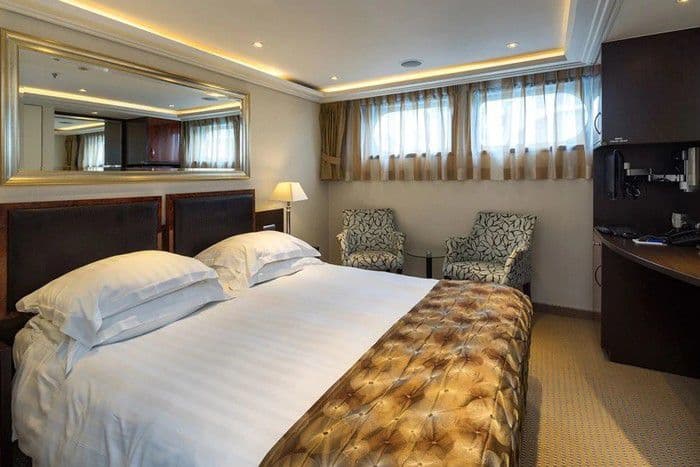 AmaWaterways River Cruises - AmaBella - CAT. D & E Stateroom 2.jpg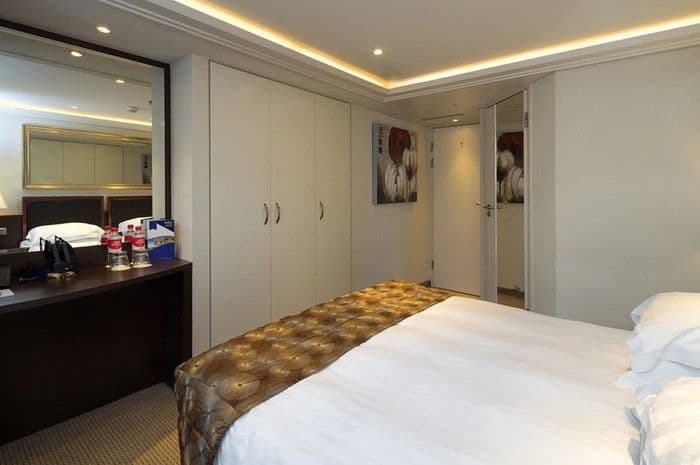 AmaWaterways River Cruises - AmaBella - CAT. D & E Stateroom 1.jpg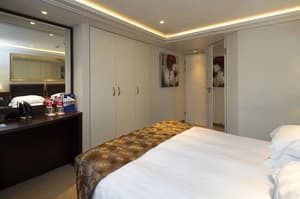 Category E Stateroom
Stateroom features include:
In-room temperature control
Deluxe hotel-style bedding with Egyptian linen, down pillows and duvet
Spacious bathrooms with multi-jet showerheads
Large wardrobe, full-length mirror, hair dryer, safe and direct-dial telephone
Flat-screen TV
Entertainment on Demand system providing complimentary TV, movies and music library
Complimentary internet and Wi-Fi
Complimentary bottled water replenished daily
Desk and chair
Features
Double or Twin Configuration
Lounge Area
Shower
Toiletries Provided
Room Service Available
TV
Free Wi-Fi
Safe
Hair Dryer
Telephone
Desk
Deck plans

Sun Deck
Lower Sun Deck

Navigation Bridge

Bicycles

Heated Pool

Sun Deck

Walking Track

Putting Green


Violin Deck
Bow Seating Area
Observation Lounge
Main Lounge & Bar
Gift Shop
Reception
Fitness Room
Massage & Hair Salon
The Chef's Table Restaurant
Suites
Cat BA Staterooms
Cat AA Staterooms
Cat C Staterooms

Cello Deck
Main Restaurant
Cat BB Staterooms
Cat AB Staterooms
Cat C Staterooms

Piano Deck
Cat D Staterooms
Cat E Staterooms
Crew Cabins