Search for your ideal Cruise
Why cruise on this ship?
It's one thing to be fun, but it's another thing to be first. Carnival Dream was at the forefront of a wave of amazingly fun Carnival ships; as the genesis of the Dream class, it set the direction for the ships that followed.
find your perfect cruise
Dining
You've got a foodie in you — everyone does! Awaken and delight yours on a Carnival cruise with delicious main dishes, tempting desserts and general yumminess everywhere you look. You can sample great food from all over the world. They've got everything from a specialist steakhouse to 24-hour pizzas and complimentary, round-the-clock room service. And if that isn't quite enough to satisfy your appetite, you can treat yourself to a multicourse VIP dinner at the Chef's Table. It's an eating experience you'll never forget.

Seaday Brunch
Forget what "they" say — the most important meal of the day is brunch. Slumberers can sleep in and still enjoy breakfast favourites, while early-risers get a head-start on lunch. And Seaday Brunch brings everybody's favourite mid-morning meal to your Carnival cruise, and does it right. You'll enjoy overstuffed breakfast burritos, special French toast, loaded mac n' cheese… and yes, more ways to cook eggs than you would even thought was possible. Chow down and fuel up — you've got lots of exploring to do, across the ship, for the rest of the day.
Features
Experience: Cover
Food type: Brunch

Signature Dining
Chances are, you've worked up an appetite after a day of onboard activities or exploring one of the beautiful destinations. Now it's time to feast on amazing culinary delights in the dazzling main dining rooms. If you'd rather eat early (6:00 p.m.), choose the "Early Dining" option when booking your cruise. If your appetite doesn't get going until later in the evening (8:15 p.m.), then then "Late Dining" option is perfect for you. Prefer to munch to the beat of your own drum? "Your Time Dining" is for you! Either way, your table will be waiting.
Features
Experience: Complimentary
Food type: Varies

The Taste Bar
A voyage to new destinations is the perfect time to try new things… and here's the perfect place: The Taste Bar. Stop in to The Taste Bar for a new and different delicacy each day — the dishes will give you a taste of the flavours that await at dining venues across the Carnival fleet. Pick up a complimentary appetiser before dinner for a taste of something different.
Features
Experience: Cover
Food type: Varies

Steakhouse
Turn your special vacation in the direction of delicious — book a table for an unforgettably delectable evening at the Steakhouse. Their menu features mouthwatering premium cuts of beef cooked to your exact specifications, as well as a fantastic selection of seafood, entrées, gourmet appetisers and an extensive wine list. The atmosphere pairs remarkably well with — and perhaps even enhances — the culinary creations of their gourmet chefs. Tip: Like any destination restaurant, reservations for Steakhouse are highly recommended. Your meal includes an appetiser, salad, entrée, side and dessert.
Features
Experience: Cover
Food type: Steakhouse

Mongolian Wok
Chow down on some delicious Asian goodness. First, pick your noodles and veggies. Then tell one of the chefs manning the wok what sauce and meat you'd like added in. Will it be mussels and Szechuan? Beef and Thai Barbecue? Chicken and Black Bean? Don't worry, the decision doesn't have to be final, because with Mongolian Wok open every day from late morning to early evening, you can come back and try as many combos as your heart desires!
Features
Experience: Cover
Food type: Asian

Chef's Table
Treat your taste buds to the experience of a lifetime, culminating in a sumptuous multi-course dinner hosted by one of Carnival's master chefs. Your VIP experience starts with cocktails and hors d'oeuvres for a select group of 12, followed by a tour to see the galley in operation. The evening concludes with a mind-blowing full-service dinner of amazing appetisers, entrees and desserts not found on the regular dining menus. Reserve early because this once-in-a-lifetime experience has limited seating. It's $75 per person and can be booked onboard through the ship's guest information desk.
Features
Experience: Cover
Food type: Chef

Coffee Bar
Treat yourself to a well-deserved break with a speciality coffee drink or freshly brewed tea and some delicious home-made pastries. Or, if it's a sweet tooth you're looking to satisfy, stop by for a milk shake, ice-cream sundae, slice of cake or cookies.
Features
Experience:
Food type: Cafe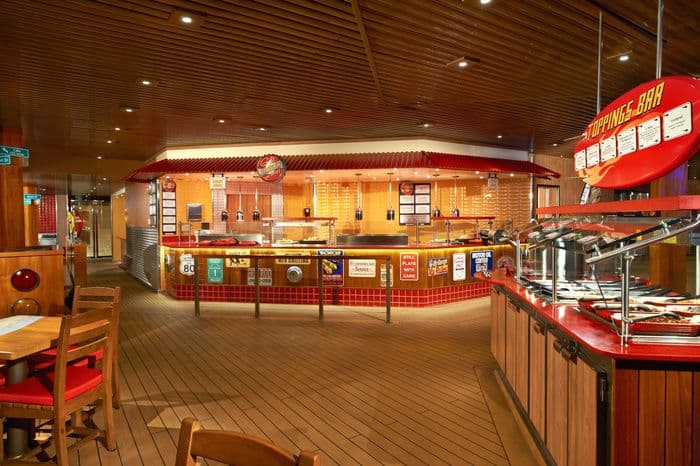 Guy's Burger Joint
Carnival Cruises went looking for someone to help grill up the best burgers at sea, and they've found just the guy. Carnival has teamed up with best-selling author, restaurateur and Food Network personality Guy Fieri to bring all the appetising appeal of a roadside burger to Guy's Burger Joint, the cool pool-side spot for hot burgers and hand-cut fries. Try a fresh-off-the-grill burger Guy's way, or take it off-road to the toppings bar and truly make it your own.
Features
Experience: Cover
Food type: Fast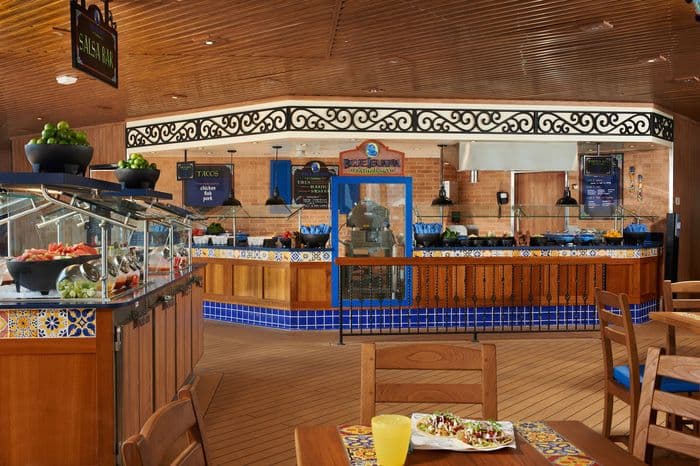 BlueIguana Cantina
Nobody knows Mexican dining like a blue iguana. Well, Carnival's blue iguana, at least. That's why it should come as no surprise that the all-new BlueIguana Cantina features freshly made tacos and burritos stuffed specially for your enjoyment. Throw some home-made tortillas or chips and salsa into the mix, and you have a casual dining experience that will make you say "mmmm" (pretty sure that's Iguanese for "more please").
Features
Experience: Cover
Food type: Mexican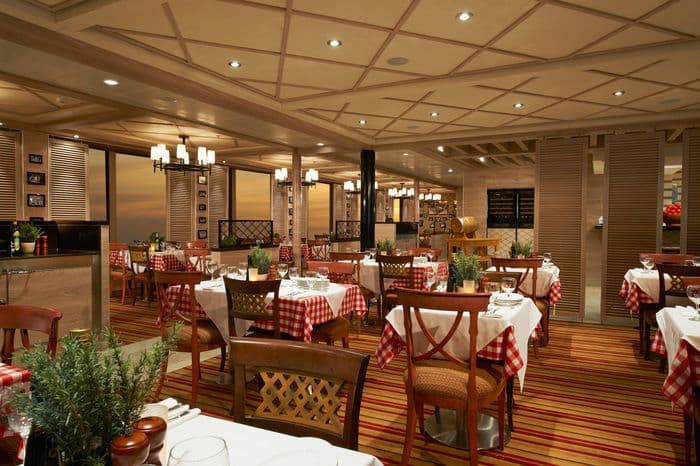 Cucina Del Capitano
Say arrivederci to ordinary and ciao to a new and exciting dining experience at the restaurant that pays homage to Carnival's unique heritage. Italian-American dishes inspired by the recipes from their Italian captains' and officers' childhoods are served up family-style in a comfy, eclectic environment decorated to feel like an Italian country home. Vintage images of the captains and ships adorn the walls, and there's even a Captain's table where you just might see the man himself dine. While the casual pasta lunch is complimentary, the full-service dinner menu is offered at an extra charge.
Features
Experience: Cover
Food type: Italian

Oceanside BBQ
Send your taste buds on a tasty journey at the Oceanside BBQ, an American style BBQ with an international flair. Start your journey with soft BBQ tacos filled with your choice of steak, chicken, pork or tofu. Explore steak sliders topped with Asian slaw, juicy Carnival Dogs garnished with a variety of condiments, or the always-favourite chicken quesadilla stuffed thick with melty cheese. Enjoy your meal outside while their grill-masters churn out some delicious BBQ.
Features
Experience: Complimentary
Food type: Bbq

Lido Restaurant
Featuring a nice variety of casual dining options like Mongolian Wok, Chef's Choice, Salad Bar, Burrito bar, Carnival Deli and more, the Gathering Lido Restaurant has something — or more likely, at least a few somethings — to satisfy your craving. With plenty of indoor and outdoor seating and food options for everyone, you can enjoy your personal favourites while dining in the company of family and friends. It's also where you can find our pizza station and soft serve and frozen yogurt… both open 24 hours a day, which ought to be enough for anybody.
Features
Experience: Complimentary
Food type: Varies

Pasta Bella
From linguine in pomodoro sauce to penne with grilled chicken — plus everything in between — combine your favorite pastas with delicious sauces and then top them off with a variety of fresh ingredients at this make-your-own-pasta bar. Si mangia pasta at Pasta Bella, where specialty dishes like lasagna are also offered along with fresh bread and Caesar salad — mamma mia, that's a lot of good food!
Features
Experience: Complimentary
Food type: Italian

Pizza Pirate
Tossing dough is an age-old art passed down the generations. Lucky for you, someone passed us the secret to the perfect pie. While aboard, this is the place that will shiver your timbers and warm you to the bone, 24 hours a day, with a Margherita, Funghi, Prosciutto, Pepperoni or Quatttro Formaggi pizza served with a delicious Caesar salad. Savvy? Then it's the pirates' life for you!
Features
Experience: Complimentary
Food type: Pizzeria
Tandoor
The aromatic delight of Indian food is unmistakable. Cooked at over 1000 degrees in our traditional clay oven, Tandoor cooks up a wide variety of signature Indian delights that are uniquely spiced, yet delicately flavored. Enjoy tandoori chicken or fish with cumin pilaf, succulent beef kebabs, or dip hot naan bread into sweet chutney, all straight from the tandoor. Here, you'll always find an arousing array of vegetarian options made from the freshest produce. Add in some masterfully seasoned side dishes and your first bite will transport you straight to the heart of India.
Features
Experience: Complimentary
Food type: Indian

24 Hour Room Service
So you're in the mood for some good eats, but you'd rather stay in your comfy, cozy stateroom? Really, who could blame you? Simply pick up the phone and order something from our tasty room service menu. And since you get hungry when you get hungry, room service is available any time of the day (or night) and delivered right to your door. Best of all — and you may not believe this — the food's even included in your fare.
Features
Experience: Complimentary
Food type: Room

Swirls
Got room for dessert? Sure you do! Swirls ice cream lets you enjoy the sweeter side of brain freeze with a treat that'll have you smiling from ear to ear. Choose from chocolate, vanilla or strawberry… or make your own mix swirled as high as you can balance it. Open on Lido deck 24/7, our frozen yogurt and soft-serve ice cream is a great way to beat the heat all day, or the perfect nightcap after a long evening of fun.
Features
Experience: Complimentary
Food type: Ice_Cream

Sweet Spot
There's nothing sweeter than a visit to Sweet Spot for their specially-made marble chocolate cheesecake, lemon cream pies, cherry crumble squares and more. There's always something for everyone, including healthier options like fresh fruit medleys. Save room for dessert — or skip the meal altogether — and make sure you satisfy your sweet tooth with this mix of desserts that really hit the spot.
Features
Experience: Complimentary
Food type: Varies

Good Eats
When it comes to eating well for dinner, the name says it all. Good Eats is just the spot to enjoy a casual self-serve dinner aboard. Enjoy New York strip steak, broiled pork chops served with white rice or roasted potato, a carving station and so much more. There's something different on the menu every night, so you can come back and try something new. It's always a good time when you spend dinner time at Good Eats.
Features
Experience: Complimentary
Food type: Varies

Breakfast Grill
If the smell of breakfast cooking doesn't help open your eyes, their fresh coffee will surely do the trick. Drag yourself out of bed and over to the Lido Restaurant where you'll enjoy made-to-order omelettes, help yourself to fluffy stacks of pancakes or indulge in some sizzling sausage or bacon for a delicious and energising way to start the day.
Features
Experience: Complimentary
Food type: Varies

Green Eggs & Ham Breakfast
Pack your imagination, but don't forget your appetite as the whole family embarks on a breakfast that's part meal, and part journey into the deliciously whimsical world of Dr. Seuss.
Sit down to a truly fantastical feast at Green Eggs and Ham Breakfast with The Cat in the Hat and Friends. Bright colours and patterns decorate your table, which features fun and unique menus.
Feast! Feast! Feast! Lose yourself exploring a delicious menu where you'll find "Green Eggs and Ham," brightly colored fruit, gravity-defying pancake stacks, funky french toast, "Moose Juice" 'n' "Goose Juice"… and much more. (Classic breakfast offerings are available as well.) Breakfast is also the perfect time to meet and greet the stars of Dr. Seuss — characters will be around for special photo opportunities and fun interactions, making this a meal to remember.
Features
Experience: Cover
Food type: Brunch

Scarlett Dining Room & Crimson Dining Room
"Hey, which side does the fork go on?" is a question you'll never have to ask at a dining room dinner aboard a Carnival cruise… they set the table for you. They also bring to the table a full three courses in an experience that's filling, but never stuffy — after all, you're just as likely to catch waiters table-dancing as you are to order dessert. Dessert's included (along with the rest of your meal, by the way) in your fare. But don't skip straight to dessert, because the main course is the main attraction — drop in daily and enjoy a rotating menu of delectable favourites like steak, roasted duck, scallops and prime rib.
Features
Experience: Complimentary
Food type: Classic
Entertaining
Here's your chance to dip a toe into onboard entertainment, activities, bars and more… so that when you cruise, you're ready to dive headfirst into the fun.

The Punchliner Comedy Club
There's chuckle-funny, then there's laughing-so-hard-you-can-barely-breathe funny. To take their Punchliner Comedy Club talent way over the top, Carnival have teamed up with renowned comedian and TV personality George Lopez. George is Carnival's 'curator of comedy,' their 'finder of funny,' the… 'locator of laugh-out-loud', helping select talent for the fleetwide Punchliner Comedy Clubs.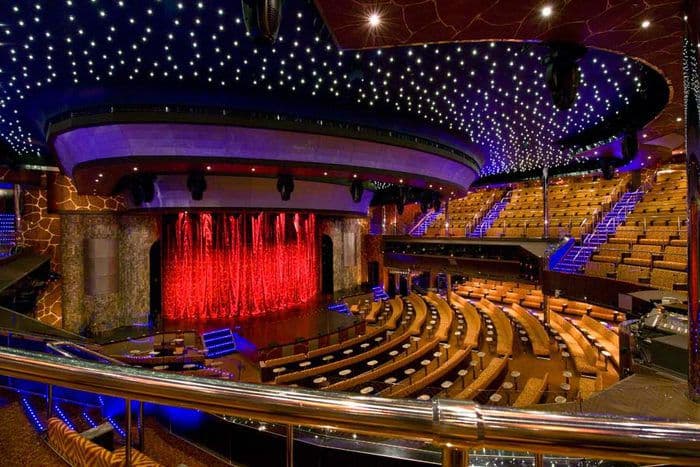 Show Lounge
Carnival's stage shows are designed to razzle and dazzle. Featuring talented singers, musicians and dancers performing crowd-thrilling numbers in extravagant costumes with awesome sets and scenery, it's like catching one of the best shows on land. All performances are created to ensure that every night feels like opening night. And best of all, since shows are included in your fare, it's like having top-dollar tickets to the hottest show in town, absolutely free.

DJ IRIE
Nobody can get the party started like a great DJ, right? That's why Carnival have brought DJ IRIE into the mix (pun intended) to make the nightlife onboard a Carnival cruise hotter than ever. He'll be heading up "DJ IRIE's Spin'iversity," a program designed to train budding DJs to keep their spinning skills sharp and their personalities party-ready. Oh, and as for music, graduates will be spinning expanded musical catalogues in clubs across the fleet for maximum guest body-rocking.

Cherry on Top Sweet Shop
A cruise is the perfect time to treat yourself to something sweet, and Cherry On Top happens to be the perfect place. You'll find this well-stocked candy-and-more-store not only great for enjoying some of your confectionary favourites, but the place to pick up branded Cherry On Top gear and gifts for that special someone, even if — admit it — that someone sometimes happens to be you!

Live Music
Want to rock 'n' roll every night and every day? Well, you've come to the right ship. Carnival bring some of the best performers on land out to sea for an ambience that can't be beaten. From happy-go-lucky island rock at RedFrog Pub to sing-alongs at the piano bar to let's-get-this-party-started jams on Lido deck, chances are you'll find a live performance on board that gets your hands clapping and toes tapping.

Karaoke
Grab the mic and channel your inner rock king, pop princess or disco queen, when you join in the karaoke fun aboard a Carnival cruise. Choose from traditional karaoke or the SuperStar Live Karaoke, where you don't just pick the song you want to sing — you perform it backed by a live band playing guitar, bass, drums, keyboards and, yes, even your own back-up singers! Whichever karaoke experience you choose, choose from hundreds of titles that span a wide variety of genres, from Motown, country and rock classics to today's pop hits.

Ocean Plaza
Take a break, grab a snack or catch a performance. This laid-back-by-day venue lets you satisfy your appetite for food and interactive games such as trivia, with live music and more heating the place up when the sun goes down. Get up close to the stage and dance your heart out — Ocean Plaza even features a dance floor right in front for intimate performances.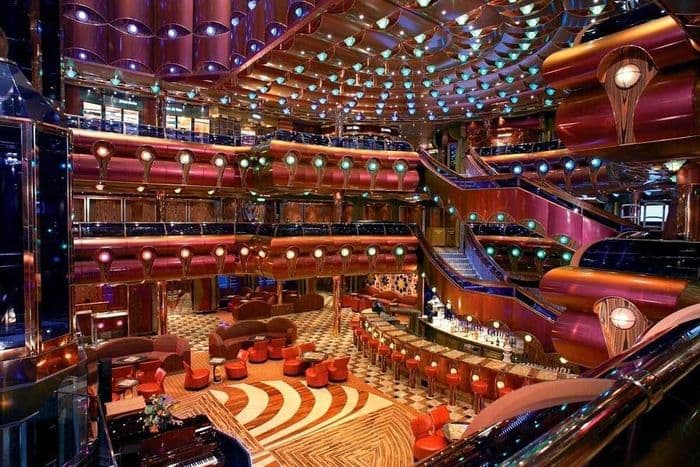 Atrium & Lobby Bar
The atrium is not only where you'll find the grand staircase and wonder at the scenic high ceiling — it's also the heart of any Carnival ship. Day or night, you can get your questions answered at guest services, plan some fun at the shore excursion desk, enjoy music that helps set the atmosphere… and even see what's good at the full bar and happening on the dance floor.

Video Arcade
If you love to play video games, you're in luck. Carnival's video arcade boasts a huge array of games, and is open to players of all ages, all night and all day. So get some tokens from the vending machine and let the fun times begin. Challenge your friends to a game, or just see if you can beat the top score. After all, with the video arcade open 24 hours and an entire cruise ahead of you, you have plenty of time to try.

Carnival's Seaside Theatre
Night time isn't the only time you'll find stars on your cruise. Day or night, find a spot on deck and check out Carnival's Seaside Theatre's huge outdoor screen. Hit movies, sporting events and even cartoons for the kiddies are just some of the features you'll find at the outdoor movie theatre. Check the Fun Times to see what's playing during your cruise. Then get some popcorn, a friend or three and get ready to kick back and enjoy the entertainment!

Dive-In Movies
Ready to see stars? Park yourself in front of the really big screen and settle in for a night at the cinema, under some real stars. From the comfort of your pool-side lounge chair, or even the pool itself, you'll enjoy a big-name movie from categories like Date Night, Best Picture and Super Hero. And don't think that being in the middle of the sea means going without the usual comforts. There's not only popcorn but blankets too. So lounge around, snuggle up and try to remember the last time you truly enjoyed a night at the movies.

The Fun Shops
You'll find the perfect gifts for friends, family or yourself at the onboard gift shops, stocked with so much good stuff you'll want to shop 'til you drop (into a deck chair, of course). With everything from T-shirts to high-end timepieces, lockets to your favourite spirits (available duty-free), you're bound to find something special for that special someone (even if that special someone is you). There are even sales on everything from portraits to spa products, so be sure to check out your daily onboard itinerary to see what's going on during your cruise.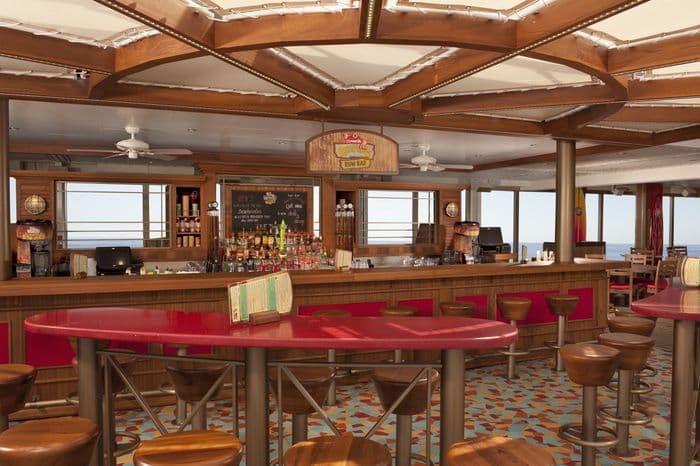 RedFrog Rum Bar
Carnival are pleased to introduce the RedFrog Rum Bar, where the frog keeps the fun hopping day and night with all that island flava you know and love. Join the party at this pool-side bar featuring a great selection of "frog approved" Caribbean rum-based concoctions available by the glass or pitcher and plenty of Carnival's signature private-label draft beer, ThirstyFrog Red.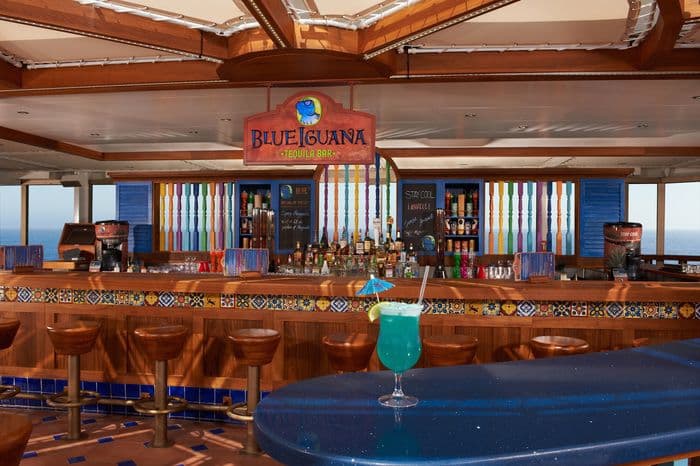 BlueIguana Tequila Bar
BlueIguana Tequila Bar is the onboard spot to chill and enjoy a slushy tequila drink or an ice-cold Mexican cerveza. The menu offers up Mexican favorites, including several brands of tequila and a slew of Mexican brews. There's a line up of frozen concoctions, cocktails and margaritas served by the glass or pitcher and even a special Mexican beer cocktail (yes, really). Where can you find this little slice of Mexican paradise? Next to the pool, of course. So stay cool and take in the bar's vacation vibe while you kick back on your cruise – that's what the official bar mascot Blue the Iguana would tell you.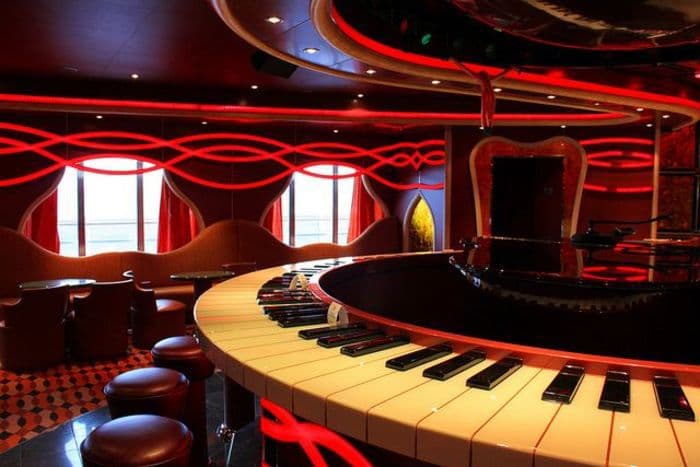 Piano Bar
Play it again, Sam. Or Diana. Or whatever your name is. Because this is the bar where you call the shots – and the songs. Pull up a seat, order your favourite cocktail, and let your friendly piano player know the songs you'd like to hear. Then join the sing-along for a hand-clapping, foot-tapping, finger-snapping good time. Don't feel like flexing your vocal cords? No worries. Shy songbirds are welcome here, too. And since it's open from early evening to late at night, it's the perfect spot for a before-dinner drink or singing until the early hours of the morning.
Dance Club
Get up and get down at the most happenin' club in the Caribbean. The Carnival DJs are spinning today's hottest hits and yesterday's golden oldies, guaranteed to get you out of your seat and tapping your feet. Whether you're doing the robot or the worm or just swaying to the music, you'll want to dance until the sun rises. Or at least until last call. Carnival's themed parties are pretty fun as well.

Casino
Try to keep your excitement under control — at least for the time being — because you're gonna need a steady hand and a little luck to win at the casino prize games. There are cash prizes and awesome electronics at stake, so when you win, you win big. At that point, feel free to go a little crazy, jump up and down if that's your thing… because you and your steady hand are winners!
Or why not try your hand at Roulette, Blackjack, Slot Machines, Poker or some of the Casino Tournaments!

Library
With wall-to-wall activities, most people wouldn't think of their cruise vacation as a great time to read a book, but you'll find the bibliophilic faithful stretched out on deck chairs, enjoying the sun, sea breeze… and a page-turner. Forgot to bring a book? E-reader battery just died? Every Carnival ship features an onboard library stocked with the good stuff. For the silent types, it's a great place to read, but if the roar of the ocean is more your soundtrack, the library is a great place to find a good read to devour, al fresco.

Internet Café
Internet cafés harken back to kinder, simpler times — bygone days when the Internet was a place you would visit and stay a while, before returning to your "real life." These days, with the whole Internet always right there in our pockets, we've forgotten the simple pleasures of surfing in moderation. A Carnival cruise is the perfect place to return to a (mostly) disconnected lifestyle — visit the onboard Internet café to check in with the outside world now and then. Perhaps do it over a cup of coffee, maybe send a photo home… but definitely don't spend your vacation answering boring work emails. They'll be there when you get home.

Art Gallery & Seminars
Experience the bold, psychedelic artwork of Peter Max. Or the vibrant energy of Romero Britto. You'll have the chance to make one yours as you bid on your picks of hundreds of works. They're all from the world's most popular contemporary artists, and all on your next Carnival cruise. Sip complimentary champagne, as you learn terms like intaglio. Expand your mind, as you encounter the fourth dimension through kinetic art. And of course, feel like a champion as the auctioneer declares you the winning bidder. Carnival auctions also feature sports memorabilia from your favourite champions. Plus, you're guaranteed to start or expand your art collection, just by attending the action — everyone receives a free work of art! Whether you're new to the art world or a seasoned pro, you can take home something spectacular.

Bingo
Bingo buzz fills the air. You've got three cards in front of you, and you're ready to play. What will tonight's big game be? Postage stamp? Big X? Big T? Get ready to play some crazy-exciting, hoot-and-holler-if-you-win-big bingo. Cash prizes start at $100, and a jackpot game might add another zero to the pot. Other prizes include tour passes, gifts from onboard shops, spa services and more. So grab some bingo cards. That next B-6 could be the lucky call that lands you a whopping $2,000 jackpot or even a free cruise.

Onboard Games
Kids never need an excuse to play, did you know that cognitive scientists — fully-grown adults without bedtimes — believe that play is essential to childhood development? At Carnival, we believe play is important to ALL ages, so onboard games are a huge part of the Carnival experience for all, young and old! From physical challenges to scavenger hunts to the very appropriate Battle of the Ages — the trivia game that actually pits kids against adults — Carnival puts the "all" in "fun for all." (Not to mention the "fun.")
Trivia
The word trivia comes from "trivial," which basically means 'stuff that's not important to know.' Wait… unimportant?! Not if you're planning on walking away with an unlimited supply of bragging rights… good for the rest of your cruise, not to mention when you get home. Don't just show what you know — flaunt it. Here, being a "know-it-all" pays off.

Casino Bar
Winning big in the casino is big fun, and your next stop is celebrating with a top-shelf drink. Located right off the casino floor, the casino bar serves up your favourite cocktails, beer and wine, making this the perfect spot to celebrate with family, friends… and maybe even total strangers.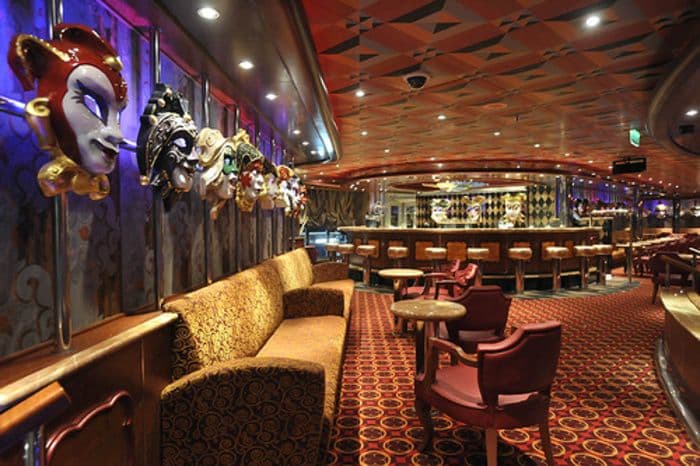 Aft Lounge
The Aft Lounge is the ship's second largest lounge with a bar, stage and dance floor. It is located on deck 5 with a capacity of 425 guests. Live comedy, music, karaoke and art auctions are amongst the activities to be hosted here.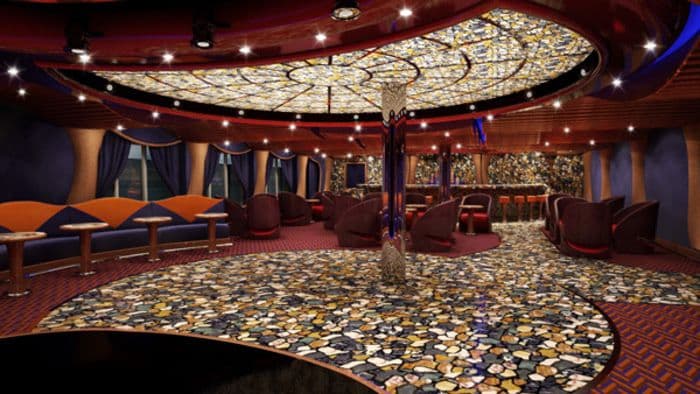 The Song Lounge Jazz Bar
The Song Lounge, located on deck 5 outside the Burgundy Lounge, has its own bar and dance floor. Entertainment includes live music including Jazz and karaoke.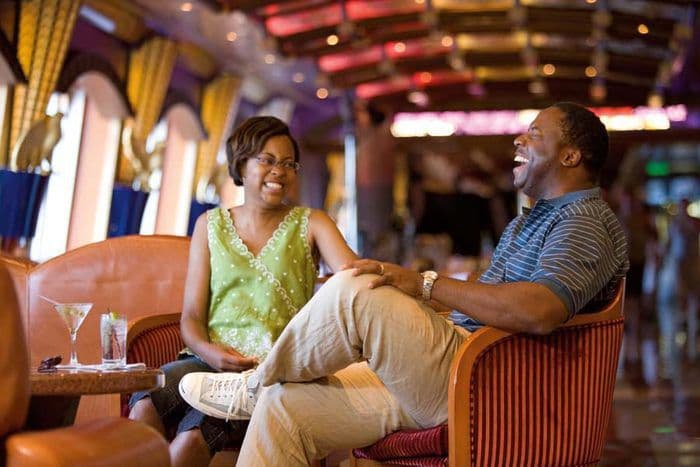 Rendezvous Club Lounge
The Rendezvous Club Lounge on deck 4 is a small lounge and bar with a capacity of 23 at the back of the Crimson Forward Dining Room.
Enrichment
Carnival onboard enrichment facilities include art exhibitions, art seminars.

Dance Classes
When you're on a Carnival cruise, there are plenty of places to bust out your moves when the mood strikes: in the dance club, at a deck party, in line for tandoori. Some people are born with all the right moves, but the rest of us need a little instruction to smooth the sharp edges off. That's why you'll find a host of free dance classes that sail along with you, helping you make the most of your cruise… which is perfect because a cruise is just the kind of vacation that puts you in the dancing mood!
Cooking Demonstration
Learn to cook, Steakhouse-style from the team of chefs as they demonstrate the tricks of the trade used to make those multi-course dinners everyone loves so much. Carnival take the joy of cooking and transform it into a delightful hour-long presentation of kitchen skill and ingenuity… where taste tests are always included.
Tip: This fun-for-the-whole-family event fills up fast, so get there early.

Mixologist Competitions
Are you known back home as the cocktail captain; raising spirits, mixing it up and pouring it over ice… pleasing the palates of friends and family, alike? Come cruise and show them what you've got. The onboard competition may be stiff, but don't let that shake you — stir up your signature concoction and make flavour worth a savour using spirits from all over the map. Throughout the cruise, everyone will be able to enjoy this winning cocktail at bars throughout the ship.

Cruise the Vineyards
From the soft and fruity flavour of the Merlot to the light and dry Sauvignon Blanc, for those who appreciate wine, a Cruise the Vineyard package is a must. Choose from three packages featuring selections from Italy, New Zealand, France, Australia, Germany, California, Washington and Oregon. Sip and savour favourites at a discounted price — ask your Dining Room server how.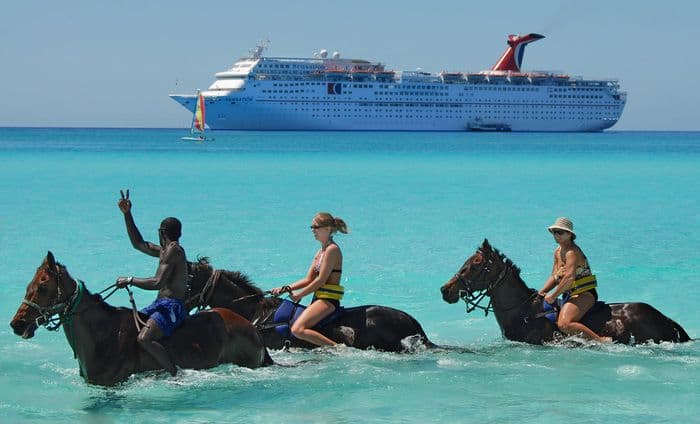 Shore Excursions
They've hand selected the best local providers at every port of call so you can relax and focus on having fun on your shore excursions. They take care of all the details and wait for all excursions to return before departing. A detailed list of relevant excursions can be given by your travel operator.
Health and fitness
Carnival onboard Health & Fitness facilities include sports events, a gym, as well as a spa and beauty salon.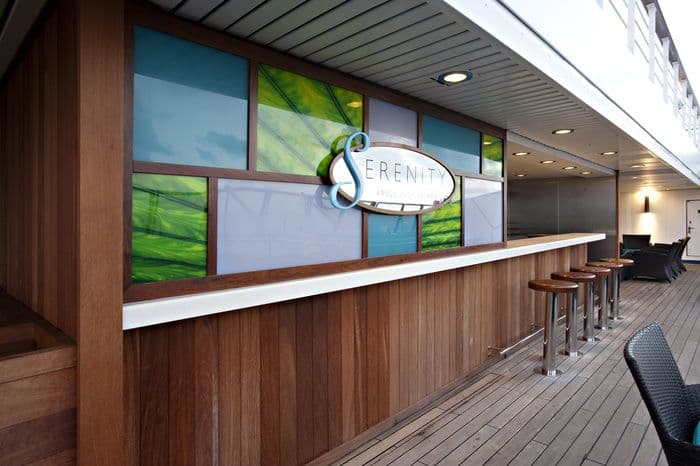 Carnival Victory Serenity 10.jpg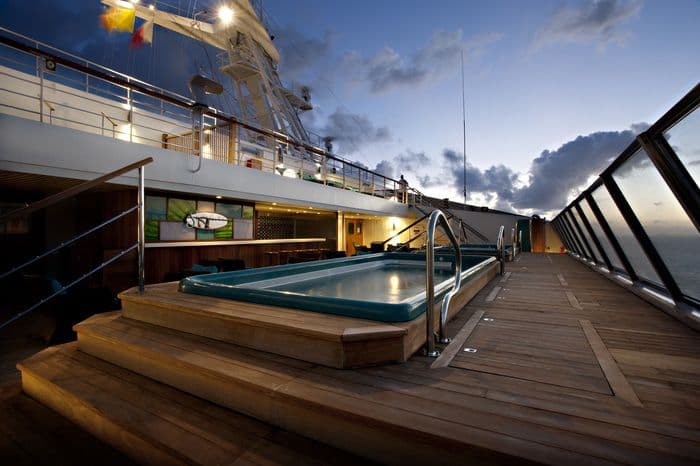 Carnival Victory Serenity 9.jpg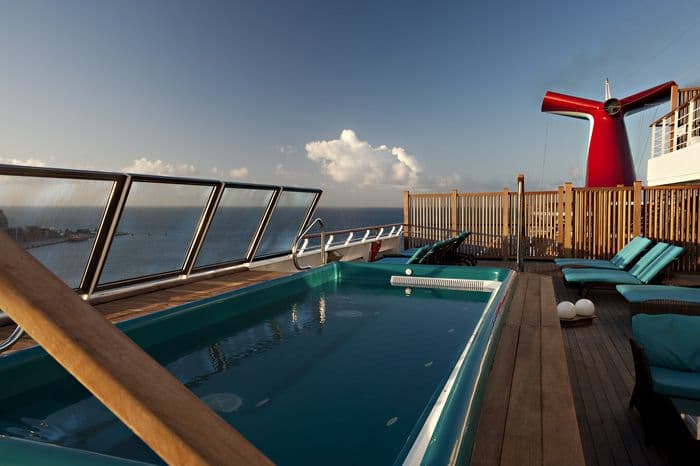 Carnival Victory Serenity 7.jpg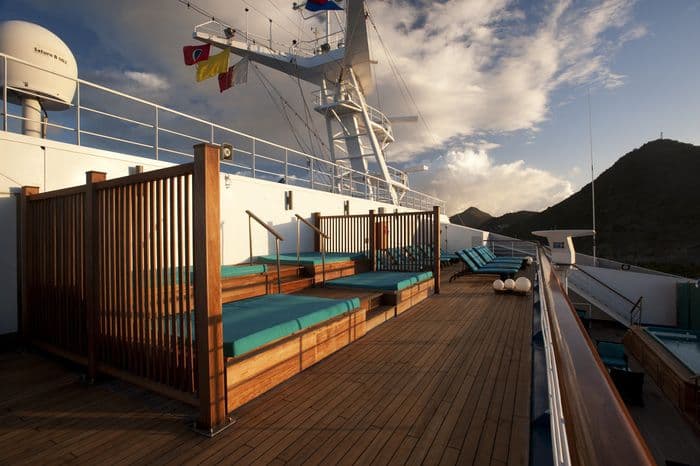 Carnival Victory Serenity 8.jpg
Carnival Victory Serenity 4.jpg

Carnival Cruise Lines Carnival Sunshine Interior Serenity Adult Retreat.jpg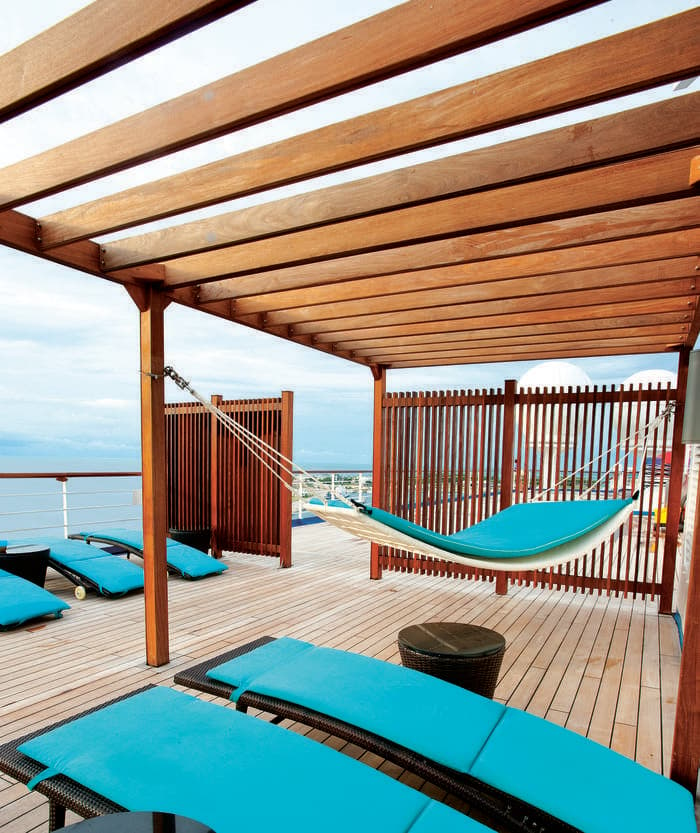 Carnival Freedom Serenity Deck 2.jpg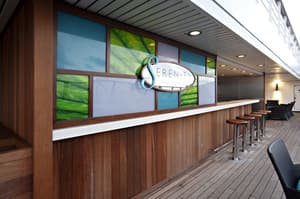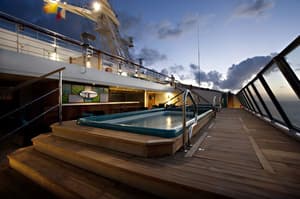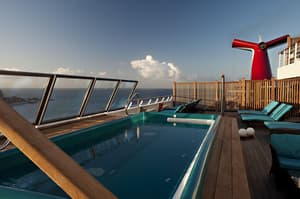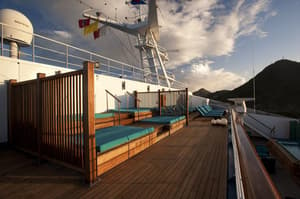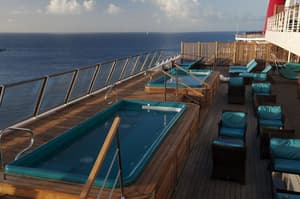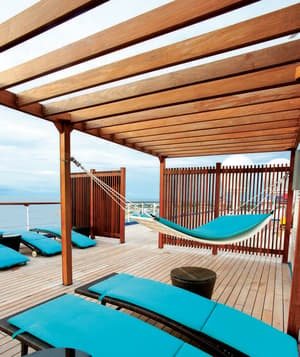 Serenity Adult- Only Retreat
It wouldn't be a dream vacation without a little "me time," right? That's what Carnival had in mind when they created Serenity. It's an adult only area available to guests 21 and older and features everything necessary to create the perfect tranquil "getaway within your getaway." Take advantage of complete bar service provided by attentive waiters. Chill in the sun, under one of the colourful, oversized umbrellas or in the separate shaded area. Enjoy a dip in one of the whirlpools looking out over the great blue sea. All while listening to mellow music to keep the vibe sweet and serene.
Cloud 9 Spa
Sometimes you just need to get away… from all that vacation. Seriously? Look, they know that sitting at home now, it's hard for you to imagine wanting a vacation from your vacation, but trust them — it's nice to have a place to unwind after the day's excitement, to escape to a world designed from the ground up for relaxation. Cloud 9 Spa staff are masters — no, artists — trained in the craft of simply helping you chill. What's their secret? Massages, facials, body wraps and more — these are the tools of the trade… and the trade is ultimate relaxation.
Thalassotherapy Pool- On a Carnival cruise, the vast and beautiful sea is all around you. You can do all the looking you want from the ship, but sorry — no touching allowed. That's what the thalassotherapy pool at the onboard Cloud 9 Spa is for! Get your sea-water fix and soak completely in it, easily absorbing all the relaxing, rejuvenating benefits of the trace elements and vitamins you'll find in nature. Oh, and here's one thing you'll only find in the special pool: water jets that massage and invigorate. Mother Nature's great, but she can't do that.
Thermal Suite- To be the king or queen of the thermostat — doesn't it feel great? While bending the elements to your will, finding that perfect temperature for relaxation is awesome… even better is not needing to. Carnival's Cloud 9 Spa thermal suites are dedicated relaxation zones with a variety of available environments, each carefully developed by their master climate artists. Whether you prefer to lounge in the dry heat of the Laconium or Tepidarium, or like a little soothing moisture in the air (in which case try the Oriental or Aroma steambaths), prepare to experience temperature nirvana.
Jogging Track
Who said you can't run on water? Lace up your trainers and hit the deck for a run alongside the ocean at any time of day or night. Whether you feel like an early morning jog or a midnight run under the stars, the jogging track is always open and available for anyone looking to get their heart rate up over the great blue sea. If jogging isn't your thing, consider this a top-notch place for a late-night stroll and some stargazing.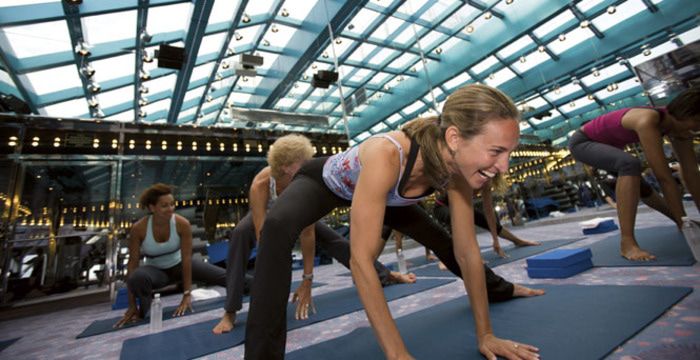 Yoga and Pilates
Carnival's yoga and Pilates classes will have you finding inner peace before you know it. With classes ranging from meditative stretching to more intensive, advanced levels, you'll be sure to find the class that's perfect for you. Check out your daily Fun Times to see which classes are being offered, then head on over to the Fitness Centre to participate.
Fitness Centre
Stay fit on your vacation with the help of Spa Carnival's fully equipped fitness centre. Go for a jog, lift some weights, or use the state-of-the-art equipment to work up a sweat and get stronger. If it's heart-pumping cardio classes you're after, try indoor cycling, aerobics or cardio circuit training. If you're in more of a chill-out mood, try yoga or Pilates. Some of the classes have a small fee, but the fitness centre is always free and open all day.
Hair and Beauty Salon
After you've met with the experienced staff, you'll be seeing your best self ever. Carnival's European-style salon is staffed with trained professionals who specialise in pampering you and bringing out all your best features. Whether it's a glamorous up do for evening or just a great cut, new colour or deep conditioning for your hair and scalp, the staff are there to make it happen. Don't forget to give your hands and feet some attention with a luxurious manicure and pedicure. You'll be feeling brand-new in no time.
Mini Golf
Have a swinging good time at the onboard mini-golf course. The greens are meticulously maintained and the view is pretty spectacular. Just remember your follow-through and no bogeys allowed. Best of all? No collared shirt is required! Oh, and playing is complimentary — just ask a staff member where to get clubs.

Carnival Cruise Line Carnival Valor pools-2.jpg

Carnival Cruise Line Carnival Valor pools 1.jpg

Carnival Cruise Line Carnival Valor pools-3.jpg



Pools
POOL DAY! Whether today's the day for a bit of a dip, a dash of splash or even some swimming — or just a serious poolside lounging session — your Carnival cruise has the just pool for you. In fact, pools are so important to a great cruise that they designed many of the ships to have two of them. At an aft pool you'll catch a breeze, plus a sea view featuring the ship's wake, while midship pools have an grand view of a different kind: the big screen's right there for the viewing. And no matter which you find yourself chilling in, the sunbeams are yours for the soaking.
Medi-Spa
Has anyone told you lately that you're a beautiful person? They like you the way you are. Now, with that said, they want to let you know that your Carnival cruise contains a Medi-spa. They're certainly not saying that you need them, but if you've been thinking about Botox or Dysport treatments, this spa is a good place to do them. Get them on vacation and they'll always be administered by our onboard Medi-spa physician, a licensed medical doctor. These are non-surgical, anti-wrinkle procedures that show results in days, and last for months, so you can keep enjoying the benefits even after you're back home.
Men's Services
Hey man, been to the spa lately? Well, why let the ladies have all the fun? You can actually enjoy a lot of the same stuff they do, plus manly services like razor-close barbershop-style shaves — pair one with a facial to really get a good thing going up top. Speaking of the barber, a cruise is a great time to rock a whole new hairstyle, a quick grey-hair darkening, or even just a fresh trim. And what guy wouldn't go for a little extra relaxation with a massage? Exactly, bro.
Carnival Sunshine Waterworks 4.jpg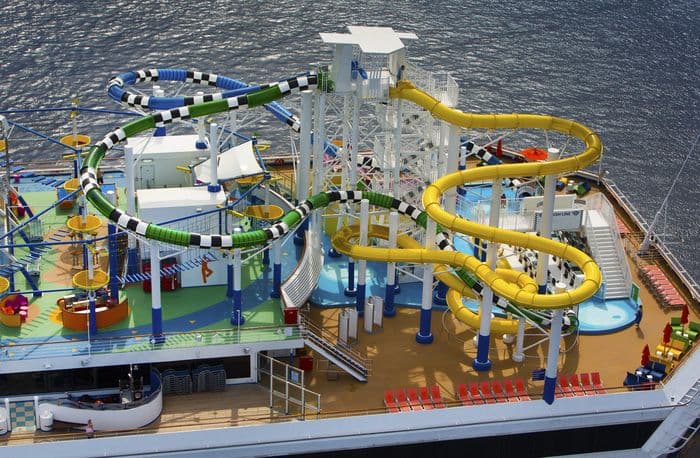 Carnival Sunshine Waterworks 3.jpg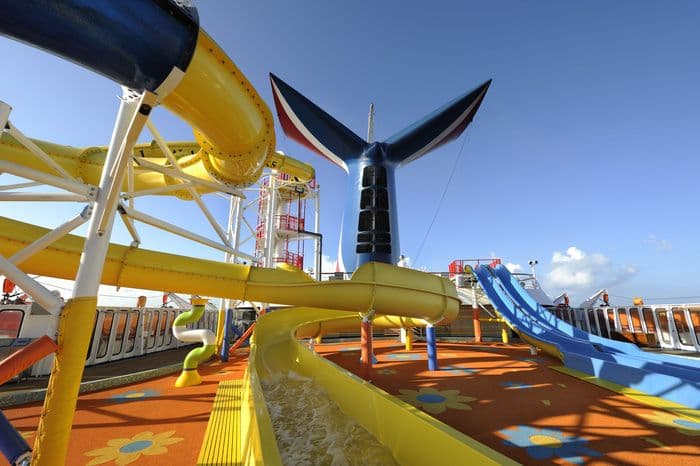 Carnival Fantasy Waterworks 2.jpg
Carnival Fantasy Waterworks 1.jpg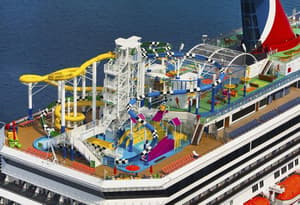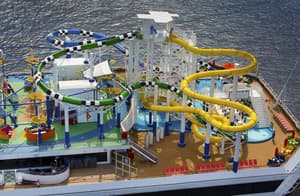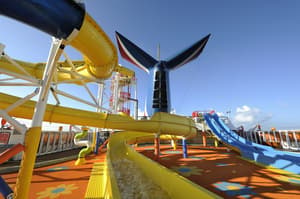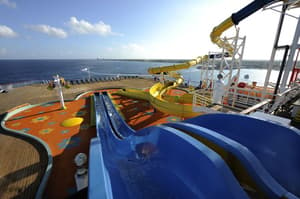 Carnival WaterWorks
Wanna splish — and splash — the day away? Head on over to WaterWorks, Carnival's onboard waterpark. First up, there's the Twister Waterslide, hundreds of feet of spiraling awesomeness that starts you off high in the air and gets you down low with one of the fastest, wettest rides you'll find anywhere. Select ships have side-by-side racing slides, which make serious competition seriously fun. Wear your speed suit for Speedway Splash, which features hundreds of feet of racing action, plus special lighting effects you'll experience on the road to victory. DrainPipe ends with one major swirl of a finish, while PowerDrencher takes soaking seriously — imagine the biggest bucket of water you've ever seen, raining down on you from above. And this isn't just kids' stuff — the young at heart are encouraged to zoom and splash around too!
Kids and teens
Every Carnival ship caters for children of all ages and that includes Camp Carnival Night Owls, so you can enjoy an evening together without the kids.
Accommodation
On a Carnival cruise, your stateroom is your home base. When the day is done, once you've had your fill of fun, you'll head back to your stateroom and settle in for the night. No matter which kind of room you choose — whether you're thinking of a simple Interior or Ocean View, or going grand with a Balcony or Suite — you'll find yours a well-appointed way to wind down the day. And whether it's day or night, all staterooms have a room steward on duty, an attendant you can call for complimentary room service, and more sweet perks inside.

Interior
An Interior stateroom is not only cosy and complete with Carnival stateroom amenities—it is the most affordable way to cruise. There are also Interior stateroom options with a view. Select an Interior with a porthole or picture window for a view of the ocean or a walkway view picture window for a view beyond your stateroom, out to the observation deck outside including a great sky view.
Features
Queen or Twin Configuration
Shower
Toiletries Provided
Room Service Available
TV
Wi-Fi (Additional Cost)
Safe
Hair Dryer
Desk

Interior Upper/Lower
An Interior Upper/Lower stateroom creatively maximises space for a pair of cruisers. These staterooms feature all the same amenities as other Interior staterooms, with a different layout—including one twin bed, and either an upper Pullman or sofa bed. Select an Interior Upper/Lower with a porthole for an affordable view of the ocean.
Features
Twin
Sofa Bed
Pullman Bed
Room Service Available
TV
Free Wi-Fi
Safe
Hair Dryer
Desk

Balcony
Balcony staterooms were designed for maximum sea breeze and the most stunning views. Any time you're in your room, you're just steps away from your own personal outdoor oasis, featuring the sort of sea view you can also feel.
Features
Double
Sofa Bed
Lounge Area
Shower
Toiletries Provided
Room Service Available
TV
Safe
Hair Dryer
Desk

Cove Balcony
Love the sea? Cove Balcony staterooms feature balconies that let you make the most
of your location. Enjoy things from a whole new perspective: one amazing up-close view of the ocean as the ship cruises along.
Features
Double
Sofa Bed
Shower
Toiletries Provided
Room Service Available
TV
Wi-Fi (Additional Cost)
Safe
Hair Dryer
Desk

Aft-View Extended Balcony
Aft-View Extended Balcony staterooms feature a larger balcony for more lounge-around room, more kick-back space; not to even mention some of the best stern-side views you'll find anywhere. Get ready to relax as you gaze upon Carnival Dream's gentle wake from your spacious balcony.
Features
Double
Sofa Bed
Shower
Toiletries Provided
Room Service Available
TV
Wi-Fi (Additional Cost)
Safe
Hair Dryer
Desk

Premium Vista Balcony
Premium Vista Balcony staterooms were designed to wrap around the aft corners of the ship, giving you a unique vantage point from which to enjoy luxuriously panoramic views of the sky and the sea and take in even more sunshine.
Features
Double
Sofa Bed
Lounge Area
Shower
Toiletries Provided
Room Service Available
TV
Wi-Fi (Additional Cost)
Safe
Hair Dryer
Desk

Ocean View
Catch a glimpse of what's going by from your Ocean View stateroom where you'll get views you won't find anywhere on land. Don't miss sunrise and sunset at sea— your comfy stateroom is the best way to experience these!
Features
Double
Sofa Bed
Shower
Toiletries Provided
Room Service Available
Wi-Fi (Additional Cost)
Safe
Hair Dryer
Desk

Deluxe Ocean View
Deluxe Ocean View staterooms are a great choice for families. Rooms in this category feature great views, a full bathroom, plus a separate washroom, and while stateroom configurations vary, certain Deluxe Ocean View rooms have space to sleep up to five cruisers.
Features
Double
Sofa Bed
Pullman Bed x2
Shower
Toiletries Provided
Room Service Available
TV
Wi-Fi (Additional Cost)
Safe
Hair Dryer
Desk

Junior Suite
As you step into a Junior Suite aboard, you can't help but feel that you're stepping into luxury. Featuring a standard-size balcony, you'll find everything else there is to love about a suite, including Priority check-in and a private balcony for relaxing.
Features
Double
Shower
Whirlpool Bath
Toiletries Provided
Room Service Available
Suite Benefits
TV
Wi-Fi (Additional Cost)
Safe
Hair Dryer
Desk

Grand Suite
A Grand Suite features even more space than the standard suite. Add Priority check-in, a huge balcony, a whirlpool tub for relaxing and even a convenient dressing area with vanity and you can see just how extraordinarily comfy the entire experience can be.
Features
Double
Sofa Bed
Shower
Bath
Toiletries Provided
Room Service Available
Suite Benefits
TV
Wi-Fi (Additional Cost)
Safe
Hair Dryer
Desk

Ocean Suite
An Ocean Suite is the ultimate way to cruise. With more space for stretching out indoors, plus a large balcony for kicking back outdoors, try an Ocean Suite to experience private, luxurious relaxation. Ocean Suites also include Priority check-in, walk-in closet and bathroom with whirlpool.
Features
Double
Sofa Bed
Lounge Area
Shower
Whirlpool Bath
Room Service Available
Suite Benefits
TV
Wi-Fi (Additional Cost)
Safe
Hair Dryer
Desk

Cloud 9 Spa Suite
A Cloud 9 Spa Suite is the ultimate in both stateroom and spa accommodations. Carnival have taken the warm essence of their Cloud 9 Spas and infused it into these staterooms with special amenities that feature private spa access and priority spa reservations. Cloud 9 Spa staterooms are available in Suite, Balcony, Ocean View and Interior categories.
Features
Double
Sofa Bed
Shower
Toiletries Provided
Room Service Available
Wi-Fi (Additional Cost)
Safe
Hair Dryer
Desk

Interior Upper/Lower (porthole)
Upper/lower bedding helps creatively maximize space for a pair of cruisers, while portholes give you the classic seafarer's view times two — a pair of round windows providing an affordable view of the ocean. These staterooms feature all the same amenities as other Interior staterooms, with a different layout — including one Twin bed, and either an upper pullman or sofa bed.
Features
Queen or Twin Configuration
Pullman Bed x2
Shower
Toiletries Provided
Room Service Available
Wi-Fi (Additional Cost)
Safe
Hair Dryer
Desk

Porthole
Carnival Dream's Porthole staterooms give you the classic seafarer's view times two: a pair of round windows providing an affordable view of the ocean. If you tire of ocean-gazing in comfort — not that we think you will — there's plenty more fun to experience aboard the ship!
Features
Queen or Twin Configuration
Shower
Toiletries Provided
Room Service Available
TV
Wi-Fi (Additional Cost)
Safe
Hair Dryer
Desk

Interior with Picture Window stateroom
An Interior with Picture Window stateroom on Carnival Dream gives you a view beyond your stateroom, out to the observation deck outside including a great sky view. (Note that the view will be partially obstructed.)
Features
Queen or Twin Configuration
Shower
Toiletries Provided
Room Service Available
TV
Free Wi-Fi
Safe
Hair Dryer
Desk

Cloud 9 Spa Interior
We've taken the warm essence of our Cloud 9 Spas and infused it into spa staterooms on Carnival Dream. Your room is the perfect place to do less, actually: just relax and take some you-time, anytime. All Cloud 9 Spa accommodations feature private spa access, special amenities and priority spa reservations.
Features
Queen or Twin Configuration
Sofa Bed
Shower
Toiletries Provided
Room Service Available
Suite Benefits
TV
Wi-Fi (Additional Cost)
Safe
Hair Dryer
Desk

Deluxe Ocean View (obstructed views)
On Carnival Dream, Deluxe Ocean View staterooms are great for families. These rooms feature a full bathroom — plus a separate washroom — and while stateroom configurations vary, certain Deluxe Ocean View rooms have space to sleep up to five. (Note that rooms of this type have obstructed views.)
Features
Double or Twin Configuration
Shower
Toiletries Provided
Room Service Available
TV
Wi-Fi (Additional Cost)
Safe
Hair Dryer
Desk

Cloud 9 Spa Ocean View (Walkway View)
The best way to enjoy the relaxing, invigorating Cloud 9 Spa while on a cruise is in a spa stateroom, and this one fits the bill, providing comfy accommodations and convenient, priority access to treatments and services at the Cloud 9 Spa. (Note that rooms of this type have obstructed views.)
Features
Queen or Twin Configuration
Shower
Toiletries Provided
Room Service Available
TV
Wi-Fi (Additional Cost)
Safe
Hair Dryer
Desk

Cloud 9 Spa Balcony
Whether you're warming up for your spa appointment or winding down after your treatment, there's no better place to do it than on your Cloud 9 Spa Balcony. Breathing is important — take the ocean breeze in, then let it out — you're already getting the hang of the whole spa thing!
Features
Queen or Twin Configuration
Sofa Bed
Shower
Toiletries Provided
Room Service Available
TV
Wi-Fi (Additional Cost)
Safe
Hair Dryer
Desk
Deck plans

Deck 15
Serenity Adult-Only Retreat


Deck 14
Serenity Adult-Only Retreat

The Dream Team Basketball Court

Cloud 9 Spa

Fitness Studio

Deck 12
Carnival WaterWorks

The Chef's Art Steakhouse

Cloud 9 Spa

Mini Golf

Carnival Seaside Theatre

Cloud 9 Spa Balcony Staterooms


Deck 11
The Gathering Lido Restaurant

Camp Ocean

Cloud 9 Spa Suite

Cloud 9 Spa Balcony Staterooms

Balcony Staterooms

Cloud 9 Spa Ocean View Staterooms

Cloud 9 Spa Interior Staterooms

Interior Staterooms

Deck 10
BlueIguana Tequila Bar

The Gathering Lido Restaurant

Pizzeria

Oceanside BBQ
RedFrog Rum Bar

Sunset Aft Pool & Bar

Waves Main Pool & Bar

Grand Buffet

Balcony Staterooms

Interior Staterooms


Deck 9
Junior Suites

Premium Vista Balcony Staterooms

Aft-view Extended Balcony Staterooms

Balcony Staterooms

Interior Staterooms


Deck 8
Premium Vista Balcony Staterooms

Aft-view Extended Balcony Staterooms

Balcony Staterooms

Interior Staterooms


Deck 7
Ocean Suites

Grand Suites

Premium Vista Balcony Staterooms

Aft-view Extended Balcony Staterooms

Balcony Staterooms

Interior Staterooms


Deck 6
Premium Vista Balcony Staterooms

Aft-view Extended Balcony Staterooms

Balcony Staterooms

Interior Staterooms


Deck 5
Burgundy Aft Lounge

Calliente Dance Club

Encore! Main Show Lounge

Casino

Casino Bar

Ocean Plaza

Piano Bar

Song Jazz Lounge

Art Gallery

The Fun Shops

Atrium

Hot tubs

Deck 4
Circle C

Club O2

Crimson Forward Dining Room

Encore! Main Show Lounge

Rendezvous Club Lounge

Scarlet Aft Dining Room

The Warehouse Video Arcade

Internet Café
Meeting Room

Deck 3
Crimson Forward Dining Room

Atrium & Lobby Bar

Encore! Main Show Lounge

Scarlet Aft Dining Room

Galley
Crimson Lounge

Deck 2
Porthole Staterooms

Cove Balcony Staterooms

Deluxe Ocean View Staterooms

Ocean View Staterooms

Interior Staterooms


Deck 1
Porthole Staterooms

Deluxe Ocean View Staterooms

Ocean View Staterooms

Interior Staterooms