Search for your ideal Cruise
Why cruise on this ship?
A fun-tan is a good look on you. So slap on a little SPF and climb aboard Carnival Radiance™, sailing this year from Long Beach.
find your perfect cruise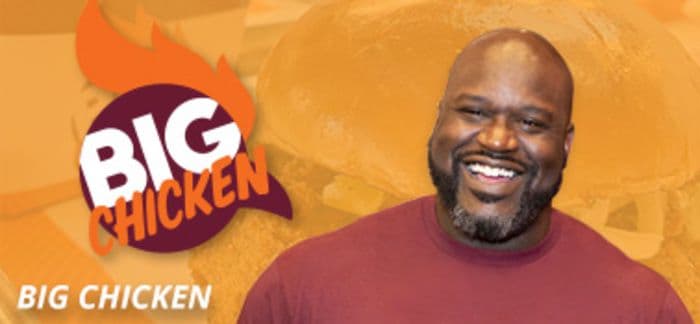 Big Chicken
We heard our CFO wanted us to build a new chicken restaurant… and we were all a little confused. Then we found out they meant Shaq, our Chief Fun Officer. (Happens all the time!) Anyway, when Shaq tells you to build a chicken joint on board, you start warming up immediately. The big guy brings his poultry know-how and good taste to the seas with Big Chicken, debuting in 2020 aboard Carnival Radiance.
Just like Shaq's a multitalented entertainer, his restaurant is no one-trick chick. Step up to the counter for lunch or dinner and walk away with your choice of chicken sandwiches, crispy chicken strips or juicy fried chicken baskets… plus side dishes, like potato salad and jalapeño slaw. Early-morning buzzer-beaters are invited to enjoy a breakfast featuring classics like a three-cheese omelet, chicken biscuits, and biscuit and egg. And so's everybody else — breakfast is served all day!
Features
Experience: Complimentary
Food type: Fast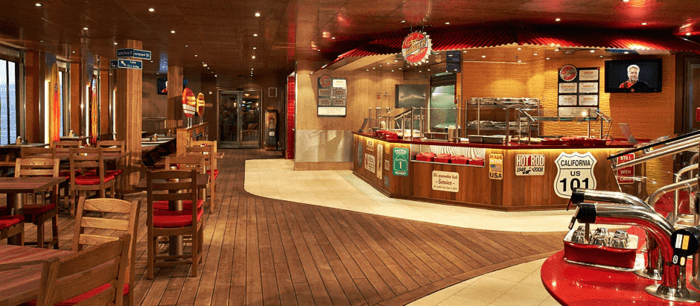 Guy's Burger Joint
We went looking for someone to help us grill up the best burgers at sea, and we found just the guy. Carnival has teamed up with best-selling author, restaurateur and Food Network personality Guy Fieri to bring all the authentic appeal of a roadside burger shack to Guy's Burger Joint, the cool poolside spot for hot burgers and hand-cut fries. Try a fresh-off-the-grill burger Guy's way, or take it off-road to our toppings bar and truly make it your own.
Features
Experience: Complimentary
Food type: Bbq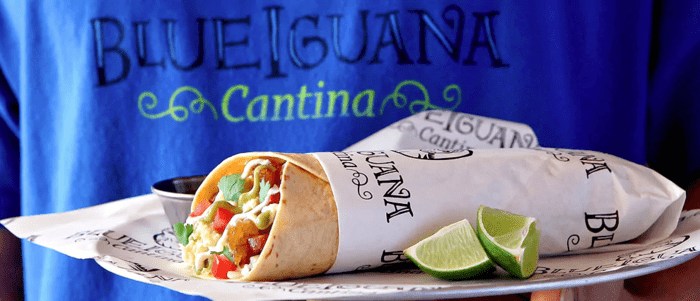 Blue Iguana Cantina
Nobody knows Mexican dining like a blue iguana. Well, our blue iguana, at least. That's why it should come as no surprise that the BlueIguana Cantina features freshly made tacos and burritos stuffed specially for your enjoyment. Throw our homemade tortillas and salsa into the mix, and you have a casual dining experience that will make you say "mmmm" (which is actually Iguanese for "more, please").
Features
Experience: Complimentary
Food type: Mexican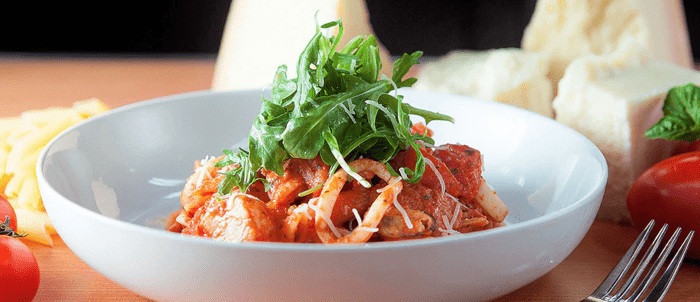 Cucina Del Capitano
The iconic red and white checkered tablecloth in your neighborhood Italian trattoria means you're in for a certain kind of dining experience. At a table such as this, who's gathered around is just as important as what's being served, and we see these as the two halves of the experience at Cucina del Capitano. Atop our tablecloth you'll enjoy courses of dishes — antipasti, entrées, pasta and desserts — inspired by our Italian captains' and officers' childhoods. It's all served famiglia-style, because we know that sharing tales of your day's adventures is best with large plates and great company. Speaking of which, the walls are not only adorned with old snapshots from the crew's family albums, but you might even find the captain dining at his own table in the corner… all evidence that the rustic Italian country-home atmosphere you see is no façade.
Features
Experience: Cover
Food type: Italian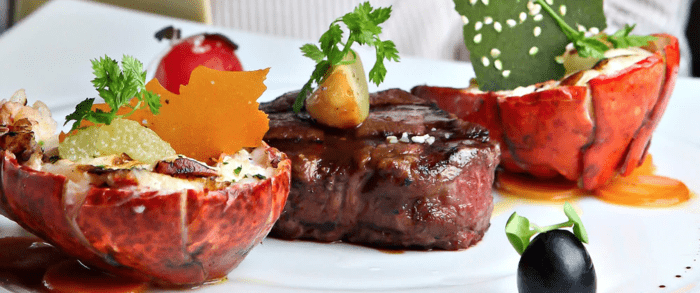 Steakhouse
Turn your special vacation in the direction of delicious — book a table for an unforgettably delectable evening at the Steakhouse. Our menu features mouthwatering premium cuts of beef cooked to your exact specifications, as well as a fantastic selection of seafood, entrées, gourmet appetizers and an extensive wine list. The atmosphere pairs remarkably well with — and perhaps even enhances — the culinary creations of our gourmet chefs.
Features
Experience: Cover
Food type: Steakhouse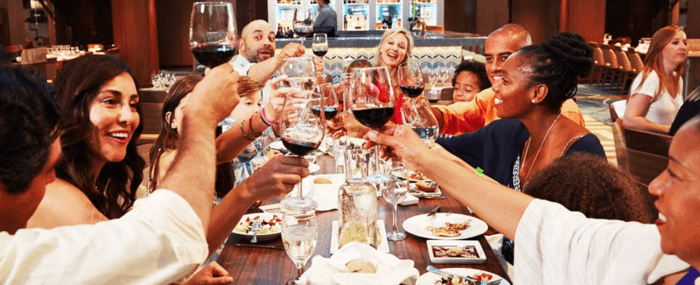 Dining Room
"Hey, which side does the fork go on?" is a question you'll never have to ask at a dining room dinner aboard a Carnival cruise… we set the table for you. We also bring to the table a full three courses in an experience that's filling, but never stuffy — after all, you're just as likely to catch waiters table-dancing as you are to order dessert. Dessert's included (along with the rest of your meal, by the way) in your fare. But don't skip straight to dessert, because the main course is the main attraction — drop in daily and enjoy a rotating menu of delectable favorites like steak, roasted duck, scallops and prime rib.
Features
Experience: Complimentary
Food type: Classic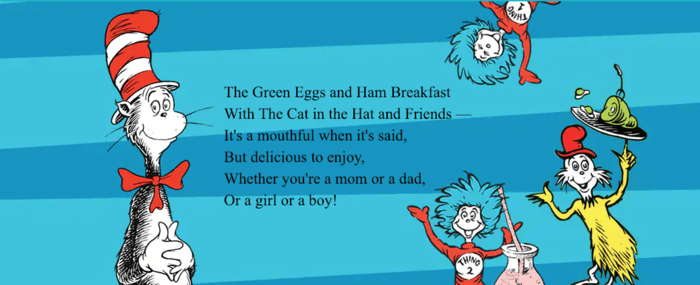 Green Eggs and Ham Breakfast
Pack your imagination, but don't forget your appetite as the whole family embarks on a breakfast that's part meal, and part journey into the deliciously whimsical world of Dr. Seuss.
Sit down to a truly fantastical feast at the Green Eggs and Ham Breakfast with The Cat in the Hat and Friends. Bright colors and patterns decorate your table, which features fun and unique menus.
Feast! Feast! Feast! Lose yourself exploring a delicious menu where you'll find "Green Eggs and Ham," brightly colored fruit, gravity-defying pancake stacks, funky french toast, "Moose Juice" 'n' "Goose Juice"… and much more. (Classic breakfast offerings are available as well.) Breakfast is also the perfect time to meet and greet the stars of Dr. Seuss — characters will be around for special photo opportunities and fun interactions, making this a meal to remember.
Features
Experience: Cover
Food type: Brunch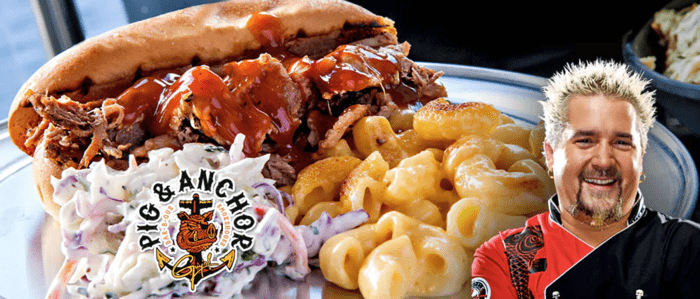 Guy's Pig and Anchor Bar-B-Que
When the cool ocean breeze hits your nose with the sweet smell of smoke, you know you better follow it to Guy's Pig & Anchor Bar-B-Que Smokehouse. At this onboard, open-air spot, Guy's doin' his authentic, real-deal barbecue, his way. The Barbecue Hall of Famer is bringin' some big time meats like Championship Pork Butt, Smoked Round of Beef, Smoked Andouille Sausage and his famous Blue Ribbon Chicken as well as rockin' sides like Mac Daddy Mac n Cheese, Old Skool Potato Salad and Collard Greens. Throw in his signature line of barbecue sauces and you've got a rockin' sea day on deck.
Features
Experience: Complimentary
Food type: Bbq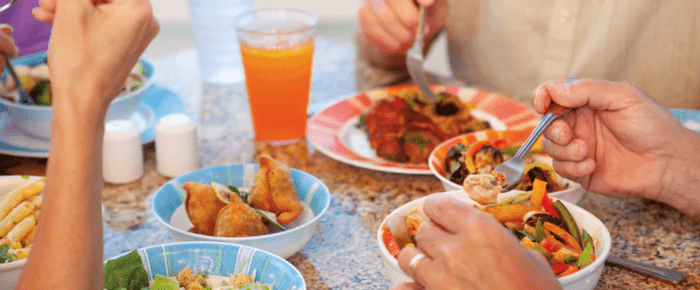 Lido Restaurant
Featuring a nice variety of casual dining options like Mongolian Wok, Chef's Choice, Salad Bar, Carnival Deli and more, the Lido Restaurant has something — or more likely, at least a few somethings — to satisfy your craving. With plenty of indoor and outdoor seating, plus food options for everyone, you can enjoy your personal favorites in company of family and friends for lunch or dinner… or even breakfast! It's also where you can find our pizza, soft serve and frozen yogurt — all open 24 hours a day, which ought to be enough for anybody.
Features
Experience: Complimentary
Food type: Buffet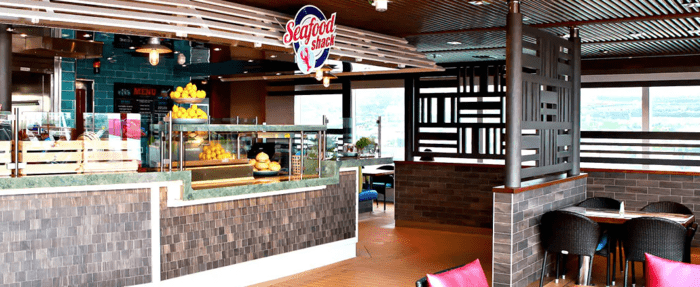 Seafood Shack
A good seafood dish is quite the catch. However you like yours served — whether it's on a roll or a platter — Seafood Shack's the place to cast your net. Imagine a New-England-style seaside spot where you can take it all in, enjoying a great meal complete with a side of ocean view. On a Carnival cruise is where you'll find this shack by the sea, wherever in the world you happen to be!
Features
Experience: Cover
Food type: Seafood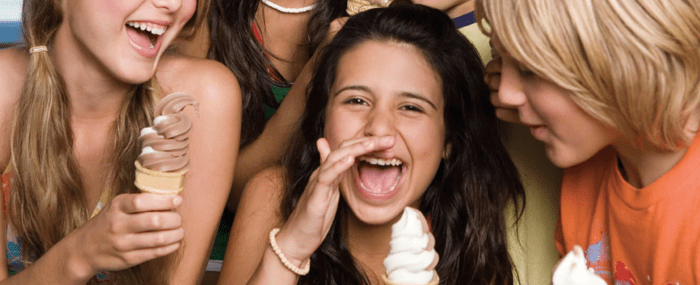 Swirls
Got room for dessert? Sure you do! Swirls ice cream lets you enjoy the sweeter side of brain freeze with a treat that'll have you smiling from ear to ear. Choose from chocolate, vanilla or strawberry… or make your own mix swirled as high as you can balance it. Open on Lido deck 24/7, our frozen yogurt and soft-serve ice cream is a great way to beat the heat all day, or the perfect nightcap after a long evening of fun.
Features
Experience: Complimentary
Food type: Ice_Cream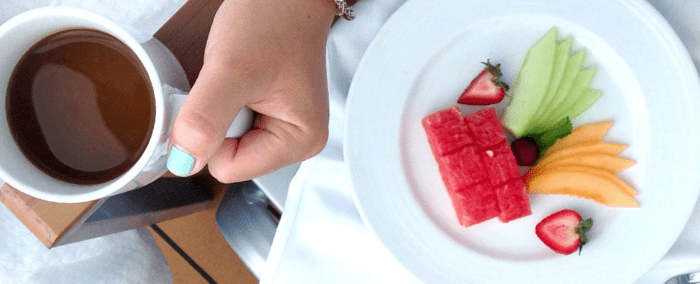 24 Hour Room Service
So you're in the mood for some good eats, but you'd rather stay in your comfy, cozy stateroom? Really, who could blame you? Simply pick up the phone and order something tasty from our extensive room service menus. And since you get hungry when you get hungry, room service is available any time of the day (or night), and it's always delivered right to your door.
Features
Experience: Complimentary
Food type: Room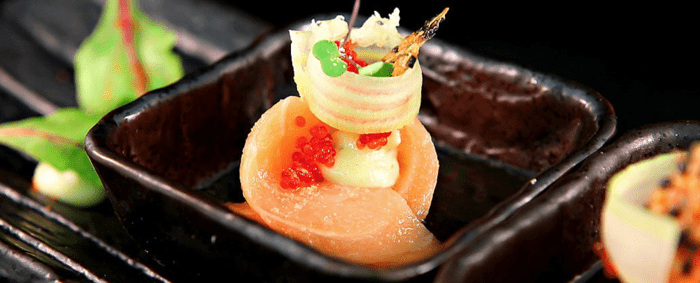 Bonsai Sushi
So maybe you've had sushi on a cruise before, but you've never had it like Bonsai Sushi, our onboard seafood-and-soy-sauce spot. Dine amidst expertly-pruned bonsai trees while enjoying sit-down service and an affordable menu of delectable sushi and sashimi… plus rolls, soups, sides, sakes and desserts. So the next time you're taking an onboard stroll, stop at Bonsai Sushi for a little something satisfying.
Features
Experience: Cover
Food type: Sushi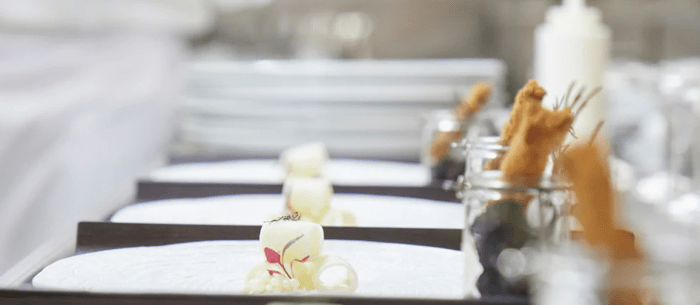 The Chef's Table
Treat your taste buds to the experience of a lifetime, culminating in a sumptuous multicourse dinner hosted by the Master Executive Chef. Your VIP experience starts with cocktails and hors d'oeuvres for a select group of 14, followed by a tour to see the galley in operation. The evening concludes with a mind-blowing full-service dinner of amazing appetizers, entrees and desserts not found on our regular dining menus.
Features
Experience: Cover
Food type: Chef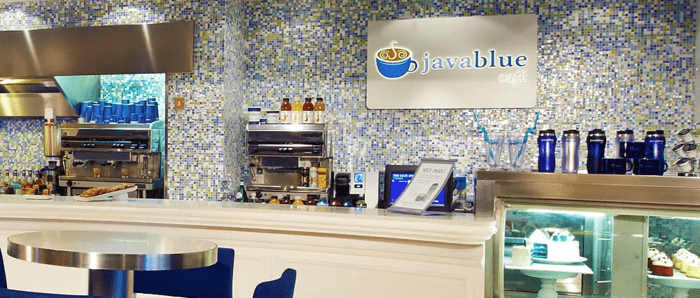 JavaBlue Cafe
Maybe you take your coffee straight-up, or perhaps you prefer your pick-me-up with an upgrade. From the simply caffeinated to the simply sublime, nothing satisfies your coffee craving like JavaBlue Café, featuring fun twists on the hot and cold drinks you enjoy. While the coffee is the main event here, there's more to JavaBlue — enjoy the baked treats we like to call "comfort snacks"… which you'll call "delicious!"
Features
Experience: Cover
Food type: Cafe

Pizzeria Del Capitano
On Carnival ships, the captain tends to be kind of a big deal — almost a celebrity. On a few select ships, they've even got their own pizza kitchen. The best part? Pizzeria del Capitano is open to everyone, 24 hours a day! And since our captains tend to be Italian, you know the quality of the ingredients truly pass muster. (Sorry, nautical pun.) Hand-tossed dough, made from imported Italian flour, plus fresh mozzarella form a solid base, and a choice of toppings put the finishing touches on this piping hot, fresh-from-the-oven mealtime — or anytime — classic. (Also, try our caesar salad — buono, capisce?)
Features
Experience: Complimentary
Food type: Pizzeria

Chopsticks
Give the forks and knives a break and grab some chopsticks as you enjoy this bold and flavorful Chinese culinary experience. Help yourself to delicious dishes like sliced beef honey chili, five spice and oyster glazed seafood, pork or chicken cellophane noodles, shrimp fried rice and so much more — served with crispy vegetable rolls. The food at Chopsticks is so flavorful, you probably won't want to share.
Features
Experience: Complimentary
Food type: Asian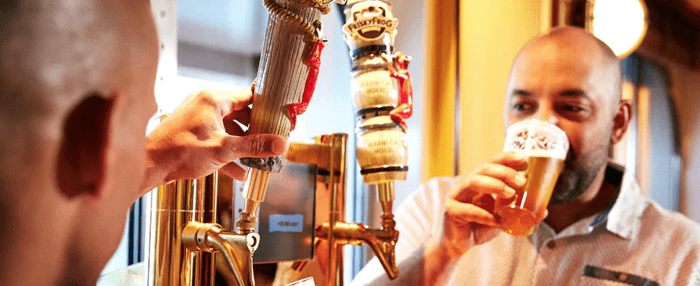 Red Frog Pub
Get into an island state of mind before you even set foot on one. RedFrog Pub is our laid-back, no-worries, oh-so-lively Key West-inspired pub. Sample Caribbean fare, dominate at the foosball table, enjoy some sweet tunes from live musicians and sip our tasty signature private-label brew, ThirstyFrog® Red. So kick back and feel the island vibe come to life. You'll be a local here before you know it.
Features
Experience: Complimentary
Food type: American

Seuss At Sea
From the whimsical and always wonderful world of Dr. Seuss comes Cats in Hats, Fish Red and Blue, and both kinds of Things — 1 and 2. And they're all coming to a Carnival cruise near you as the world of Dr. Seuss leaps off the page and onto Seuss at Sea.
Dr. Seuss's timeless stories are the kind kids memorize, and this is the kind of cruise you'll remember for a lifetime. The whole family will still enjoy all the classic Carnival activities, but the littlest ones, and their families, will also enjoy an all-new, extra-special experience as the fantastical world of Dr. Seuss comes to life around them.
Enjoy a special onboard character parade, interactive story time, arts & crafts activities, character breakfast featuring their favorite Dr. Seuss friends and more. Seuss at Sea truly brings your child's favorite books to life.

Hasbro, The Game Show
You've played Connect 4 and Yahtzee, but have you ever played giant versions of them onstage in a competition that puts your gaming skills to the test? You'll have your chance when you take part in Hasbro, The Game Show. From YAHTZEE BOWLING to CONNECT 4 BASKETBALL, OPERATION SAM DUNK and SIMON FLASH, you can team up with your friends and family to win great prizes, all in front of a live audience. Be sure to check your FunTimes for show times so you don't miss out on the action… or the prizes.

WaterWorks
Wanna splish — and splash — the day away? Head on over to WaterWorks, Carnival's onboard waterpark. First up, there's the Twister Waterslide, hundreds of feet of spiraling awesomeness that starts you off high in the air and gets you down low with one of the fastest, wettest rides you'll find anywhere. Select ships have side-by-side racing slides, which make serious competition seriously fun. Wear your speed suit for Speedway Splash, which features hundreds of feet of racing action, plus special lighting effects you'll experience on the road to victory. DrainPipe ends with one major swirl of a finish, while PowerDrencher takes soaking seriously — imagine the biggest bucket of water you've ever seen, raining down on you from above. And this isn't just kids' stuff — the young at heart are encouraged to zoom and splash around too! (WaterWorks configurations vary by ship.)

Playlist Productions
Everyone has those perfect songs that never fail to get them moving. Playlist Productions brings lists like yours to life! Your favorites become full-blown musical productions featuring singers and dancers bringing down the house. Shows vary by ship, but there's a playlist for every music lover. Need a few examples? How about the spicy sounds of Amor Cubano, the movie-magic soundtrack of FLICK, or Vintage Pop with its 20s-jazz-meets-modern-hits? Release your inner rock-n-roll patriot during America Rocks! Enter the center of groove with the passionate Heart of Soul. Feel the arena-shaking sounds of Epic Rock, the piano-pounding sounds of 88 Keys, the totally bad-meaning-good 80s Pop to the Max, plus the funky, sophisticated... and not-at-all exclusive Studio VIP, where everyone's welcome to come and get down!

Clue: The Murder Mystery
You know the story — Mr. Boddy has been murdered and it's up to you to figure out whodunit. Classic CLUE… except this time there's a seafaring twist: the gameboard is your ship and the suspects have come to life. Yikes! Fortunately, you and your fellow cruisers — along with the good Officer Ocean — are all on the case. Grab your free CLUE Case File to get started. That's how it starts, but the story unfolds as you cruise — visit scheduled events around the ship to collect clues. So… who (do you think) dunit? Was it Professor Plum in the Library with the pipe? Colonel Mustard on Lido Deck with the candlestick? Miss Scarlet on the Promenade with the wrench? The Captain is offering a unique reward for the answer, so crack the case (you know… who, what and where) and you're in the running for the big prize. Game on, sleuths!

Punchline Comedy Club
Comedy clubs on land… well, it's kinda funny. Nobody likes paying cover charges, and you know that two-drink minimum? They've gotta be joking! You won't find either of these at The Punchliner Comedy Club aboard your Carnival cruise. Up on stage you will find some real pros who know how to wedge a little laughter into anyone's evening. You can count on these comedians to not hold back either. Since some of them get up and say exactly what's on their mind, we also schedule family-friendly performances… so the only red faces in the audience are from laughing a little too hard.
Tip: We'll say it again — The Punchliner Comedy Club features some shows that are family-friendly and some adult-only. You can choose which ones you attend! To help plan your evening, check the Fun Times — it's delivered daily to your stateroom

Seuss-a-palooza Story Time
Experience Dr. Seuss books like never before at Seuss-a-palooza Story Time. Watch as your favorite stories come to life in a setting that's as one-of-a-kind as the Dr. Seuss classics themselves. But don't just take this one sitting down — as an audience member at Seuss-a-palooza Story Time you'll find chances to interact as the story unfolds… and perhaps even become a part of the story, yourself! Also, be sure to keep an eye open for unexpected, delightfully costumed guests who may very well be stopping by to make a special appearance…

Dive-In Movies
Ready to see stars? Park yourself in front of the big screen — the really big screen — and settle in for some real stars at Carnival Seaside Theater™. From the comfort of your poolside lounge chair, or even the pool itself, you'll enjoy sporting events and recent blockbuster movies… think Comedy, Action & Adventure and Date Night. But don't think that being in the middle of the sea means going without the usual comforts. There's not only popcorn — who could forget that? — but blankets! So lounge around, snuggle up and try to remember the last time you truly enjoyed a night at the movies.

Mega Deck Party
If a deck party has the power to bring together friendly rivals BlueIguana and RedFrog, you can imagine what the Mega Deck Party can do for vacationers like you! Show up to the open-air Lido Deck pool area ready to have a good time under the stars. The ship's DJ, cruise director and entertainment staff will be on-hand to get things going… and keep everyone moving. And when we say "everyone," that means guests of all ages are welcome at this party! Make the most of your evening with games, giveaways, line dances — and more — well into the night.

RedFrog Rum Bar
Guests have told us we hit on something special with the cool Caribbean chill of the RedFrog Pub. We've taken the best parts and brought them poolside with the RedFrog Rum Bar, where the frog keeps the fun hopping day and night with all the island flava you know and love. Join the party at this poolside bar featuring a great selection of frog-approved Caribbean rum-based concoctions available by the glass or pitcher, plus plenty of Carnival's signature private-label draft beer, ThirstyFrog® Red.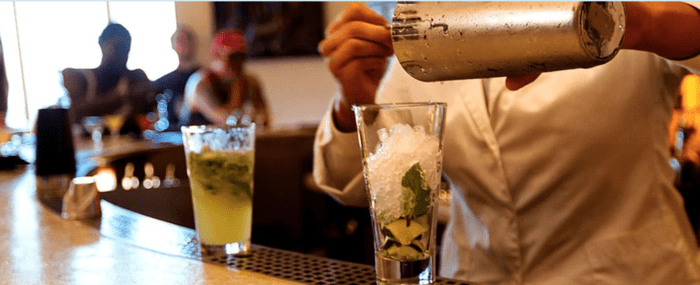 Alchemy Bar
No magic spells are required to enjoy a cocktail creation at Alchemy Bar, our unique vintage-themed cocktail "pharmacy" — all you need is a willingness to be surprised, to try something new. We've flipped through dusty old texts to uncover enticing combinations: select spirits, fresh juices, infused syrups, spices… and other tantalizing secrets performed before your very eyes by the true mix-masters: our bartenders. Choose a remedy from the menu, or let us prescribe you a custom elixir just for you, with or without alcohol.
BlueIguana Tequila Bar
BlueIguana Tequila Bar is the onboard spot to chill and enjoy a slushy tequila drink or an ice-cold Mexican cerveza. The menu offers up Mexican favorites, including several brands of tequila and a slew of Mexican brews. There's a lineup of frozen concoctions, cocktails and margaritas served by the glass or by the pitcher, and even a special Mexican beer cocktail (yes, really). Where can you find this little slice of Mexican paradise? Next to the pool, of course. So stay cool and take in the bar's vacation vibe while you kick back on your cruise – that's what official bar mascot Blue the Iguana would tell you.

Seuss-a-palooza Parade
Stand up and cheer for the Seuss-a-palooza Parade, now streaming down the deck of select Carnival ships. Join characters you love — and a flock of your fellow fun followers — as you become part of the spirited procession of the biggest (and smallest) fans on this side of shore. This parade spreads the fun, so go spread the news… and to think that you'll do it on your Carnival cruise!


Atrium
Here's where you come in! The Atrium — the entrance to the ship and to vacation itself — is your first impression of all the fun to come. We make sure that this, the very heart of the ship, screams "welcome aboard the fun!" With multi-level panoramic views, the Atrium gives you the perfect place to enjoy all the hustle and bustle. There's always music playing here, whether it's a live band or a party-pumping DJ, plus enjoy events throughout the day or a drink at the bar, anytime. This 360-degree funspot is also home to the Guest Services desk, the place you go if you have questions for one of our certified fun experts… about just about anything that's on your mind.

Karaoke
Believe us, you've got a rock star, pop idol or country crooner inside you. Let yours out aboard a Carnival cruise — take the stage and grab the mic because our ears are waiting. Every ship features live karaoke action, so whether your musical dreams are built on classic riffs or modern hits, come aboard and check our huge catalog — you'll find hot tracks you've been burning to perform. Ready to hit us with an '80s classic? Sing some Motown? Bring the boy-band? Indulge away — karaoke happens all throughout your cruise. Your moment in the spotlight is here.
Enrichment
Carnival onboard enrichment facilities include an Art Gallery and dance classes.
Dance Classes
When you're on a Carnival cruise, there are plenty of places to bust out your moves when the mood strikes: in the dance club, at a deck party, in line for tandoori. Some people are born with all the right moves, but the rest of us need a little instruction to smooth the sharp edges off. That's why you'll find a host of free dance classes that sail along with you, helping you make the most of your cruise… which is perfect because a cruise is just the kind of vacation that puts you in the dancing mood!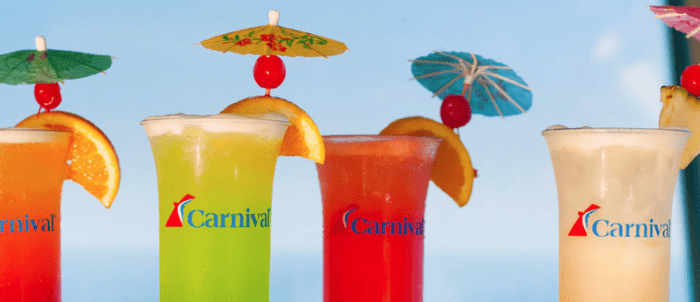 Mixology Competitions
Are you known back home as the cocktail captain; raising spirits, mixing it up and pouring it over ice… pleasing the palates of friends and family, alike? Come cruise and show them what you've got. The onboard competition may be stiff, but don't let that shake you — stir up your signature concoction and make flavour worth a savour using spirits from all over the map. Throughout the cruise, everyone will be able to enjoy this winning cocktail at bars throughout the ship.
Shore Excursions
They've hand selected the best local providers at every port of call so you can relax and focus on having fun on your shore excursions. They take care of all the details and wait for all excursions to return before departing. A detailed list of relevant excursions can be given by your travel operator.
Cloud 9 Spa
Sometimes you just need to get away… from all that vacation. We know — sitting at home, it's hard to imagine that, but trust us — it's really, really nice to have a place to unwind from the day's excitement. Escape to a world designed, from the ground up, for relaxation. Cloud 9 Spa staff are masters (or, maybe more like artists) trained in the craft of simply helping you chill. What's their secret? Massages, facials, body wraps, thermal suites and more — plus, on certain ships, the amazing Thalassotherapy Pool — these are the tools of the trade. And the trade is ultimate relaxation.
Sportquare
Your Carnival cruise may take you far, far away from the competitive daily rat-race, but you'll find an oasis of friendly competition at SportSquare. Take on friends at mini-golf, battle strangers at basketball, or push yourself to new heights at SkyCourse... or to record-setting low times at the jogging track. SportSquare gets you in the game with soccer and volleyball (the b-ball court converts!), brings pool, foosball and ping-pong to the table, and rounds things out for shaping up with your choice of stationary bikes, elliptical machines, weight-lifting equipment and punching bags. Are you game? (SportSquare offerings vary by ship.)

Massage
Cruising always feels good, but it doesn't usually — ooh, right there. Right where? Sorry, we're at the onboard spa, where they do these amazing massages by hand. But they don't just stop there — they've got tools to enhance the benefits too. Select from different hands-on experiences featuring seaweed for detox, herbal poultice for energy, bamboo for deep tissue penetration and hot stones for — ahhh — for perfection. We know you're all about feeling good, and so are these massages.
Pools
POOL DAY! Whether today's the day for a bit of a dip, a dash of splash or even some swimming — or just a serious poolside lounging session — your Carnival cruise has just the pool for you. In fact, pools are so important to a great cruise that we designed many of our ships to have two of them. At an aft pool you'll catch a breeze, plus a sea view featuring the ship's wake, while midship pools have an grand view of a different kind: the big screen's right there for the viewing. And no matter which you find yourself chilling in, the sunbeams are yours for the soaking.
Fitness Centre
We have some bad news for you — your ship has a gym. In other words, there's no excuse for leaving your fitness routine back on land. That's great news, however, for your body, which will definitely benefit from all the extra energy that vacationing pumps directly into you. And let's not forget the extra time you'll have, since you won't be waking up and spending most of the day at the office or anything like that. If those were some of your go-to excuses, we're sorry, but we all know this is important. Why not treat yourself to some of our fitness classes — you might even have a little fun while you do something great for yourself!
Serenity Adult Only Retreat
Somebody at Carnival knows just what you need, and it's pretty much exactly the Serenity Adult-Only Retreat. Look, you'll still be on the same ship as the kids, the hoopla, and all the Carnival-style excitement… but you could easily forget, because when you're at Serenity you could not be further from it all. The world you'll find yourself in is one of complete peace, sea breezes and, of course, a nearby bar. It's the place to get done the kind of stuff you just can't seem to do anywhere else — reconnect with your partner, finish that book, or do absolutely, blissfully, nothing at all.
Accommodation
When it comes to staterooms, one size only fits some. That's why we've got enough variety to satisfy any type of fun seeker.

Suite
Get all the comforts of home and then some, with absolutely none of the hassles. Since your suite gives you VIP status, you're the priority when it comes to getting on and off the ship. Plus, you'll receive a ton of exclusive amenities making this the ultimate way to cruise. Get comfy… stretch out, put your feet up, or just spend time on your balcony — you've got one of our most spacious rooms.
Exclusive Amenities
VIP check-in

Priority embarkation and debarkation

Mini Fridge

Deluxe bathroom featuring whirlpool tub*

Features
King or Twin Configuration
Lounge Area
Dining Area
Vanity Area
Shower
Toiletries Provided
Room Service Available
Suite Benefits
TV
Safe
Hair Dryer
Telephone
Desk

Balcony
Any time you're in your room, you're steps away from your own personal outdoor oasis… designed for maximum sea breeze and the most stunning views.
Features
King or Twin Configuration
Lounge Area
Shower
Toiletries Provided
Room Service Available
TV
Safe
Hair Dryer
Telephone
Desk

Ocean View
These comfy rooms with a view let you sail along to beautiful destinations while gazing at the sort of vistas you simply won't find anywhere on land.
Features
Double or Twin Configuration
Shower
Toiletries Provided
Room Service Available
TV
Safe
Hair Dryer
Telephone
Desk

Interior
Our most affordable way to experience all the excitement, without cutting corners on comfort. Full private bathroom, complimentary 24-hour room service — plus linens you can feel at home in — make this the perfect spot to curl up after a long day's fun.
Features
Double or Twin Configuration
Shower
Toiletries Provided
Room Service Available
TV
Safe
Hair Dryer
Telephone
Desk
Deck plans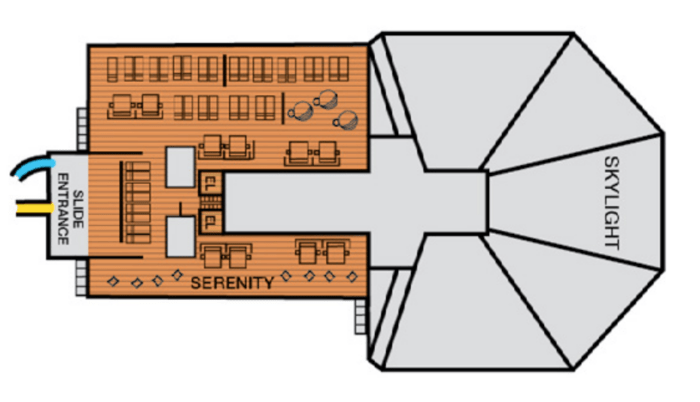 Deck 14- Sky
Serenity Deck

Slide Entrance


Deck 12- Sun
Camp Ocean

Club O2

Circle "C"

Serenity Deck

Mini Golf

Radiance deck11 F.png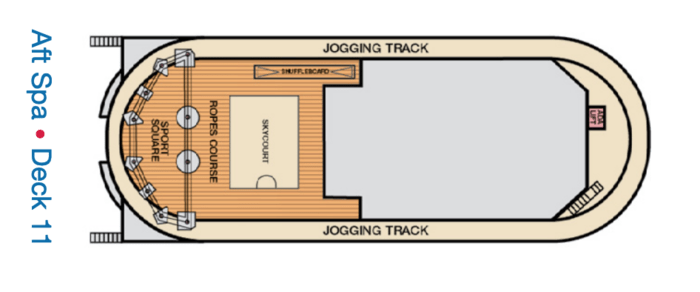 Radiance deck 11 A.png
Deck 11- Spa
Cloud 9 Spa

Fitness Centre

Fitness Studio

Thermal Suite

Treatment Room

Cloud 9 Spa

Salon

Cloud 9 Spa Accommodation- Balcony and Interior


Deck 10- Panorama
Cloud 9 Spa Accommodation- Balcony and Interior

Carnival Waterworks

Carnival Seaside Theatre

Cucina del Capitano


Deck 9- Lido
Captain's Suite

Scenic Grand Ocean View

Scenic Ocean View

Balcony Staterooms

Interior Staterooms

Pool

RedFrog Rum Bar

Blue Iguana Tequila Bar

Blue Iguana Cantina

Guy's Burger Joint

Chopsticks

The Deli

Lido Market Place

Pizzeria del Capitano

Seafood Shack

Bar

Pool and spa pools


Deck 8- Verandah
The Bridge

Balcony Staterooms

Premium Vista Balcony

Aft-view Extended Balcony

Interior Staterooms

Deck 7- Empress
Scenic Ocean View

Balcony Staterooms

Premium Vista Balcony

Aft-view Extended Balcony

Interior Staterooms


Deck 6 - Upper
Scenic Ocean View

Balcony Staterooms

Premium Vista Balcony

Aft-view Extended Balcony

Interior Staterooms


Deck 5- Promenade
Extended Balcony Grand Suite

Aft-view Extended Balcony

Balcony

Ocean View Stateroom

Interior Stateroom

Alchemy Bar
Piano Bar
Red Frog Pub
Bonsai Sushi
Casino Bar
The Warehouse Arcade
Cherry on Top
Carnival Adventures
Skybox Sports Bar
Atrium
The Fun Shops
Main ShowLounge

Deck 4- Atlantic
Main Show Lounge

Pixels Gallery

Atrium

JavaBlue Cafe

Steakhouse

Forward Restaurant

Limelight Lounge

Aft Restaurant


Deck 3 - Lobby
Interior Staterooms

Obstructed View Staterooms

Carnival Adventures

Guest Services

Dreams Studi
Bar
Lobby
Forward Restaurant
Chef's Table

Deck 2- Main
Ocean View Staterooms

Interior Staterooms


Deck 1- Riviera
Ocean View Staterooms

Interior Staterooms