Why cruise on this ship?
The Delfin III is one of the newest luxury vessels cruising Peru's Amazon. On board this 22 all-suite ship, the rainforest is never far away, yet 5-star comforts and conveniences abound on board.

Dining
Experience famed Peruvian cuisine—a combination of tastes from the Incas, Spanish, Chinese, Africans, Italians, and Japanese. Each meal is locally sourced and designed by an expert culinary team with a selection of Peruvian dishes as well as Western favorites. As you take in the passing scenery, indulge in the innovative menus featuring roasted meats, grilled fish, savory vegetables, sun ripened tropical fruits, decadent desserts, and free-flowing wine. Main Dining Room
Spacious, open-seating restaurant
Free flow house wine with dinner
Seasonal cuisine featuring the freshest local ingredients
Complimentary coffee, tea, mineral water, select soft drinks, local beer, and Pisco-based cocktails throughout
Innovative menu of traditional Peruvian specialties as well as Western favorites
Expertly trained culinary team providing breakfast and seated multiple-course lunch and dinner
Features
Experience: Complimentary
Food type: Regional
Entertainment
Onboard Delfin III guests will find: Multimedia natural history lectures, nightly entertainment, deluxe excursion skiffs with cold towel service, fresh fruit and refreshments, multilingual naturalists, open-air deck with shade system and premium lounge chairs and a series of cultural performances, educational talks and cooking class.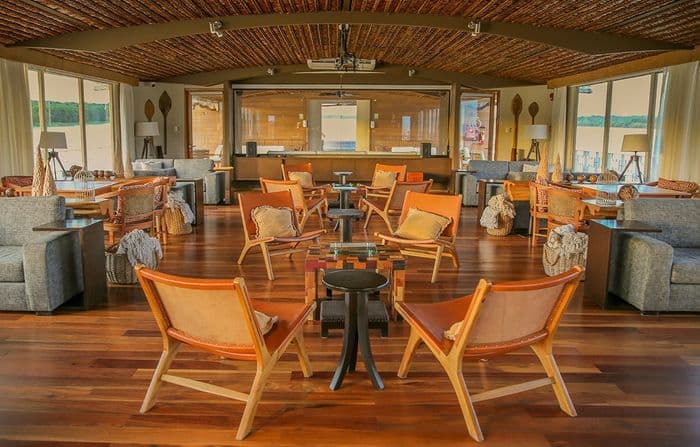 Avalon Waterways Delfin III Lounge 1.jpeg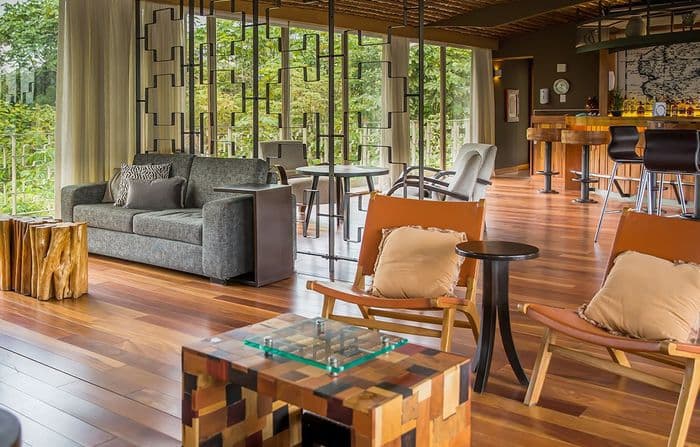 Avalon Waterways Delfin III Lounge.jpeg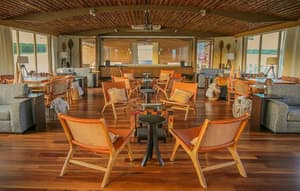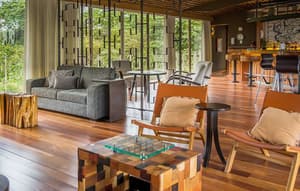 Lounge
The Lounge is located on the Observation Deck.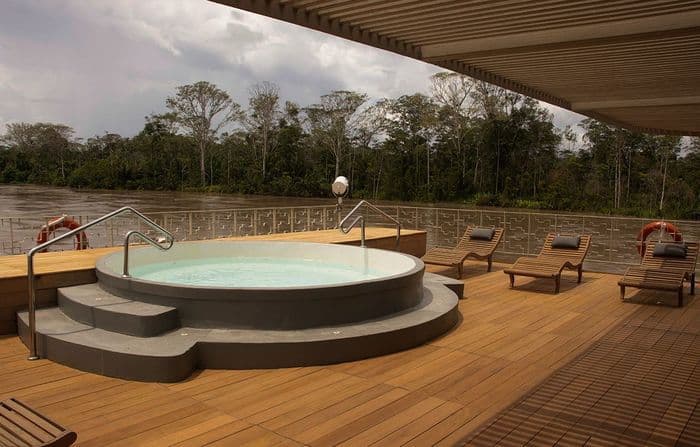 Avalon Waterways Delfin III Sun Deck.jpeg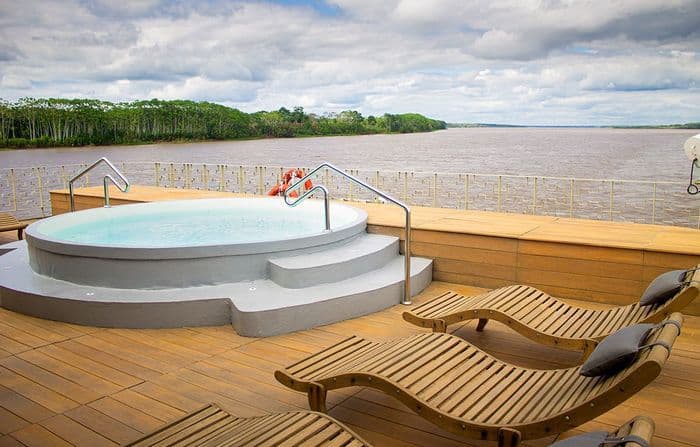 Avalon Waterways Delfin III Sun Deck 1.jpeg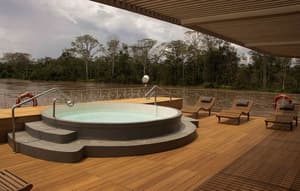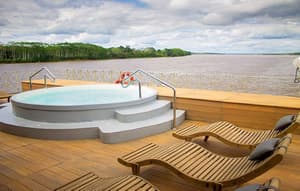 Sun Deck
Open-air deck with shade system & premium lounge chairs.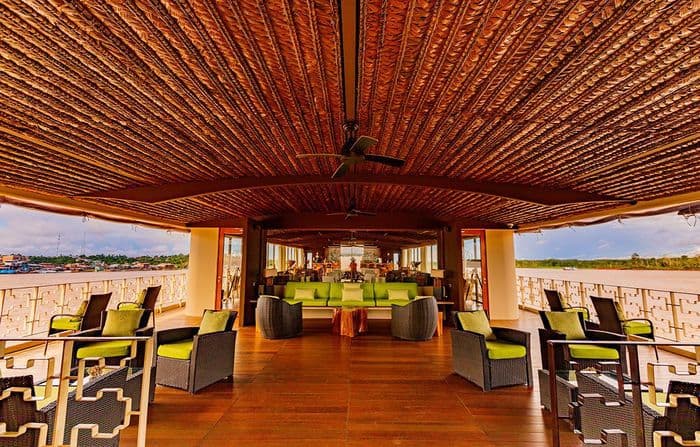 Open Air Covered Lounge
The open air covered lounge is located on the Observation Deck.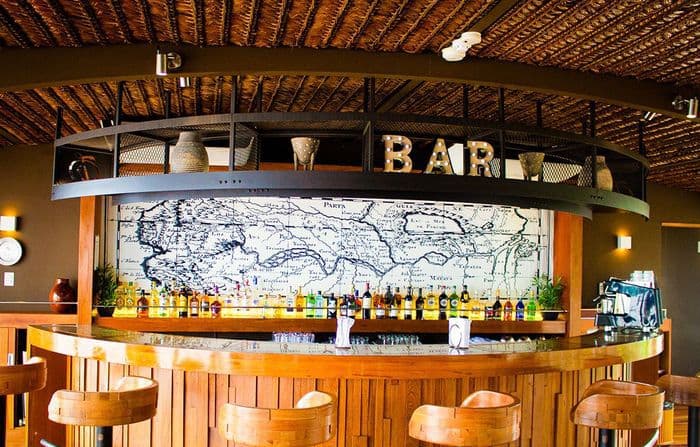 Avalon Waterways Delfin III Bar.jpeg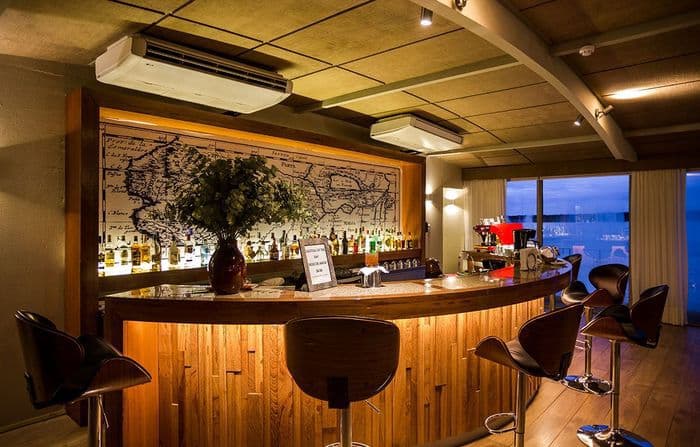 Avalon Waterways Delfin III Bar 1.jpeg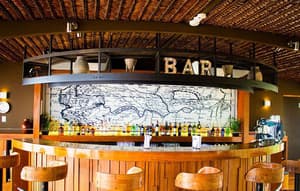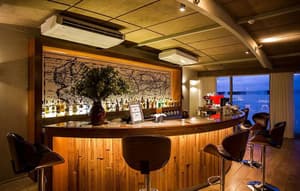 Bar
The bar is located on the Observation Deck.
Enrichment
Delfin III, a ship so perfectly suited to its environment, even mother nature would be proud. While cruising the Amazon River, guests will explore one of the largest expanses of tropical rainforest in the world, and immerse themselves in the most biologically diverse region on earth.
Wildlife Watching Excursions
Each of the Naturalists onboard lead guests of Delfin III on daily expeditions aboard comfortable skiffs deep into the Amazon's tributaries and on foot into the sultry Amazon rainforest. True ribereños, or "river dwellers", the English speaking Amazon experts onboard grew up on the banks of the Amazon, and know every bird and mammal call as well as they do the sound of their mother's voice. They possess a local native's ability to spot a brown-throated three-toed sloth sleeping high up in the tree canopy, an anaconda slithering along the shoreline and even the elusive capybara hiding in the high grass after nightfall.
The black waters of the Yana Yacu Pucate River (a protected area within the Pacaya Samiria Reserve) will allow guests the chance to see parrots, hummingbirds, hawks, and "laughing" falcons. Spot pink and grey dolphins swimming below and red howler monkeys in the canopy above. Zoom-in on exotic spiders, dragonflies, butterflies, and tarantulas. Perhaps even catch glimpses of the endangered charapa turtle, spider monkey, giant river otter, or red macaw.
The largest wildlife preserve in Peru, Pacaya Samiria boasts more than five million acres of rich biodiversity. Throughout the day, expert naturalist guides will assist you in identifying flora and fauna from more than 527 species of birds, 102 mammals, 69 reptiles, 58 amphibians, nearly 300 varieties of fish, 1024 species of wild and cultivated plants, and innumerable classes of insects.
Onboard Experiences
Special onboard experiences are presented by local chefs, entertainers, artisans, and experts, designed to enrich your cruise.
Native Village Visits
Cruise up another tributary and visit the local community of Santa Ana Village. Here, guests will be treated to an enchanting dance performance by the children, with music provided by the parents. After the show, guests will have a chance to shop their arts and crafts market.
The Momon tributary leads to the village of the Bora people who maintain many of their original beliefs and customs. After coming ashore, guests will meet members of the Bora community, visit their ceremonial lodge (maloca), and witness an exhilarating, stick-thumping, traditional dance performance.
Iquitos City Tour
Upon arrival in Iquitos, you'll be greeted by a member of the Amazon Discovery team. A short, air-conditioned, motor coach ride takes you through bustling streets where much of the city's historical flavour can be seen in rickshaws, colourful tuk-tuks, and 19th century mansions financed by the rubber boom.
Originally inhabited by Amerindian hunter-gatherers, Iquitos was established as a port city during the Spanish Colonial era. In the late 19th century, an increase in demand for rubber drew large numbers of European immigrants to the area. While this "rubber boom" brought great wealth and commercial development, it also had a devastating effect on the native populations.
Upon arrival at Itaya River port, you'll board the Amazon Discovery, then gather for cocktails and a celebratory welcome dinner as you make your way out of port and into the Amazon River.
Health and fitness
For those seeking a little more strenuous activity, an air-conditioned exercise room is available.
Rainforest Spa
The spa is located on the Observation Deck.
Gym
More information coming soon.
Kids and teens
Avalon allow travellers from the ages of 8 and over although there are no children's facilities on-board.
Accommodation
This spacious and indulgent ship boasts an intimate atmosphere with only 22 suites, allowing a maximum of 44 guests on board. Each of these luxury suites features en-suite sitting areas, individual air conditioning, polished and sustainable wood flooring, and floor-to-ceiling panoramic windows that frame the Amazon Jungle in the backdrop.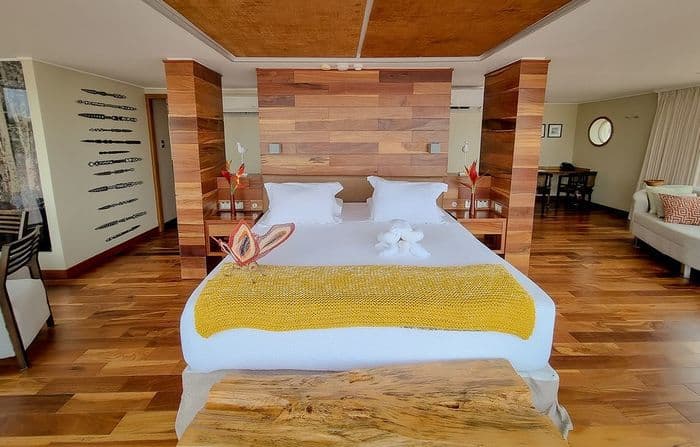 Avalon Waterways Delfin III Owners Suite.jpeg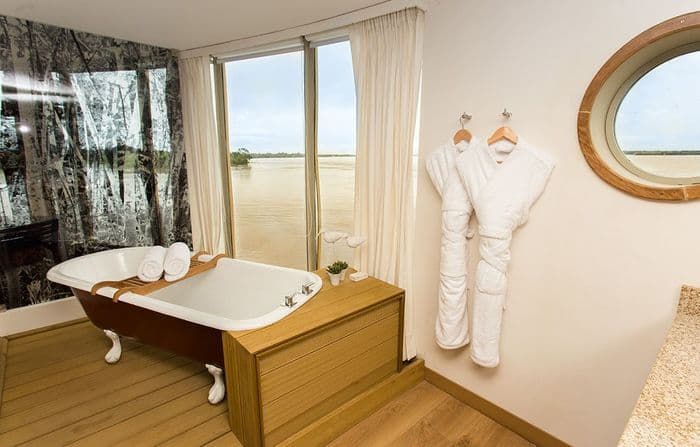 Avalon Waterways Delfin III Owners Suite.jpeg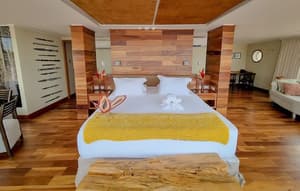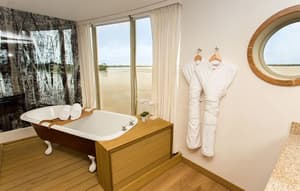 Owner's Suite
King size bed

Deluxe beds with fine Peruvian linens
European-style duvets
Nightly turn-down service
Bedside tables with reading lamps
Hairdryer
Premium bath amenities
Easy under-bed luggage storage
Internal communication system
In-room safe
Individual climate control
Elegant, contemporary design
Large mirror in bathroom
Seating area
Daily maid service
Pillow menu
Luxury honeycomb spa robes and slippers
One complimentary 60-minute spa treatment per guest
Stocked mini-bar
Scented bath upon request
Complimentary laundry (limited to 10 pieces twice per cruise)
Complimentary filtered water
Features
Queen or Twin Configuration
Shower
Room Service Available
TV
Safe
Hair Dryer
Telephone
Desk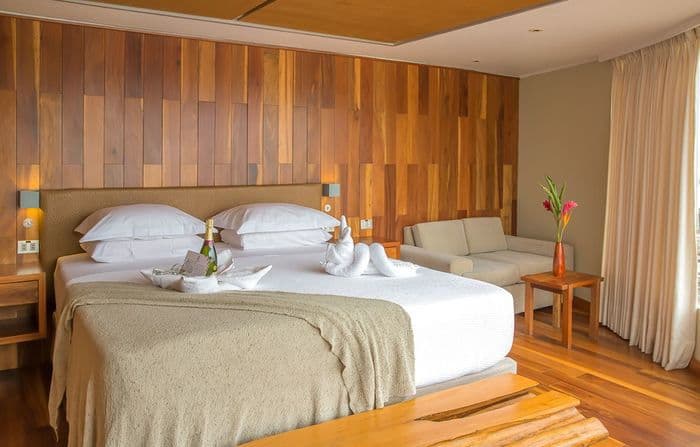 Corner Suite
King size bed

Deluxe beds with fine Peruvian linens
European-style duvets
Nightly turn-down service
Bedside tables with reading lamps
Hairdryer
Premium bath amenities
Easy under-bed luggage storage
Internal communication system
In-room safe
Individual climate control
Elegant, contemporary design
Large mirror in bathroom
Seating area
Daily maid service
Pillow menu
Luxury honeycomb spa robes and slippers
One complimentary 60-minute spa treatment per guest
Stocked mini-bar
Scented bath upon request
Complimentary laundry (limited to 10 pieces twice per cruise)
Complimentary filtered water
Features
Queen or Twin Configuration
Shower
Room Service Available
TV
Safe
Hair Dryer
Telephone
Desk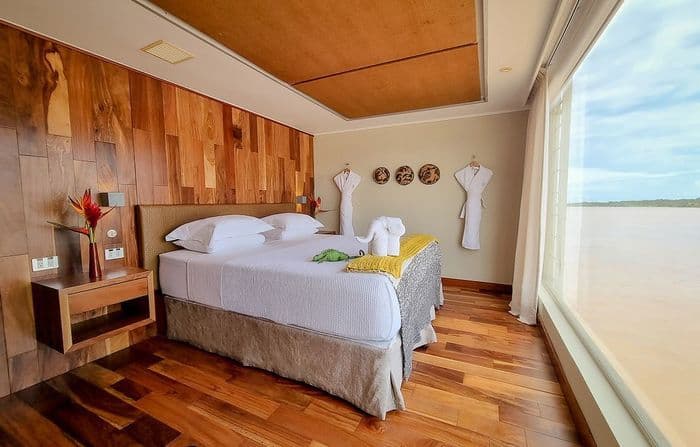 Upper Suite
Deluxe beds with fine Peruvian linens

European-style duvets
Choice of bed configuration
Nightly turn-down service
Bedside tables with reading lamps
Hairdryer
Premium bath amenities
Easy under-bed luggage storage
Internal communication system
In-room safe
Individual climate control
Elegant, contemporary design
Large mirror in bathroom
Seating area
One King-Sized Bed or Two Twins
Daily maid service
Pillow menu
Luxury honeycomb spa robes and slippers
Complimentary filtered water
Features
Queen or Twin Configuration
Shower
Room Service Available
TV
Safe
Hair Dryer
Telephone
Desk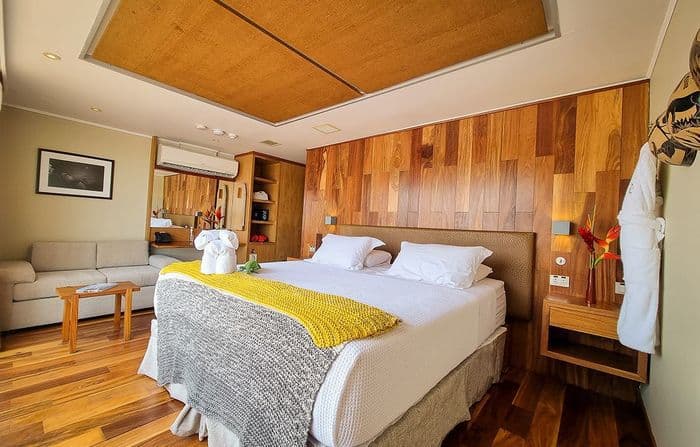 Suite
Deluxe beds with fine Peruvian linens

European-style duvets
Choice of bed configuration
Nightly turn-down service
Bedside tables with reading lamps
Hairdryer
Premium bath amenities
Easy under-bed luggage storage
Internal communication system
In-room safe
Individual climate control
Elegant, contemporary design
Large mirror in bathroom
One Queen-Sized Bed or Two Twins
Seating area
Daily maid service
Pillow menu
Luxury honeycomb spa robes and slippers
Complimentary filtered water
Features
Queen or Twin Configuration
Shower
Room Service Available
TV
Safe
Hair Dryer
Telephone
Desk
Deck plans

Observation Deck
Wheelhouse
Bar
Restroom
Open Air Covered Lounge
Stairs
Spa
Plunge Pool

Upper Deck
Galley
Dining Room
Stairs
Owner's Suite
Upper Suite

Main Deck
Suite

Corner Suite
Infirmary
Stairs
Hotel Director Cabin
Tour Manager Cabin
Crew Area