Search for your ideal Cruise
Why cruise on this ship?
The River Countess underwent a complete design renovation in 2020, debuting as the S.S. La Venezia to bring guests an enhanced luxury experience inspired by Northern Italy. The redesign of the S.S. La Venezia drew influence from the fine Fortuny fabrics displayed prominently onboard. Murano glass, gilded accents and artistic etched elements pay homage to popular Venetian aesthetics of the early 20th century, creating an onboard atmosphere that is at once elegant and nostalgic.
find your perfect cruise
Dining
Our classically trained chefs use fresh, locally-sourced ingredients for all onboard meals, which feature both regionally-inspired and western dishes.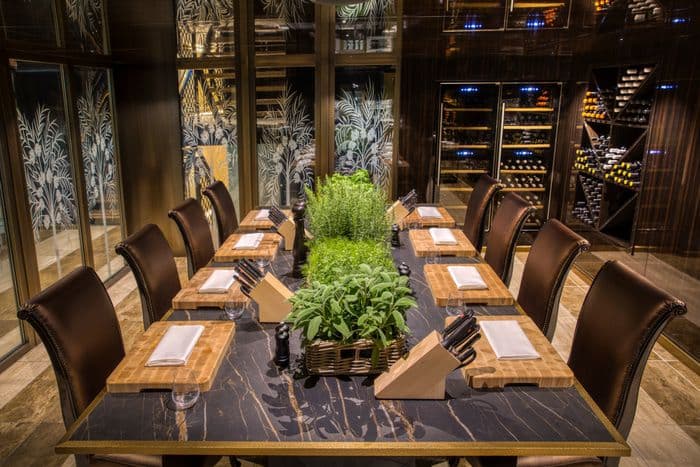 Uniworld S.S La Venezia Cantinetta 1.jpg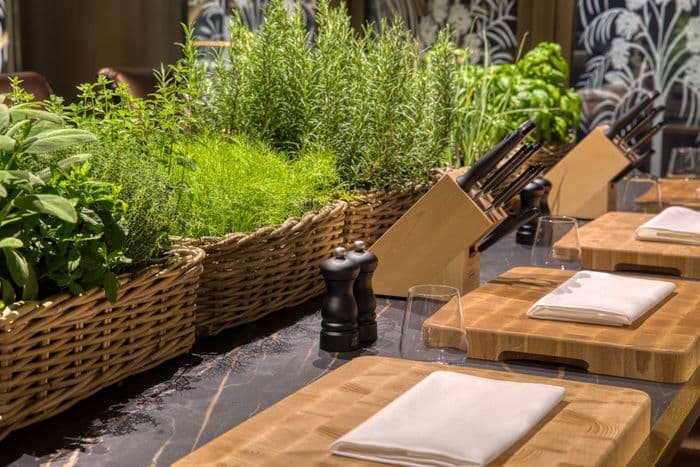 Uniworld S.S La Venezia Cantinetta 2.jpg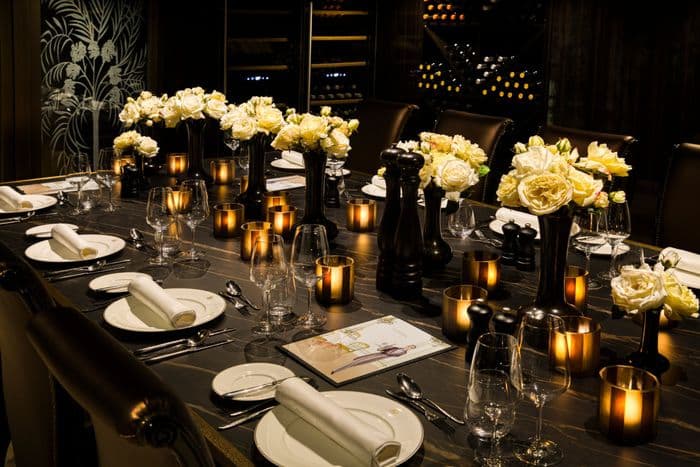 Uniworld S.S La Venezia Cantinetta 3.jpg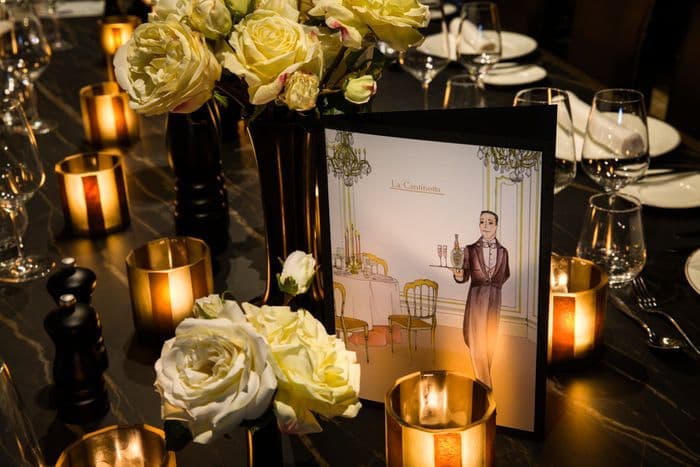 Uniworld S.S La Venezia Cantinetta 4.jpg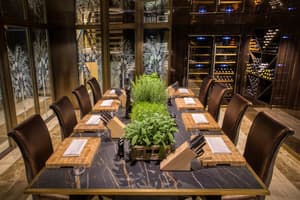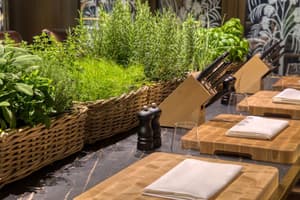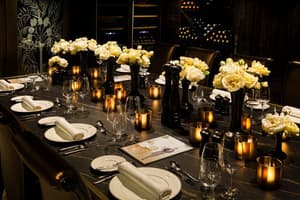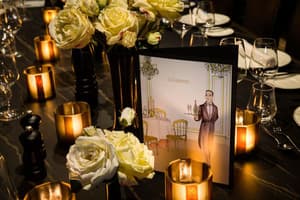 La Cantinetta
ENJOY AN UNRIVALED TASTE OF YOUR DESTINATIONS
When dining onboard, you'll be treated to world-class cuisine made from fresh ingredients, locally sourced from the destinations you visit.
Features
Experience: Complimentary
Food type: Regional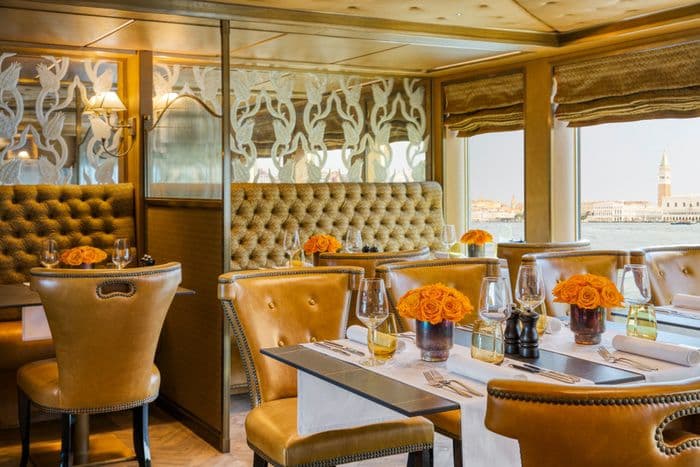 Uniworld S.S La Venezia Restaurant 1.jpg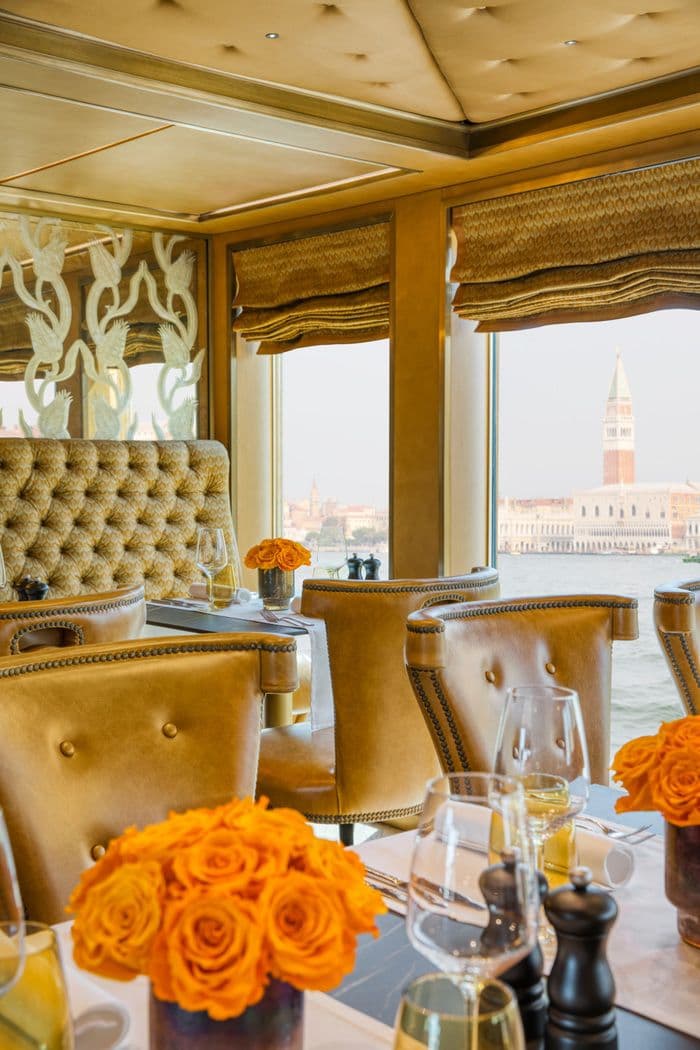 Uniworld S.S La Venezia Restaurant 2.jpg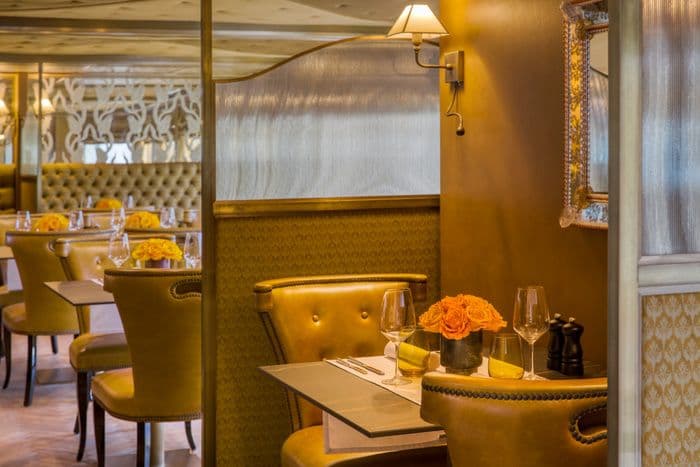 Uniworld S.S La Venezia Restaurant 3.jpg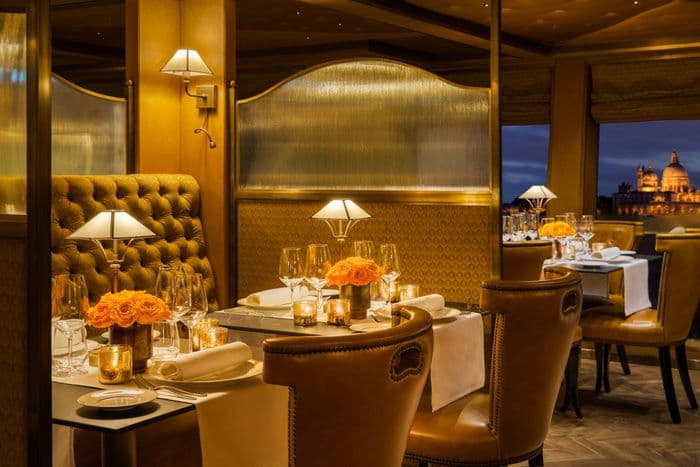 Uniworld S.S La Venezia Restaurant 4.jpg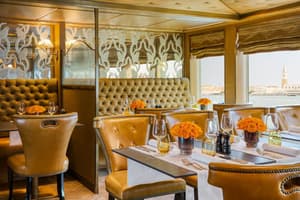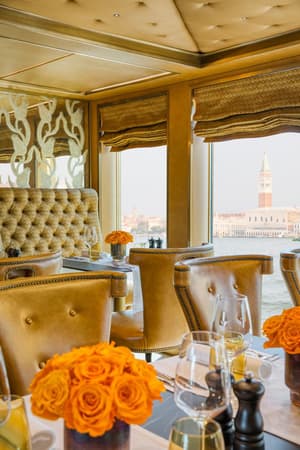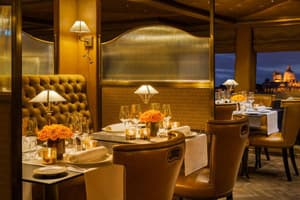 Restaurant
Features
Experience: Complimentary
Food type: Regional
Entertaining
Depending on the itinerary, talented local performers (music, dance, traditional arts, etc.) may come onboard from time to time to provide after-dinner entertainment.
Enrichment
Every Uniworld cruise is meticulously crafted to be an experience you won't find anywhere else, filled with moments that are each more breathtaking than the last. We've gone the extra mile to ensure our included and optional excursions immerse you in the authentic culture, sights and cuisine of the places you'll visit.
Included Excursions
Nothing onboard is cookie-cutter, so your time onshore shouldn't be either. You'll have several options of included excursions each day, so you can explore exactly how you'd like. The choice is yours:
VILLAGE DAY
Get an in-depth look into the quaint destinations we visit and the local people who bring them to life.
LET'S GO
These active excursions feature walking, hiking, cycling, kayaking and golfing activities.
DO AS THE LOCALS DO
Experience life like a local, from riding the subway to stopping into a café for a local treat.
Our "Let's Go" onshore program features guided walking, hiking, cycling, kayaking, golfing tours and more. Or, take one of our bicycles or Nordic Walking Sticks and head out on your own adventure. Wherever your journey takes you, there will be many opportunities to get out and go.
Each group has its own English-speaking guide. Our local experts are considered the best in the industry, and our complimentary QuietVox audio headsets make it easy to hear every word of their insightful commentary.
Private Experiences
From visiting a museum without the crowds to an after-hours tour of a famous landmark, these included, once-in-a-lifetime experiences are arranged privately for Uniworld guests.

Masterpiece Collection
Tasting cheese with a cheese affineur in Rüdesheim or cruising through the streets of Bordeaux in a retro sidecar–if going above and beyond is what you're after, you'll be sure to enjoy our selection of Masterpiece Collection optional experiences, available for an additional cost.
Curated Services
Guests looking to treat themselves and their loved ones to a private, extraordinary experience can arrange a Curated Service. These experiences can be booked onboard, are often accompanied with a private car and/or guide, are fully customizable, and provide guests with an opportunity to create an exceptionally special moment just for them.
Health and fitness
All our cruises feature several options to get up, get going and stay fit, both onboard and onshore. Our seasoned wellness experts have an average tenure of ten years with Uniworld and continuously hone their craft with annual Ayurveda yoga and other trainings. They are there to lend their expertise to you.
Wellness on the Water
Start your day with sunrise yoga on the top deck, a TRX® Suspension Training class, or work out at your own pace in the well-equipped fitness center. Then, relax at the Serenity River Spa™ with a soothing facial or massage treatment, or take a dip in the heated pool.
For those interested in healthier dining options, our Travelling Lite menu features all the flavor of our traditional menu, but with fewer calories. We also offer a variety of vegetarian and vegan options, prepared just for you. If you have a specific meal preference, just ask. Our chefs will be happy to accommodate.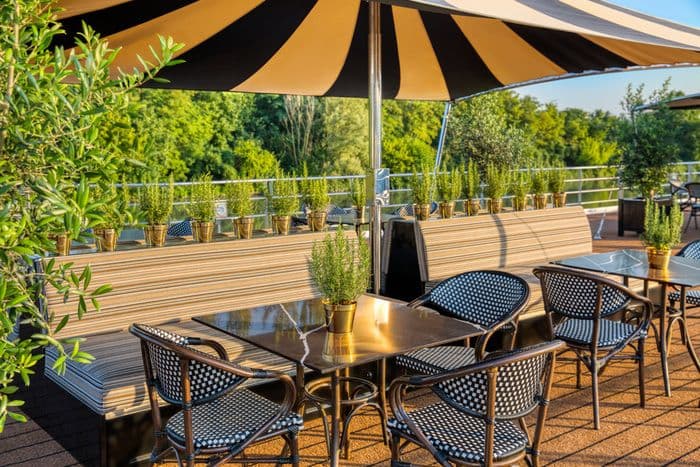 Uniworld S.S La Venezia Sundeck 1.jpg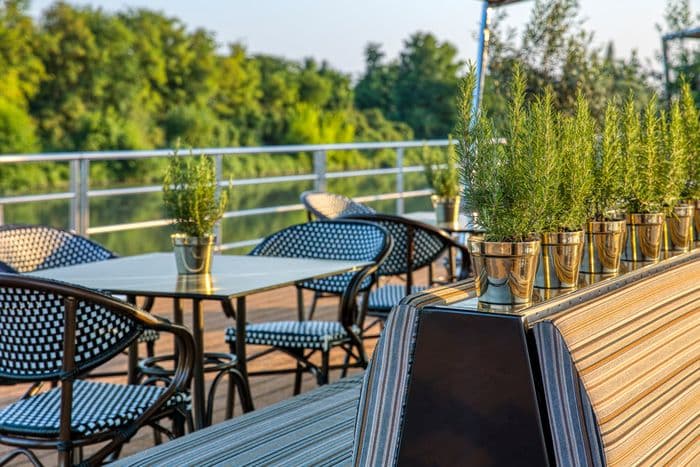 Uniworld S.S La Venezia Sundeck 2.jpg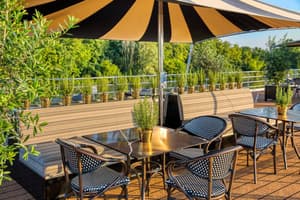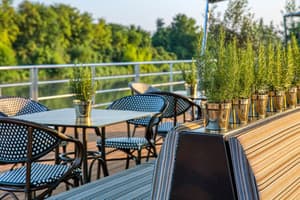 Sun Deck
Kids and teens
In our experience, most young children—especially those under 4—are simply not yet old enough to enjoy river cruising. We make no special arrangements for little ones and offer few kid-friendly activities onboard or onshore. Please note: Our Generations program departures include programs and services designed for families traveling with children. Adults accompanying children are responsible for their safety and behavior onboard and onshore.
Europe, Asia, India, and Egypt: Guests should be 4 years of age or older. Guests who are less than 18 years of age must be accompanied by a parent or guardian and booked in a cabin with someone who is 21 years of age or older.
Peru: Guests must be 7 years of age or older. Guests under 21 must be booked in a cabin with someone who is 25 years of age or older, or traveling with a parent or guardian who is booked in a connecting suite. Some excursions may not be suitable for young children.
Accommodation
Our team's passion for design lends Uniworld ships their signature attention to detail and Tiny Noticeable Touches. Each one-of-a-kind ship in our fleet is artfully designed to be an extension of the destinations they sail through. With custom fabrics, unique color palettes and original works by renowned artists, no two ships—or even suites for that matter—are alike.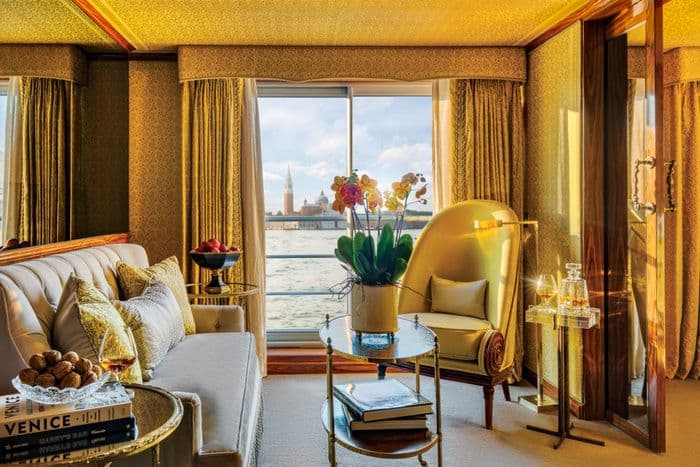 Uniworld S.S La Venezia Grand Suite 1.jpg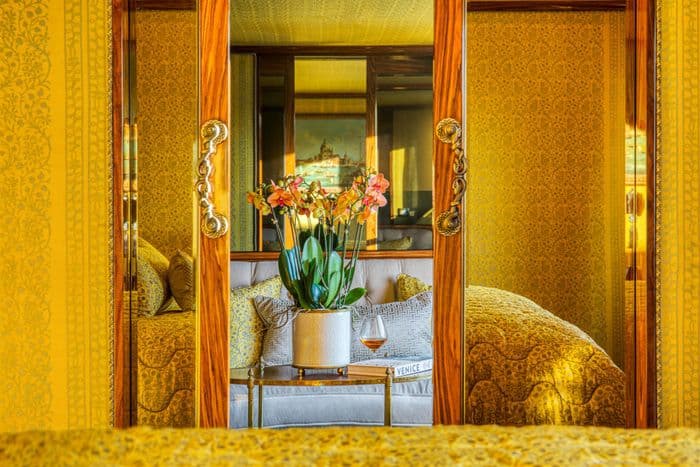 Uniworld S.S La Venezia Grand Suite 2.jpg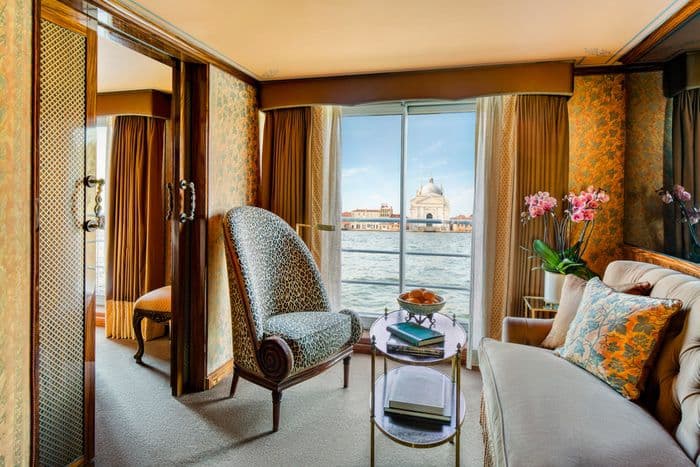 Uniworld S.S La Venezia Grand Suite 3.jpg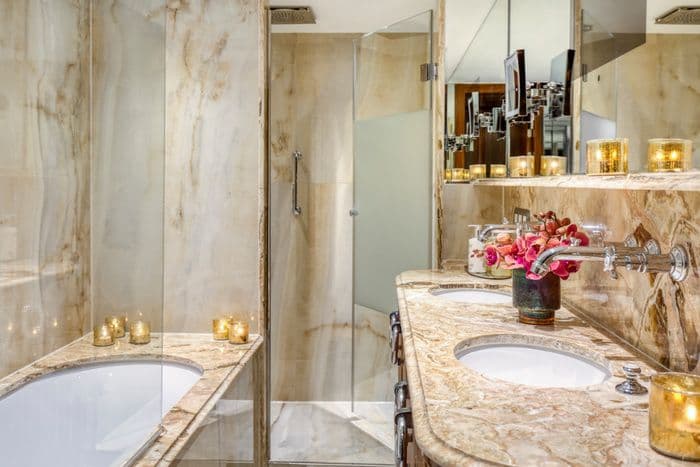 Uniworld S.S La Venezia Bathroom 1.jpg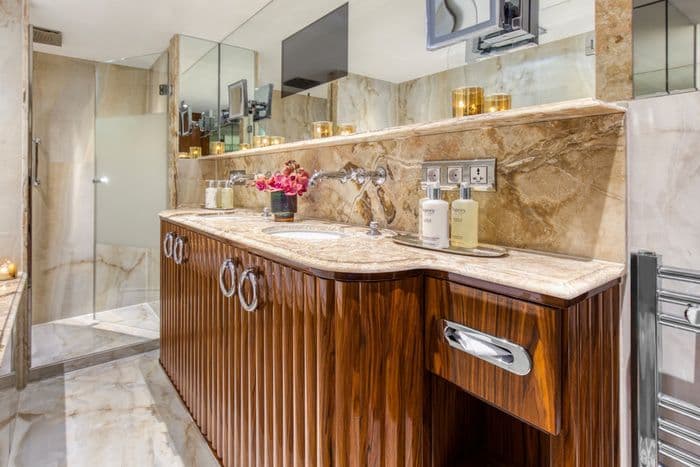 Uniworld S.S La Venezia Bathroom.jpg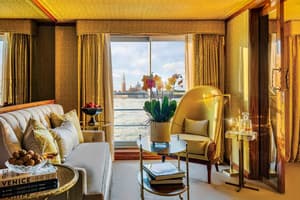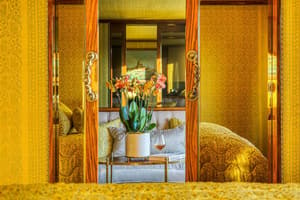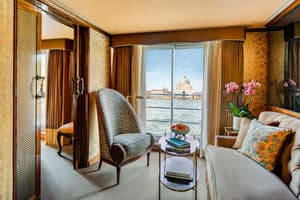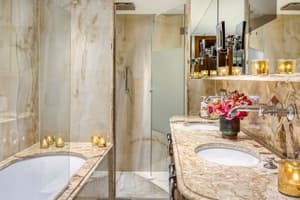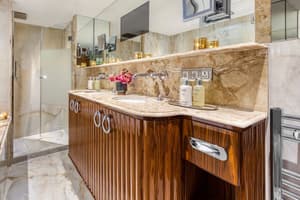 Grand Suite
Luxurious riverview grand suite (302 sq ft - 28 sq m) with a French balcony and a spacious living room
Handcrafted Savoir® Beds of England, closet, hair dryer, safe, individual climate-control thermostat, telephone and flat-screen TV with infotainment center
Marble bathroom with Asprey bath and body products, plush towels, special towel warmers, cozy bathrobes and slippers, separate bathtub, and backlit magnifying mirror
Additional amenities and service include: in-suite butler service; packing and unpacking assistance; in-room breakfast; daily fruit and cookie plate, and an elegant evening snack; Nespresso coffee machine and fine teas; fully stocked mini bar; bottle of wine upon arrival; shoe shine and free laundry service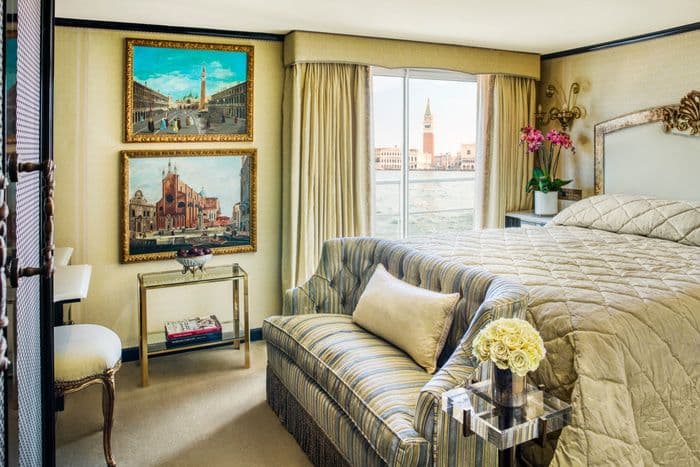 Uniworld S.S La Venezia Suite 1.jpg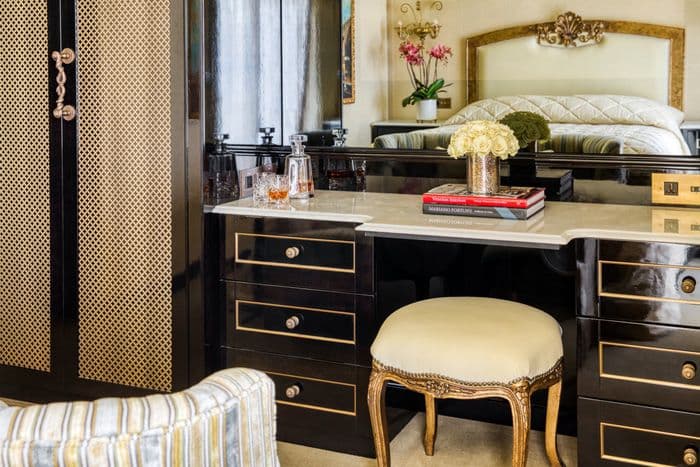 Uniworld S.S La Venezia Suite 2.jpg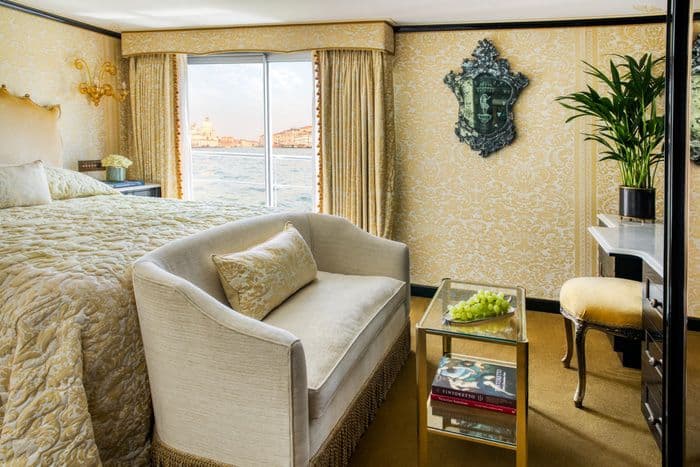 Uniworld S.S La Venezia Suite 3.jpg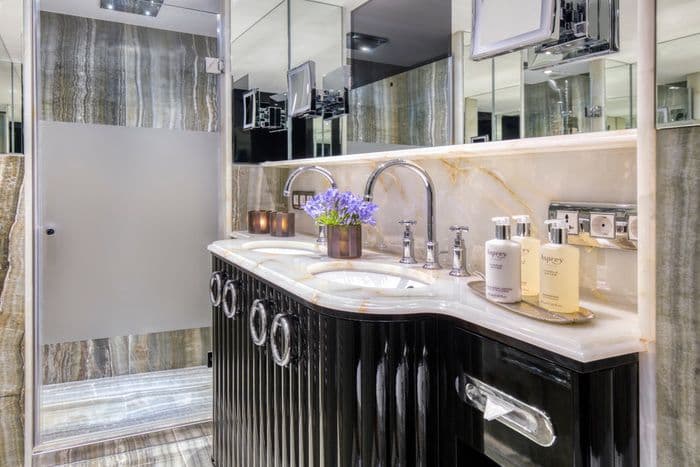 Uniworld S.S La Venezia Bathroom 2.jpg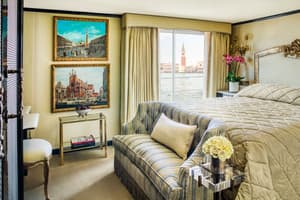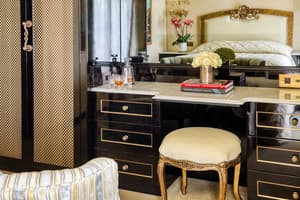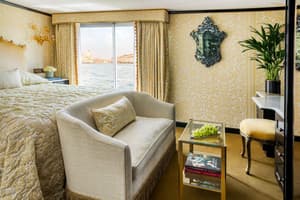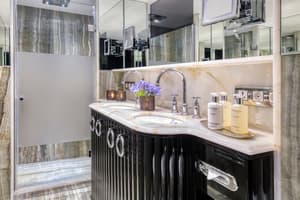 Suite
Luxurious riverview suite (214 sq ft - 20 sq m) with a French balcony
Handcrafted Savoir® Beds of England, closet, hair dryer, safe, individual climate-control thermostat, telephone and flat-screen TV with infotainment center
Marble bathroom with Asprey bath and body products, plush towels, cozy bathrobes and slippers, special towel warmers and backlit magnifying mirror
Additional amenities and services, include: in-suite butler service; packing and unpacking assistance; floor heaters; in-room breakfast; daily fruit and cookie plate, and an elegant evening snack; Nespresso coffee machine and fine teas; fully stocked mini bar; bottle of wine upon arrival; shoe shine and free laundry service
French Balcony
Luxurious riverview stateroom (151 sq ft - 14 sq m) with a French balcony
Handcrafted Savoir® Beds of England, closet, hair dryer, safe, individual climate-control thermostat, telephone and flat-screen TV with infotainment center
Marble bathroom with Asprey bath and body products, plush towels, cozy bathrobes and slippers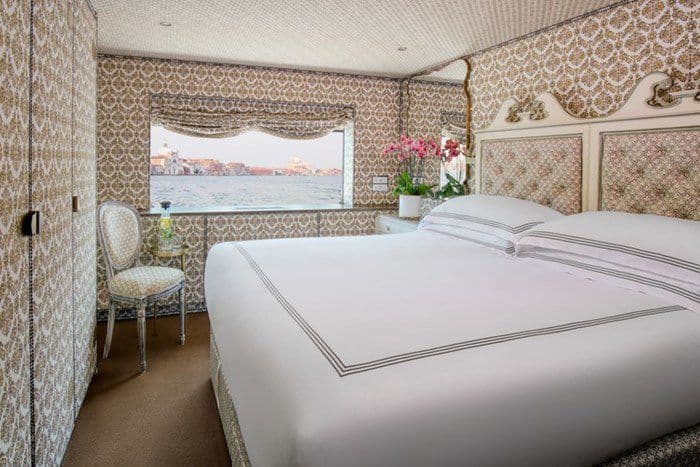 Deluxe Stateroom
Luxurious riverview stateroom (151 sq ft - 14 sq m)
Handcrafted Savoir® Beds of England, closet, hair dryer, safe, individual climate-control thermostat, telephone and flat-screen TV with infotainment center
Marble bathroom with Asprey bath and body products, plush towels, cozy bathrobes and slippers Classic Stateroom
Luxurious riverview stateroom (151 sq ft - 14 sq m)
Handcrafted Savoir® Beds of England, closet, hair dryer, safe, individual climate-control thermostat, telephone and flat-screen TV with infotainment center
Marble bathroom with Asprey bath and body products, plush towels, cozy bathrobes and slippers
Deck plans

Murano Deck
Ristorante Rialto
Reception
Captain's Lounge
Library
Cruise Manager Desk
Bar
Hari's Bar
Grand Suite
Suite
French Balcony Staterooms

Burano / Mazzorbo Deck
La Cantinetta
Fitness Centre
24hr Coffee & Tea Station
Serenity River Spa
Deluxe Staterooms

Tercello Deck
Guest Laundry
Classic Staterooms