Search for your ideal Cruise
Why cruise on this ship?
Arriving in early 2023, SH Diana will be the largest ship in our fleet, providing elegant and spacious 5-star accommodation for 192 guests in 96 spacious staterooms and suites, the vast majority with large balconies. Operated by an onboard team of 140 she will provide the highest levels of personal service and take Swan Hellenic back to its roots when she launches, exploring the Mediterranean and its famous sites of antiquity.
find your perfect cruise
Dining
Swan Hellenic's plethora of dining options provide guests with an appetite for global flavours a tempting variety of options, from sun chasing early riser's breakfast through to late dinner and 24 hour room service.
The onboard restaurants serve modern international delicacies featuring regional cuisine and ingredients creating a unique once-in-a-lifetime dining experience.
World renowned chefs will prepare culinary experiences from the destinations visited, pairing the latest international trends with untasted regional delights.
Bespoke & private dining experiences will be offered both inside and outside (depending on the weather conditions and routing). Offering guests superb the opportunity to enjoy and explore top-tier culinary skills and the local landscape that is home to distinctive unique flavours of seasonal ingredients, alongside fine wines.
The Swan Restaurant
As the main venue for breakfast, lunch and dinner, our 150-seat restaurant serves international and regional cuisine focussed on quality local ingredients from the unique destinations we visit, showcasing creative flavourful cuisine. With open seating, guests can dine at their leisure, from breakfast through to dinner.
Helmed by a culinary master, the airy, contemporary space champions artful modern and traditional delicacies, also offering healthy diet-inspired menus that focus on seasonal ingredients sourced from local farmers, fisheries and artisans, prepared in a light, clean style. Catering to a range of diets, we offer wholesome, health conscious fare that respects responsible sourcing from the sea as well as careful cultivation of the soil.
Start your day with made-to-order omelettes, waffles or pancakes, to healthy fresh fruit and vegetable smoothies. A broad selection of other breakfast favourites is also available.
For lunch, opt for made-to-order pastas and risottos, cheese and meat antipasti or freshly cooked seafood. A raw bar will feature fresh seafood, organic bites and delectable carpaccio. A delicious selection of soups and carved meats accompany a tempting array of mouth-watering desserts, including sugar & gluten free options.
For dinner we will take you on a culinary journey with a variety of menus designed to provide an upscale, contemporary take on destination-based influences, delivering authentic flavours reimagined from adventurous surroundings.
Select quality wines chosen by our sommelier, liquors, beers and soft drinks are complimentary.
Our sommelier will also be at your service in case you decide to pair your meal with a bottle from our selection of superior labels and vintages. Speciality and premium products selected from our Aficionado Menu will be charged to your shipboard account.
Private dining experiences are also available at Chefs table in main restaurant. These intimate meals are bespoke and the executive chef along with our sommelier will curate a tailor made menu with wine pairing. We take it the extra step, adding the concept of wine education and carefully explaining each new pour as it complements the dish. Private dining experiences are offered at an additional cost and need to be booked in advance.
Features
Experience: Complimentary
Food type: Regional
The Club Lounge
Discover the culinary finesse with tapas-inspired gastro market small plates. Vibrant and welcoming, the Club Lounge acts as a hub, playing home to interactive food counters and a range of thrilling dining options: freshly made pizza from our Italian pizza oven and locally-inspired tapas, all to enjoy while sipping Swan Hellenic's signature sundowner cocktail - making it the ideal setting for delicious, social gatherings. Tuck into the signature tapas with a twist and delectable seasonal local fare 24 hours a day, with a panoramic view of the ocean glittering below.
Designed to be a social space, the Club Lounge gives the feel of an expansive living room, leading out to an al fresco Poolside Bar with stellar views of the outdoor pool and glistening sea. An a la carte menu features burgers, wraps, creative salads and locally inspired global small plates.
The elegant 24-hour lounge is versatile for everything from breakfast to an elegant afternoon tea and pre-dinner Gin O'clock tipple. Afternoon Tea is a glamourous and contemporary progression of savoury bites, finger sandwiches and scones followed by colourful tarts and desserts. Refresh your palate with a selection of international teas or a cold glass of champagne.
Imbibe in our daily Gin O'clock and indulge in its distinct flavour and aroma while watching the sea swallow the sinking sun. Take your tipple outdoors and breathe in the calm fragrance of the of the salty sea air.
Freshly baked light snacks, pastries, and a self-service coffee bar available round-the-clock. Espresso, café lattes, cappuccino and specialty teas are served in our comfortable café. Wines by the glass and cocktails are also available throughout the day into the late evening.
Features
Experience: Complimentary
Food type: Tapas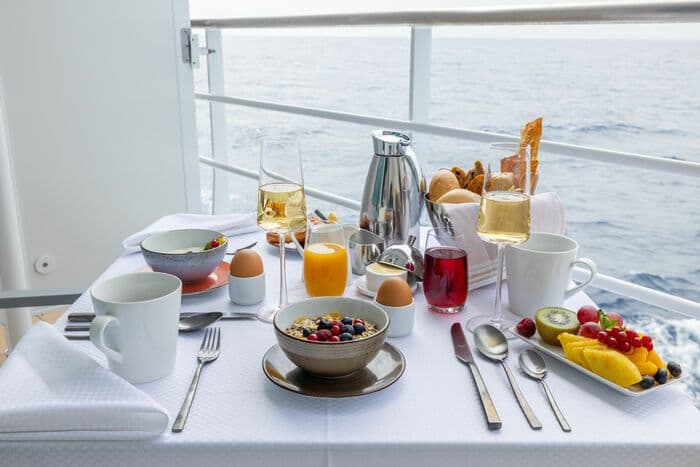 Room Service
No matter what time of day, our carefully curated In-Cabin Dining Menu traverses perennial international favourites and a plethora of international delicacies, providing a world-class gastronomic experience in the comfort of your own cabin.
Start your morning right with a nourishing selection of breakfast dishes – from a healthy yoghurt, granola and local seasonal fruit to a heartier regionally inspired eggs benedict. Or opt for a more intimate lunch or dinner, served al fresco on your private veranda.
Room Service may also be ordered from the Swan Restaurant during regular dining hours.
A selection of late-night snacks and light bites has been created to pair perfectly with your In-Cabin movie. Please refer to the In-Cabin Dining Menu to place your order.
Room Service is available 24 hours a day.
Features
Experience: Complimentary
Food type: Room
Entertaining
SH Diana has been designed for immersive experiences, with extensive outside deck areas, multiple observation points and bright, open and relaxing public spaces with unobstructed views.

The Observation Lounge
After a day of exploration, where better to relax than in the Observation Lounge. Sit back, savour your favourite tipple whilst getting to know your fellow guests.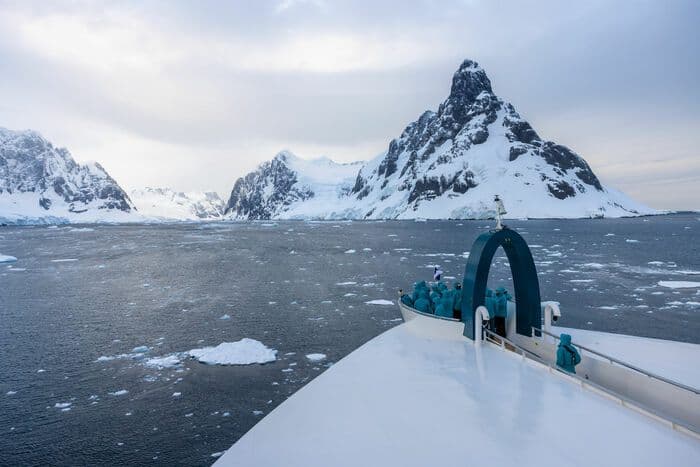 Swan Hellenic SH Minerva Swan Nest Guests Landscape-large.jpg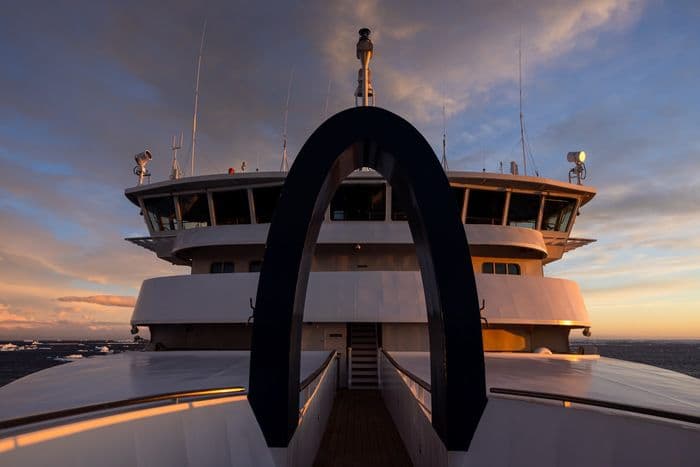 Swan Hellenic SH Minerva Swan Nest ship.jpg
Swan Hellenic SH Minerva Swan Nest 3.jpg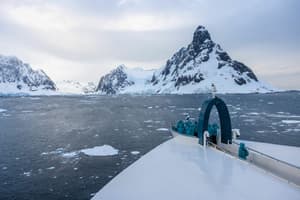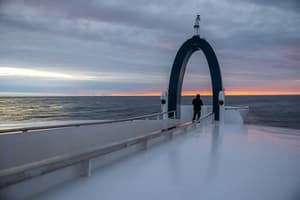 Swan's Nest
Take a pew in the forward-facing Swan's Nest observation platform for extraordinary 180-degree views.
Enrichment
If you are looking to experience the remote Polar regions or explore truly off-the-beaten path destinations and cultures of our spectacular planet, then you are in great company. Swan Hellenic exists to provide its guests with authentic, intimate and unforgettable moments in extraordinary locations and remote landmarks.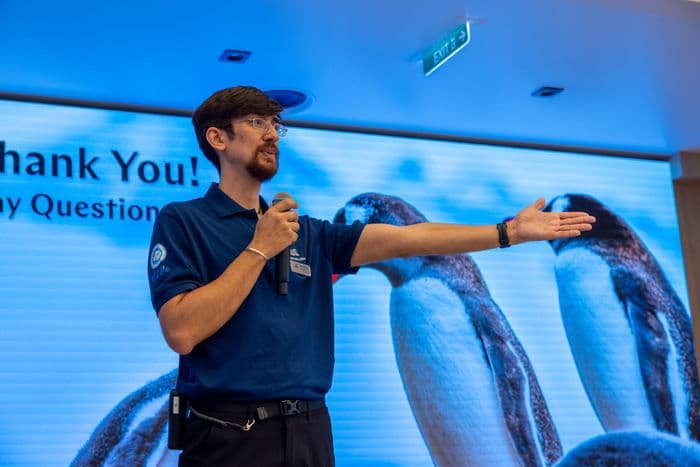 Swan Hellenic SH Minerva Lectures 19.jpg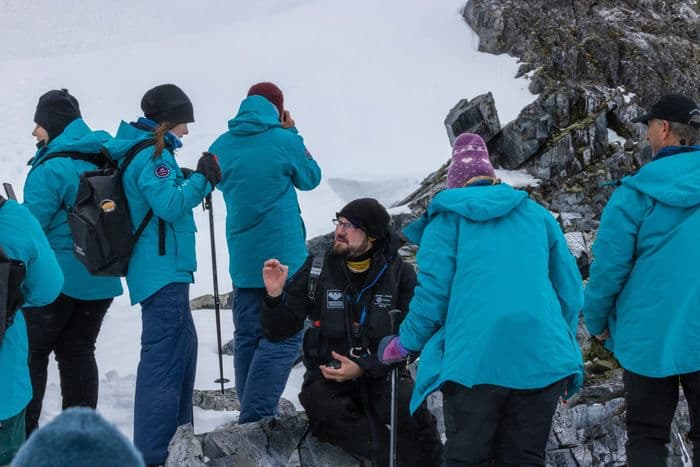 Swan Hellenic SH Minerva Lectures 29.jpg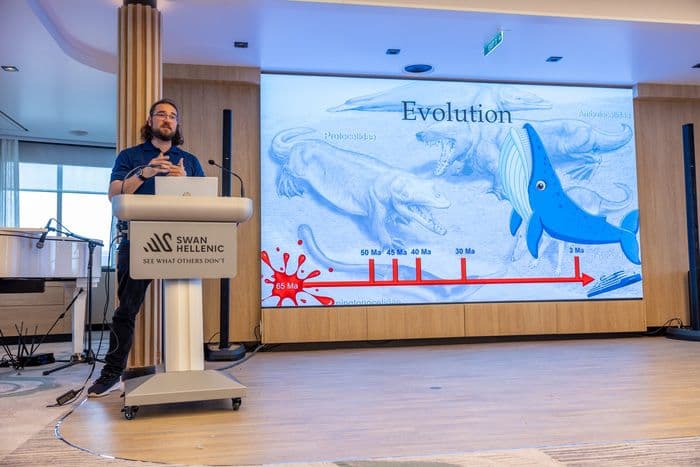 Swan Hellenic SH Minerva Lectures 10.jpg
Swan Hellenic SH Minerva Lectures 4.jpg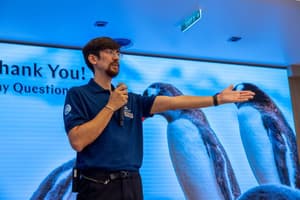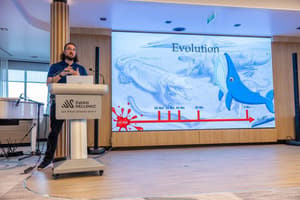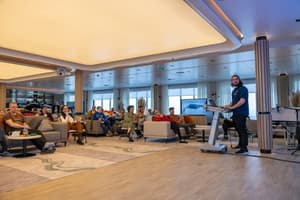 Lectures
Exploratory travel is in our DNA, which is why our polar experts are focused on ensuring our guests return home having had the most authentic experience possible. Our inquisitive, like-minded passengers share a thirst for knowledge. Swan Hellenic's lecturers and guest speakers are carefully selected to give engaging and stimulating talks on a wide range of subjects that are relevant to each itinerary. They bring specialist knowledge and insight into the scientific, geographic and historical understanding of the remote polar regions that allows the customer to fully embrace the wondrous environments in which they are travelling.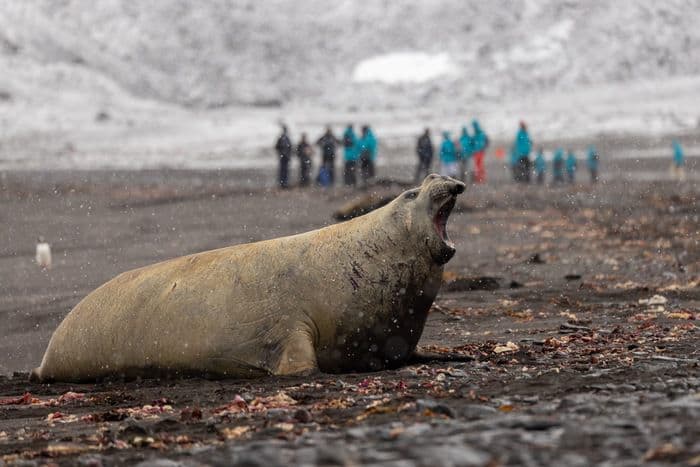 Swan Hellenic Excursions Environment Fur Seal.jpg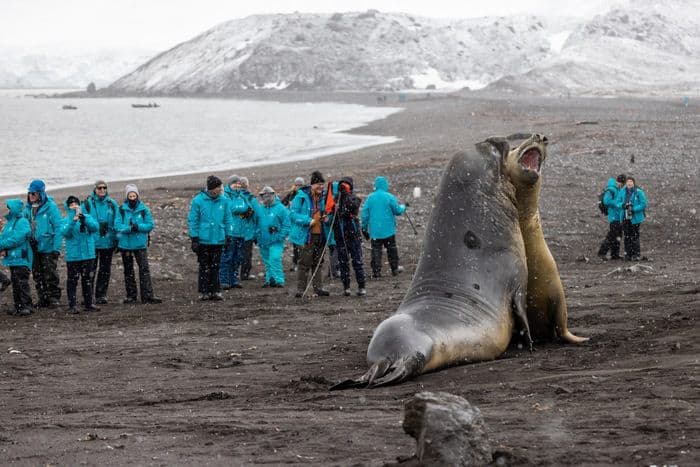 Swan Hellenic Excursions Environment Antarctica Wildlife and Guests.jpg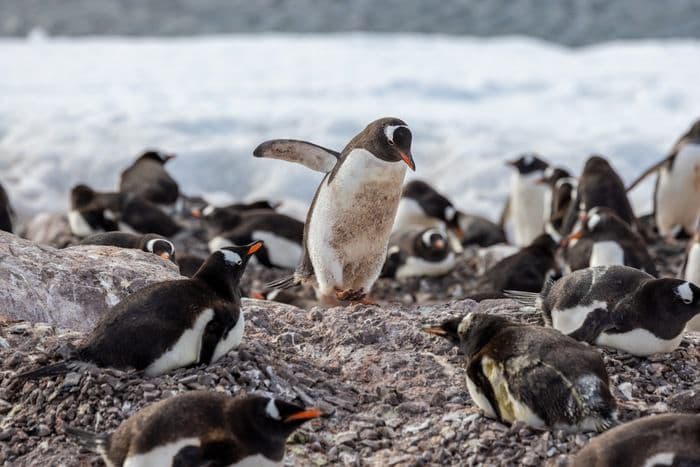 Swan Hellenic Excursions Environment Antarctica Wildlife 3.jpg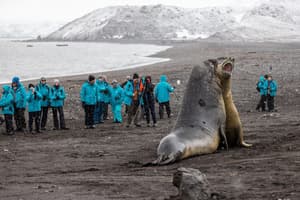 Excursions
No stone is left unturned when it comes to researching our shore excursion programmes. All aspects of the itinerary are carefully planned in detail by a knowledgeable, well travelled team to ensure each aspect of the cruise is delivered to the highest possible standard.
We've thought of all our guests, including the less mobile. Our 12-person hard-hulled zodiacs, the boats that take guests off the ship, have been designed for increased comfort and manoeuvrability so that everyone can get up close and personal with their majestic surroundings.
As well as our daily zodiac excursions there are opportunities for polar kayaking and trekking and for the brave… The Polar Plunge.
For expeditions ashore, there is a heated concierge managed changing room we like to call Basecamp.
Features
Excursions
Zodiacs
Kayaks
Expeditions
Hikes
Swan Hellenic SH Minerva Laboratory11.jpg
Swan Hellenic SH Minerva Laboratory4.jpg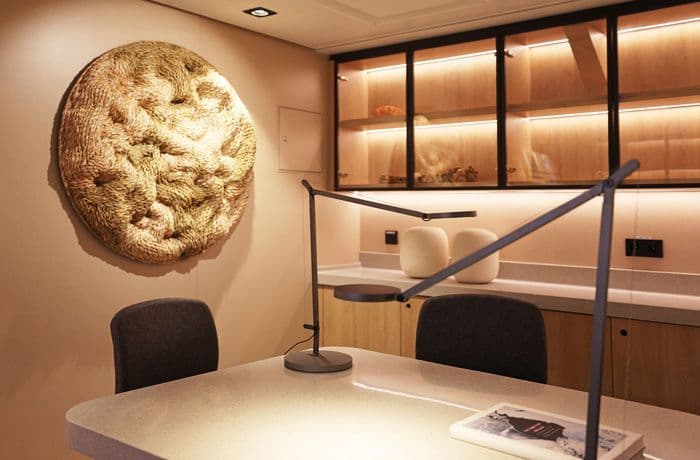 Swan Hellenic SH Minerva Laboratory3.jpg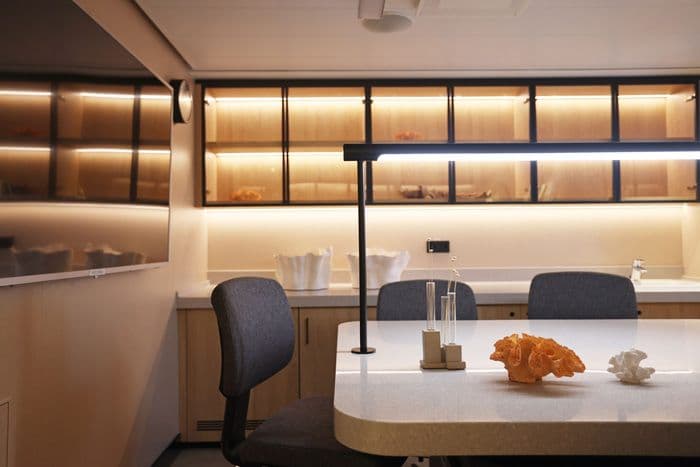 Swan Hellenic SH Minerva Laboratory1.jpg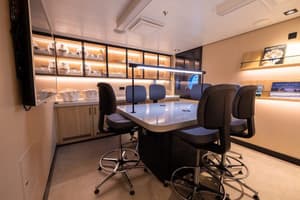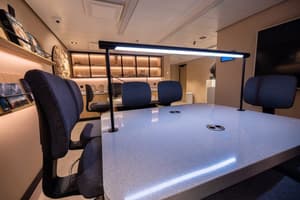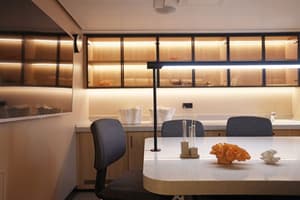 Expedition Lab
The Expedition Lab can be found on Deck 3.
Health and fitness
Fitness is a key part of the daily routine for many. Just because you're on holiday your wellbeing routine need not stop.
Swan Hellenic's state-of-the-art gym will please the most discerning of fitness fiends. Here, you will find everything from cardio machines and stretch bands to weights. We will also be offering a range of instructor-led classes. Why not try a morning stretch class or book a fitness assessment with one of our specialist body coaches?
You don't have to be pounding the treadmill to enjoy our fabulous on-board fitness and spa facilities. Relax and revive in the sauna, outdoor pool or one of the jacuzzis and book yourself in for a healing massage or facial.
Our fitness areas are spotlessly clean, with luxurious changing facilities, water and towels provided.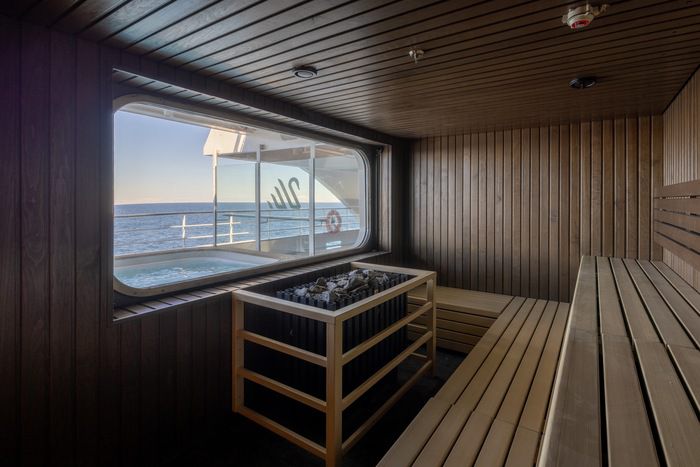 Sauna with a View
Head to Deck 8 for the best views in the world. After a work out in our state-of-the-art gym, relax in our sauna or Jacuzzi and take in those breathtaking vistas along the way.
Heated Outdoor Pool
On Deck 7 you'll find a heated outside pool along with pool side seating from where you can enjoy stunning scenery.
Kids and teens
Please note; there are no dedicated children's facilities on board.
Kids 8-12 are free of charge when sharing a room with an adult (only port taxes if any).
Kids 13-16 are charged at $100 USD per child per day plus port taxes
*port taxes will be added to your onboard bill for child fares*
Accommodation
SH Diana's 96 staterooms , including 11 suites, are each a superbly comfortable home from home and all feature panoramic sea views, a flame-effect fireplace, original works of art, plush couches, premium pocket sprung mattresses, en-suite bathrooms with glass-enclosed rain showers, and Egyptian cotton towels, bathrobes and sheets. A pillow menu offers customised head and neck comfort during rest, while a large flat screen TV, espresso machine with Illy premium coffee, tea making facilities with the finest Kusmi teas, and a minibar with refreshments enhance relaxation at any time. In-room dining is of course available at all hours.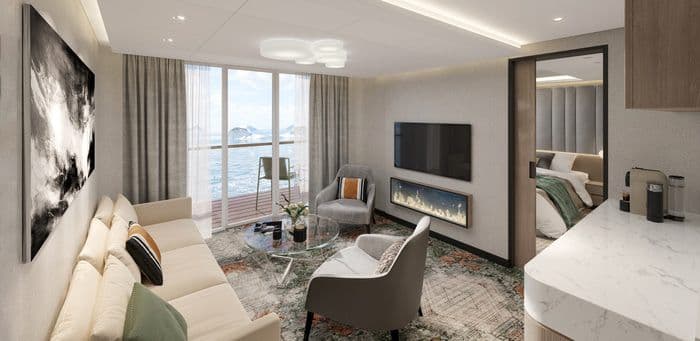 Premium Suite
SH Diana's Premium Suites feature a Super King Size bed, separate living room with homely flame-effect fireplace, luxurious en-suite bathroom, spacious walk-in wardrobe and a 12 sq. m private balcony.

Features
King or Twin Configuration
Lounge Area
Dining Area
Vanity Area
Shower
Room Service Available
TV
Safe
Hair Dryer
Telephone
Desk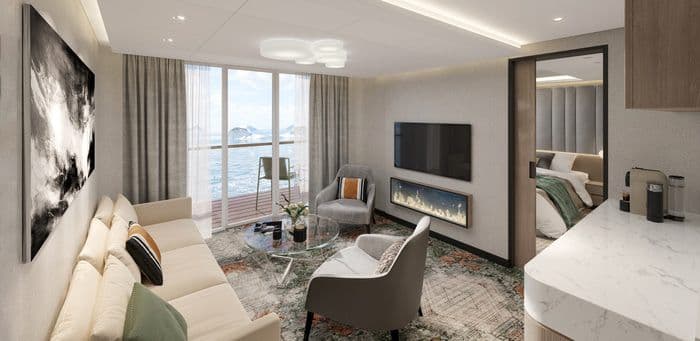 Suite
Our Suites features a superking bed and separate living room with and a soothing flame-effect fireplace a luxurious ensuite bathroom and a 12 sq.m. private balcony.

Features
King or Twin Configuration
Lounge Area
Vanity Area
Shower
Room Service Available
TV
Safe
Hair Dryer
Telephone
Desk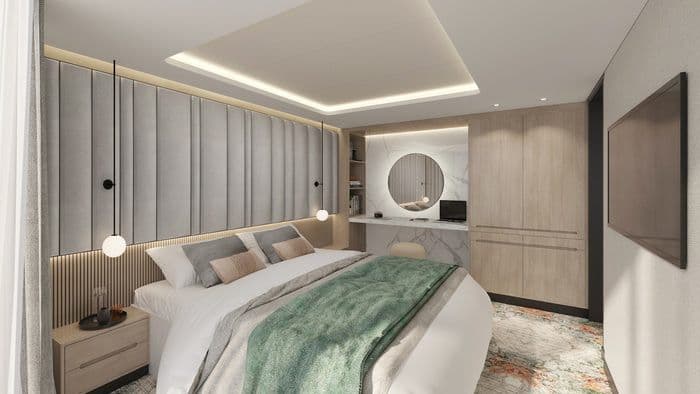 Junior Suite
SH Diana's Junior Suites features a Super King Size bed, separate living room area with homely flame-effect fireplace, private kitchen, luxurious en-suite bathroom and a 7 sq. m private balcony.

Features
King or Twin Configuration
Lounge Area
Vanity Area
Shower
Room Service Available
TV
Safe
Hair Dryer
Telephone
Desk
Balcony
Located on decks 5 and 6, these balcony staterooms feature 2 single beds or a double bed, distinct bedroom and living room areas, a luxurious bathroom and your own private 6 sq. m balcony.
Features
Double or Twin Configuration
Lounge Area
Shower
Room Service Available
TV
Safe
Hair Dryer
Telephone
Desk
Oceanview
Oceanview staterooms features 2 single beds, bedroom and living room and a luxurious ensuite bathroom.
Features
Double or Twin Configuration
Lounge Area
Shower
Room Service Available
TV
Safe
Hair Dryer
Telephone
Desk
Deck plans
Deck 8
Gym
Spa
Sauna
Jacuzzi
Beauty Salon
Bridge
Lifts

Deck 9
Deck 7
Swimming Pool
Pool Bar & Grill
Club Lounge
Events Room
Observation Lounge
Lifts
Deck 5
2 Suites
1 Junior Suite
37 Balcony Cabins
Lifeboats
Lifts

Deck 6
2 Premium Suites
2 Suites
3 Junior Suites
28 Balcony Cabins
1 Accessible Balcony Cabin
Swan's Nest
Lifeboats
Lifts

Deck 4
19 Oceanview Cabins
1 Accessible Oceanview Cabin
The Swan Restaurant
Lifts
Reception
Entrance
Launderette
Deck 3
Marina Deck
Zodiac Boarding
Basecamp
Library
Expedition Lab
Clinic
Laundry
Lifts