Search for your ideal Cruise
Why cruise on this ship?
Designed to navigate the Mekong River, hosting just 80 guests, Viking Saigon offers understated elegance and has been built to reflect the clean, Scandinavian design principles for which Viking is known.
find your perfect cruise
Dining
The ship offers multiple restaurant venues and unique dining experiences, from casual cafés and pool grills to wine-pairing menus and regional specialties.
Entertaining
There is no such thing as a typical evening onboard, nor shortage of entertainment. Whether it's a cabaret, opera, classical or popular music concert, the theatre is home to an inspiring choice of productions. Film fans can feast on classic movies and the latest blockbusters in one of the cinemas. Or take in the breeze as you take in a film at the open-air cinema.
When the stars come out, so does the entertainment. From sipping an artisan gin and exchanging stories with newfound friends in Paps, the Explorer's Bar, to enjoying the sounds of the guitarist, pianist and singer in one of the lounges. Take a seat in the plush theatre for a dazzling show, or dance the night away in Torshavn nightclub. Sing along to a band, or lie back by the pool under the night sky to watch a movie on the giant screen – the popcorn is on the house. However you choose to spend your evenings on board, being bored is never an option
Enrichment
Viking believe the best way to understand a country is through enrichment. Each cruise is thoughtfully curated with hand-picked itineraries so you can immerse yourself in history, music, art, cuisine—everything you need to know about your destination. And before you step foot on shore, you will glean insights from history experts and academic luminaries in our theater, chosen by the Viking Enrichment Board.
Health and fitness
Your journey is about feeling good all over. Onboard you'll find plenty of ways to reconnect with yourself. Mind, body and soul.
Make a splash in the Infinity Pool. Do laps or just lap up the sun in the main pool. With its retractable roof it's the perfect pool even if the weather is not.
Tai Chi in Tallinn? Pilates in Provence? Staying fit isn't about breaking records, it's about whatever makes you happy, and our inspiring choice of classes, state of-the-art gym and outside studio will help restore your vitality.
Kids and teens
Please note: the ship does not feature any children's facilities.
Accommodation
Sleep easy in a comfortable king-size bed with fine cotton linens for the sweetest dreams. Elegant décor and calm colours create the perfect sanctuary (because lazy days are often the best days). Wake up to breakfast in bed (24-hour room service is complimentary). Tune in to the latest technology, with free Wi-Fi and TV with movies on demand. Your generous ensuite has a shower that drenches you, heated floor and fluffy towels to warm you and indulgent lotions to pamper you. Bathroom bliss.
Whichever stateroom you choose, you can look forward to a private sanctuary of understated elegance, one that features all the comforts of home and your own spacious veranda.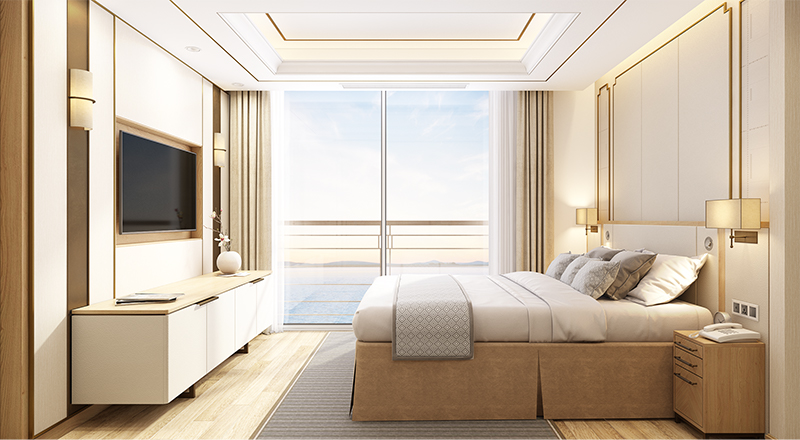 Explorer Suite
Amenities include:
Suite size: 735 sq ft
River-view suite with spacious, separate sitting room & floor-to-ceiling sliding glass door opening to a large veranda off the living room
Hotel-style bed (with optional twin-bed configuration); luxury linens & pillows
Free Wi-Fi (connection speed may vary)
Two flat-screen TVs with premium entertainment package including CNN and other English-language programming
110/220 volt outlets & USB ports
Telephone, safe, refrigerator, hair dryer & individual climate control
Large private bathroom with spacious glass-enclosed shower, bathtub & anti-fog mirror
Premium toiletries; plush robes & slippers available upon request
Bottled water replenished daily
Stateroom steward & twice-daily housekeeping
Space under bed for storing suitcases
Roomy wardrobe with wooden hangers
Features
Double or Twin Configuration
Shower
Bath
Toiletries Provided
TV
Free Wi-Fi
Safe
Hair Dryer
Telephone
Desk
Veranda
Amenities include:
Stateroom size: 305 sq ft
River-view stateroom with floor-to-ceiling sliding glass door to create a French balcony
Private veranda
Hotel-style bed (with optional twin-bed configuration); luxury linens & pillows
Free Wi-Fi (connection speed may vary)
Flat-screen TV with premium entertainment package including CNN and other English-language programming
110/220 volt outlets & USB ports
Telephone, safe, refrigerator, hair dryer & individual climate control
Private bathroom with spacious glass-enclosed shower & anti-fog mirror
Premium toiletries; plush robes & slippers available upon request
Bottled water replenished daily
Stateroom steward & twice-daily housekeeping
Space under bed for storing suitcases
Roomy wardrobe with wooden hangers
Features
Double or Twin Configuration
Shower
Toiletries Provided
Free Wi-Fi
Safe
Hair Dryer
Telephone
Desk
French Balcony
Amenities include:
Stateroom size: 305 sq ft
River-view stateroom with floor-to-ceiling sliding glass door to create a French balcony
Hotel-style bed (with optional twin-bed configuration); luxury linens & pillows
Free Wi-Fi (connection speed may vary)
Flat-screen TV with premium entertainment package including CNN and other English-language programming
110/220 volt outlets & USB ports
Telephone, safe, refrigerator, hair dryer & individual climate control
Private bathroom with spacious glass-enclosed shower & anti-fog mirror
Premium toiletries; plush robes & slippers available upon request
Bottled water replenished daily
Stateroom steward & twice-daily housekeeping
Space under bed for storing suitcases
Roomy wardrobe with wooden hangers
Features
Double or Twin Configuration
Toiletries Provided
Free Wi-Fi
Safe
Hair Dryer
Telephone
Desk
Deck plans
Upper Deck
Middle Deck
Bar
Lounge
Library
Reception
Coffee Station
Elevator
Main Deck
Kitchen
Restaurant
Elevator