Why cruise on this ship?
Tor, a version of the name Thor, is a son of Odin and god of the sky and thunder. Strong and powerful, he is the protector of gods and people and is usually depicted wielding his mighty hammer, Mjolnir.

Carol
wrote a review in Aug, 2022
Exceptional staff and food. Ship very clean and all excursions excellent with wonderful tour guides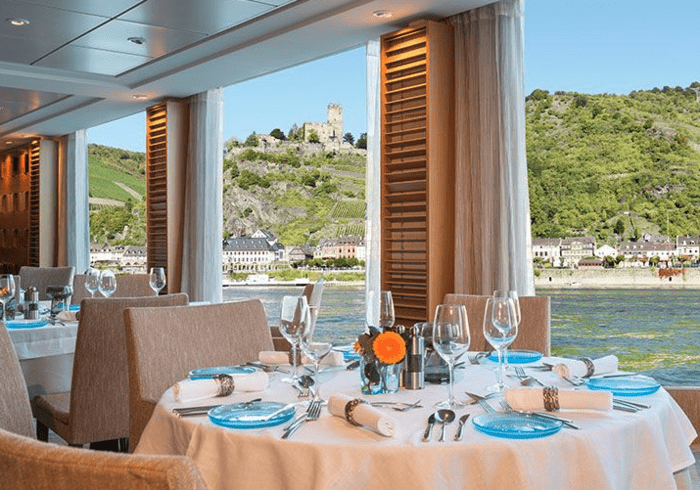 The Restaurant
Enjoy a multicourse meal featuring regional cuisine and always available classics in the Restaurant, an upscale dining venue with panoramic windows with ever-changing views.
Features
Experience: Complimentary
Food type: Regional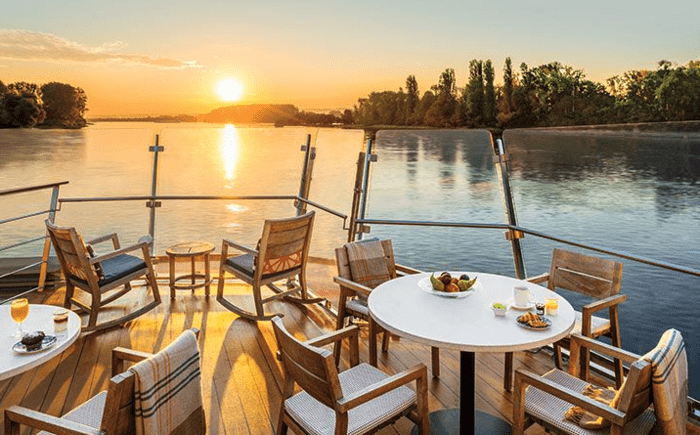 Aquavit Terrace
Revolutionary in concept and design, this spacious outdoor seating area at the bow of the ship is perfect for having a casual meal al fresco, meeting friends for drinks or reading a book, all while enjoying breathtaking views and basking in the fresh air.
Features
Experience: Complimentary
Food type: Casual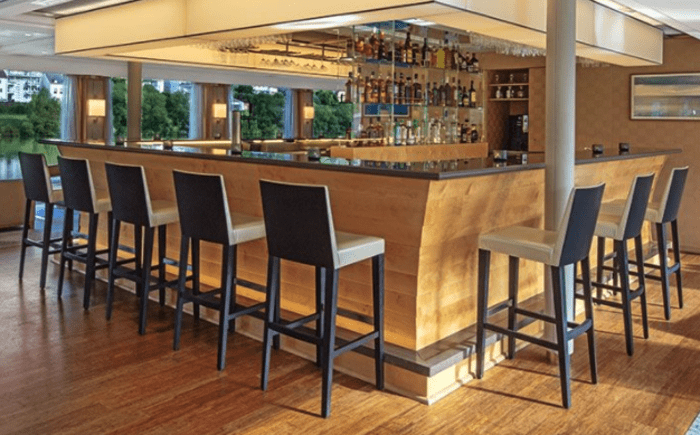 The Lounge
Boasting floor-to-ceiling windows, The Lounge is peaceful, serene and casual. Settle in with a cocktail from The Bar and watch the scenery pass by as you compare notes about the day's discoveries with new friends.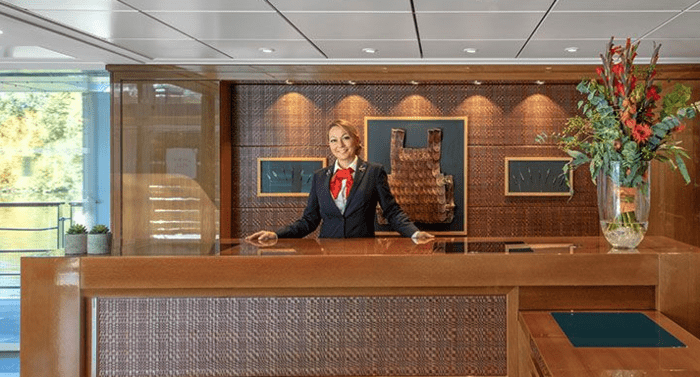 Guest Services
Our onboard Guest Services is always open and can assist you with any questions. You can also drop off any cards or letters for mailing; if postage is required, a fee equal to this will be added to your shipboard account.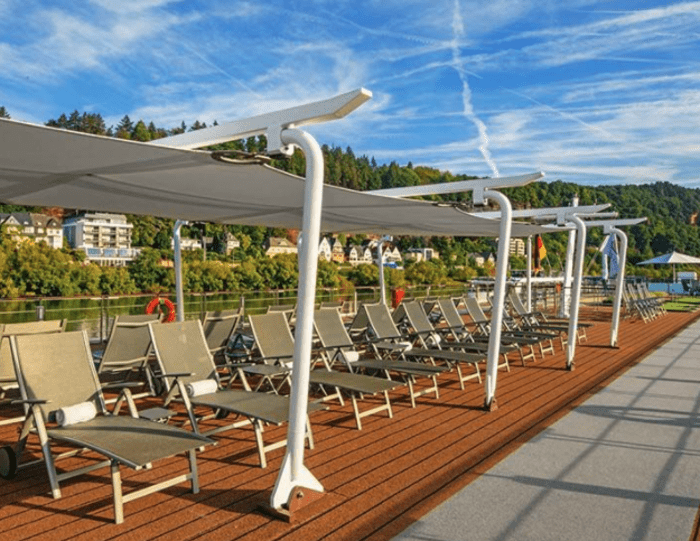 Sun Deck
On top of the ship, take in 360-degree views as you relax on the Sun Deck. Exercise en plein air on our walking track. And enjoy the fragrances of our onboard herb garden, harvested daily by the culinary staff and infused in our authentic regional dishes. For safety reasons, guest access to the Sun Deck is restricted during lock transits and when the ship is sailing under low bridges.
Kids and teens
Due to the nature of Viking cruises, they do not maintain specific facilities or services for children aboard cruise vessels. In the circumstances you and all members of your party must be aged 18 or over on or before the day you are scheduled to embark on the cruise vessel.
Accommodation
Our intimate, all-veranda ships offer a wide variety of staterooms for your selection. From Veranda Staterooms to the abundance of extra perks and amenities in our spacious Explorer Suites, there's no finer way to travel. And whichever stateroom you choose, you will find it beautifully designed in the understated elegance for which Viking is known.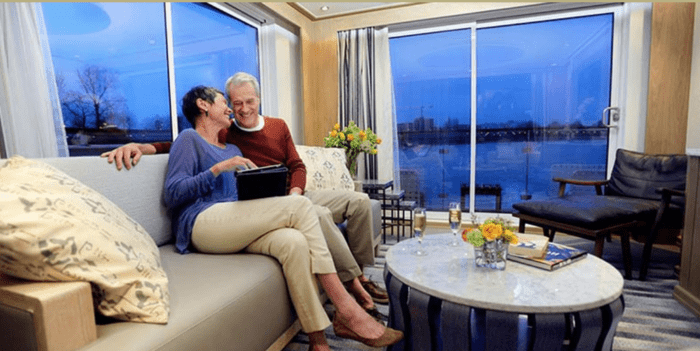 Explorer Suite (ES)
Stateroom size: 445 sq ft (includes private veranda)
River-view suite with private wraparound balcony offering 270-degree views off a spacious, separate sitting room, and French balcony (floor-to-ceiling sliding glass door) in sleeping quarters
12 PM Embarkation
12 PM priority stateroom access
Queen-size Viking Explorer Bed (optional twin-bed configuration) with luxury linens & pillows
Free Wi-Fi (connection speed may vary)
42" flat-screen TV with infotainment system featuring Movies On Demand, CNBC, CNN, FOX & more
Additional 42" flat-screen TV in sitting room
110/220 volt outlets & USB ports
Large private bathroom with spacious glass-enclosed shower, heated floor, anti-fog mirror & hair dryer
Premium Freyja® toiletries
Plush robes & slippers
Telephone, safe, refrigerator
Individual climate control
Bottled water replenished daily
Welcome champagne; mini-bar with wine, beer & soft drinks (replenished daily); daily fruit plate
Binoculars
Personal coffee machine with premium coffee & tea selections
Stateroom steward & twice-daily housekeeping
Complimentary in-room breakfast service
Complimentary laundry & shoe shine services
Silver Spirits beverage package included
Private arrival/departure transfer in destination
Under-bed suitcase storage space
Roomy wardrobe with wooden hangers
Complimentary Viking Air Plus
Features
Queen or Twin Configuration
Lounge Area
Shower
Toiletries Provided
Room Service Available
Suite Benefits
TV
Free Wi-Fi
Telephone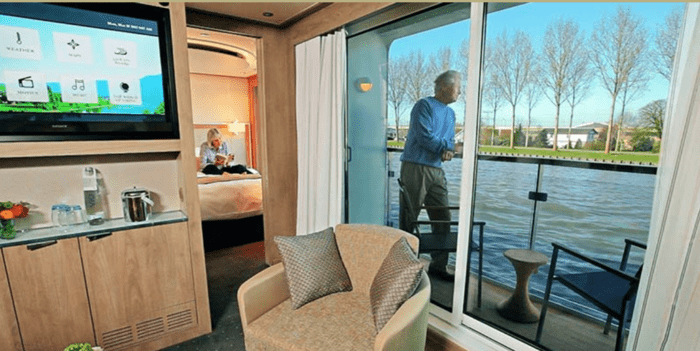 Veranda Suite (AA)
Stateroom size: 275 sq ft (includes private veranda)
River-view suite with full-size veranda off a spacious, separate sitting room, and French Balcony (floor-to-ceiling sliding glass door) in sleeping quarters
12 PM Embarkation
12 PM priority stateroom access
Queen-size Viking Explorer Bed (optional twin-bed configuration) with luxury linens & pillows
Free Wi-Fi (connection speed may vary)
42" flat-screen TV with infotainment system featuring Movies On Demand, CNBC, CNN, FOX & more
Additional 32" flat-screen TV in sitting room
110/220 volt outlets & USB ports
Large private bathroom with spacious glass-enclosed shower, heated floor, anti-fog mirror & hair dryer
Premium Freyja® toiletries
Plush robes & slippers
Telephone, safe, refrigerator
Individual climate control
Bottled water replenished daily
Welcome champagne; mini-bar with wine, beer & soft drinks (replenished daily); daily fruit plate
Binoculars
Stateroom steward & twice-daily housekeeping
Complimentary laundry & shoe shine services
Under-bed suitcase storage space
Roomy wardrobe with wooden hangers
Complimentary Viking Air Plus
Features
Queen or Twin Configuration
Lounge Area
Shower
Toiletries Provided
Room Service Available
Suite Benefits
TV
Free Wi-Fi
Safe
Hair Dryer
Desk
Telephone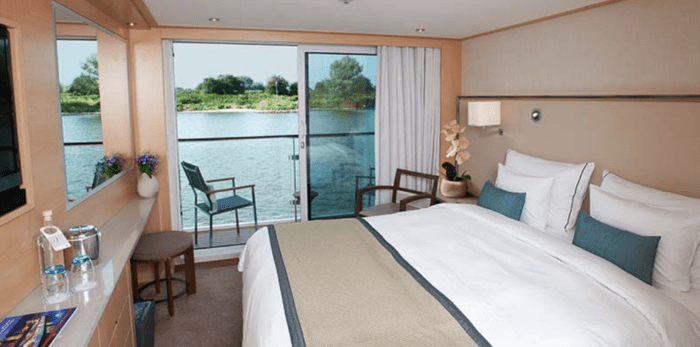 Veranda Stateroom (A, B)
Stateroom size: 205 sq ft (includes private veranda)
River-view stateroom with floor-to-ceiling sliding glass door opening to full-size veranda
12 PM Embarkation
3 PM stateroom access
Queen-size Viking Explorer Bed (optional twin-bed configuration) with luxury linens & pillows
Free Wi-Fi (connection speed may vary)
42" flat-screen TV with infotainment system featuring Movies On Demand, CNBC, CNN, FOX & more
110/220 volt outlets & USB ports
Private bathroom with spacious glass-enclosed shower, heated floor, anti-fog mirror & hair dryer
Premium Freyja® toiletries
Plush robes & slippers (upon request)
Telephone, safe, refrigerator
Individual climate control
Bottled water replenished daily
Stateroom steward & twice-daily housekeeping
Under-bed suitcase storage space
Roomy wardrobe with wooden hangers
Features
Queen or Twin Configuration
Shower
Toiletries Provided
Room Service Available
TV
Free Wi-Fi
Safe
Hair Dryer
Desk
Telephone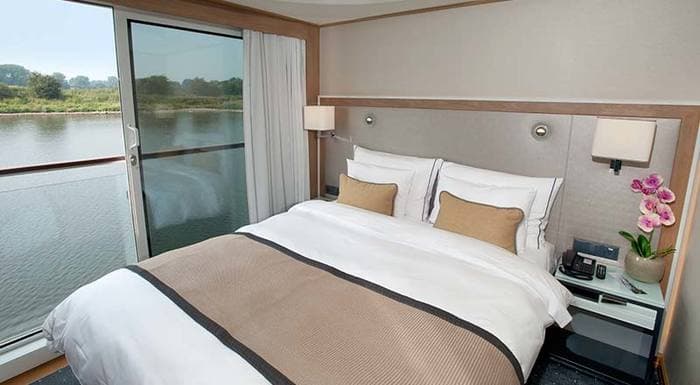 French Balcony Stateroom (C, D)
Stateroom size: 135 sq ft
River-view stateroom with French balcony (floor-to-ceiling sliding glass door)
12 PM Embarkation
3 PM stateroom access
Queen-size Viking Explorer Bed (optional twin-bed configuration) with luxury linens & pillows
Free Wi-Fi (connection speed may vary)
42" flat-screen TV with infotainment system featuring Movies On Demand, CNBC, CNN, FOX & more
110/220 volt outlets & USB ports
Private bathroom with spacious glass-enclosed shower, heated floor, anti-fog mirror & hair dryer
Premium Freyja® toiletries
Plush robes & slippers (upon request)
Telephone, safe, refrigerator
Individual climate control
Bottled water replenished daily
Stateroom steward & twice-daily housekeeping
Under-bed suitcase storage space
Roomy wardrobe with wooden hangers
Features
Queen or Twin Configuration
Shower
Toiletries Provided
Room Service Available
TV
Free Wi-Fi
Safe
Hair Dryer
Desk
Telephone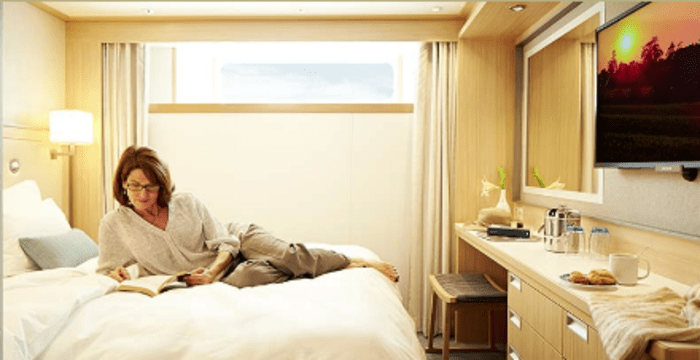 Standard Staterooms (E, F)
Stateroom size: 150 sq ft
River-view stateroom with half-height picture window
12 PM Embarkation
3 PM stateroom access
Queen-size Viking Explorer Bed (optional twin-bed configuration) with luxury linens & pillows
Free Wi-Fi (connection speed may vary)
42" flat-screen TV with infotainment system featuring Movies On Demand, CNBC, CNN, FOX & more
110/220 volt outlets & USB ports
Private bathroom with accessible shower, heated floor, anti-fog mirror & hair dryer
Premium Freyja® toiletries
Plush robes & slippers (upon request)
Telephone, safe, refrigerator
Individual climate control
Bottled water replenished daily
Stateroom steward & twice-daily housekeeping
Under-bed suitcase storage space
Roomy wardrobe with wooden hangers
Features
Queen or Twin Configuration
Shower
Toiletries Provided
Room Service Available
TV
Free Wi-Fi
Safe
Hair Dryer
Desk
Telephone
Deck plans

Sun Deck
Solar Panels
Herb Garden

Walking Track


Upper Deck
Internet Room

Library

Bar

Buffet

Lounge

Aquavit Terrace

Explorer Suite

Veranda Stateroom

Veranda Suite

French Balcony Stateroom

Middle Deck
Shop

Guest Services
Restaurant

Veranda Stateroom

French Balcony Stateroom


Main Deck