Santorini
Postcard-perfect Santorini, one of the Cyclades islands located in the Aegean sea, is famed for its white-washed clifftop villages offering sublime sunset views, black volcanic sandy beaches and historic sites. With its stylish and high-end hotel, bar and restaurant scene, Santorini attracts a glamorous and international jet-setting crowd, who are drawn to the island not for its wild nightlife (for this, the islands of Mykonos, Paros, Rhodes, or Skiathos are better suited), but for its beautiful scenery and tranquil setting.
Why cruise Santorini
Santorini is top of many cruise itinerary wish lists and as such is a popular port of call on Eastern Mediterranean cruise itineraries, as well as Greek island cruises around the Cyclades. The beautiful Greek island is awash with dramatic scenery, breathtaking views, volcanic wonders and cultural and historic gems. Comprising two towns, Fira and Oía, you will have plenty of time to explore both on your cruise stopover, or if you're feeling too lazy for sightseeing, you can spend your time soaking in the sun and sea air at the beach or enjoying a crisp glass of white wine at one of Santorini's many wineries.
find your perfect cruise
What to see and do in Santorini
Archaeological Museum of Thera
Santorini's capital Fira is home to a number of fascinating museums. The Archaeological Museum of Thera was built in 1960 to replace an older one which had collapsed by the 1956 Amorgos earthquake. It houses finds from ancient Thera and Akrotiri, as well as from other Cyclades islands. Other museums in Fira worth a visit include the Museum of Prehistoric Thera; built on the site of the old Ypapanti Church, it houses a large number of ancient artifacts from various excavations on Santorini, including Akrotiri and nearby Potamos.
Akrotiri
Suggested to have been the possible inspiration for Plato's story of Atlantis, this prehistoric city was destroyed in the Theran eruption sometime in the 16th century BC and covered in volcanic ash. Modern excavations, which began in 1967, have unearthed the archaeological remains of the buried city and today, visitors can among the two-and three-story buildings which were once part of the Bronze Age settlement.
Santorini Caldera
This active volcanic crater is located In the southern Aegean Sea. Twelve notable eruptions have been recorded from the volcano, the most major of which was in 1650BC. Smaller explosions have occurred since, with the most recent being in 1950. Cruise lines including MSC Cruises and NCL offer excursions to Nea Kameni, an island in the centre of the Santorini caldera, where you'll be able to hike to the crater of the volcano, which offers amazing views of Santorini and the cliffs of the caldera, before sailing to Palea Kameni for a dip in its thermal springs.
Kamari beach
Santorini is blessed with many beautiful beaches, almost all of which feature the signature rugged, dark-grey volcanic sand. Located 10km from Fira, Kamari is one of the most popular beach resorts and the most pristine, boasting good facilities including showers, sunbeds and umbrellas, as well as a range of watersports activities, from jet skis to scuba-diving. The waterfront is lined with al fresco late-night bars, cocktail lounges and seafood tavernas. Other notable beaches include Perívolos and Períssa, as well as Baxédes and Kouloúmbo, which are located near Oía.
Oía village
Said to have inspired countless artists and poets, the picturesque village of Oía – situated on the northwestern tip of Santorini – is famed for its breathtaking sunset views, which are best captured from the coastal town's Byzantine castle ruins. Often pictured in travel publications, Oía is also home to the magnificent blue-domed St Gerasimos Church. After you've wandered through the village's tiny paths lined with whitewashed villas, enjoy some Greek seafood at one of the waterfront tavernas while the sun sets.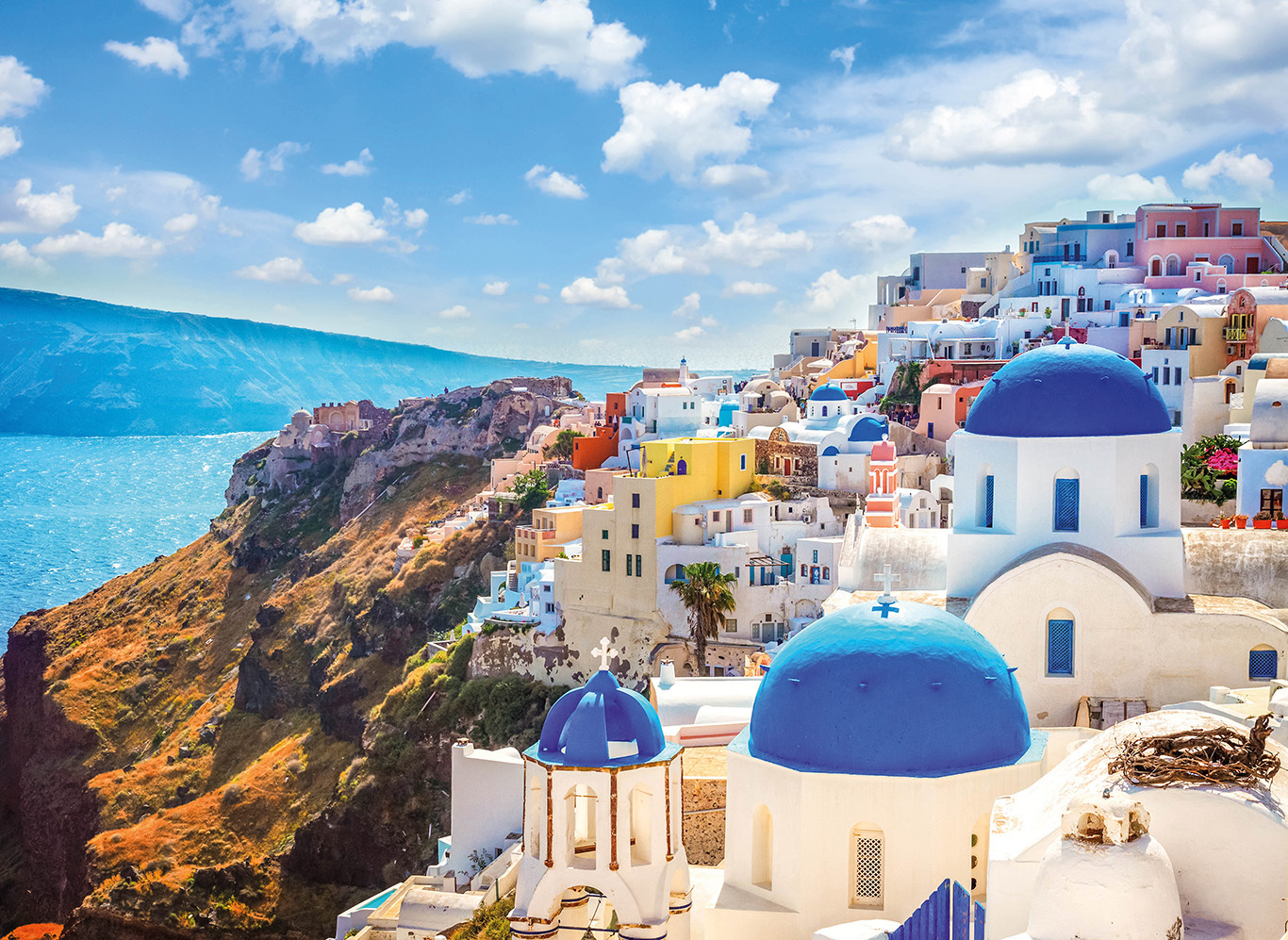 Need to know when travelling to Santorini
Getting around in Santorini
Santorini's main harbour (the ferry port of Athinios) isn't able to accommodate many large cruise ships, so ships typically wait at the bottom of the Caldera Cliffs in Fira, the capital of Santorini. There is no cruise terminal in Santorini, so visitors are tendered ashore by small boats. Once in Santorini, you can easily walk around the island on foot or you can take the bus, which will take you from one town to another, or a taxi.
When to go to Santorini
The Mediterranean cruise season runs from April through to November. For hot weather, the best time is the summer months of June, July and August, but if you wish to avoid the crowds, then it's best to travel outside of these months.
Currency
Greece and its islands use the euro.
Visas
If you hold a British Citizen passport and are visiting for less than three months, you don't need a visa to enter Greece.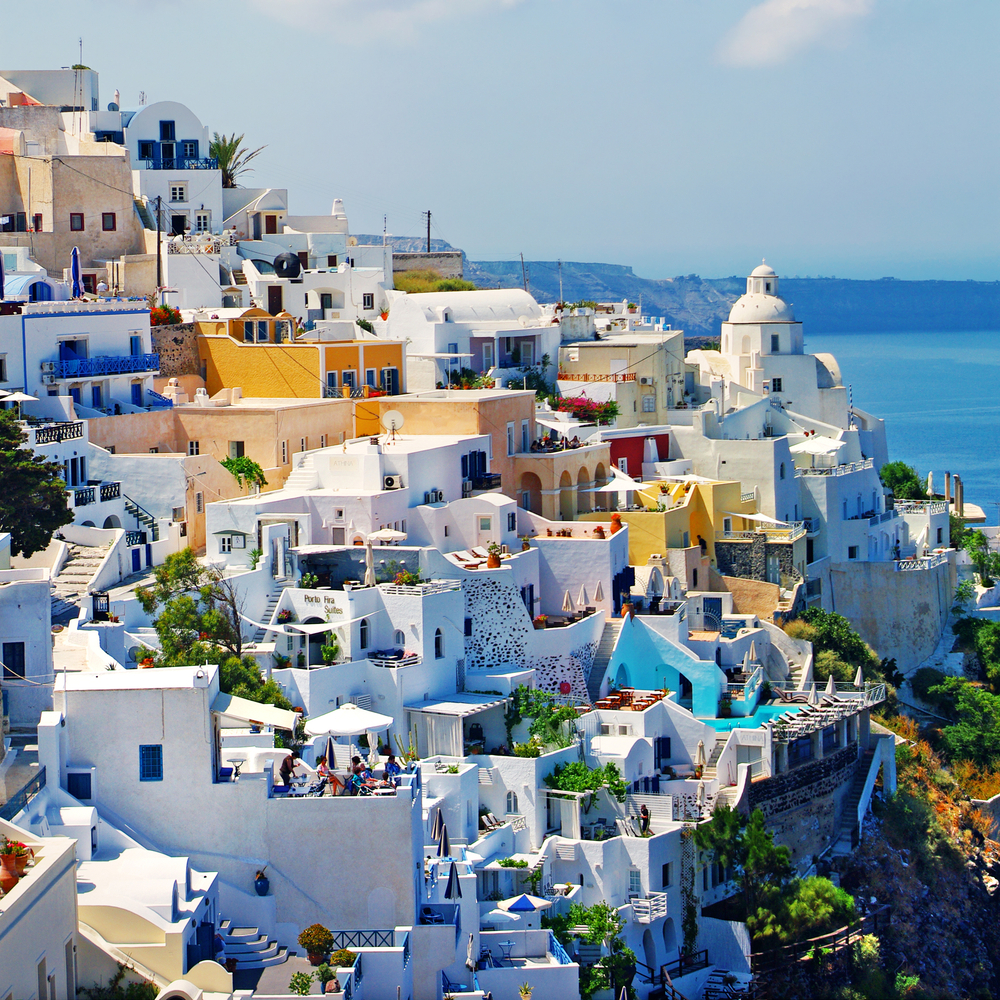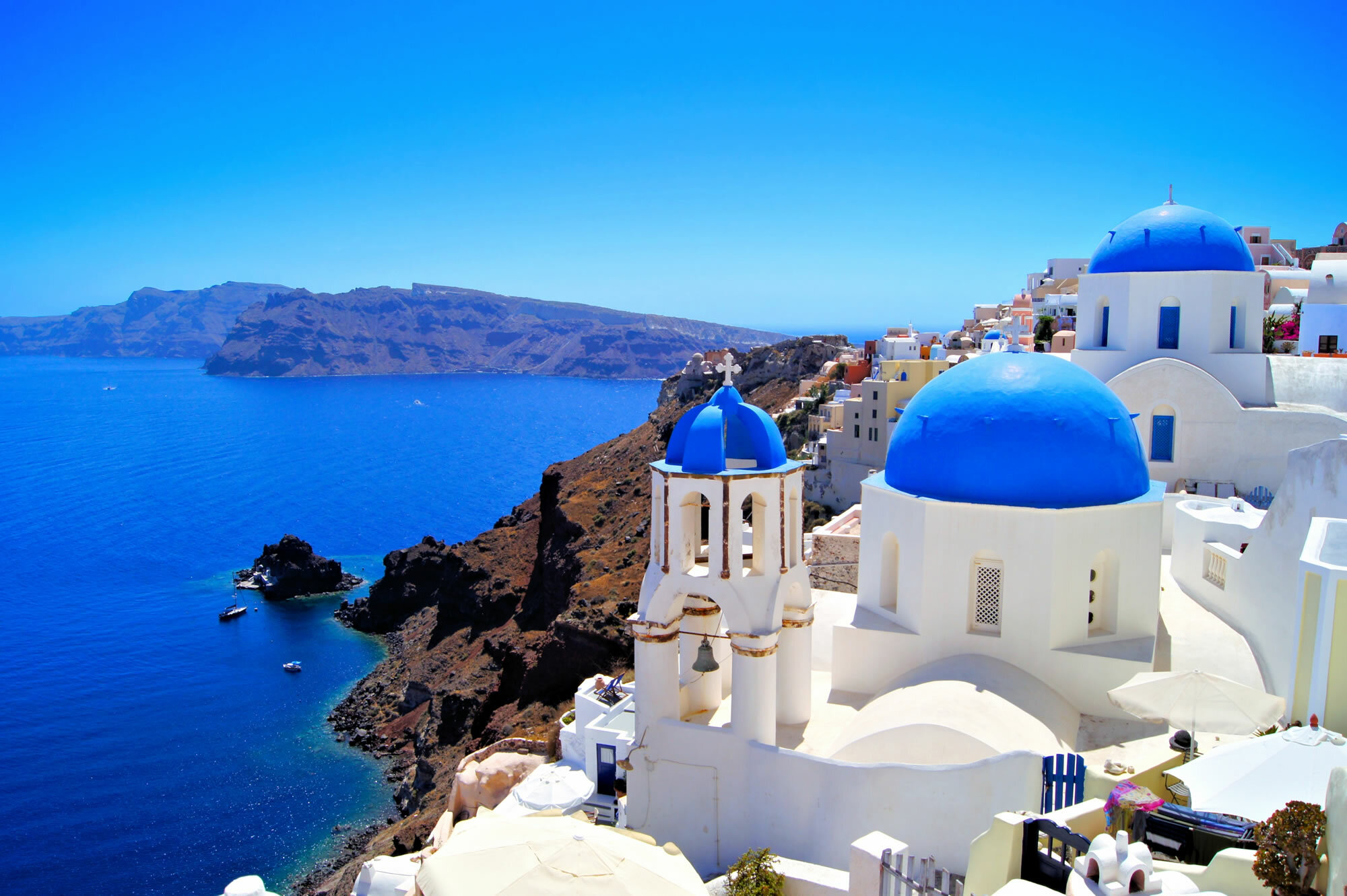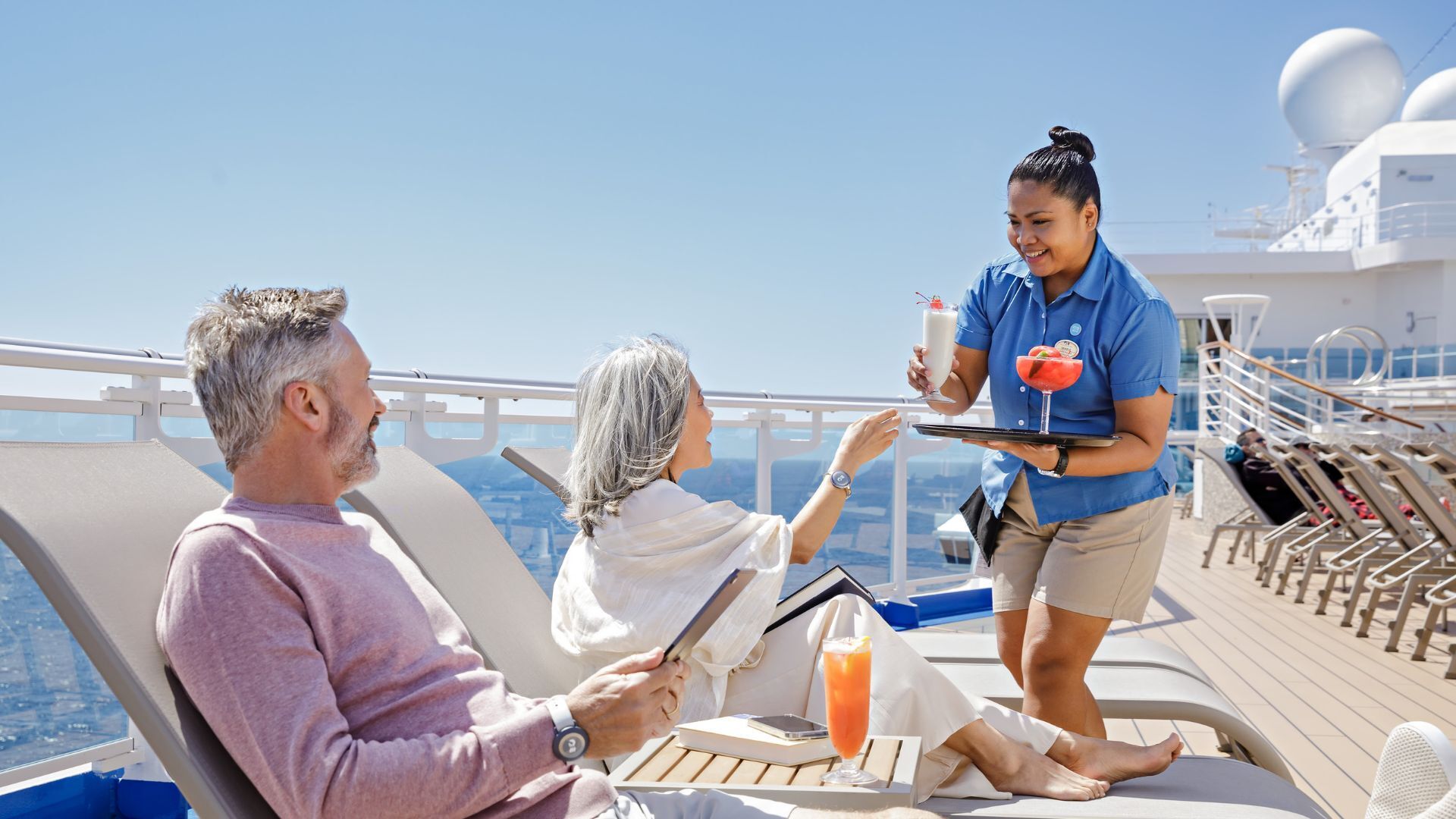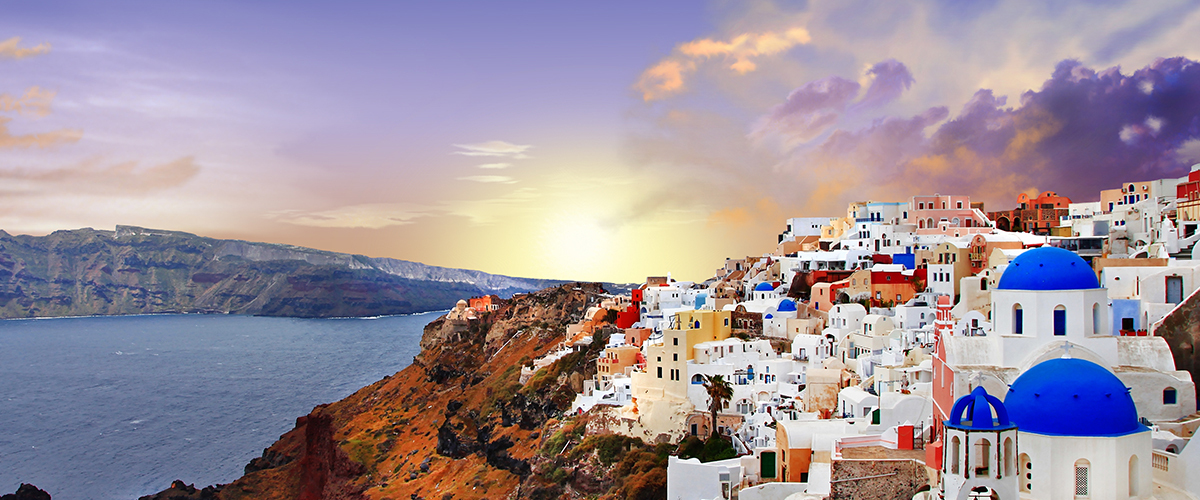 The beautiful Santorini in Greece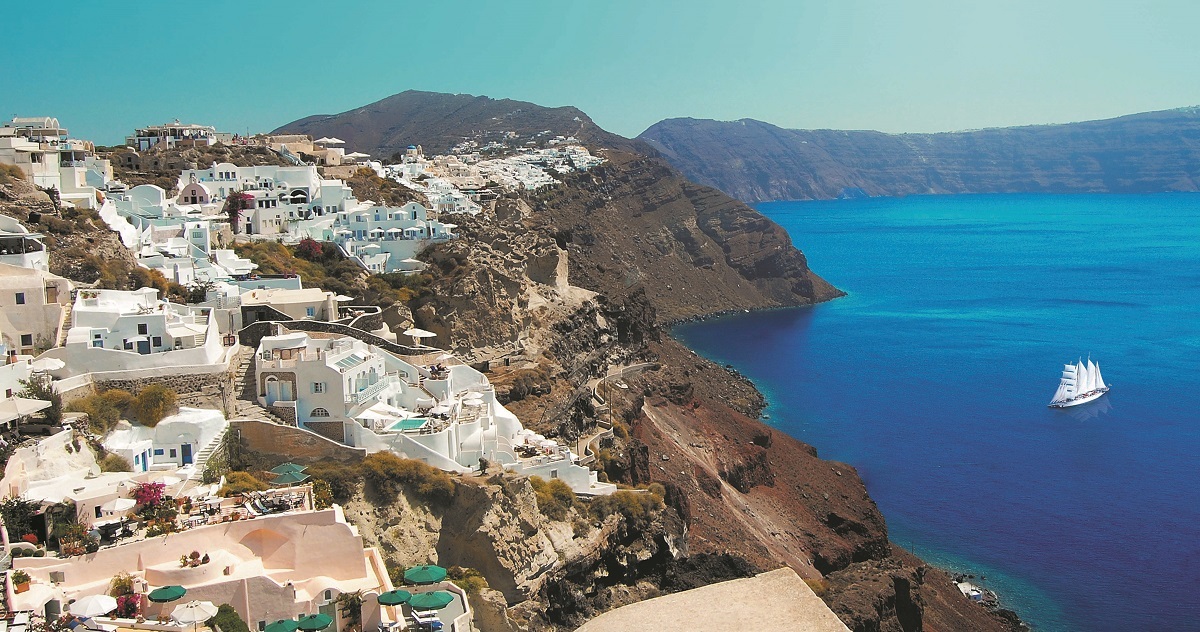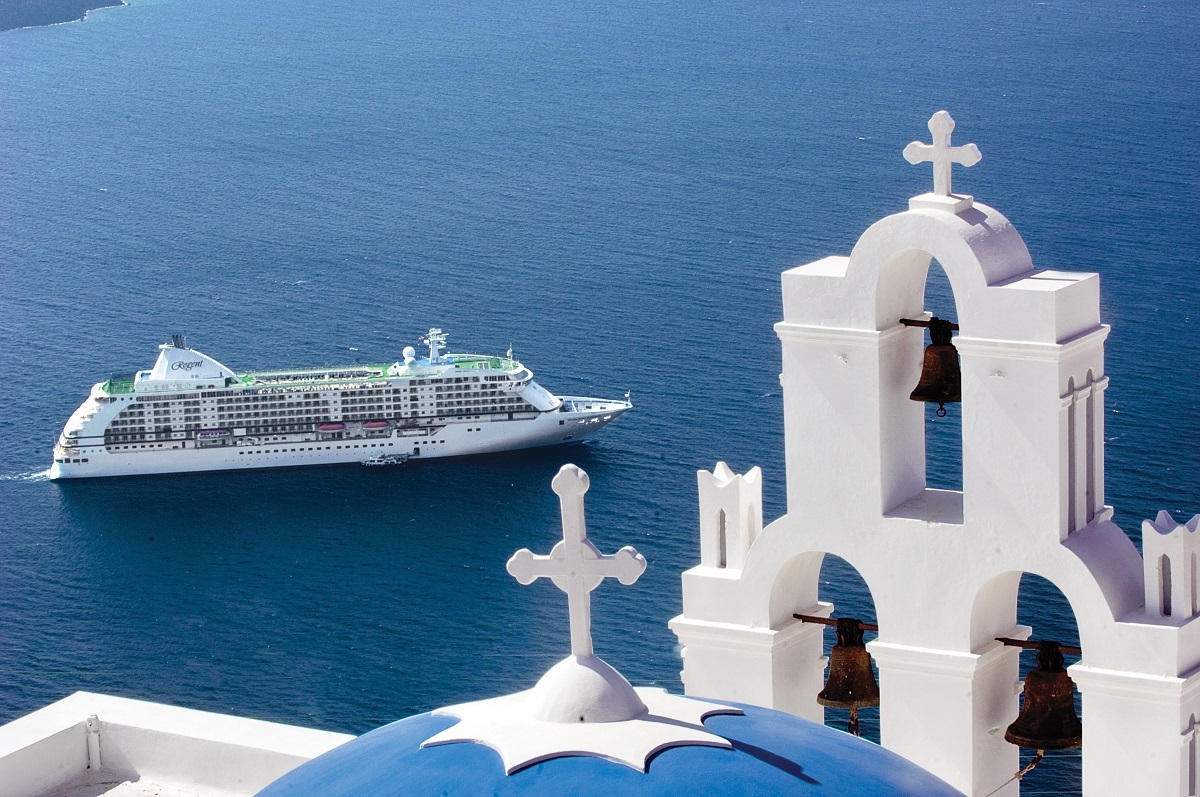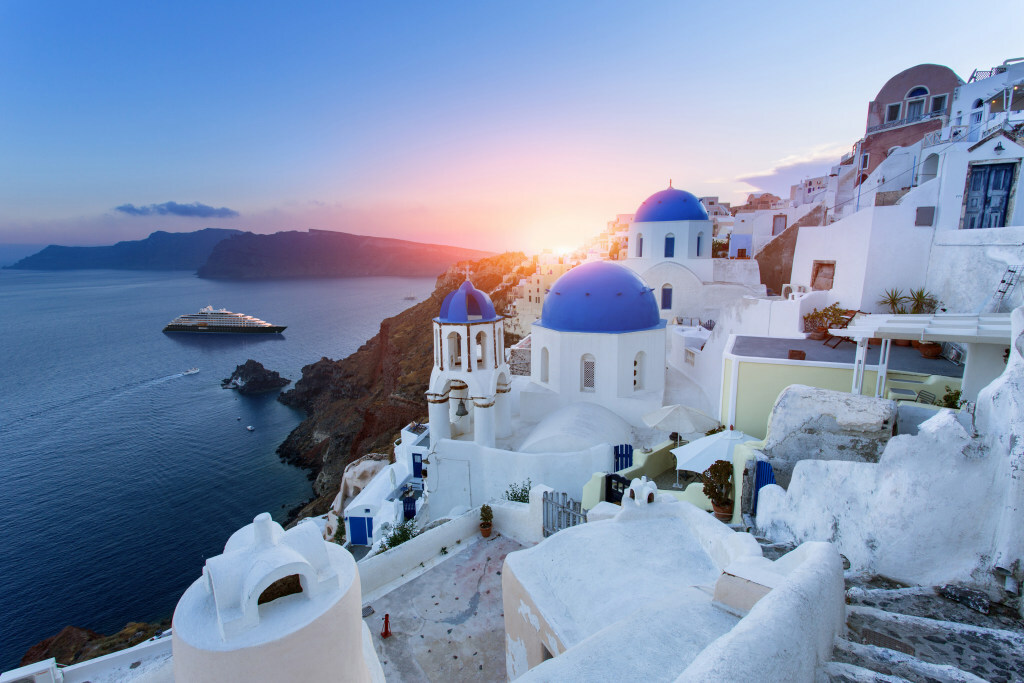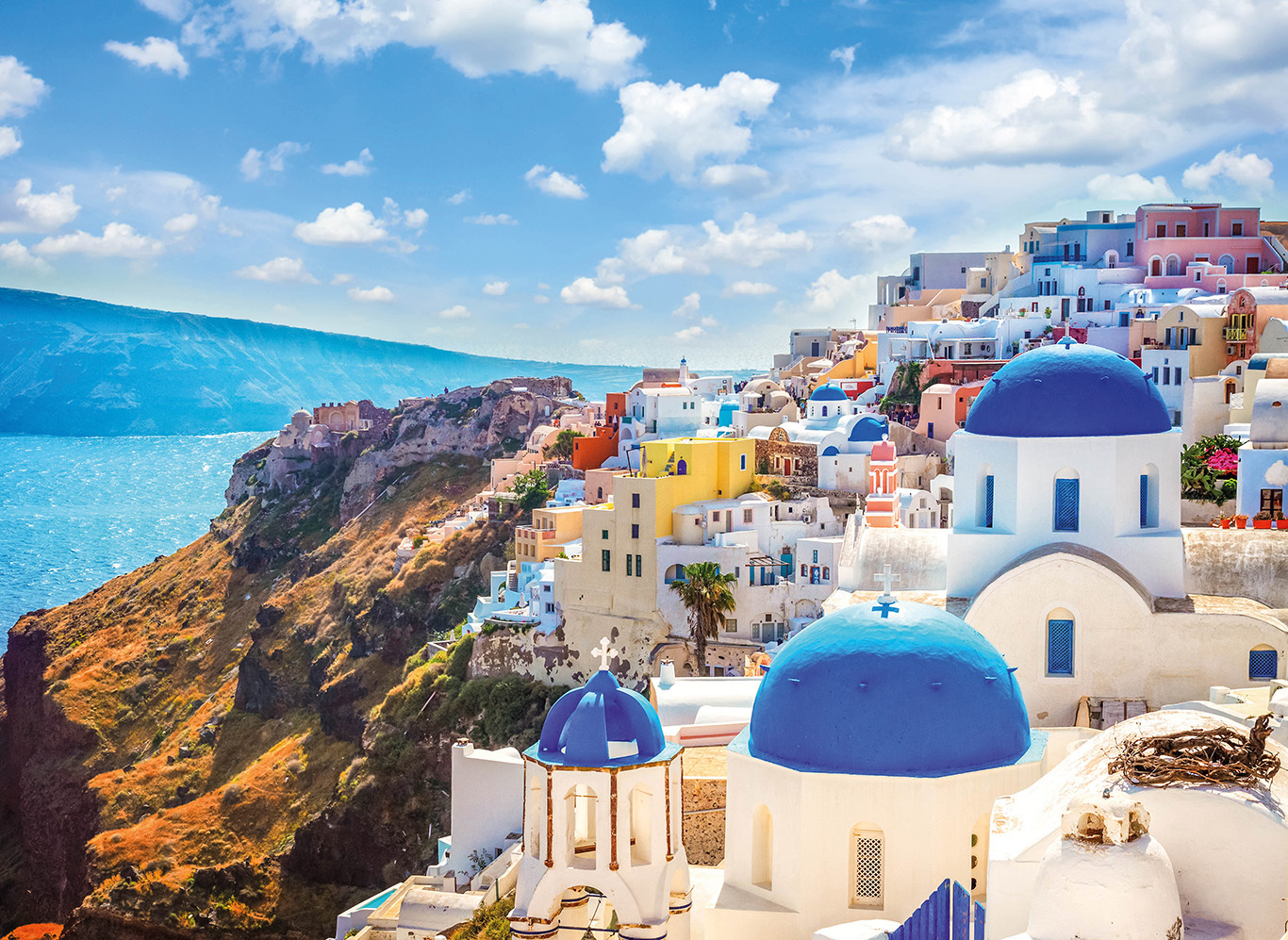 Sailings include stops at iconic Santorini