Search for your ideal Cruise
Ocean cruising in Lithuania
Lithuania is a small country bursting with history, tradition and mystery. It's certainly had a fight for independence – released from Tsarist rule in 1918, occupied by Soviets following World War II and finally regaining freedom in 1990. As the last European country to be Christianised, the country is still steeped in Pagan traditional – which combined with the rolling flat landscapes, sprawling pine forests and charming old cities makes for intriguing destination. The capital Vilnius has a fantastic cobbled old town and plenty of museums, while the blustery Baltic coast is home to many rugged beaches and woodlands hiding demonic figurines. Come to Lithuania for peace, breath-taking scenery and towns of 19th-century and Soviet architecture.
Why choose Lithuania cruises
Being a relatively small country, cruising to Lithuania is a great way to explore both the Baltic coastline and capital Vilnius. The cruise terminal Klaipeda lies on the west coast of the country and most cruise lines offer excursions to the capital – a three-hour drive away. Cruisers can visit on big-ship lines like Royal Caribbean, P&O Cruises, MSC Cruises, NCL and Princess, but also small-ship lines like Azamara, Scenic, Regent Seven Seas Cruises and Seabourn.
find your perfect cruise
Find your ideal Lithuania cruise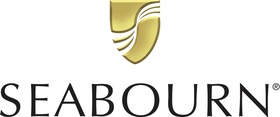 Sponsored listing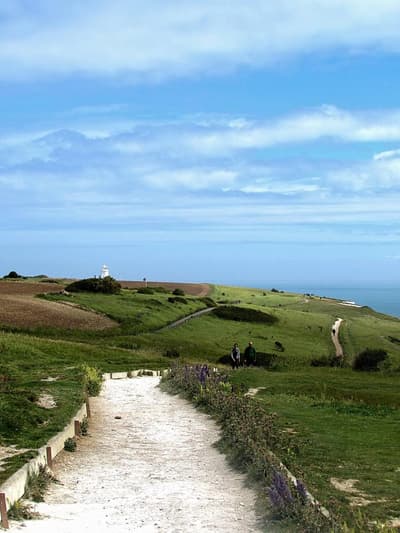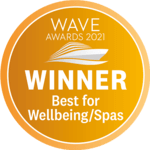 From Seabourn - 2021 Wave Awards winner
7 nights
Departs on the 03 Sept 2022
Seabourn, Seabourn Ovation
Dover, Antwerp, Farsund, + 4 more
Starts at: Dover
Lithuania cruises: Best places to visit in Lithuania
Klaipeda
Perfectly positioned as the country's main and only cruise terminal, Klaipeda is the gateway to Lithuania – but is also a great destination in its own right. The city is located on where the Baltic Sea meets the Danė River and has a distinctly German feel, home to a historic old town with Germanic 18th-century half-timbered buildings and fachwerk warehouses. Start your journey in Theatre Square – the centre of the city – before exploring the Castle Court and Castle Museum. A visit to the Museum of History of Lithuania Minor is also a must along a Lithuania cruise, with its vast collection of archaeology, documents and historical photographs, and the waterside Lithuanian Sea Museum housed in an old fort.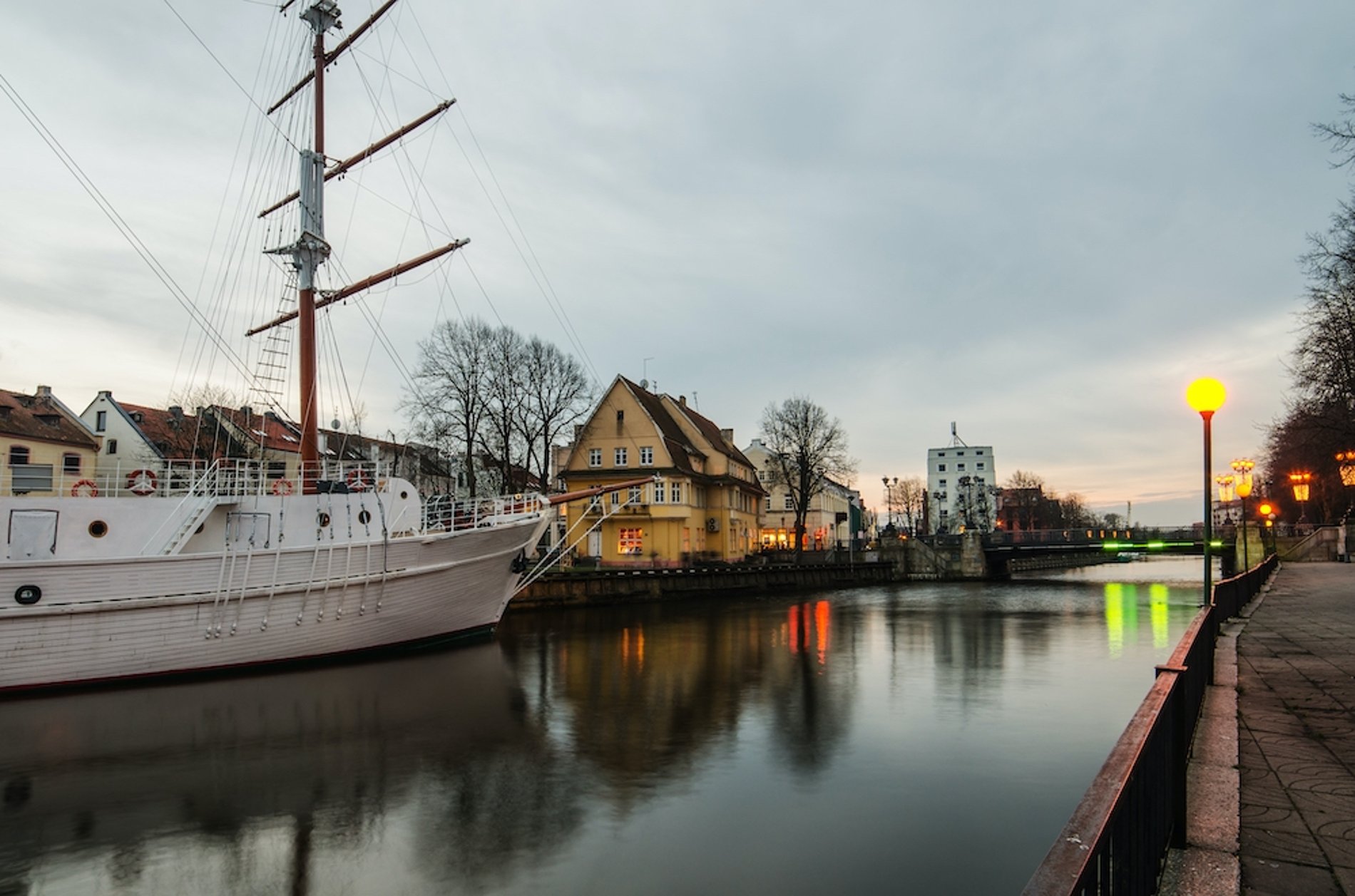 Vilnius
Vilnius, Lithuania's enchanting capital, is a rather magical place along a Lithuania cruise. Be it the cobbled Unesco old town, grand Gothic, Baroque and Renaissance buildings or pink-hued long midsummer nights, the city is one of the most captivating in Eastern Europe. Walkable, cosmopolitan and packed with attractions, visitors are greeted with spiralling churches and faded pastel-hued facades hiding trendy boutiques and cafés. Vilnius has had a history full of loss and was once home to a large Jewish population that suffered during World War II. Its scars can be seen in Holocaust museums like the poignant Green House and the Museum of Occupations and Freedom Fights – detailing the genocide caused by the Nazis and USSR. Be it the fresh air, lively nightlife or dilapidated grand buildings, Vilnius is a city with which you will quickly fall in love.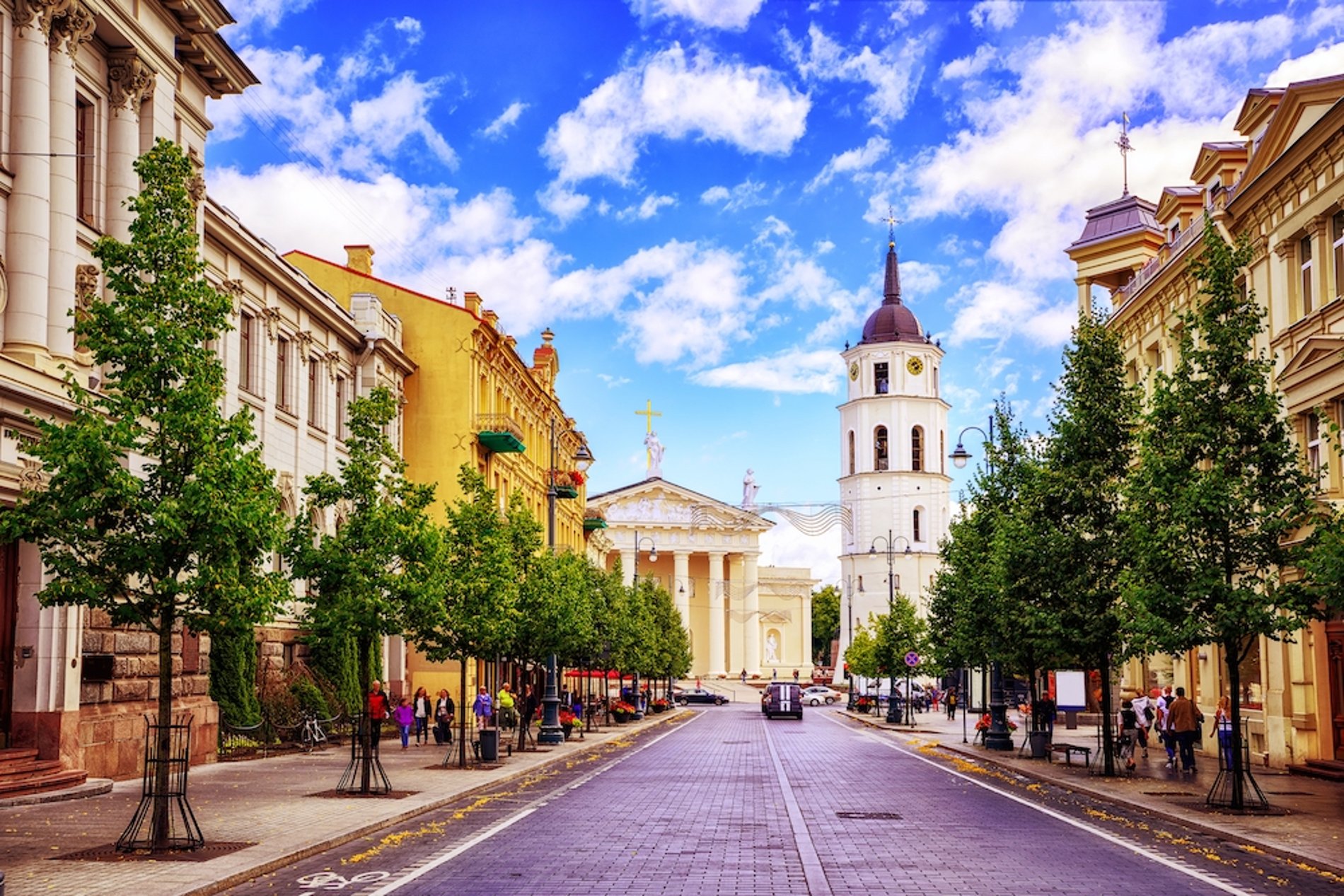 Trakai
To get a taste of Lithuania's truly spectacular beauty, head to Trakai – a historic town and lake resort west of Vilnius. Part of the Trakai Historical National Park, the town is famous for the Trakai Island Castle – a 14th-century, red-brick fortress located on an island surrounded by the calm indigo waters of Lake Galvė. The fortress itself was once home to the Grand Dukes of Lithuania, built in the Gothic style with fairy-tale turrets and defensive castle walls. It now houses the Trakai History Museum and is a major tourist attraction, thanks to its impressive facade, location and lovely green parkland.
Kaunas
Lithuania's second city is a real hidden gem – more compact than the capital, but with many most intact historical buildings. Located on the Nemunas and Neris Rivers, Kaunas suffered a lot less damage than the rest of the country during World War II and and a result much of its historic old town remains intact. Along your Lithuania cruise, stop to wander its main shopping street Laisves Aleja lined with oldy world architecture, call at a few of its quirky museums (the Devil's Museum) and visit the chilling memorial that is the Ninth Fort – a fort turned memorial and museum and the heart-wrenching site of the mass murder of Lithuanian Jews.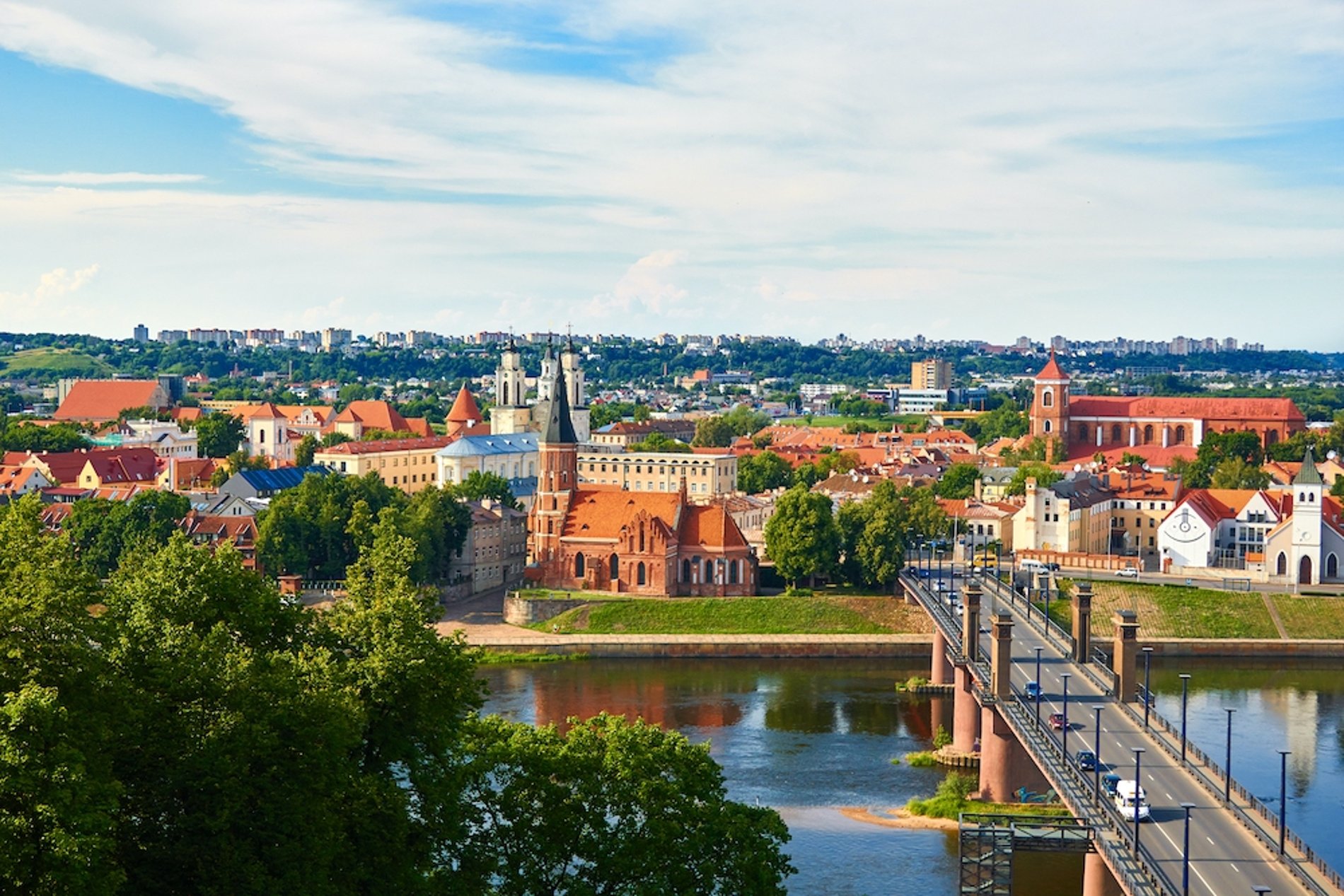 Druskininkai
Druskininkai is a beautiful and serene spa town on the Neman river, once a former playground of Soviet power players who came to the town to unwind. As Lithuania's most beloved spa town it's brimming with hotels, restaurants, cafes and, of course, spas, like the Druskininkai Aqua Park with swimming, saunas and slides. People come to Druskininkai to unwind and explore, so make sure to get a massage or traditional amber and honey facial. Treatments here are very reasonably priced, so it's perfectly justified to spend the whole day just being pampered along your Lithuania cruise. However, it's also worth visiting the Druskininkai Museum – housed in a pretty white villa – and taking the cable car for views over forested hills.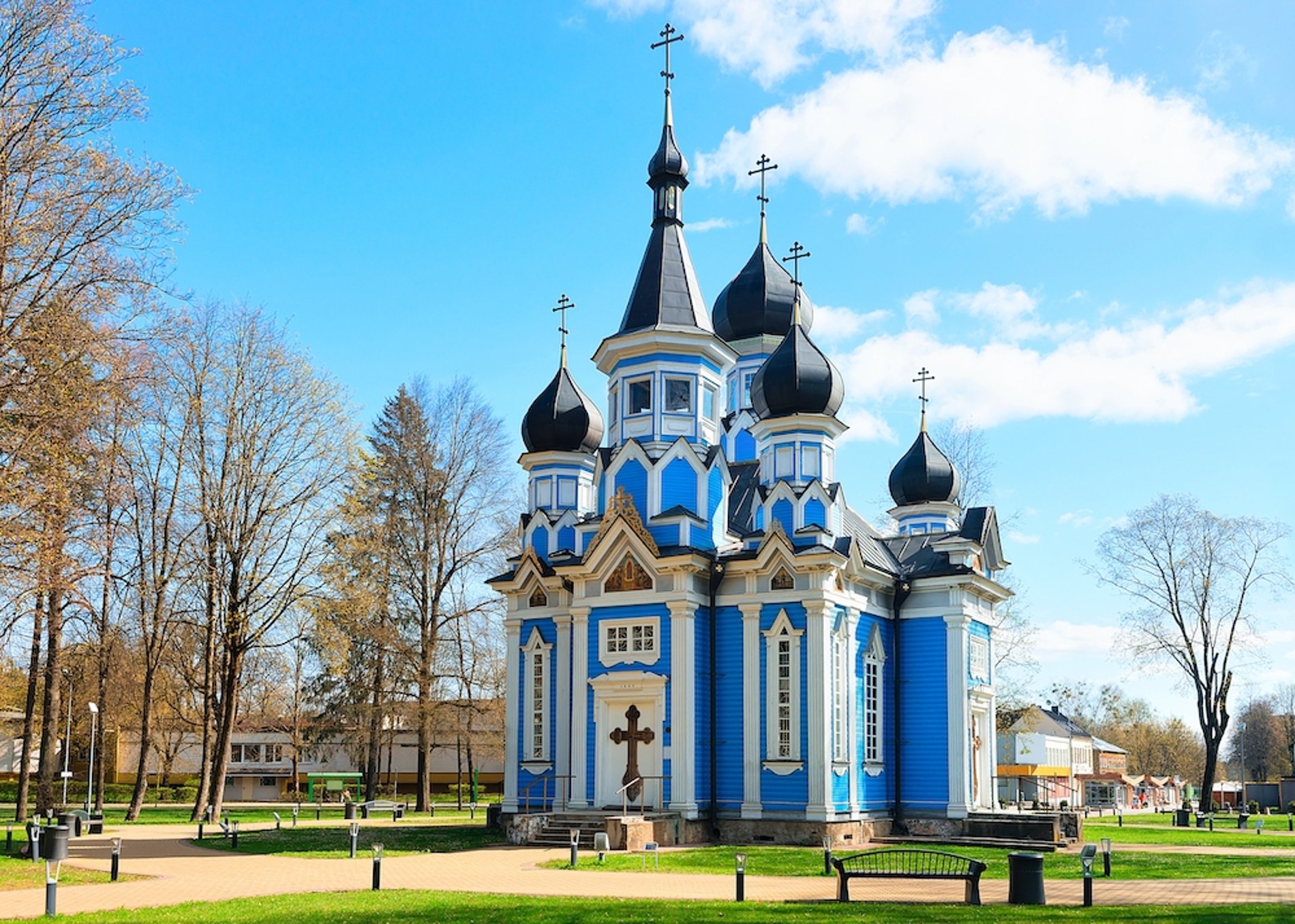 Trakai National Park
The Trakai National Park is one of the most beautiful landscapes in Lithuania, cloaked in deep blue lakes, thick pine forests and home to the remnants of the peninsula castle and the storybook old Trakai castle and village. There are 32 lakes in the park and the result is a wide array of wildlife and birdlife, such as large colonies of black-headed gulls. The best way to explore the beauty of the park is by walking one of its nature trails, such as the Varnikai Botanical-Zoological Reserve Cognitive Walking Way. A two-mile long trail, hiking lovers along a Lithuania cruise can experience hilly forests formed by glaciers and a swamp with lovely gin-clear lakes.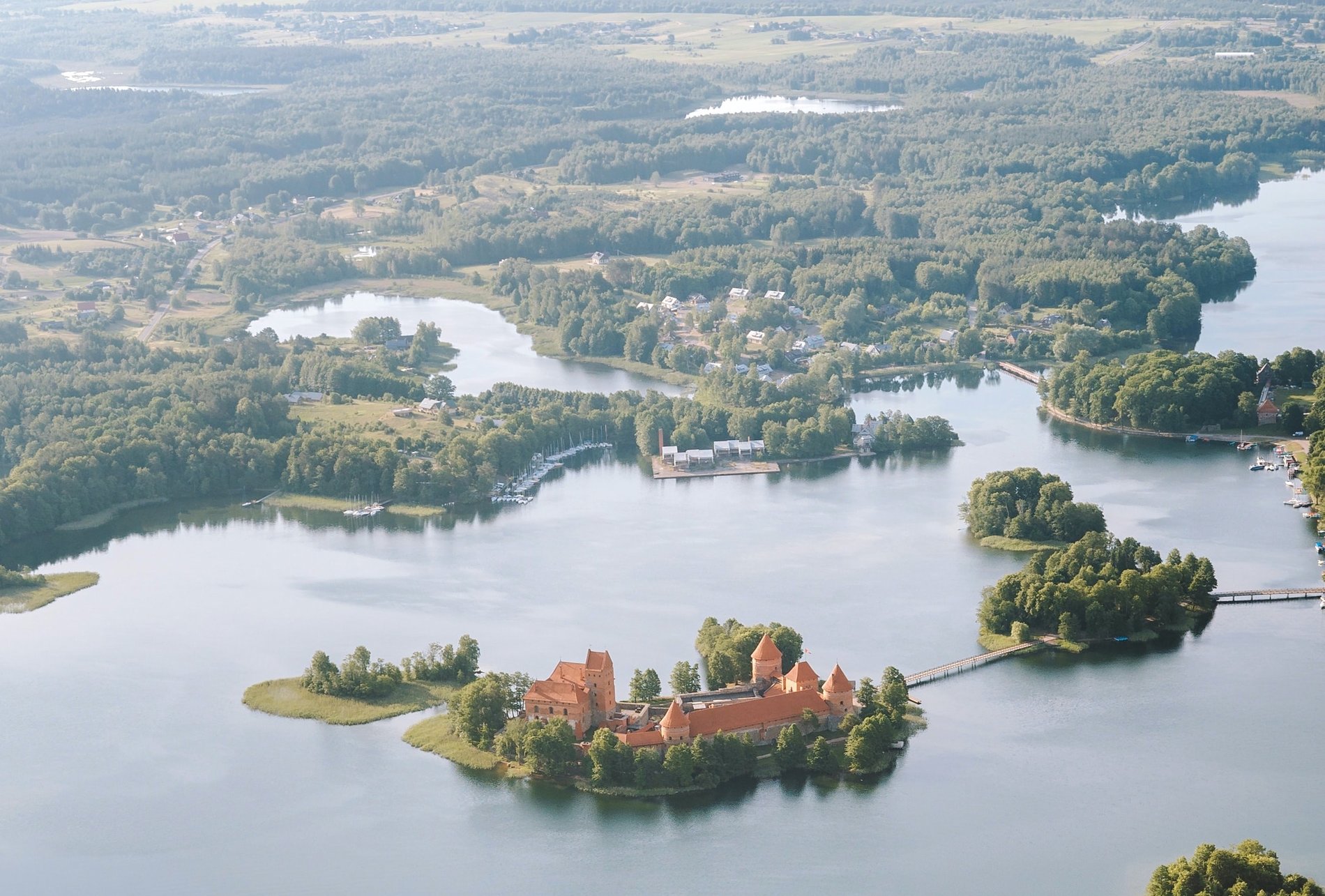 Curonian Spit
The Curonian Spit is a dramatic landscape of sand dunes and woodland that separates the Curonian from the Baltic Sea. A Unesco World Heritage Site, this 61-mile strip of sand is shared between Lithuania and Russia's Kaliningrad Oblast, and the average height of the san dunes can reach a staggering 35 metres. The dunes are a true natural wonder, perfectly preserved due to Soviet rulers banning any foreigner from entering its rolling landscape. Thankfully now foreigners are allowed near, and all you have to so is simply book on a tour or hire a car and you can drive anywhere on it. Pay the entrance fee and get exploring its rolling dunes and gorgeous coastline.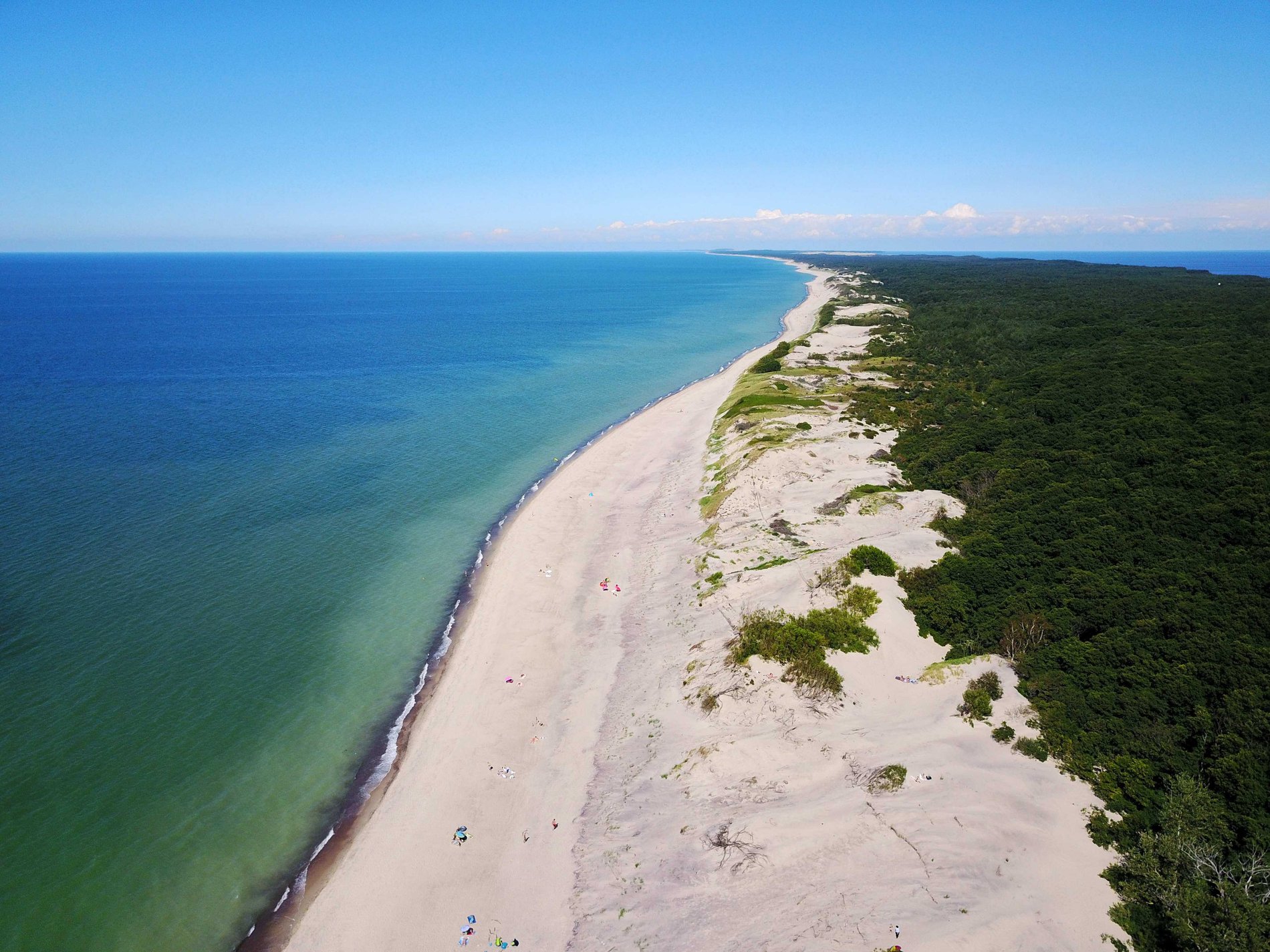 Siauliai Hill of Crosses
One of Lithuania's most famous sights is also a little bit unnerving, so travellers should fully prepare to visit the Siauliai Hill of Crosses. North of the city of Siauliai, the Hill of Crosses is quite literally a hill covered in crosses – with estimates put at over 100,000. It is a major Catholic pilgrimage site, with the first crosses believed to have been places after the 1831 uprising on the site. Not only crosses adorn the hill, but crucifixes, statues of the Virgin Mary, tiny effigies and carving of Lithuanians patriots. The exact origins remain a mystery, which makes a visit to this impressive collection even more haunting while on a cruise to Lithuania.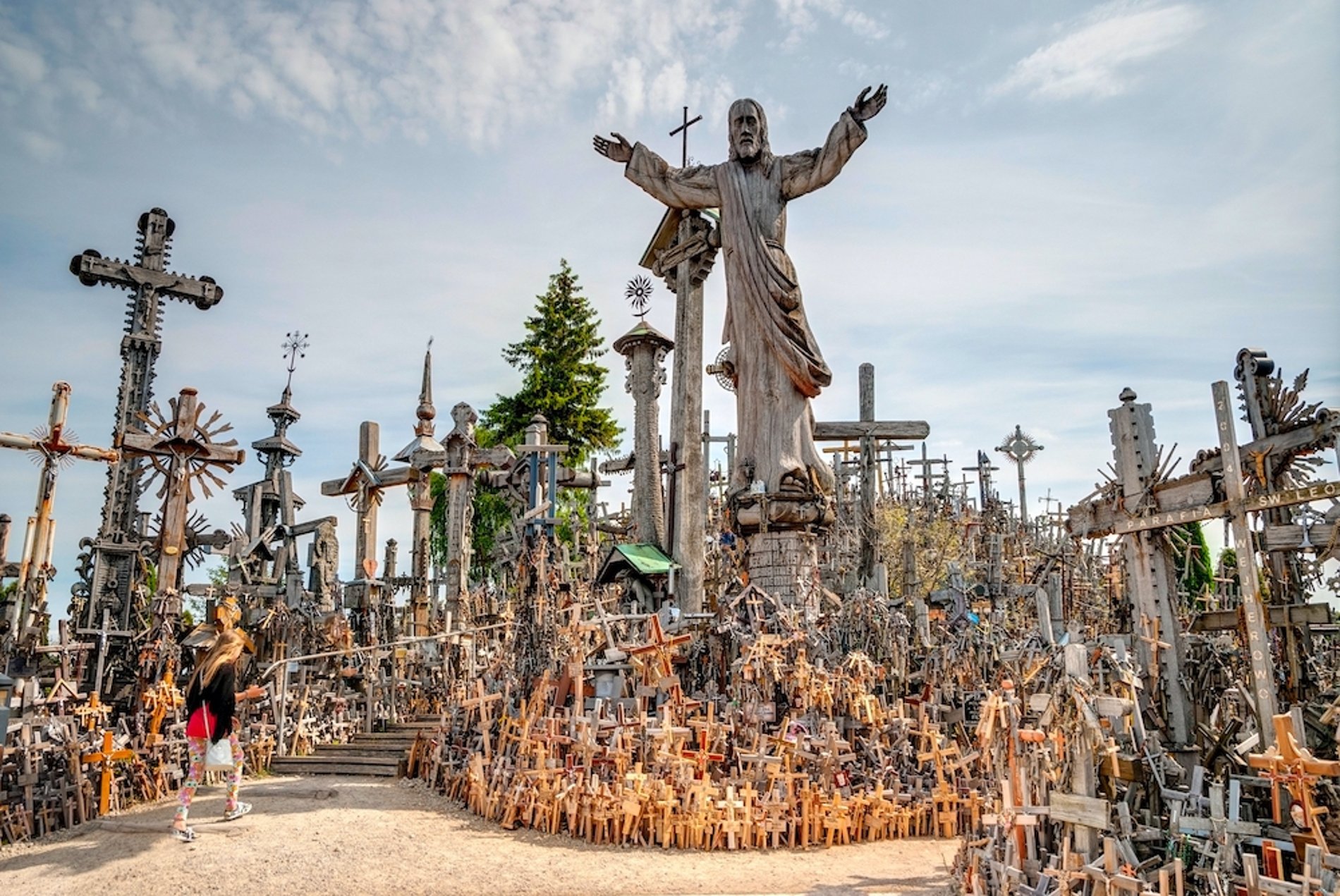 Iconic ports
Lithuania cruises: Best things to do in Lithuania
Brave the Devil's Museum
For one of the creepiest museums in the world head to Kaunas's Devil's Museum, a collection of thousands of carvings of devils, unnerving objects. One of the strangest being a sculpture of Hitler and Stalin dancing around an area scattered with human bones.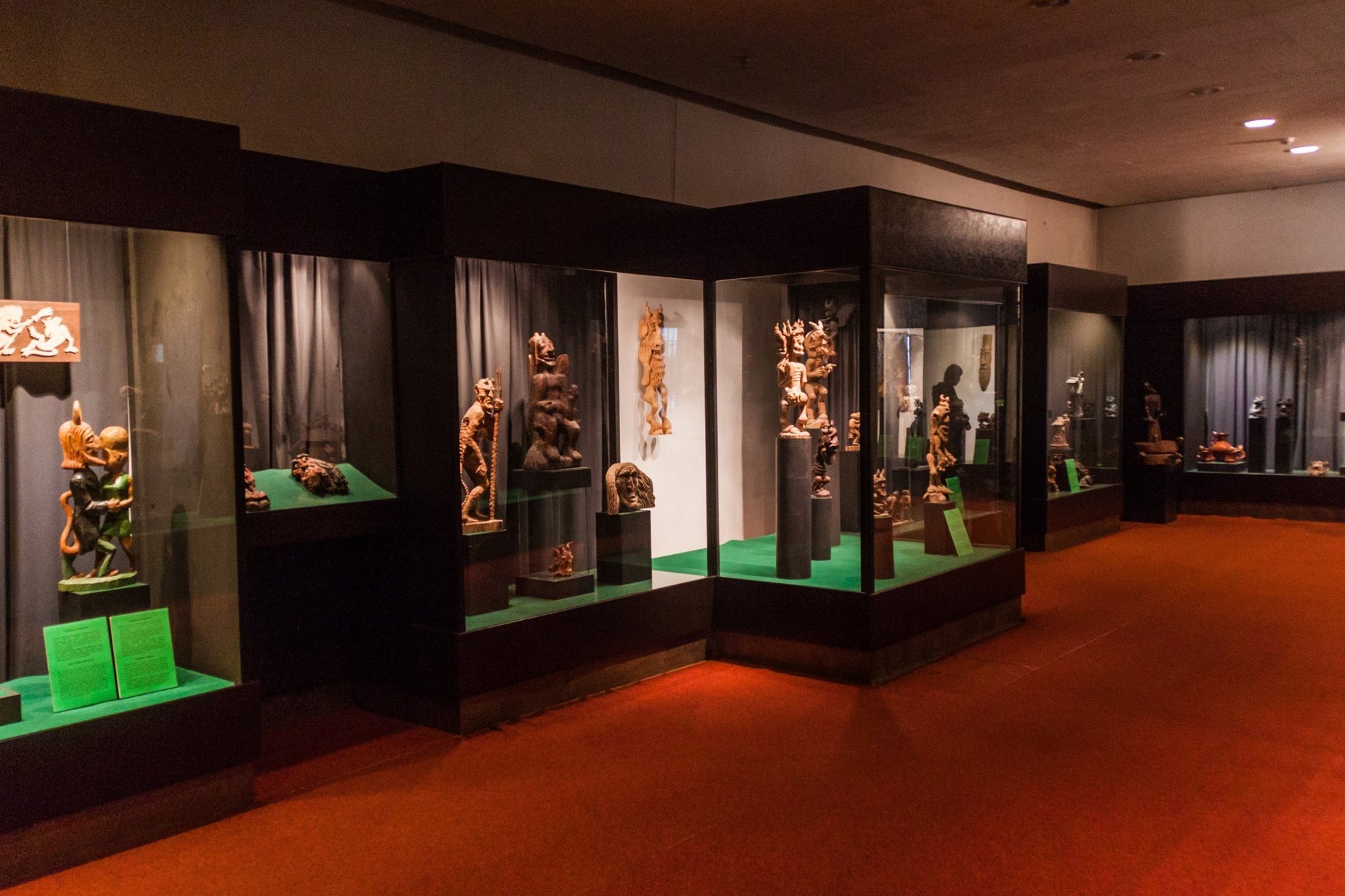 Enjoy nature
Lithuania is a stunning country, relatively flat and boasting around 3,000 lakes, rolling pastures and thick forests. The abundance of wide-open spaces and natura reserves makes it perfect for activities like hiking, kayaking and windsurfing along a cruise to Lithuania.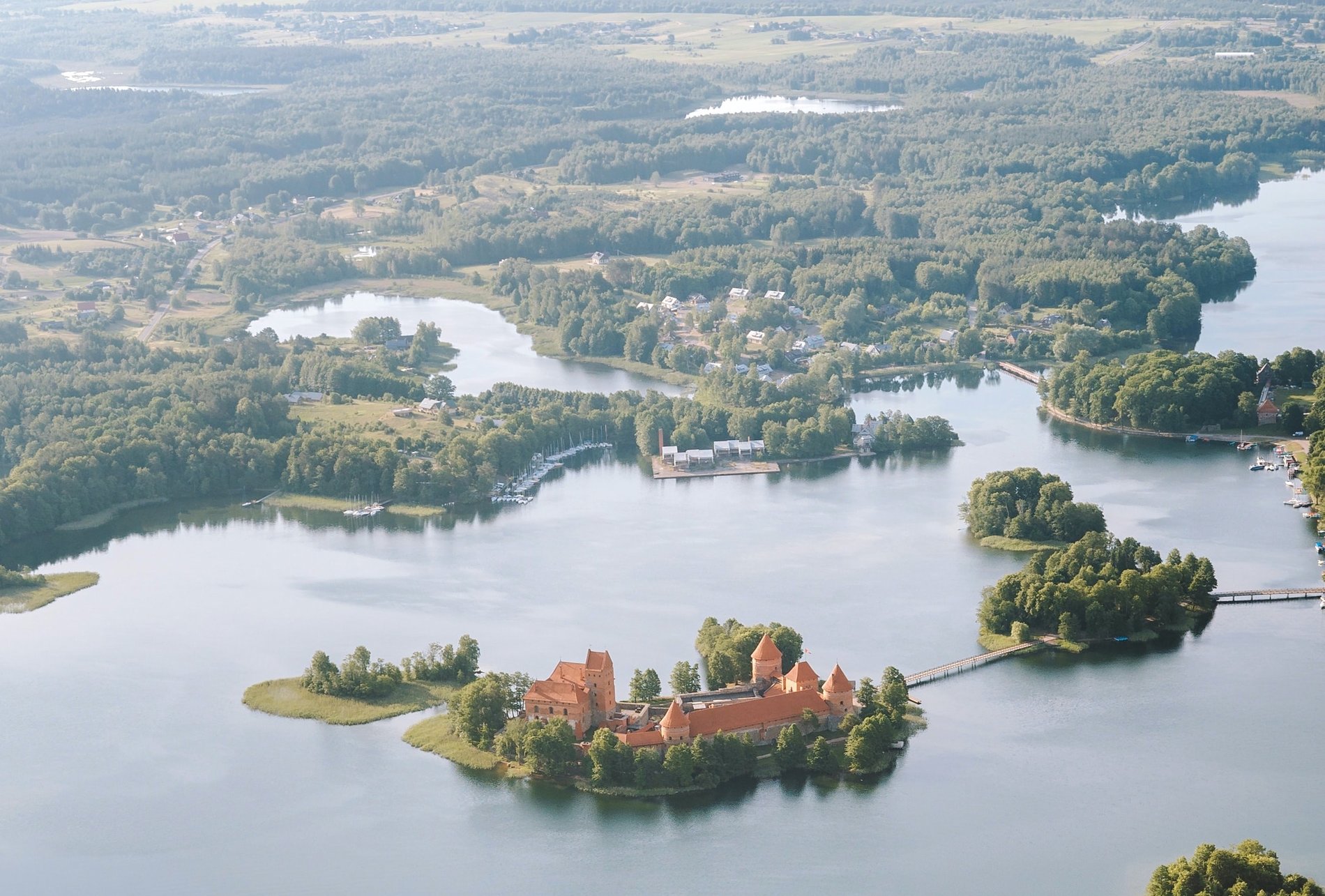 Go ice fishing
Visiting in winter? Grab a flask of warming vodka and head out to Lake Gavle (just 18km from Vilnius) with the locals. There's also normal fishing for those feeling a little less adventurous and most hotels and tour operators will help organise an excursion for you.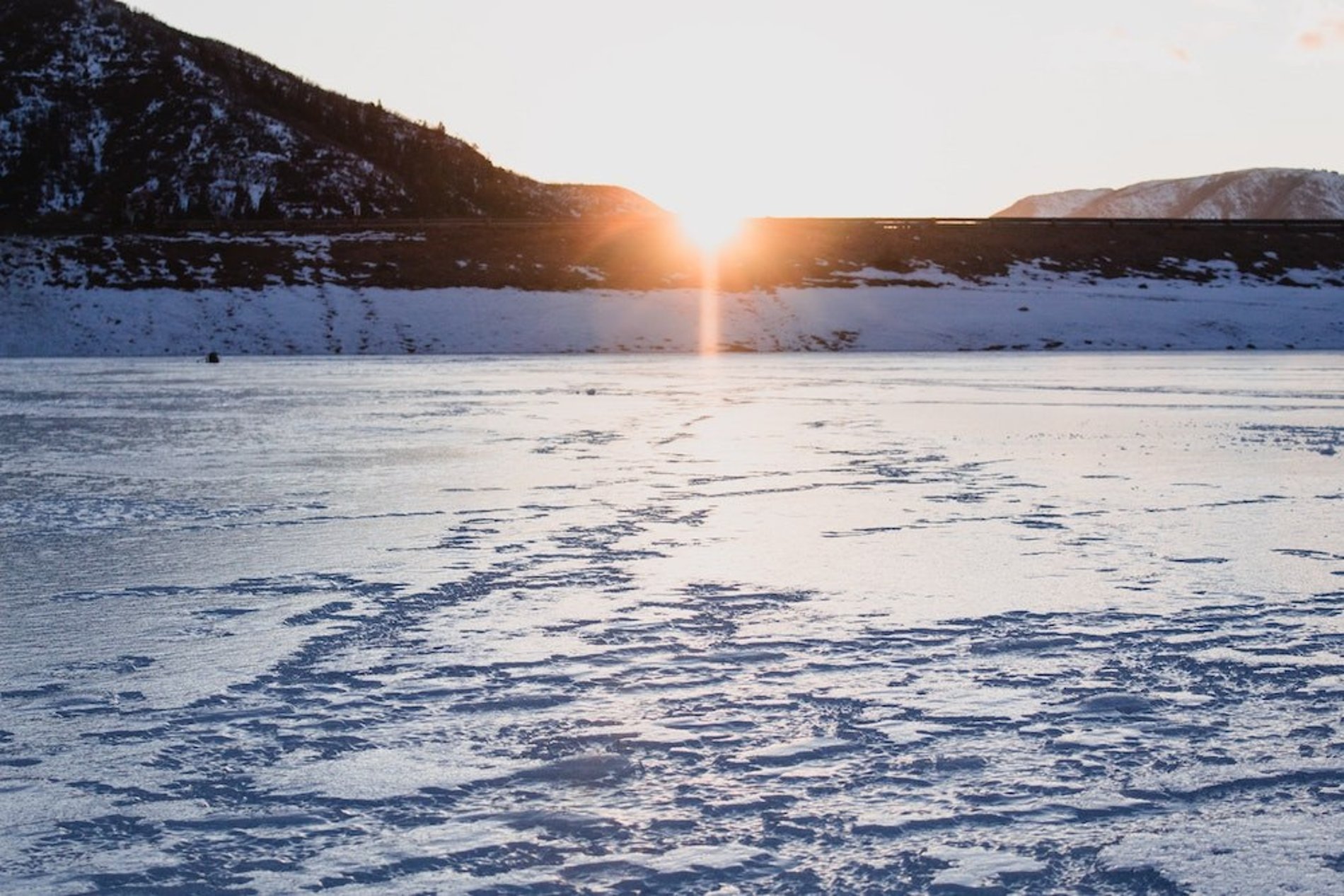 Visit a castle
Lithuania is dotted with gorgeous, turreted story-book castles, many inhabited by knights of the Teutonic Order. Most towns and cities have a few castles nearby, but must-sees include Kaunas Castle, Panemunė castle, Trakai castle and Siesikai Castle.
Pay your respects
Lithuania has had a tough history and has faced persecution from both the Nazis and the Soviets. Pay a visit to one of the country's many sobering museums that pay tribute to the lives lost during each struggle. One of the most informative is Vilnius' Genocide Museum, housed in the city's old KGB prison.