Search for your ideal Cruise
Ocean Cruising in Oslo, Norway
Oslo is the capital of Norway and is also its largest city, situated at the head of Oslo Fjord and surrounded by hills and forests. Home to some 50 museums and full of galleries, cafés, a sculpture park and the Royal Palace, this vibrant city with its handsome 19th-century buildings and wide streets has much to offer. Its history dates back 1,000 years, and includes a rich seafaring heritage that ranges from the Viking era to Thor Heyerdahl's Kon Tiki expedition. Discover more about this exciting city on our varied selection of excursions.
Why cruise Oslo
From Viking treasures and world-class art to fabulous Nordic cuisine, the Norwegian capital offers experiences beyond price and is one of the big highlights of a Baltic or Norwegian fjords cruise. Along with history, culture and art, Visitors will also get a welcoming dose of hygge in the city's cosy-chic cafés. What's more, Oslo has just completed an extensive redevelopment project of its waterfront, so there's no truly better time to cruise to the city.
find your perfect cruise
What to see and do in Oslo
Viking Ship Museum
You can't visit Oslo without awakening your inner Viking, so sail your battle fleet to the Viking Ship Museum and marvel at the skill and bravery it took to navigate these slender vessels across the Atlantic to Greenland and beyond. You'll also see spectacular treasures from Viking graves, and there's a film to explain the lives of these extraordinary folk from more than a millennium ago.
National Art Gallery
Oslo's temple of culture is home to the most famous painting by Norway's greatest artist, but there's more to the National Art Gallery than Edvard Munch's The Scream. Plenty of other fine works, including Old Masters and a sprinkling of Monets, Cezannes and Picassos, make this an excellent place to spend the afternoon – especially when the Nordic weather turns chilly.
Oslo Opera House
A Modernist vision of glass and white marble, the home of Norway's national ballet and opera companies became a star attraction the moment it opened in 2008. Set on the shores of Oslofjord, its standout feature is a canopy that swoops down to ground level, so you can literally walk on the roof. There are welcoming cafés inside and it's well worth a visit, even if you don't have time to catch a performance.
Fram Museum
Norway's pioneering spirit didn't die with the Vikings. The country is famous for its polar explorers, and the greatest of them – Fridtjof Nansen, Otto Sverdrup and Roald Amundsen – all sailed on the Fram, a specially built three-masted schooner. Launched in 1892, the little ship survived all that the polar ice could throw at her – and the less intrepid among us can now explore her decks at leisure in a dedicated museum.
The Royal Palace
Norway's royal family are surprisingly down-to-earth (spotting one of them strolling round the city centre is not unknown), but that doesn't mean you can wander into their home. Fortunately, the exterior of the royal palace makes an excellent photo opportunity in itself.
Vigeland Sculpture Park
The life's work of Norwegian artist Gustav Vigeland (1869-1943), this gorgeous green space just outside central Oslo is home to more than 200 huge sculptures in bronze, granite and cast iron. Open all year round, the park is a hugely popular attraction – and not just because it's free.
Holmenkollbakken
It might not be the easiest attraction to pronounce, but the sight of it is enough to leave you speechless. An Olympic ski jump, Holmenkollbakken stands a giddying 64m tall. You can zipline down it if you're feeling brave – but most will content themselves with a snap.
Frogner Park
A beautiful place to visit in the spring and summer months, Frogner Park is not just home to the Sculpture Park, but also Norway's biggest collection of roses. Horticultural enthusiasts can marvel at a total of 14,000 plants of 150 different species, while children can enjoy the open-air pool.
Bogstadveien
This is the city's main shopping drag, with a good mix of international high-street favourites and Norwegian boutiques. For a little more edge, head to the hipster haven of Grünerløkka, which is packed full of galleries, café bars and charming little independent shops.
Need to know when travelling to Oslo
Getting around in Oslo
Cruise ships dock conveniently right in the city centre in one of the four piers, meaning cruise passengers are in walking distance from some of Oslo's top attractions, including Karl Johans Gate and the Royal Palace. Taxis and coaches for shore excursions can be found in the harbourside, while the city's tram network will take you further afield.
When to go to Oslo
The best time to visit Norway's capital is between May and August when the weather is warmer and you get the advantage of the Midnight Sun. This coincides with the Baltic cruise season, which runs between May and September.
Currency
Norway and its capital Oslo use the kroner. ATMS can be found across the city or you can exchange money in the Oslo Visitor Centre tourist information office. Ranked as one of the most expensive cities in the world, be prepared to splash some cash, particularly when it comes to food and drink, and those on a budget be warned.
Visas
If you hold a British Citizen passport, you don't need a visa to enter Norway unless you're planning to stay longer than three months.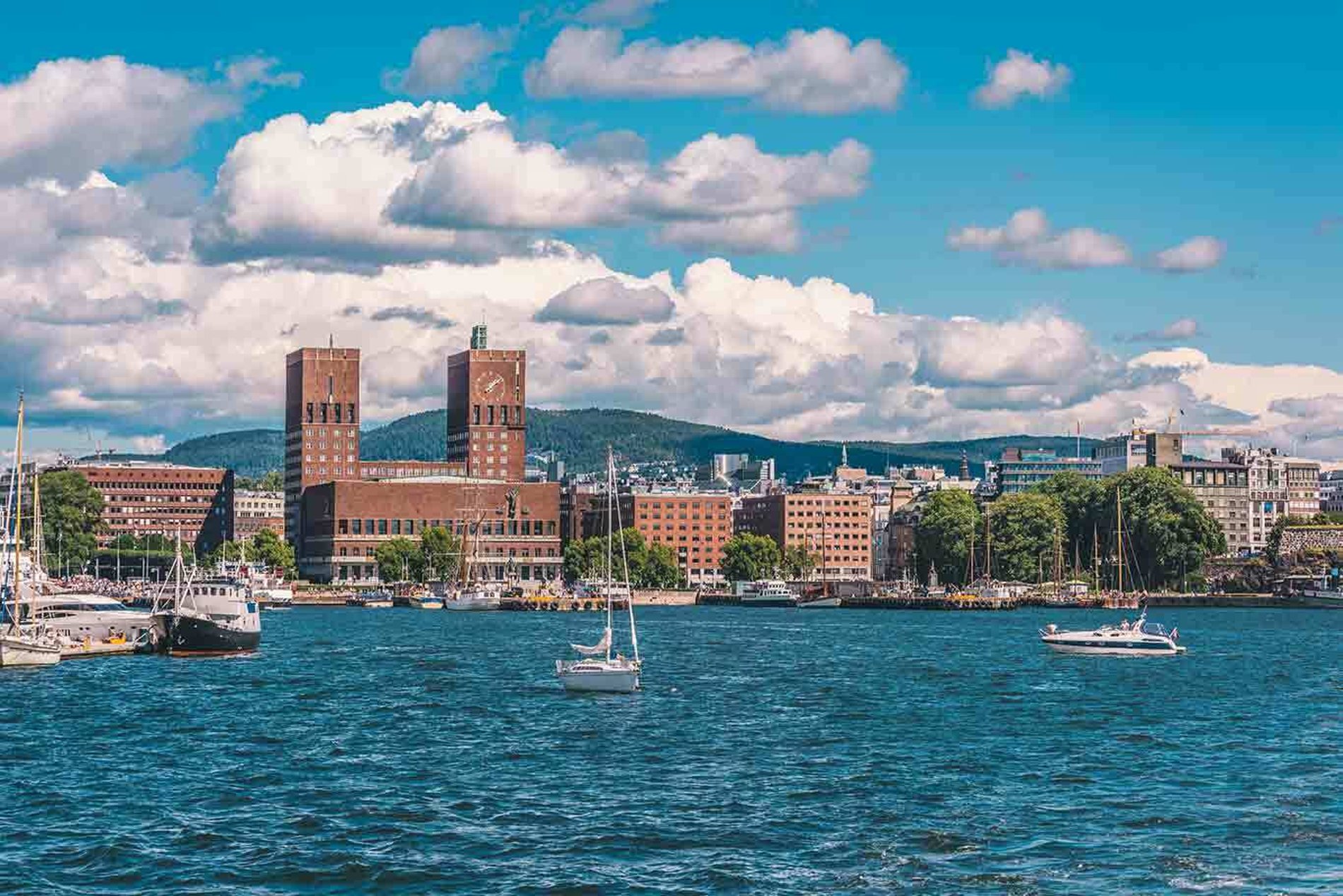 Stop in Oslo, Norway's compact capital and explore. Credit: Shutterstock