Search for your ideal Cruise
Jersey
The largest island in the Channel Islands, Jersey is a wonderful fusion of French and British cultures, famed for its hidden bays with golden sands, cliffside walking trails and historic castles. Jersey's capital, St Helier, is a popular stopover on a British Isles cruise and is steeped in history and culture, with a maritime museum, art gallery and unique Glass Church.
Why cruise Jersey
Jersey's proximity to the continent, glorious sunshine (boasting the most hours of sunshine in Great Britain) and world-class beaches gives visitors the feeling of having escaped to an exotic destination without having to leave the country. The active among you can enjoy a range of activities, from hiking and cycling to surfing and kayaking. Meanwhile sightseers and history buffs will be in their element, with the island being stepped in history and culture.
find your perfect cruise
What to see and do in Jersey
Elizabeth Castle
The 17th-century castle, situated on a tidal island called L'Islet, is only accessible by foot during low ride. At high tide visitors must take the castle ferry, which will transport you across the bay to and from the fortress. The governor of Jersey at the time, Sir Walter Raleigh, named the castle after Queen Elizabeth I of England. Visitors can climb the battlements, explore the turrets and bunkers and discover the Hermitage where Saint Helier is thought to have lived around 550AD. Another castle worth a visit is Mont Orgueil, commonly known as Gorey Castle by English-speakers as it overlooks this harbour. During the WWII German occupation, the Nazis garrisoned the castle and added modern fortifications camouflaged to blend in with existing structures.
Jersey Wall Tunnels
The Channel Islands was the only British territory to fall under German occupation during the Second World War and as such, have a dramatic and fascinating story to tell. This vast network of underground tunnels vividly uncover what life was like for locals living under German command during WWII. Visitors can explore over a 1,000 metres of German underground tunnels built by slave labourers, which were initially designed to allow the German occupying infantry to withstand Allied air raids in the event of an invasion, before being converted into an emergency hospital in 1943. Those interested in military history should also visit the Channel Islands Military Museum, housed in a former German bunker.
Jersey Museum
A great option for a rainy day (should there be one) in Jersey, the museum charts the history of the island, from the ice age to the Second World War. The museum is also home to a beautifully restored Victorian House and an art gallery.
The Botanic Gardens at Samarès
Green-fingered enthusiasts must pay a visit to The Botanic Gardens at Samarès, which is privately owned by Seigneur de Samarès. The manicured grounds were originally created by Sir James Knott in the 1920s and have since been developed. Today, they feature an explosion of plants and herbs that would delight all horticulturalists.
Go hiking
Hiking is a very popular occupation in the Channel Islands. In Jersey, intrepid travellers can hike the north and south coast cliff paths. The north coast, identified by its steep granite cliffs and grass-strewn pathways, boasts unrivalled views across to the other Channel Islands on clear days. Jersey's south coast, meanwhile, is home to beautiful country lanes and unspoilt valleys. Another popular route is the seabed walk to Icho Tower, which can only be done at low tide (it's especially good by moonlight).
Take to the water
Along with its history, Jersey is famed for its beautiful beaches. The most popular is undoubtedly St Brelade's Bay, which boasts golden sand slopes and turquoise waters. If you're prefer something more secluded, Plemont Beach is a sheltered cove on the northern shore of the island, which has a sandy beach and a network of caves that can be explored. Portelet Bay is another great option if you wish to avoid the crowds, sheltered between high cliffs. Meanwhile, the five-mile beach of St Ouen's Bay offers surfing lessons for those keen on watersports activities.
Need to know when travelling to Jersey
Getting around in Jersey
Cruise ships dock in the centre of town, St Helier. Larger ships will anchor and use their tenders to bring you ashore.
When to go to Jersey
May through October offers the best weather in Jersey. Sun-worshippers should visit in July or August, while sightseers might prefer the months of May, June and September through early October, when it's also better value for money.
Currency
Jersey uses the sterling, but also has its own currency, the Jersey pound.
Visas
British citizens do not need a visa to enter Jersey.
The quaint village of Saint Aubin, Jersey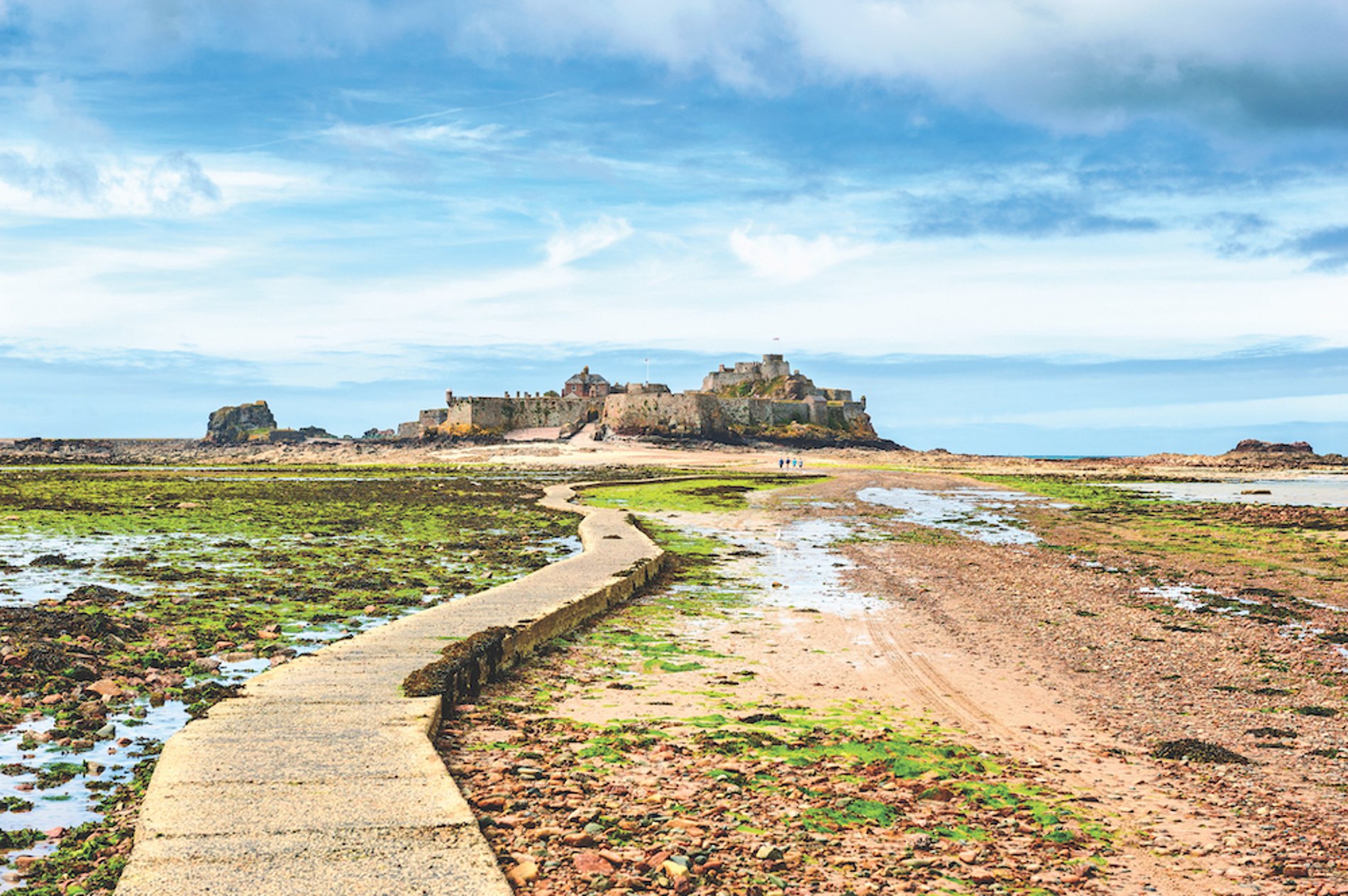 Jersey offers a unique hiking trail at low tide