Marseille
Marseille doesn't feel like France. A stroll around this Mediterranean city is completely unlike anywhere else – and that's not necessarily a bad thing. Marseille has long had a reputation for being an outsider city, in fact, it was a city rampant with drugs and corruption in the 1970s until the early 21st century when things began to turn around. It began by winning the right to be the European Capital of Culture in 2012 and has continued to push forward ever since. Sure, it may still be a little rough-around-the-edges and in need of a polish, but that's what makes it unique and we wouldn't have it any other way.
Why cruise Marseille
Marseille is one of the most popular ports of call on a Mediterranean cruise. The go-to port along the French Riviera, nearly two million passengers departed from Marseille on cruises in 2019. France's most ancient city, Marseille is a glorious melting pot of old and new. Many of the city's top attractions can be explored in a day, but some visitors choose to venture further afield to explore popular Provence destinations such as Aix, Avignon, Arles and Cassis, renowned for their lavender fields and rolling vineyards.
find your perfect cruise
What to see and do in Marseille
The Old Port (Vieux Port)
To get a feel for the city of Marseille you need to explore The Old Port – central to the city's growth dating back to the Middle Ages. There's plenty of restaurants, cafes and bars to explore, you can also indulge in some of the local seafood or take a walk to St. Victor's Abbey and Phare de Sainte Marie (the old lighthouse) if you are feeling more cultured. But it's just as pleasant to wander around the old harbour and do a spot of people-watching.
Notre-Dame de la Garde
Probably Marseille's most famous ¬ and most stunning – site. Still a key part of the city's religious make-up with thousands making the pilgrimage every year for Assumption Day, the non-religious will have to make do with the Neo-Byzantine architecture and the stunning views of the city below. Note: it is possible to walk to the top of the hill the cathedral sits on, however, this is fairly steep and you may be better off catching the regular bus to the top instead.
The Mucem
One of the main reasons that Marseille was named European Capital of Culture back in 2012 was this incredible museum dedicated to the Mediterranean. From the striking contemporary architecture which catches the eye from miles away, to the fascinating exhibits about the history of the great nations of the Med, there's plenty to be enjoyed at this newest addition to Marseille's burgeoning cultural repertoire.
Sample the French cuisine
Marseille's signature dish is the supremely fishy bouillabaisse (fish stew) and nowhere serves it better than local institution, Chez Fonfon. Alternatively, if you're looking to savour some of Marseille's African influence, Then you'll want to head to Tunisian favourite La Kahena, based right next to the Old Port. While in Marseille, don't also forget to try pastis, its signature tipple. Nicknamed 'pastaga' by the locals, the anise-flavoured spirit can be found at most bars and restaurants, but one of the best in terms of choice is Pastis & Olives, which has 16 variations.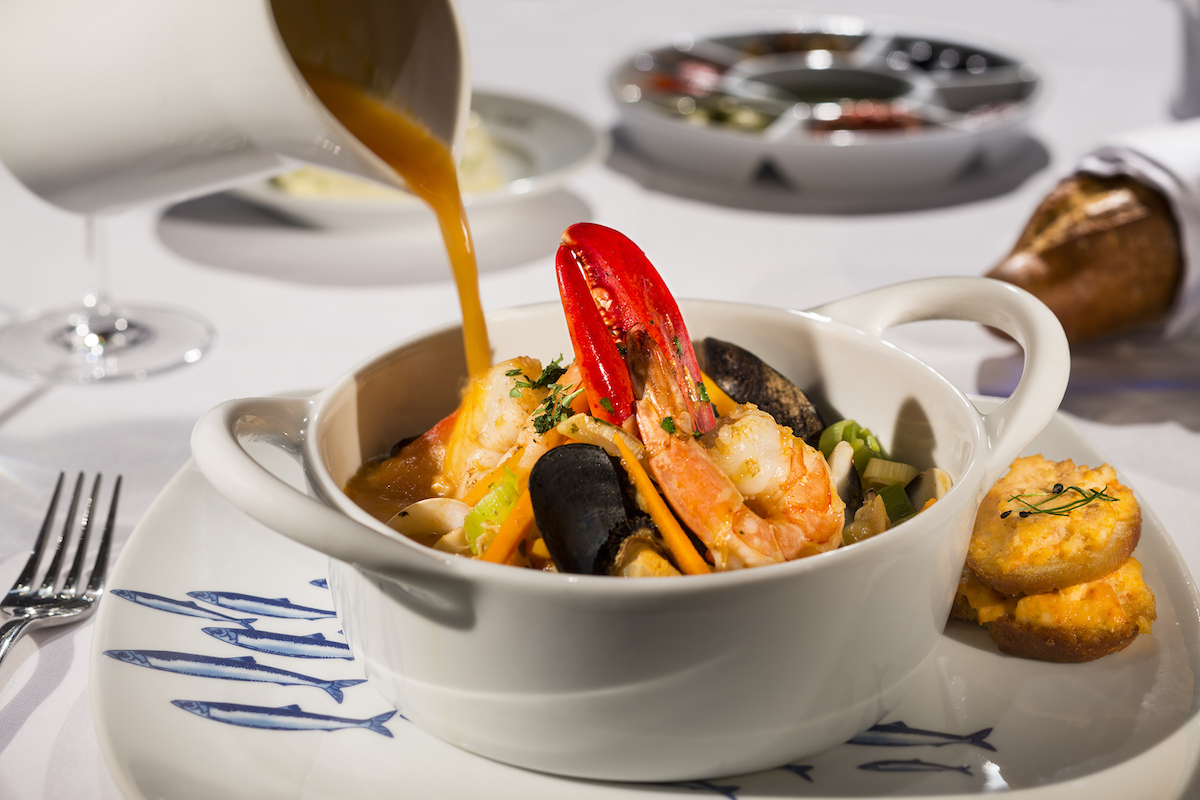 La Canebière
Not quite Marseille's answer to the Champs-Élysées as it once was, but this is still a historic shopping area with some interesting sights to behold. The city's biggest avenue, La Canebiere's ornate and grand buildings, most of which have now been converted into shops and restaurants, illustrate the wealth that Marseille once possessed. Alternatively, if it's shopping you're after, Centre Bourse is Marseille's largest shopping centre and houses roughly 60 shops to explore and browse for souvenirs.
Need to know when travelling to Marseille
Getting around in Marseille
It all depends on which port you are docked in. Larger ships are docked in the Môle Léon Gourret port situated roughly 5km to the north of the city centre. You could take a taxi into the city centre or jump on the shuttle bus put on by your cruise line (and while this is often the case, it is best to check with guest services before committing). If you are cruising with a smaller or luxury ship, chances are you'll be lucky enough to be docked in La Joliette port, which is a mere five-minute stroll into the heart of the city. Marseille is relatively easy to get around using the public transport system, which includes the metro, buses and trams, as well as the petit train – the kitsch white-and-blue tourist train which visits the main attractions. If you're planning on doing a lot of sightseeing, it's worth getting the 24-, 48- or 72-houe City Pass Marseille, It includes unlimited rides on the metro, buses and tramways and a trip to Notre-Dame de la Garde and the Old Town on the petit train.
When to go to Marseille
The Mediterranean cruise season runs from April to November. To avoid the peak season of May and August when lots of tourists descend on Marseille, visit in the later months from September to November.
Visas
If you hold a British Citizen passport, you don't need a visa to enter France unless you're planning to stay longer than three months.
Currency
The currency of Marseille is the euro.