Search for your ideal Cruise
Why cruise on this ship?
The MS "Jeanine" barge travels along the Vallée of the Doubs, the canals of Burgundy, the Saône and the Centre, along the Petite Saône as well as the Rhône-Rhine canal.
find your perfect cruise
Dining
The only "floating" hotel structures of its type in France, CroisiEurope reigns supreme over the kitchens on its boats. In charge of the company's Chefs, Alain Bohn manages and designs his cuisine and specific menus in the pure tradition of French cooking with his passionate kitchen teams. From time to time, CroisiEurope joins forces with a number of renowned Chefs such as Paul Bocuse, Marc Haeberlin or Emile Jung to organise gastronomic cruises full of taste and flavour.
Dining aboard a CroisiEurope cruise is always a pleasure. Food is taken seriously and it shows. You'll soon become firm friends with your waiter and you'll quickly come to admire the choices made by world-renowned sommelier, Serge Dubs.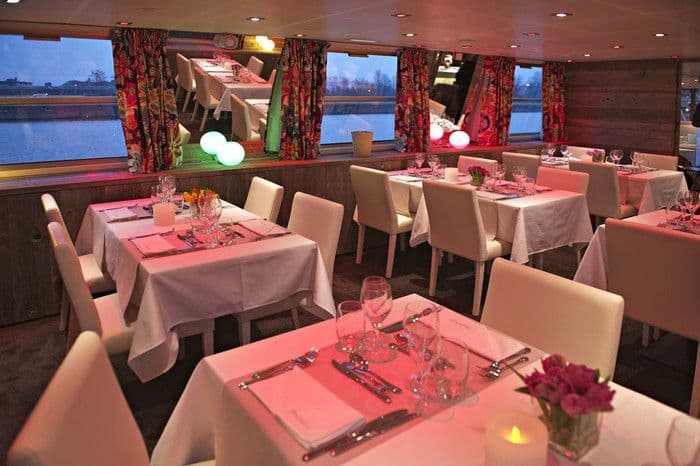 Restaurant
Located on the main deck, the restaurant is where all meals are served during your cruise. It seats all guests at tables which vary in size with a panoramic view. The atmosphere is casual but elegant.
Features
Experience: Complimentary
Food type: Wine
Entertaining
CroisiEurope ensures that there are a number of activities and events onboard that guests can take part in. These include pre-dinner games and dinner dances along with a number of events in the ship's lounge.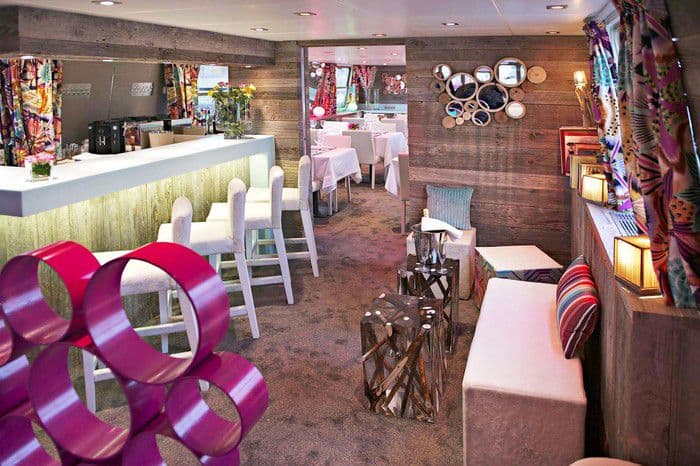 CroisiEurope Jeanine Bar 1.jpg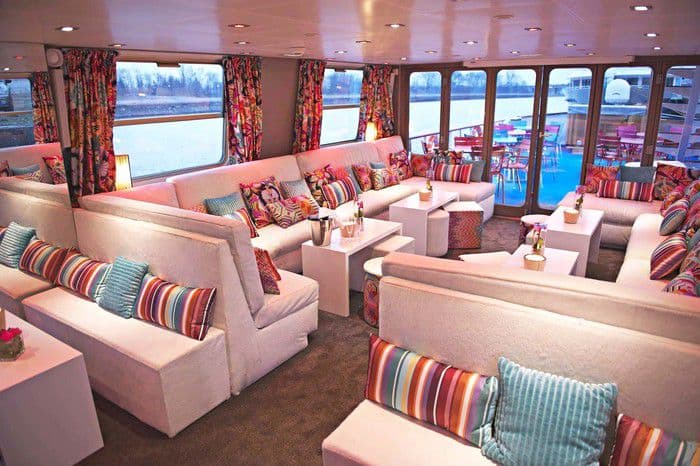 CroisiEurope Jeanine Bar 2.jpg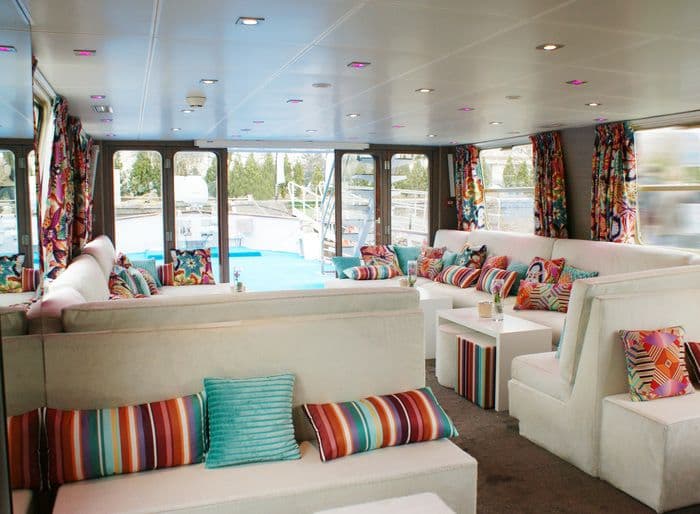 CroisiEurope Jeanine Bar 3.jpg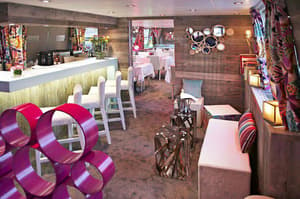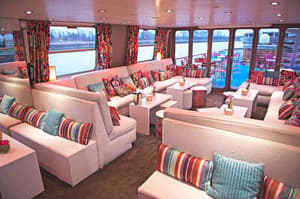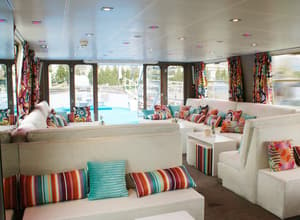 Lounge & Bar
The lounge is tastefully decorated, it's a quiet place where you can spend time with your friends and family. Equipped with sofa and a bar you can relax before and after dinner.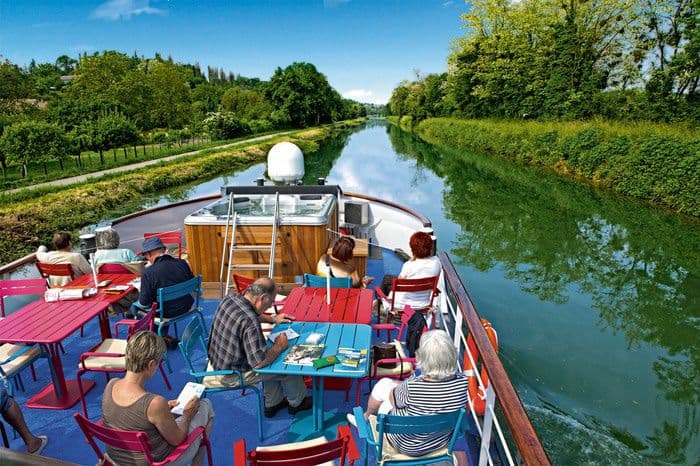 CroisiEurope Jeanine Terrace.jpg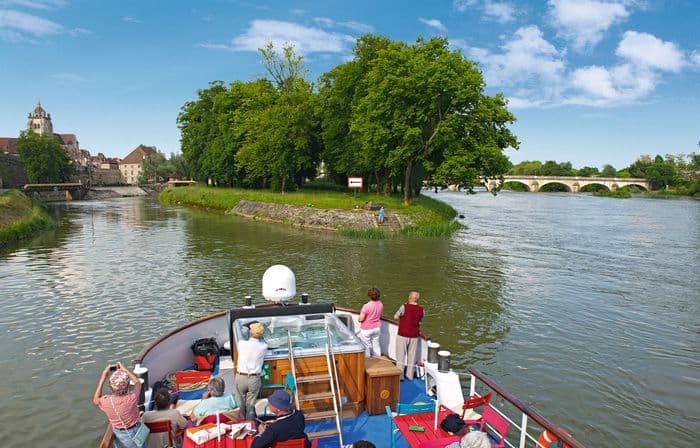 CroisiEurope Jeanine Terrace 1.jpg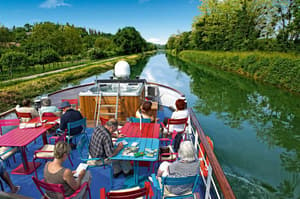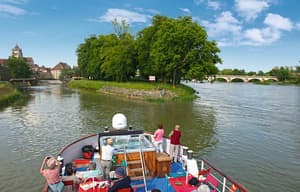 Terrace
Located at the front of the barge and equipped with tables and parasols, you can easily share a moment with friends or unwind while enjoying the view.
Enrichment
CroisiEurope offer an exciting and varied itinerary along the European rivers giving their passengers the unforgettable experiences of the enriching cities, towns and their cultures. From excursions to beautiful well known landmarks and gives you the full experience of each place you visit from the food, traditions and people.
On board programmes are offered which provide guests with understanding of their destinations, from lectures and demonstrations to special themed dinners.
Local musicians and other experts are invited onboard occasionally, or guests may choose to go ashore for some local shows and activities during evening or overnight stays.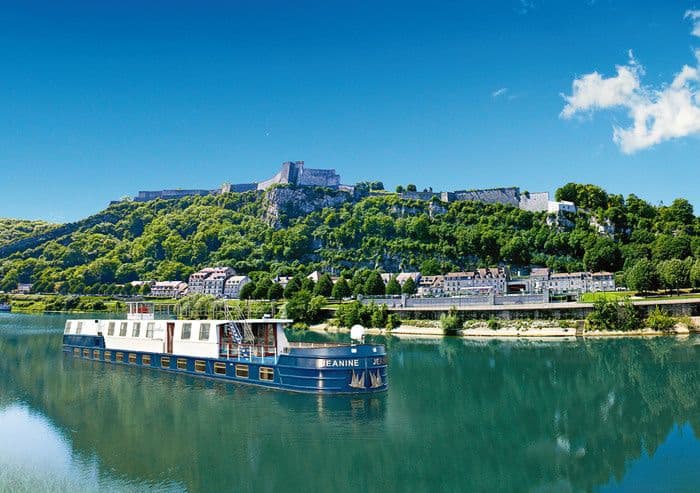 CroisiEurope MS Jeanine Exterior Besancon.jpg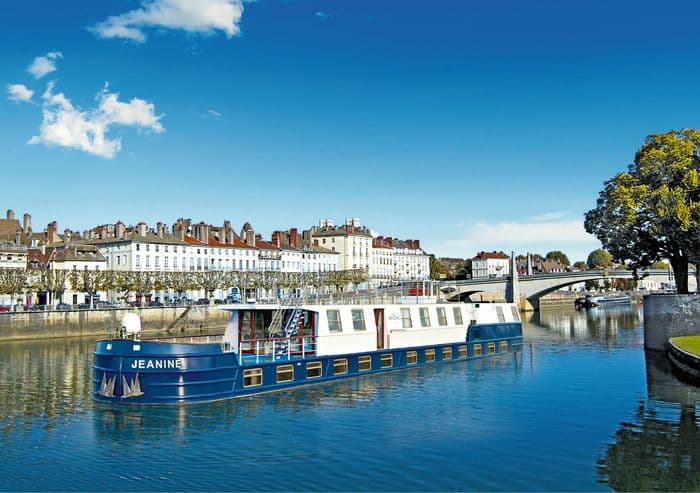 CroisiEurope MS Jeanine Exterior Chalon sur Saone.jpg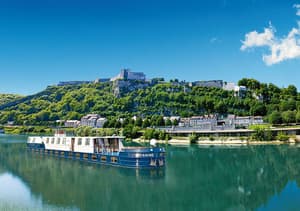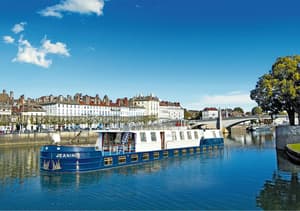 Excursions
Choose from the itinerary onboard and experience the towns and cities of Europe. Mooring in the heart of towns near historical centres giving you the opportunity to explore the historical and architectural heritage. There are themed cruises available all year round.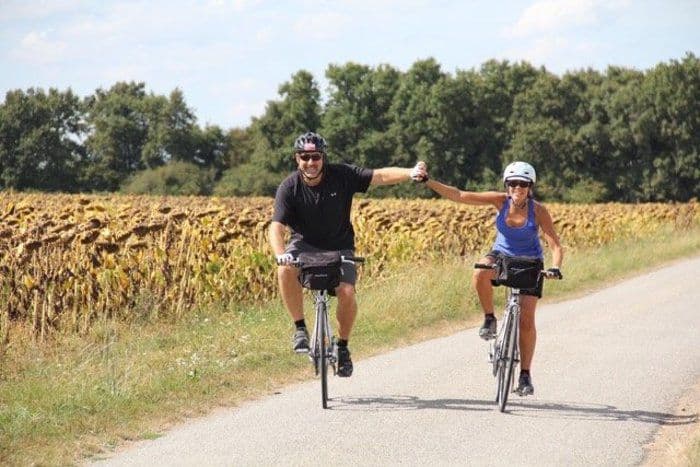 Bicycle Hire
So many of Europe's rivers are lined with paths that are perfect for pedalling so why not go for a bike ride while the ship has moored at one of the local towns. Explore the european way of life by bike giving you the freedom to venture out and explore the riverside bikeways. Or, meander through quaint cobblestone streets. The bikes are set up and ready for use as soon as the ship docks.
Health and fitness
There is a Jacuzzi on the terrace.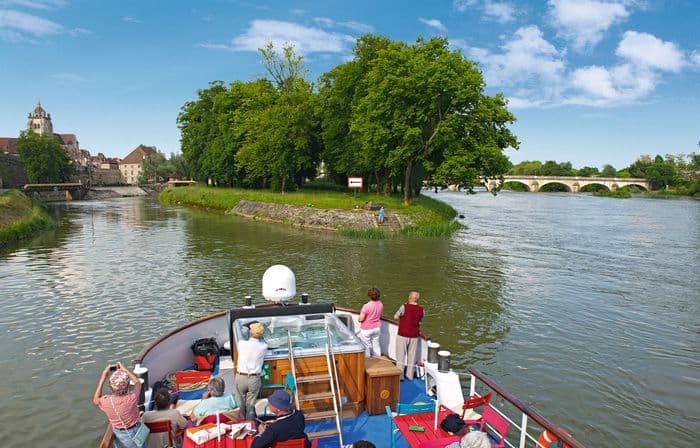 CroisiEurope Jeanine Terrace 1.jpg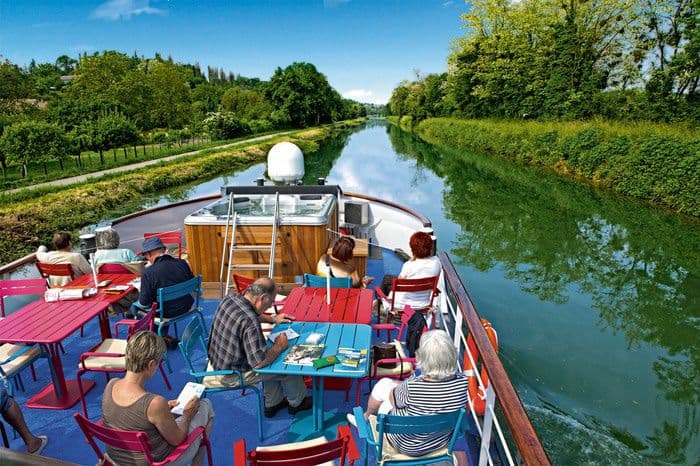 CroisiEurope Jeanine Terrace.jpg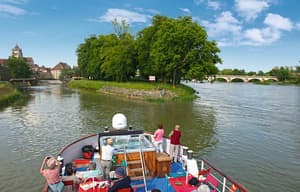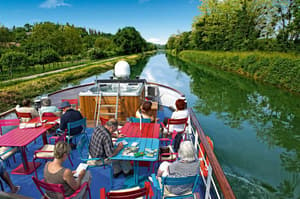 Jacuzzi
Rest and relax in the Jacuzzi while enjoying the beautiful landscapes.
Kids and teens
Please note: There are no children's facilities onboard this ship.
Accommodation
One of the most modern barges today offering home from home comforts. beautifully interior designed with bright, clean, modern colours.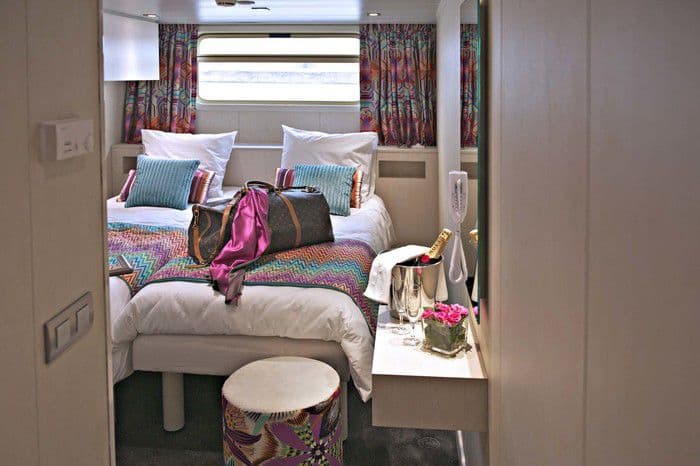 CroisiEurope Jeanine Cabin 2.jpg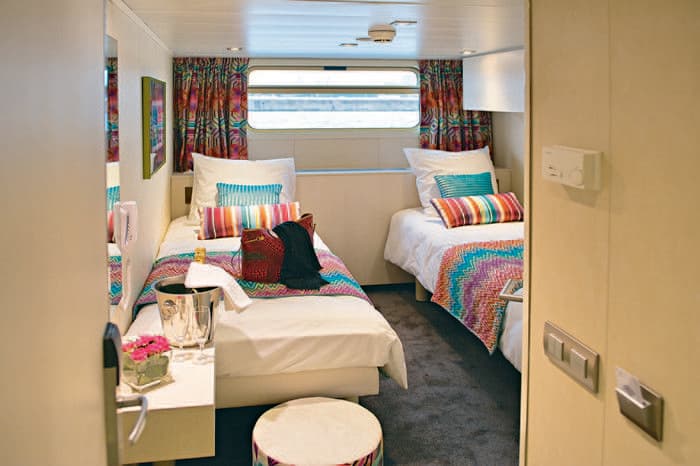 CroisiEurope Jeanine Cabin 1.jpg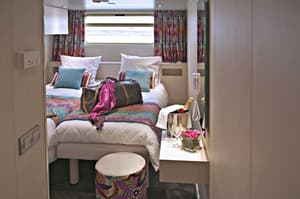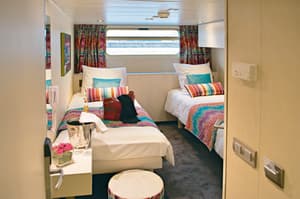 Cabins
Each spacious cabin has a window for you to enjoy the views of the canals and is equipped with private en-suite shower facilities. For your entertainment there is a TV, radio and telephone (for internal calls only). There is also an in-room safe for your personal belongings.
There is independent air-conditioning to keep you comfortable throughout the Summer and central heating to keep you warm throughout the Winter season.
Features
Double or Twin Configuration
Shower
Toiletries Provided
TV
Free Wi-Fi
Safe
Hair Dryer
Telephone
Desk
Deck plans

Upper Deck
Kitchen

Restaurant

Bar

Lounge

Terrace


Main Deck