Search for your ideal Cruise
Ocean cruising in St Barts
The blissful Caribbean island of St Barts is the embodiment of luxury, offering paradise-seeking visitors ravishing beaches, stylish shops and deluxe restaurants. Lush, grassy hills roll across the dazzling landscape, housing shy native creatures such as iguanas, turtles, sea birds, hummingbirds and pelicans. St Barts is the oldest volcanic island in the Caribbean and is surrounded by an abundance of shallow coral reefs. Crystal-clear waters lap against the sugary sands that line the island's coastline and are home to multicoloured tropical fish, southern stingrays and moray eels. The culture in St Barts, or Saint Barthélemy, has a distinctly French flair owing to its position as an overseas collectivité of France. The island's language, cuisine and heritage are therefore deeply rooted in French customs and traditions, although undertones of Caribbean and West Indian influences can also be detected on a St Barts cruise. When it comes to lavish lifestyles and extravagant retreats, there is nowhere quite like St Barts.
Why choose St Barts cruises
St Barts is a sparkling jewel situated in the tropical Caribbean Sea, surrounded entirely by a stunning coastline. Luckily for cruisers, the country's small size means that they are able to drive almost anywhere across the island within 20 to 30 minutes. Most cruise lines, such as Crystal Cruises and Oceania, offer ATV tours of the island, which take visitors to a number of different beaches and through leafy backroads. Those who enjoy riding the sea's gentle waves can also jump on a jet ski or boat tour of St Barts. Seabourn Cruises even offers trips underwater in a semi-submersible boat, during which cruisers can admire shimmering corals and colourful fish. Alternative cruise companies that offer cruises to St Barts include Princess Cruises, Azamara, Silversea and Regent Seven Seas Cruises.
find your perfect cruise
Find your ideal Caribbean cruise
Showing 10 of 6482 results
Sponsored listing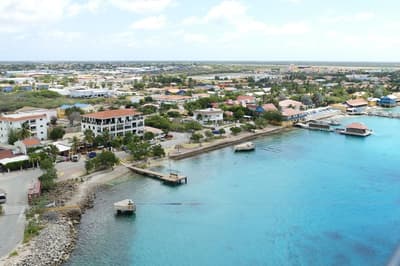 7 nights
Departs on the 18 Mar 2024
Norwegian Cruise Line, Norwegian Sky
La Romana, Catalina Island, Willemstad, + 5 more
Starts at: La Romana
St Barts cruises: Best places to visit in St Barts
Gustavia
St Bart's charming capital, Gustavia, is characterised by its red-roofed, low rise buildings that form a U-shape around the island's main port. Quaint, cobblestone streets fringed with towering palm trees crisscross their way through this tiny, relaxed town. Gustavia was once Sweden's prime trading port, before the island was occupied by the French. The Swedes named the town Gustavia in honour of King Gustav III and you will see historic monuments dotted around the town from the island's Swedish era. Explore the three forts built by the Swedes - Fort Oscar, Fort Karl and Fort Gustav - which were designed to protect their territory from foreign invasion. Fort Gustav is the best preserved of these and its ruins can be found scattered around Gustavia Lighthouse and St Bart's weather station. Try and decipher which of these ruins were previously the fort's guardhouse and munitions store, before admiring the panoramic views of the gorgeous harbour from Gustavia Lighthouse. Continue your interactive history lesson at the St Barth Municipal and Wall House Museums. The latter holds collections of antique relics such as oil lamps, farming tools and fishing boats, housed inside a Swedish-style stone building. It is also worth taking a sneak peak of some of the town's churches. The Église Anglicane de Gustavia is a significant religious building enclosed within a rock wall and the Ancien Presbytère de l'église catholique de Gustavia is the island's oldest. If you'd rather spend an afternoon lounging and soaking in the sun, head towards Shell Beach which is, unsurprisingly, sprinkled with thousands of elegant shells.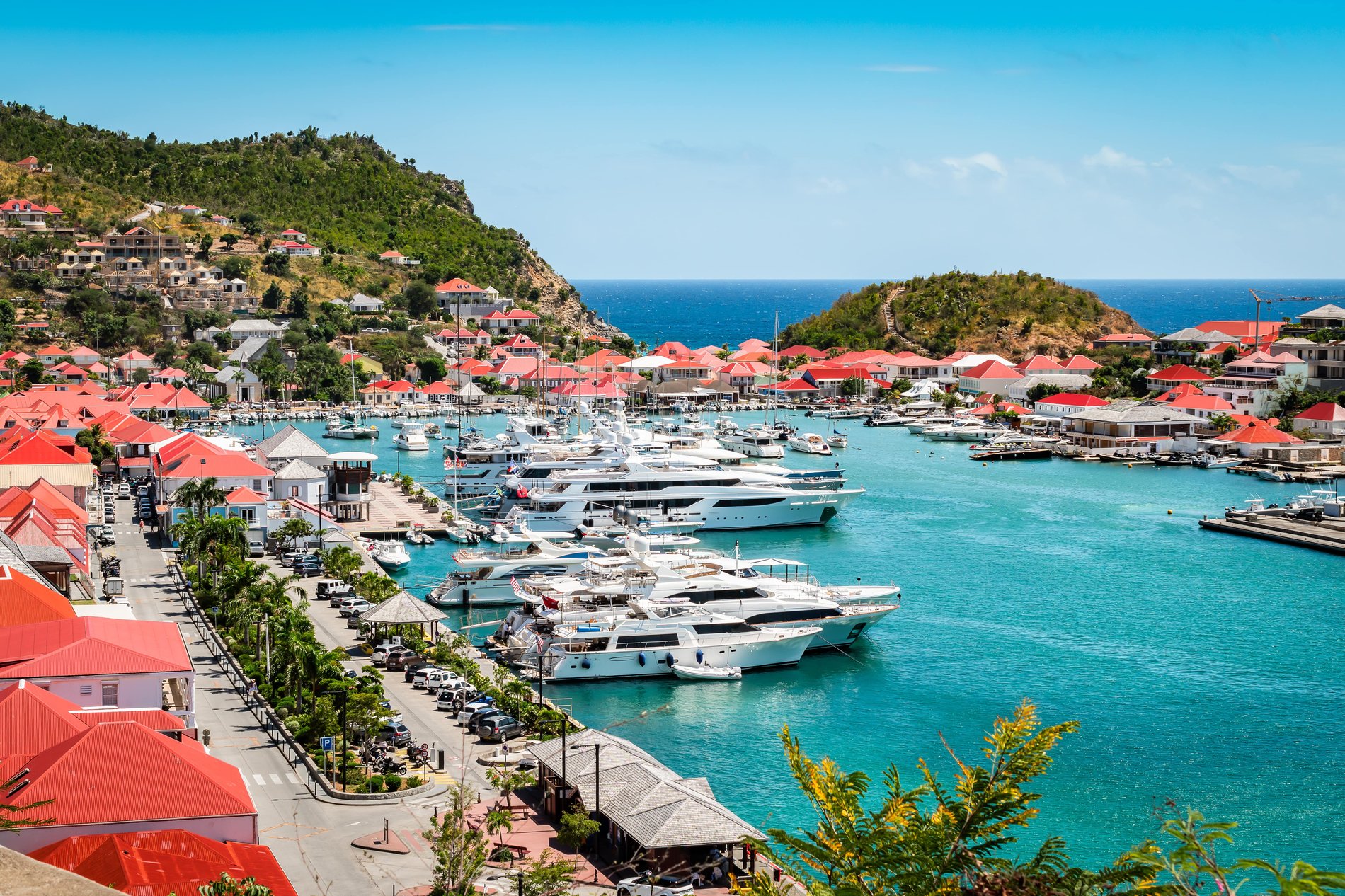 St Jean and Lorient
Hiding in the centre of the island of St Barts is the tiny village of St Jean. Undoubtedly, the top attraction in this area is the magnificent St Jean Beach, which is split in two by the fabulous Eden Rock hotel. This beach is simply divine with its sugary white sand and warm, calm waters which are perfect for a swim under the sun on a St Barts cruise excursion. The beach also offers a variety of exhilarating watersports and the excellent wind conditions at St Jean make it a prime location for windsurfing. Stop for a cocktail at one of the beach's trendy clubs, such as Nikki Beach and Lil Rock. St Jean is also a haven for boutique shops and delicious restaurants. Peruse the selection of aromatic spices for sale at Sea Spice, where you can also find handmade jewellery and pieces of artwork created by local artists. Not far from the Gustaf III Airport in St Jean you might notice a large bronze statue of a man standing on a rock, drinking from a conch. This is the 'Savaku' statue, which is representative of the Arawak people who live in St Jean and is accompanied by an iguana and a pelican – the national symbol of the island. A short drive eastward from St Jean is the serene village of Lorient. It was here that the first French colonists to arrive on St Barts settled, and today it is home to a large stone 19th-century Catholic church, where conch shells are used as holy water basins. The peaceful beach at Lorient is a less-crowded alternative to St Jean and also a favourite spot for surfers.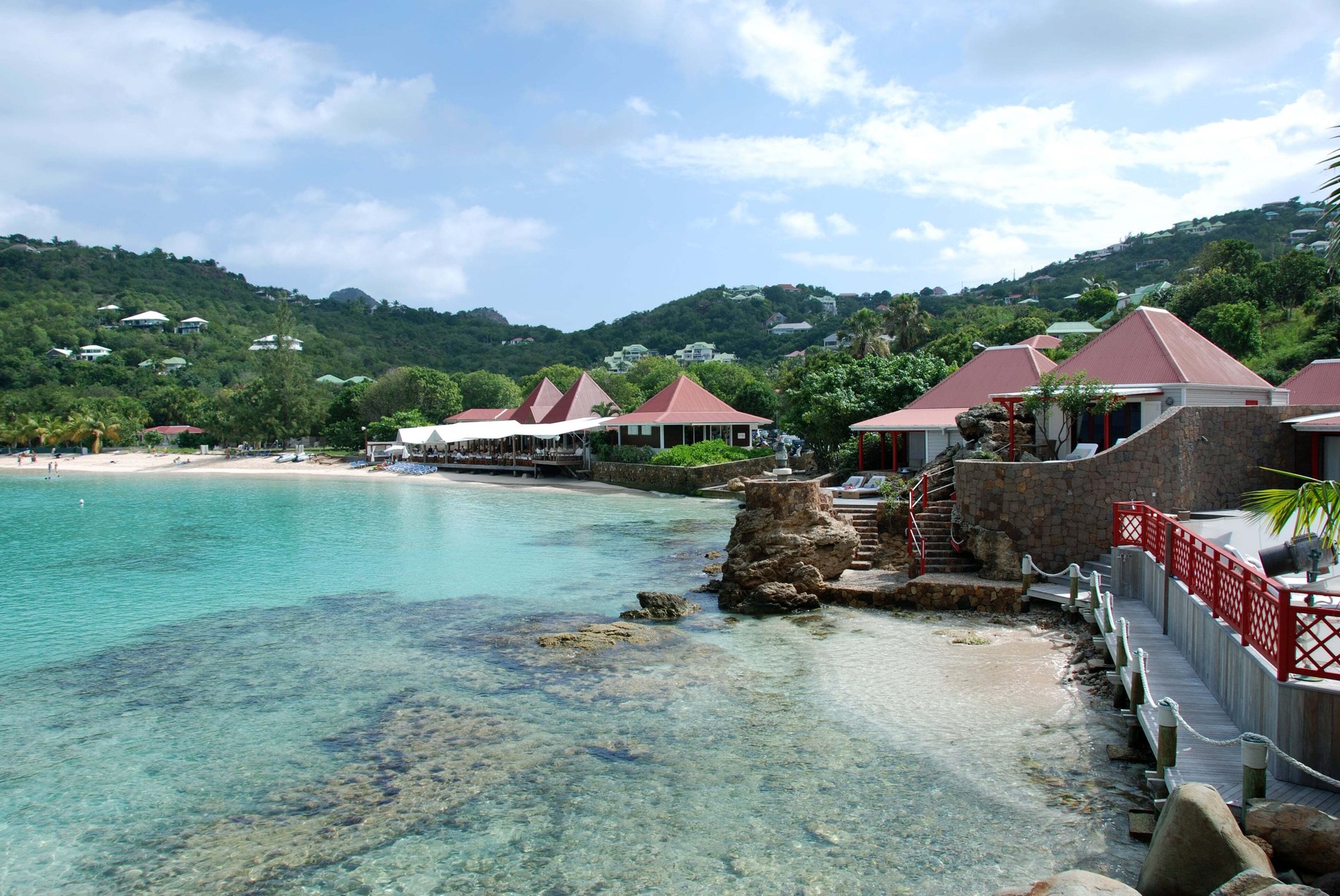 Corossol
The picturesque little fishing village of Corossol has earned a place on the St Bart's tourist trail as home to the intriguing Inter Oceans Museum. This unique, privately-owned shell museum has an enormous display of more then 9,000 gorgeous seashells which the quirky owner has collected from across the world. Stacked on shelves in glass jars are also collections of sea creatures, making for an unusual and fascinating exhibition. Corossol is often referred to as the 'straw village'; on every corner you will find local women who weave straw hats and crafts from palm fronts. You will be able to recognise these islanders from their local dress, as they tend to wear traditional quichenottes – bright white sun bonnets. Corossol has a beach of its own, where you will see small crabs scuttling across the shores and local fisherman out looking for their next catch.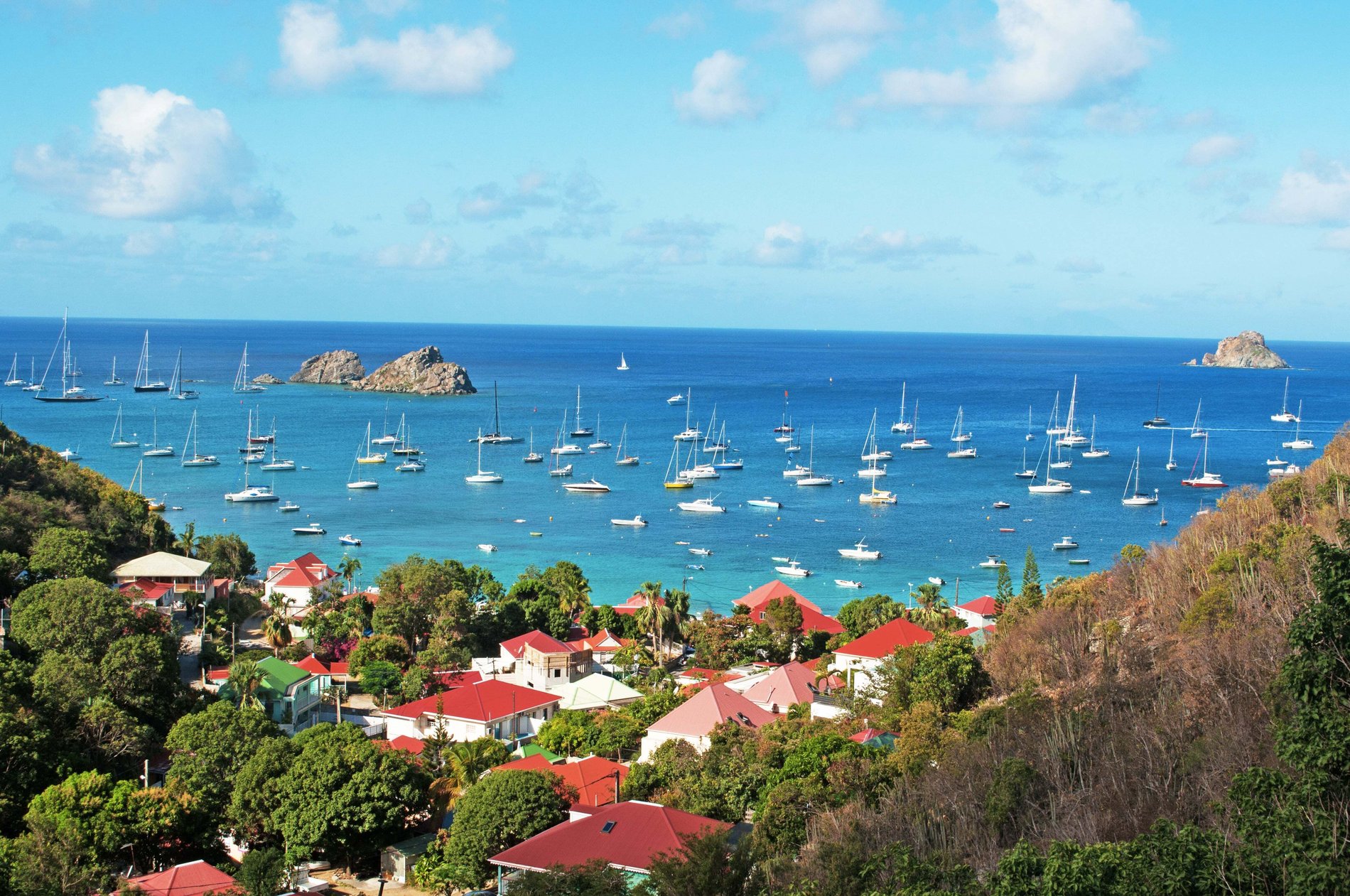 Morne du Vitet and Anse de Marigot
Discover the captivating natural wonders of St Barts at Morne du Vitet and Anse de Marigot. The grand mountaintop of Morne du Vitet is the highest point on St Barts. At 286 metres tall, it offers a fabulous climbing trail for hiking enthusiasts. At the summit, you can experience extraordinary 360-degree views of the island in all its splendid glory and as evening falls you can watch the awe-inspiring sunset from these dizzying heights. A short walk from the tranquil beach at Marigot, there is a thriving and very rare coconut grove. Weave your way through the shadowy trees and gaze up at the sweet, juicy coconuts that grow above you.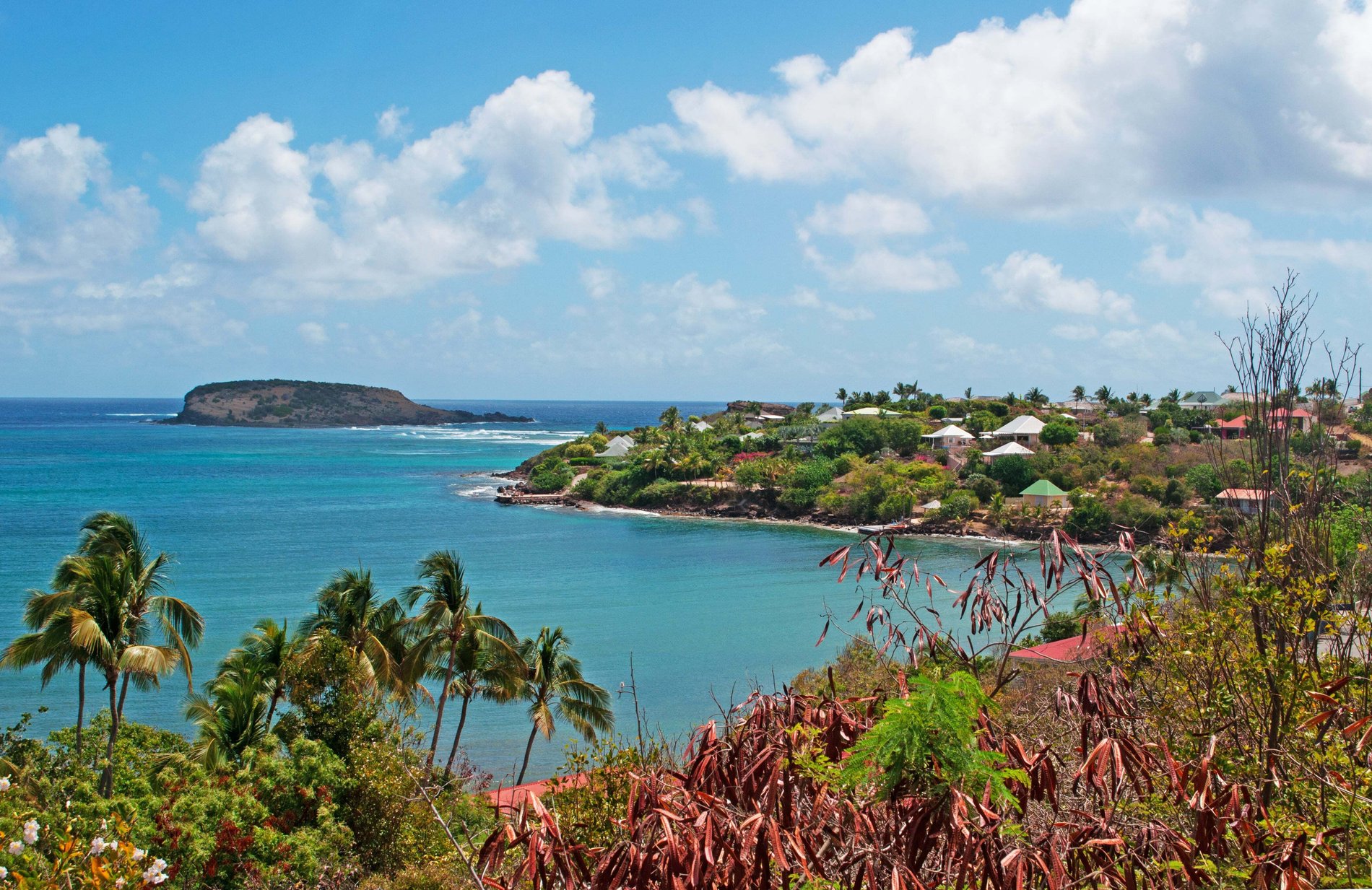 Les Piscines Naturelles
The otherworldly Piscines Naturelles are hidden off the beaten track near Grand Fond beach. Here, crystal-clear waters lie in pools which have formed between apricot-coloured rocks and can only be accessed by foot. Climb up the craggy seaside cliffs to reach these aquamarine pools where you can float undisturbed against on the flat planes of Grand Fond. The locals have nicknamed the area 'washing machine' due to the circular motion of the tide. These are not the only natural pools on St Barts. A lesser-known and more secluded chain of pools can also be found along the coast near Petit Cul-de-Sac beach. Adrenalin-junkies can jump off the cliffs into the pools' gentle waters below and nature-enthusiasts can search for the sea urchins that lurk below the surface.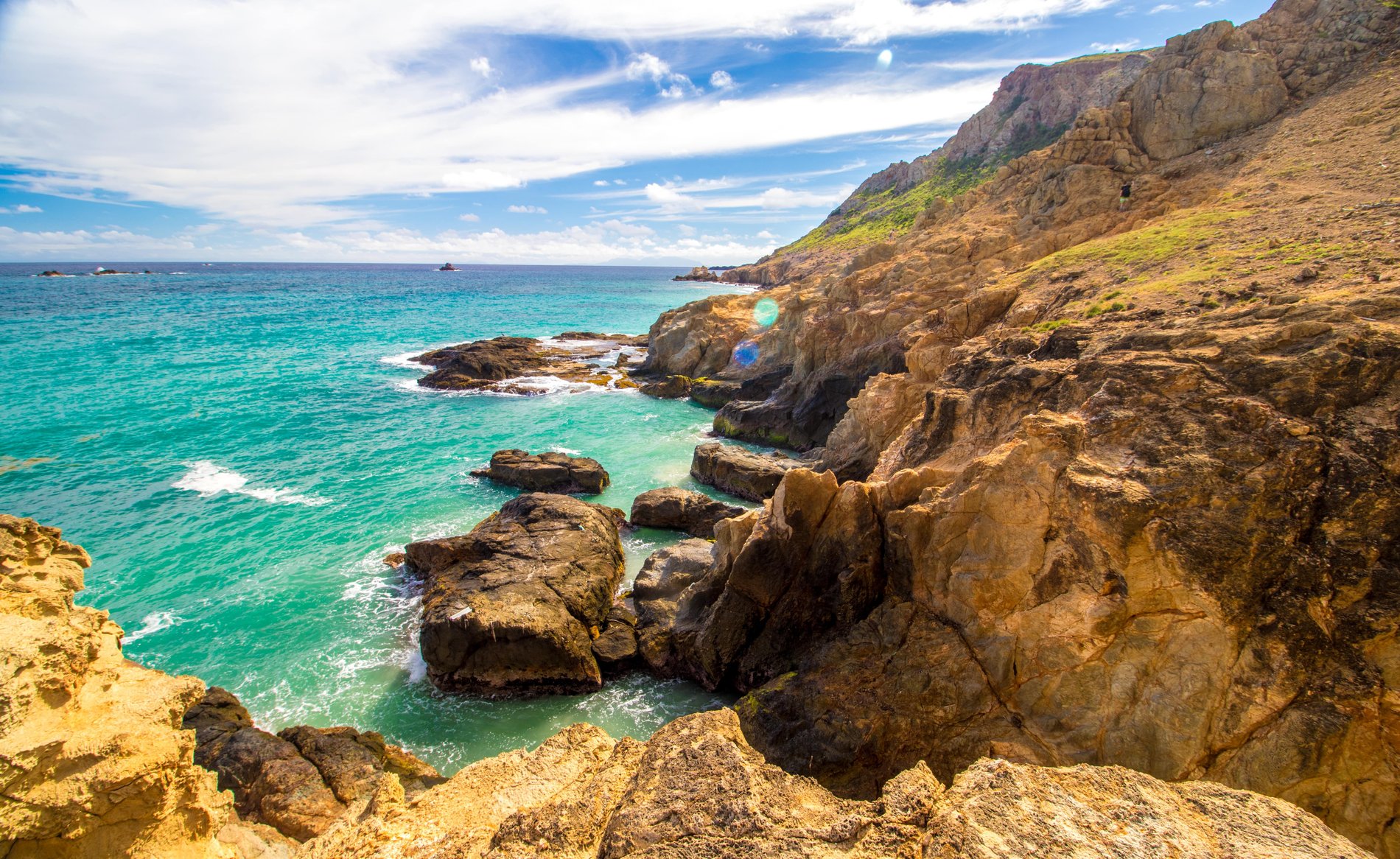 Iconic ports
St Barts cruises: Best things to do in St Barts
Go to the beach
There are many beaches near to the cruise terminal in St Barts, and St Barts' beaches are the glistening jewels in the island's exquisite crown. Tours provided by cruise lines will take you beach-hopping to ensure that you see all the most beautiful coastal spots. Anse des Flamands is the island's largest beach and is a popular haunt for local students who go there to play volleyball and football. Anse de Colombier is accessible by boat from La Petite Anse and offers astounding views of the island and fantastic snorkelling opportunities. Grand Cul de Sac beach is protected by a large offshore barrier reef and is great for watersports, while Anse de Grande Saline is a discreet, nudist beach where sunbathers lie freely soaking up the rays. St Barts also has Anse du Gouverneur, Grand Fond Beach, Toiny Beach, Anse des Cayes Beach and Public Beach.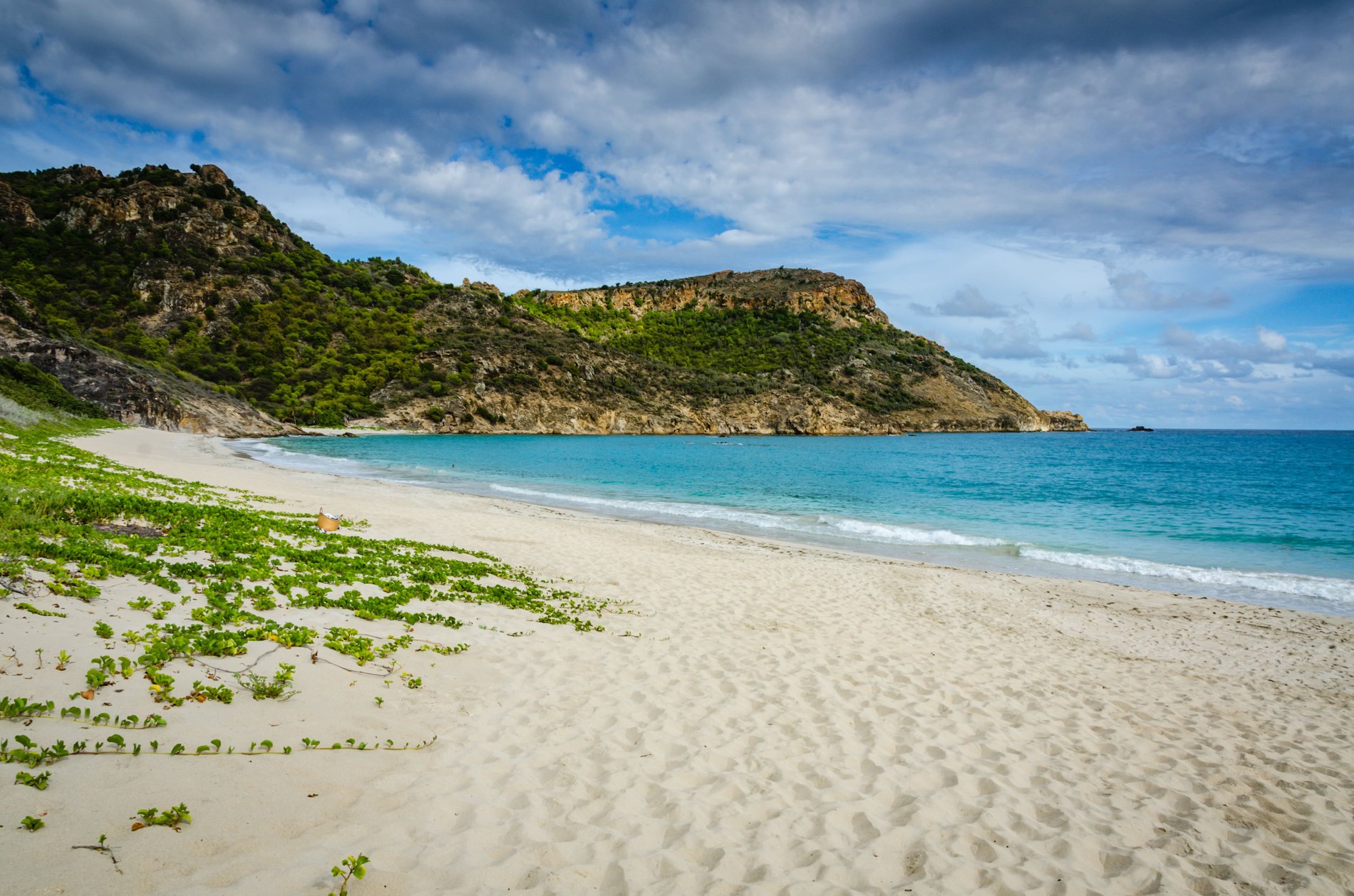 Experience a festival
St Barts' annual calendar is packed with festivals and events, from the St Barts Film Festival in January to the Carnival celebrations of February. Watch the vibrant parades in Gustavia that take place in the run up to Ash Wednesday and cheer on participating boats in the St Barts Bucket Regatta and St Barts Fun Cup race. Fill up on a dose of culture at the St Barts Film Festival, where films by Caribbean filmmakers are shown in open air pop-up cinemas. Foodies will have a feast at the St Barts Gourmet Festival, where visitors can sample dishes made by local restaurants and world-class chefs.
Go diving
St Barts founded the Nature Reserve of Saint-Barthélemy in 1996 to protect the marine ecosystems which exist in the sea surrounding the island. There are some superb dive sites that are located within the zones of the reserve, teeming with turtles, eagle rays, reef sharks and bright corals. Scuba-dive off the island of Fourchue which is situated between Saint-Martin and St Barts, or explore the reefs around Pain de Sucre off the coat of Gustavia. Îlet Coco is also a spectacular dive site where some divers claim to have seen humpback whales. Experience wreck-diving at Kayali, where you'll find a sunken ship that is now home to lobsters and exotic fish.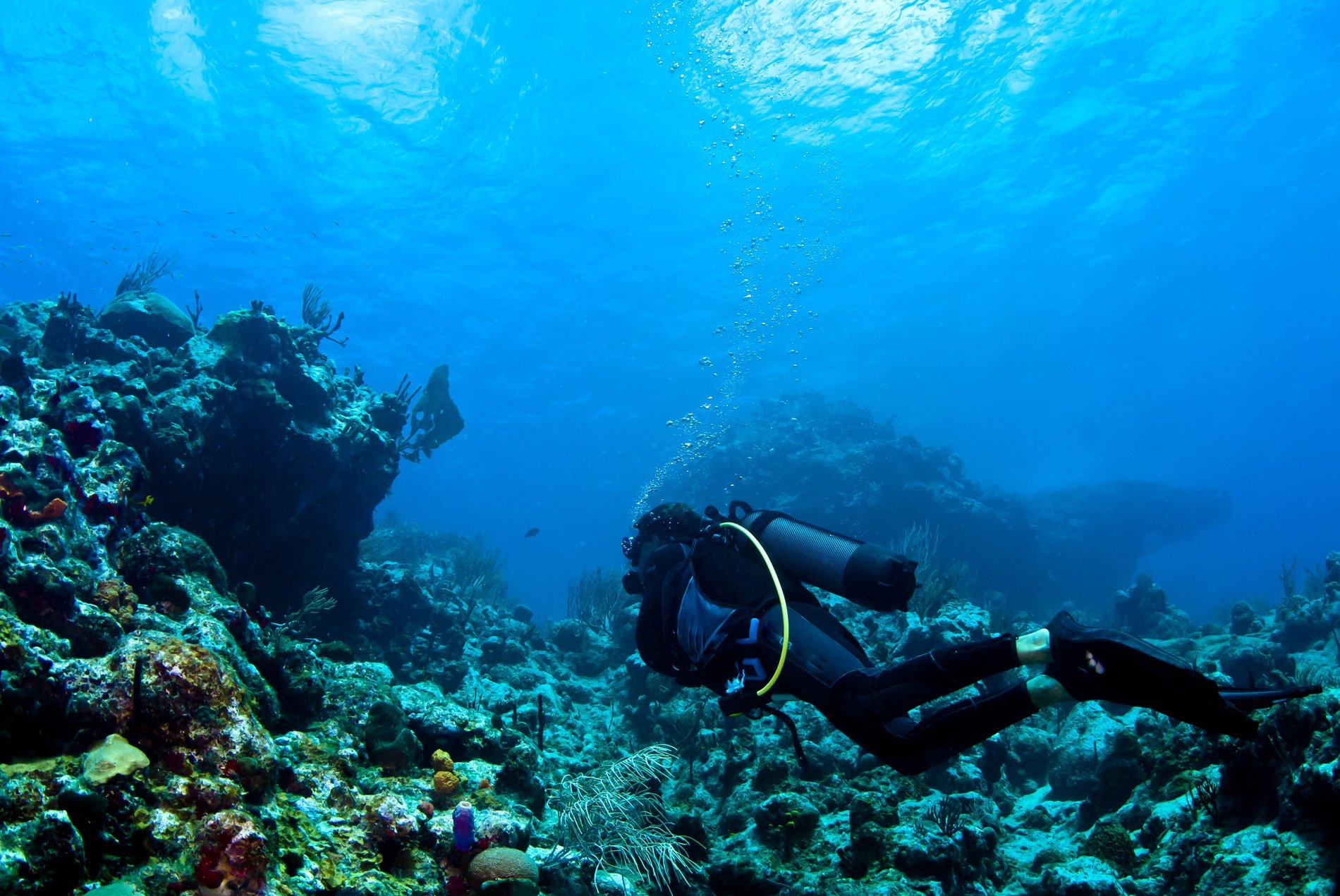 Eat at chic restaurants
St Barts has a reputation as a nation of fine dining and ritzy, world-class restaurants. The cuisine in St Barts is a fusion of French, West Indian, Creole, Italian and Asian. Tantalise your tastebuds at some of the best restaurants on the island, including L'Ardoise, Sand Bar and Bohemia in St Jean and the Orega, La Petite Colombe and Black Ginger in Gustavia. Wine connoisseurs will enjoy sampling some of the Caribbean's best at La Cave de Saint Bathélemy in Marigot which stocks around 250,000 bottles of wine.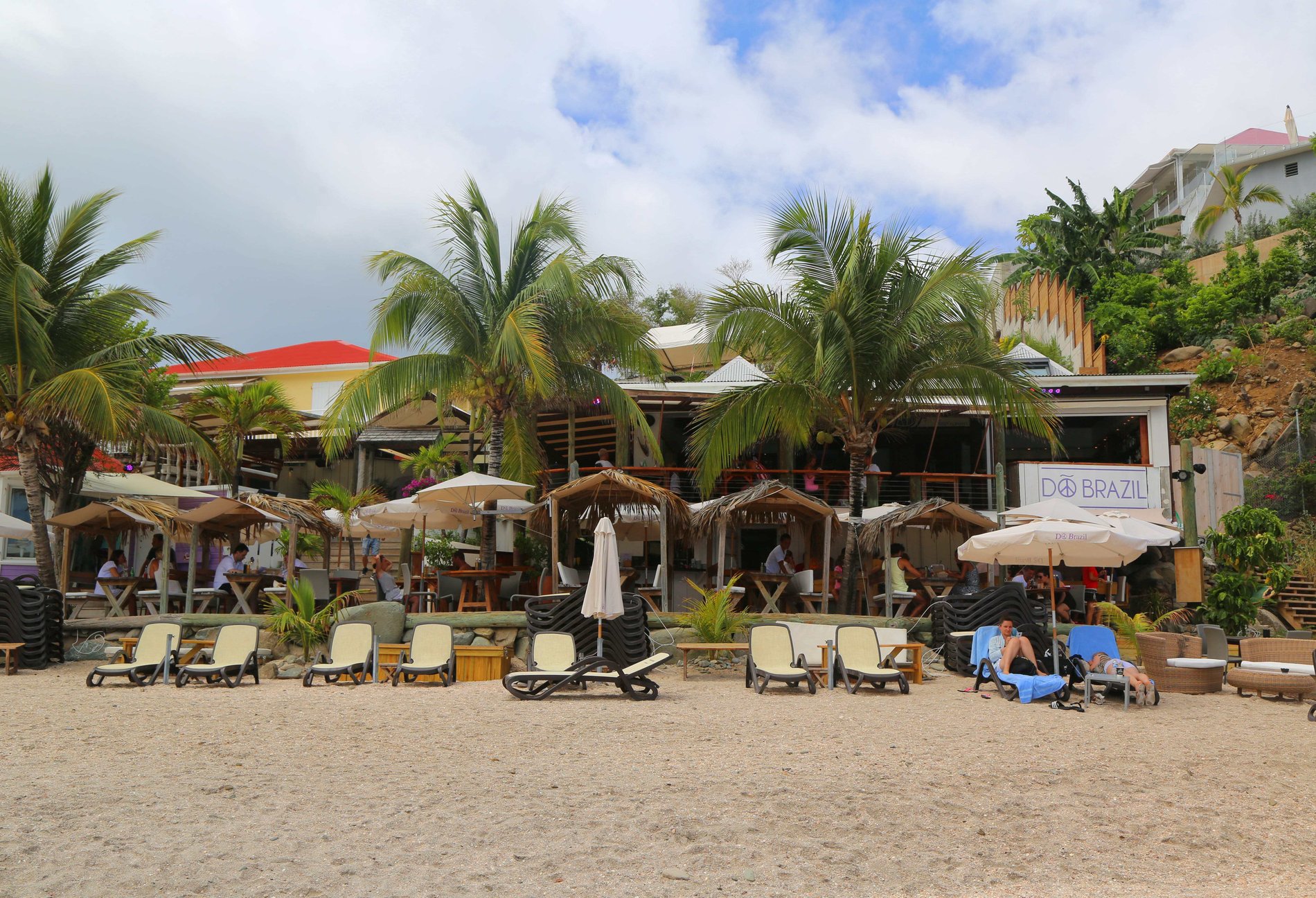 Visit the art galleries
St Barts hosts a variety of art galleries, exhibiting collections from modern contemporary artists and lively local painters. The Space Gallery, Clic, Caribbean & St Barts Gallery, Pati's Gallery and the Eden Gallery are select favourites on the island. Look around the stunning displays, which hold collections from critically acclaimed artists and also offer opportunities to purchase some of the impressive pieces.