Search for your ideal Cruise
Ocean cruises in St Thomas
The second largest of the three US Virgin Islands, St Thomas lies just east of Puerto Rico and was snapped up by the United States from its previous owner Denmark for $25million back in 1917. Fringed by the Atlantic Ocean on the north of the island and the considerably warmer Caribbean Sea to the south, there are more than 40 different beaches to choose from and a litany of watersports from scuba diving and kayaking to parasailing and paddleboarding. Temperatures rarely fall beneath 23°C, no matter what time of year, and though St Thomas may be technically part of the US, its colourful buildings, hammock-strewn beaches and the ever-present sound of steel drums, means you'll feel a world away.
Why cruise St Thomas
Its prime location within the Caribbean means that St Thomas enjoys a rich tapestry of maritime history, thick with tales cloaked in pirate legend. Rumours of buried treasure and blazing frigates abound, while local documents show that the island's governor in the 1680s even provided refuge for pirates in exchange for a cut of their ill-gotten bounty. Cruising through the high seas in the wake of some of the most notorious seafarers of all time is an experience of its own, and sets you up for exploring the island's saltier past.
Cruise ships arrive at either Crown Bay or Havensight docks, both are a five-ten-minute taxi ride from the main town of Charlotte Amalie. With three docking sites in Havensight and another two at Crown Bay, the island is more than well prepared for cruisers, welcoming 1.5million cruise passengers each year.
One major plus for many cruisers is that the capital of Charlotte Amalie is known for being 'the duty-free shopping capital of the world'. You can bring home $1,200 (more than £800) in goods without paying duty, twice the limit of other Caribbean islands. There's a wealth of shops to be explored in the well-serviced port and in downtown Charlotte Amalie, and there are said to be more than 300 artisanal jewellery shops on the island.
find your perfect cruise
Search the best cruises to St. Thomas and the Caribbean
Iconic ports
Best Places to visit in St Thomas
Charlotte Amalie
Thanks to its stunning natural beauty, elegant dining and upmarket shopping, the capital of St Thomas has a sophisticated, cosmopolitan atmosphere. In other words, you might like to leave the 'Kiss me quick' Tshirt on board for this one. If you can twist your tongue around the Danish street names in the historic district (a hangover from the island's previous occupancy), you'll find impressive colonial architecture; proud colourful buildings with wrought iron wraparound balconies overlooking cobbled streets. Stop for photos at Fort Christian with its proud clocktower marking the minutes, a somewhat futile activity given that things run very much on Caribbean time here. Red-roofed villas tumble down towards the sea towards knock-out beaches like Magen's Bay, with its sapphire-blue waters and powdery white sand. Watch birds dive into the water for their lunch, stroll along its mile-long coastline or laze on a sun lounger, ice cold rum punch in hand. It's worth noting that Charlotte Amalie is not only the biggest town. It's the island's only town.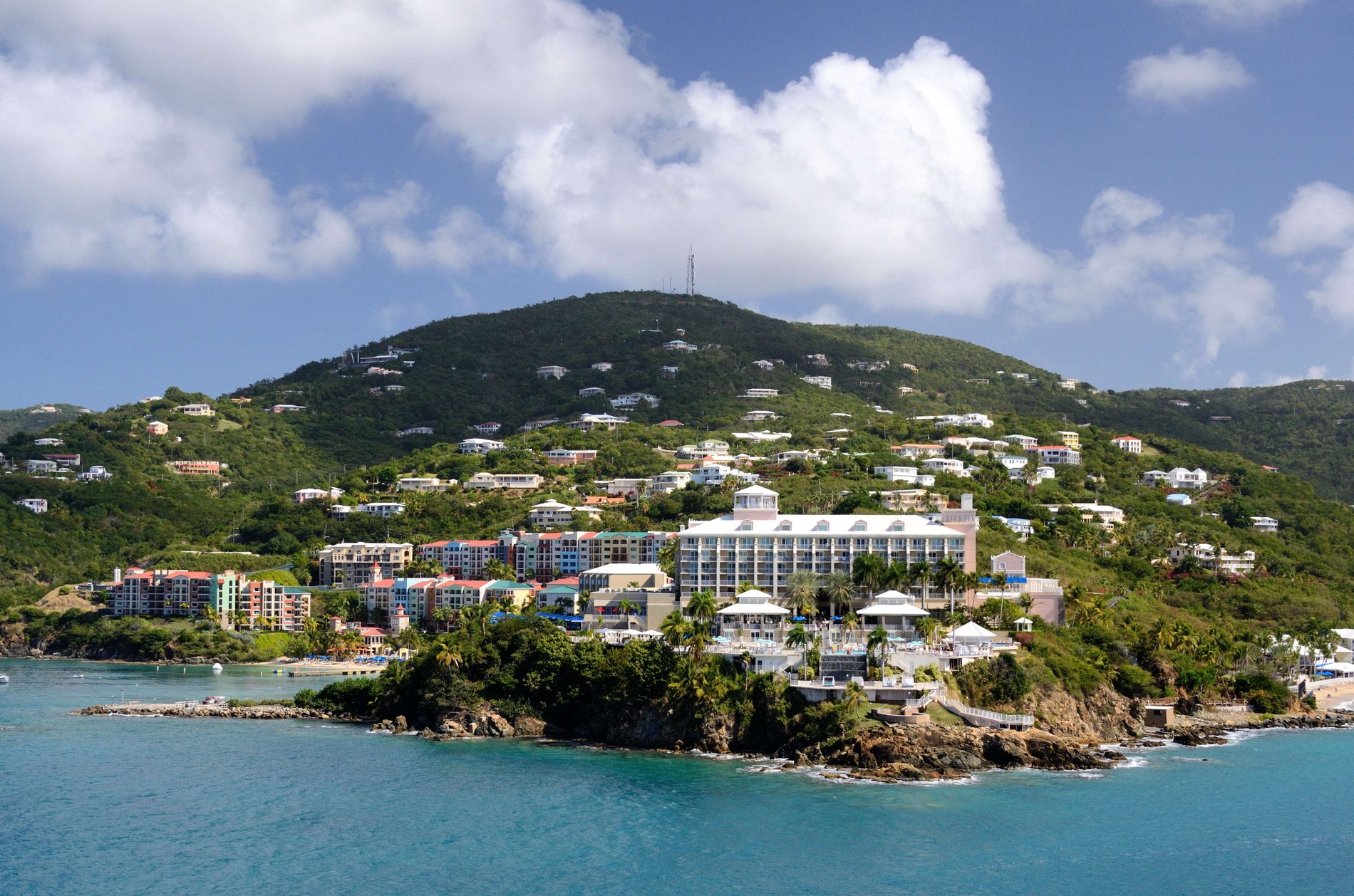 Crown Bay
Formerly a United States naval base in the 1940s and 1950s, Crown Bay is now a thriving commercial shopping destination offering first-class retail and dining as soon as cruisers step off their ship. You won't find any major attractions within walking distance from the Crown Bay Dock (the majority of sights are closer to the town of Charlotte Amalie, a five-minute taxi ride away) but there are some wonderful beaches nearby. Try Brewer's Beach, a favourite with local islanders for its white sand scattered with an array of pretty sea shells, and fabulous snorkelling.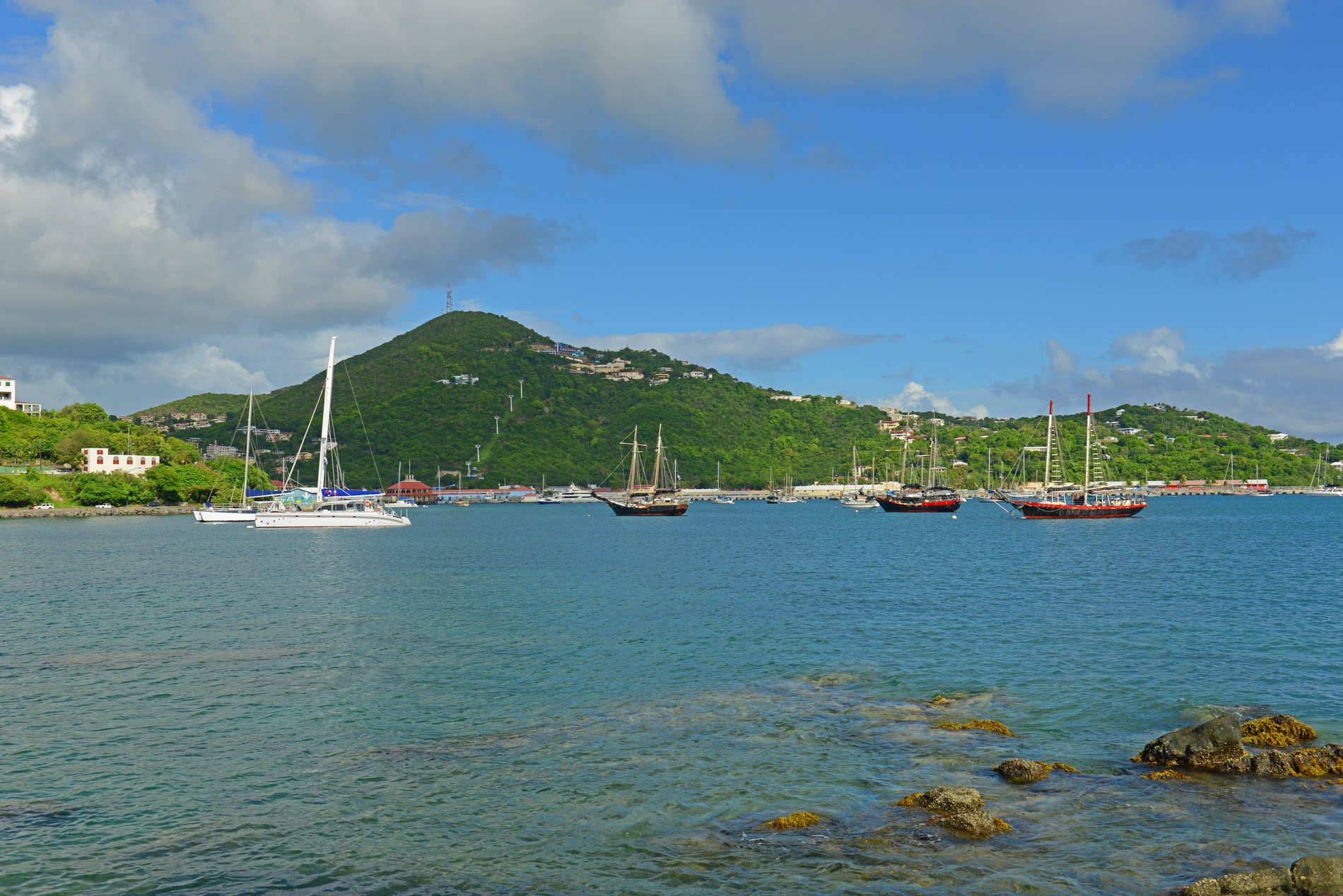 Best things to do in St Thomas
Discover the real pirates of the Caribbean
Learn about the island's colourful history at Blackbeard's Castle, perched on top of Government Hill. Legend has it that Edward Teach, better known as Blackbeard, used to stash his treasures here in the 18th Century, which is how the fort came by its name. Traces of the island's piratical history can be found all over, including several life-size pirate statues. Don't miss the chance to head up to hilltop location Drake's Seat, where Sir Francis Drake (also a pirate) is said to have watched Spanish ships carrying valuable cargo as they left the port for the open sea, so that he would know where to follow and plunder them later.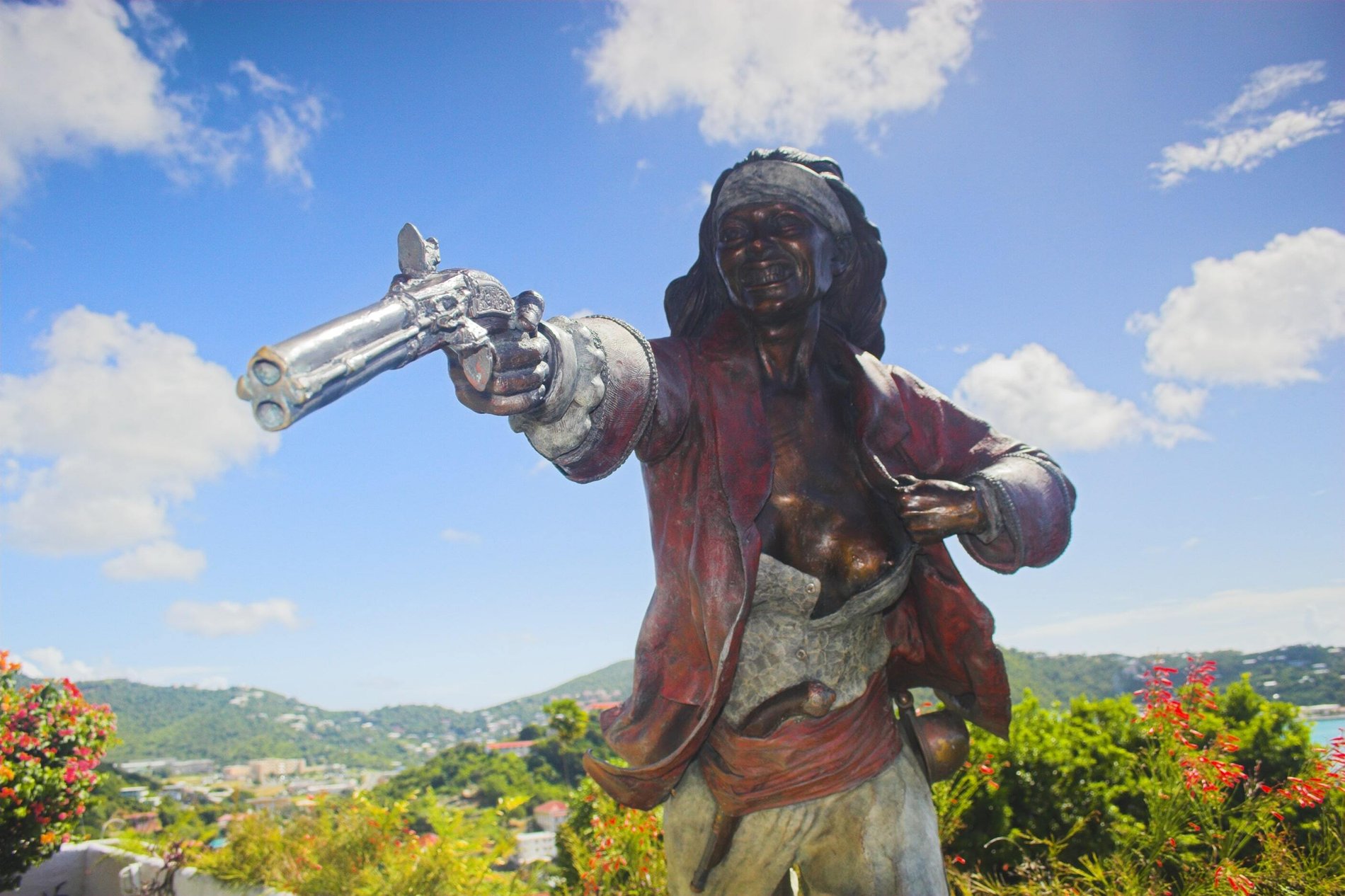 Trek along the ocean floor
Donning full scuba gear isn't always practical when you're only on shore for a few hours. At Coral World Ocean Park, cruisers have the chance to don a specially designed helmet and walk across the sea floor, getting up close and personal with the coral reef's many colourful inhabitants. No diving certification is required (there is simply a rail to hold onto as you walk) and a guide leads you through glittering schools of parrotfish, silverslides, arrow crabs, and even the odd stingray or sea turtle. Prefer to stay dry? The park's Underwater Observatory Tower lets you descend 4.5metres below the ocean surface to check out the ever-changing marine life. Fish are completely non-captive and free to come and go as they choose so you never know what might swim by. It's worth timing your visit for the daily feeding at 1.40pm.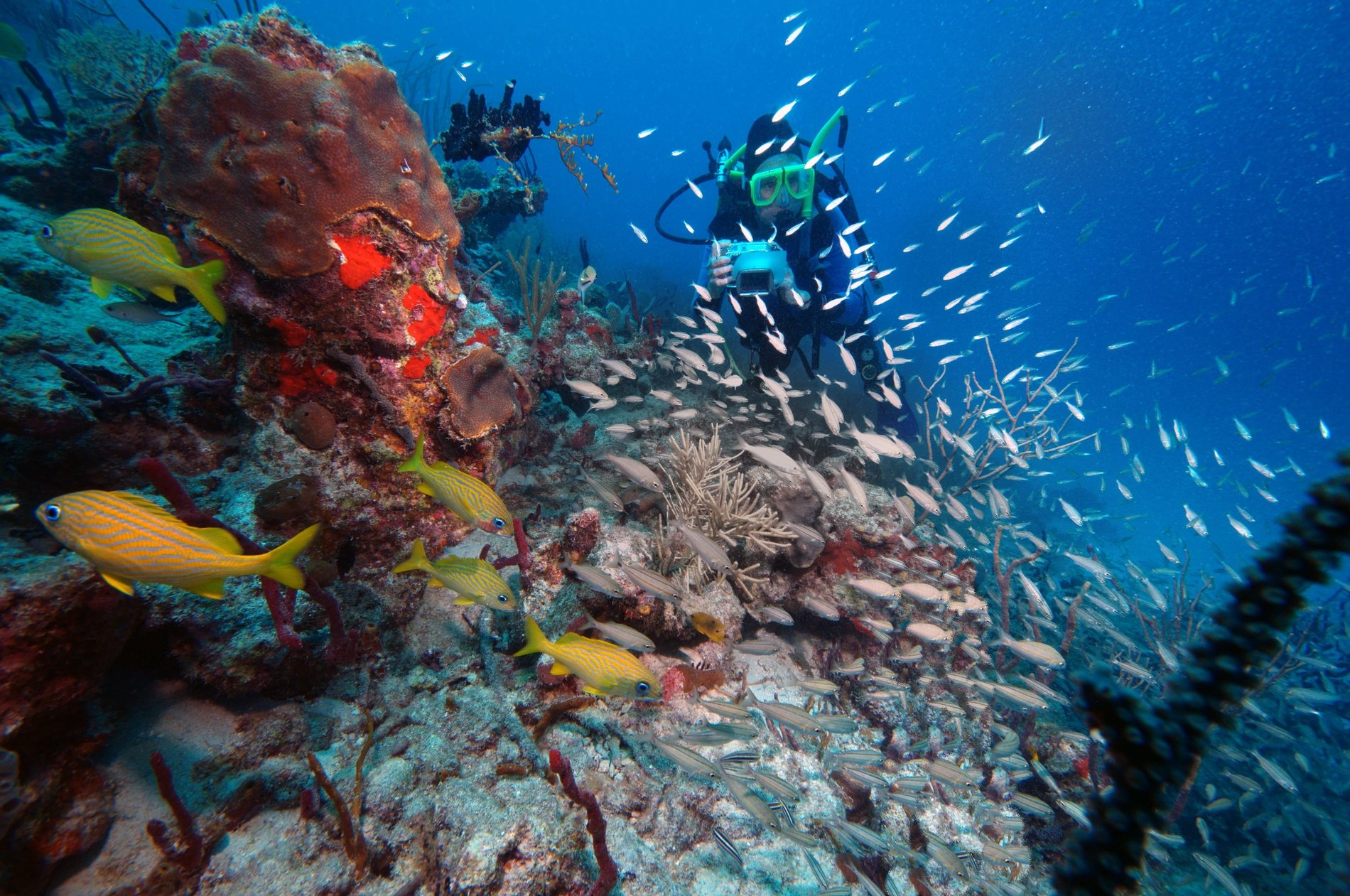 Get a head for heights
While the beaches on St Thomas are a big part of the island's appeal, much of the action and many of its most extraordinary views, lie well above sea level. Climb the historic 99 steps up Government Hill. The steps themselves are made from bricks fashioned from centuries-old Danish ship ballast. Take the airborne Skyride gondola up to an observation deck towering more than 200metres above Charlotte Amalie for some of the most dramatic views in the Caribbean. Or climb emerald-green Crown Mountain to stretch your legs. The local custom is to reward yourself at the summit with a banana daiquiri, a drink enjoyed by more than 3million visitors to this lofty point each year.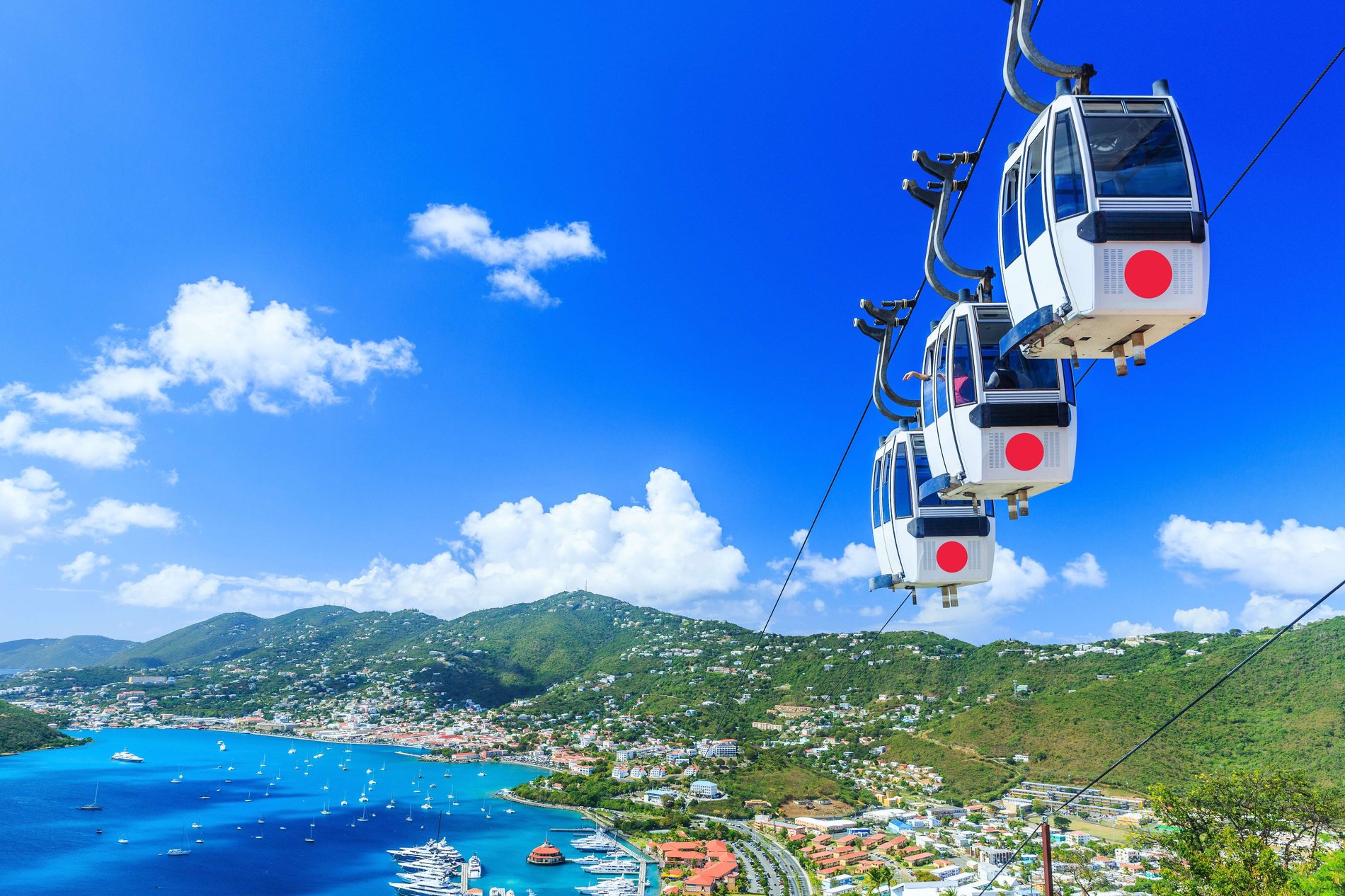 Hop between beach bars
There's no shortage of beachside bars here, serving tasty local fare such as conch fritters, johnnycakes (fried or baked cornmeal flatbreads) and chocolate-dipped coconut patties. The Virgin Islands are known for signature cocktail, the 'Painkiller', made with rum, coconut cream, orange and pineapple juices and nutmeg. Almost all beach bars will have a version of it. Or look out for a non-alcoholic local drink called Sea Moss, which is made with seaweed, milk, sweeteners, and spices.
Kayak through mangroves
Join a guided tour or rent your own kayak to paddle through a protected area of lush mangrove forest growing from a beautiful lagoon. Pass through narrow waterways between the trees, encounter wildlife like brown pelicans nesting in the trees and stingrays swimming in the clear water below and marvel at a rare geological blow-hole that sends a powerful blast of water sky high.