Search for your ideal Cruise
Ocean cruising in Greece
Greece cruises take passengers to stunning coastlines and idyllic islands. Scattered across the indigo waters of the Aegean and Ionian seas, Greece has more than 6,000 islands – sun-baked lands of faded fishing boats bobbing in emerald harbours and whitewashed villages stacked beside crumbling ancient antiquities.
Why choose Greece cruises
Greece cruises are the best way to take in as many of the Greek islands as possible, with a broad spectrum of cruise lines operating dedicated Greek island cruises or stops in Greece as part of Eastern Med itineraries.
Begin your journey in historic Athens, the epicentre of Ancient Greece and now a trendy lived-in city with a thriving café culture, before venturing out to explore island groups such as the Saronics, Cyclades, Dodecanese, Sporades and Ionians on your Greece cruise.
No two groups are the same, and cruisers to these islands await a world of perennial sunshine, tumultuous history, world-class beaches and plenty of ouzo. Yamas!

find your perfect cruise
Athens' port Piraeus draws in large lines such as Royal Caribbean, Celebrity Cruises, MSC Cruises, Princess Cruises and P&O Cruises, who also stop at big-hitter islands like Rhodes, Crete, Mykonos, Santorini and Corfu when cruising around Greece.
For a more intensive, intimate Greek cruise opt for lines Celestyal Cruises or Variety Cruises – small-ship sailings stopping at lesser-known, less accessible islands and groups.
Six-star lines such as SeaDream Yacht Club, Star Clippers and Seabourn also offer small-ship, port-intensive luxury sailings – many with overnight stays.
Find your perfect cruise to Greece
Showing 10 of 3389 results
Greece cruises: Best places to visit in Greece
Athens
The cradle of civilisation and the birthplace of democracy, drama and philosophy, 5,000-year-old Athens is a mesmerising capital - and a must-visit on cruises around Greece. Dotted between lively tavernas, leafy parks and hipster cafés, ruins of ancient temples and world-class museums can be found – all loomed over by the Acropolis, perched high on a rocky outcrop and visible from all over the city. The city pumps with energy, home to one of the world's best cocktail bars – The Clumsies – quirky street art and antiquities such as the Acropolis Museum, Parthenon and Ancient Agora of Athens. Wander the bougainvillaea-lined streets of old town Plaka to trendy Syntagma for fusion restaurants and modern shops. Venture just 30 minutes from the city for the Athens Riviera with its sandy beaches and the Temple of Poseidon.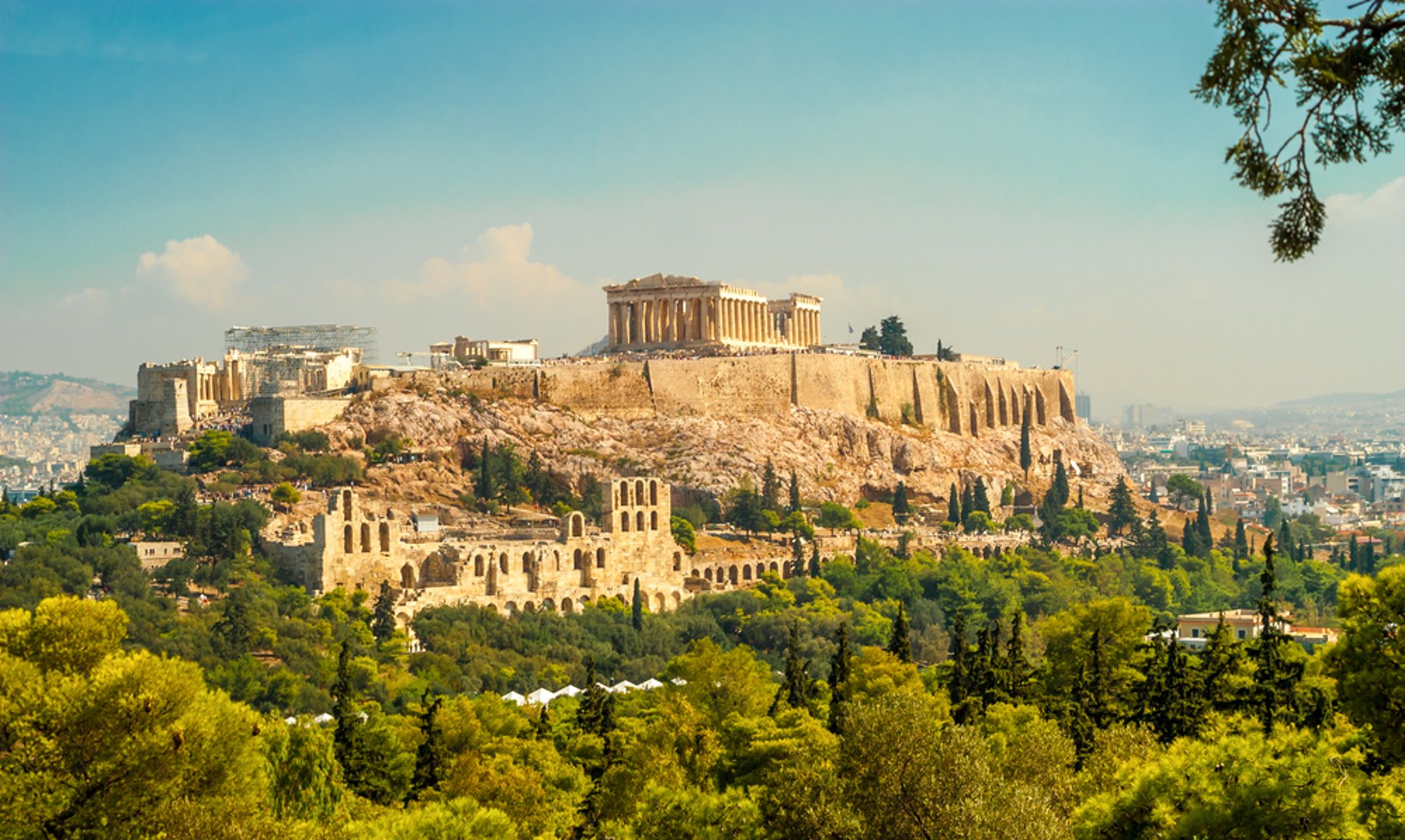 Rhodes
Rhodes is the largest of the Dodecanese islands, just off the coast of Turkey and a popular stop on Greek islands cruises. The island is renowned for its fantastic weather (300 days of sunshine a year), white sandy beaches and ancient ruins that make it akin to an open-air museum – having been occupied by the Knights of St John, the Ottomans and Italians, before returning to the Greeks. On your Greece cruise, start your journey in Rhodes walled old town, a Unesco World Heritage Site and a maze of Gothic arches, museums and the Street of Knights and Palace of the Grand Masters. An hour's drive from the port you'll find white-washed village Lindos with its own majestic Acropolis.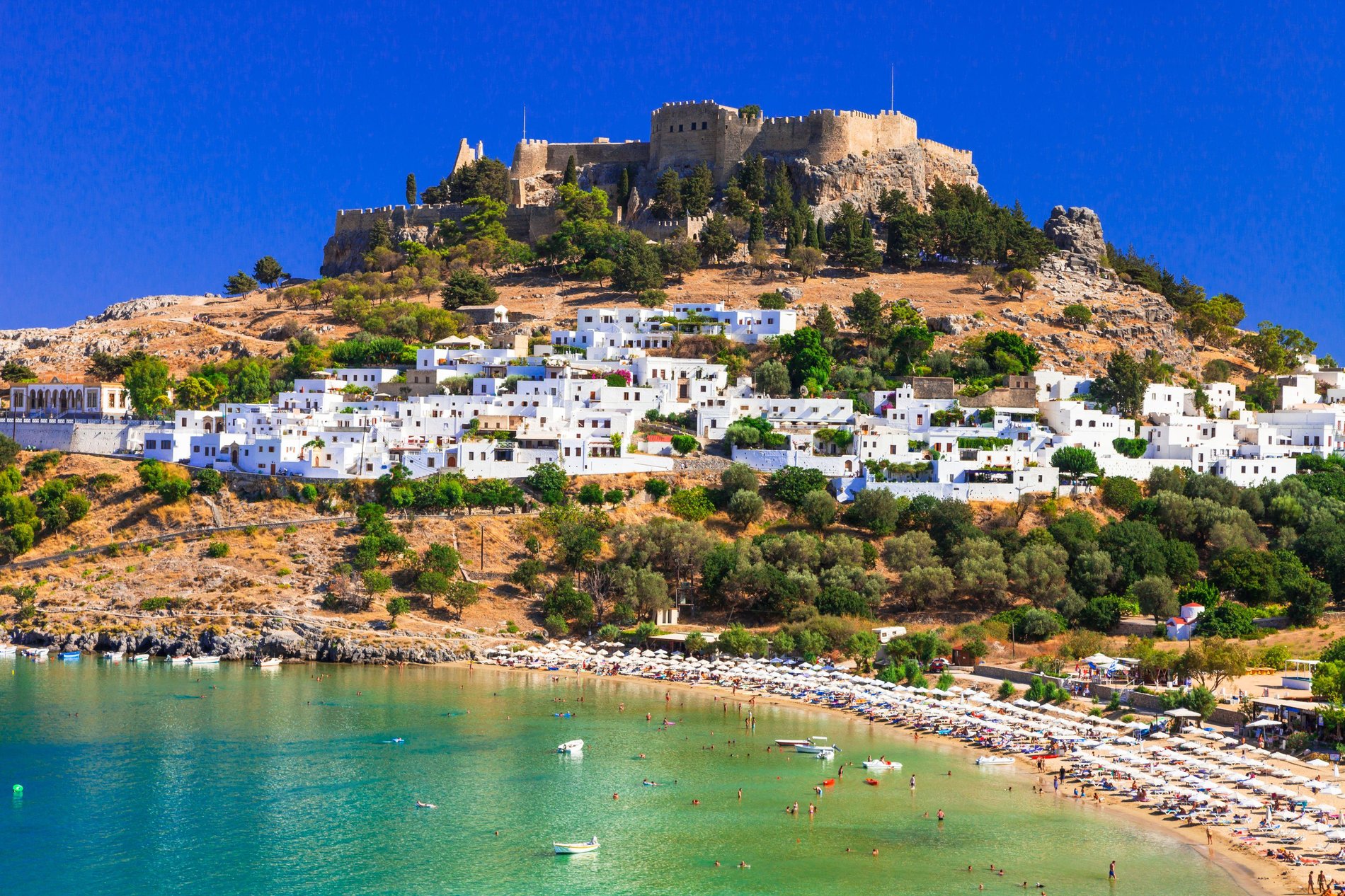 Santorini
Blue-domed hilltop churches, white windmills and sugar-cube houses tumbling down into the brilliant blue Aegean, Greek islands don't get more cinematic than Santorini. This volcanic island in the Cyclades has long captured the imagination of cruises travellers, who flock to its black sand shores for the iconic cliffside villages of Fira and Oia, breathtaking sunsets and taverna-lined promenades. Extreme beauty has resulted in Santorini packing out with ritzy restaurants, world-class wineries and five-star resorts, but you'll find peace in its ancient ruins (such as Akrotir and Therai) and volcanic hikes. Make sure to visit an Assyrtiko winery – where winemakers combat the strong Cycladic winds by binding vines to the floor. Touristy, but for a reason.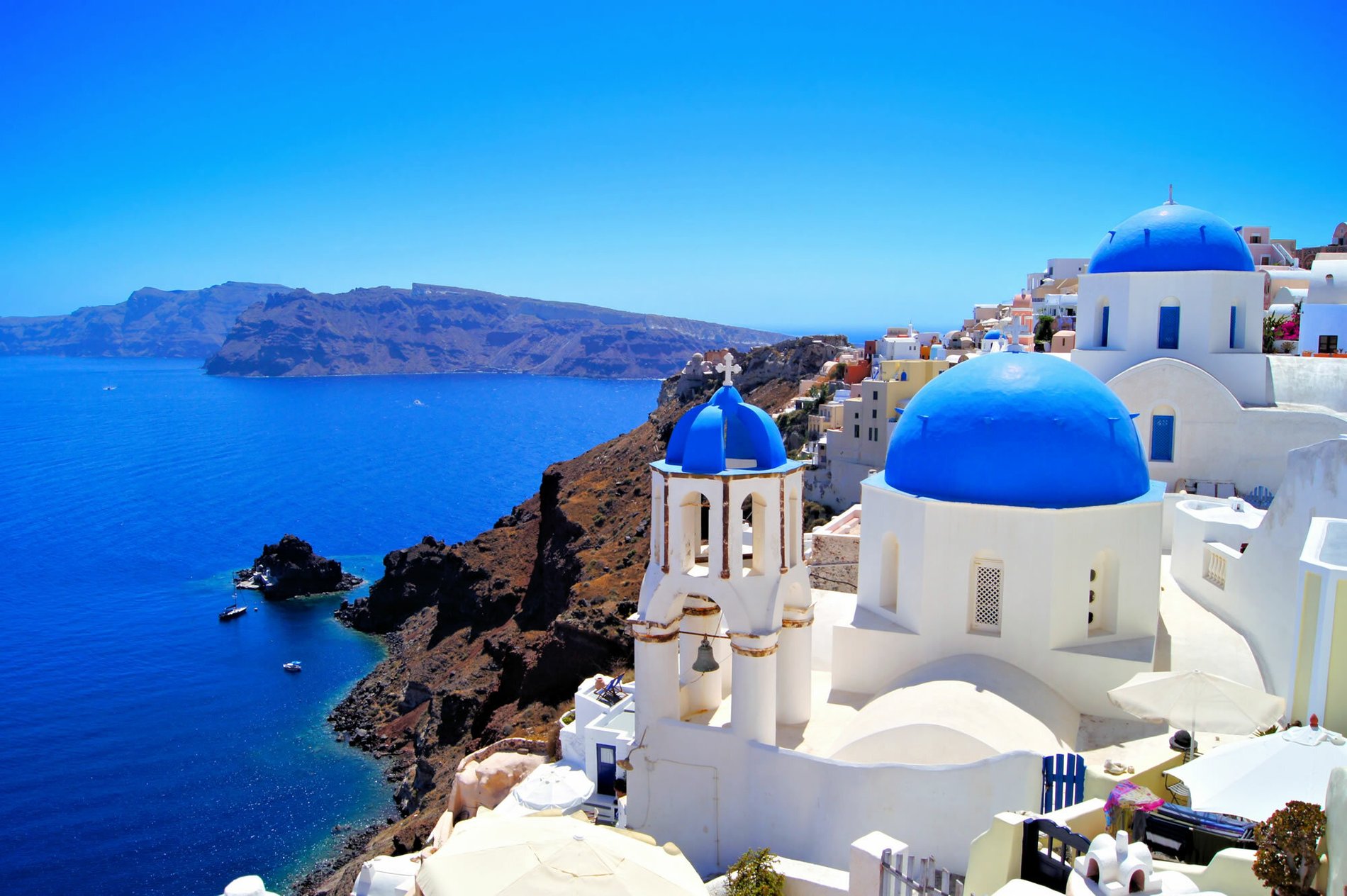 Hydra
A feeling of isolation is found on Hydra, a romantic island of squares, faded mansions, monasteries and maritime museums just off the Attica Peninsula. Stop here on cruises around Greece and you won't find any vehicles; the only way to explore is by foot or mule, leading to a stuck-in-time feeling that's attracted celebrities from actress Sophia Loren to musician Leonard Cohen. Sip on coffee and browse boutiques in the yacht-filled waterfront and marvel at once-grand mansions now home to the Athens School of Fine Arts. On this pretty island, hikers can enjoy views along the coastal path or take the stairs to Profítis Ilías monastery above the town. Most beaches are shingle or mixed sand and pebbles but offer peaceful relaxation.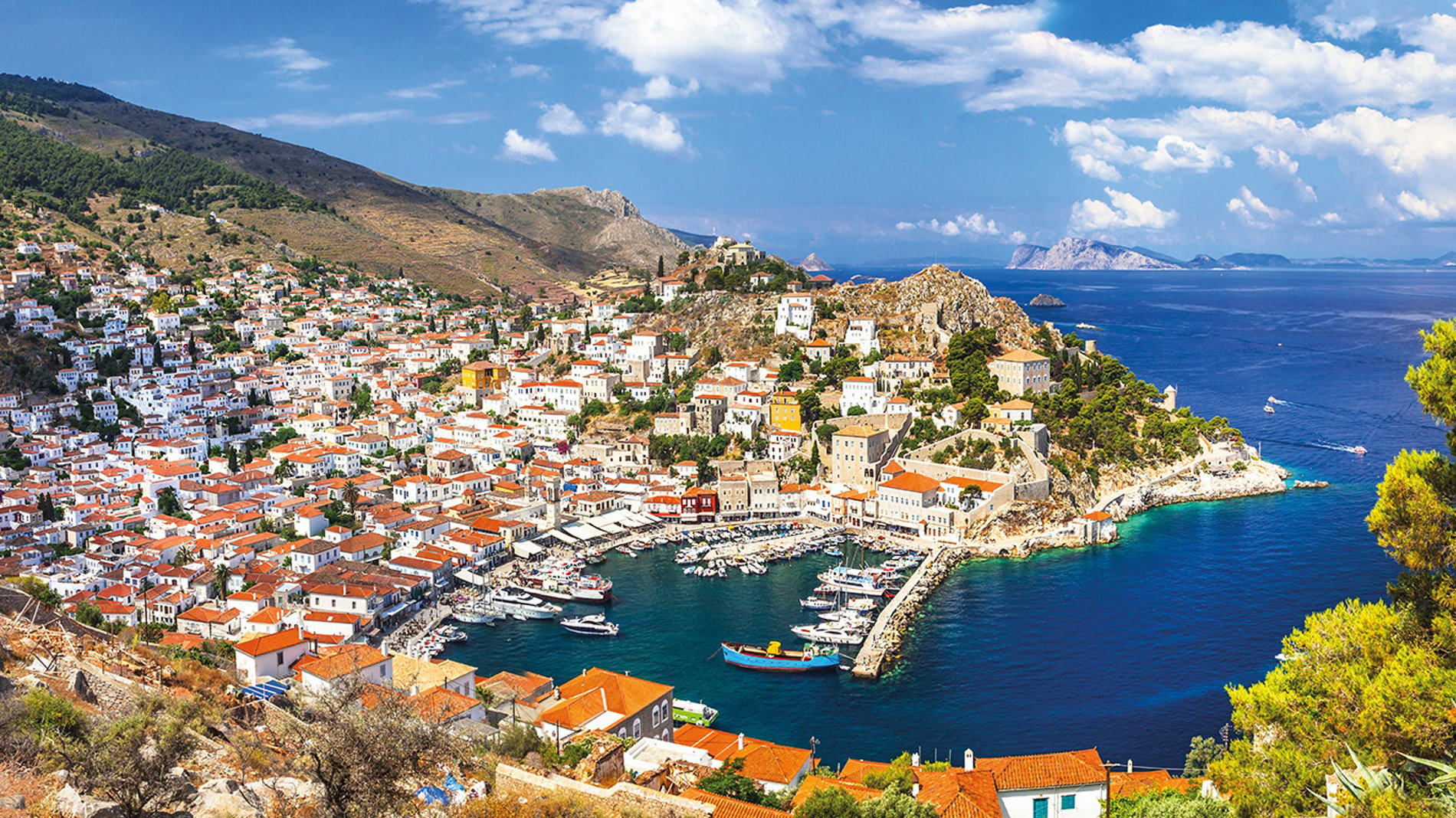 Paros
If someone were to describe the perfect Greek island, it would look a lot like Paros, with its dusty white villages, blue-topped buildings and shimming azure waters. Similar to Mykonos (but without the crowds and exorbitant prices), Paros is one of the lesser-known Cyclades islands, boasting 120km of largely untouched coastline and a mountainous interior scattered with tiny churches and abandoned monasteries. Parikia is the capital, a lively port with a handful of museums and a Cycladic windmill, but in the trendy fishing village Naoussa you'll find blindingly white alleys lined with bougainvillea, boutiques, waterfront tavernas and trendy cocktail bars. Head to the hinterlands on your cruise shore excursion for the traditional Greek mountain village Lefkes and Greece's oldest remaining Byzantine Church of Panagia Ekatontapyliani.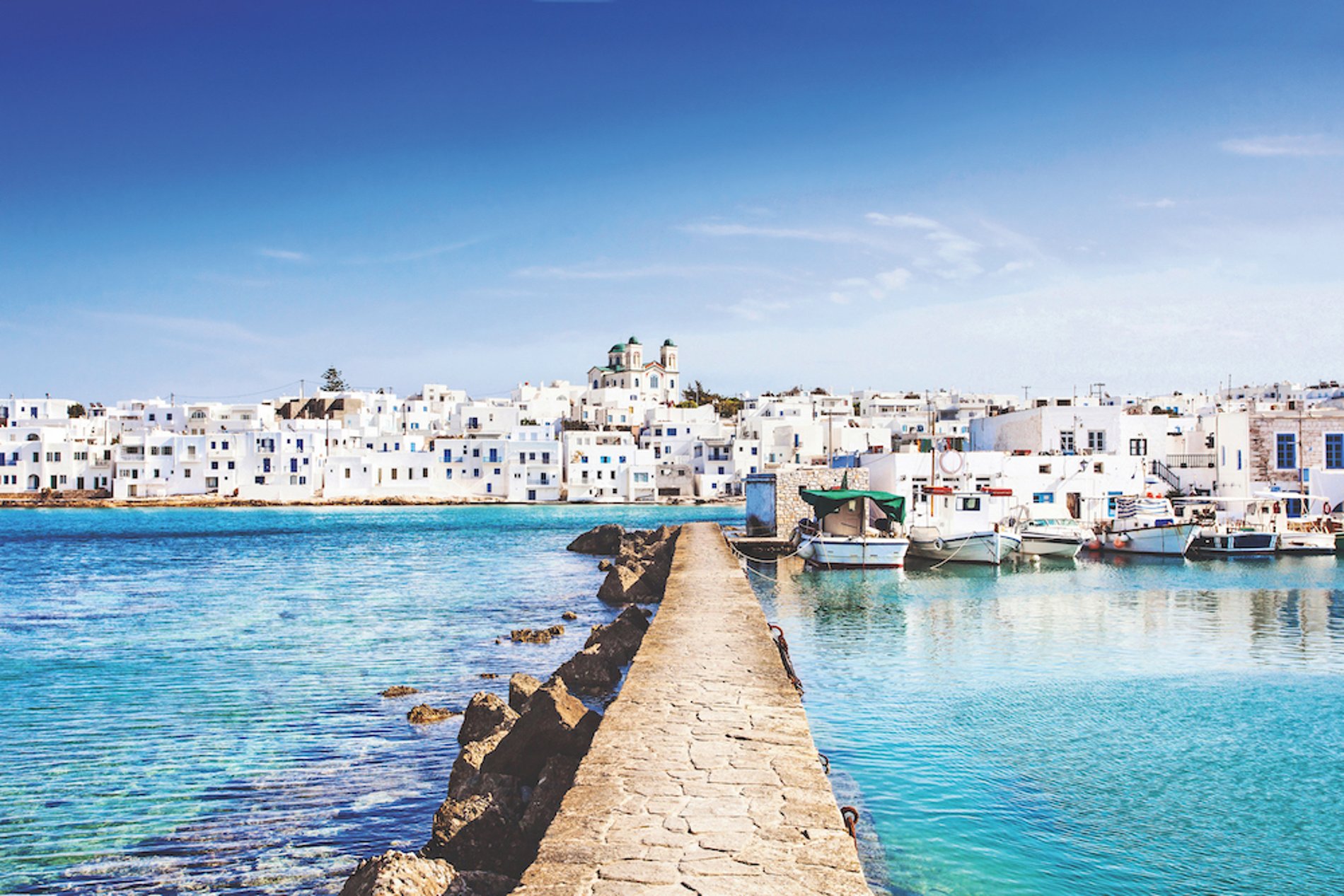 Crete
Crete is the largest of the Greek islands, far away from Athens and rich in its own history, culture and cuisine. Crete has two main cruise ports, the vivacious capital Heraklion with its fascinating Archaeological Museum, the ancient city of Knossos, and Chania, considered one of the most beautiful towns in Crete. If your Greece cruise holiday only affords you limited time in Crete, head to chilled-out Chania with its pretty Venetian Harbour and impressive old town hiding Turkish and Venetian architecture. The harbour has boutiques, coffee shops, tavernas and a picturesque lighthouse while the old town beckons with its cobbled lanes of faded colourful villas, mosques and handicraft stores. Powder soft beaches are also nearby, like Balos, Falassarna and Elafonissi.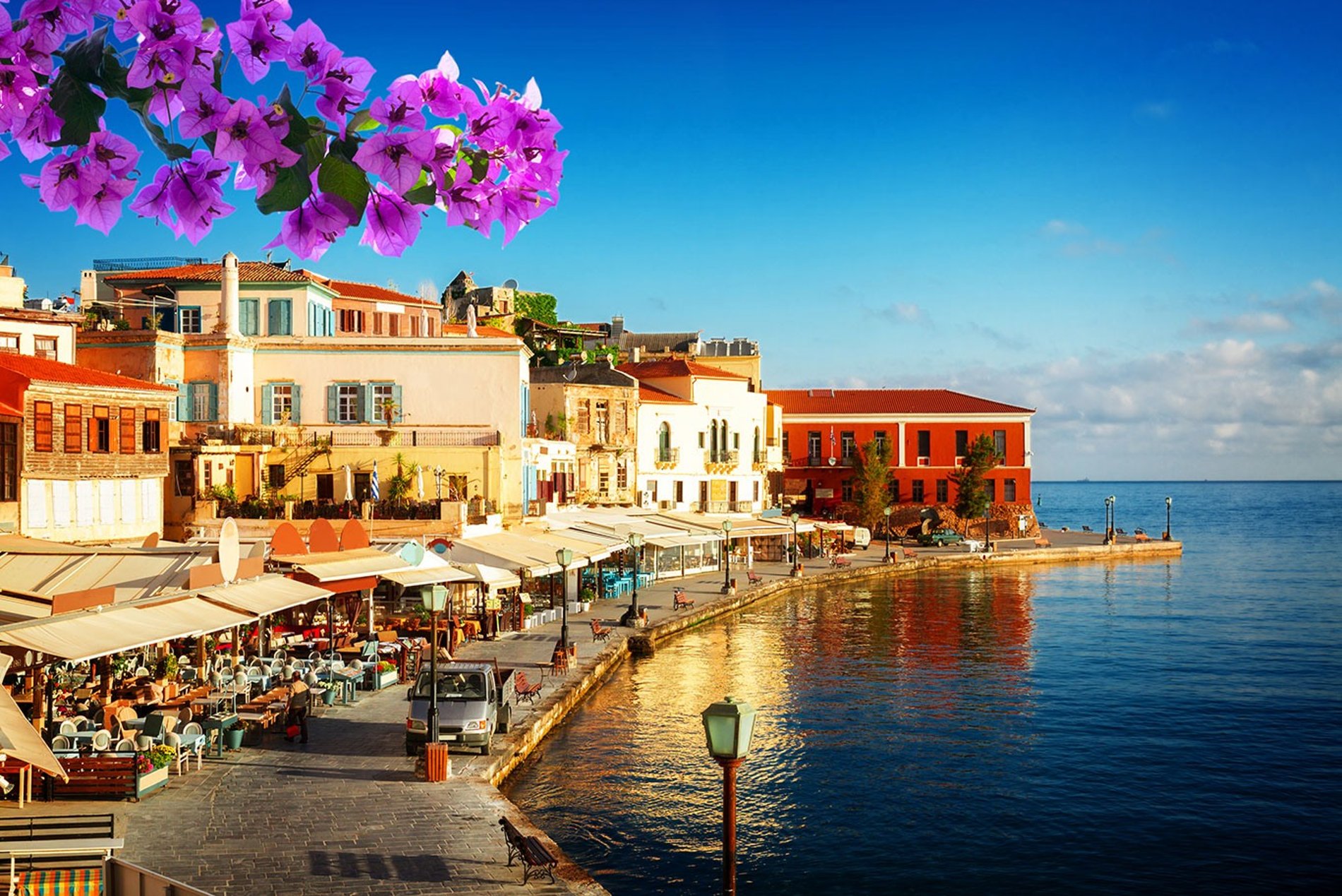 Corfu
Corfu is the most famous of the Ionian Islands, served by its modern and bustling cruise port of Kerkira. Unlike the rest of Greece, Corfu was never under Ottoman oppression, left with a rich heritage of Renaissance, classical and baroque architecture. Visitors can admire the Spianada – the celebrated town square adorned with 19th-century French architecture – as well as the incongruous Regency-style palace of Saint Michael and George. Corfu is also home to the sprawling Unesco-listed old town, Museum of Asian Art and the Archaeological Museum, housing finds from the Temple of Artemis. When you've had your fill of history, wander the island's hidden sandy coves, seek shade under orange trees and indulge in local treats such as mantolato – honey and almond nougat – and tsitsibira (ginger beer).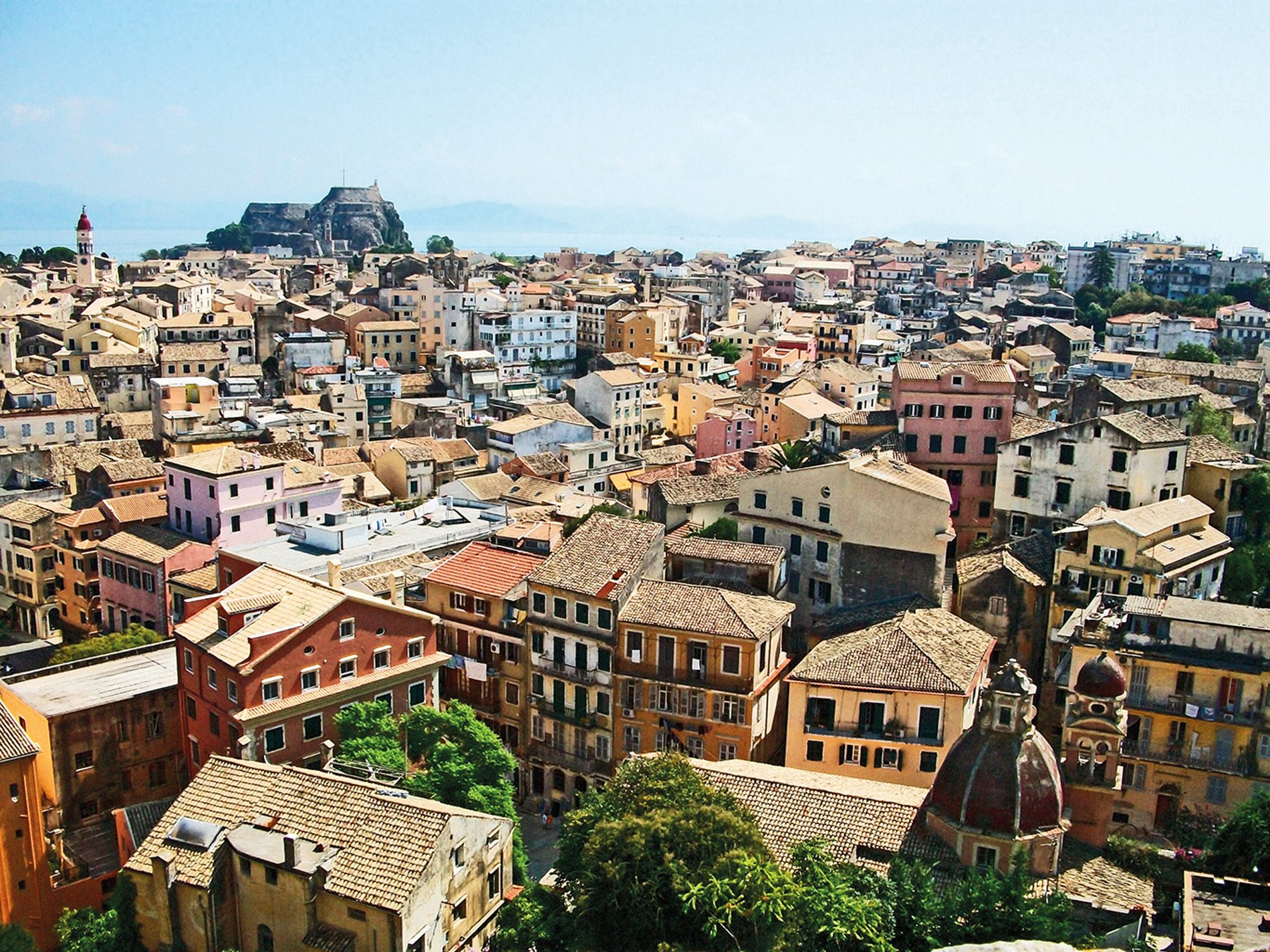 Delos
History lovers cruising Greece will go mad for Delos, an archaeological isle in the sun-bleached Cyclades archipelago that is entirely protected by Unesco. Delos is the mythological birthplace of Zeus' twins Artemis (goddess of hunting) and Apollo (sun god) and was therefore deluged with temples and statues dedicated to the great pair. The island is a sprawling open-air museum with relics dating back to the 1st millennium BC, the most famous antiquities being the Avenue of the Lions, Temple of Dionysus, a sprawling amphitheatre and the Archaeological Museum displaying treasures excavated from the site. Smaller cruise ships can dock in Delos while large-ship passengers can ferry from Mykonos.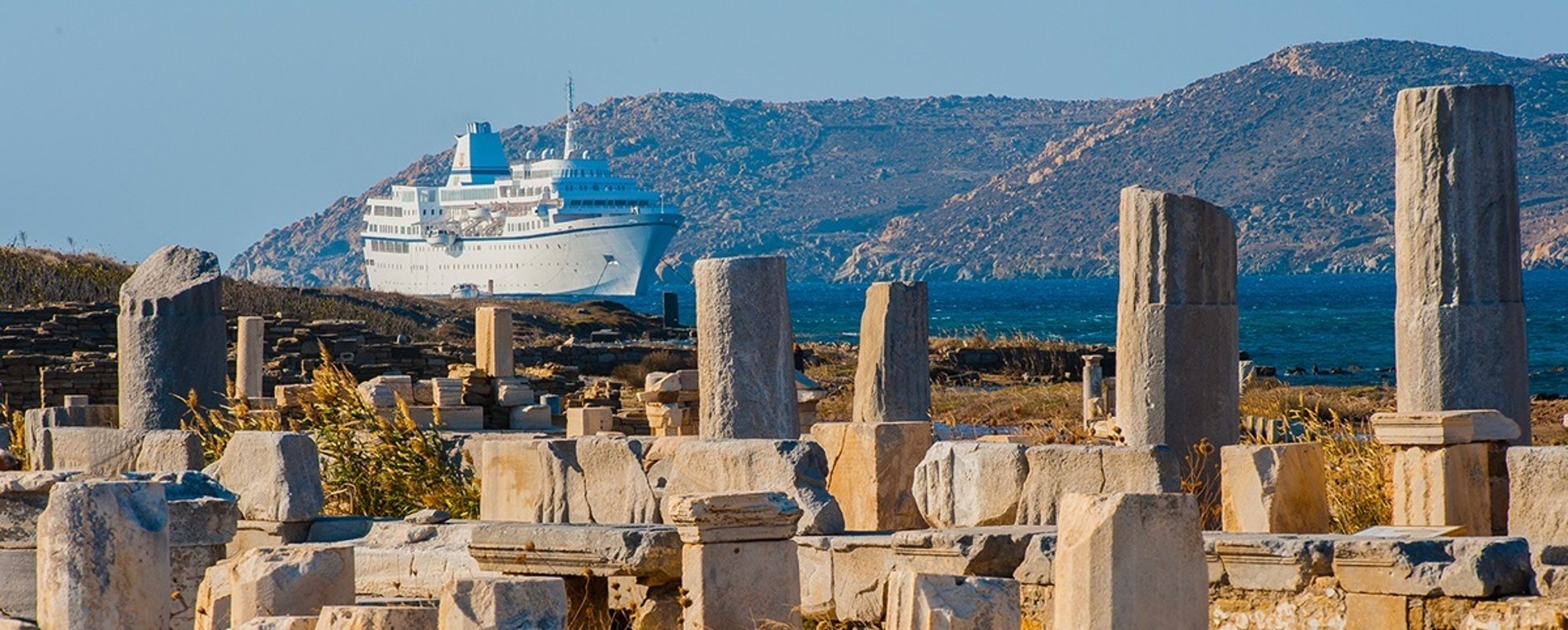 Iconic ports
Greece cruises: Best things to do in Greece
Explore ancient ruins
Greece has a fascinating history dating back thousands of years and the land we know today was ruled by ancient Greeks, Venetians, Ottomans and the French. Islands are scattered with ruins and historical landmarks, so make sure to hunt any down when hopping ashore on cruises that go to Greece.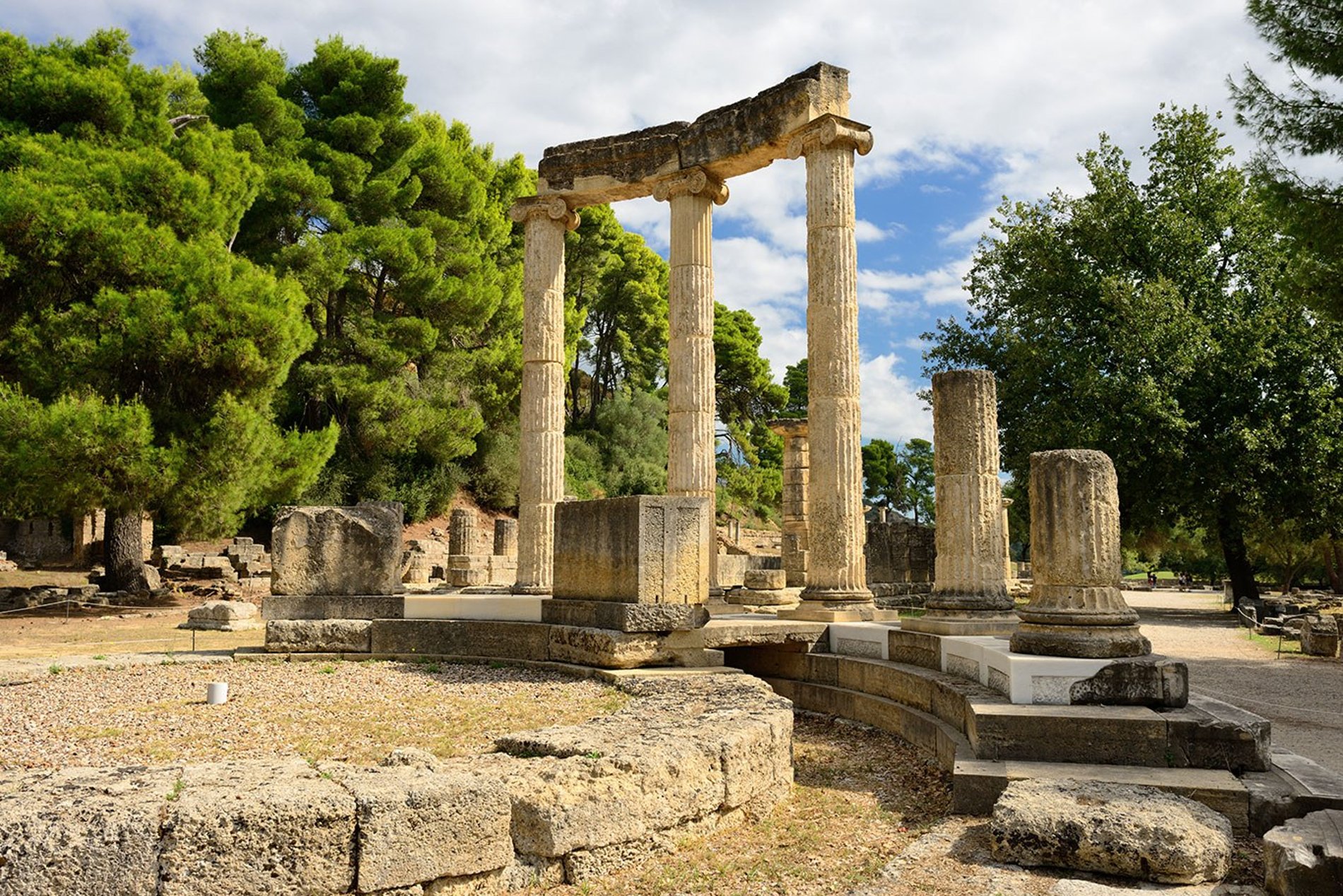 Dine in a taverna
Sample Greek hospitality by heading to a waterfront or lively backstreet taverna for the freshest seafood, Greek salads, juicy souvlaki and plenty of ouzo and Greek wine.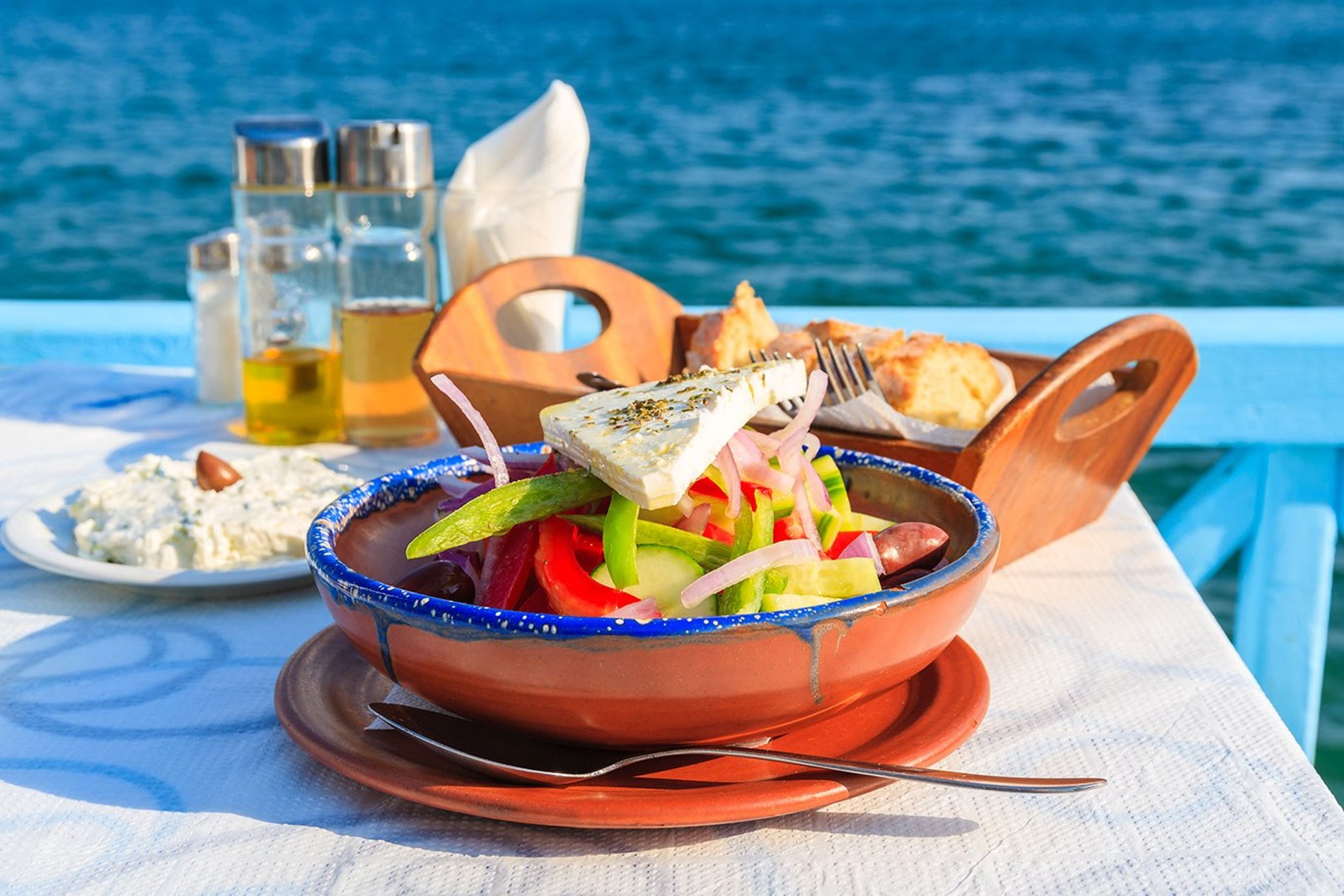 Hire a boat
You may arrive by cruise ship, but with picture-perfect coastlines a boat is actually best way to take in the Greek islands. Rent a small motorboat or book onto a tour to venture out to small inlets, caves and swim in gin-clear waters.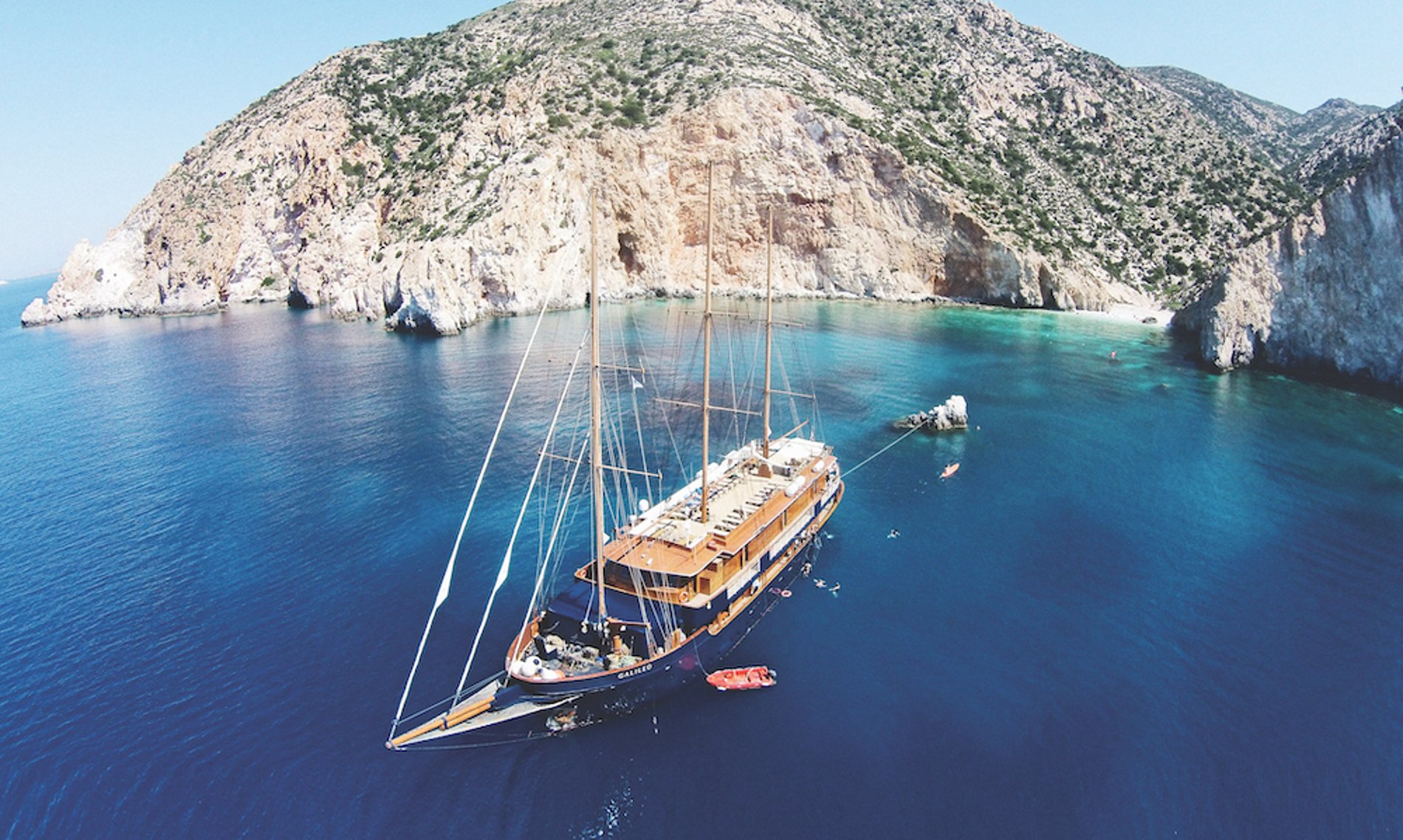 Visit a winery
Santorini and Crete are famous for their wines, Santorini with Assyrtiko and Crete for its Provence-style rosés enjoyed around the country. Make sure to visit a local winery even if not visiting these islands.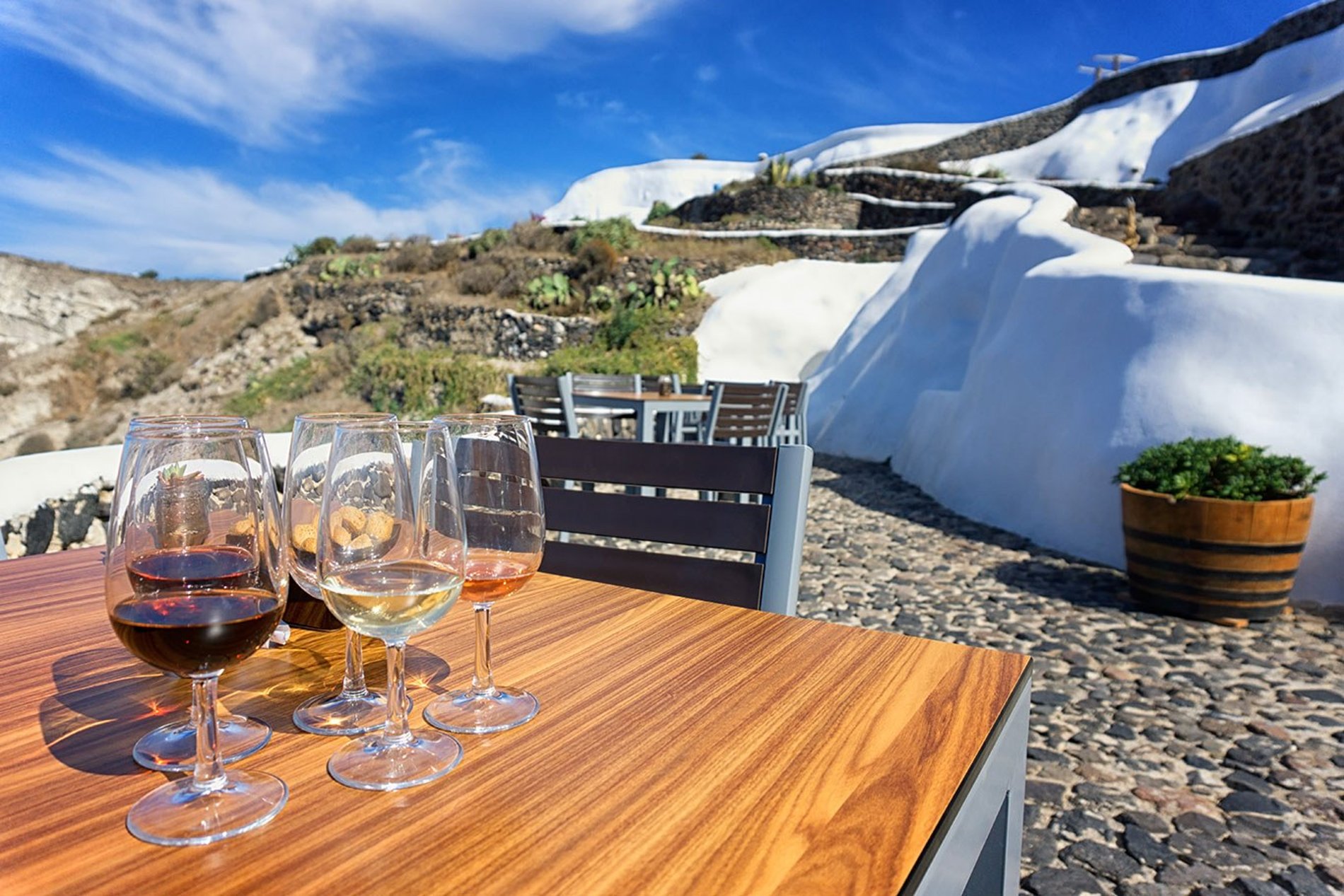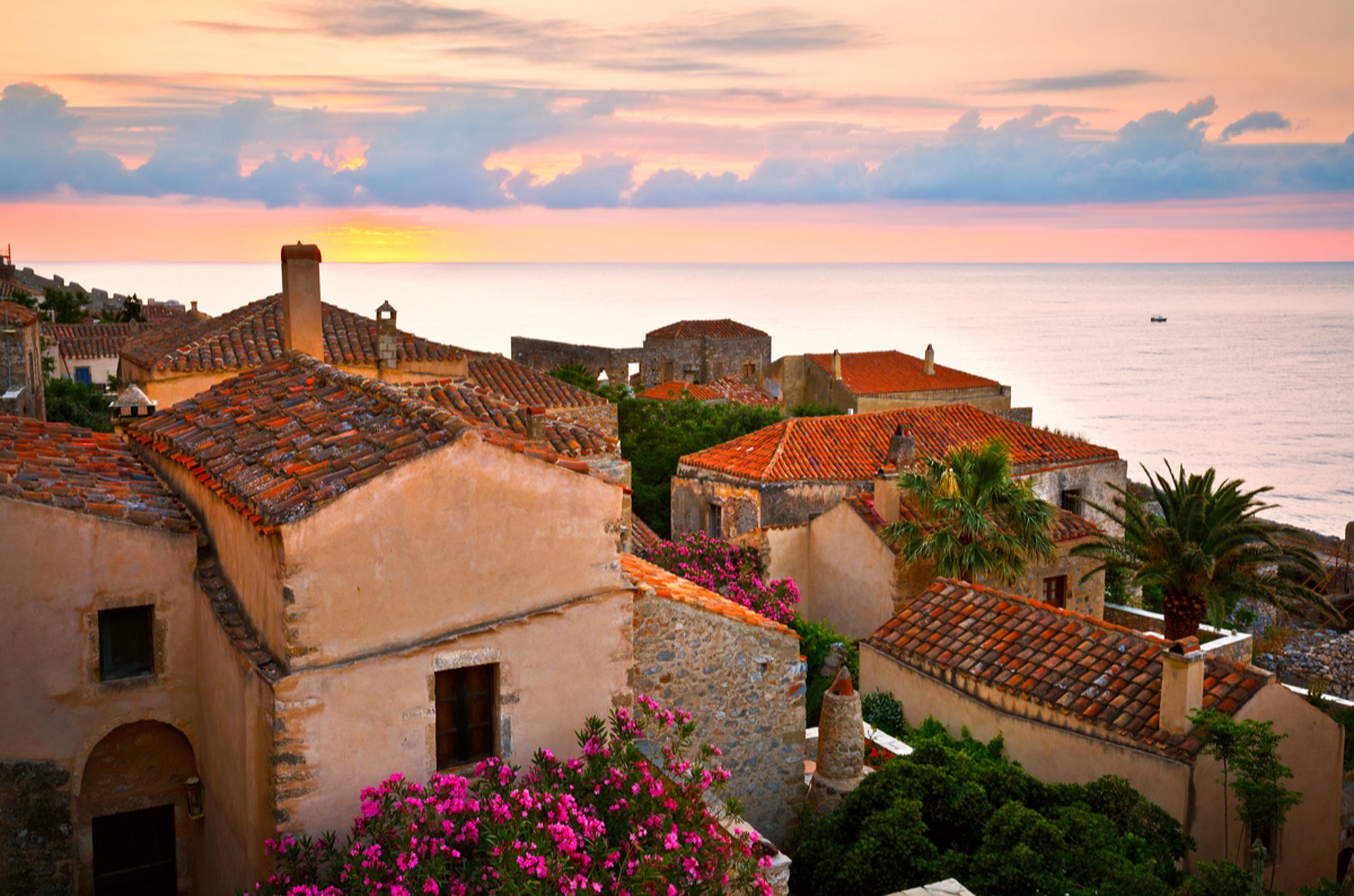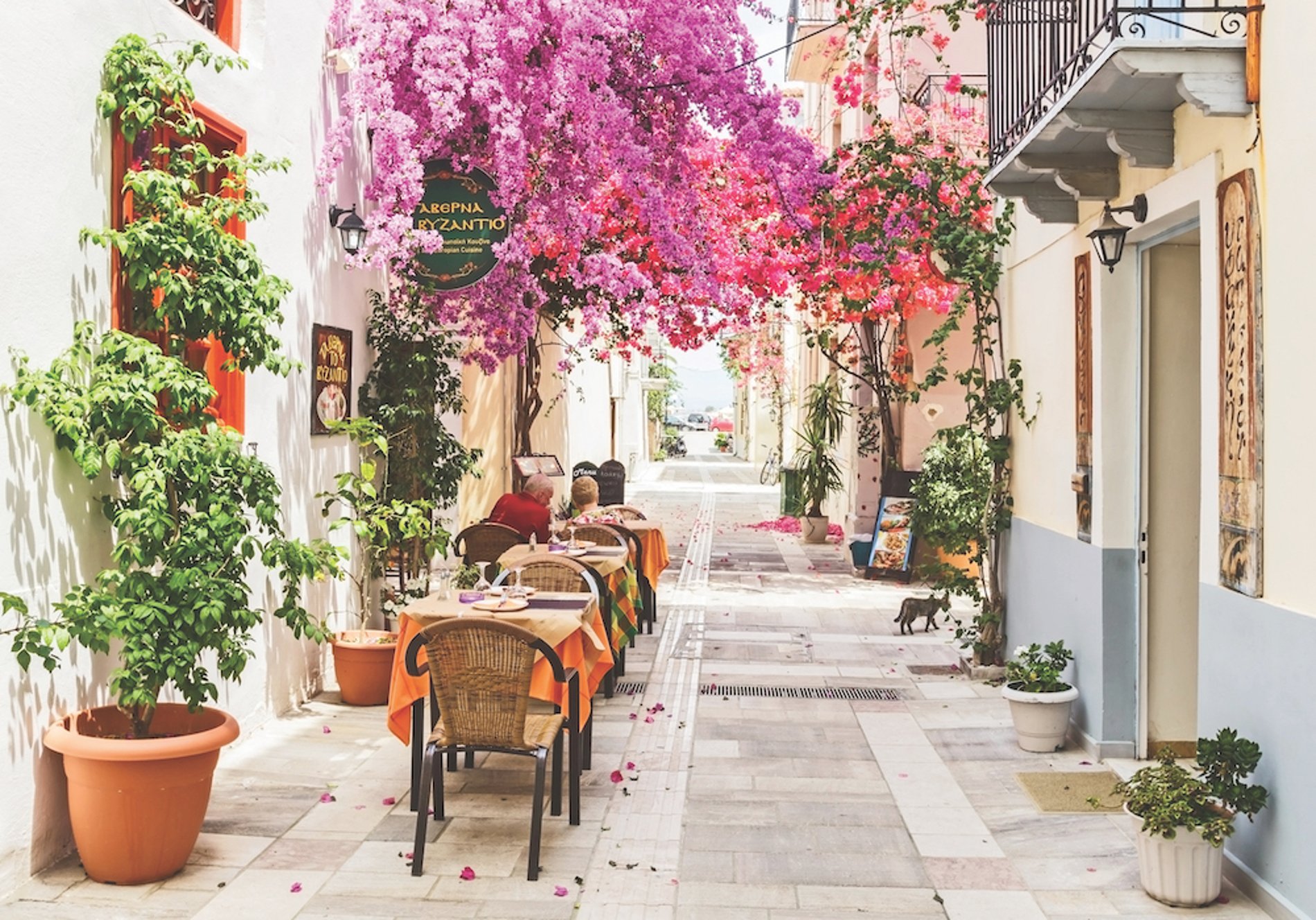 Nafplion, a beautiful town in the Peloponnese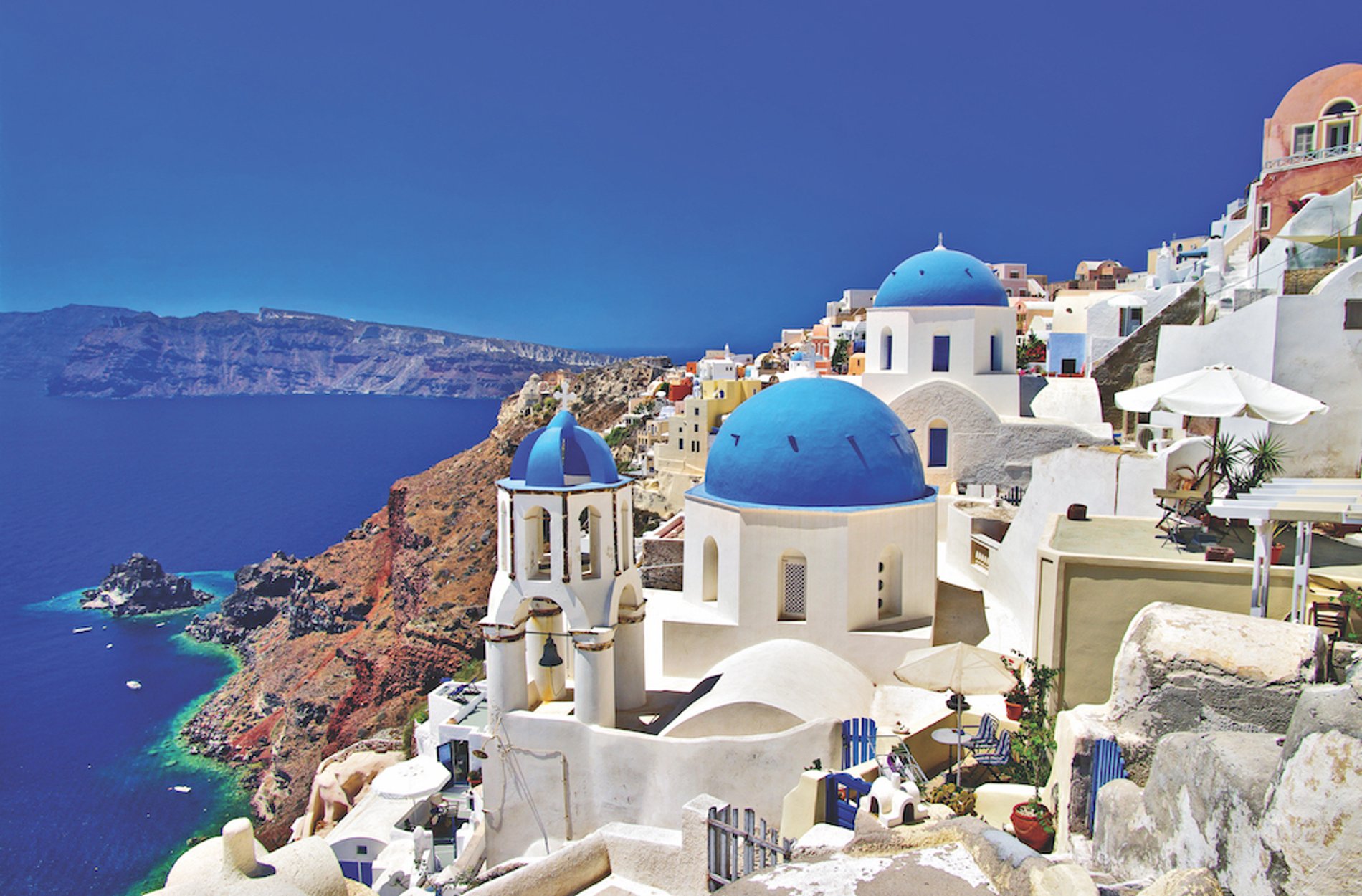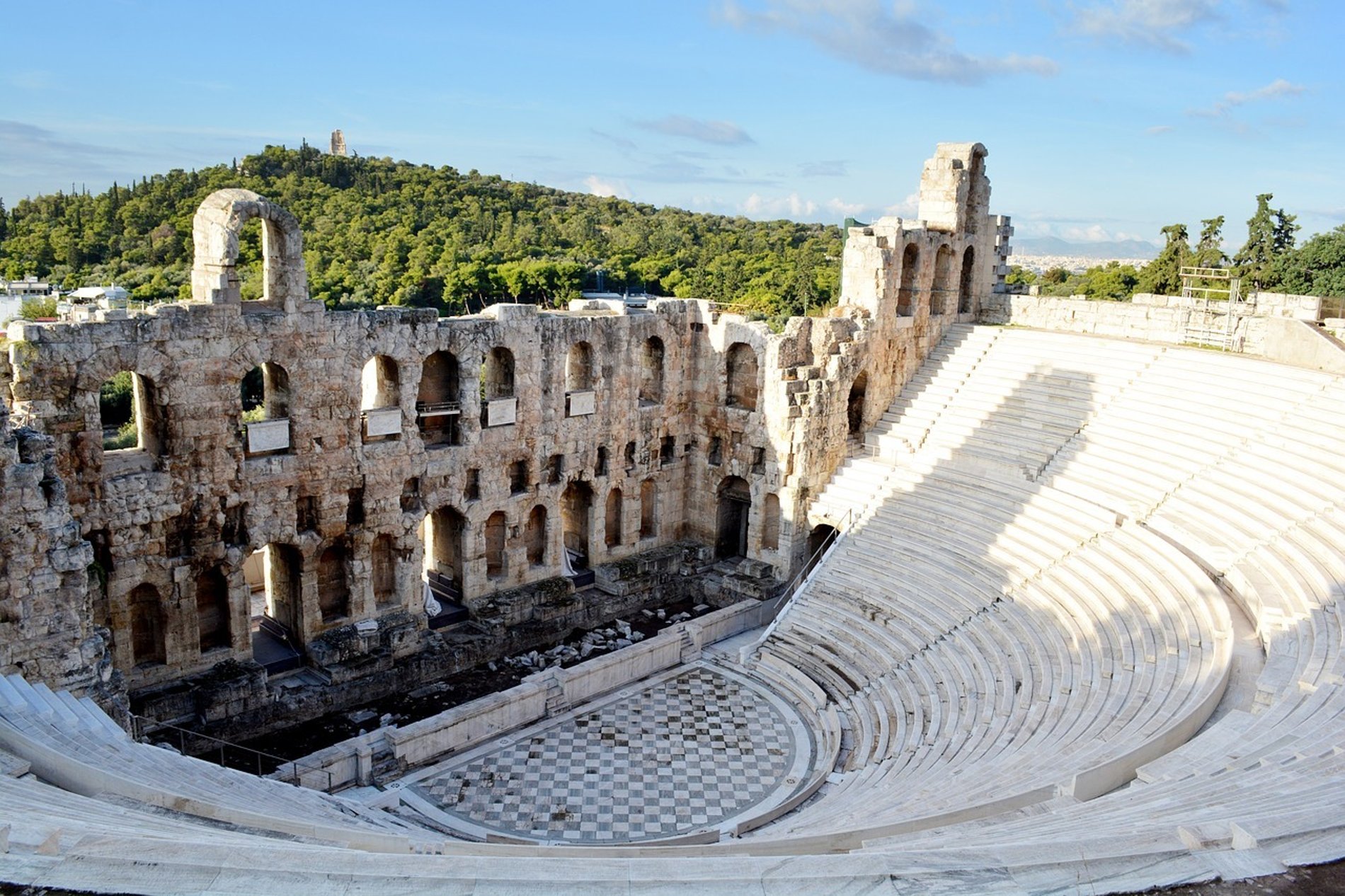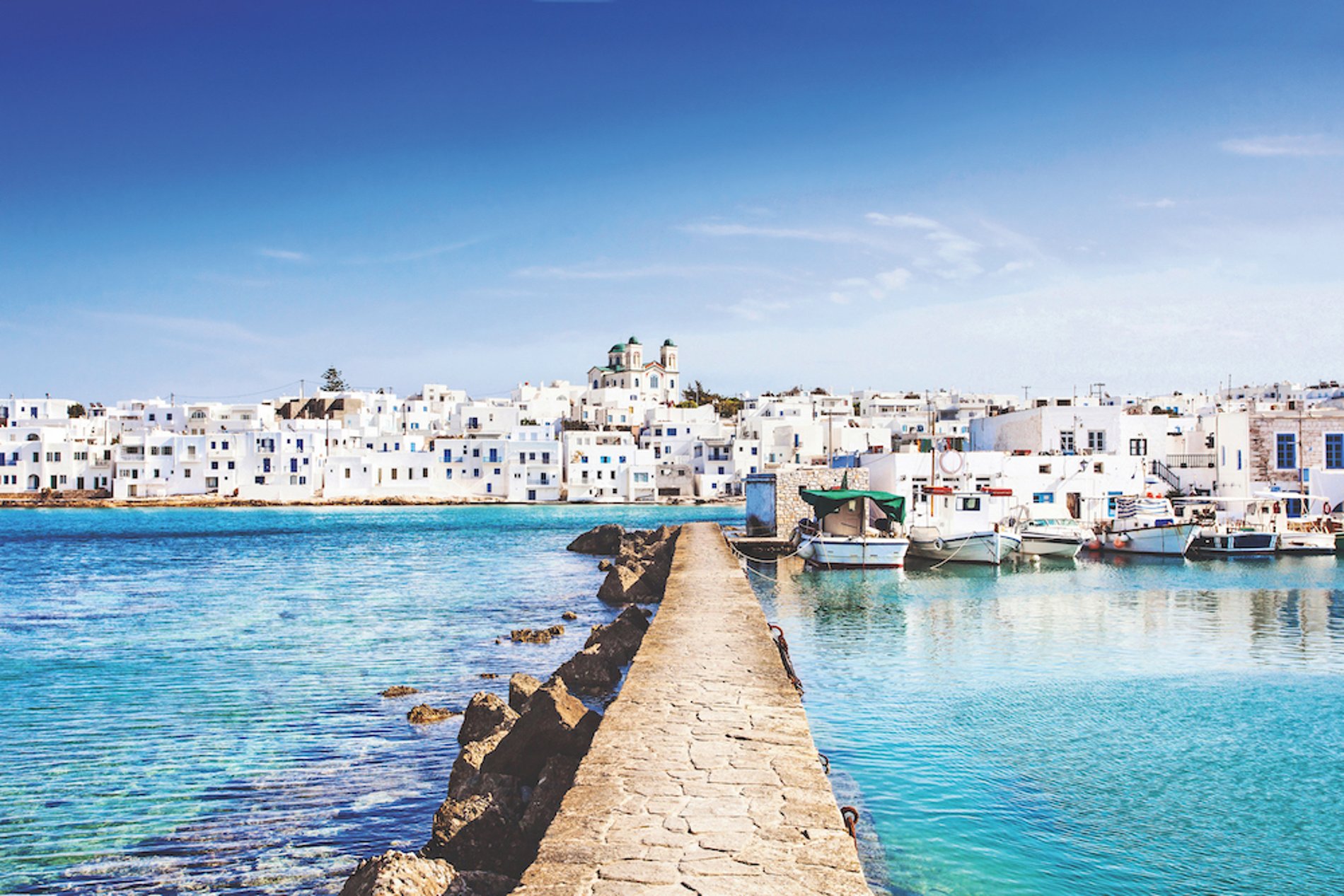 Port calls include idyllic Paros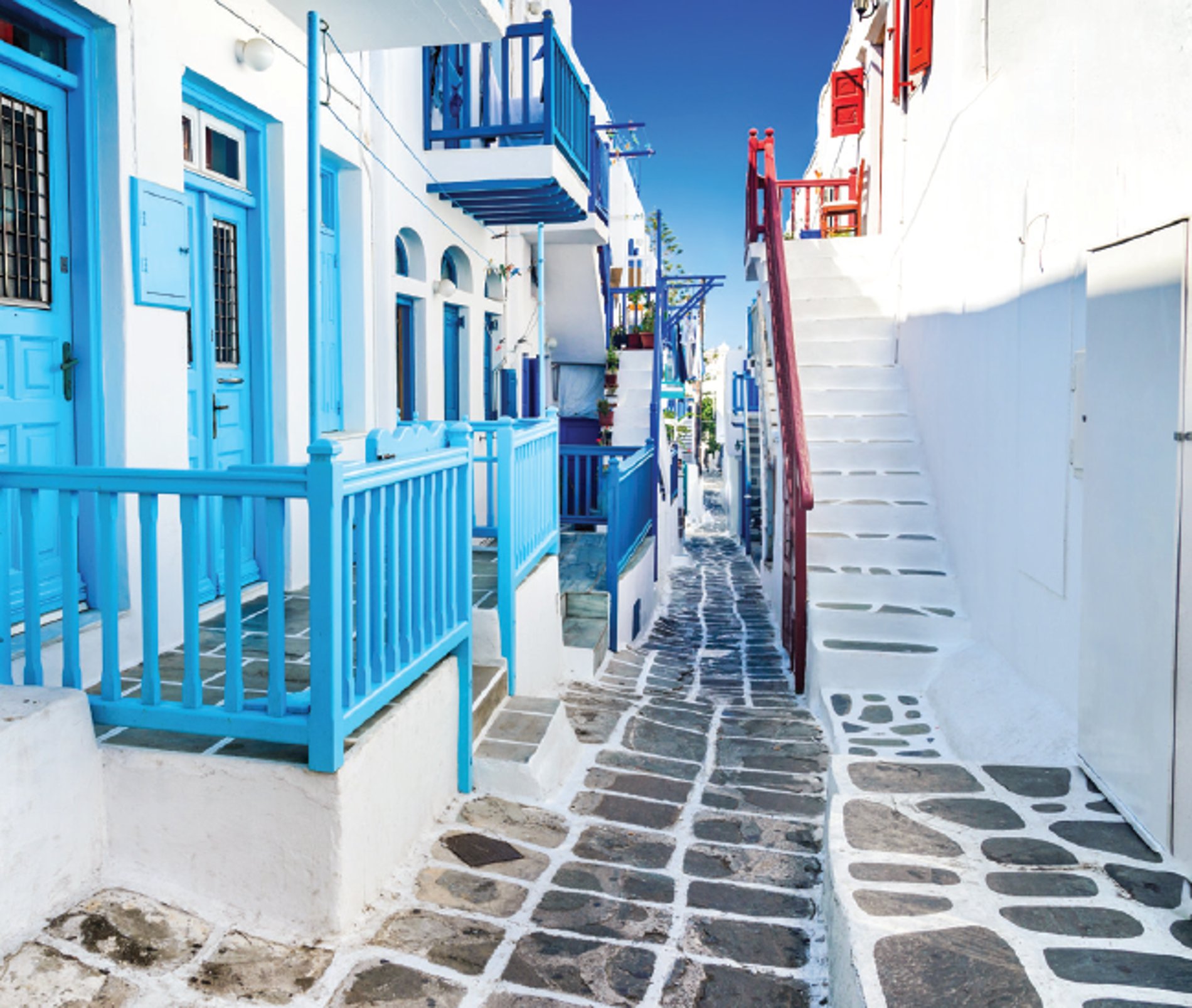 Traditional blue and white architecture in Mykonos