Search for your ideal Cruise
Ocean Cruising in Geirangerfjord, Norway
Sailing through the spectacular steep-sided walls of Geirangerfjord, laced with crisscrossing waterfalls, is an awe-inspiring experience. One of just two Norwegian fjords that are World Heritage listed, this canyon-like wonder is considered one of nature's great masterpieces and it's not hard to see why. The small town of Geiranger is a hiker's dream, with plenty of pathways lined with cascading falls, making this the perfect place to explore both on and off shore.
Why cruise Geirangerfjord
Geiranger welcomed its first cruise ship (carrying a group of Quakers from Scotland) in 1869 and its attraction for visitors has far from waned since then, with cruise passengers flocking to Geiranger in their droves each year to discover its sheer beauty for themselves. Indeed, sailing into the Unesco-listed fjord is one of the standout moments of a cruise around Norway and makes it immediately clear why it is one of the most photographed fjords in the country with its spectacular and iconic natural scenery, boasting immense waterfall, towering mountains and age-old glaciers.
find your perfect cruise
What to see and do in Geirangerfjord
Eagle's Nest
As well as on foot, one of the best ways to explore the beauty of Geiranger is on a scenic drive, an excursion which is offered by various cruise lines such as Viking. The famous Eagle Bend viewpoint off Eagle Road, situated 620m above the fjord, is reached via 11 hairpin turns and boasts incredible views stretching from Geiranger town back over the fjord and to the famous Seven Sisters waterfall. This is often combined with a visit to Mount Dalsnibba, where the Geiranger Skywalk platform is a dizzying 1,500m above sea level. Flydalsjuvet is another popular scenic point, with a view of Geiranger and the many cruise ships bobbing in the water below.
Herdal Mountain Farm
Another popular excursion offered by cruise lines such as P&O, Celebrity Cruises and Norwegian Cruise Line is a trip to the Herdal Mountain Farm, located up the Eagle Road. Great for those of you with kids, the farm is home to several animals, which you're allowed to pet and you will also get to try the delicious local goat's cheese that is produced here.
Waterfall Walk
A hiker's delight, the Waterfall Walk runs from Geiranger centre up to the Norwegian Fjord Centre and Hotel Union or vice versa. The well-marked path takes you up a series of staircases (327 steps in total) and boardwalks through a forest to the surging Storfossen waterfall. Once back down at the waterfront, you can enjoy a spot of retail therapy at one of the shops, which sell the classic troll dolls among other classic souvenirs.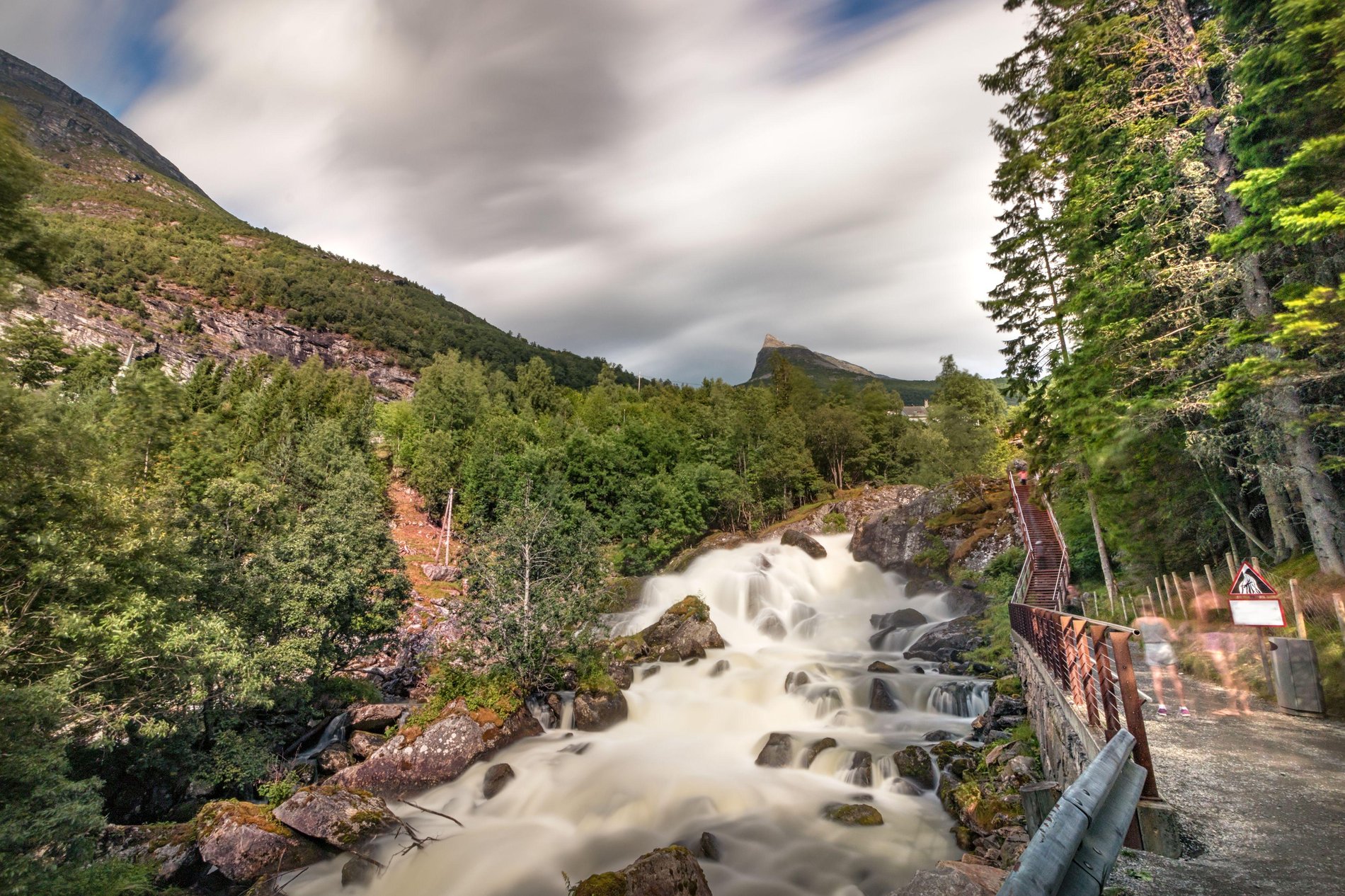 Geiranger Sjokolade
If it's gifts you're after, then look no further than Geiranger Sjokolada. This purveyor of unique handmade chocolate located in the village centre is the first ever chocolate factory to operate from a boathouse. Unusual flavours range from chilli and whisky to blueberry and blue cheese.
Storseter
Another popular hike is to Storseter waterfall, where the unique trail goes behind the waterfall and is one of the most used walking routes in Geiranger. Cruise lines including Celebrity offer this as an excursion, but you could easily make your own way there if you prefer.
Briksdal Glacier
If you have time to spare, you could venture further afield to view Geirangerfjord's pristine emerald lakes, majestic peaks and glaciers. Briksdal, part of the Jostedal Glacier, is the largest glacier in Europe. Cruise lines including Celebrity and Royal Caribbean offer this as an excursion, on which you will also see the turquoise Stryn Lake, the charming fjord village of Olden, and Briksdalsbre Mountain Lodge, where you'll hop aboard 'Troll cars' that will take you within 1,700ft of the glacier.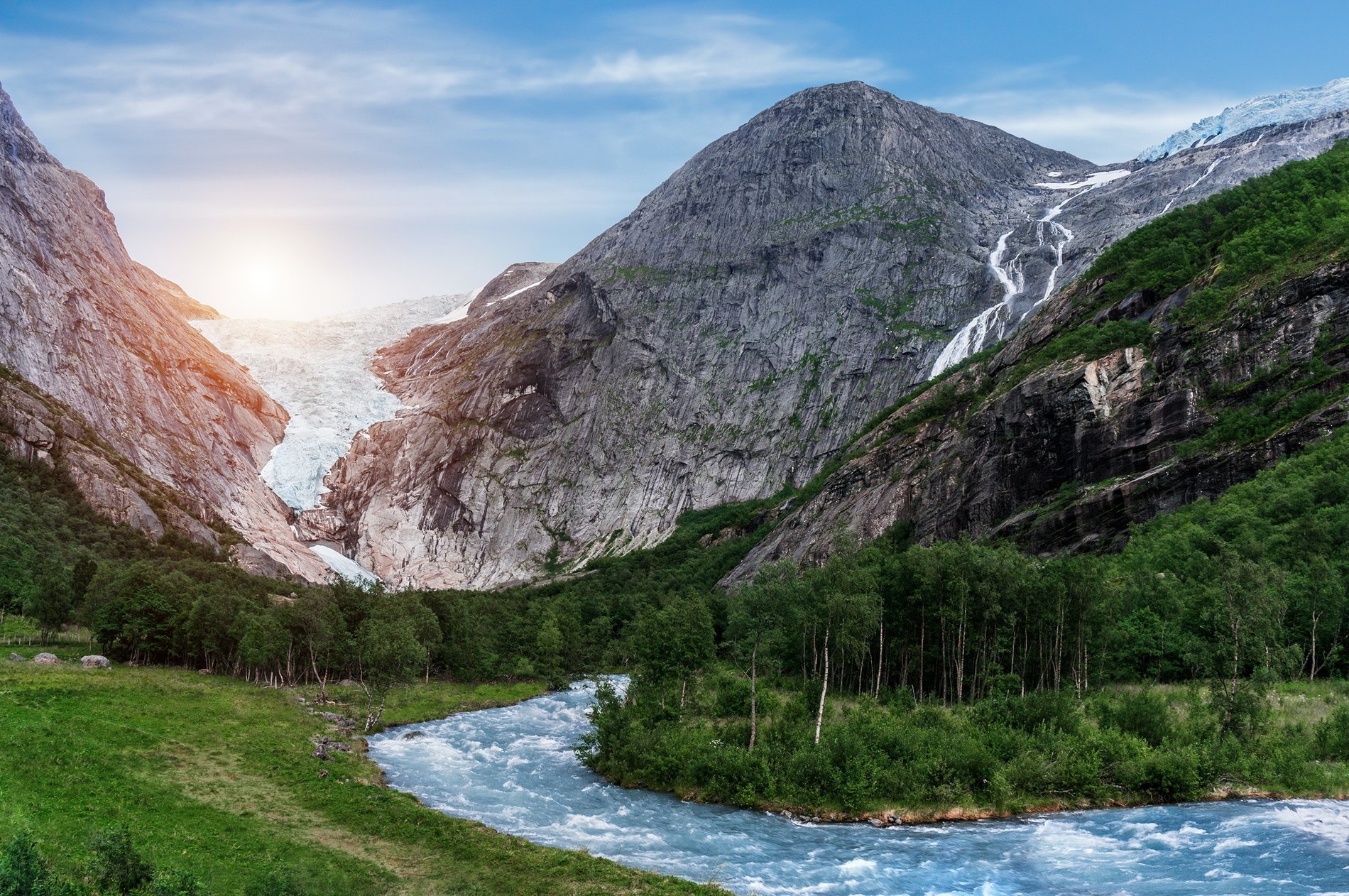 Need to know when travelling to Geirangerfjord
Getting around in Geirangerfjord
Cruise ships must anchor in Geiranger as there's no dock. Cruise lines typically use tenders to take guests ashore or there's the moveable, floating Seawalk pier. Once on land, Geiranger can be explored by foot or by excursion coach. There's also the local Panorama Bus, which goes to sites such as Flydalsjuvet and Eagle Bend. Some cruise lines also offer guests RIB boat and kayaking trips.
When to go to Geirangerfjord
Geiranger is busiest during the summer, welcoming up to a million visitors between May and September, but it's quite another story during the off-peak winter season, with a population of just 200 residents and next to no visitors.
Currency
Geiranger uses the kroner. Credit cards should be accepted in most places in Geiranger, but take cash with you just in case.
Visas
If you hold a British Citizen passport, you don't need a visa to enter Norway if you're not planning to stay longer than three months.