Search for your ideal Cruise
Ocean cruising in Porto, Portugal
Lively, commercial Oporto is the second largest city in Portugal after Lisbon. Also called Porto for short, the word easily brings to mind the city's most famous product - port wine. Oporto's strategic location on the north bank of the Douro River has accounted for the town's importance since ancient times. The Romans built a fort here where their trading route crossed the Douro, and the Moors brought their own culture to the area. Oporto profited from provisioning crusaders en route to the Holy Land and enjoyed the riches from Portuguese maritime discoveries during the 15th and 16th centuries. Later, port wine trade with Britain compensated for the loss of the spice trade and the end of gold and gem shipments from Brazil. In the 19th century, the city went through a period of new prosperity with the rise of industries. In its wake followed the building of workers' quarters and opulent residences. Since the declaration of Oporto as a World Heritage Site by UNESCO, the city aims to build up a cultural reference that will provide it with a new image, based on deep historical roots. Among the attractions that make Oporto such an interesting place are its graceful bridges spanning the Douro River, a picturesque riverfront quarter and, most notable, its world-famous port wine lodges. Although Oporto is a bustling centre and home to many different businesses, the source of its greatest fame is the rich, sweet fortified red wine we know as port.
Why cruise Porto
Lisbon may have been the place that immediately sprung to mind for travellers looking to visit Portugal in previous years, but the country's second city Porto has been quietly gaining popularity in recent years and is becoming quite a rival to its older sibling. The coastal city is a wonderful blend of old and new, dotted with Unesco World Heritage sites and Gothic architecture intermixed with a modern and eclectic restaurant and bar scene. Visitors can explore some of the city's top attractions, including Ribeira Square and Porto Cathedral, indulge in the culinary scene or sample Porto's famed wine. With its fascinating mix of culture, history and gastronomy, Porto is an amazing port of call for all types of cruise traveller stopping off there on a Mediterranean cruise.
find your perfect cruise
What to see and do in porto
Port Wine Lodges
Cross the double-decked Dom Luis I Bridge to the south bank of the Douro to discover the celebrated cellars of Vila Nova de Gaia. This is the district where port wine was once packaged and shipped to Britain, and it remains home to some of Porto's most famous wineries. Don't want to drink on an empty stomach? Grab a francesinha, the local ham and steak sandwich topped with baked cheese, at Tappas Caffé Candal.
Livraria Lello
Often ranked as one of the world's most beautiful bookshops, Art Nouveau gem Livraria Lello is said to have been the model for JK Rowling's Hogwarts School of Witchcraft and Wizardry. Check out the stained-glass ceilings and gleaming wood carvings that once inspired the author of Harry Potter, then satisfy your sweet cravings with an almond cake – or toucinho do céu – next door in Porto's iconic Bela Torre bakery (Rua das Carmelitas, 152).
Check out the azulejos
Stroll around the city for half an hour and you'll see why Porto is famed for its decorative blue-and-white ceramic tiles, known as azulejos. Sights not to miss include the interior of the São Bento railway station, and the ceramic-framed facades of the Igreja de Santo Ildefonso and Igreja do Carmo churches. When it's time to refuel, head for much-loved local café Escondidinho do Barredo (Rua Canastreiros, 28).
Stroll Sé do Porto
The city's 12th-century Sé Cathedral stands at the heart of one of Porto's most atmospheric districts. Step inside to marvel at the portrait of Our Lady of Vandoma, the city's patron saint, and to admire the chapel frescoes, before exploring the surrounding café-packed streets. Sit at a terrace table at O Buraquinho da Sé café (Rua da Ponte Nova, 5) and order their tábuas de queijos cheese board.
Further afield
Porto's elegant tram, which is one of Europe's oldest, dates back to 1895. Hop into one of the wood-panelled carriages and step back in time as you rattle through the historic Ribeira district and out along the Douro to the Atlantic beach resort of Foz, famed for its beautiful coastline and diverse architecture. When hunger pangs strike, make a beeline for the Mercado da Foz market hall and tuck into smoked sausages, spiced cheeses and other local delicacies.
Porto's Best restaurants and bars


The Yeatman
It's well worth splurging for a meal at The Yeatman hotel's Michelin two-star restaurant. Gazing out over the sparkling Douro, you'll discover chef Ricardo Costa's inventive tasting menu, which incorporates the traditional flavours of Portugal in a contemporary way. Dishes are expertly paired with superb Portuguese wines from the restaurant's extensive wine cellar.
Majestic Café
This historic café, where the city's arty crowd once congregated – and where, more recently, JK Rowling penned the initial draft of Harry Potter and the Philosopher's Stone – is an Art Nouveau wonderland. Inside these wood-panelled walls, lined with massive mirrors, waiters in smart attire serve delicious treats, ranging from chocolate with whipped cream to the rich custard cake known as pastel de nata.
O Paparico
This cosy, rustic restaurant with rugged stone walls and vintage decor is the best place in town to try Porto's favourite comfort food. A rich, spicy stew, tripas a moda do Porto earned the locals their nickname – tripeiros – and you'll earn their respect if you dare to try it. Tripe not your thing? Don't worry – chef Rui Martins has plenty more tricks up his culinary sleeve, with a clever menu that explores the traditions of Portuguese cuisine.
Porto's best buys


Port wine
You can't leave the home of one of the world's great fortified wines without bringing home a bottle (or two). Ferreira, one of the city's oldest bodegas, has been producing the famous tipple for more than 250 years.
Azulejos
Find everything – from fridge magnets to cork-framed azulejo hot-plate holders – at Prometeu Artesanato, a ceramic-lined Aladdin's cave in the Ribeira district (Rua de Mouzinho da Silveira, 136).
Cork fashion
Portugal is the world's biggest cork producer, and the streets of Porto are lined with stores selling cork place mats and wine items, as well as cork shoes, hats and even ties.
Need to know when travelling to Porto
Getting around in Porto
Although Porto is a very compact city, the cobbled streets are often steep, making it somewhat difficult to get everywhere on foot. Luckily, there are plenty of buses, trams and funicular railways connecting the city's different quarters.
When to go to Porto
The Douro has a long cruise season, stretching from March to November, with some companies sailing even later in the year. If you're thinking of a pre or post extension in Porto, it can be difficult to find accommodation in July and August. Visit earlier or later in the year and you'll find the city welcoming and delightfully relaxed.
Currency
Portugal belongs to the eurozone. Credit cards are accepted in larger stores and restaurants, but it's worth bringing some cash to use in smaller stores.
Visas
British passport holders do not need a visa to enter Portugal.
Written by Heidi Fuller-Love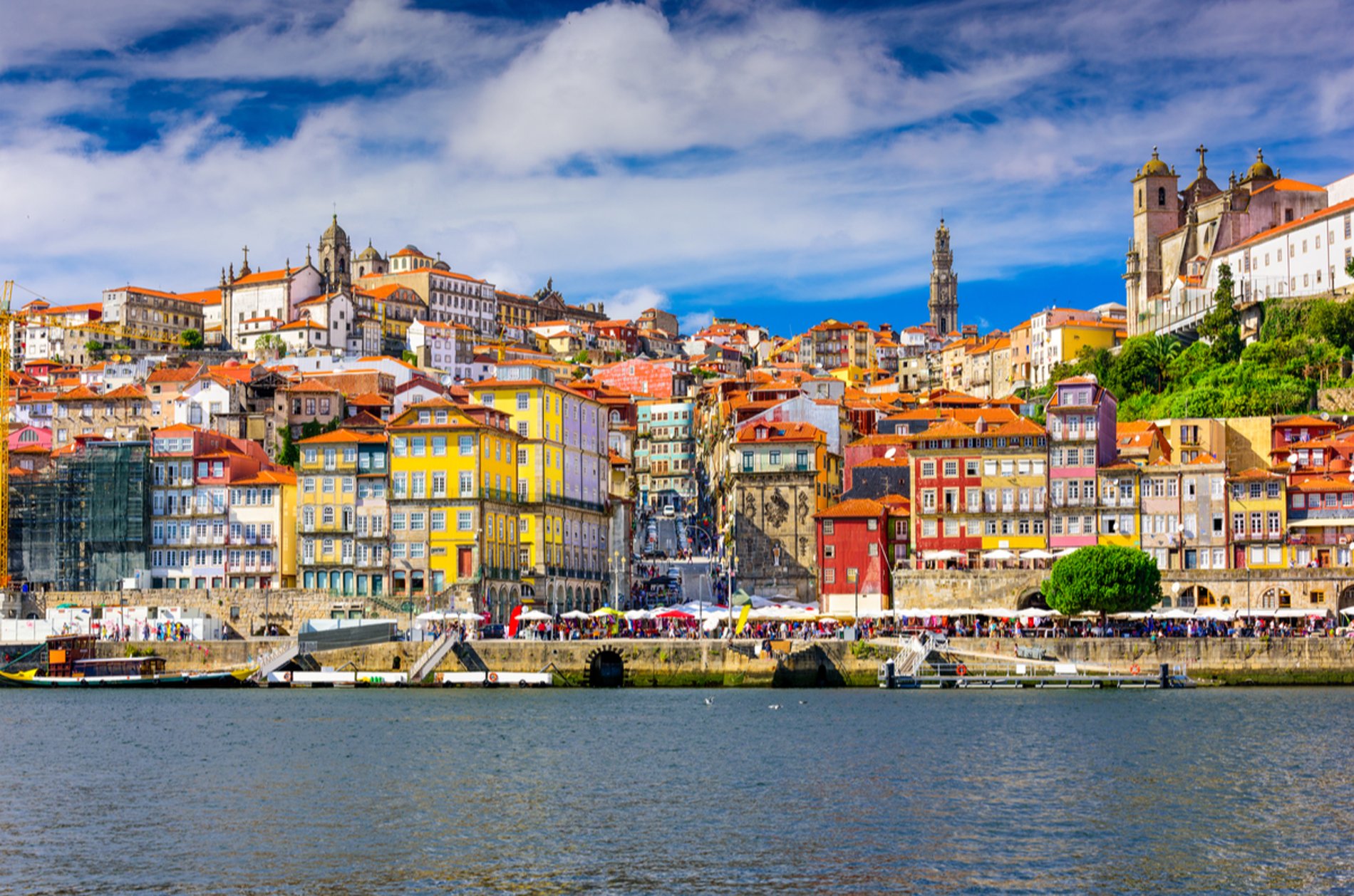 Dazzling in the warm sunshine, Porto old town hugs the bank of the Douro