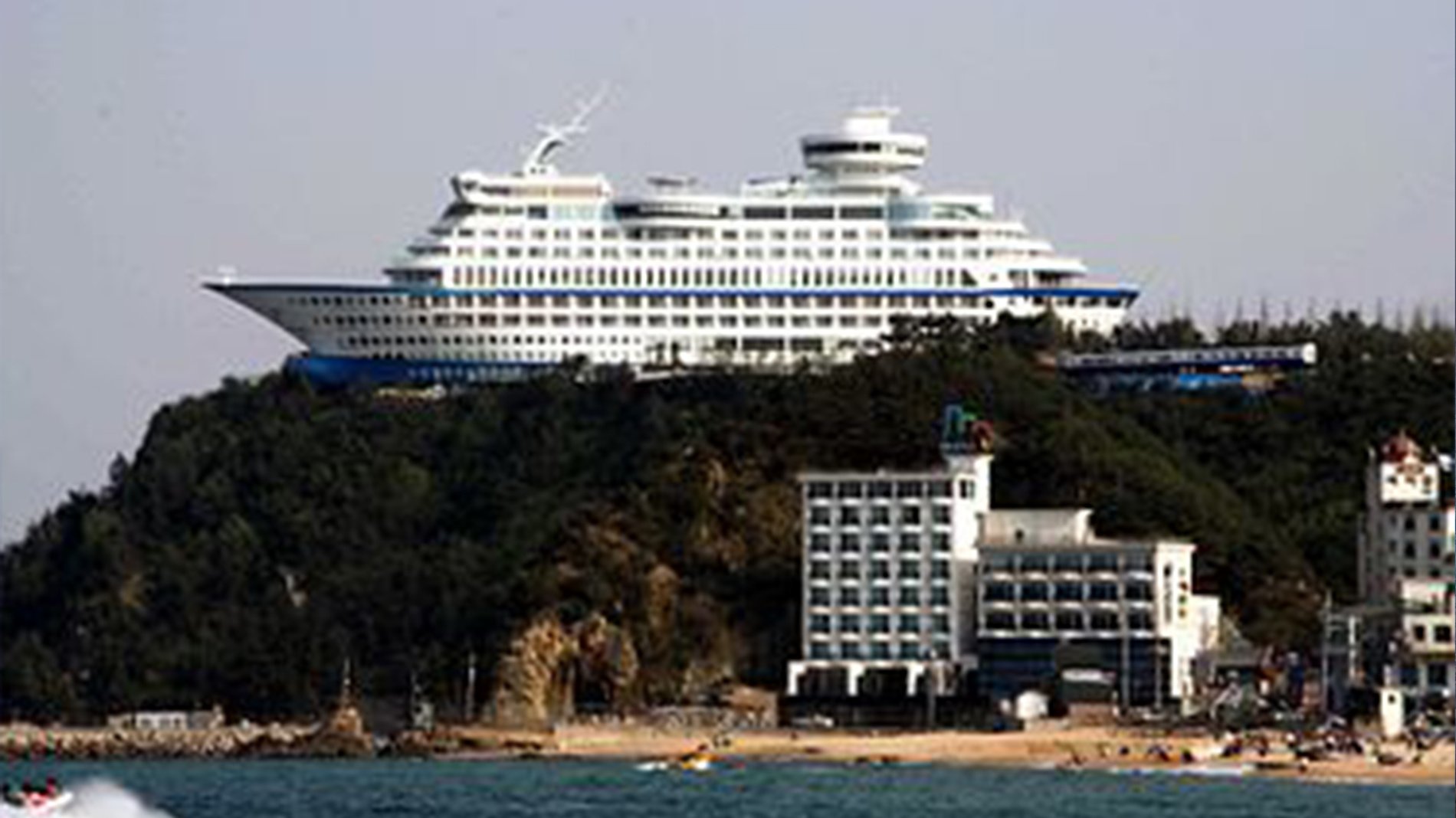 Meet the hotel that's ship-shape
The Sun Cruise Resort & Yacht in Jeongdongjin, South Korea, sits atop a cliff
You won't need to take any motion sickness tablets if you go on a cruise in South Korea.

Aboard the Sun Cruise Resort & Yacht, you won't suffer from any seasickness or worry about finding your sea legs.

You see, the cruise liner doesn't move or cruise at all. It may be ocean-going but never leaves port or goes to sea. Or anywhere as it is permanently moored on the top of a cliff top.

The unique land-based Sun Cruise Resort And Yacht has villas and condos instead of cabins. It has its own beach, which is 20 minutes away by shuttle.

To give you the feeling – without the heaving – that you are cruising far out to sea, there are piped crying seagulls, sea breezes, and the sound of waves lapping against the hull. There is the ambient smell of ozone too.

Seemingly sea-tossed onto the rocks and run aground above the beach at Jeongdonglin, Gangbneung on south Korea's south coast, the cruise ship that goes nowhere is 65km from Yangyang International Airport.

It has six function rooms, six restaurants, a rotating, netted golf range, a volleyball court, and a fitness centre. Naturally, the swimming pool is filled with seawater.

Influenced by the design of a Royal Caribbean International sovereign-class cruise ship, the bizarre hotel was conceived to serve a practical need: to give tourists who couldn't afford a cruise, the experience of being on a ship. Likewise, Sun Cruise Resort & Yacht is perfect for those who find the motion of the ocean leaves them feeling nauseous.

Follow us on socials