Search for your ideal Cruise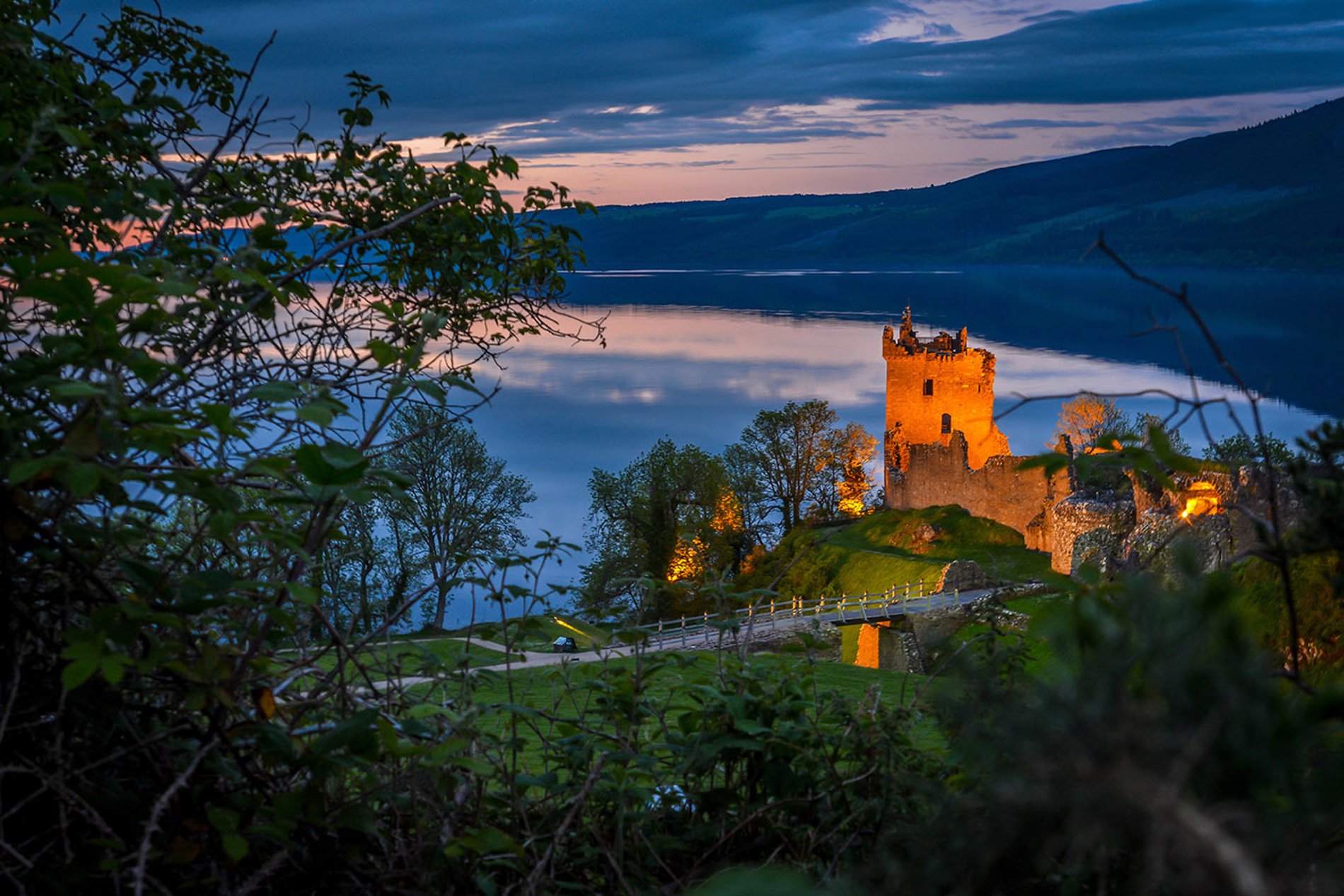 Spirit of Scotland: Life in the Highlands
A leisurely cruise on a luxury barge proved the perfect way to unlock the secrets of the Scottish Highlands
A leisurely cruise on a luxury barge proved the perfect way to unlock the secrets of the Scottish Highlands
Loch Ness spreads wide before us, its black waves like the dark humps of a monster's back. As a dozen pairs of eyes scan the horizon for a head breaking the surface, it's easy to see why this huge, inky lake, surrounded by craggy hills and dominated by a brooding sky, created an enduring legend.
We're aboard the luxury hotel barge Spirit of Scotland on a journey from Inverness to Fort William, our skipper Kenny at the helm as we near Urquhart Castle on the banks of the loch. Sadly, there is no mystery blip on his underwater radar – but we'd failed to spot dolphins in the Moray Firth the day before, and those definitely exist, so who really knows about Nessie?
Urquhart isn't the only dramatic castle we visit on this six-day trip through the Great Glen, the fault line that dissects Scotland. As we marvel at Cawdor, with its links to Shakespeare's Macbeth, and Eilean Donan, which has adorned thousands of postcards and shortbread tins, we imagine the clan chieftains of old thinking: "This is the place where we shall build a fortress on our enemies' blood – oh, and what a lovely view!"
Chugging down the Caledonian Canal at a stately 3mph, along Loch Ness, Loch Oich and (where they really ran out of names) Loch Lochy, we pass through Scotland's wild beauty – and its bloody history.
At the Culloden Visitor Centre the full magnitude of the battle in which 1,500 souls – mainly Jacobite supporters of Bonnie Prince Charlie – were slain in less than an hour is brought vividly home. Projections on all four walls of a small cinema put us right between the gathered clans and the well-armed troops of King George 1 on that April day in 1746. Outside, it isn't just the wind that sends a chill down our spines as we walk the battlefield, where fluttering flags mark the opposing armies' lines.
Fort George, on the Moray Firth, was built after Culloden to control the rebellious Highlanders and it is still a military base today – albeit one that retains much of its history, including its "black hole" prison, which feels claustrophobic even in daylight.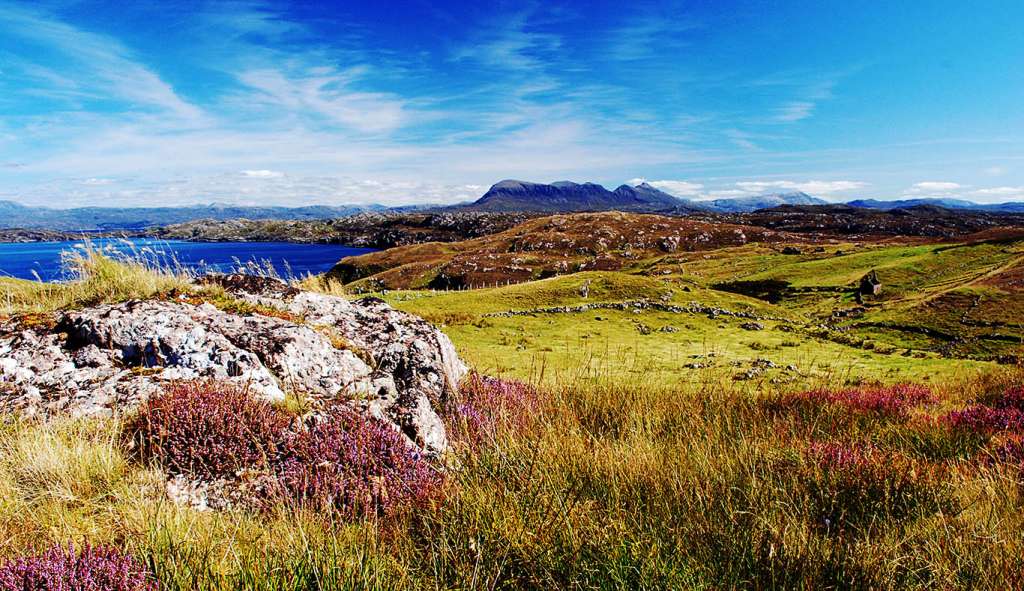 Another – considerably more ancient – treat for history buffs on this route is Clava Cairns, a burial site dating back to 2,000BC but now better known as the inspiration for the time-travelling Outlander books and TV series.
With a maximum of only 12 passengers, one week aboard the 126ft Spirit of Scotland can be quite different from another, depending on the weather and what everyone wants to do. In our party we tended to go our separate ways during the day, reconvening for meals round one big table to enjoy dishes freshly prepared by our onboard chef Marc.
Dinner was a three or four-course affair, and on a typical night we were treated to pan-fried scallops with black pudding, ham hock and fresh pea purée, followed by venison with mashed "neeps", finished off with a whisky-glazed fig on a caramelised brioche, garnished with chocolate strawberries. There was even Scottish cheese to follow.
Wines were served at the table and there was also a fine selection of malts, gins and beers to enjoy in the comfortable lounge (if you're missing a favourite drink, cruise director-cum-tour guide-cum-minibus driver Helen is happy to try to pick it up).
Aside from skipper Kenny and chef Marc, the rest of our six-strong crew comprised hostesses/barmaids/room stewards Bianca and Anna, and deckhand/general helper Istvan. But everyone chipped in with everything – I found myself asking the captain for milk one breakfast-time, which he cheerfully fetched from the galley.
"We're all one big family here," said Bianca as she explained why our cosy cabin, with its walnut trimmings, opening portholes, paintings of Scottish landscapes and surprisingly powerful shower, had no lock on the door.
There was a "do not disturb" sign – as I discovered on the last day – but it never seemed necessary.
Spirit of Scotland is the kind of boat where everyone feels instantly at home, and in no time we were relaxing into armchairs, helping ourselves at the bar if Bianca or Anna was busy elsewhere, and padding around in our pyjamas at breakfast. I've never been on another cruise quite like it.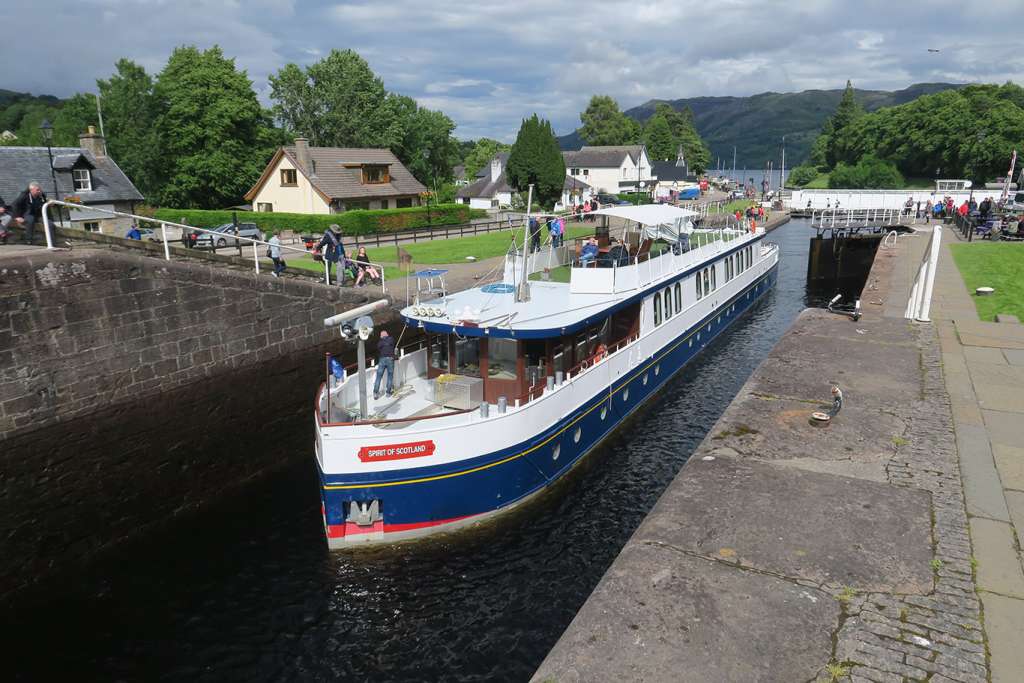 Life passed at a pleasantly slow pace as we navigated through swing bridges and locks. There was ample time to take one of the onboard bicycles for a spin but, this being Scotland, not much call for the loungers on the sun deck.
It must be admitted, however, that I took advantage of a rare burst of sunshine to enjoy a glass of champagne in the hot tub at the stern – causing some astonishment to passers-by on the banks.
One night a talented pair of musicians with an accordion and guitar came on board to entertain us with songs and banter. But most evenings were spent in a pleasant, post-dinner haze, chatting with our new friends or taking a walk along the river bank, watching the reflection of scudding clouds in the water as the sun slowly sank in the sky.
No visit north of the border would be complete without a trip to a distillery, and we were duly given a private tour of Glen Ord, with a tasting of single malts. It was a pleasant interlude, as was another towards the end of our voyage, at Laggan Locks, where we stopped for the night opposite another barge that acts as a restaurant and a pub.
Our journey had begun at Inverness, and it's a testament to the slow pace of the barge that after six days' sailing it took just a couple of hours by minibus to return to our starting point. But believe me, there is something quite delightful about travelling so slowly that you don't just admire the scenery, you become part of it.
Sadly, due to a temporary problem with the steering, we were prevented from sailing as far as the normal end point at Banavie, so we missed out on Glencoe and old Inverlochy Castle. And one day we were taken to see salmon leaping up a stream under a stone bridge, but despite straining our eyes, we didn't see a single flutter (perhaps they were off having a party with Nessie and the Moray Firth dolphins).
But no matter. Scotland's beauty lies in its ruggedness, its grand sweeping glens, its rocky mountains and still lochs, its castles, forts and crofts, and there was no doubt that we'd seen plenty of those.
For we Sassenachs from south of the border, this was most definitely another country – but one that gave us the comfortable feeling that comes with not having to change time zones or convert currency.
We could even understand the accents. Most of the time.