Search for your ideal Cruise
Ocean Cruising in Svalbard, Norway
The Norwegian archipelago of glacier-locked mountains and realm of polar bears was the inspiration behind Phillip Pullman's epic fantasy, His Dark Materials. Svalbard, situated between mainland Poland and the North Pole, is one of the world's northernmost uninhabited areas. The rugged and remote archipelago is most famously the home of the mighty polar bear, but is also rich in other amazing wildlife, including whales, Arctic foxes, Svalbard reindeer and frozen tundra sheltering polar bears. With its far north location, it's also one of the recommended destinations to see the natural phenomena, the northern lights and the midnight sun.
Why cruise Svalbard
Cruisers will get close to glistening glaciers, mighty fjords and dramatic national parks on their cruise to Svalbard. Wildlife and nature-lovers are in their element, with the Norwegian archipelago being home to some of the most spectacular Arctic wildlife. Those with a thirst for adventure are also well-catered for, with activities including dog sledding, snowmobiling, kayaking and ice cave tours all available.
find your perfect cruise
What to see and do in Svalbard
Longyearbyen
This small coal-mining town on Spitsbergen Island, founded by American mining specialist John Longyear, is renowned for its views of the northern lights and wildlife inhabitants, ranging from deer to birdlife, which flock to Longyearbyen in the summer. Take a stroll down Longyearben's downtown, lined with brightly-coloured wooden houses, restaurants and home to a shopping mall, before paying a visit to the Svalbard Museum, which displays artifacts from the history of the archipelago since its settlement and provides insights into the life of miners, and the other local industry, whaling.
Spitsbergen
The largest island in the Svalbard archipelago, Spitsbergen is often referred to as the 'wildlife capital of the Arctic' and with good reason, home to whales, walruses, Svalbard reindeer, seabirds by the thousands, and the most iconic Arctic inhabitant, the polar bear. Those who wish to maximise their time on the island should consider Quark Expeditions' dedicated 'Spitsbergen Highlights' and 'Intro to Spitsbergen' itineraries, which give you unique opportunities to observe the parade of wildlife in their natural habitat, as well as to explore the vast tundra and beautiful Arctic wilderness. The Spitsbergen Airship Museum, which has exhibits from the era of polar exploration, is also worth a visit.
Pyramiden
This haunting ghost town above the Arctic Circle was once a Soviet Union mining base from 1927 to 1998, but the settlement was abandoned quickly. Cruise line Azamara offers a tour of this eerie spot, where facilities like a swimming pool, a movie theatre, and a basketball court have been left deserted and serve as poignant reminders of a once thriving mining town.
Esmarkbreen
Named after geologist Jens Esmark, this beautiful glacier, situated in Oscar II land at Spitsbergen, is nine miles in length and debouches into the bay Ymerbukta at the northern side of Isfjorden. Azamara is among the cruise lines which offer a trip to Esmarkbreen as one of their excursions.
Dog sledding and snowmobiling
Dog sledding tours and snowmobiling safaris are hugely popular in Svalbard. Longer snowmobile trips offer you the chance to see some of Svalbard's most amazing sights. Hurtigruten's electric snowmobile tour visits typical Svalbard landscapes, driving through long valleys to the bank of the Sassenfjord, and the trapper Hilmar Nøis' house, Villa Fredheim. If you visit the archipelago during the Polar Night, then book the cruise line's northern lights hunting tour, a unique and unforgettable way of catching sight of the aurora borealis. Dogsledding should also be a priority on winter cruises to Svalbard and both Hurtigruten and Azamara offer this.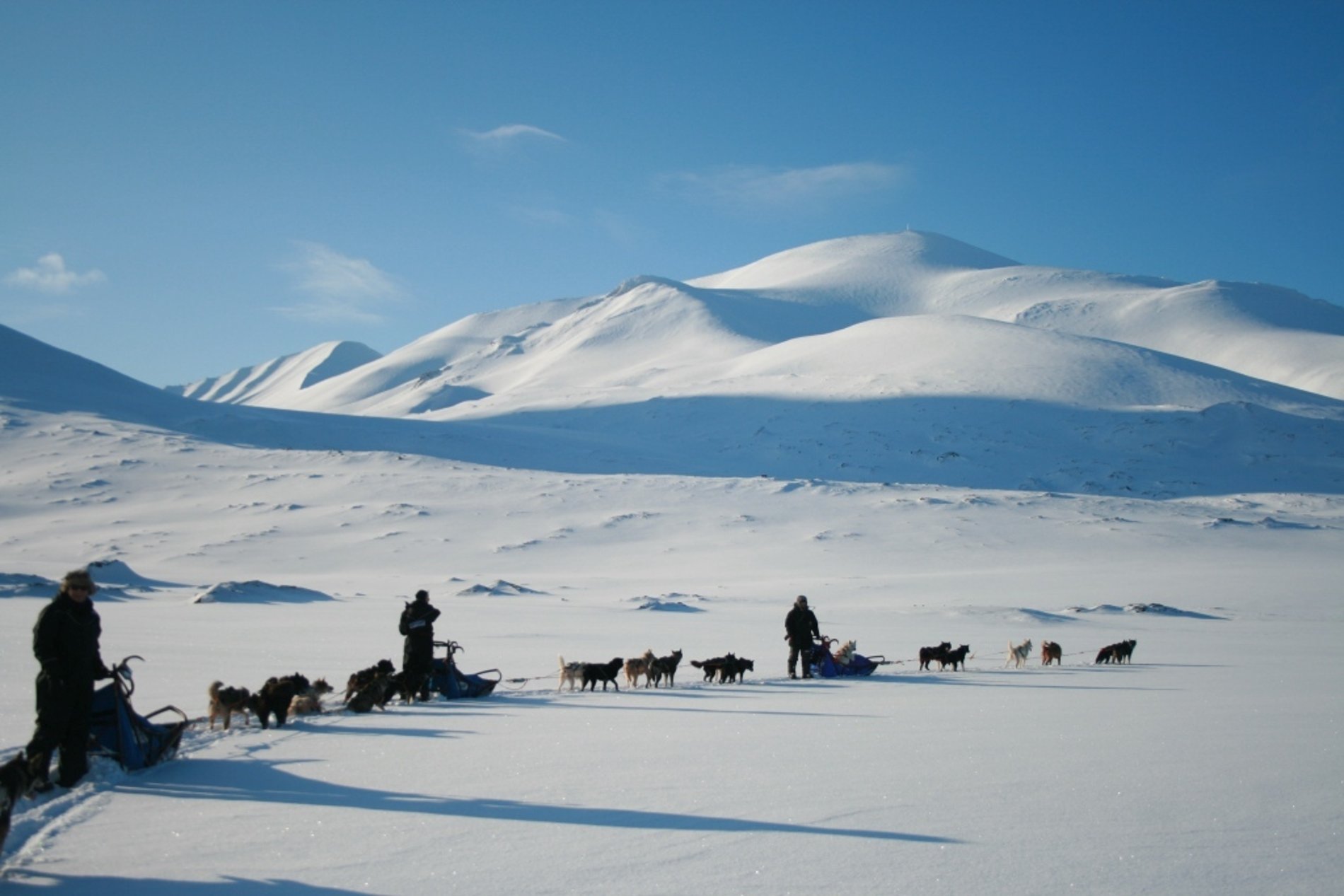 Ice caves
Svalbard's glaciers contain countless narrow passages formed by the melted waters. These lead to spellbinding ice caves, a frozen world where you can explore remnants of frozen plants, ice formations and caverns. Various cruise lines including Hurtigruten offer ice cave tours.
Need to know when travelling to Svalbard
Getting around in Svalbard
The port of Longyearbyen is located close to the city centre, roughly a 10-15 minute walk. Shuttle buses are also available.
When to go to Svalbard
The most popular times to visit Svalbard are in spring and summer. Between March and May is the best time for snowmobiling and dog sledding across Svalbard's pristine snowscapes. The chance of wildlife sightings are maximised between June and August during the midnight sun period.
Currency
Svalbard uses the Norwegian krone.
Visas
If you hold a British Citizen passport, you don't need a visa to enter Norway unless you're planning to stay longer than three months.