Ocean cruising in Chile
Long, slim Chile stretches over 4,300 kilometres down the side of South America, bordering Peru to the north and making its way down to the Drake Passage in the far south. A cruise to Chile tops the leader board for the most varied landscapes, encompassing sand dunes, salt plains, fertile valleys, volcanoes, forests, lakes, glaciers and fjords. It also hosts the driest desert on the planet, Atacama, and includes part of the longest mountain range in the world, the Andes. The recently created Greater Patagonian trail forms a hiking route from the southern Andes all the way down to southern Patagonia, showcasing Chile's extraordinarily diverse scenery along the way. National parks cover nearly 19 per cent of the country and it is abundant with native wildlife, including Magellanic penguins, Andean condors, rheas, Andean deer, puma, foxes and flamingos.
Why choose Chile cruises
Chile's maximum width is only 350 kilometres, making shore excursions easy, as inland areas are very accessible. There are a large number of ports along Chile's 6,435-kilometre coastline where cruise ships can dock. Happily for tourists, many of these Chile cruise ports are themselves attractive destinations that are worth exploring and are also perfect entry points for venturing further inland. Cruise lines that operate along the coast of Chile include Celebrity Cruises, Holland America, Princess Cruises, Norwegian Cruise Line, Viking Cruises and Seabourn.
Find your ideal Chile cruise
Chile cruises: Best places to visit in Chile
Arica and Iquique
The two northern provinces of Arica and Iquique offer luxurious coastal resorts, where warm waters lap the sparkling beaches and keen surfers gather at the shores. The most popular beach in Iquique is Playa Cavancha, although the less crowded Playa Brava tends to be preferred for sunbathing along cruises in Chile. Georgian-style architecture still stands proudly against the developing beach front. The centrepiece of the Plaza Prat is the Torre Reloj clock tower that dominates the square, while fountains line the pathway towards the magnificent Teatro Municipal. The old Georgian-style Mansion, Centro Cultural Palacio Astoreca, has been transformed to exhibit contemporary artwork, but is a spectacle in itself with its opulent rooms and glittering chandeliers. Arica is a slow-paced and laid-back town, with its trendy new pedestrian shopping centre and its soft, sandy beaches. The large rock of El Morro de Arica looms over the city, previously a battlefield in the war of the Pacific.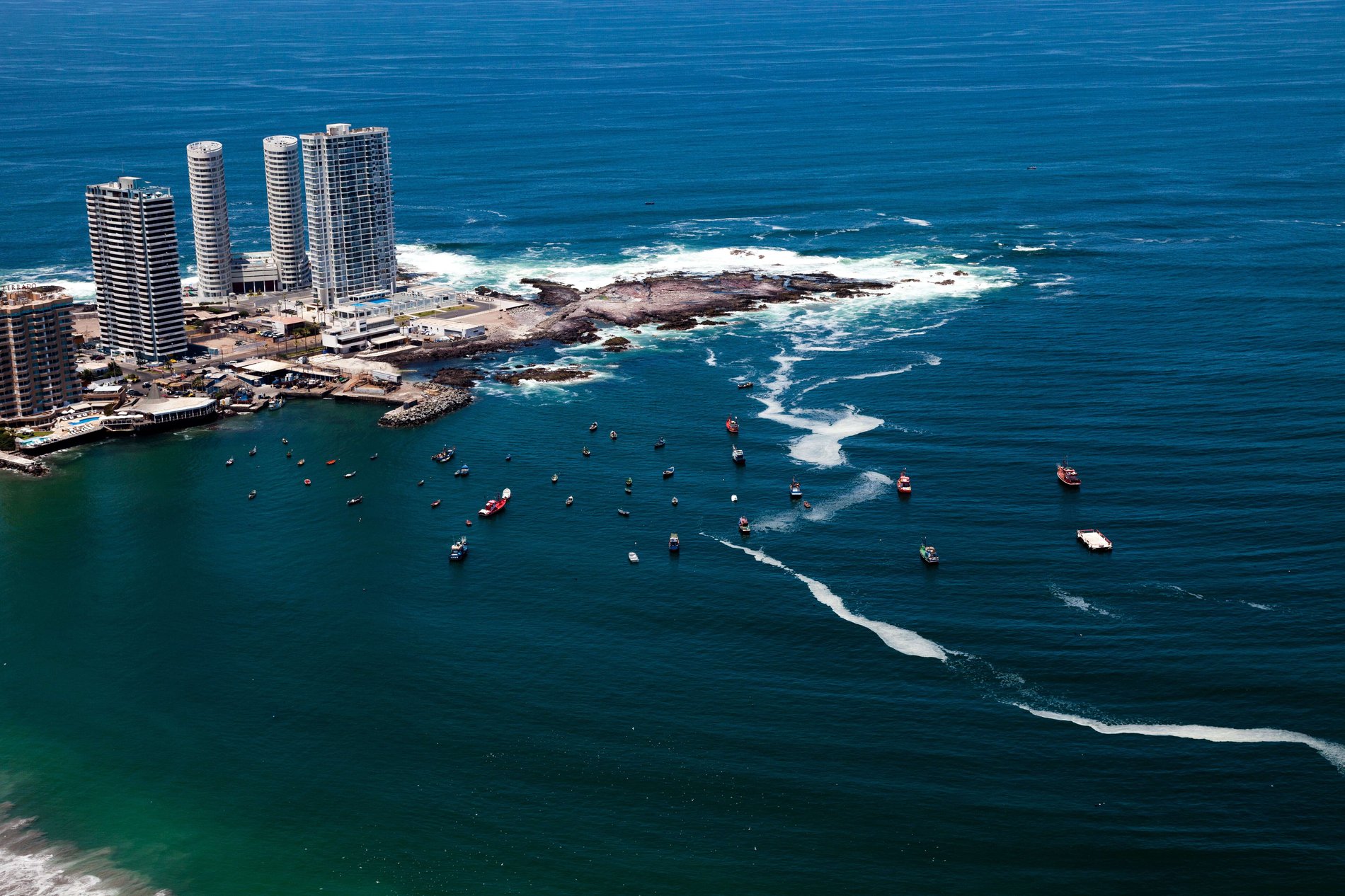 San Pedro de Atacama
San Pedro de Atacama sits like a calm oasis at the heart of some of Chile's most beautiful scenery. The town itself is just a cluster of small streets; it is the perfect starting point for excursions into the Atacama Desert to see the extraordinary Valley of the Moon where red-coloured rock formations have created a bizarre lunar-like landscape. North of San Pedro, you'll also find the ruins of a 12th-century fortress, Pukará de Quitor, and the famous El Tatio geyser field, the world's highest. Further towards the west is Quebrada del Diablo ('Devil's Throat'), an enormous gorge through which bike tours can wind. Head south of San Pedro and you'll come across the world's largest salt flats, Salar de Atacama, which stretch majestically against the backdrop of the towering Licancabur, Acamarachi, Agues Calientes and Láscar volcanoes. If you're lucky, you might spot one of the three species of flamingo that inhabit the Laguna Chaxa, the tranquil lagoon that hydrates a section of the parched salt flats.
Isla Grande de Chiloé
The unique Chiloé is a fairytale island, alive with folklore tradition and with a deep spiritual culture deriving from witchcraft mythology. The island's architecture marks a distinct change from that of the mainland, with its brightly coloured wooden churches, and its fiercely independent local residents live in colourful houses built on stilts above the water. Penguin colonies waddle around the rustic centre of Ancud, while modern supermarkets and boutique hotels characterise the island's capital, Castro. Dalcahue, just northeast of Castro, is home to a 19th-century UNESCO church, Nuestra Señora de Los Dolores and to a famous craft fair where you can buy tradional clothes made from wool and dyed with natural root pigments.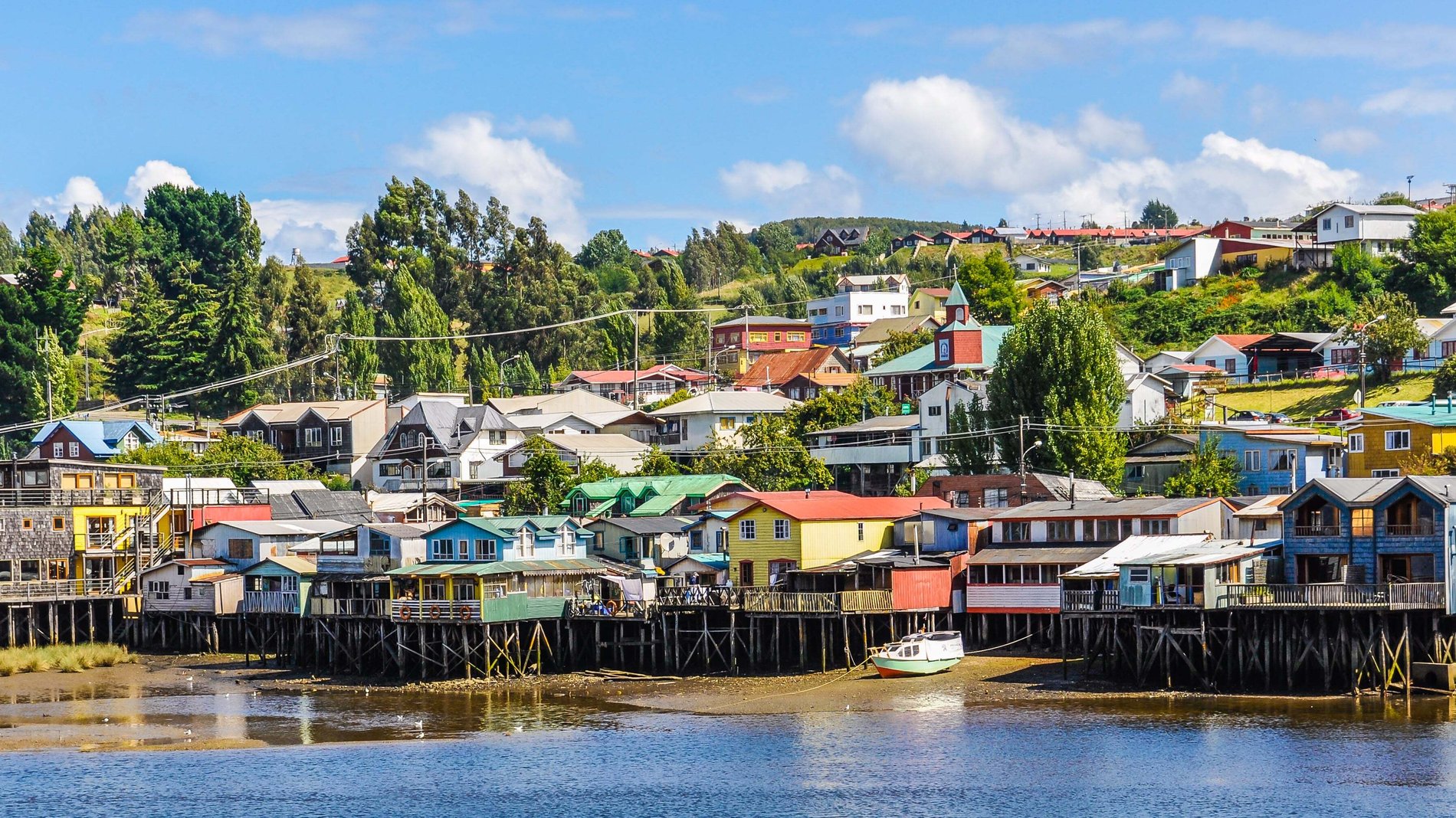 Valparaíso
A place of dreams for poets, artists and philosophers, the youthful city of Valparaíso has been nicknamed the 'Jewel of the Pacific'. Brightly-painted houses cling to the city's chaotic hills, and rickety funiculars carry residents through funky streets plastered with colourful street art. Learn about the city's rich history at the Parque Cultural, previously a Spanish fort and then a prison. This cultural hub contains the artwork of former prisoners and hosts a number of exhibitions throughout the year. Valparaíso has an impressive amount of maritime history which still characterises the town today. The dockyard area buzzes with sailors and fishermen where you can sample freshly-caught seafood along your Chile cruise.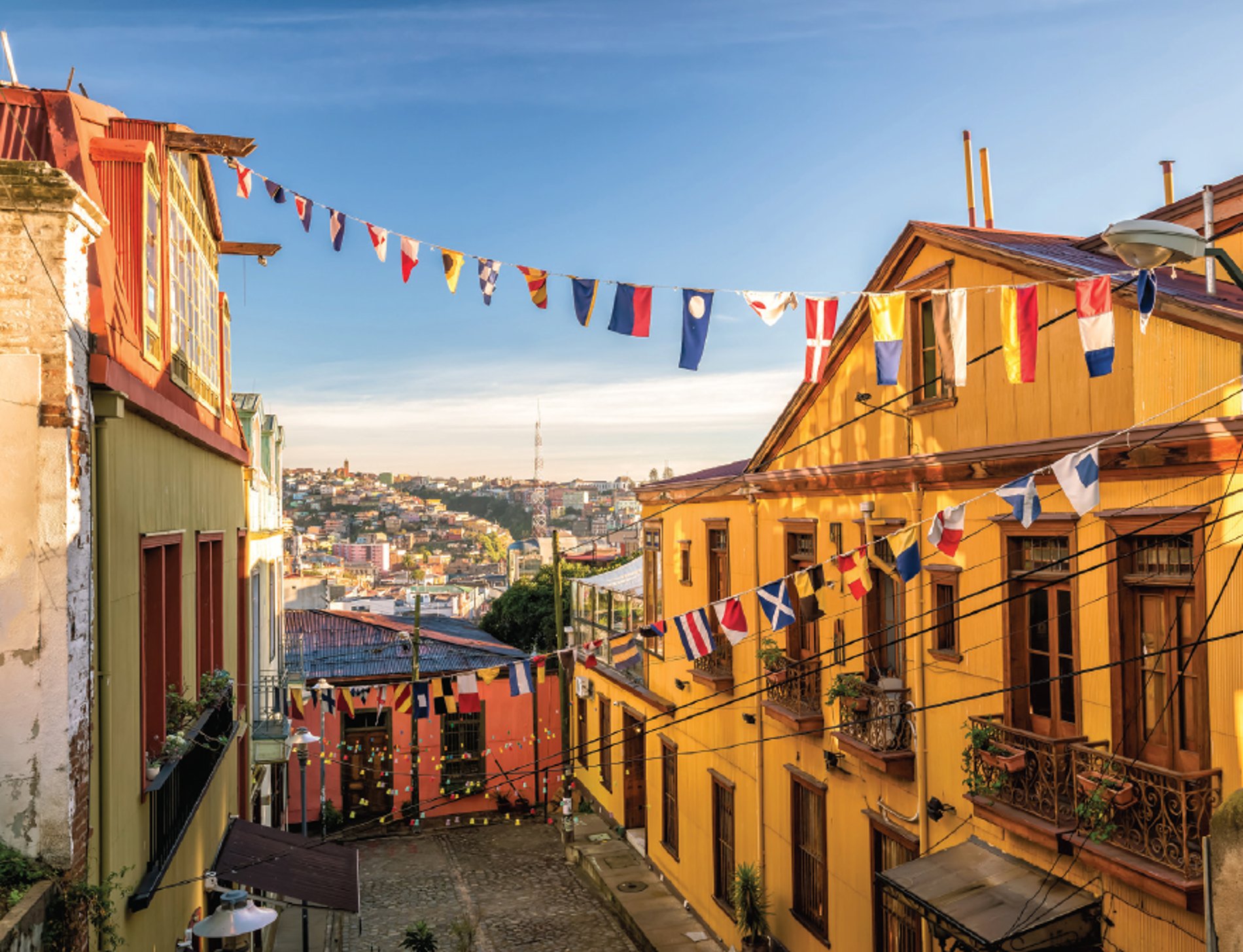 Santiago
Santiago is Chile's sophisticated and energetic capital city. It is a melting pot of culture, history, vibrant nightlife and culinary delight along a cruise to Chile. Each neighbourhood has its own colourful character, from bohemian Bellavista to the historic Centro. Step into antiquity by walking through Centro's Plaza de Armes and visiting the 18th-century Palacio de la Moneda. In this neighbourhood you'll also find Estación Mapocho, an old railway station that has been transformed into a cultural centre, and the Museo Chileno de Arte Precolombino which holds ancient artefacts from the days before Spanish occupation. The hip neighbourhoods of Barrios Lastarria and Bellas Artes are home to some of Santiago's best museums including the Museo Nacional de Bellas Artes and Londres 38, as well as the Gabriela Mistral performing arts centre. Rising in sharp contrast against these aesthetically pleasing neighbourhoods is Las Condes, Barrio El Golf and Vitacura. Here, skyscrapers puncture the clouds and modern, American-style restaurants and shops have a distinctly more international vibe.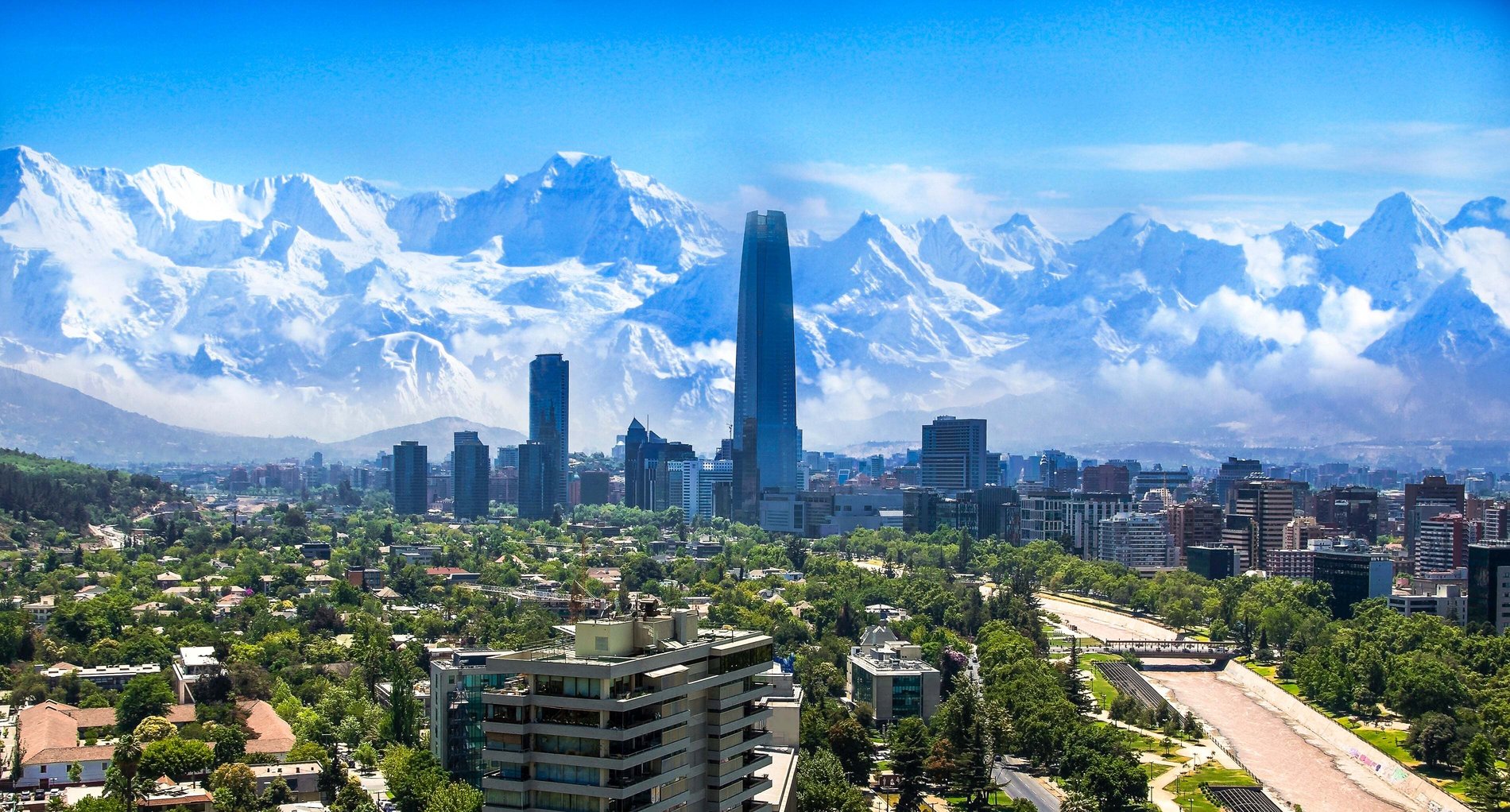 Punta Arenas
In the depths of Southern Patagonia, you will find the windswept former penal colony of Punta Arenas. A world away from the dizzying metropolis of Santiago, Punta Arenas sits on the banks of the Strait of Magellan and is located on the Brunswick Peninsula in Chile's southernmost region. Its close proximity to Antarctica provides its subpolar climate and the city is famed for strong winds – so make sure you wrap up warm. The Plaza Muñoz Gamero and Museo Regional de Magallanes are reminiscent of the opulent mansions of the sheep barons of the 19th-century, the graves of whom can be seen at the rather quirky Cementerio Municipal. Punta Arenas is also the base from which visitors can take a two-hour boat journey to Isla Magdalena, home to Chilean Patagonia's largest Magellanic penguin colony. These fearless penguins remain unperturbed by visitors and you can even wander amongst them during this fantastic day trip.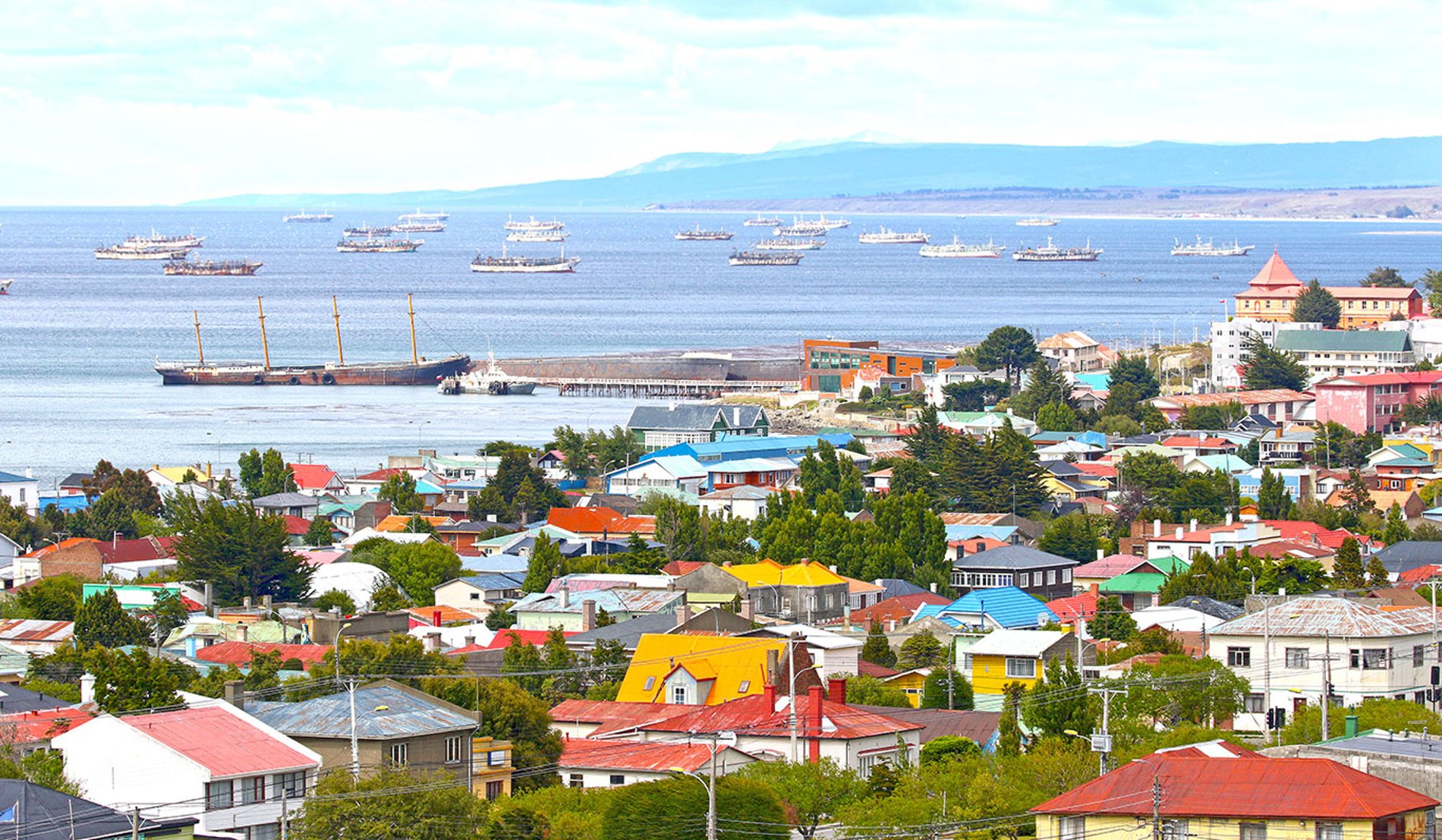 Iconic ports
Chile cruises: Best things to do in Chile
Go wine-tasting
The Colchagua and Maipo Valleys are both substantial wine regions - and must-visits on cruises in Chile. Colchagua has around twenty wineries that tourists can visit for tasting and to watch the production process. It is here that some of the best red wines in the country are produced, included Cabernet Sauvignon and Malbec. The fresh soil, dry air, water and sunshine make this the perfect area for winemaking. Guided tours are available with various companies such as Ruta del Vino and Emiliana. Close to Santiago, the Maipo Valley region also offers wine-tasting tours and produces the Chilean wines Almaviva, Concha y Toro's Don Melchor and Viña Errazuriz's Viñedo Chadwick.
Visit the national parks
Chile has 41 national parks covering more than nine million hectares of land. These protected areas have some truly stunning natural landscapes. Straddling the border between Antofagasta and the Atacama Desert is Pan de Azúcar National Park, a beautiful coastal park that resembles the arid lands of a Mexican desert, while also offering spectacular views of the sea. North east of Arica, Lauca National Park lies within the Andes mountain range. Its central attraction is the Chungará Lake, one of the highest in the world, which sparkles beneath the Payachata volcanoes. The Chacabuco Valley is an area of great natural beauty within the Patagonian Steppe and home to the Parque Patagonia project. Heading down to southernmost of Chile, its national parks reveal completely different natural features. The Laguna San Rafael National Park is located on the Pacific coast of southern Chile. Magnificent, winding fjords and glorious glaciers extend across the Park, and at the Lago General Carrera, fluorescent blue and green cave chambers emerge from the translucent waters of the lake. Torres del Paine National Park, also in the Patagonia region, similarly boasts some of the greatest valleys, glaciers, rivers and lakes along a cruise to Chile.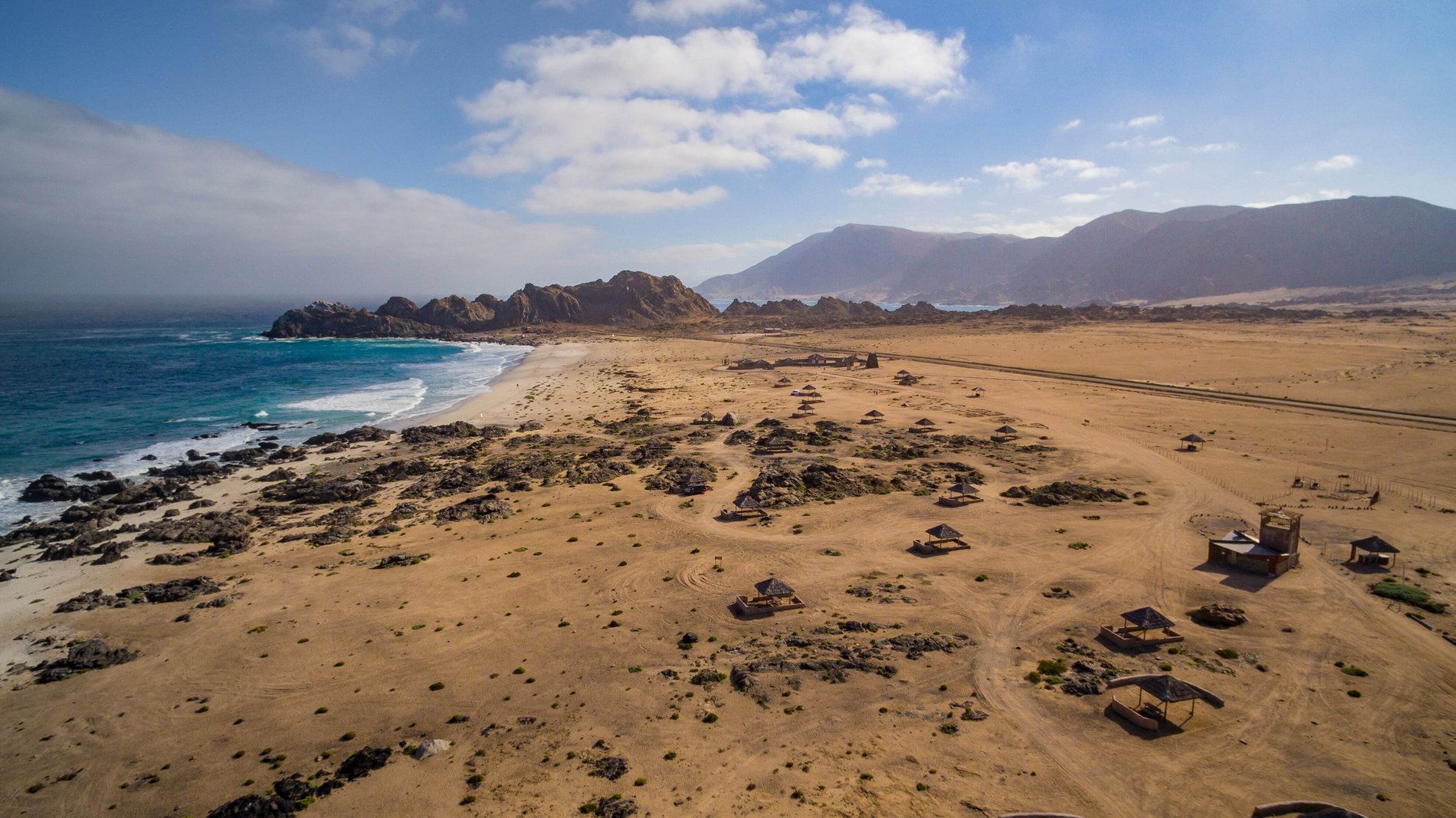 Go trekking
Trekking around Chilean Patagonia is an ideal way to see all that its scenery has to offer. The W Circuit of Torres del Paine National Park is a popular and well-defined route to take in the park's lakes, mountains and glaciers, while some avid hikers opt for the full circuit. Just outside of Santiago is the Embalse El Yeso reservoir, surrounded by the Andes mountains. Several tour groups offer valley hikes in this area. A relatively relaxed hike is the Glacier El Morado, which ends in a series of hot springs. Cerro San Cristobel, Radal Siete Tazas National Park, Villarrica Volcano and the Valley of the Moon all have hiking routes that give visitors access to some of Chile's best features.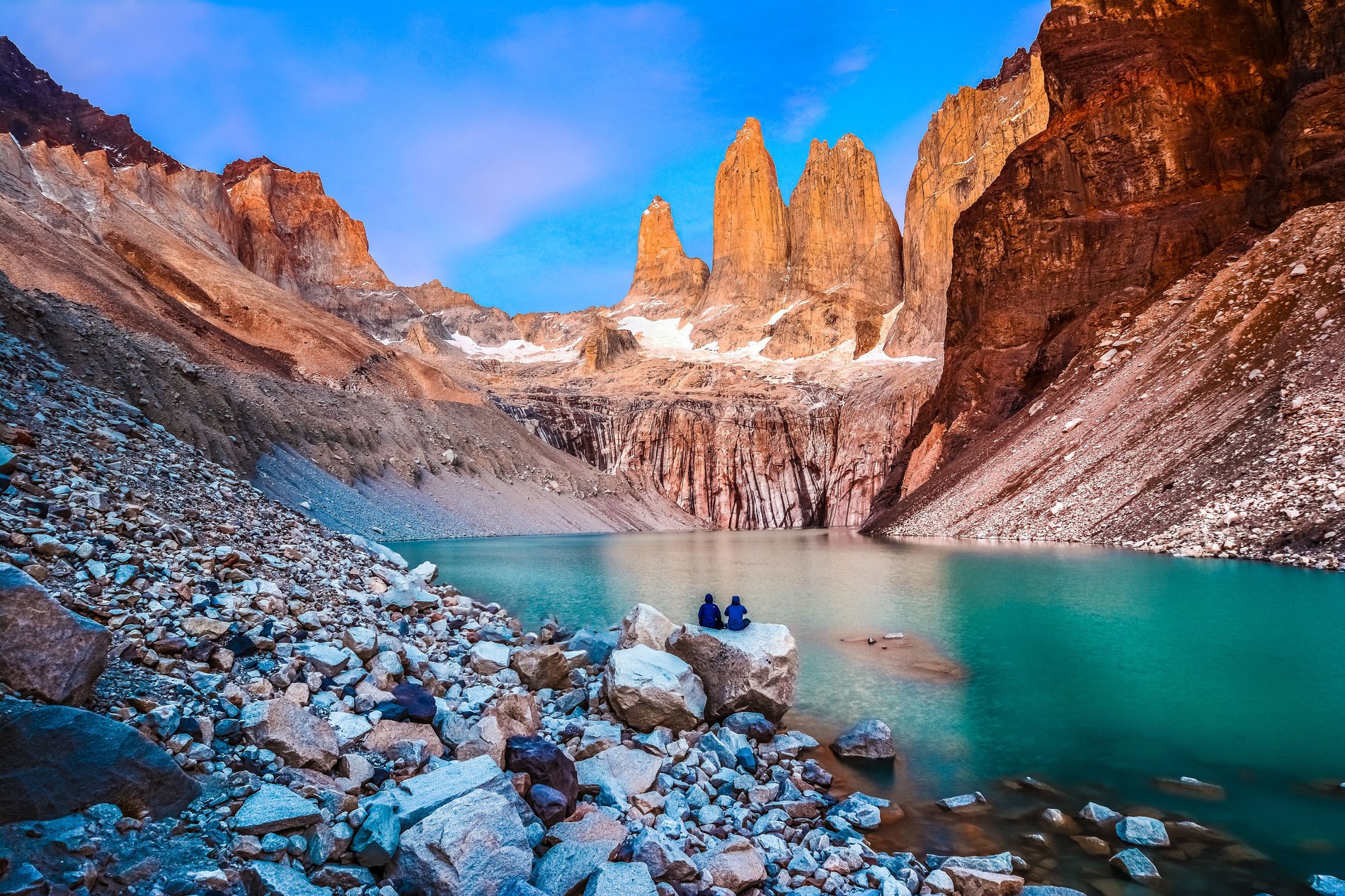 Watch some wildlife
Numerous wildlife tours are available to visitors across Chile, displaying the country's wide-ranging and exotic creatures. Birdwatching tours leave from Tierra del Fuego and Chiloé Island and national reserves such as Río Los Cipreses and Coyhaique are home to pumas, foxes, condors, guanacos, and many other fascinating native animals.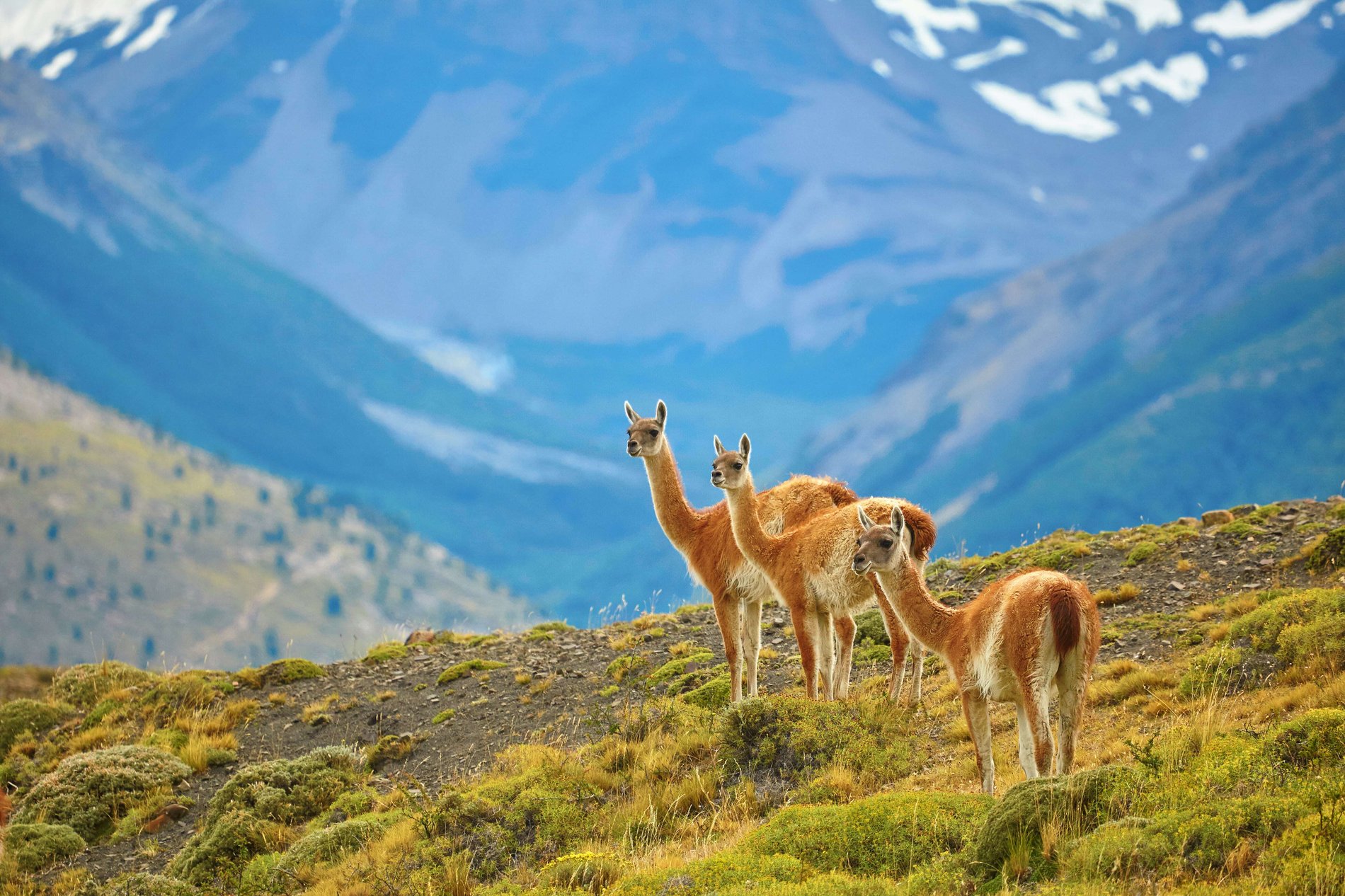 Try some Chilean food
Chileans pride themselves on their local sourced cuisine, which is available to buy at markets across the country. Chilean specialities to indulge in along cruises to Chile include Pastel de Choclo - a corn casserole filled with meat, churrasco - steak sandwiches with avocado and tomato, and empanadas - pastries filled with meat. Seafood is also a popular choice and in coastal areas you'll find dishes such as machas a la parmesana - razor clams baked in parmesan cheese and white wine, chupe de mariscos - shellfish baked in breadcrumbs, cheese and butter, and various seafood stews. Chiloé Island has its own local cuisine with milcao - a potato pancake and chapalele - a local type of bread.