Search for your ideal Cruise
What is Azamara?
Wave Awards winner:

Sold by Royal Caribbean Group in January 2021, Azamara is already expanding under its new owners, Sycamore Partners. The destination-focused line has brought forth a ship, Azamara Onward - the former Pacific Princess - which, like the rest of the fleet, is a Renaissance Cruises R-class. But regular customers needn't worry. In fact, they'll notice little change under the new ownership, as many itineraries will continue to be based on single countries, with late nights and overnight stays in port. The signature AzAmazing evenings - exclusive shore-based cultural events - and optional pre or post-cruise land tours are also staying.
Why choose this cruise line?
Azamara Club Cruises focus on Destination Immersion experiences which let you stay longer and experience more on every one of the cruise line's voyages.
This means you get to explore everything from nightlife in Stockholm and morning walks in the French Riviera to all-day adventures in Costa Rica's rain forests.
You'll also experience incredibly scenic waterways and prime docking locations—two great advantages of the boutique-style award-winning ships.
You'll find people who are genuinely friendly and happy to make you feel welcomed, and with a maximum of 702 guests, staff and crew can quickly learn your name, tastes, and preferences, too. Plus, you'll enjoy lots of inclusive amenities.
find your perfect cruise
Azamara Customer Reviews
Azamara ships
Azamara Journey
Azamara Quest
Azamara Pursuit
Azamara Onward

Who should cruise with Azamara?
Azamara's audience tends to be well-off men and women aged over 35 (most over 55) who love travel and are looking for a cruise as well as food, wine and culture.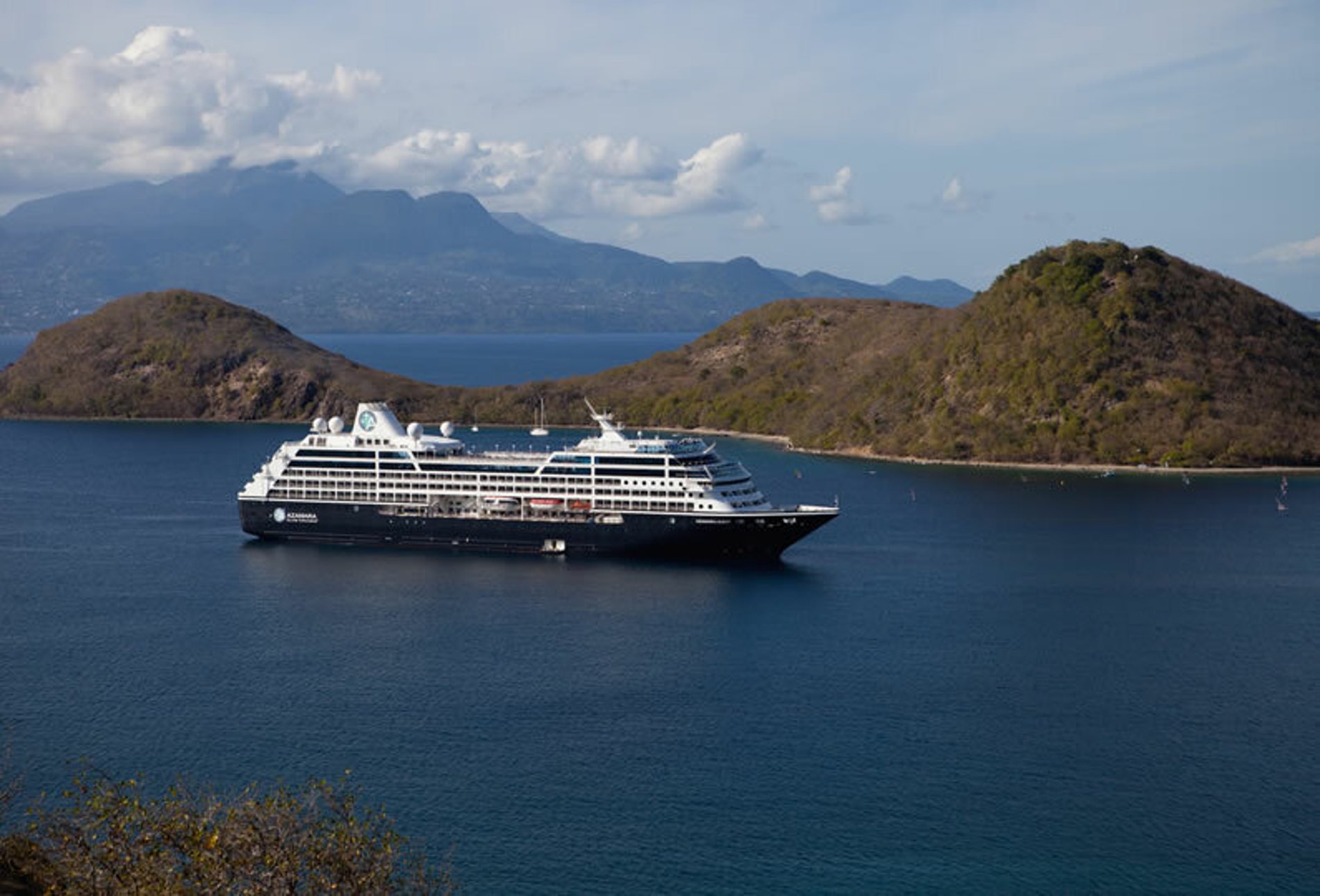 Azamara dining
Azamara offers a choice of six distinctive dining options, including room service.
Prime C and Aqualina are the speciality restaurants. At Aqualina, you'll find some of Italy's most authentic dishes while Prime C serves steaks cooked, crab cakes, lobster bisque, Lamb, game hens, seafood and more.
Main dining room Discoveries Restaurant serves up dishes and flavours from the places uni visit on your cruise, with Discoveries Bar the ideal spot for an aperitif or nightcap.
The Patio and Swirl & Top offer casual dining and snacks - its' a Casual "pool grill" by day with tables adorned with fine tablecloths and candles by night.
Windows Café provides a daily themed dinner, often taking its inspiration from the region you're visiting, whether it's Indian, Mexican, Spanish or Italian.
Mosaic Café is the place where you'll find your favourite coffee drinks,
In The Wine Cellar, you'll find a collection of limited production, small label and rare vintage wines with sommeliers on hand to help you pick the perfect wine.
Additionally, Azamara's Cruise Global, Eat Local guide provides deliciously curated recommendations to authentic local restaurants around the globe and is on select voyages in Asia and Europe.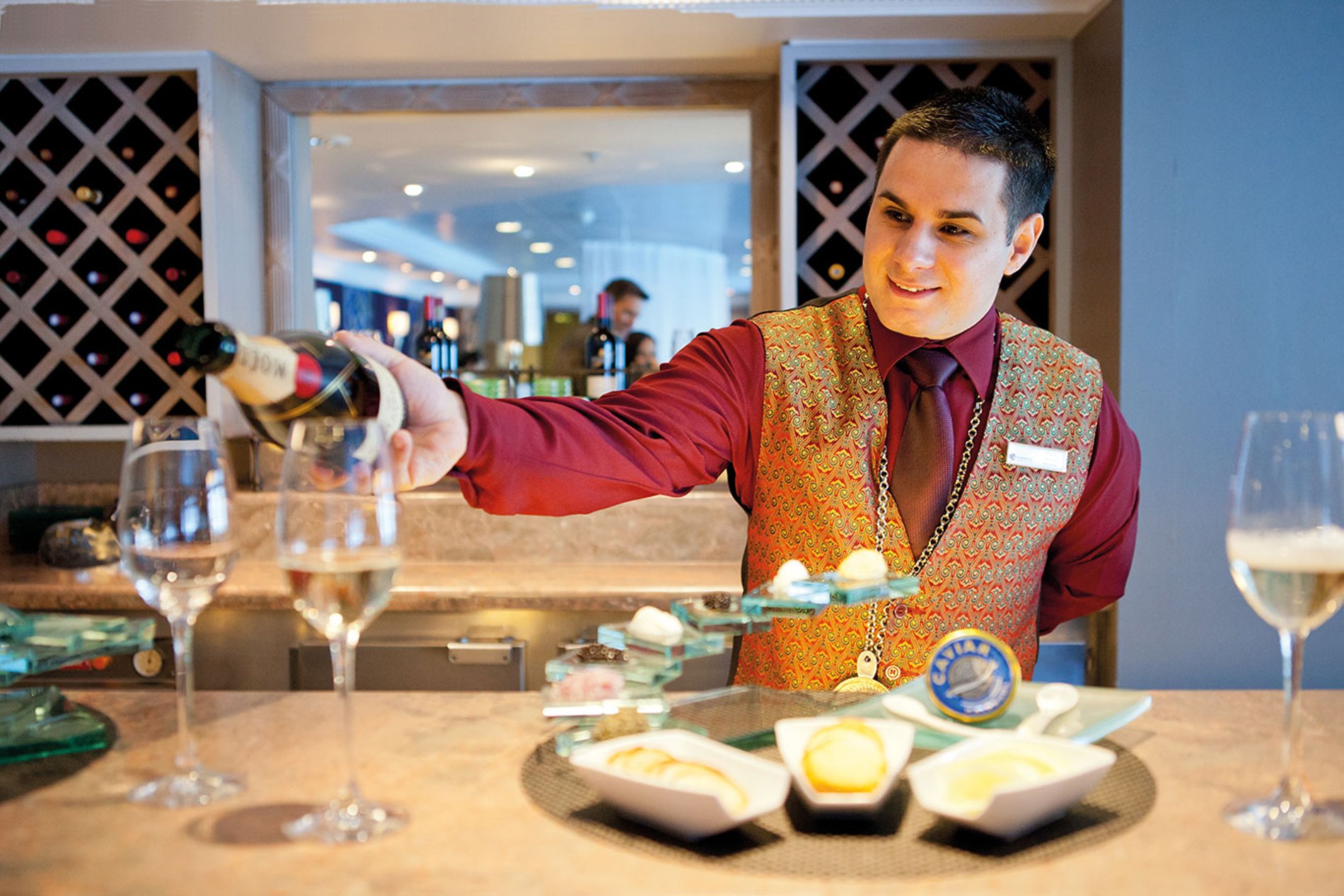 Azamara entertainment
Azamara ships offer a multitude of entertainment options, including Broadway Cabaret shows, live music, parties, destination-based performances, games, and onboard shopping.
Azamara cabins
Azamara accommodation offers ocean views, sea breezes, and all the style and amenities of a boutique hotel. Relax with plush cotton robes and slippers, French bath products, fresh flowers and 24-hour room service.
Cabins categories include: Club Interior Stateroom, Club Oceanview Stateroom, Club Balcony Stateroom and Club Balcony plus Stateroom.
Stateroom amenities include:
Luxurious cotton bed linens with duvet
Terry bathrobes and slippers
24-hour room service
Fresh-cut flowers
Tote bag
Complimentary use of umbrella
Complimentary shoe-shine service
Turndown treats
Daily news bulletin
Cruise inclusions
Complimentary AzAmazing Evenings event or onboard Destination Celebration (on most voyages).
Select standard spirits, international beers and wines
Gratuities
Bottled water, soft drinks, speciality coffees and teas
Self-service laundry
Shuttle service to and from port communities, where available
Concierge services for personal guidance and reservations