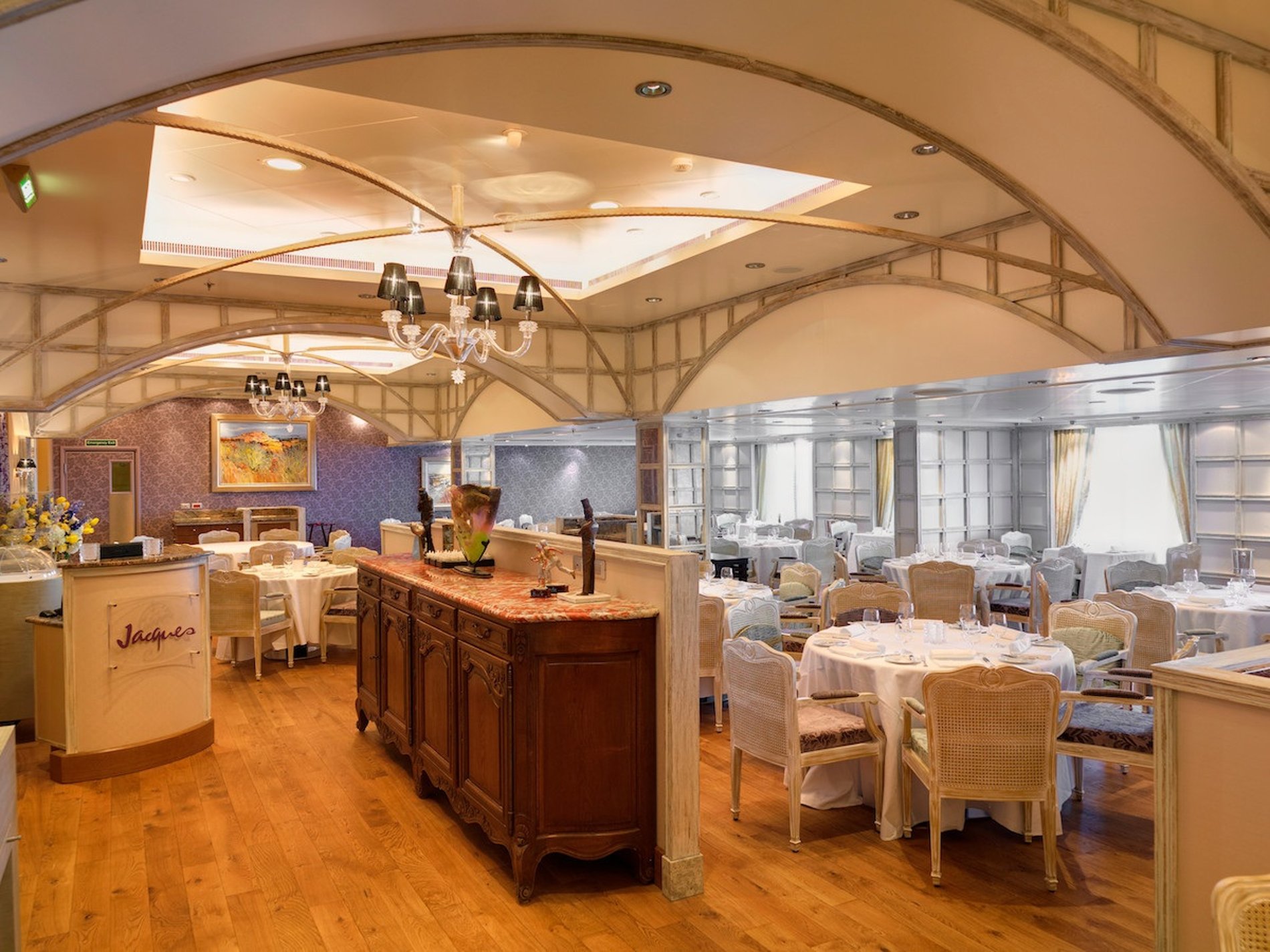 Why Oceania Cruises' Jacques Restaurant Is The Finest French Restaurant At Sea
Sizzling rotisseries, French classics, decadent desserts and wine list to impress even the most discerning of oenophiles...
When it comes to dining on the high seas, few do it better than Oceania Cruises, a cruise line where food and wine are the backbones of the whole cruise experience. For gastronomes and oenophiles, there is no better line to cruise with, focusing on exploring destinations through locally inspired menus and decadent dishes, served in unique gourmet restaurants – all included in the cruise fare. One of the stars of Oceania Cruises offering is the exquisite French fine dining restaurant, Jacques, inspired by Oceania Cruises' long-time executive culinary director Master Chef Jacques Pépin…
What is Oceania Cruises' 'Jacques' ?

Jacques is one of Oceania Cruises' finest culinary offerings, and stepping into the grand dining room guests will be transported to romantic café akin to one found in the City of Light itself. The restaurant has heirloom antiques, pickled wood furnishings and art from Jacques Pépin's own personal collection, all adding to the feeling of sitting in a Parisian bistro. Francophiles will be in their element in Jacques, a restaurant that is unashamedly French. Dine on tables blanketed in white tablecloths in an elegant dining room with Rococo-style dining chairs. Adding to that classically French feel, the restaurant has white panelled walls, light wooden floors and ornate fixtures throughout.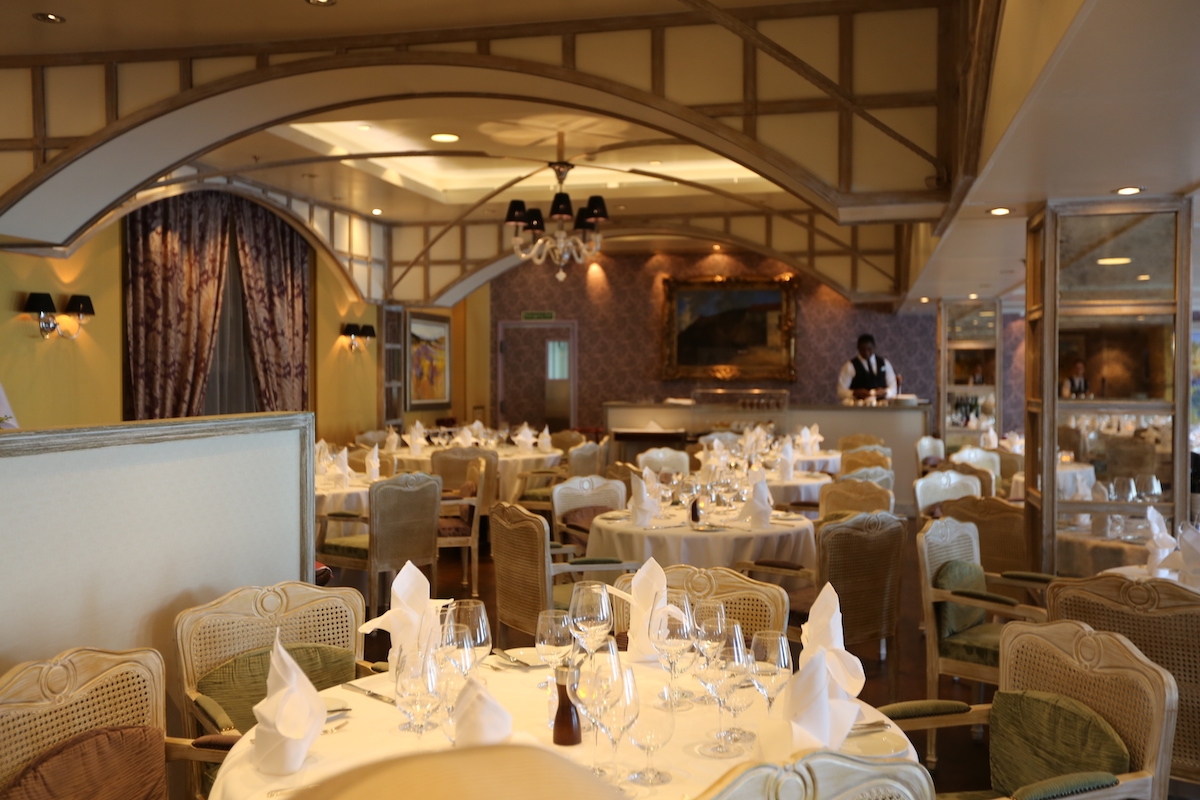 What can I eat in Jacques?
Dining in Jacques is an immersive culinary experience, bringing the best flavours of France to whatever destination you are in the world. Let the delicious aromas of rotisserie waft through the ship and guide you to Jacques, with the restaurants serving up meats like chicken, duck, pork and veal roasts, turning flirtatiously on a gleaming sizzling show spit. Start your meal off with an amuse bouche of crab meat salad and hearts of Boston lettuce with shallots and Roquefort blue cheese, before moving onto starters like traditional baked escargots with Burgundy garlic butter and molten goat cheese soufflé with heritage tomato sauce.
After your starter, savour a baked French onion soup or chilled green pea vichyssoise, before turning your attention to the myriad of fish and meats on the menu. Fish lovers will lust over the mouth-watering (Chilean) sea bass en croute – a meaty yet succulent fillet encased in the lightest layers of fine pastry, and Maine lobster - from Oceania's own private supplier – baked in its shell to encapsulate and intensify the depth of flavour.
The star of the show in Jacques, however, is the sizzling rotisserie, on display for guests to admire – and to lust over. First, choose your meat, be it herb-crested chicken, medium rare prime rib with herbs de Provence or cider-brined Iberico pork rack. Complement your dish with a choice of classic French sauces, grain mustard, poivre, Bordelaise, Bearnaise or Choron, and mouth-watering sides like hand-cut fries, rotisserie potatoes, gratin dauphinoise, cauliflower au gratin and ratatouilles. Each French classic is ingeniously reinterpreted by Master Chef Pépin, so expect a handful of tongue-tingling surprises along with the much-loved classics.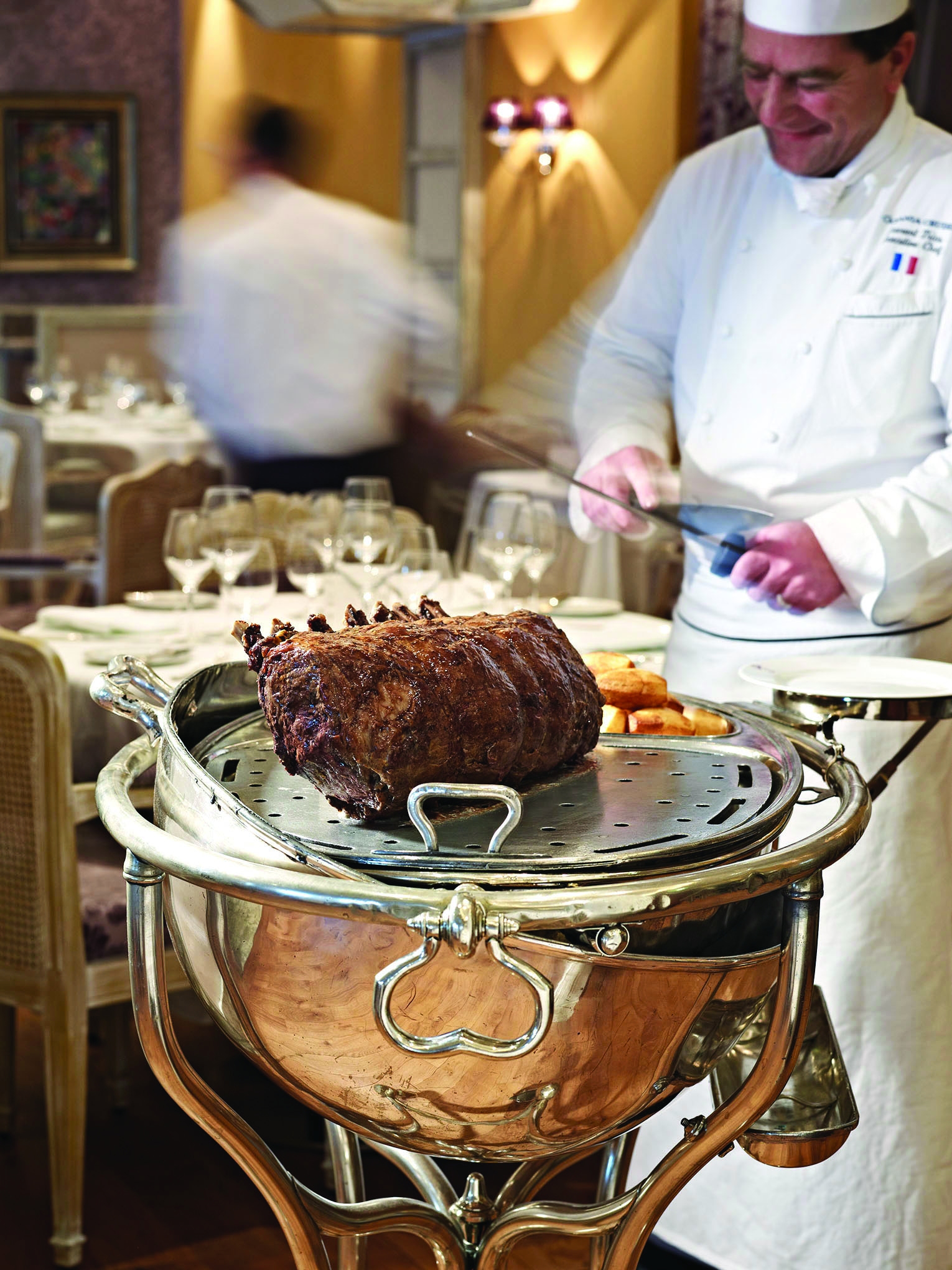 Room for dessert? Of course you have, and guests can choose from a cheese trolley of the finest French cheeses, and traditional French treats like Charlotte Cécile cake, mille feuille, choux a la creme and Jacque's favourite, tarte aux pommes à la frangipane.
Wash everything down with one of the blends from Jacques' world-class wine list, showing off some of the best winemaking regions in France, along with the best of the Old and New World. The sea bass fillet pairs wonderfully with beurre blanc, while the zesty, buttery bubbles of champagne delicately cut through rich meats and creamy sauces.

How can I experience Jacques?
Oceania Cruises guests are able to experience Jacques on board the cruise line's two largest ships, Marina and Riviera. The restaurant is open for dinner only, giving it an even more special and exclusive feel, and guests will have to book a table – emulating the feeling of a fine on-land establishment. Dining at Jacques amazingly comes at no extra cost, as all gourmet dining in Oceania Cruises' restaurants and eateries is included in the cruise fare.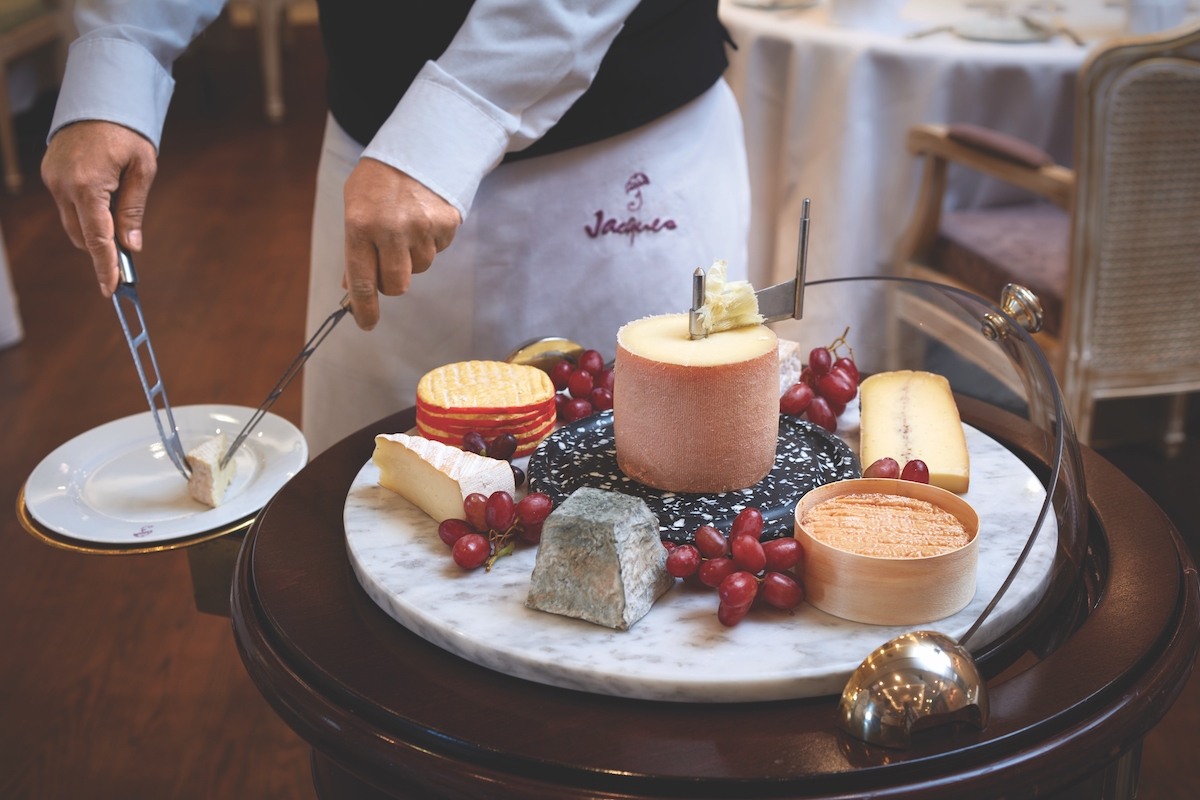 Tell me about the real Chef Jacques Pépin...
To truly appreciate just how special Jacques is on board Marina and Riviera, it helps to understand the man behind the menus, Master Chef Jacques Pépin. Born in France, the gastronomic wonder started his career at aged 16 in Paris, training under Lucien Diat at the renowned Plaza Athénée. He has since gone onto write 30 cookbooks, host 13 PBS television series and served as personal chef to three French heads of state – including Charles de Gaulle. The culinary powerhouse has been at the helm of Oceania Cruises since 2003 as the cruise line's executive culinary director, bringing his award-winning and sumptuous dishes to Oceania's discerning guests.
To experience the magic of Jacques for yourself, sail with Oceania Cruises in 2021 aboard its two largest ships, Marina and Riviera. To book a cruise on Marina or Riviera, or to learn more about why the cruise line has the 'Finest Cuisine at Sea', visit oceanacruises.com.
Experience Oceania Cruises