Search for your ideal Cruise
Why cruise on this ship?
On any day, our 342-guest flagship, Wind Surf, the world's largest sailing ship, draws admiring glances as she glides majestically into port with her tall sails billowing. And her beauty is far more than skin deep. During their cruise, you will find the perfect setting for 'making an entrance' in the beautiful reception area – and, appropriately, that's only the beginning.
find your perfect cruise
Dining
We've upped the onboard dining game with our culinary program, featuring an array of fresh, seasonal ingredients sourced from each ports along the journey. The menu us crafted to highlight the spectacular flavors of the regional cuisine.
Amphora Restaurant
Here, the dining room manager seats you, but where is your decision. There are no pre-assigned tables or first or second seatings. When you dine and with whom are entirely up to you. Seating usually begins at 6:30 p.m. and will be printed in the ship's daily program. Each delightful dish is prepared exactly to your liking – an exquisite dinner served course-by-course with a fine selection of vintage wines.
Features
Experience: Complimentary
Food type: Varies
Stella Bistro
Treat your palate to the French-inspired café cuisine of Stella Bistro, Wind Surf's alternative restaurant. You'll find delightfully indulgent desserts and a wonderful array of wines specifically paired to the meal.
Features
Experience: Complimentary
Food type: French
Verandah
It's breakfast alfresco, full service or buffet-style, anytime till 9:30 a.m. No need to hurry. Again, the choices are many in Veranda. Choose the sumptuous, seemingly endless buffet. Or, order from the lunch menu between noon and 2:30 p.m.
Features
Experience: Complimentary
Food type: Buffet
Entertaining
Enjoy live music and cocktails at Compass Rose. Read your favourite book on our comfortable chaise lounges on deck. Test your luck in the casino. Try kayaking, waterskiing and windsurfing from our Watersports Platform.
Windstar Wind Surf Interior Library 2014.jpeg
Windstar Wind Surf Interior Lounge Bar 2014.jpg
Windstar Wind Surf Interior Compass Rose Bar 2014.jpeg
Windstar Wind Surf Interior Casino 2014.jpeg
Windstar Wind Surf Interior Espresso Bar 2014.jpg
Windstar Wind Surf Interior Terrace Bar 2014.jpg
Onboard Entertainment
Onboard entertainment facilities include: a casino, a watersports platform, the Compass Rose Cocktail Bar, The Lounge, and The Terrace Bar.
Enrichment
At Windstar, we don't just take you to fascinating destinations, we take you into them, giving you unique access to knowledge and activities that enhance your understanding of the places you visit. Complimentary Destination Discovery Events treat you to iconic experiences that capture the essence of your locale. Guest Lecturers intrigue you with regional topics, adding new dimensions to your voyage. And small group excursions take you to meet locals who are delighted to share their homes, cuisines, and cultures with you.
Guest Lectures
Have you ever wanted to learn about rowing across the Atlantic or the inner workings of the Monte Carlo Grand Prix? On select Windstar voyages, satisfy your curiosity and enhance your understanding of the local culture by listening to our onboard lecturers. We've curated a group of speakers designed to bring you an insider's perspective on a multitude of intriguing topics. Listen raptly as your voyage becomes more than just a vacation – and a thought-provoking exploration of enchanting lands.
Windstar Signature Expeditions
Windstar Signature Expeditions is an immersive program that features 8 expert guides who stay on board throughout the voyage, giving informative talks and taking guests on optional adventures by foot, by kayak, or by Zodiac boat - sometimes launching straight from the ship in remote places like Misty Fjords and Kenai Fjords. It's Alaska at its most authentic, exciting all your clients' senses to its magnificence.
Culinary Demonstrations
Delight your palette with onboard cooking demonstrations featuring James Beard Foundation chef recipes. From wild striped bass with tomato sage "fondue" to lobster risotto, our Windstar chefs will take your taste buds on a journey through local cuisine. For a special tantalizing treat, join Windstar on one of our voyages in the James Beard Foundation Culinary Cruise Collection, where a James Beard Foundation chef will show you how to elevate your own culinary skills. It's a taste of enrichment you'll never forget.

Shore Excursions
Wine tastings, SCUBA diving, tours with locals and more — Windstar offers a variety of unique excursions that will add more depth and immersion to every day of your journey. Each meticulously planned excursion meets our highest standard of quality in safety and professionalism. Ensure your peace of mind knowing that you'll always make it back to the yacht on time.
180 Degrees Onboard Magazine
Discover Windstar's onboard magazine, 180 degrees. Focused on immersive, vibrant travel experiences, the magazine introduces our most popular destinations, with handy notes after each article noting which itineraries visit the port. Read about the history and culture of our most popular destinations over breakfast al fresco, or by the poolside as you sunbathe. Start planning your next cruise with the included cruise calendar or simply be transported to wondrous lands. 180 degrees is available onboard now and online.
Health and fitness
Treat yourself to an aromatherapy massage at WindSpa, or work out on state-of-the-art equipment in the fitness centre.
Health and Fitness Facilities
Health & Fitness facilities include a Fitness Centre, whirlpool, and swimming pool.
Features
Gym
Pool
Whirlpool/Jacuzzi
Watersports Platform
The Watersports Platform enables customers to experience the thrills of waterskiing and windsurfing, whilst being supervised by a professional.
WindSpa
As you enter the hushed atmosphere of the newly-expanded WindSpa, you'll feel every last care gently melt away. Maybe you'll try a Hydralift facial or a new color on your toes. Maybe you'll surrender to the transformative power of a relaxing massage. With one of the highest crew-to-passenger ratios at sea, you will find yourself in the enviable position of never having to lift a finger.
The crew is happy to do whatever we can to make your time on board as pampered as possible. Please book spa appointments with the hotel manager once you've boarded your yacht.
Kids and teens
Please note: Wind Surf does not offer any dedicated children's facilities.
Accommodation
All accommodations feature:
Queen Size Bed with Luxurious Linens
Waffle Weave Robe and Slippers
Flat Screen TV with DVD player
Fully Stocked Mini Bar/Refrigerator
Safe
Direct Dial Phone
L'Occitane Bath Amenities
Wi-Fi (internet cards can be purchased at reception)
Fresh Flowers
Fresh Fruit
Granite vanity with magnifying mirror and chair
Mirrored closet with ample drawer space
Bathroom with granite countertop and shower
Hair Dryers and 110/220 outlets
Opulent Bridge Suites
The ultimate in space and style surrounds you in 495 square feet of pure indulgence. Separate bedroom and living room with an in-suite dining area is an invitation to relaxation. And possibly best of all, your expansive bathroom features both a whirlpool spa tub and a massage shower.
Features
Queen or Twin Configuration
Sofa Bed
Dining Area
Shower
Whirlpool Bath
Toiletries Provided
Room Service Available
Suite Benefits
TV
Wi-Fi (Additional Cost)
Safe
Hair Dryer
Desk
Officer's Suite
For the ultimate in nautical experiences, reserve the new Officer's Suite located close to the Bridge where our own ship's officers have their quarters. With its unique "insider" location and 242 square feet of comfort, the nautically appointed Officer's Suite offers an experience you won't find on any other cruise line.
Features
Queen or Twin Configuration
Vanity Area
Shower
Toiletries Provided
Paid Mini Bar
TV
Wi-Fi (Additional Cost)
Safe
Hair Dryer
Telephone
Desk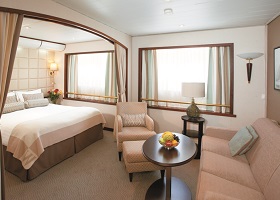 Spacious Suites
With 376 square feet, you'll find the perfect space for time together — and plenty of room for time to yourself. You'll even enjoy two full separate bathrooms. All the amenities of the staterooms await you, plus a beautiful sitting area, and two flat-screen television sets with DVD players.
Features
Queen or Twin Configuration
Shower
Toiletries Provided
Room Service Available
TV
Wi-Fi (Additional Cost)
Safe
Hair Dryer
Desk
Gracious Staterooms
Stylish comfort and ocean views welcome you in 188 square feet of beautifully designed comfort. Your queen bed (which can be separated as twins if you prefer) is swathed in luxurious Egyptian cotton linens. Before or after you enjoy an invigorating massage shower with soothing L'Occitane® bath products, wrap up in your waffle-weave robe, have a snack from the fresh fruit bowl, or simply stretch out and smell the flowers.
Features
Queen or Twin Configuration
Lounge Area
Shower
Toiletries Provided
Room Service Available
Suite Benefits
TV
Wi-Fi (Additional Cost)
Safe
Hair Dryer
Desk
Deck plans

Star Deck
Stella Bistro (2)

The Veranda / Candles (5)

Fitness Centre (10)

The Terrace Bar (17)


Bridge Deck
Bridge (1)

Bridge Suites (4)
Compass Rose Bar (11)

Windspa (13)
Main Deck
Amphora Restaurant (3)
Lounge (8)

Yacht Club Cafe (9)
Reception (12)
Signature Shop (14)

Pool / Pool Bar / Whirlpools (15)
Deck Three
Suites and Staterooms (6)
Deck Two
Watersports Platform (16)
Staterooms (7)

Deck One