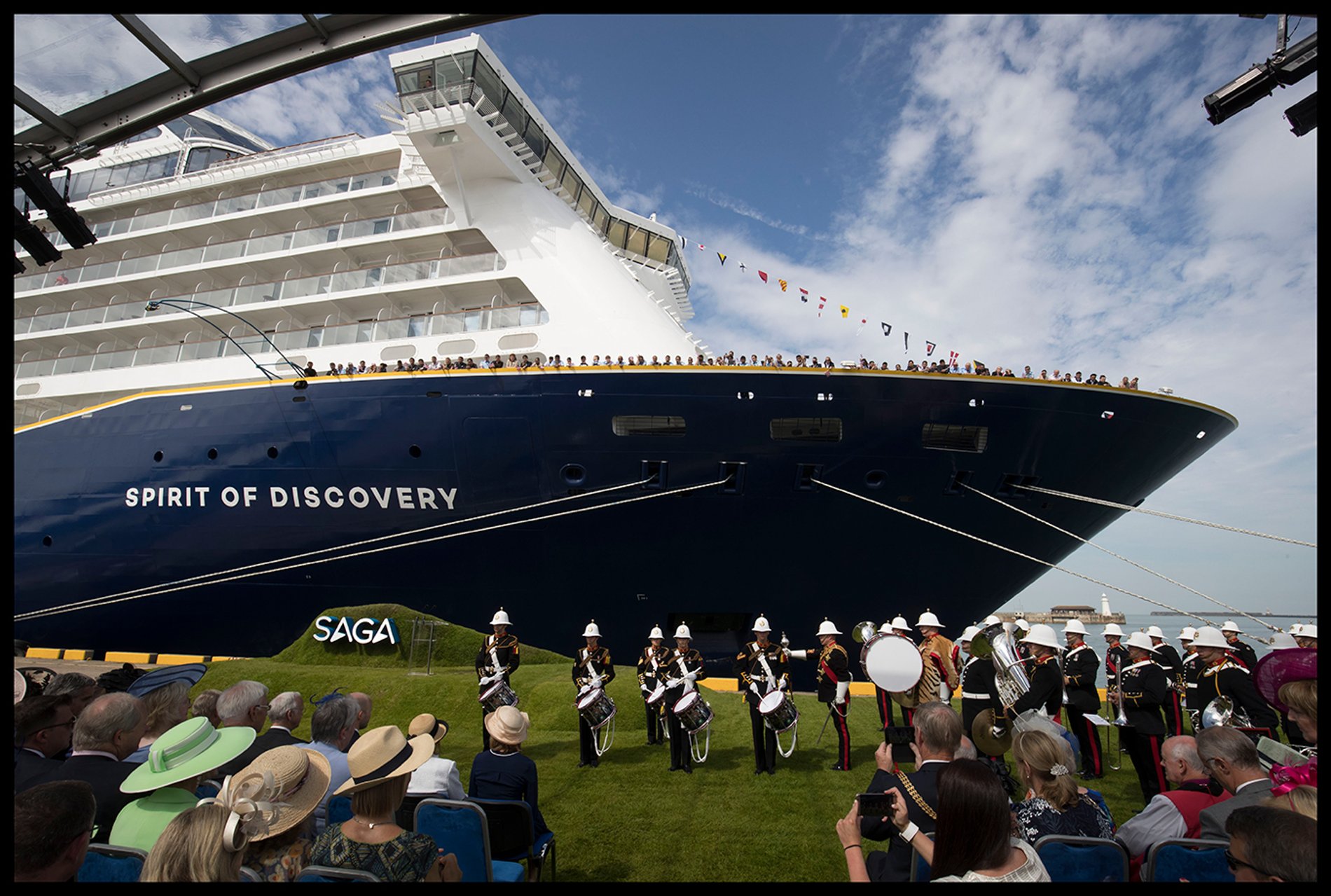 Why choose Saga Cruises
When it comes to how you spend your time onboard, it's all about choice. Enjoy a range of fun activities and talks, pamper yourself in the spa, go for a swim, take in a show at the theatre, or simply relax in one of our bars and restaurants.
Saga cruise liners each have a selection of speciality restaurants to choose from, all of which are free-to-dine, with no extra supplements or surcharges to pay. Single-seating dinner service means you can take your meals at a leisurely pace, without the need to vacate for the next seating. You can then feel free to indulge in as many courses as you wish, all expertly prepared by a team of talented chefs.
There are no fewer than nine accommodation categories and all cabins on board Saga ships come with a private balcony and a fifth of the 554 all-balcony cabins are allocated for single occupancy, so solo cruisers are well-catered for.


Cruising with Saga
Saga prides itself on its high levels of service, from the moment you step onboard. With one member of staff to every two passengers on their ocean liners, there's enough crew to deliver genuine, attentive service throughout your time onboard.
Whether it's remembering your name and favourite drink, or the nightly turn-down service, all these little touches add up to a memorable cruise experience. Plus, Saga's superior service is always included at no extra charge, so you can relax and enjoy your cruise without the worry of who and when to tip.
Onboard Saga Cruises, your cabin will be your personal haven, a place to relax and unwind in your own private space. And with an average floor plan of 215 square feet as standard, there's quite a bit of space to enjoy.

Who should travel

Saga cruises appeal to both Generation-Xers and baby boomers, but only over 50s can cruise with the line (with a travel companion if they are over 40).
While both its ocean ships offer entertainment for guests, from classical concerts and full-scale West End productions in the 440-guest Playhouse Theatre to guest speakers and dancing in the Britannia Lounge, passengers used to all the bells and whistles and high-tech facilities of the larger cruise liners will find the offering slightly limited.
However, with lots of cosy and restful private areas, great dining options and spacious, inviting cabins, Saga ships offer an inviting home from home for Brits looking for some rest and relaxation on the cruise holiday.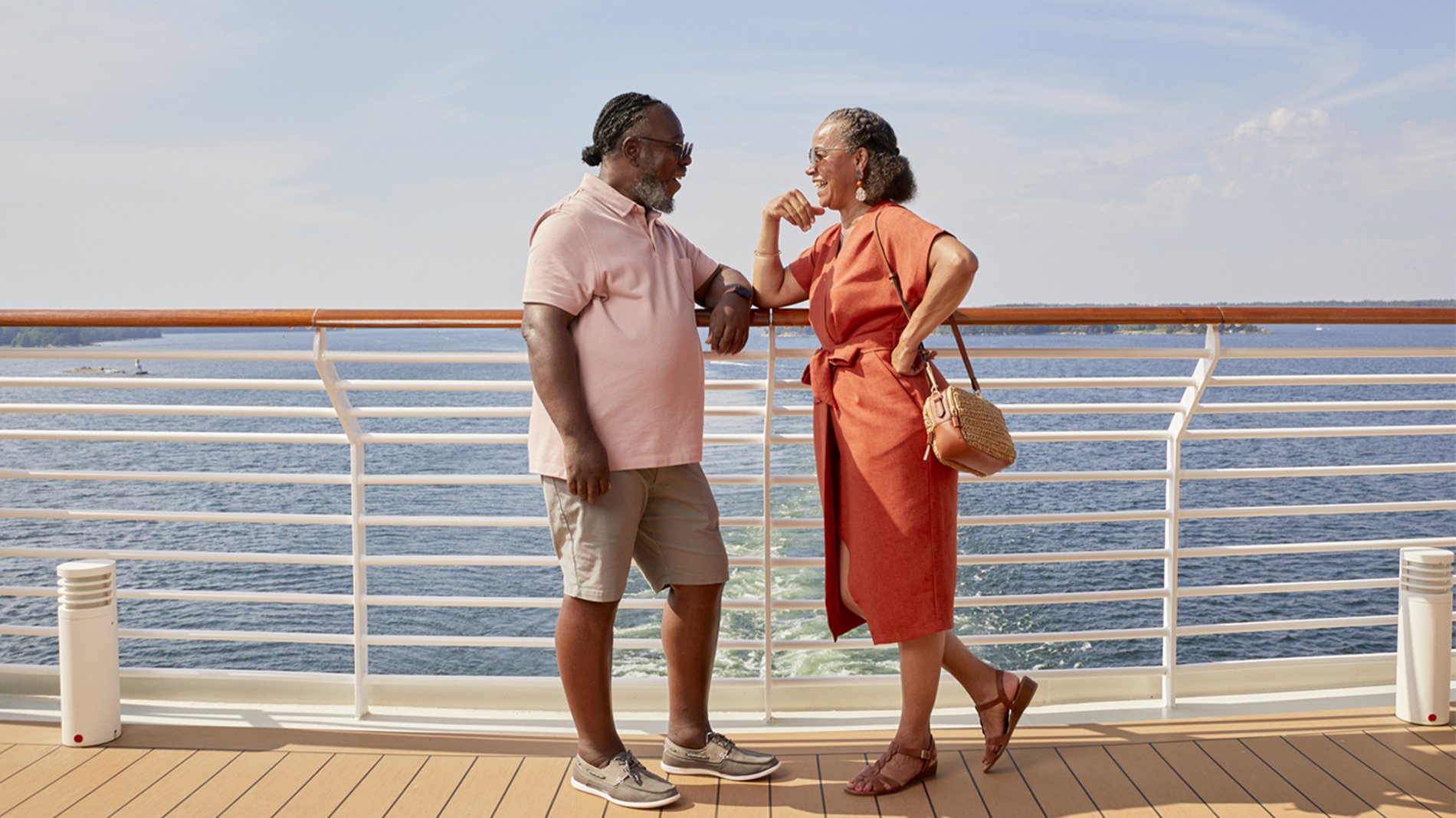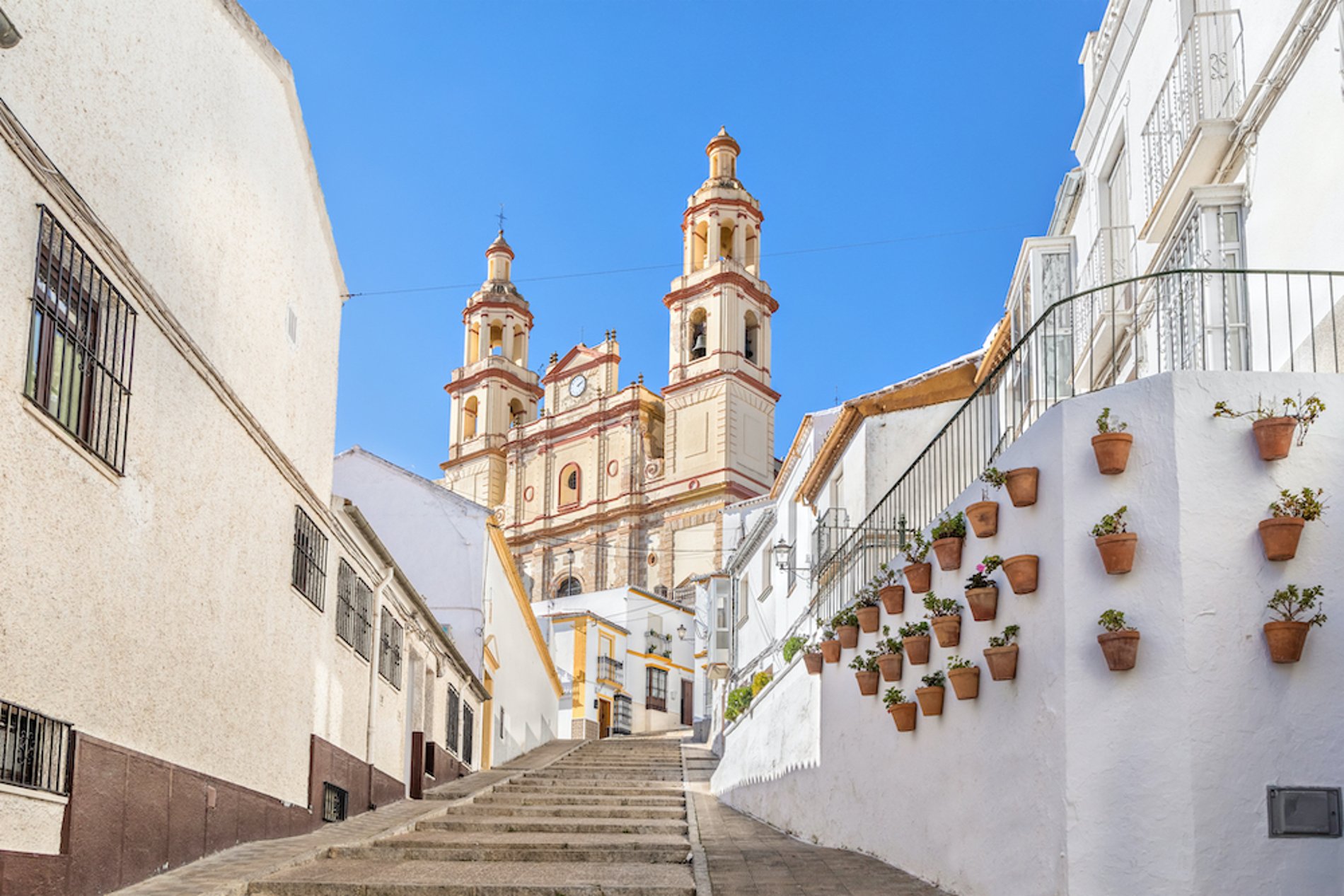 Cruise destinations

Operating as a boutique cruise line, Saga cruise ships have the advantage of sailing to lesser-known ports and harbours that larger ships cannot reach.

Spirit of Discovery sails to the Baltics, the British Isles, the Mediterranean, Northern Europe, the Canary Islands, the US and Canada. Spirit of Adventure offers voyages to the Norwegian fjords, the Mediterranean, the British Isles, the Caribbean, Northern Europe and the Canary Islands.
Whichever itinerary you opt for, rest assured that you are being treated to the best of the best. There's amazing culture and landscapes to be enjoyed, not to mention the calm of the sea, all from the comfort of a Saga vessel. Tea and scones, anyone?

Dining

Saga Cruises Provides an award-winning dining service with a choice of venues and cuisines. From world-class dishes of game, meat and fish, to fine wines and a selection of irresistible deserts, the talented chefs aboard Saga cruises are given free rein to shop, plan and prepare their own menus. Meaning fresh food from market to table in a matter of hours.
Some of the highlights include The Club by Jools Holland – recalling the famous music lounges of the 1950s, offering sumptuous cocktails and dining with live music - and the Grand Dining Room, bringing you the very finest in British and International cuisine at breakfast lunch and dinner.
After something with a sense of occasion? Try East To West. This restaurant offers an exclusive dinner-only service every evening, with chefs bringing to the table the full diversity and vibrancy of eastern cuisine.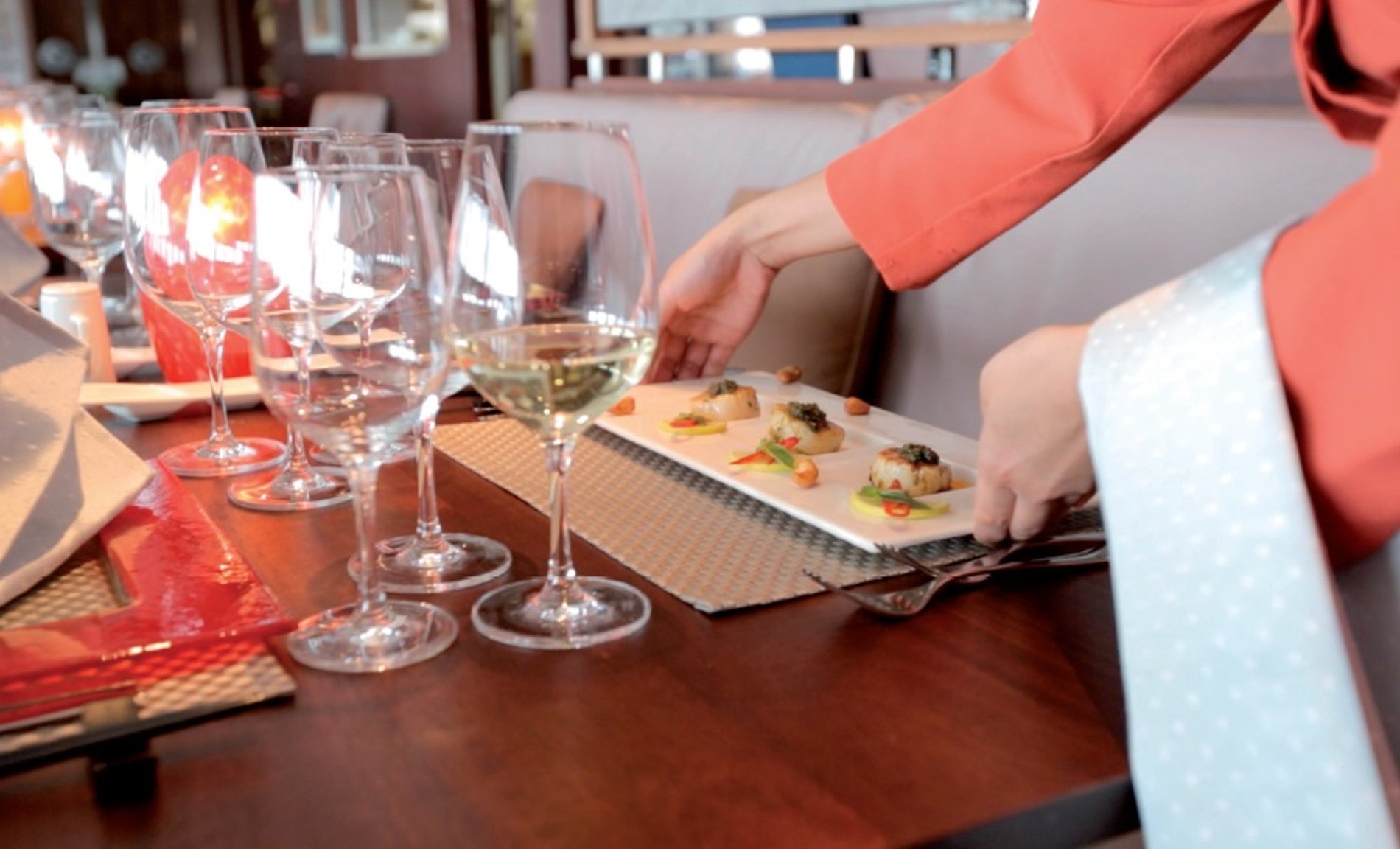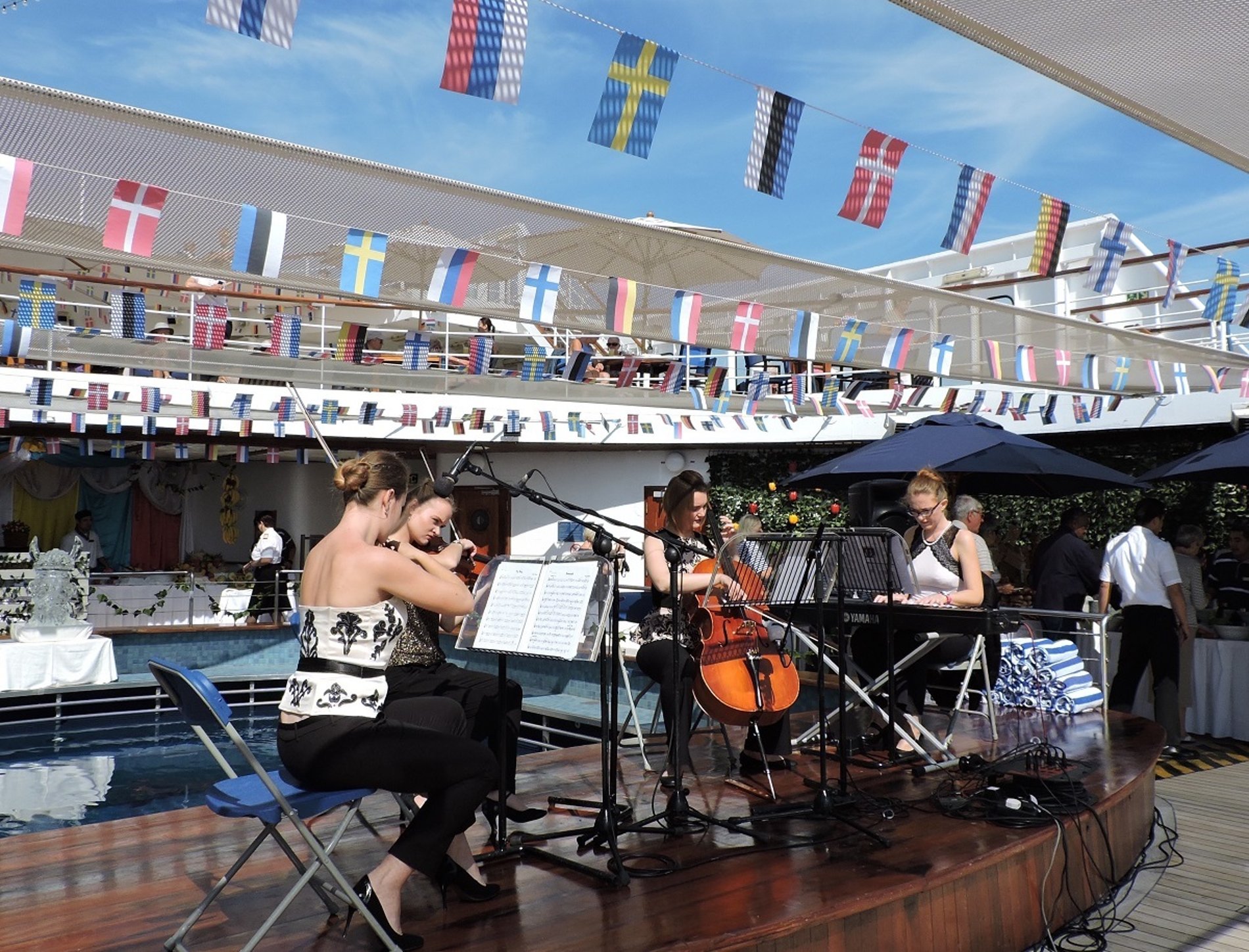 Inclusions

A chauffeur service to the port (up to 250 miles each way) is often available (please check terms and conditions), or you can enjoy free car parking, domestic flights (subject to availability), coach or rail travel.

All meals, snacks and daily afternoon tea come as standard, as do the speciality dining and all-inclusive drinks. All onboard 'tips' and bar service charges are taken care of, while access is granted to the gym, sauna and exercise classes.

A full programme of live music, entertainment and talks are ready for you, while 24-hour room service and complimentary Wi-Fi ensure your cabin becomes a haven of personal relaxation.

As an added extra, there is also a welcome 'Sailaway party' with complimentary drinks, while porterage of luggage and a port-based shuttle bus comes free of charge.